Choosing colors for a new kitchen can feel like an enormous challenge. There are now so many more options and color choices to pick from when it comes to kitchen cabinets, and the paint colors available for walls are seemingly never-ending.
Trying to find two colors that you love that work well together might sound easy, but the sheer volume of choice can keep you second-guessing yourself about whether you've made the right decision. Added to this is the question of whether kitchen cabinets should be the same color as the walls, whether they should be complementary colors, or whether they should completely contrast against each other.
Here we look at the best ways to choose colors for your kitchen cabinets and walls and investigate whether they should be the same color as each other.
Can I Paint the Walls to Match the Kitchen Cabinets?
Yes, absolutely! Painting your walls the same color and shade as your kitchen cabinets will create a look of uniformity and consistency, which is key when creating any good decor style. If you feel that the room will look too bland with walls and cabinets in the same color, there are ways you can create definition and interest without changing your wall color.
If you'd prefer not to paint your walls and kitchen cabinets in the same color, that can work brilliantly as well. There are no hard and fast rules when it comes to interior decorating. However, if you follow some simple guidelines you'll find that you can achieve outstanding designer-inspired looks with ease.
Will Matching Walls and Cabinets be Bland?
If your walls and cabinets are all the same color, for example, gray, then the space could look bland. Some interior designers are promoting rooms that are all one color as an immersive and enveloping experience.
If this is a style that catches your attention, consider leaning into the monotone theme rather than trying to fight against it. However, if you prefer contrast, then follow these tips to prevent your kitchen space from reading as bland.
1. Contrasting backsplash and countertops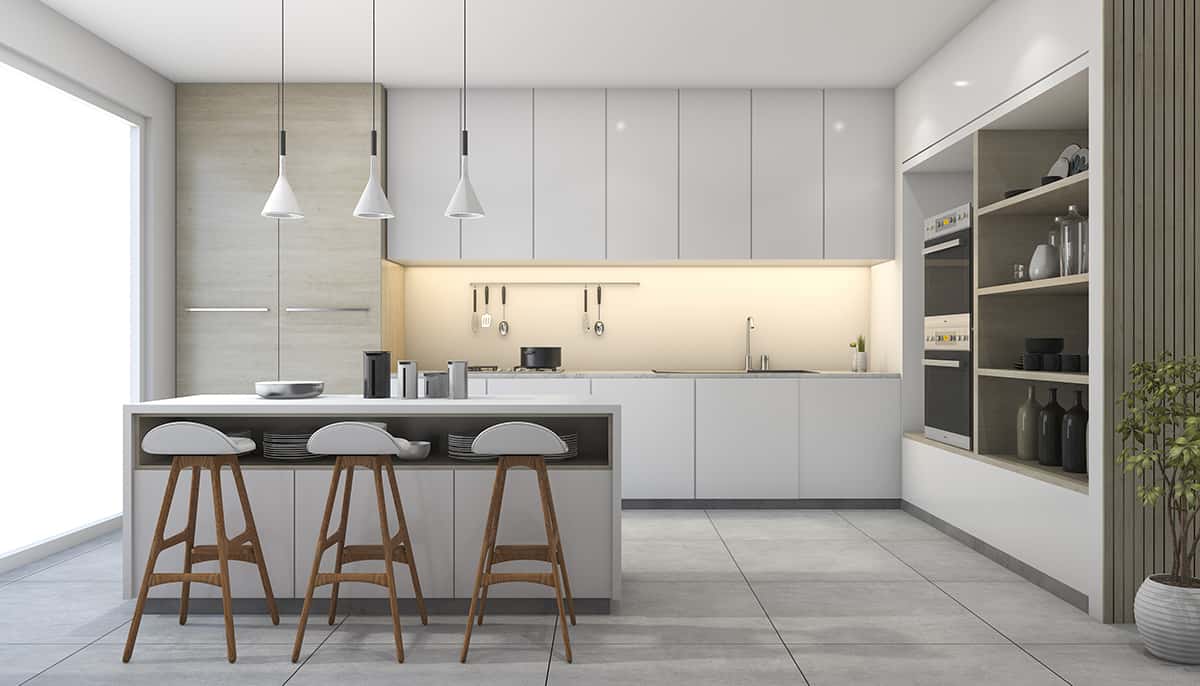 Walls and kitchen cabinets are just two of the elements in your kitchen which you can decorate. If you want to keep these two features the same color, yet are concerned about the room coming across as bland or lacking definition, then use your countertops or backsplash to create interest.
If your cabinets and walls are white, make a bold statement by opting for black granite countertops or backsplash tiles in a vivid color. For a more subtle definition, consider gray marble countertops in a white kitchen and silver tiles for the backsplash, which will pick out the silver handles on the cabinets.
2. Mood lighting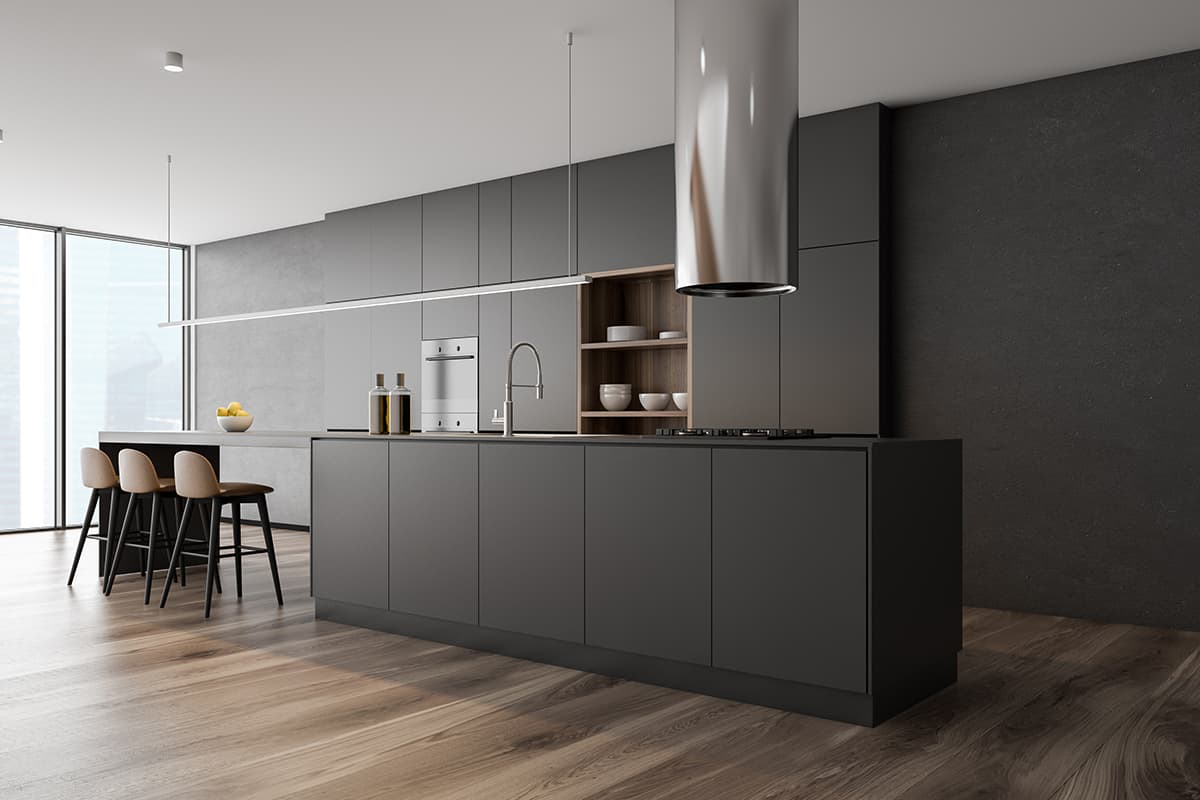 Lighting creates shadows and illumination across a room, and this can be used to add subtle or dramatic definitions. Install spotlights beneath the wall cabinets, which will shine light onto the countertops, creating a brightness and focal point away from the uniformity of the cabinet doors and wall color.
If you want a more vibrant look in a monotone kitchen, use strips of neon light along the kitchen kickboards or on top of the wall cabinets. Typically these kinds of lights can be set to different colors, including bright pink, blue, green, yellow, and purple. They can also operate in patterns, which will add interest to a kitchen and prevent it from reading as bland.
3. Popping accessories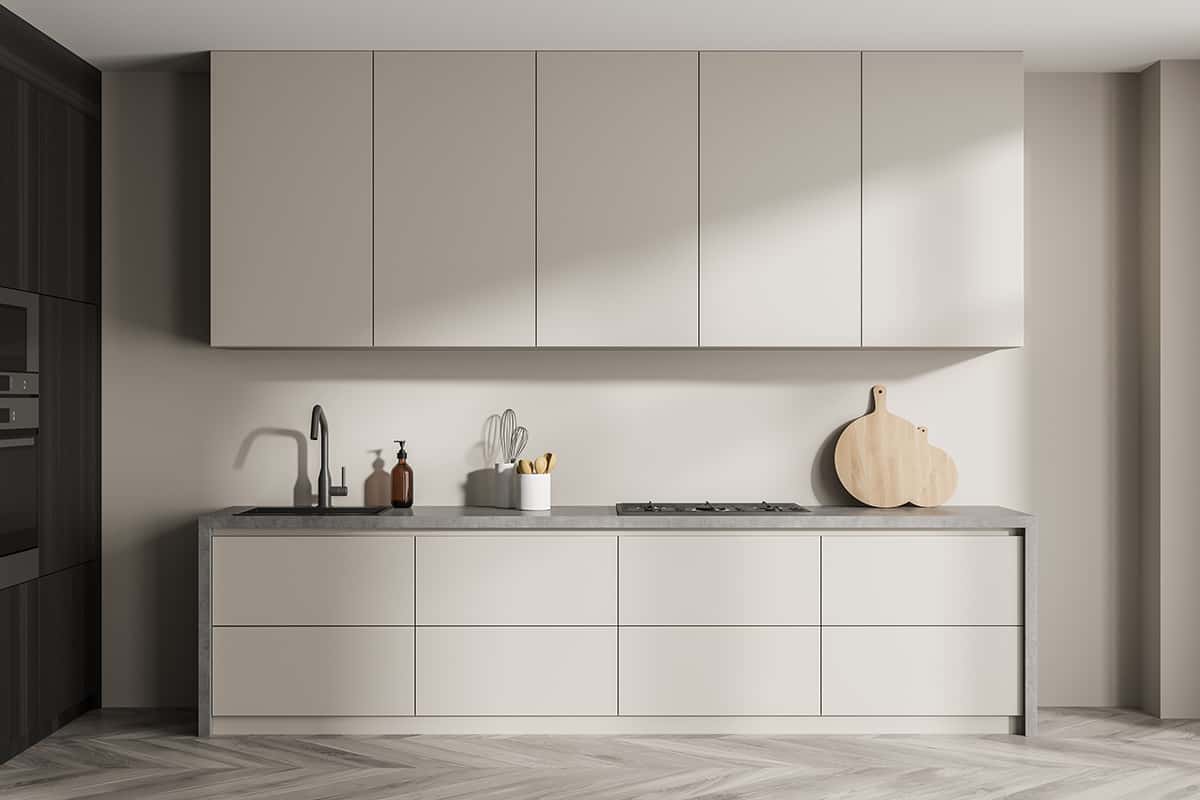 One of the benefits of having your kitchen walls and cabinets the same color is that you can easily change the look of the whole room just by switching out your accessories. Keep the base elements of your kitchen neutral, for example, gray cabinets, gray walls, and gray countertops, and then use accessories in different colors to define the style of the space.
For example, you could use a red toaster, a red smoothie maker, and red mugs displayed on your countertop to create a sleek and modern look. If you change your mind at a later date, you can swap out the red accessories for a different color, achieving an entirely different look without the difficulty or expense of painting the walls or replacing the kitchen cabinets.
4. Two-tone cabinets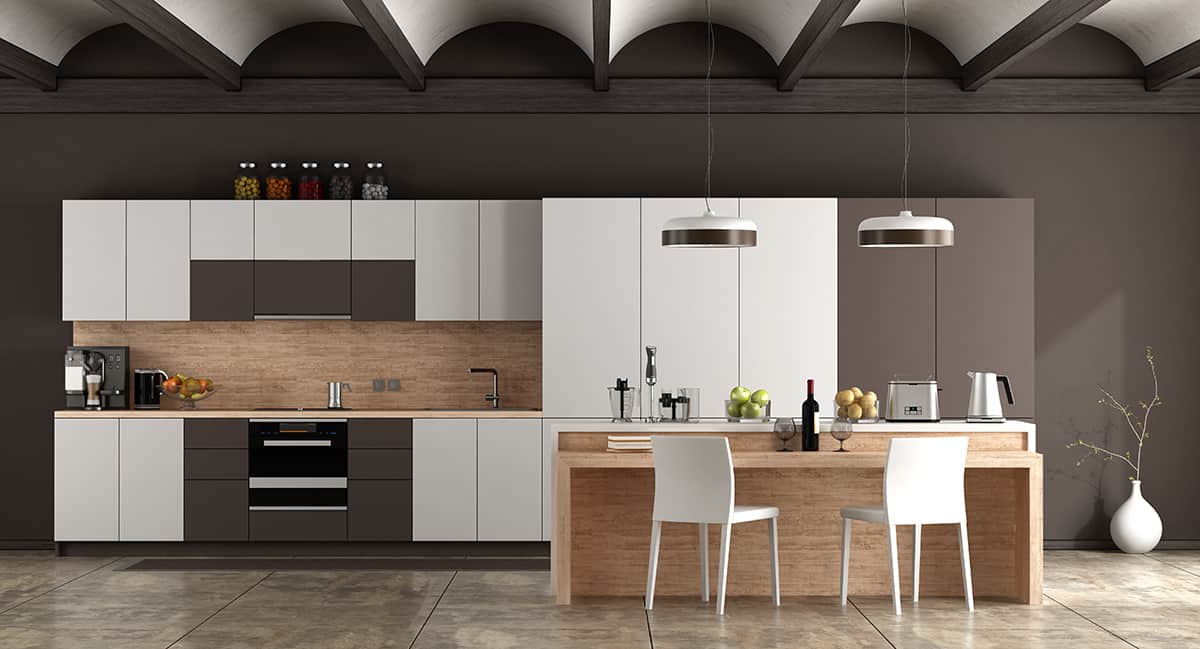 One way to break up the monotony between matching walls and cabinets is to choose two-tone cabinets. This is a trend which really elevates the style of a kitchen and separates it from the norm. Two-tone cabinets are typically achieved by selecting one color for the base cabinets and a different color for the wall cabinets.
In order to ensure continuity, the cabinets should be the same style and design, but simply finished in a different color. This could look like dark blue floor cabinets and light blue wall cabinets, with the walls painted in dark blue. This will mean that the base cabinets blend into the space while the wall cabinets stand out to create tonal interest.
5. Focal points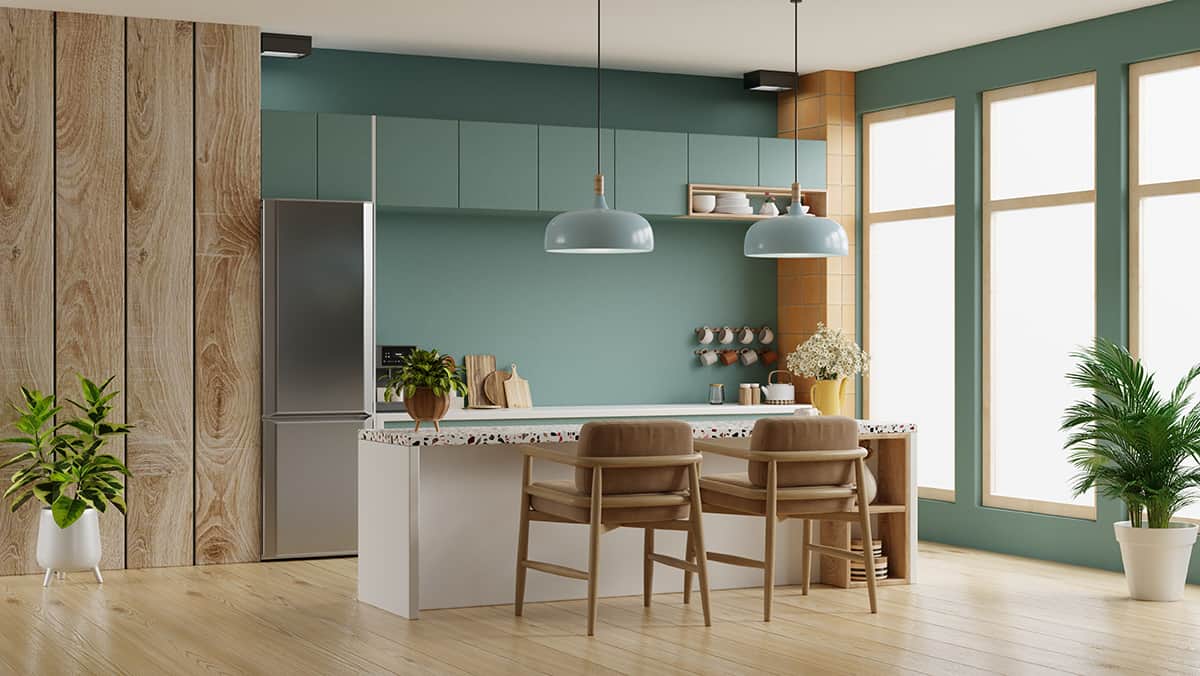 If you want to keep your walls and kitchen cabinets the same color but don't want the room to feel flat, you can create focal points in the space that the eye will be drawn to.
This could be some contrasting curtains around your kitchen window, or it could be a range oven in a different shade to your walls. A bold light fitting hanging over a kitchen island can also work really well as a focal point. An accent rug on the floor could also work well to add vibrancy and life to a bland kitchen.
6. Contrasting hardware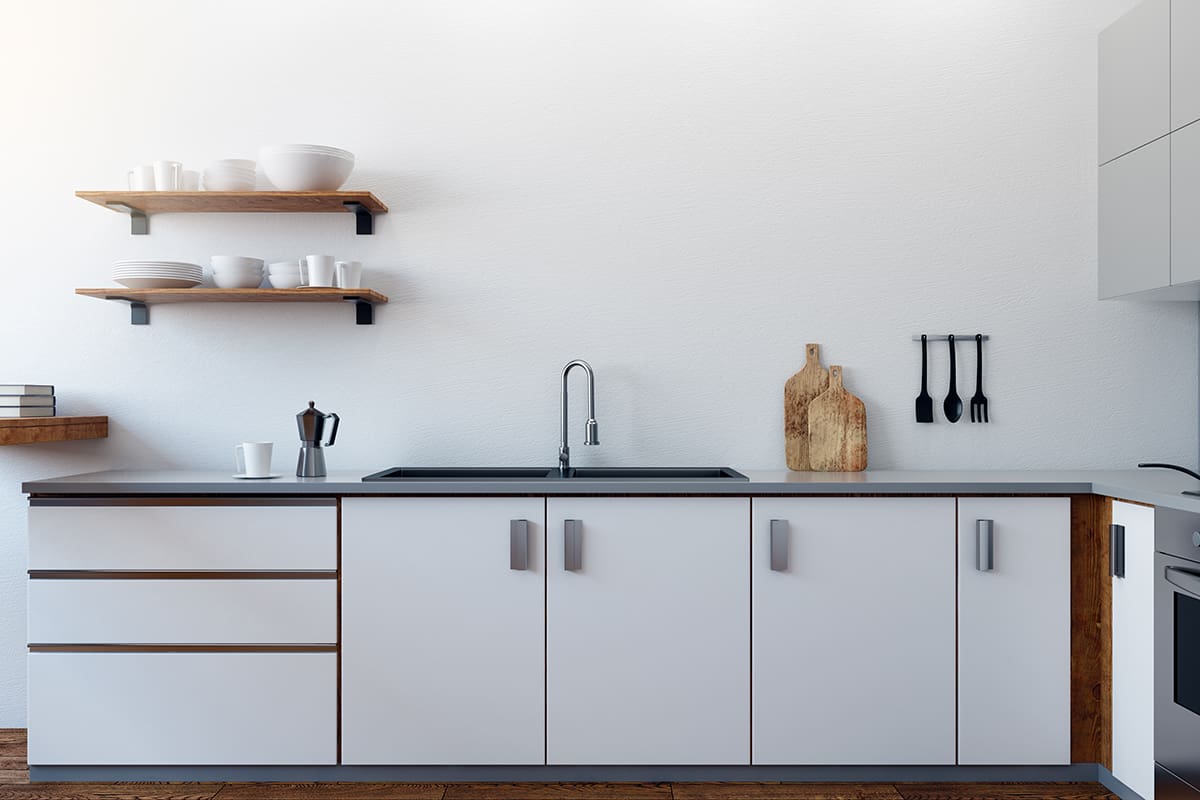 Kitchen hardware is all too often overlooked when designing a new kitchen. If you want a neutral or monotone kitchen where the cabinets and walls are the same color, you can help to break this up and add definition and interest simply with your choice of handles.
Black metal handles can look bold and fashion-forward on pure white cabinets, or choose brass handles on dark green cabinets, which will stand out and create a sophisticated style.