When designing a new kitchen, you may already have a specific look in mind, but for many people, the design process starts off by choosing one element that they love and basing the rest of the room around it.
For kitchens, you may begin by finding your ideal kitchen cabinet color and then finding matching components for the rest of the room. Or you may be set on your floor surface and need to find kitchen cabinets that will work with it.
If you're intent on having a gray kitchen floor, then you have a wide selection of options for colored kitchen cabinets, which will coordinate nicely with it because gray is a neutral color that is incredibly versatile when it comes to complimenting other colors. Here we look at the vast array of options you could choose for kitchen cabinets that go with gray floors.
White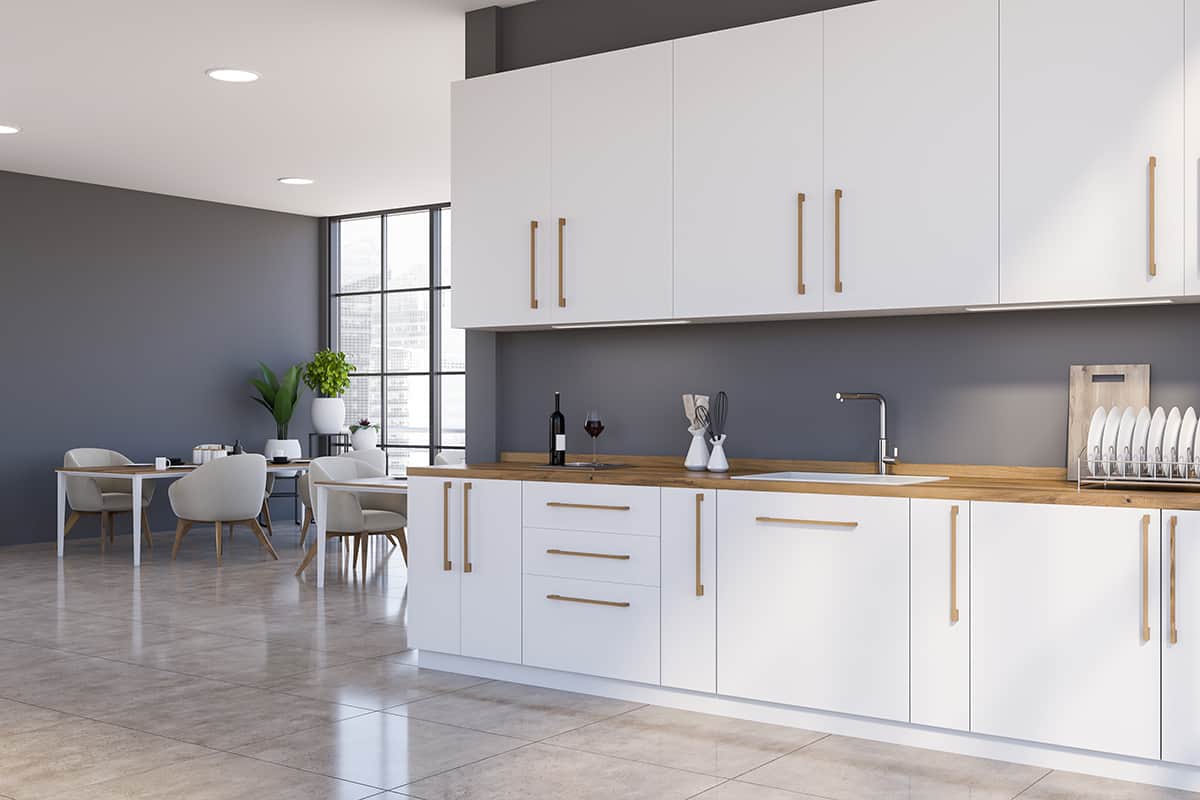 White kitchen cabinets can be modern and classic. They work really well in almost any style of decor, including traditional, minimalist, industrial, and contemporary. White kitchen cabinets create a feeling of spaciousness. This can work particularly well in small kitchens because it will create the illusion that the space is bigger than it actually is.
White kitchen cabinets are typically among the most inexpensive color of kitchen cabinets to buy because they are a common choice. Though some people might feel white kitchen cabinets are boring or basic, you can really elevate their style by choosing high-end hardware for their handles.
White cabinets used with gray flooring also give you the opportunity to add color in other areas of your kitchen that are less permanent.
For example, you can paint the walls in a bright and bold color and then repaint them at a later date if you want to change the color scheme. Changing the color of your kitchen cabinets would be a more difficult and more costly exercise, so by using a neutral shade such as white, you can be sure it will never go out of style.
Off-White

If you feel that true white will look too stark next to your gray flooring, but you enjoy the classic style it provides, then opt for an off-white shade for your kitchen cabinets. Off-white colors have a very small amount of pigmented color mixed into them so that they offer a more subtle and softer alternative to bright white.
Off-white shades such as ivory and cotton are timeless colors that will age well and provide a blank canvas in your kitchen, which you can accessorize with other colors.
Black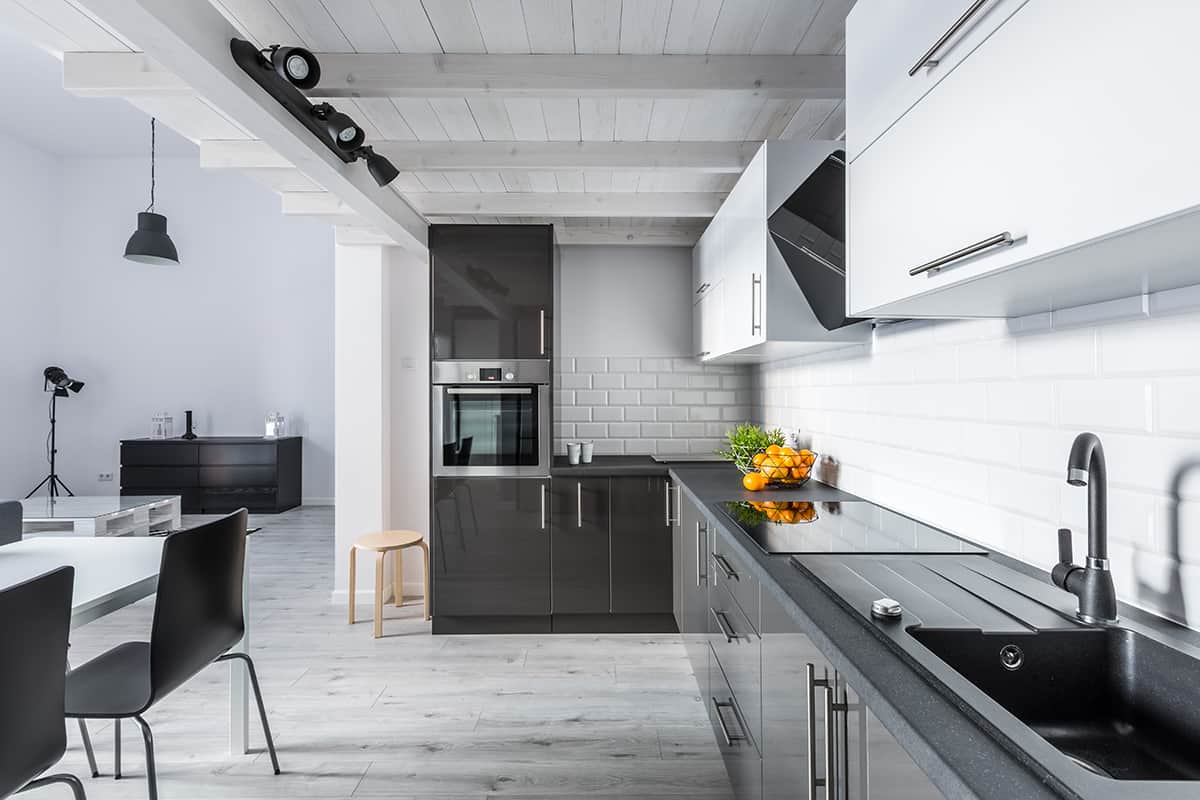 If you have chosen a pale gray flooring, then black kitchen cabinets can add drama and style to the room. Even a small kitchen can look great with black kitchen cabinets, especially if you choose a gloss finish that will help to reflect light and avoid allowing the space to become dark and dreary.
Mid-gray floors will also style nicely with black kitchen cabinets, with flashes of white, such as a white granite countertop and white walls for a monochromatic effect. This color scheme can work for a variety of styles, such as art deco, mid-century modern, retro, and minimalist.
Blue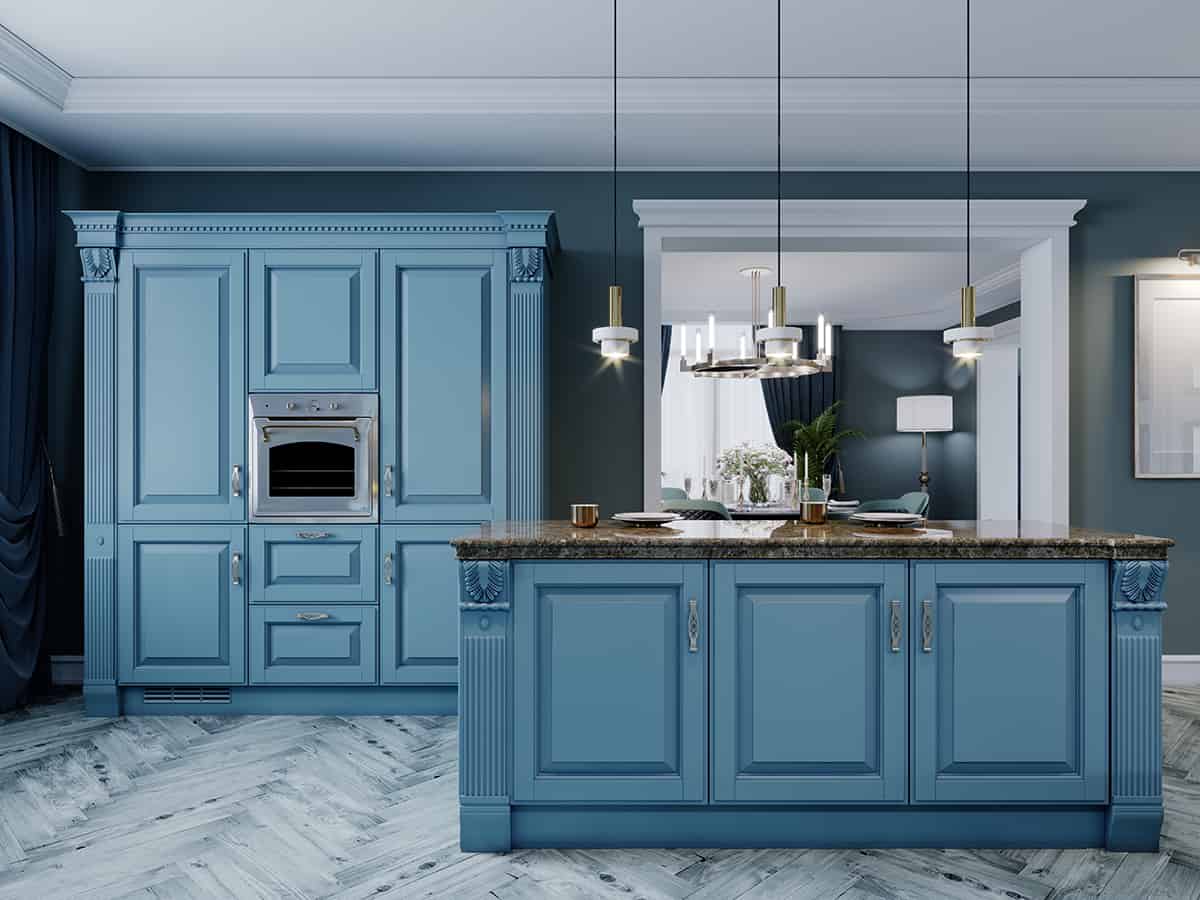 There are a wide variety of blue shades which work well with gray, so if you have a gray floor, you can consider a whole range of blue options. A mid-gray or light-gray floor would work well with deep and dark blue kitchen cabinets to help add contrast and definition to the room.
This color palette could make for a sleek and sophisticated kitchen style, with gray marble countertops and a white subway tile backsplash. You could also add neutral beige tones with this color scheme if you want to add some warmth to the space, for example, with stone wall tiles or beige marble countertops.
Duck-egg blue is also a popular shade of kitchen cabinets which will work well with gray flooring in a country chic or French vintage style interior design. A pale gray floor would look airy and dreamy with duck-egg blue kitchen cabinets, while a dark gray floor would ground the room and add a bold contrast.
A coastal or nautical design style could be achieved with gray flooring and blue kitchen cabinets. If you prefer a casual beachy style, then a light or mid-gray floor would look good with matte blue kitchen cabinets. Choose a door style that is simple and homely, or for a more sophisticated nautical vibe, choose a dark shade of blue and a more formal style of a kitchen cabinet door.
Red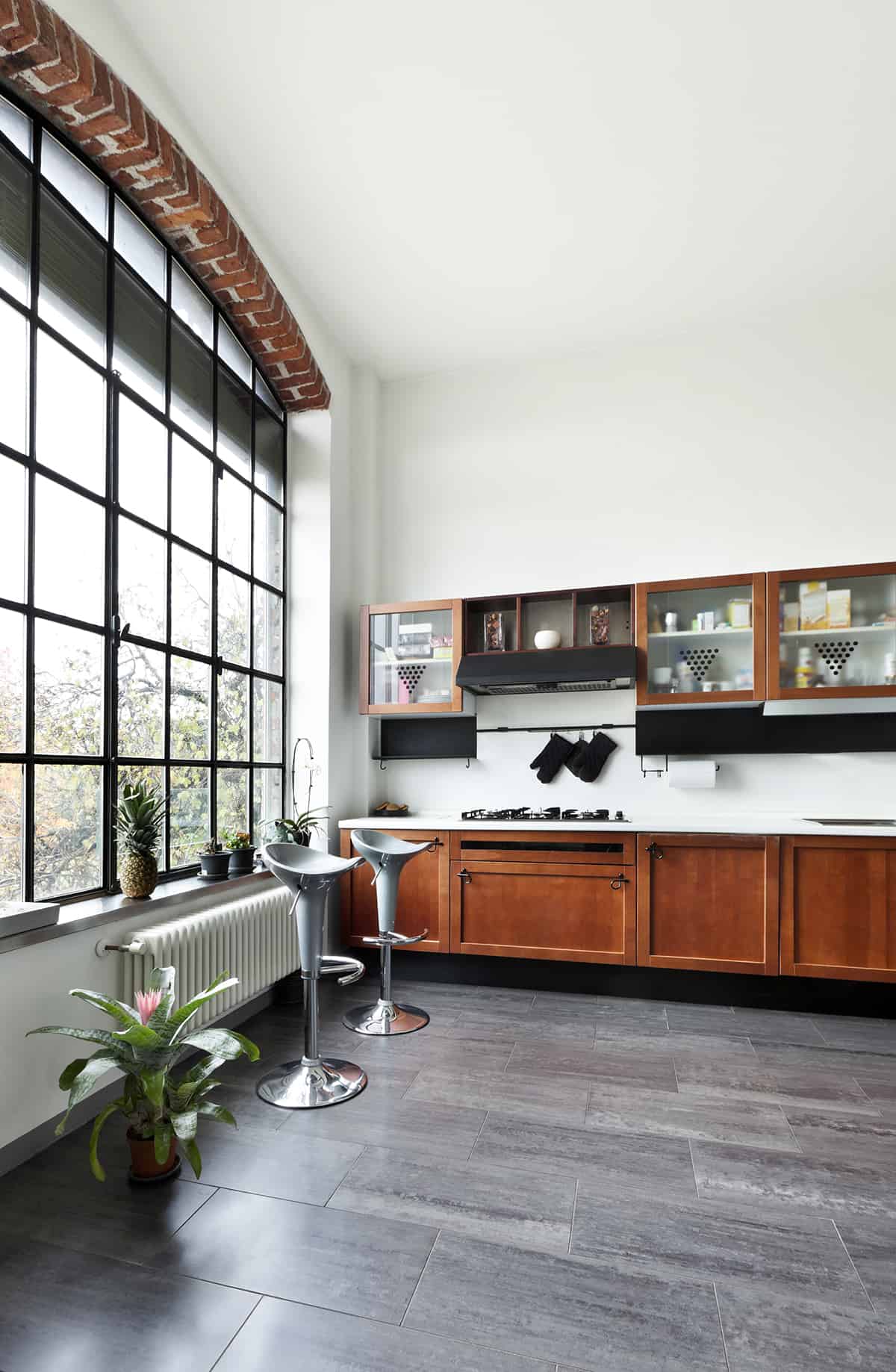 If you want to brighten up your kitchen, then red is a color that looks very dramatic next to gray. You could choose a red-based wood for your kitchen cabinets, such as cherry wood or mahogany. This would make for a natural, warming interior compared with red gloss laminate kitchen cabinets which would lean towards a more modern and cosmopolitan style.
If you opt for a dark red or a brown-toned red, you can pick out touches of this color in other parts of the room without it becoming too intense. For example, choose a mahogany dining table to match the mahogany kitchen cabinets. Red is a warm color that can balance out the cool tones in gray flooring and make a kitchen feel more welcoming.
If you feel that red will be too bold and overwhelming for all of your kitchen cabinets, you could choose a two-tone kitchen and have red base units and gray wall units to level out the color scheme.
Orange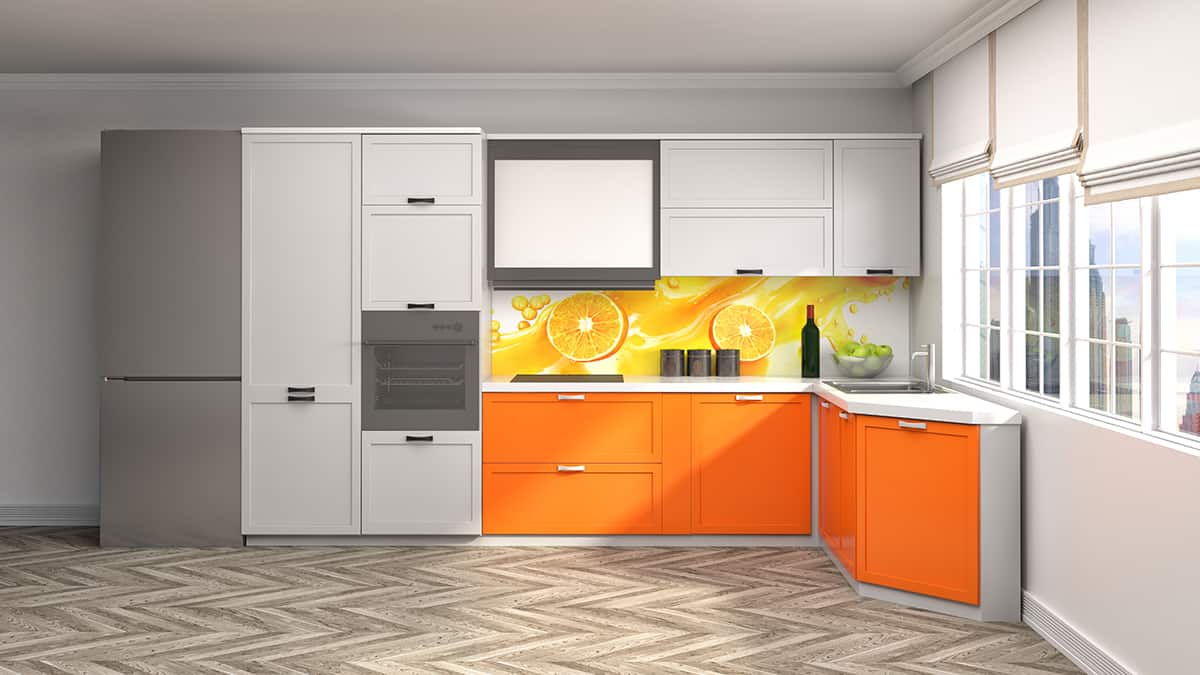 Gray and orange are two colors that really make each other pop, so if you want a bright and fun space, consider orange kitchen cabinets to go with your gray floor. Bold shades of orange look at their best when accompanied by dark shades of gray, so for your gray floor, you might choose charcoal-colored floor tiles or slate gray laminate flooring.
Pale gray shades can look washed out next to bright or dark orange, whereas peachy orange could work well with this floor color.
Green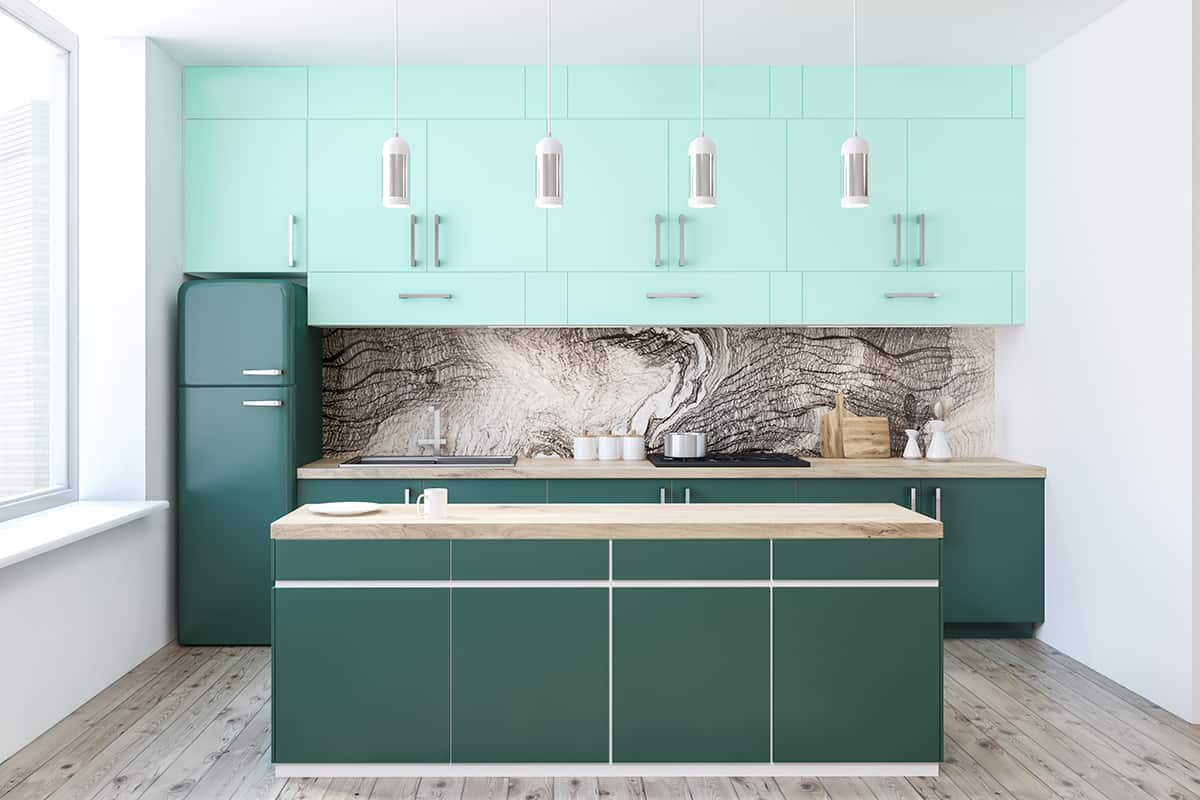 Dark fern green matte kitchen cabinets with gray floors are an unusual but stunning choice. This color combination looks sleek and high-end while retaining a depth and serenity synonymous with the wilderness.
Choose shiny rose gold handles for a textural and tonal contrast and Carrera marble countertops to pick out the gray hues in the flooring. Charcoal-colored walls would finish this look off perfectly, creating a dark and intimate space ideal for entertaining or enjoying a quiet cup of coffee.
Pink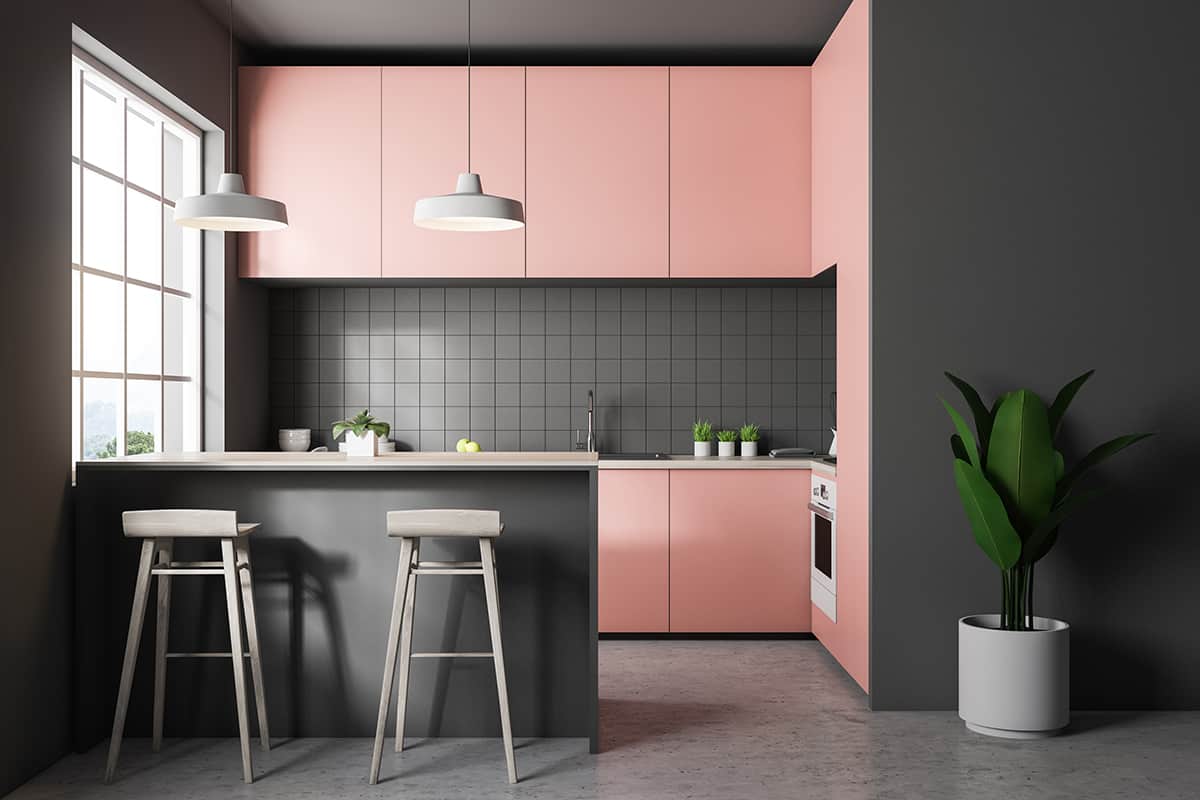 For a playful and feminine kitchen, choose dusky pink kitchen cabinets with pale gray flooring. Kitchens are generally a space full of hard surfaces, but you can add soft textures to highlight the delicate decor style, for example, with silk window blinds, orchid house plants, a faux fur rug, or velvet storage baskets.
If you want a pink kitchen, then gray is the ideal color of flooring to go with it because it grounds the space and provides a cool and modern vibe, preventing the pink from looking dated or twee. The warmth in pale pink also balances out the cool tones in gray, so the colors work together to create a soothing and even environment.
Purple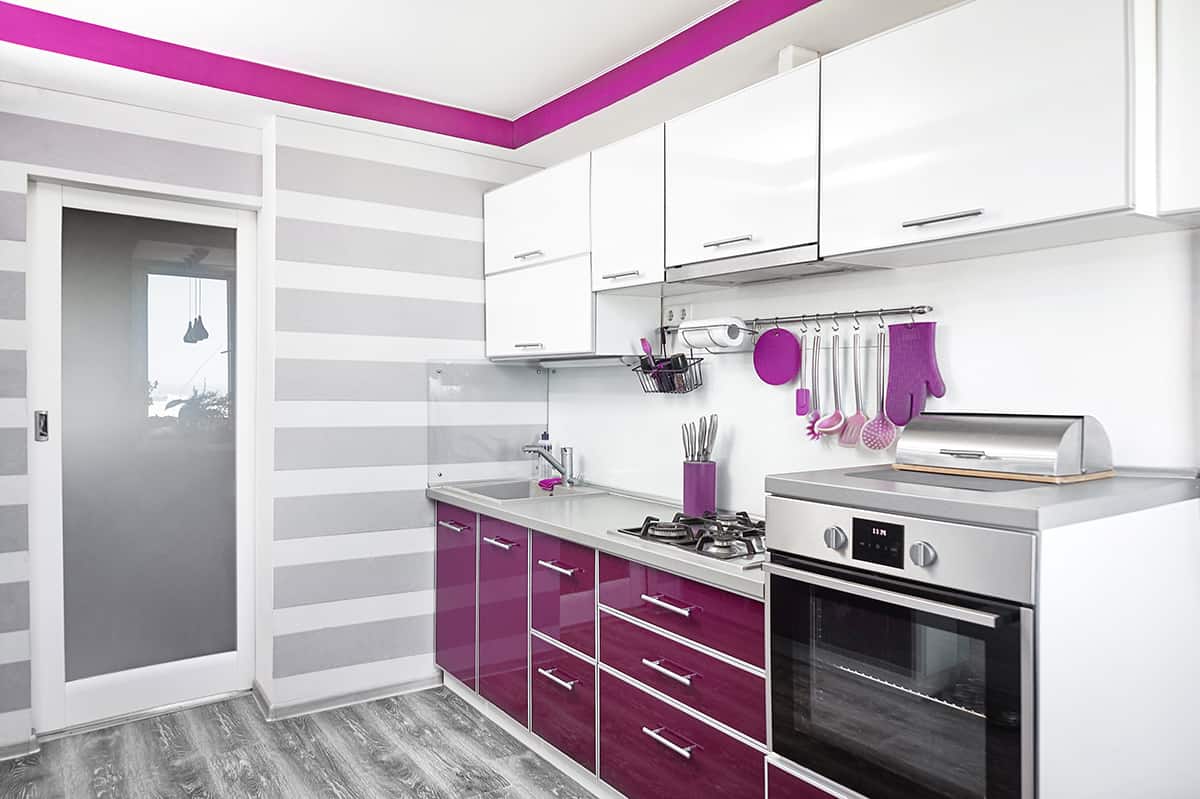 Purple is another color that loves gray. Lavender kitchen cupboards would look cute and whimsical with gray flooring, or a darker eggplant purple would look regal and dramatic.
Purple is a good color if you want to play with feminine tones without making the obvious choice of pink. This is an underused color in kitchens, but it can work well for modern styles if you choose a flat slab cabinet door with industrial-style hardware.
Wood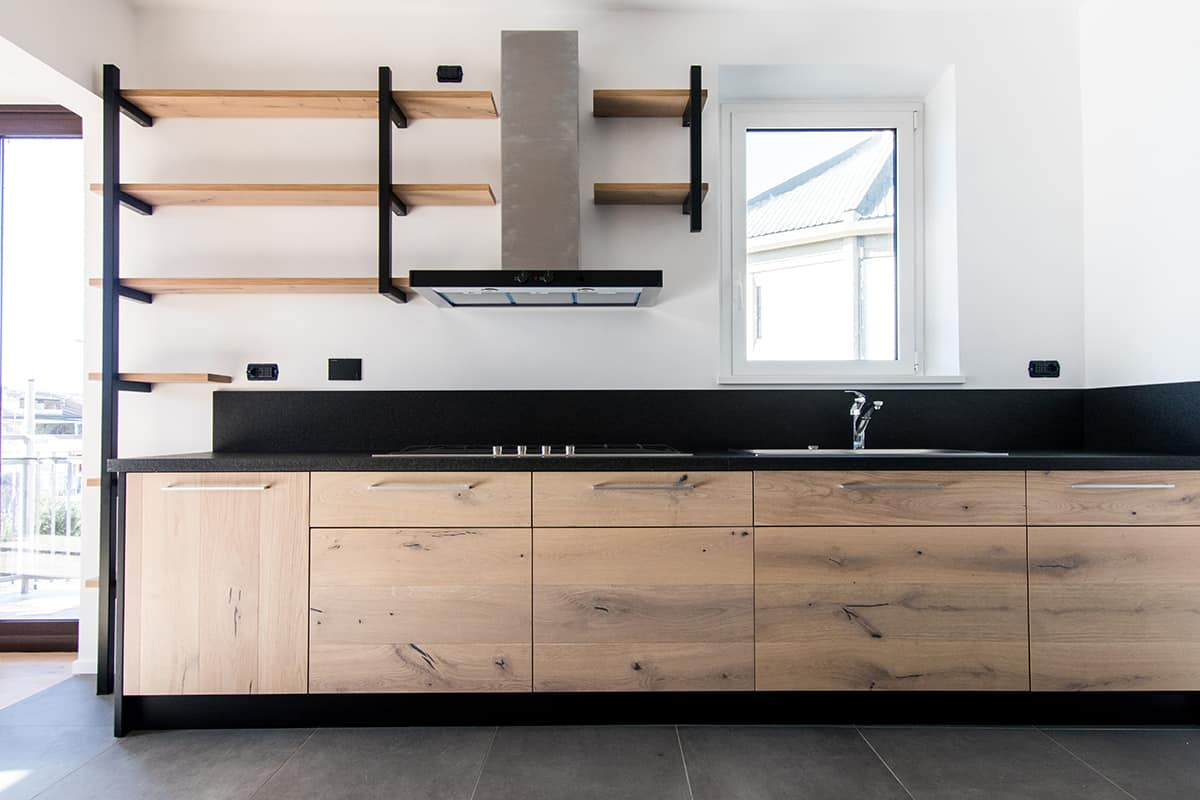 Wood finishes on kitchen cabinets are a very common choice because they work so well with a wide range of colors and bring a warm feeling to a room that can have a tendency to feel cold due to the lack of soft furnishings.
To create a homely and welcoming kitchen, choose a wooden kitchen cabinet color with a rich-toned grain to balance out the cool hues in your gray flooring. Alternatively, cooler wood finishes will work well with gray floors for a modern take on a traditional style.
Gray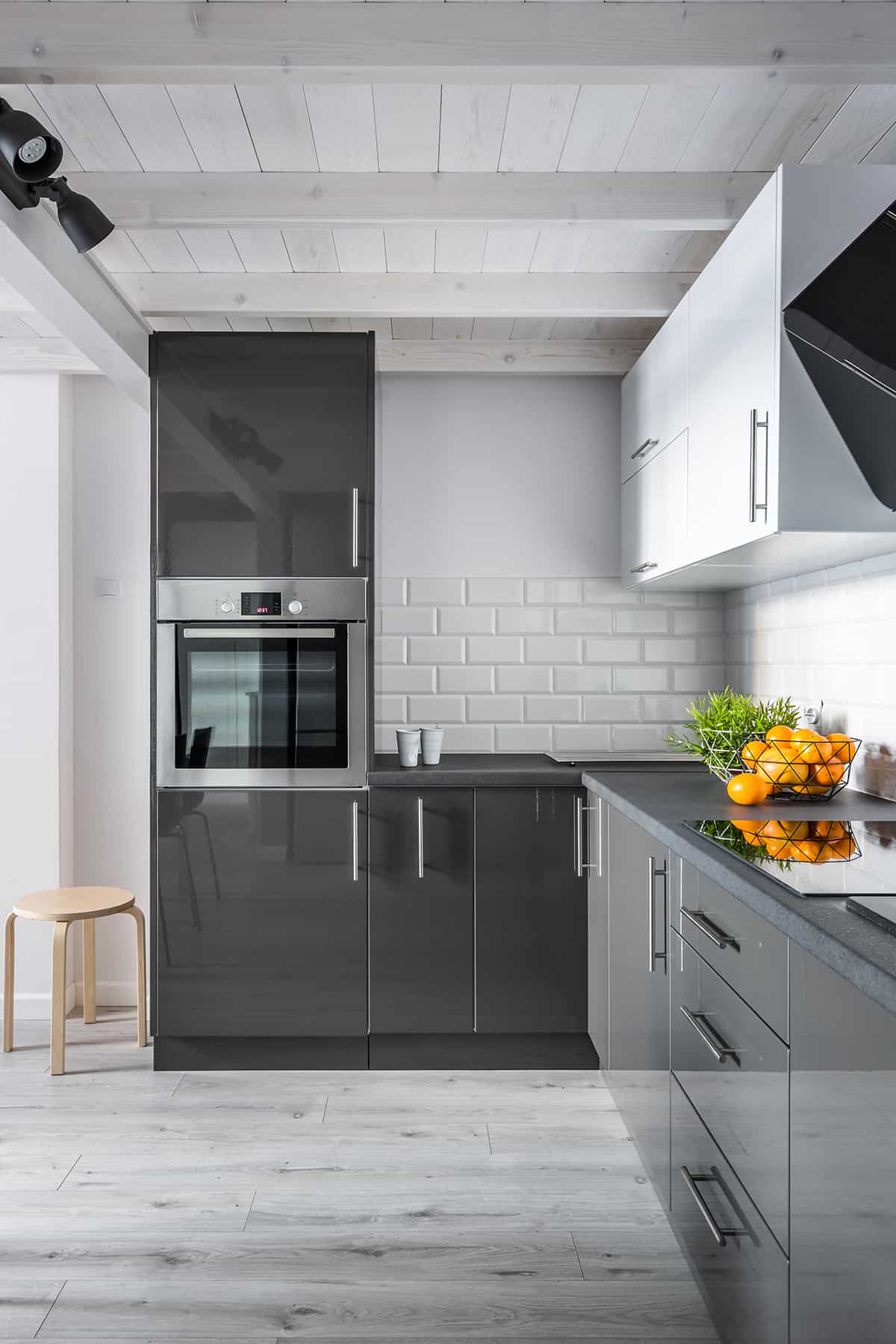 For a layered style, choose gray kitchen cabinets with gray flooring.
Opt for contrasting grays, such as a dark gray floor with soft gray kitchen cabinets. Alternatively, to garner an immersive experience, you could match the cabinet color to the flooring color, which will make the space feel more expansive.
Break up the gray cabinets by choosing a different color for your walls, countertops, and backsplash. For example, pair gray cabinets with
You could go with a minimalist or monochromatic style by utilizing various shades of gray with black and white, or use the gray flooring and cabinets as your blank canvas backdrop and choose a startling color for your backsplash, such as lime green tiles.