Hardwood flooring is the most desirable type of flooring for residential homes because it offers excellent durability, is easy to keep clean, and looks luxurious and stylish. However, once you have made the decision to get new hardwood floors installed, you'll then need to figure out which color and type of wood you want to go for.
Here we look at the most timeless hardwood floor colors that will suit a wide range of decor styles.
Why Choose a Timeless Hardwood Floor Color?
Future Proof
Hardwood floors are a big expense, so you don't want to choose a color that is going to go out of style in a few years, and then you'll face the prospect of having to replace all of your floors again. If you choose a timeless color for your hardwood floor, then you can be sure it will still be just as stylish in ten years as it was when you first bought it.
Inoffensive
Many people opt for timeless hardwood floors because they know they won't be staying in their house forever, and so they want to ensure the floors are a color that is going to appeal to a broad spectrum of people. A timeless floor color has the best chance of being inoffensive and, therefore, will help to sell your home when the time comes to list it.
Coordination
A timeless-colored hardwood floor is going to be easy to match with a wide range of decor. Although you might love shades of blue right now, who's to say that in a few years' time, you won't want to repaint your living room in shades of pink?
A timeless color of hardwood floor is going to work well as a base shade for almost any color scheme you might choose in the future. This is important so that you don't feel restricted when decorating and have to plan your whole style around the color of the floor.
Timeless Hardwood Floors
Light Colored Hardwood Flooring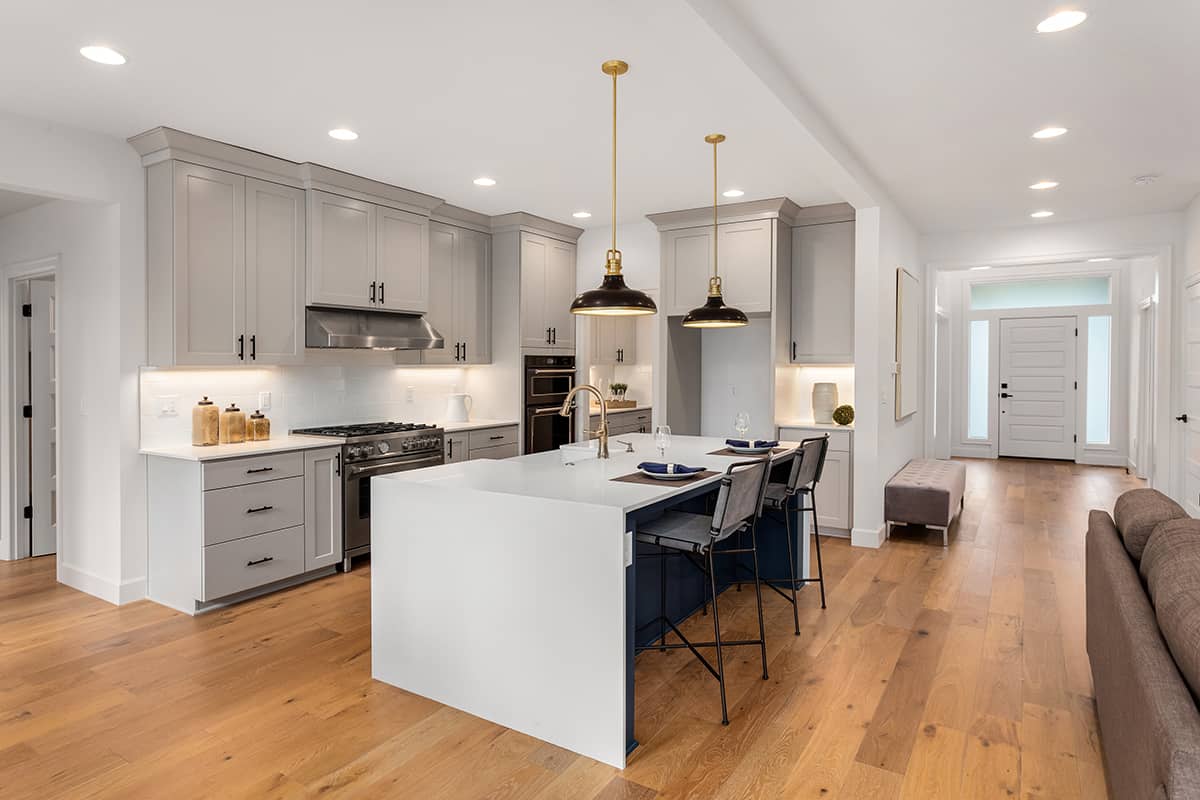 If you have a small room, then choosing a light color for your hardwood flooring can be a good option. This is because light-colored floors can reflect light and give the illusion of more space, even in poky rooms.
If you want to find a light hardwood floor that is going to be timeless, then choose a shade that is neutral. Gray wooden floors are very trendy right now, but they also have a timeless quality because gray can be paired with almost any other color. This gives you a future-proof room that will be able to have the walls repainted, and the color scheme changed further down the line without needing the flooring to be replaced.
These light hardwood color tones can easily pair with most furniture colors or accessories, making it easy for you to choose items later.
Light gray floors can have a polished modern look or a casual white-washed look that gives them a beachy style. If you want to ensure a timeless look that will stand the test of time, then choose a satin finish that is neither overly glossy nor too matte. This finish will be easiest to style because it is neutral and can be matched to either formal or casual looks, as well as modern or traditional looks.
If you opt for a light-colored hardwood floor, you will also need to decide on a warm or cool color. Cool colors tend to look more modern and refreshing, while a warm-toned floor will make the room feel welcoming.
The natural light your room receives can play a part in your decision since rooms that are south-facing will have a warm glow throughout the day, so they can handle a cool-toned floor, and you can be sure this won't create a feel that is uninviting, stark or gloomy.
In a north-facing room, you may struggle to get good levels of light, and in this case, a warm-toned hardwood floor will be better because it will help to make the space feel brighter and more pleasant.
In terms of creating a timeless look, a cool or warm-toned light color of hardwood flooring will work well but stick to neutral shades since these will be the safest bet in terms of colors that are inoffensive. For a timeless look, you want to choose colors that are not too bold since these can cause an objectionable response in some people.
A neutral color is a much safer choice because it won't make a statement, and instead, you can use wall color or furnishings to be the statement piece in your interior decor.
Opt for pale warm neutral colors such as alabaster oak or light beech, which have yellow or orange undertones. Cool neutral shades in light tones include white-washed oak and gray-washed maple.
Medium Hardwood Flooring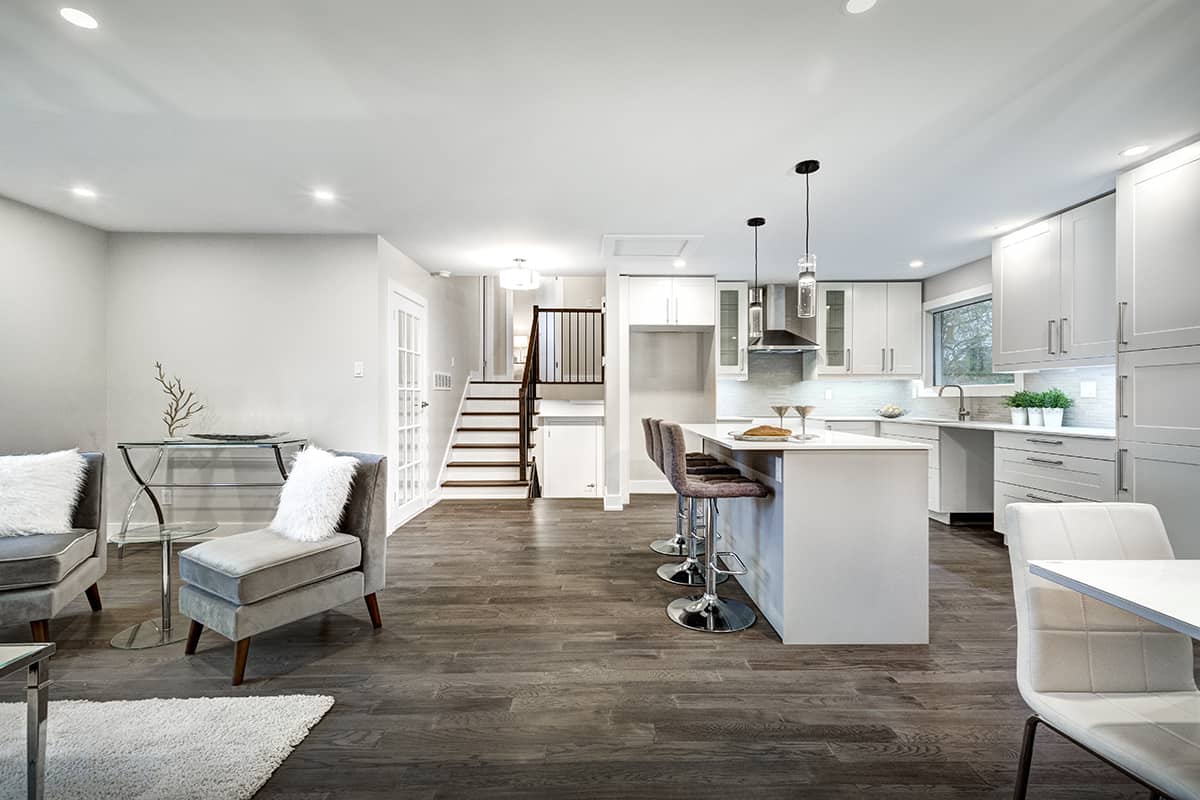 If you want to create a timeless look in your home, then the best category of hardwood to choose is that of medium colors. Medium colors are neither dark nor light and instead sit right in the middle. These are so versatile because they can be used to contrast against light walls, or they can create a dramatic feel with dark walls. They also won't make a room feel too dark and intense but can still offer a level of coziness.
Medium-colored floors will also work well in bright and airy rooms if they are paired with light-colored rugs and furnishings. While light floors are great for reflecting light, medium-colored floors are able to ground a room without making it drab or small. In large rooms, medium-colored floors can make the space feel cozier without making it dark.
When considering the color for your medium shade flooring, opt for something neutral to achieve a timeless feel. Cool neutrals such as medium gray-washed hardwood floors will look stylish, but they are a trendy choice rather than a timeless choice.
That's not to say you can't create a timeless look with medium gray floors; you can absolutely do this with the right decor style and color scheme, for example, with a monochromatic look that has a vintage edge, such as classic 1940s black and white art prints hanging in black frames on white walls, with silver suede sofas and elegant black glass tables. Gray hardwood floors can also stand the test of time if you are prepared to face the possibility that they may go out of style.
In terms of coordination, medium gray floors will work with a huge range of different color schemes, such as coastal, industrial, and traditional. However, if you are going for a more classic appeal, then a warm medium-toned hardwood floor will be best suited.
Medium shades of oak such as aged oak and farmhouse oak will work well because these are neutral warm shades that will go with anything, and they are also consistently popular and will never go out of style. Medium warm chestnut shades will also be a good option.
Be sure to stick with light to medium shades of brown, such as tan and dark beige, as these will be the most neutral and easily match with any decor. Avoid red-toned floors for a timeless look because the popularity of these can really fluctuate, and you may end up with a floor that looks dated.
Red-toned wooden floors can also be tricky to coordinate with, which will be problematic if you want to change your color scheme and decor style. Red-based flooring is also a very personal taste that will not appeal to everyone, so it is best avoided if you plan to sell your home in the future.
Dark Hardwood Flooring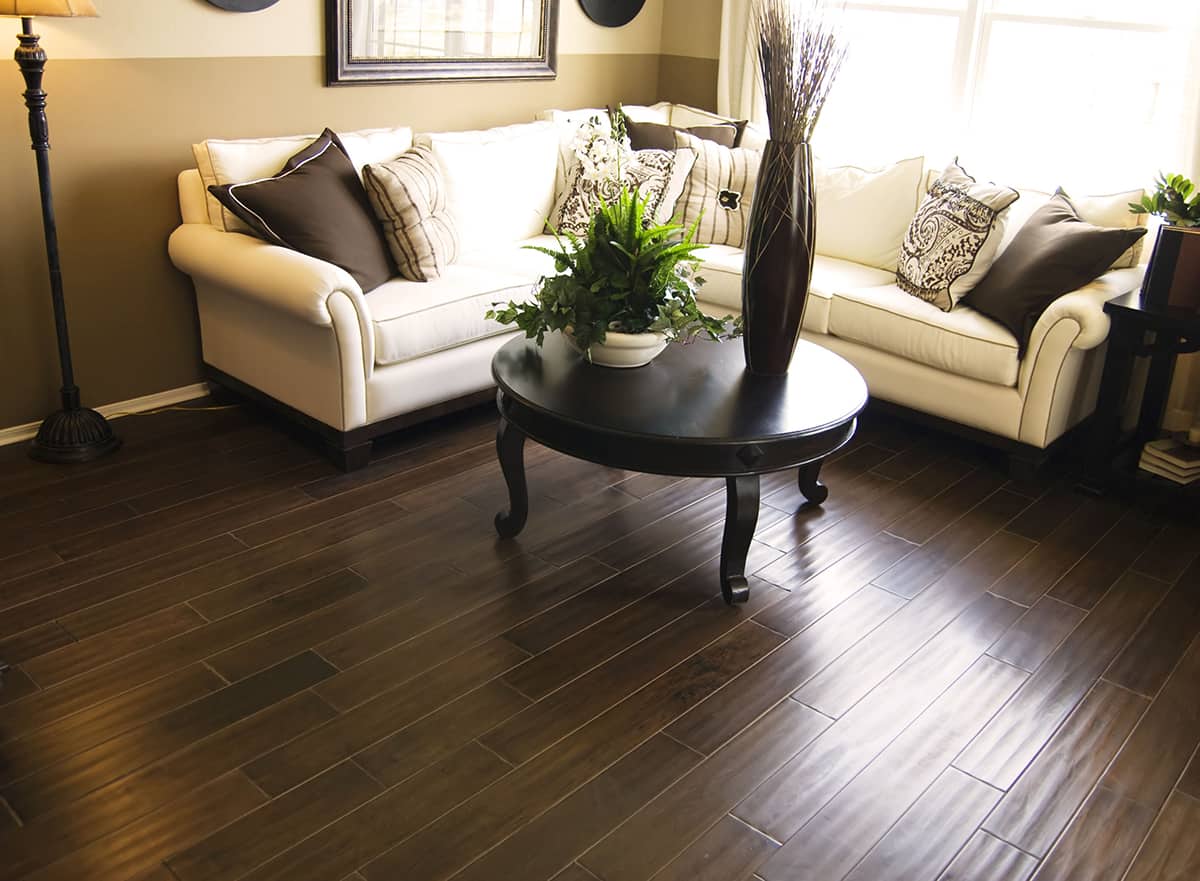 Dark-colored hardwood floors can be a bold choice, but there are ways you can make them work for timeless decor. Striking dark shades such as black stained hardwood or espresso brown flooring can look really stylish, especially in a large room where you want to make the space feel cozy.
However, such intensely dark floors will not be popular with everyone, so if you are going for a timeless look that will appeal to prospective buyers of your home, then avoid colors that are at an extreme end of the scale.
Instead, for a dark floor color, choose a warm and comforting shade like dark walnut, mahogany, or coffee-stained oak. These colors will act as a rich and dark base, but they won't draw too much attention to them and, as such, will work with a wide variety of decor styles.
Avoid any dark-colored floors with red undertones because these will be difficult to match with changing decor styles in the future, and they can provoke a love or hate response in some people.
If you want to choose a timeless color for your hardwood floor, then a medium shade is going to stand the test of time better than a dark color, but if you have your heart set on a dark shade, then choose it wisely, and you can find yourself a timeless dark hardwood floor.