If your home has oak trim that you want to keep, when you update your flooring, you'll need to find a color that goes with it. While many people may choose to paint or stain their oak trim so that they aren't held back by it when choosing new flooring, there are actually a vast number of flooring options that work really well with oak trim.
Here we look at some of the best flooring colors that go with oak trim.
Should Floors Match Trim?
Your flooring surface does not need to match your oak trim, but if you like a sleek and seamless look, then this is a good route to take.
If you are keen on having hardwood floors anyway, and you already have oak trim, then it seems like a sensible option to choose an oak floor surface so that it will match the trim. This makes for good continuity and can also make the room seem bigger because the color of the floor starts to extend up the wall.
If you are having your flooring and trim installed at the same time, then you should find it no problem to choose the same type of oak to ensure a perfect match between the two. If you already have oak flooring and need to find a floor that matches, this may prove slightly more tricky.
For the best match, contact a flooring supplier and ask them to find a hardwood floor that is a good color and grain match for your oak trim. If you would prefer to source the flooring yourself, get some wooden floor samples ordered online and hold them up next to your oak trim in good lighting to see which offers the closest color match.
Alternatively, you could buy an oak stain and stain your wooden floor so that it looks like real oak to match the trim.
Wooden Flooring with Oak Trim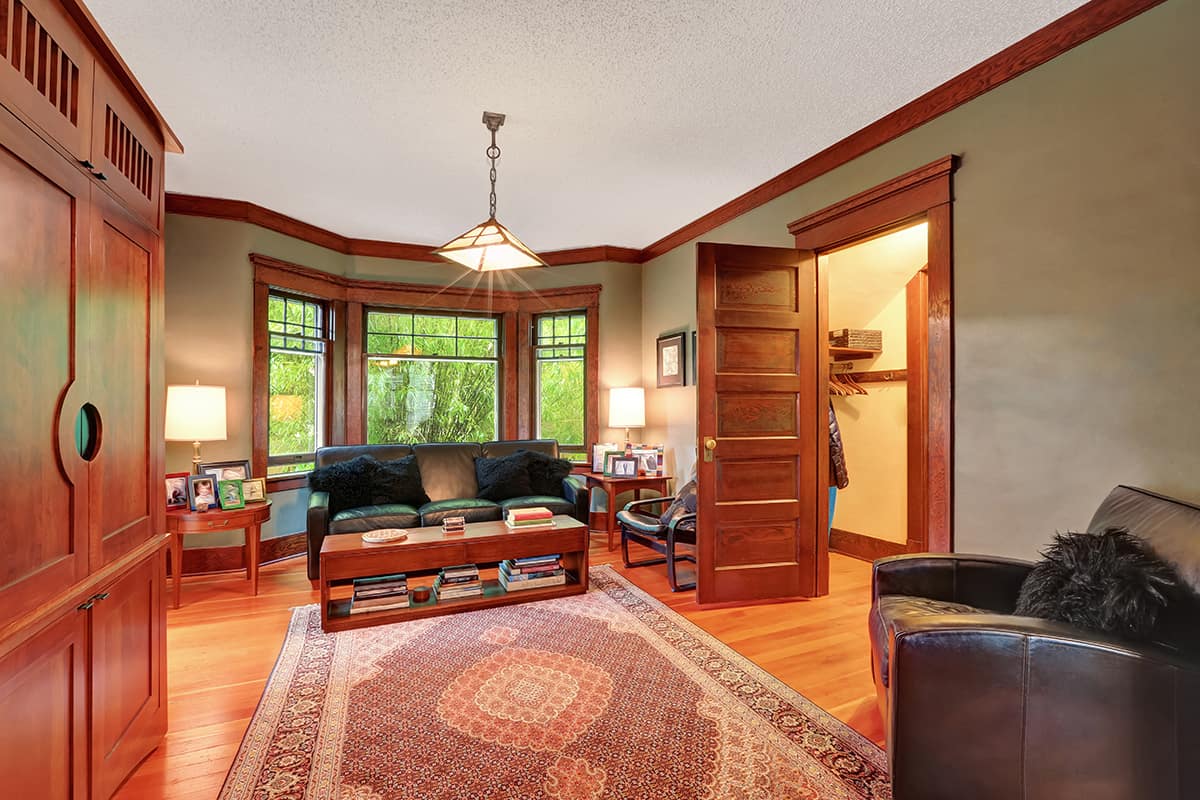 Wood floors are very popular and can add value to a property because they are a sought-after flooring surface. Wooden floors are easy to keep clean, and you don't have to worry about spills or dirt being brought into the house on shoes because they can be easily mopped up.
Although wood is a solid surface, it is less dense compared with tile flooring, and so if you fall over on a wooden floor, you are less likely to suffer an injury compared to a tiled floor.
Wood floors provide a feeling of warmth and character to a home that is hard to replicate with any other type of flooring. If you want to install a wooden floor with your oak trim, then you could choose a shade of oak that matches, or you can opt for a contrasting shade of wood.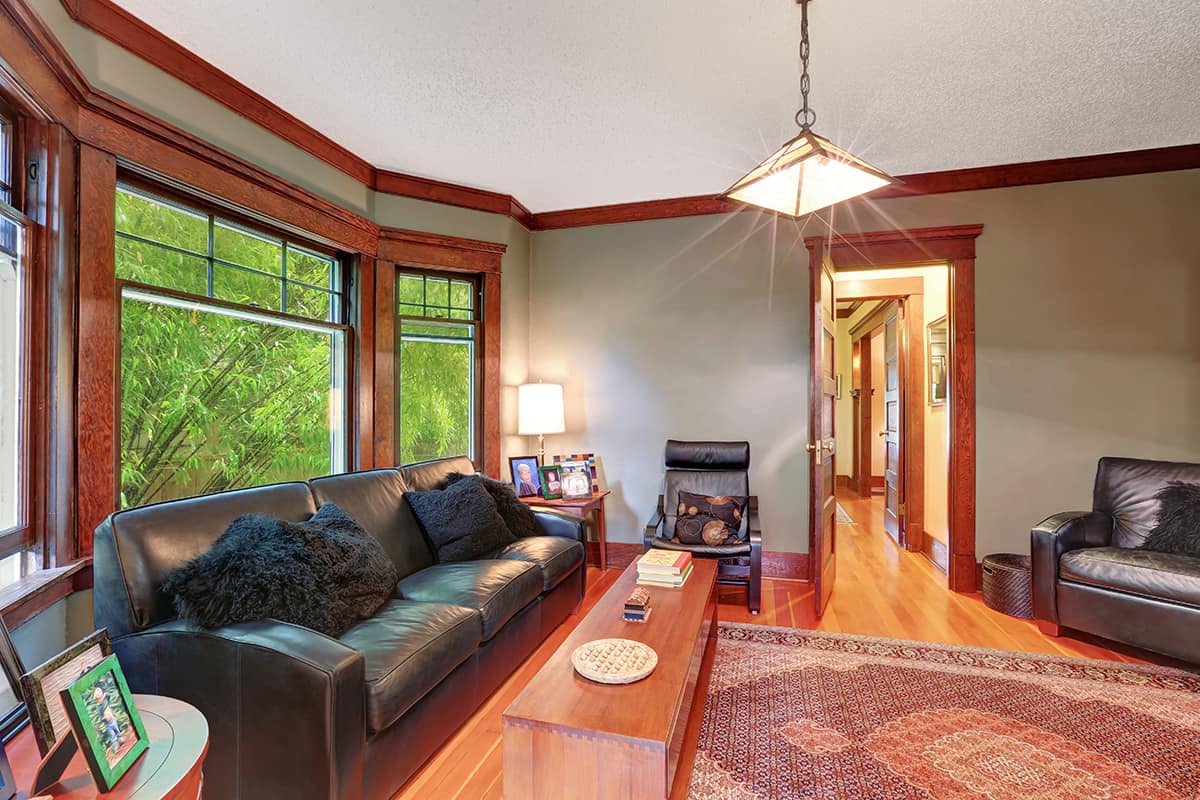 If you don't want to match the color of oak, consider an oak floor in a lighter or darker shade than the wood. This will mean that the tones in the wood match, while the shade offers some variety and a distinction between the two.
To achieve this, find an oak flooring surface that is a similar hue to the oak trim, but it will need to be at least two or three shades lighter or darker to create a good contrast. An example of this would be light oak floors and honey oak trim.
You also have the option of choosing a completely different type of wood flooring for your oak trim. The flooring options you should consider will vary based on the color of your oak trim, as oak is available in many variations.
If you have a dark oak trim, you could look at walnut floors for a rich and elegant look, or medium oak trim can work nicely with pale pine flooring.
Carpet Colors to Go with Oak Trim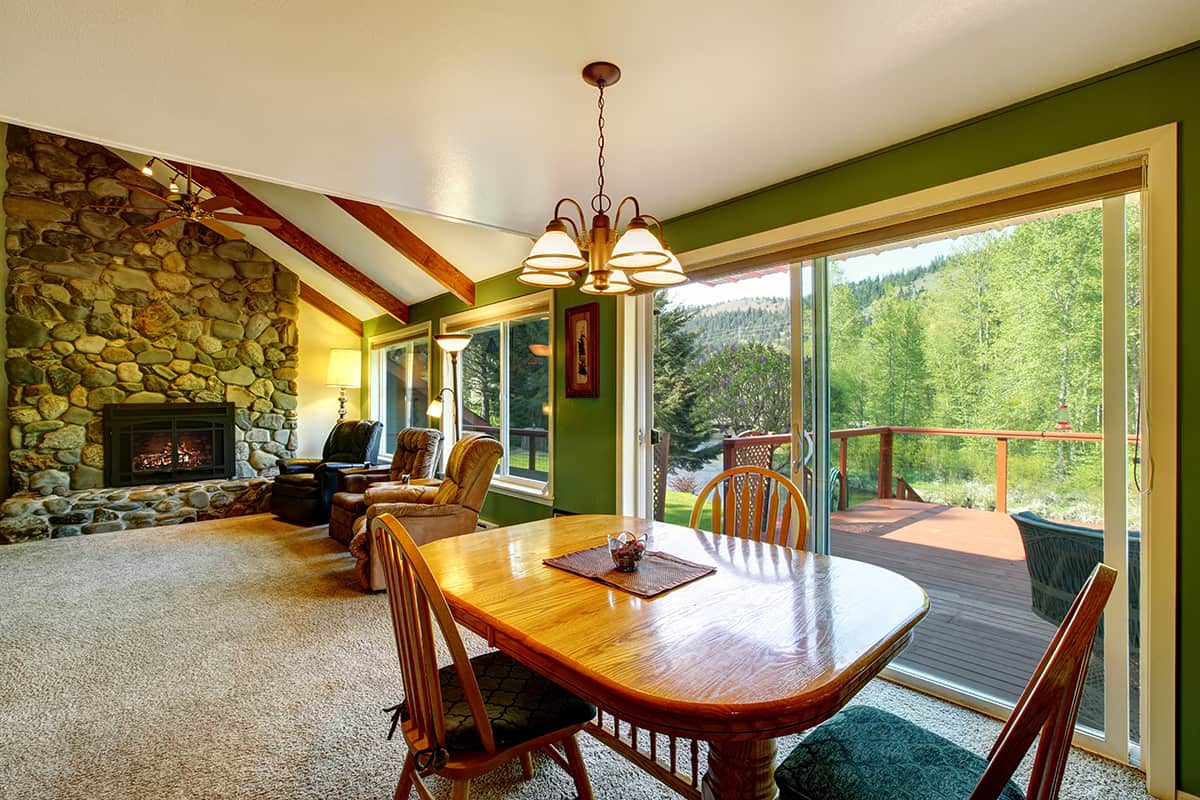 If you want to add a carpet floor surface to a room with oak trim, then your options are almost endless. Most commonly, people choose carpet in neutral shades because they make a nice base and a good background color in a room.
Neutral colors are great for flooring because they will work well with most color schemes, meaning you can redecorate at a later date without the need to change the carpet.
With carpeting, your color options will need to work with your room and the style you are trying to achieve, as well as your oak trim. In small rooms, light-colored carpets work well to make the space feel more open, whereas dark carpets can help to ground the space and make it feel cozier in large rooms.
The paint color of your oak trim will also make a difference in what color carpet will look best. Oak trim with strong orange or yellow hues will contrast well against gray carpets or blue carpets. Honey oak has a very rich tone which can be balanced out by the cool tones in blue and gray carpets.
Beige carpets also look beautiful next to oak trim if you want a more classic or traditional appeal. For a blended look, choose a beige carpet that is a similar shade to your trim.
For example, a light oak trim will match a light beige carpet. Or, you can contrast the shades by choosing a dark beige carpet with light oak trim for some subtle definition.
Another carpet color that will work nicely with oak trim is brown. Lighter shades of brown are great for adding warmth to a room, while darker shades work well at creating a weighted feel to the room, as well as hiding stains.
Tiles Colors that Go with Oak Trim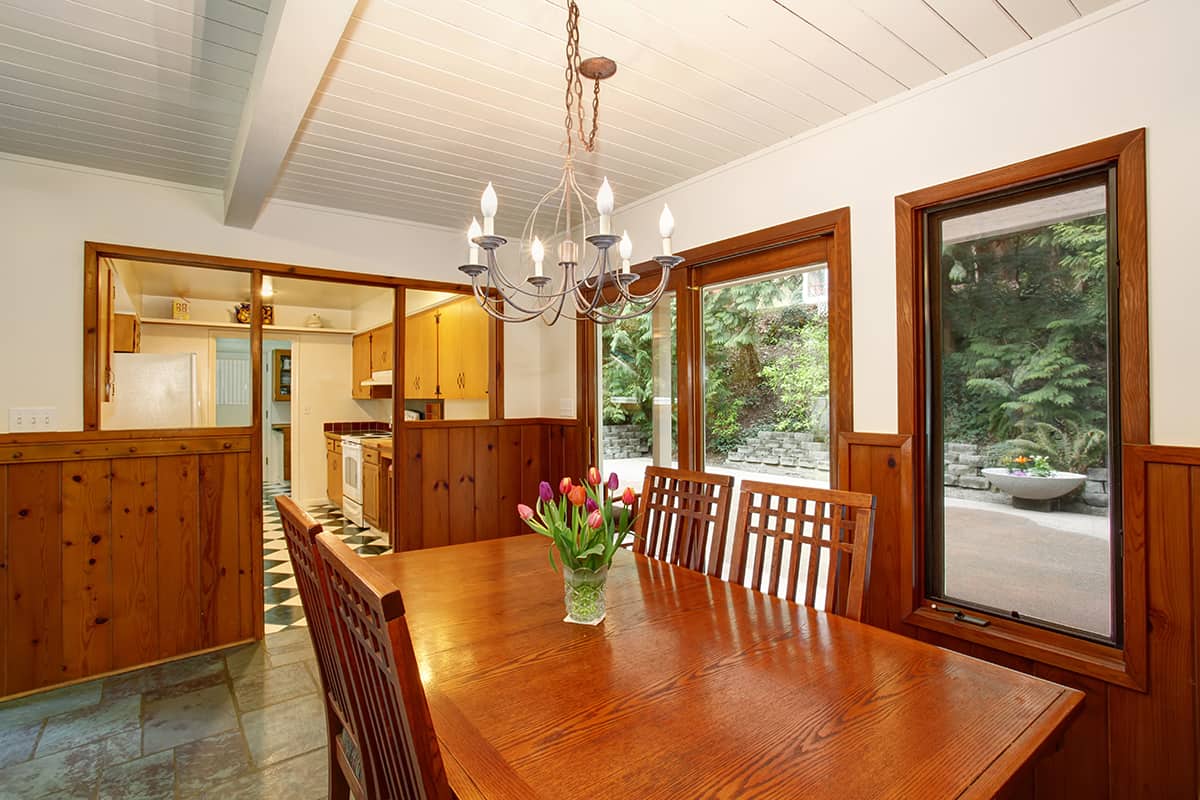 Tile floors look sleek next to oak trim, and the color choices are vast. Tile floors are a popular choice in kitchens and bathrooms because they are easy to keep clean, and they don't suffer any damage from moisture.
They are also a good option in entryways and laundry rooms for the same reason. For a neutral base in your room, choose a natural stone tile in shades of beige or off-white. This works especially well in rooms where you want a casual and airy feel.
For a more dramatic look, choose dark tiles such as slate or black marble. These colors look elegant and timeless alongside oak trim, and the warm tones in the oak will really make the black stand out.
For color contrast, choose tiles with cool undertones because the oak trim will have warm undertones. Cool colors include blue, green, purple, and some shades of pink.
You can also find gray colors with cool undertones if they have slight hints of blue, green, or purple in them.
These colors contrast oak trim because oak will typically have orange, yellow, red, or brown tones. For the strongest contrast, identify the main color in your oak trim and choose the opposite color on the color wheel for your flooring. For example, if your oak trim is predominantly yellow, then the opposite color would be purple, meaning a purple tile floor will create the most complementary contrast.
Red-toned oak will have the strongest contrast with a green tile floor, and an orange-toned oak will have the strongest contrast with a blue-tiled floor. The shade of the color you choose will also impact the level of contrast. For instance, a pale blue-gray will have a much softer contrast with orange oak trim compared with a vibrant sapphire blue tile floor.
For a more cohesive look, you can choose warm floor tiles to go with your oak trim, such as terracotta tiles. Combining a warm-toned floor with warm-toned oak trim will make a space feel very inviting and comfortable, compared with cool-toned floors, which look fresh and modern.
Variations in Oak Coloring
The color variation found in oak can be quite dramatic because there are so many different types of oak trees and other factors that affect the shade of the final oak trim.
White and red oak trees are predominantly used to produce furniture and construction materials for homes, with white oak having a golden hue and red oak being slightly pinker colored.
The part of the oak tree used to create your oak trim can also affect the depth of color, as well as the age of it, and how the trim is treated during production.
Most types of oak trim will have yellow, orange, red, or brown tones, making oak trim an undoubtedly warm color. However, the level of saturation can vary between different types of oak trim, and they can also be stained to take on the look of different types of oak.
Popular oak-inspired stains include antique oak, weathered oak, dark oak, red oak, light oak, medium oak, pickled oak, and honey oak.
To find the best floor coloring to go with your oak trim, you should identify the main color in your oak and work from there.