Selecting the perfect wall color for a kitchen with white cabinets is necessary to achieve an ultra-smooth finish. There are many bold and neutral colors that can affect the overall look of a kitchen. But the question is, what are the best wall colors that complement white kitchen cabinets?
Warm-toned hues like brown, yellow, and pink as well as cool greens and blues can provide a contrasting look. The strong, vivid paint colors immediately catch attention while the more subtle options like grays and beige create a calm, relaxed vibe.
If you'd like to get some ideas on the best color match for your white kitchen cabinets, take a look at our examples with images below:
Kitchen Wall Paint Colors that Go with White Cabinets
Beige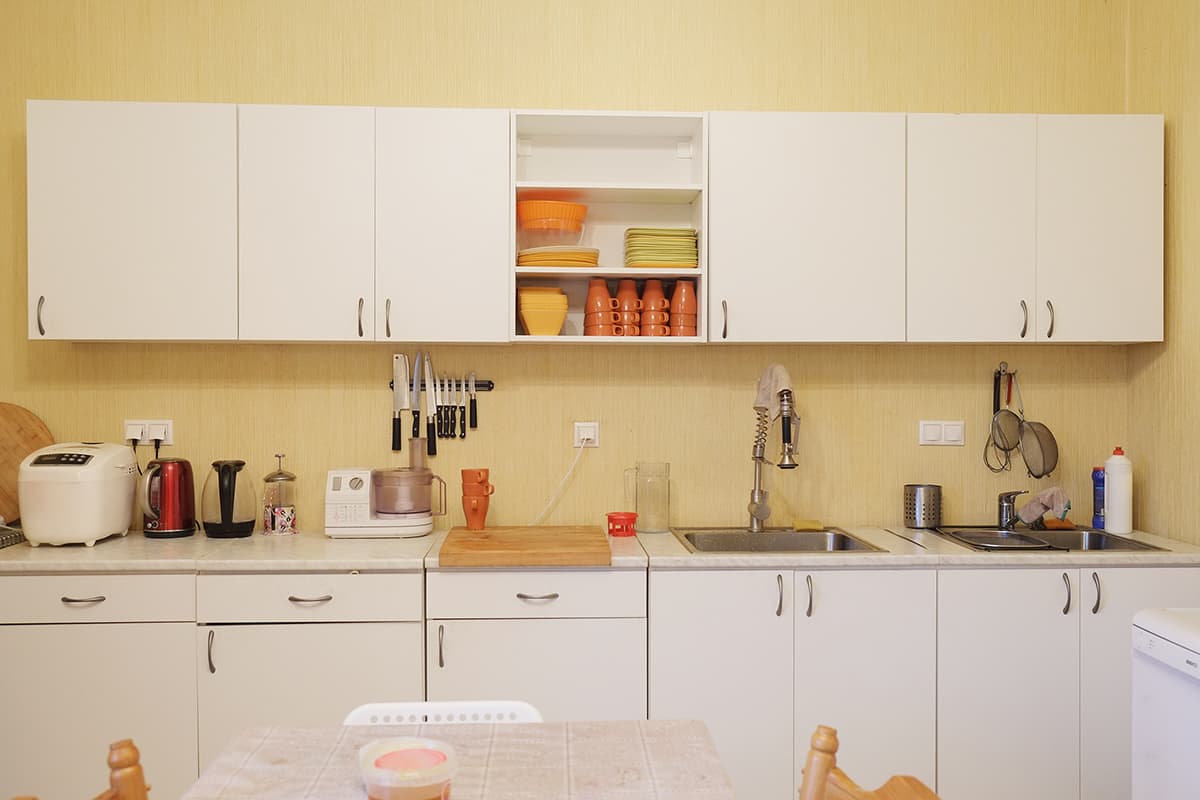 Do you want a super clean and warm kitchen design? Then consider painting your walls beige as this is one of the most preferred paint colors that go with white cabinets. The warm tone of beige can enhance any kitchen decor without making the room feel dark or bland.
Here is a modern kitchen example with pure white cabinets and beige walls as a warm and inviting backdrop to the cool-toned cabinets.
Greige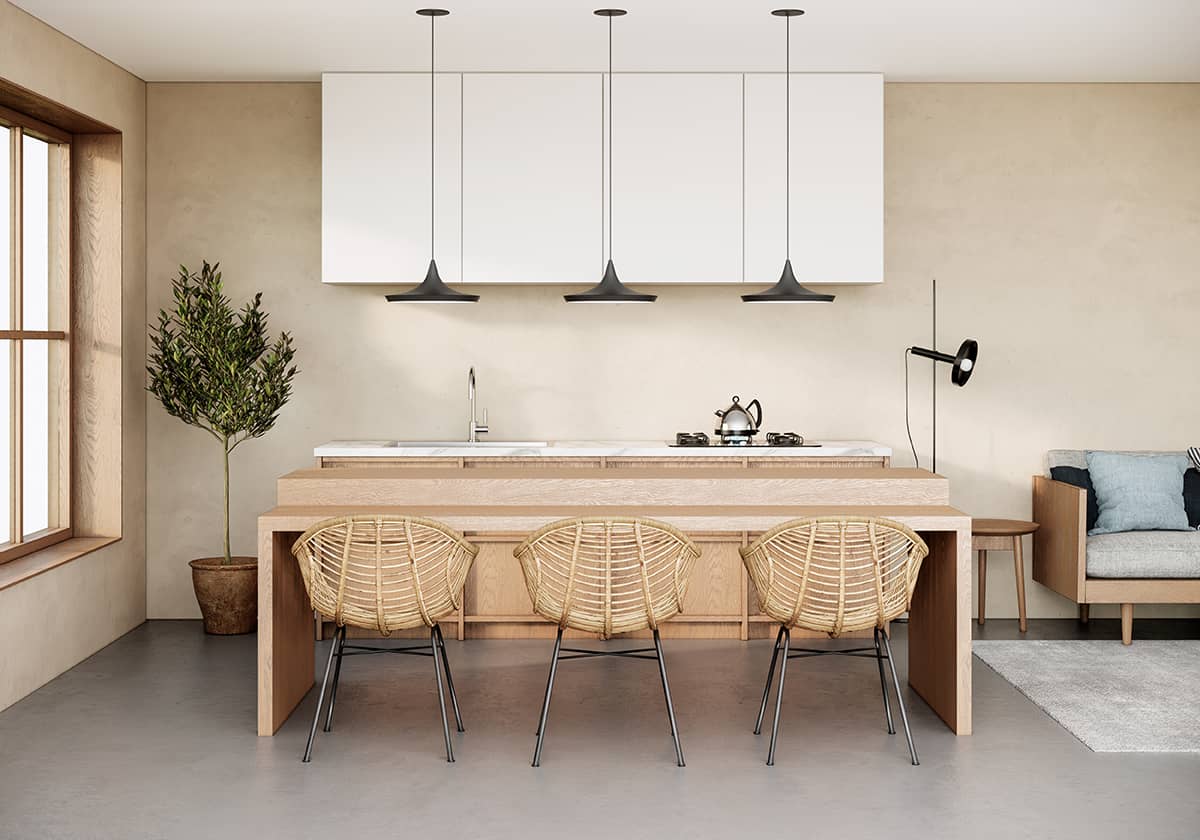 Another neutral alternative to beige is the interesting color greige. This is a combination of beige and gray as a popular choice for kitchens with white cabinets. The two neutral colors don't compete for attention, plus they work in both modern and traditional kitchens.
In open-plan kitchens, the continuous use of greige walls works particularly well for both the living room and the kitchen as they flow from one space to another. This helps bring a cohesive look to your kitchen with white cabinets.
Brown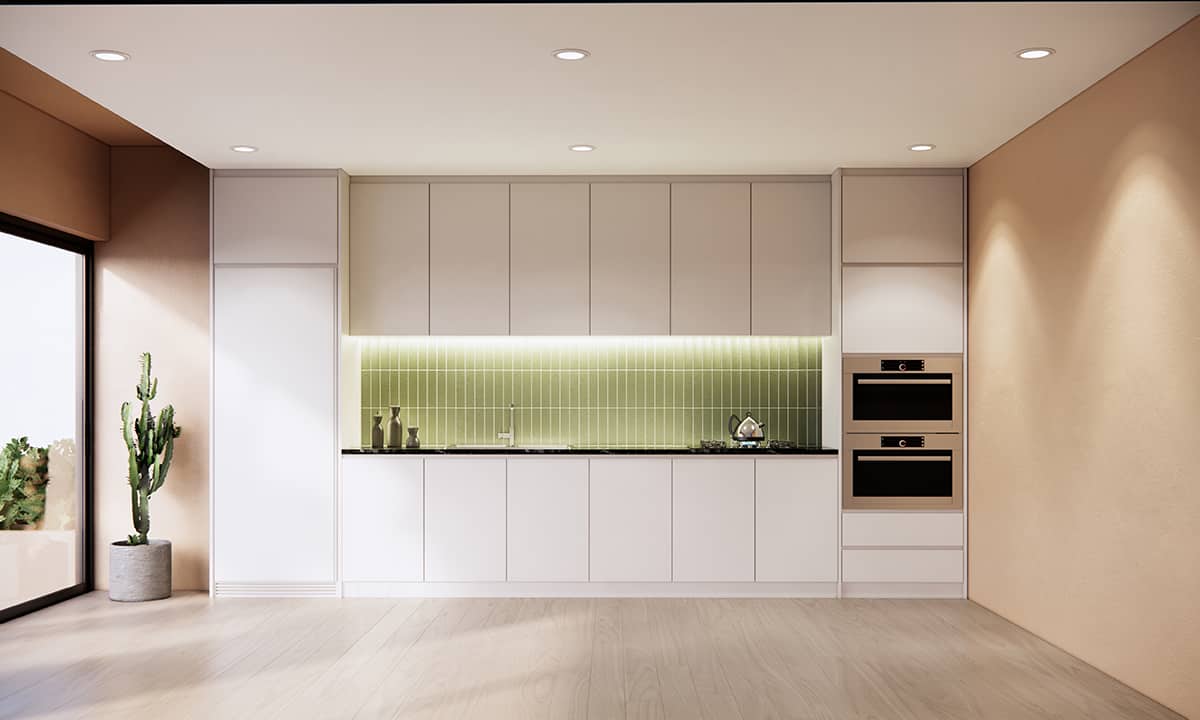 Some people might think brown is a bit monotonous, but when you pair it with white kitchen cabinets, it can be anything but dull. There are various shades of brown you can use for pairing with white cabinets – even in modern kitchens. Lighter shades like caramel or fudge give a feeling of warmth next to white cabinets without stealing the spotlight from the cabinets.
So if you're looking for a brighter kitchen, brown is the perfect color to pair with white for a light, relaxing tone.
White on White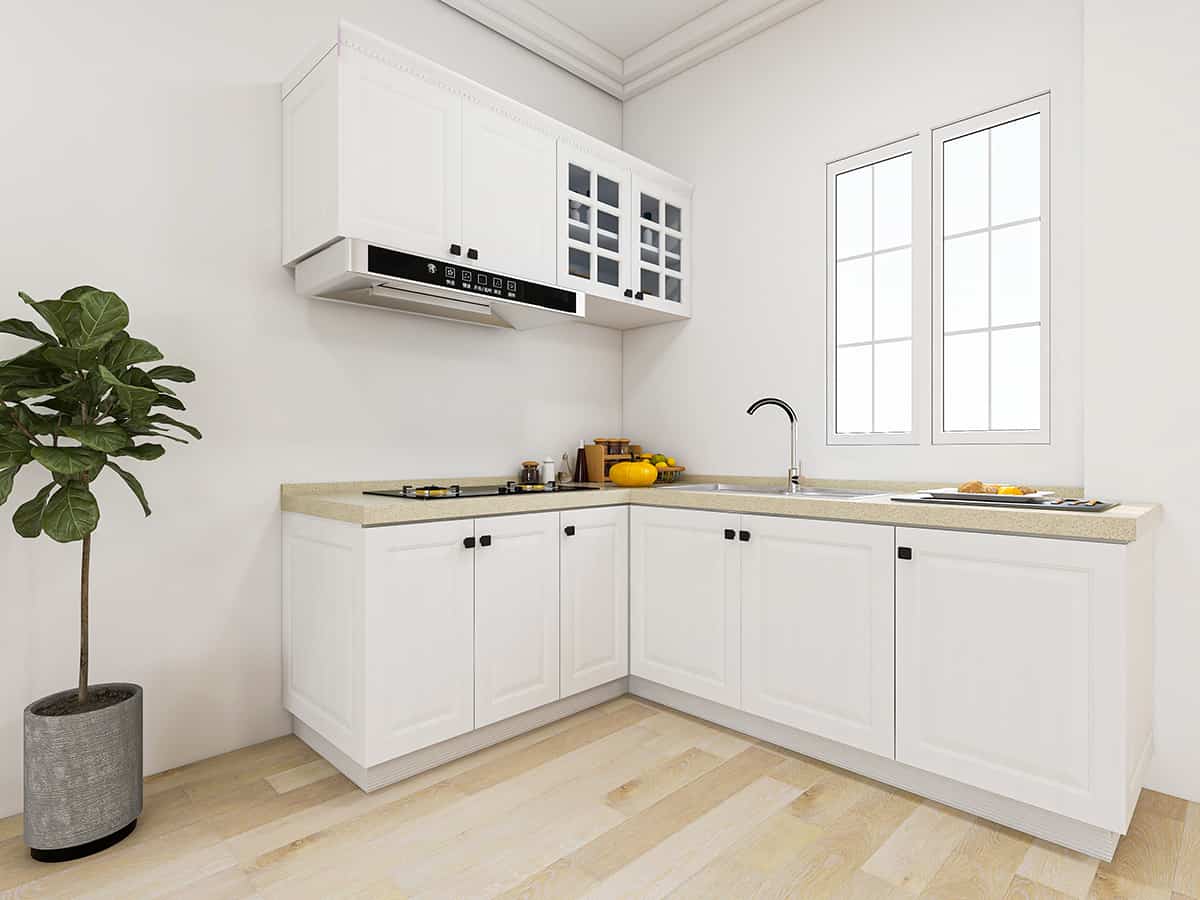 Now if you're looking for a perfectly compatible color to pair with your white cabinets, consider a warm shade of white. This will give your kitchen a nice clean look, plus you can use any other accessory color to further brighten up your kitchen.
White on white is the perfect choice for small kitchens as this color gives the illusion of space. In spacious kitchens, this monochromatic color scheme works just as well since white gives the room a clean and crisp look.
Blue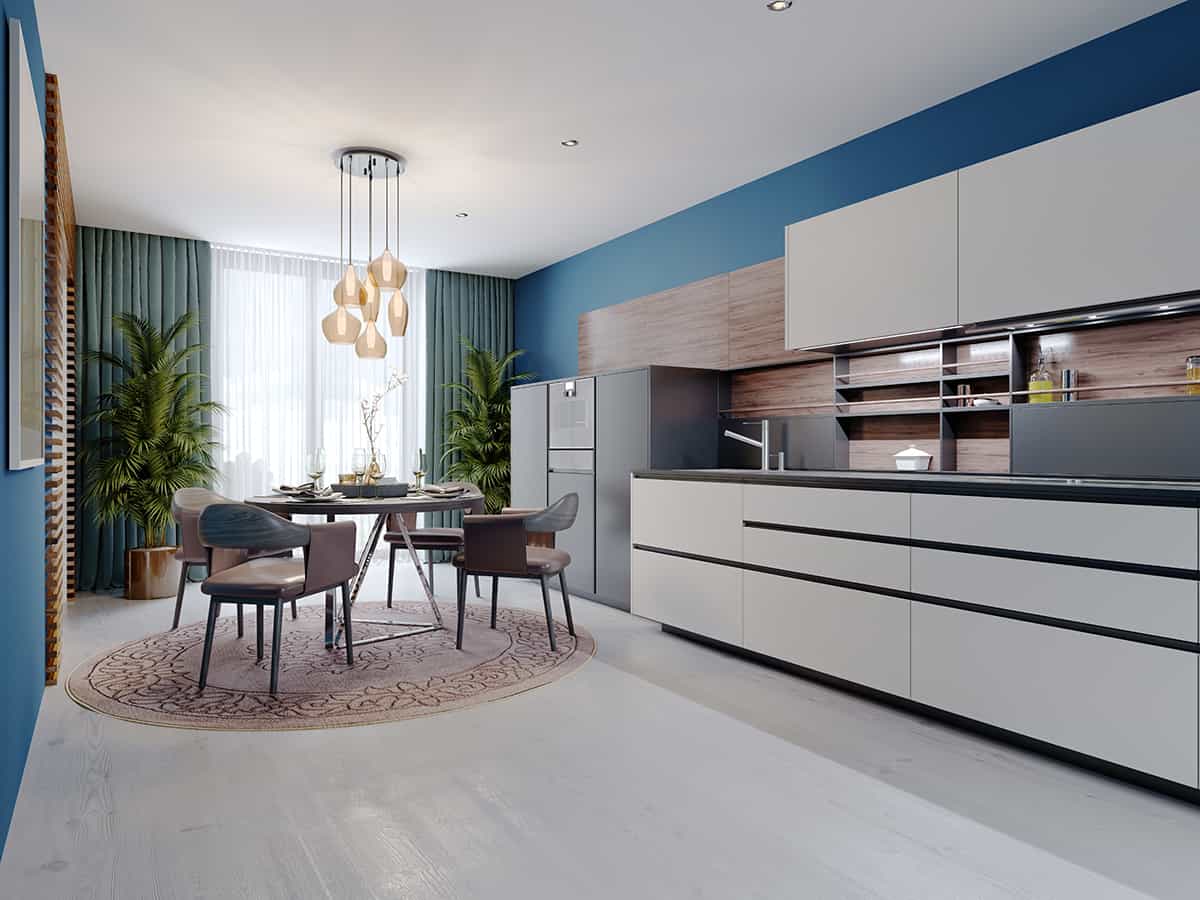 Maybe you want a bolder yet more calming color than white for your kitchen walls. If you think white is just too bright then how about a contrasting color like blue for the walls? Blue creates a relaxing feel and adds depth to a kitchen with white cabinets. However, the shade you choose matters as navy blue may make the space appear confined, while a lighter shade can soften the stark white cabinets.
That said, you can still opt for a bold shade of blue for your white kitchen to bring a cozy atmosphere just like in this example. This is a luxurious, modern kitchen with white cabinets and deep blue walls as a relaxing contrast against white.
Green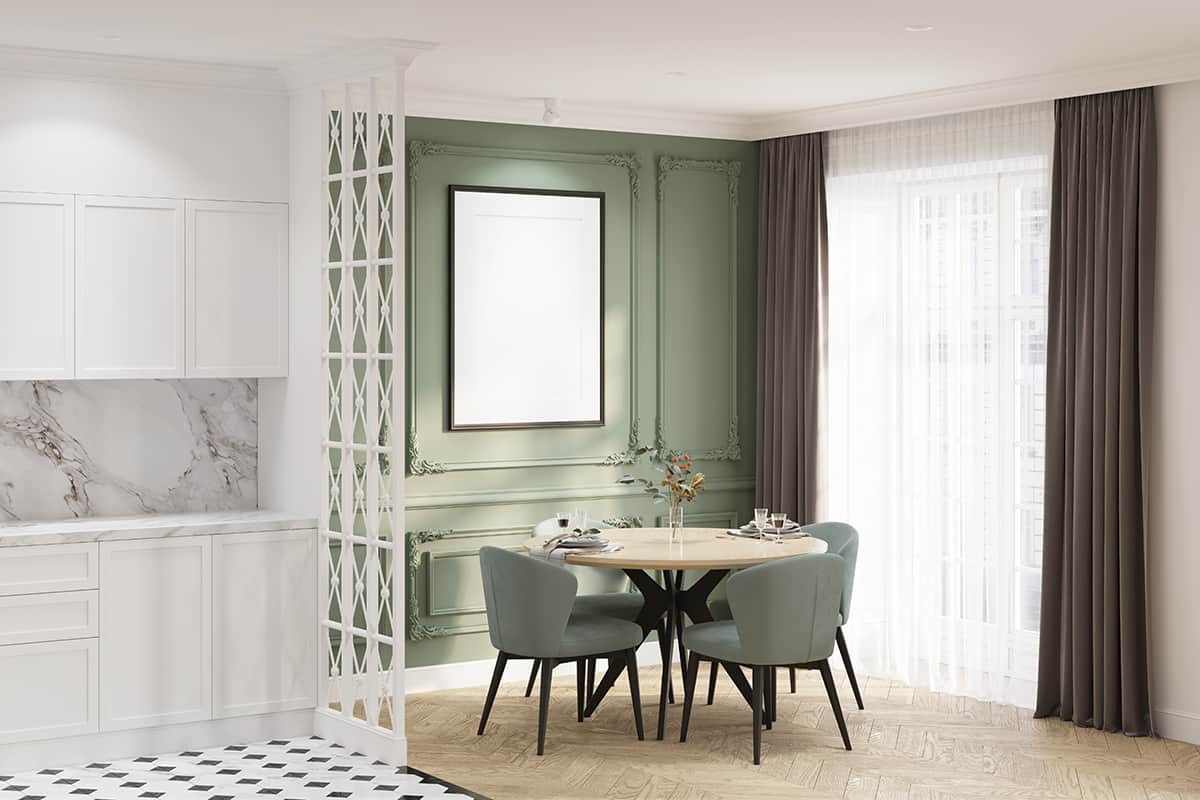 Green is a paint color that exudes harmony and warmth. This wall color gives a striking statement to a modern or rustic kitchen. Not only will your kitchen with white cabinets have character, but this contrasting color can also highlight the white cabinets and make them stand out.
As you can see in this example of a classic open-plan kitchen, the bright white cabinets next to the green wall create an equal distribution of interest. You can choose any shade of green for your kitchen with white cabinets for maximum impact.
Red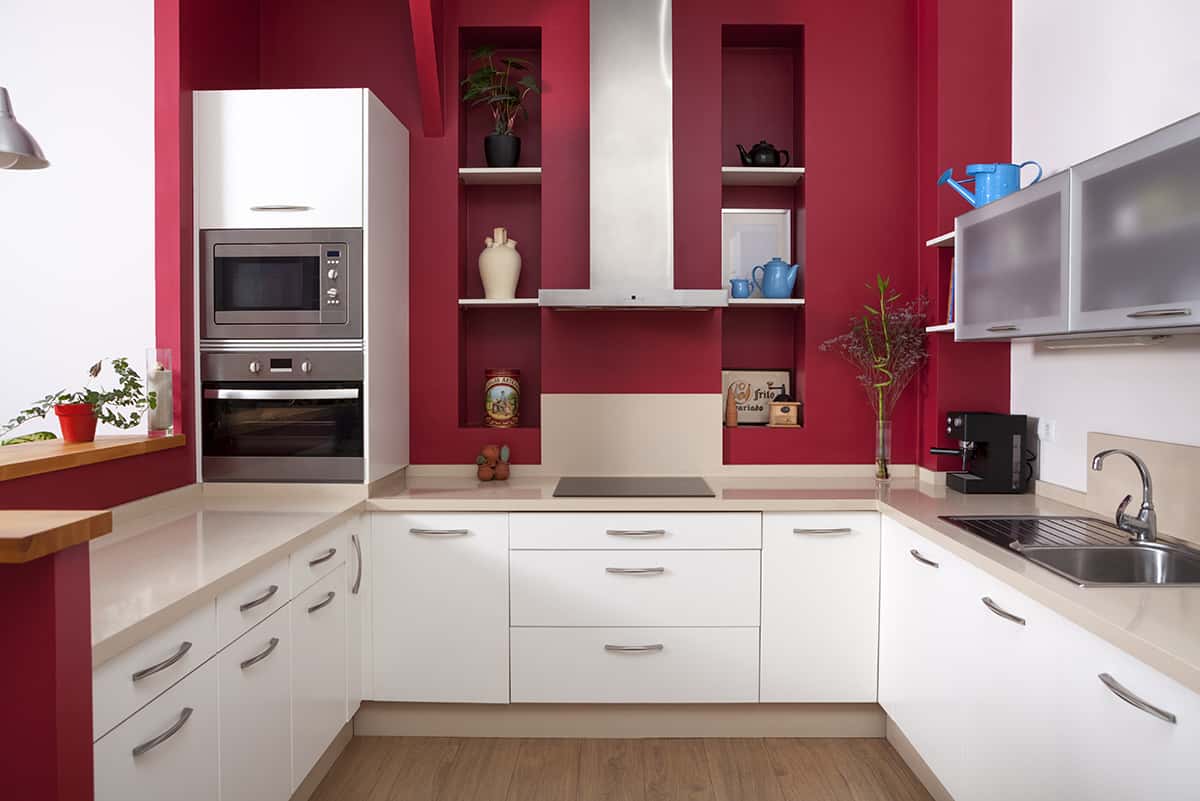 Red isn't a common wall paint color choice for most people, but it can really pop against a kitchen with white cabinets. Rich, deep shades of red like burgundy or cherry can make your space stand out, thus an ideal choice for anyone who isn't keen on monochromatic colors.
This classy color is the perfect option for creating a focal point in both small and large kitchens with white cabinets as proven in this modern kitchen.
Dark Gray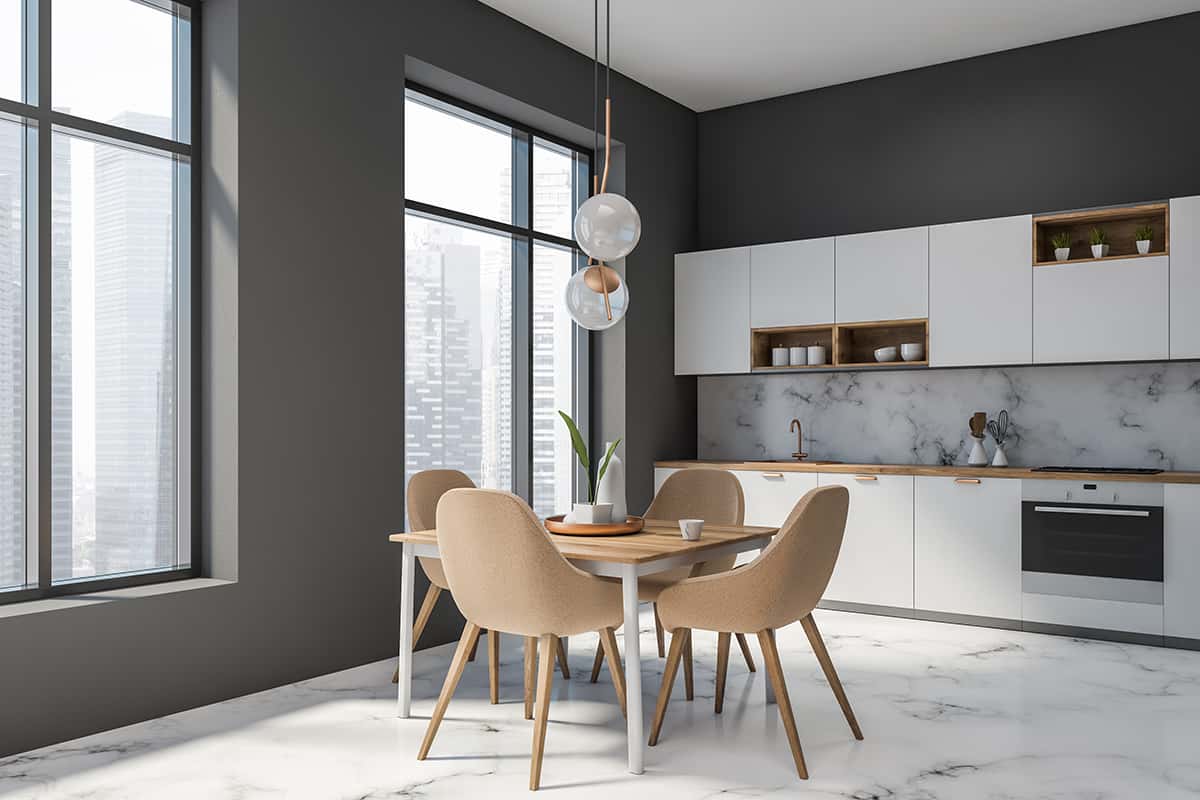 If you want to tone it down and bring harmony to your kitchen with white cabinets, consider coordinating neutral colors like dark gray. This modern paint color is both trendy and timeless, so if you want to keep your kitchen minimal and clean, dark gray walls next to bright white cabinets work perfectly together.
The beauty of gray is that its versatility allows you to introduce other pops of colors to spice up the neutral kitchen design. Add greige or taupe to this color scheme to give your white kitchen a warm, soft look. Alternatively, you may include natural wood dining furniture to your dark gray and white kitchen just like in this example.
Yellow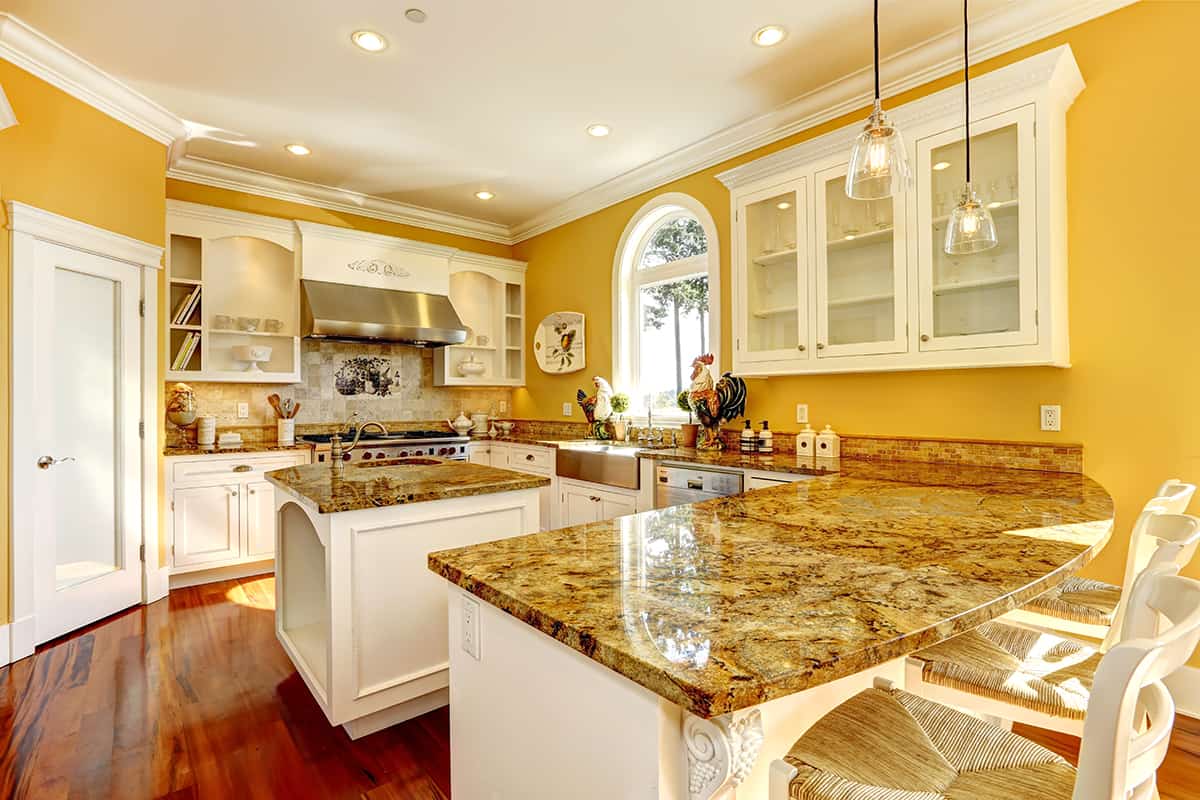 A colorful kitchen with bright yellow walls can bring a cheery vibe to the overall space. Yellow goes well with white cabinets as this contrasting color doesn't overwhelm the room. The sunny, warm vibe of yellow can really make your space pop, especially when you add shiny granite countertops to this mix.
The yellow walls of this luxury kitchen reflect light and bring a warm, inviting ambiance to the entire space. The gray granite countertops and pure white cabinets bring out the cozy atmosphere of this beautiful kitchen.
Pink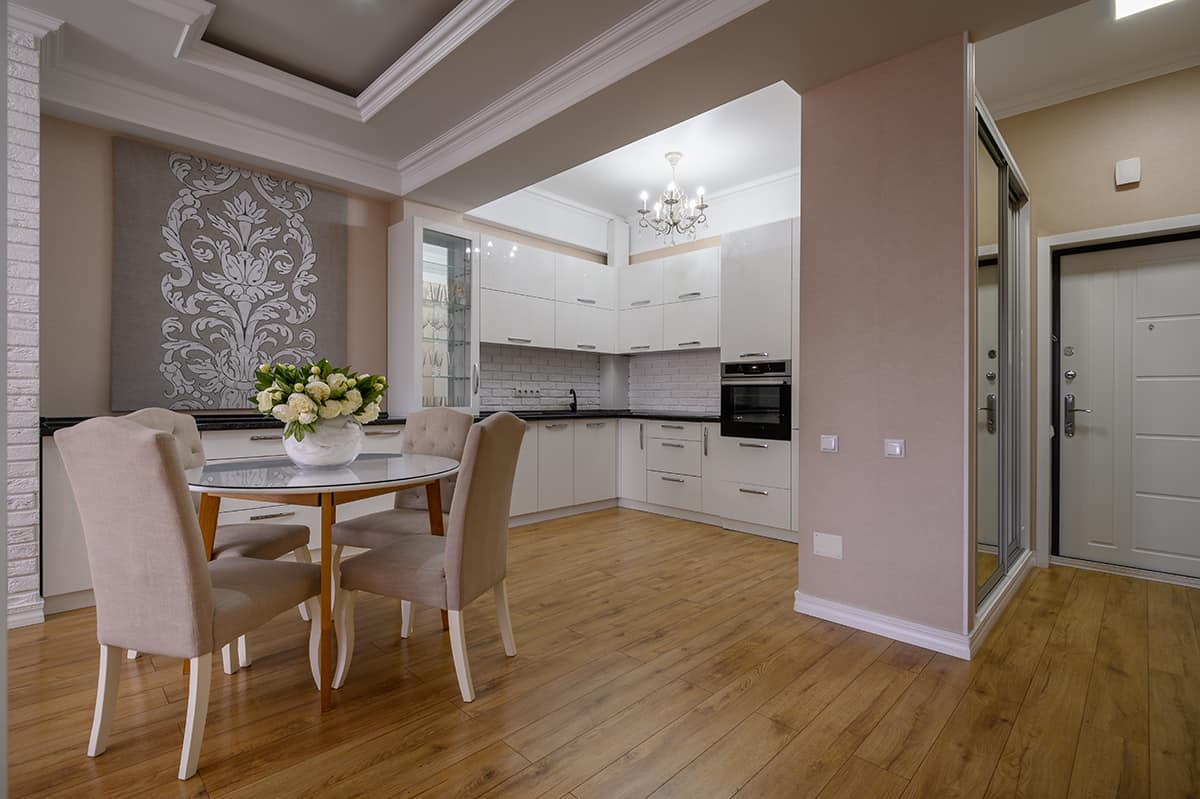 Another statement-making wall paint color for a kitchen with white cabinets is a calming shade of pink. This light color is a great option for large, open spaces, but be sure to choose the pink shade carefully as some shades can create a feminine look. If that's not what you're after, go for rose as it's a slightly toned-down color to pair with white cabinets.
In luxury-style open-plan kitchens like the one shown here, the white cabinets work in harmony with the rose-pink walls and pine hardwood flooring. This aesthetically pleasing color combination enhances your room's decor, without looking feminine.
Should White Kitchen Cabinets Match White Walls?
Your white kitchen cabinets don't have to be the exact same shade as your walls. If, for example, your cabinets are a warm shade of white (like cream) they can be matched with pure white walls. Matching can be done with a darker or lighter shade to give your kitchen a minimalist or uniform vibe.
In small kitchens, in particular, it's not a good idea to go for the exact same shade of white for both the cabinets and walls as it can make your room feel confining.
White walls and white cabinets can instantly make your space feel revitalized. However, there must be some contrast between the two; otherwise, your kitchen can become bland or sterile. Whoever said white is monotonous!
You can still create a unique design by either choosing two shades of white for the cabinet and the walls or painting the upper cabinets a warmer shade of white and the bottom cabinets a cool white. This two-toned, minimalist aesthetic works for both modern and traditional kitchens.
By choosing contrasting white shades for your kitchen walls and cabinets, you can create a harmony that's both attractive to the eye and works in all kitchen designs.
Final Words
White is a versatile color for kitchen cabinets so you can pair it with any neutral or bold wall color. If you want to keep your kitchen bright and clean, opt for a safe paint color like gray or white for the walls. But if you're after a vivid pop of color, green, brown, blue, pink, or yellow are desirable choices.
All in all, it's important to select a wall paint color that reflects your personality as there is no right or wrong choice with white. One of the biggest advantages of white is its versatility as it lets you get creative with other colors.
We hope you've been inspired by our wall paint color ideas that go with white kitchen cabinets. Any of our mentioned cool or warm-toned colors will work for modern and traditional kitchens.