Whether or not you intend for wooden surfaces to comprise part of your interior color scheme, it's likely you will end up with some sort of wooden details in your room, so it makes sense that you incorporate them into your design.
Wooden finishes might come in the form of hardwood floors, wooden countertops, wooden furniture, a wooden fireplace surround, wooden framed mirrors, or wooden paneling.
You might also have wooden architectural features in your home, such as wooden interior doors and door frames, as well as baseboards and trim.
Some people choose to paint their wooden features so that they work more seamlessly in a space, but if you prefer the natural warmth that wooden textures provide, then you can let the wood grain shine and base your color scheme around the color.
Dark wood is a popular finish because it gives off a classic and elegant look, or in unfinished examples, it can create a modern, raw, and rustic feel. Dark woods tend to be among the more expensive woods to buy, such as mahogany, teak, and walnut, but you can also achieve a dark wood look by using dark stains and waxes.
Dark woods can vary in their depth and intensity to create varying levels of darkness, but they also each have their own undertones that affect how we perceive them and which colors they will look best with.
Some dark woods will have obvious undertones, such as mahogany which often has clear red tones running through it, but others are less perceptible.
To understand which colors will work best with your dark wood features, you'll need to first identify the undertone of the wood. This will help you to determine what the contrasting and complementary shades are for that particular wooden item.
Bold Contrasts
If you want your wooden furniture to stand out, then the best way to do this is by making bold contrasts against the other elements in your room.
To find the contrasting color for your wood, identify the undertone and then look to the color wheel for the color that sits opposite the undertone. For example, the opposite shade to red is green, and the opposite shade to orange is blue.
For a bold contrast, choose a medium shade in your opposite color that is heavily saturated. This is perfect if you have a stunning dark wood dining table that you really want to make a statement by shining a light on it as the centerpiece in a dining room.
By creating a bold contrast, the eye will be drawn to the dark wood, ensuring it is the star of the show in the space.
Red-toned wood with mint green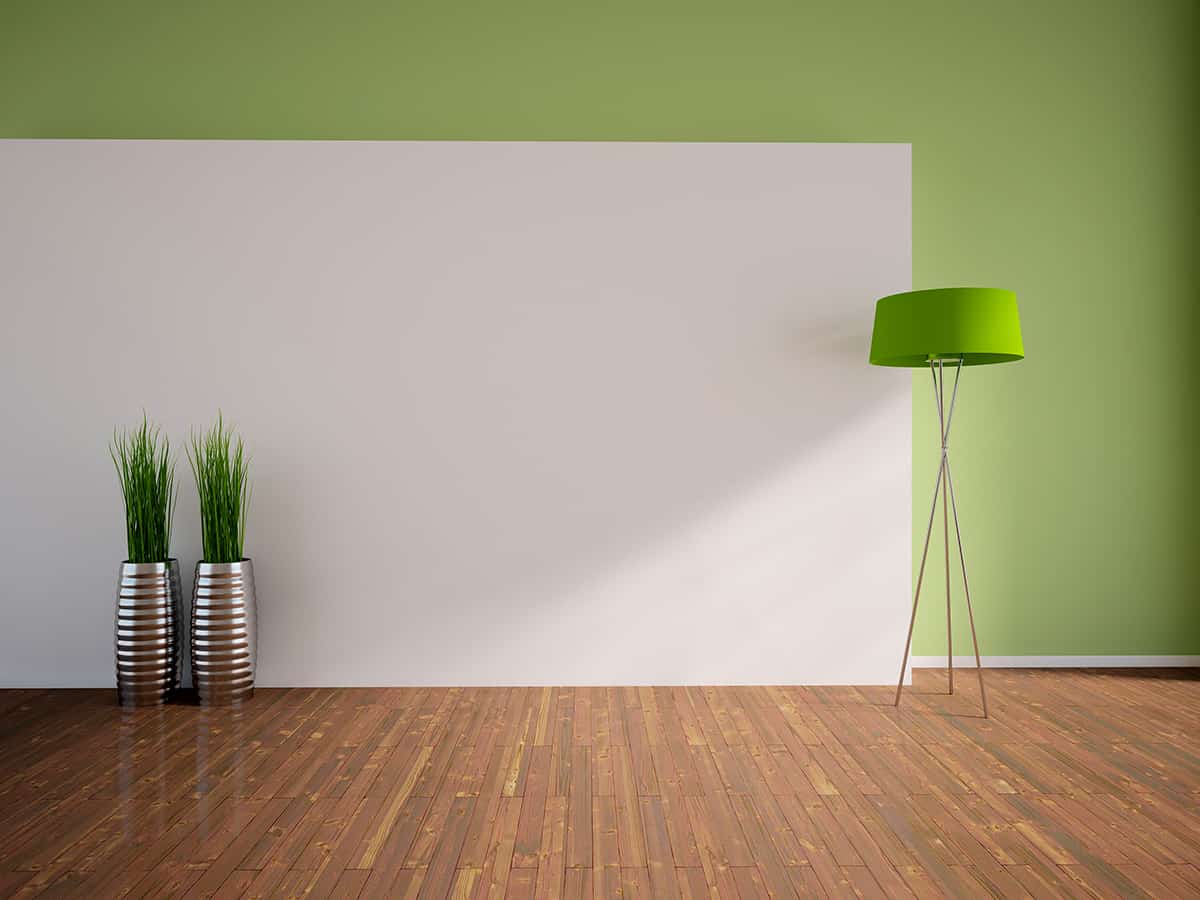 If you have dark wood in your room that has red undertones, then use mint green accents to achieve a strong contrast. Mint green feels cooling and refreshing against the intense warmth of red-toned wood, creating a really striking contrast.
In a bathroom, paint the walls mint green and choose a dark red-brown wood for the vanity unit.
Orange-toned wood with teal blue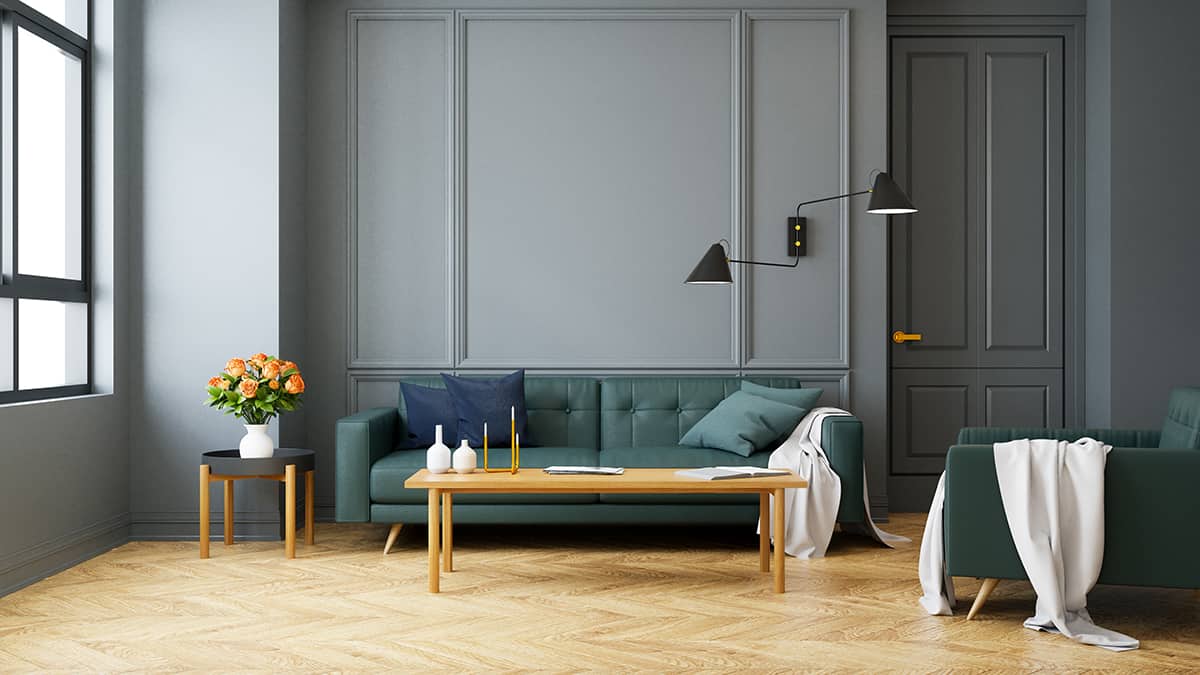 If your dark wood has orange undertones, such as those found in teak, then teal blue will make for a vibrant contrast.
Teal has both blue and green elements, which give it a sense of mystery and calm. In a living room with orange-toned dark wood floors, opt for a teal velvet sofa and teal lampshades.
Brown wood with aqua blue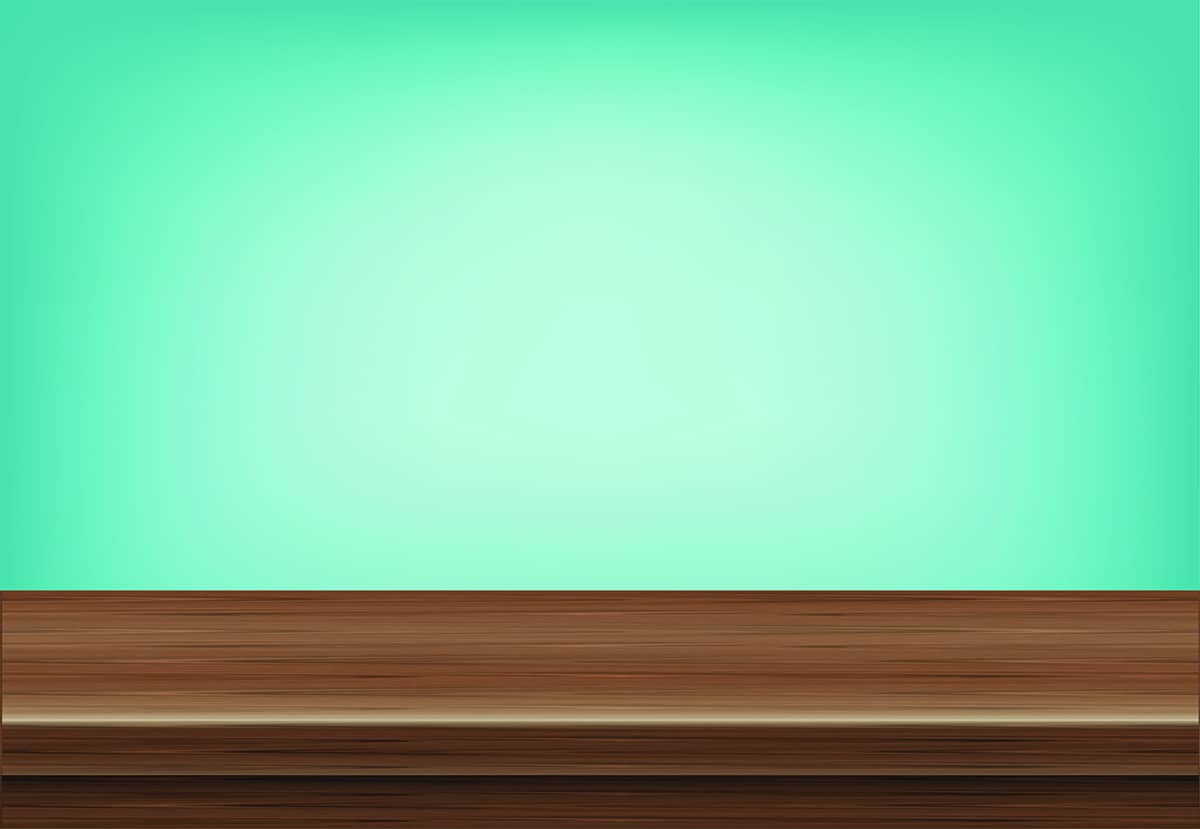 For dark wood, which is distinctly brown, such as walnut, use aqua blue for a vivid contrast. The warm and cozy vibe of the brown dark wood will balance beautifully against the soothing tones of aqua blue.
This color scheme works really well in a relaxing bedroom or a casual living room to create a place where you want to hang out and feel calm. In a bedroom, choose a dark brown wooden bed frame and pair it with bold aqua blue bed sheets.
Gray-toned wood with lemon yellow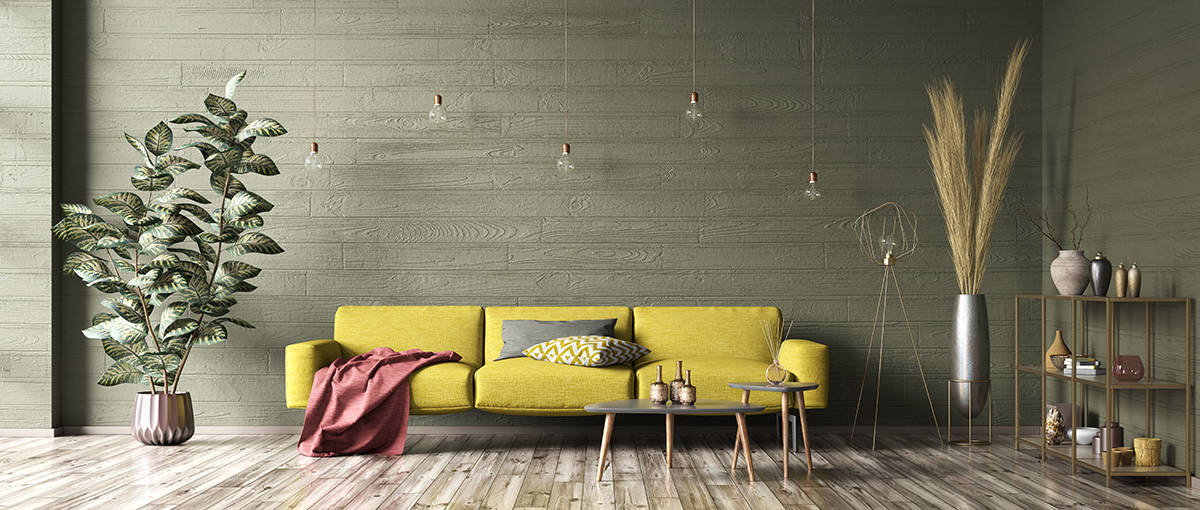 Some dark woods have deep gray tones that give them a cool feel, and these work especially well to achieve a modern look. To contrast against cool gray-toned dark wood, yellow is the perfect color choice.
Opt for a vibrant shade of yellow such as lemon to ensure a strong contrast is achieved. In a kitchen, set lemon yellow backsplash tiles against a gray-toned wooden countertop, and coordinate this with bright yellow painted bar stools.
Complementary Colors
If you want to draw out the natural beauty of the tones in the wood, then you should set your wooden features against complementary contrasting shades. Contrasting colors are also complementary colors, but to ensure you achieve a look that highlights the wood rather than shocks against it, you need to select more muted shades of the contrasting colors.
For example, the contrasting and complementary color for red is green, so red-toned dark wood goes well with all shades of green.
However, bright greens like mint or lime will make for a stark contrast, while more muted shades of green such as sage and olive will create a low-key contrast allowing the wooden tones to be complimented and highlighted.
This type of look works well in rooms where you spend a lot of time and therefore don't want to feel overwhelmed by stark contrasts, such as living rooms. Low-key contrasts tend to be more complementary in interior design than bold contrasts, and they make the opposite color feel more prominent.
Red-toned wood with olive green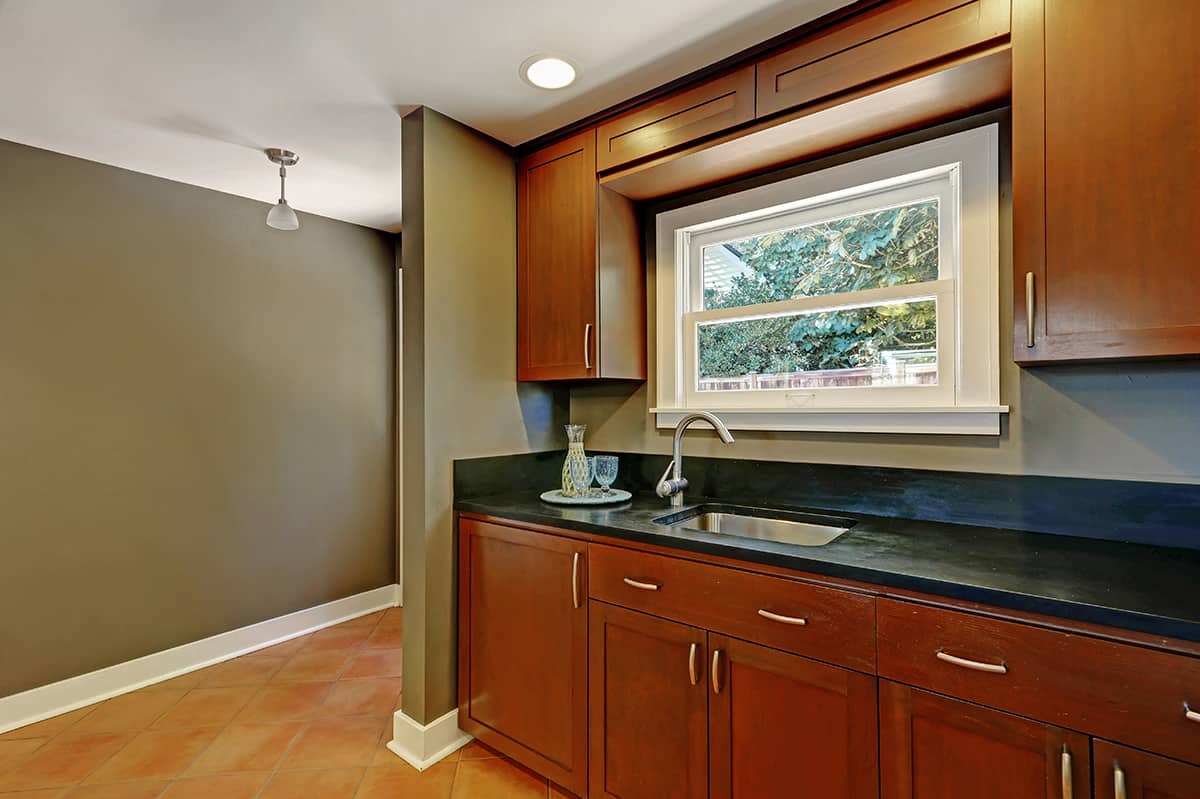 If you have cherry wood hardwood flooring in a living room and you want to draw the red tones out of it, then paint the walls in a pale shade of olive green.
The fact that green contrasts against red means that any red undertones in the cherry red will become more apparent and vibrant next to the olive green, and the overall look will feel balanced and easy to be around.
Orange-toned wood with navy blue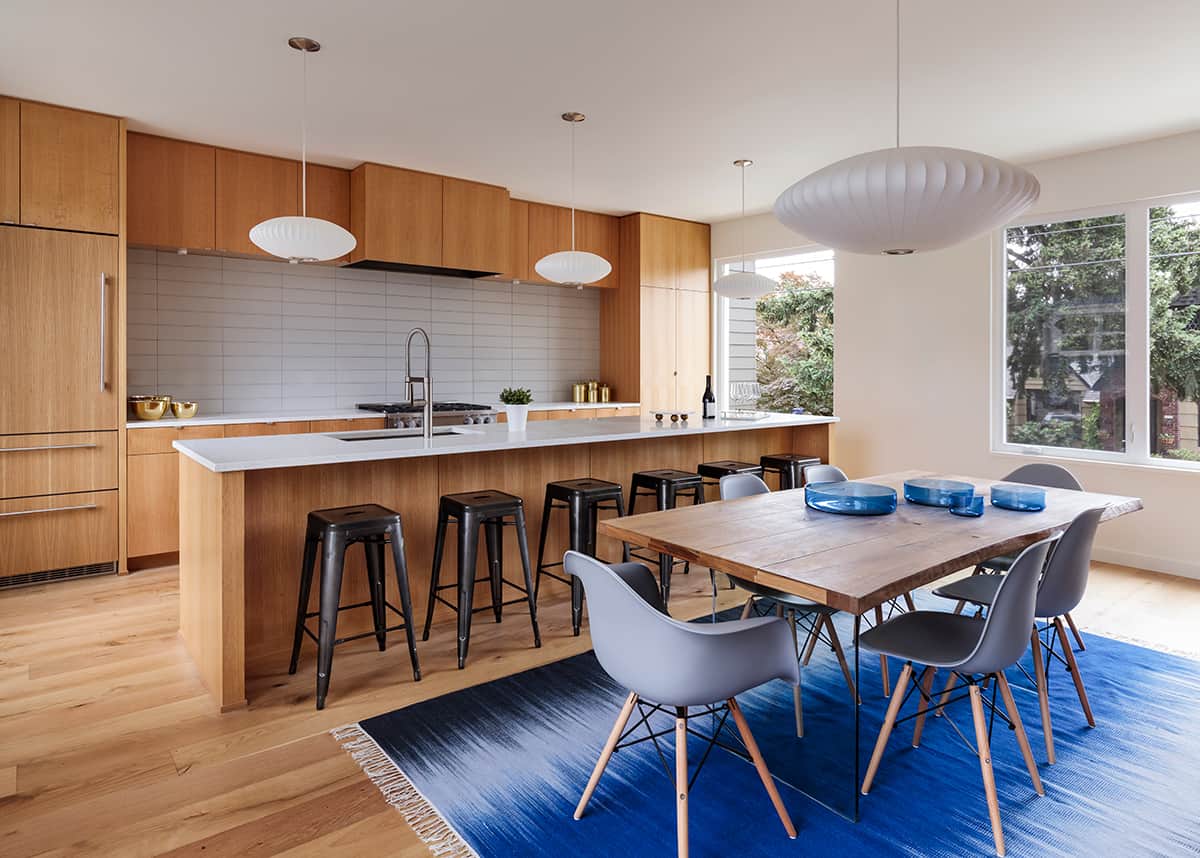 Dark wooden surfaces with orange undertones will appear warmer when set against dark shades of blue like navy. In a dining room, choose navy blue paint for the walls with a dark wooden dining table with orange undertones.
The contrast that is created will feel mellow yet interesting since contrasting colors are used in more muted shades.
Gray-toned wood with mustard yellow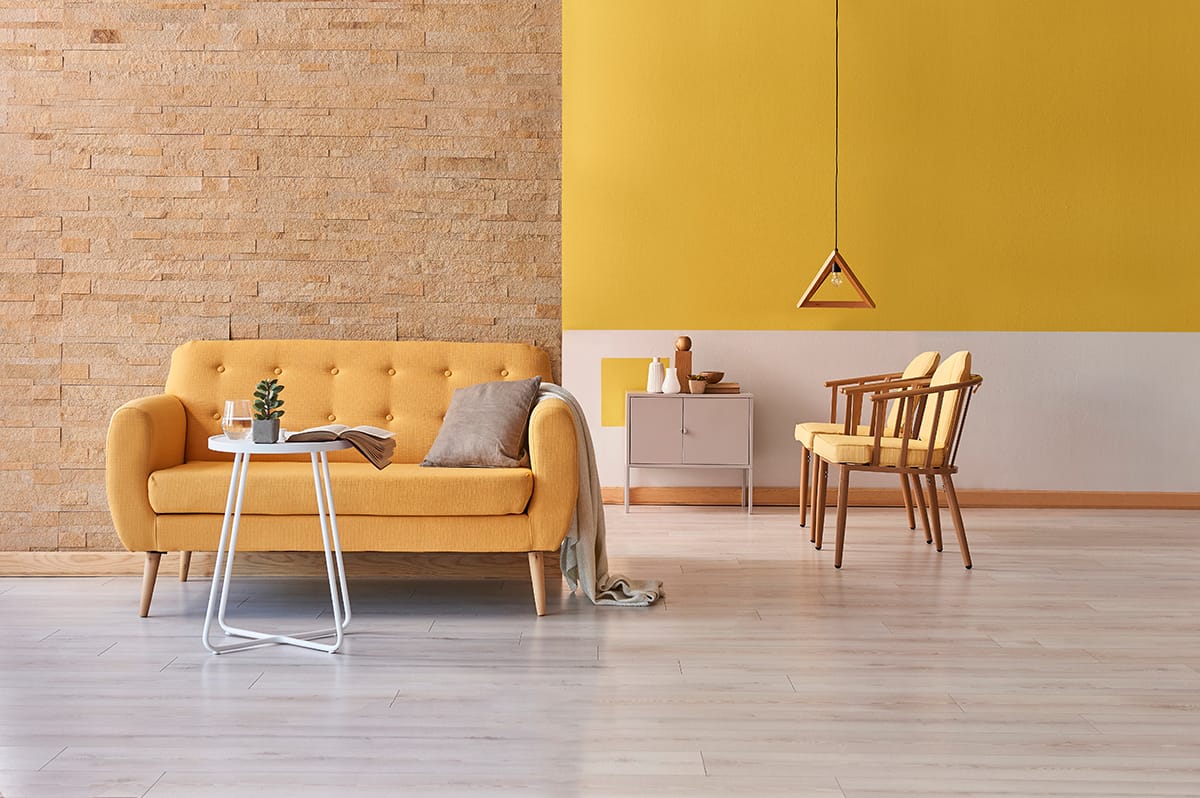 Dark gray wood will be complemented by muted yellow shades, such as mustard. In a living room with a gray wooden paneled feature wall, set a velvet mustard yellow chair against the wall to enjoy a complimentary look.
Blending Colors
In some instances, contrasting shades are not the best choice. For example, if you have moved into a home that has hardwood floors that you don't particularly like the look of, then you should decorate in a way that helps the floors blend into the decor so as not to draw attention to them.
If you have a room that has a lot of wooden furniture in it, then this is another instance where contrasting colors can work to your disadvantage.
By using contrasting colors, you will be making the furniture stand out, and if you have a lot of wooden furniture, then this could make the space feel cluttered. In these cases, choosing a color that helps the wooden features blend in will be a better option.
Red-toned wood with blush pink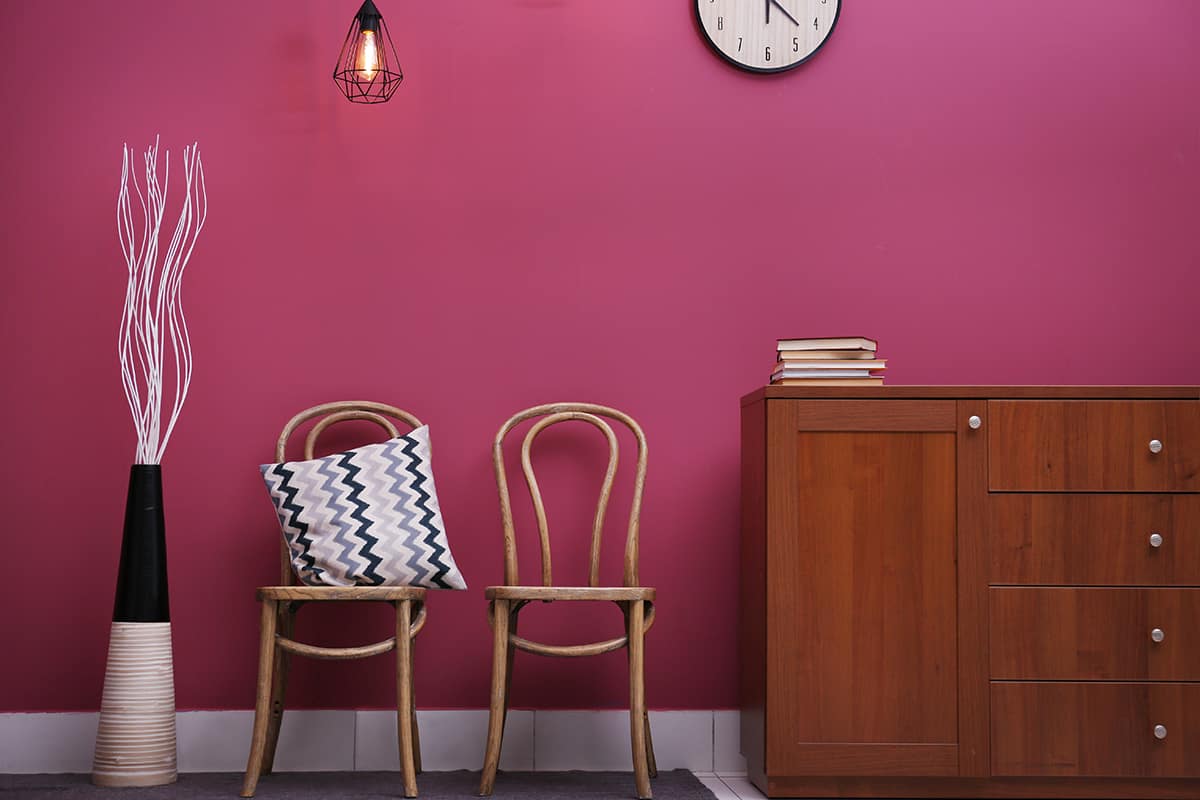 Red-toned dark wood will create a harmonious match with blush pink because pink is primarily made from red. In a bedroom with a red mahogany furniture set, such as a dressing table, wardrobe, chest of drawers, and nightstand sets, paint the walls in blush pink and opt for pink bed sheets.
This will help the furniture to subtly blend into the space, so the room doesn't feel too heavy.
Orange-toned wood with terracotta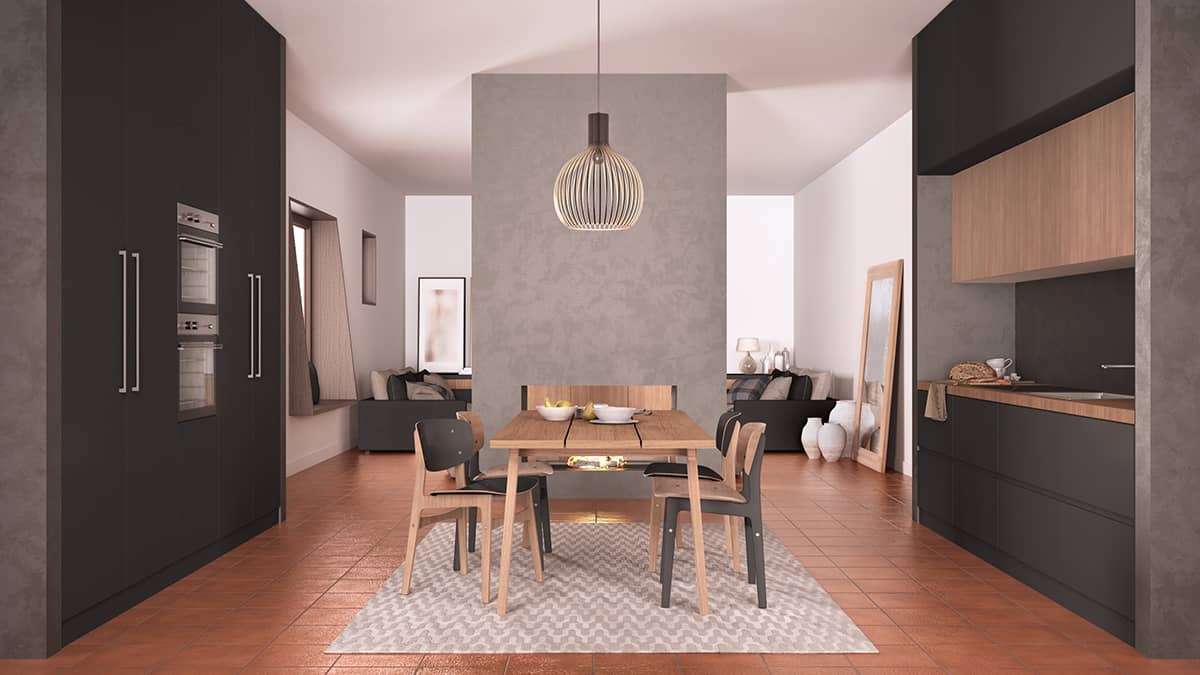 In a room with dark wooden features which have orange undertones, for example, a teak floor, choose terracotta paint for the walls. This will help the wooden floor to blend in, and it won't feel as prominent.
Brown-toned wood with red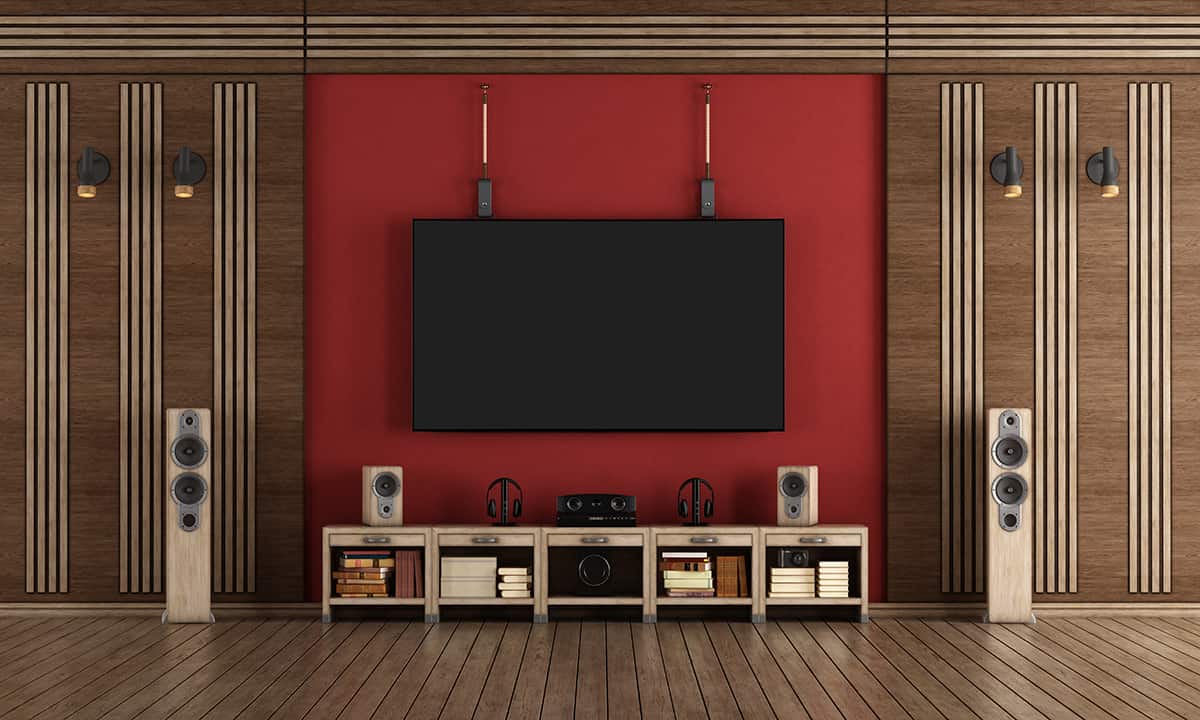 If you have dark brown kitchen cabinets that feel oppressive, then pair them with red walls to create a space that feels more welcoming with a brighter personality.
The red will help the brown cabinets to blend in so that they aren't the most prominent feature in the room, and it will also distract the eye so you aren't immediately drawn to the dark wood.
Gray-toned wood with black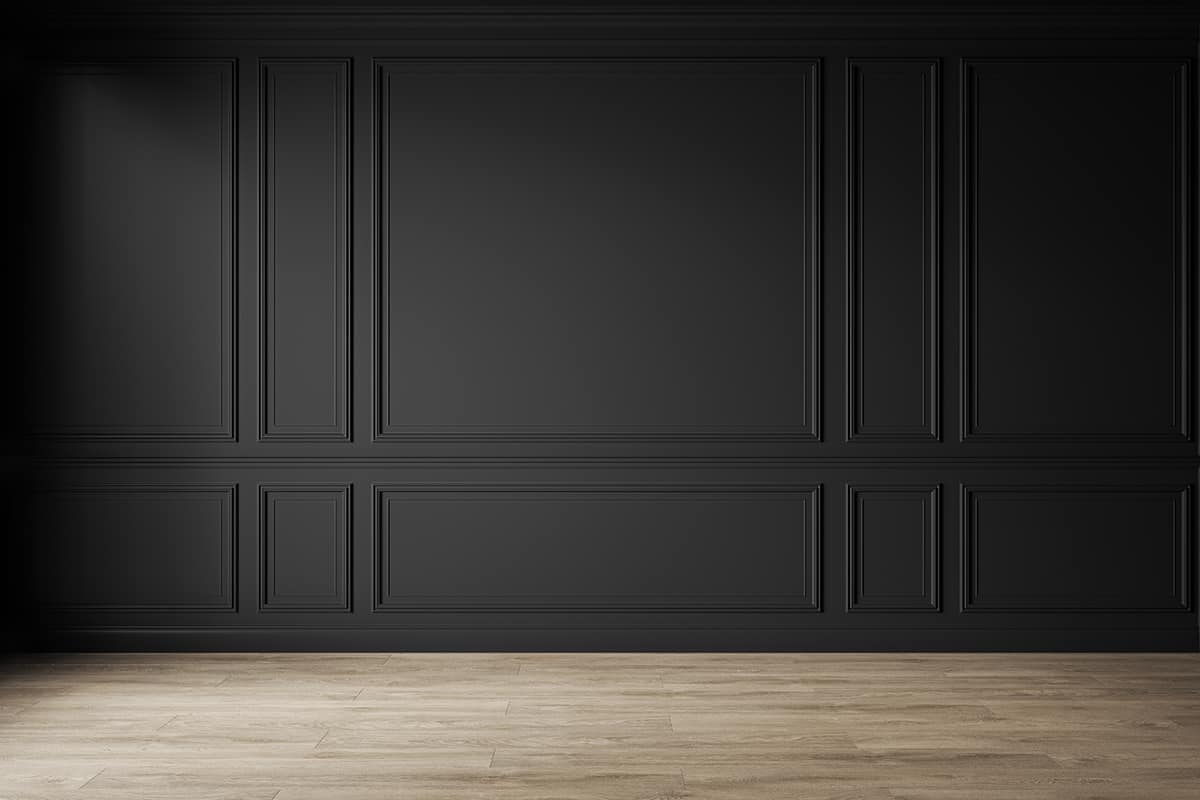 Wood that has been finished with a dark gray stain will blend in well with walls that have been painted black.
The prospect of painting walls black can initially be nerve-wracking, but dark walls are very on-trend right now, and they can add depth and effortless style to a space. In a bathroom, paint the walls black and opt for gray tiles and a gray wooden vanity unit.