Terracotta falls within the 'orange' color palette, but it is far from bright and vivid like most shades of orange. Instead, terracotta contains a lot of brown tones with a hint of gray to give it a really earthy, dusty hue. This is a color that is intensely warm, and therefore it lends itself well to cozy interiors.
However, unlike many warm shades, terracotta is not in the least bit dated or traditional, and in fact, it is seen as a strong contemporary shade. Terracotta is really interesting because it is heavily saturated to give a deep and rich color; however, it is quite a subtle and muted shade so that it almost falls into the 'neutral' category.
This mix of qualities makes terracotta a really nice choice if you want to move away from bland interiors without creating a style that is divisive or obvious.
Using Terracotta in Interior Design
There are so many ways you can incorporate terracotta into your interior home decor, from small touches to fully embracing the rich warmth it has to offer.
Woven rugs
Terracotta has an earthy and natural vibe that works really well in natural-style fabrics, such as woven rugs and woven baskets. If you want to bring a casual and eclectic style to a room, then introduce some woven items into the space. These can be made from entirely terracotta threads, or they could have just a little terracotta running through them to give a subtle hint of the color.
Tiles
Terracotta tiles can be used in any area of the home for an exotic vintage feel. Consider using terracotta tiles around a fireplace to bring the warm energy of this color into the living room, or use terracotta tiles in a bathroom next to white walls for a soothing style.
Terracotta tiles also work really well on kitchen floors, or as the backsplash, to achieve a Mediterranean look. You can use reclaimed tiles for a truly authentic look, and these can often be picked up really inexpensively at reclamation yards or garage sales, or choose new terracotta tiles for a sleek and modern take on this style.
Planters
Terracotta planters are widely used outdoors for growing plants, trees, and shrubs, but they can also be used indoors for houseplants. Doing this creates a sense of bringing the outdoors into the home, which works especially well in a natural or earthy style interior design.
If you are using terracotta planters in your home, be aware that they typically have a drainage hole in the bottom, and so they will usually need to be paired up with terracotta saucers to prevent water from seeping out of the bottom of the planter.
Upholstery
Upholstered furniture is a striking way to add terracotta to your decor. This is a saturated shade that can make a big statement, but it is also a color that leans towards neutral, so you can be sure you'll be able to use the furniture for years to come, even alongside other color schemes.
Velvet fabric in terracotta is growing in popularity, with luxury style armchairs and sofas being spotted across social media in this shade. Terracotta velvet upholstery works really well in an elegantly styled room with a modern edge; pair it with gold metallic details and heavy curtains.
Terracotta, due to its earthy color, also lends itself perfectly to use in more natural fabrics, such as linen and cotton. If you want a sofa with a casual yet cozy feel, go for a terracotta upholstered option using natural fibers.
Accessories
If you don't want to fully commit to the terracotta trend, then consider adding a few simple accessories into a room. This can update the interior style and bring richness to the space without running up a big bill. Cushions and throws are always a good way to introduce a new color to a room, or you could choose some terracotta pots instead.
Colors that go with Terracotta For Various Styles
Terracotta has an earthy tone that lends itself perfectly to use in a natural or dessert-themed room, but it also looks very sophisticated in a more luxurious and elegant space.
Understanding what colors go with terracotta will help you to decipher which type of look is going to work best for you and how you can achieve it. Here we will look at some stylish ways to use terracotta in home decor and the best colors to use alongside this shade.
Tonal Terracotta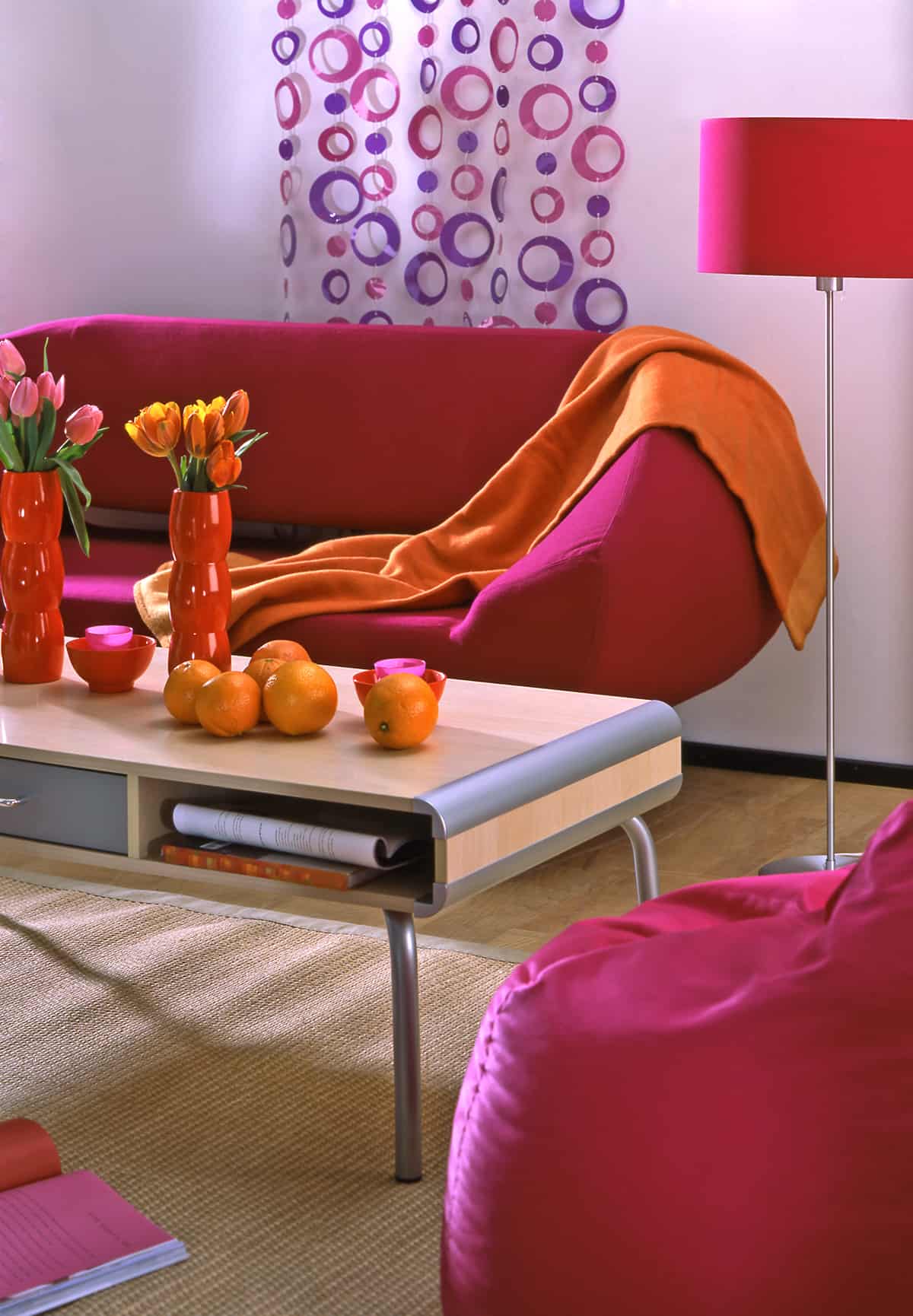 Colors to pair with for this style: warm and dusky colors like rusty red and blush pink
You can create a relaxed yet contemporary vibe by layering terracotta with other warm and dusky colors, such as rusty red and blush pink. This is an easy style to achieve that is very on-trend right now and doesn't take much thought at all.
You will need to choose one of your colors as the base color and paint the walls in this shade, for example, in a rusty red. Then use various items in all three shades around the room, layering them up to create a tonal blend. Contrasting shades are not needed for this look; instead, it is about creating depth.
In a bedroom, you might have terracotta walls, rusty red bed sheets, blush pink cushions, and a terracotta comforter. Physically layering accessories on top of one another gives a sumptuous yet casual look that feels inviting and warm.
Modern Exotic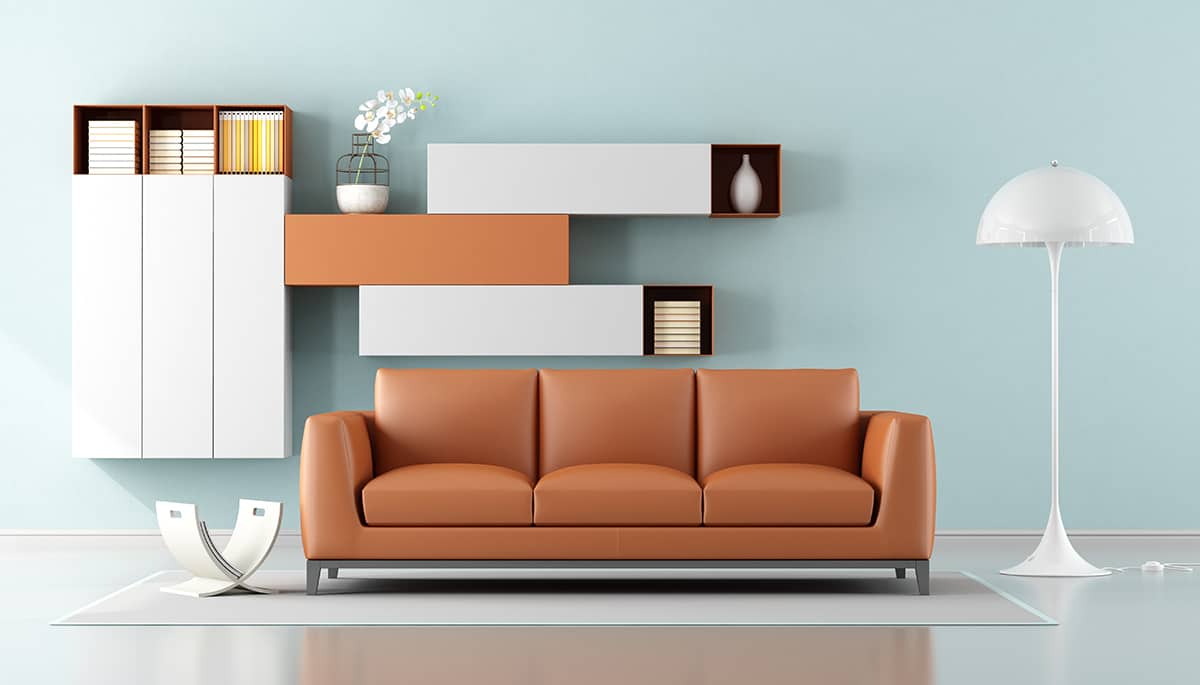 Colors to pair with for this style: cream and blue
Terracotta is a color associated with Morocco, Spain, and Latin America, giving it an exotic vibe. Use terracotta along with cream and blue to play into this style, for example, by positioning a terracotta plant pot on a blue and white tile fireplace.
Blue has a soothing and cleansing effect, so despite being a cool shade, it has an energy that works well with the cozy side of terracotta. Cerulean blue and off-white are the perfect shades to pair up with terracotta to achieve a style that is bohemian and exotic while maintaining a modern casual look.
Desert Decor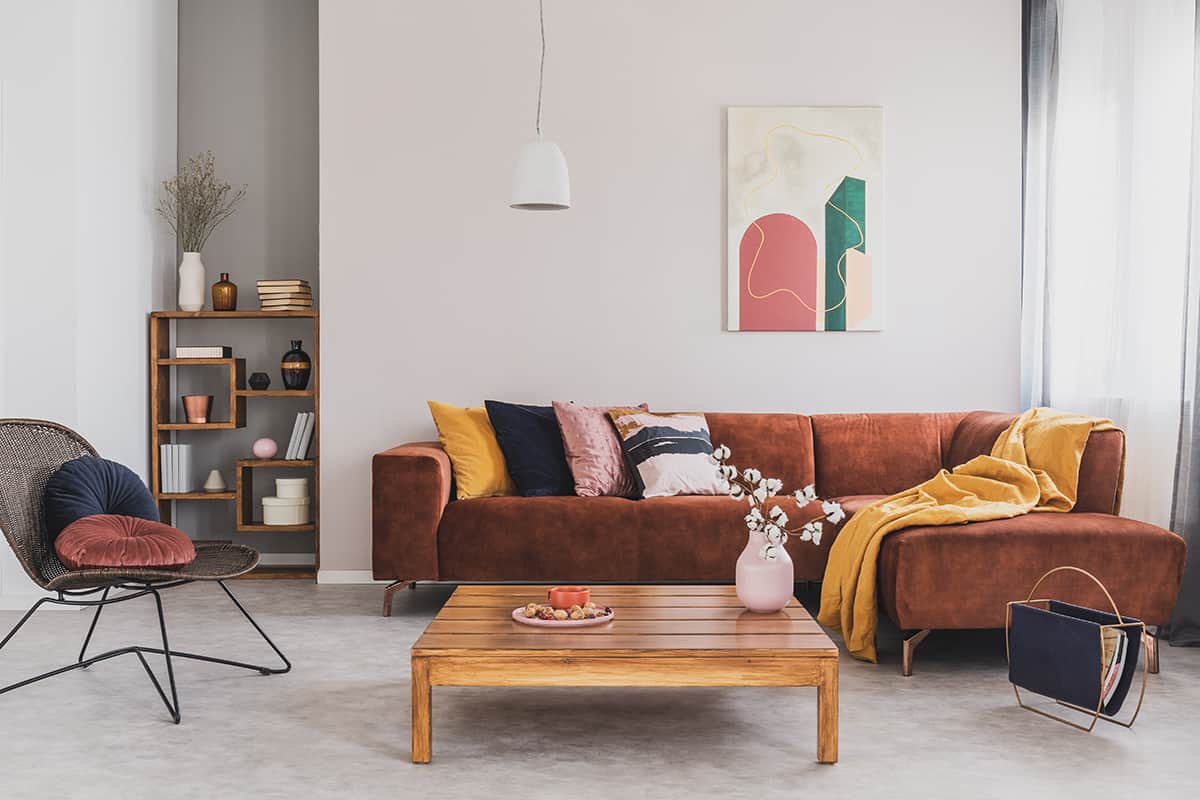 Colors to pair with for this style: desert colors such as mustard yellow and tan
Terracotta is a color you would expect to find in the desert, and as such, it has a very earthy and almost sandy quality to it. Use other desert colors with terracotta, such as mustard yellow and tan beige, to create a look that is inspired by the desert.
Choosing natural fabrics such as jute rugs and woven baskets will help to emphasize the desert theme of the room.
Snug Style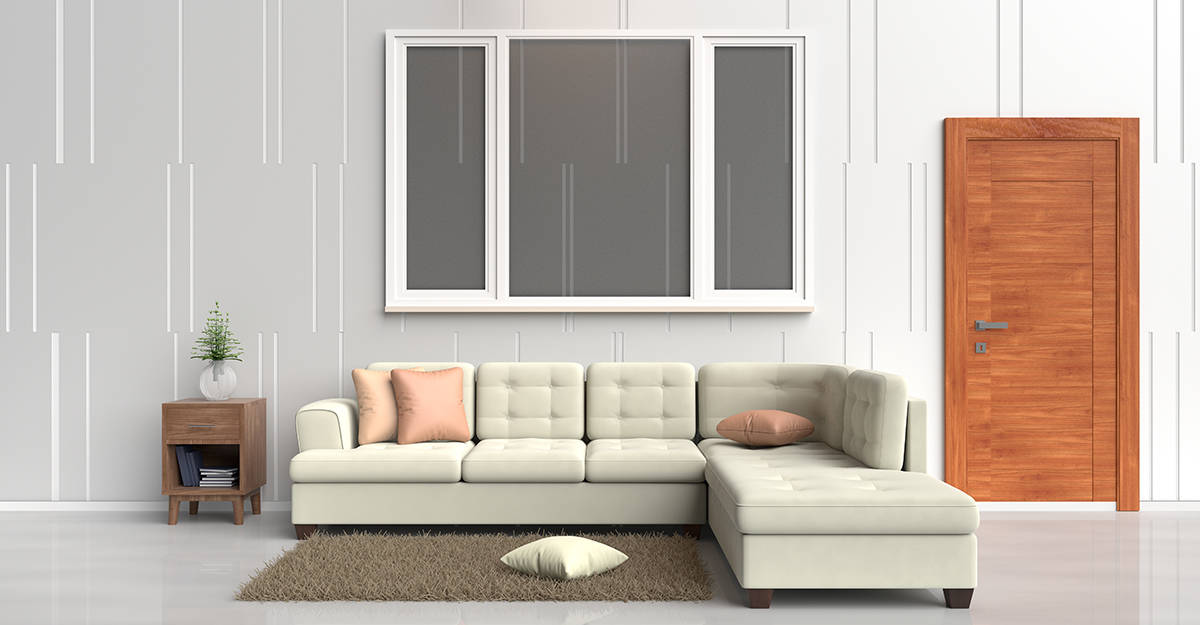 The intense warmth that radiates from terracotta means that it is the perfect color to use in a room where you want to snuggle up and be enveloped in safety. This could be a cozy living room or bedroom.
Choose terracotta blankets and bed linen for your snug spaces, focusing on soft textures such as wool and slub jersey. Set the background with cream-colored walls for a clean and comfortable look, or commit to terracotta walls for a feeling of being surrounded by warmth.
Nature Inspired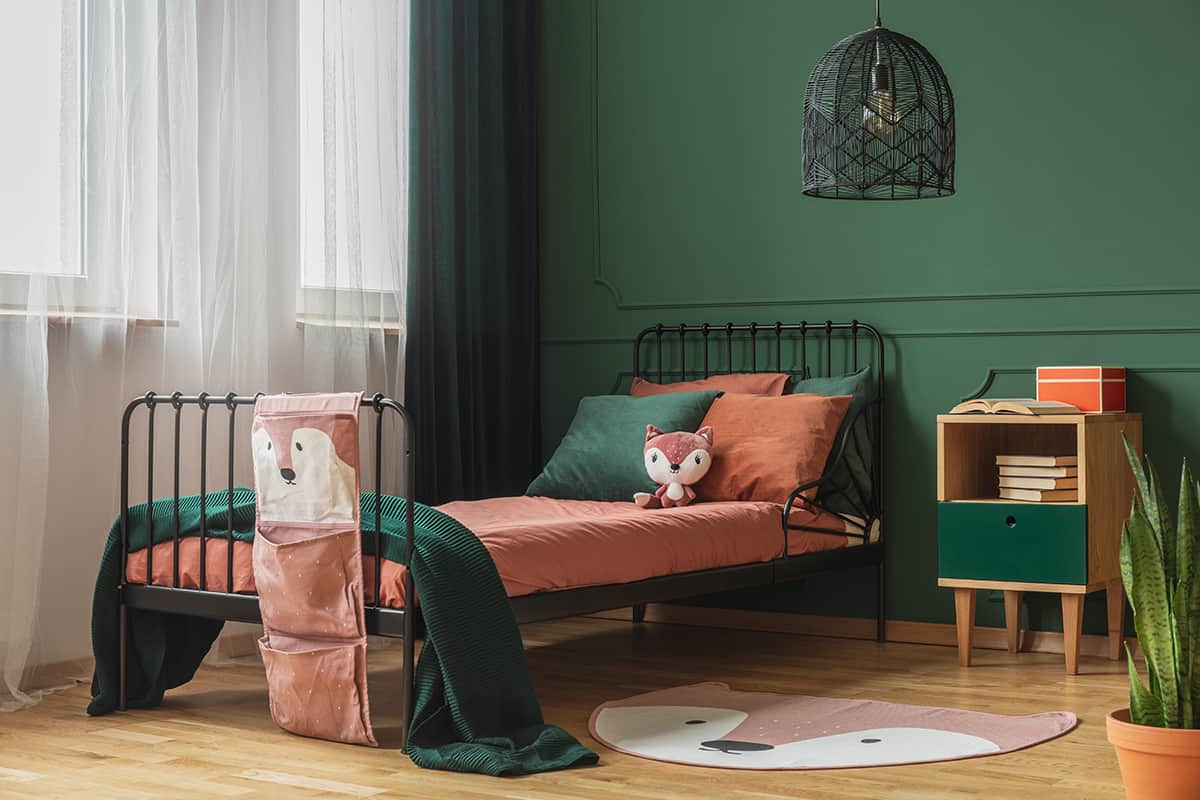 Colors to pair with for this style: shades of green such as forest green, moss green, olive green, sage green
The nature-inspired decor is a big trend at the moment. It is easy to achieve and is both relaxing and refreshing to be around. You can create a nature-inspired look in your home by using terracotta along with shades of green and beige. Forest green or moss green create an effective contrast against terracotta, while olive green and sage green offer a more subtle style.
Introducing houseplants into your space is one of the quickest ways to instantly transform a room into a nature-inspired look, which you can place into terracotta pots to combine the theme and the color palette. For a moody nature theme, choose a saturated shade for the walls, such as forest green or terracotta, and then build upon this with more natural colors and natural fabrics.
Woven baskets and rugs work perfectly in this kind of decor, creating a casual yet distinctive style with earthy tones.
See more ways to pair with the green shades in our post on colors that go with green.
Laid Back Luxury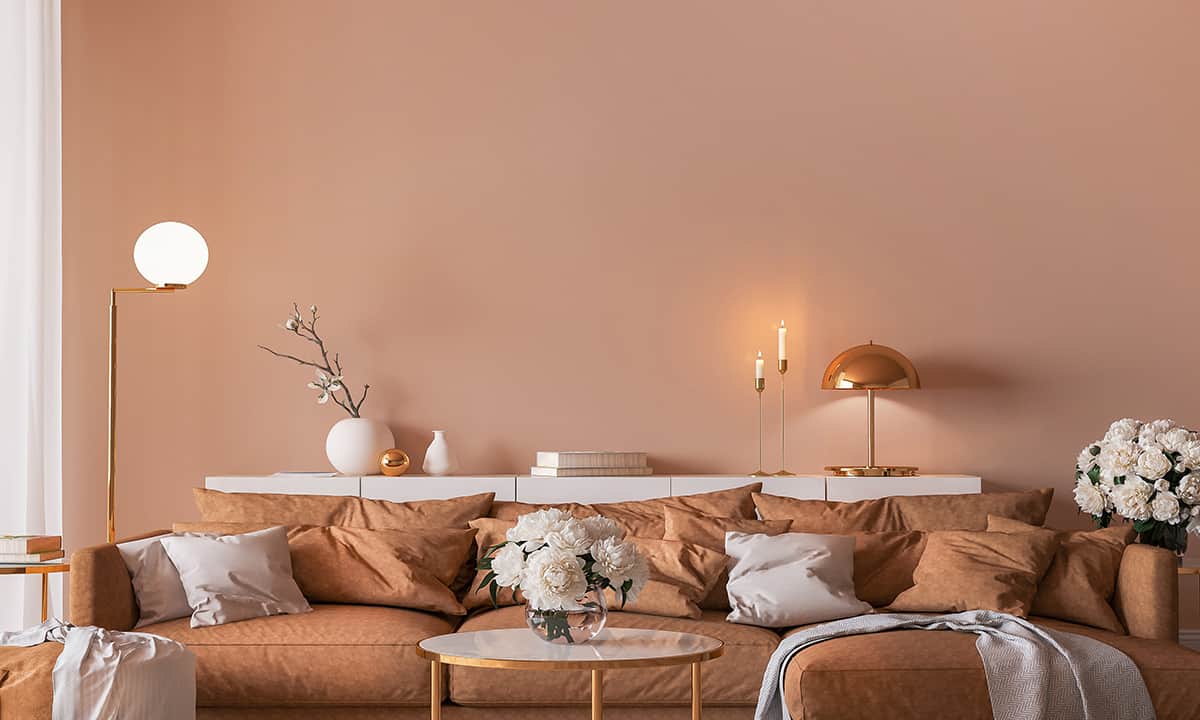 Colors to pair with for this style: navy blue and blush pink for a sophisticated look
Terracotta is inherently earthy and natural, as the color itself was named after the type of clay-based earthenware used for making sculptures and pots. However, it doesn't have to be used in a natural themed space, and actually, the use of such a heavily earthy shade in a luxury style room creates a striking contrast between the two styles.
For a sophisticated look using terracotta, pair it with navy blue and blush pink, and focus on sumptuous fabrics such as velvet and suede. Navy blue has a regal feel that brings out a more elegant side to terracotta. It also works brilliantly with terracotta because blue and orange are contrasting and complementary colors on the color wheel.
Draw out the orange hues in terracotta by using rose gold or copper-colored metallic finishes, such as copper metal legs on a coffee table or a rose gold metal light fitting. A terracotta velvet sofa will look appealing stacked with navy blue cushions, and you can tie in the navy by choosing curtains or a rug in this color.
Terracotta upholstery can work as an accent color in a navy blue room or as the main color with navy accents.