For many people, a nightstand or bedside table is the primary overnight resting spot for their smartphone, book, water bottle, and photos of loved ones, among other items. Finding a nightstand is not a challenge; there are many to choose from in any furniture store.
The tough decision is figuring which one to choose! That's because there's a nightstand to suit just about any décor theme and homeowner's preferences.
This article aims to sort through some of the more common types to help point you in the right direction.
Nightstand Styles
Like many furniture pieces, nightstands are found in various designs, including antique to contemporary. Here are a few of the most popular styles:
Antique
You can identify antique-style nightstands by their ornate designs. They are highly decorative pieces whose appearance is dominated by intricate carvings, flourishes, and embellishments. The antique style is heavily influenced by the design principles of classic French furniture, like Baroque, Rococo, and Provençal.
Classic Early American
The Early American design period spans about 200 years. It showcases different influences from the various European countries that the settlers arrived from. Notable Early American furniture ranged from conservative Colonial to simple and practical Shaker and opulent Victorian styles.
Modern and Post-Modern
In the early to mid-20th century, materials like plywood, plastics, and metals started being used to mass-produce modern furniture. Designs during this period featured geometric shapes and zig-zag or circular patterns.
Contemporary
Like Modern and Post-modern styles, furniture designed for contemporary homes also uses man-made materials in addition to wood. Contemporary furniture is designed to be multi-functional. So, today's nightstands are not only about having a place to put your possessions, but they can have other features like lights or speakers built into them.
Types of Nightstands
Bedside Chests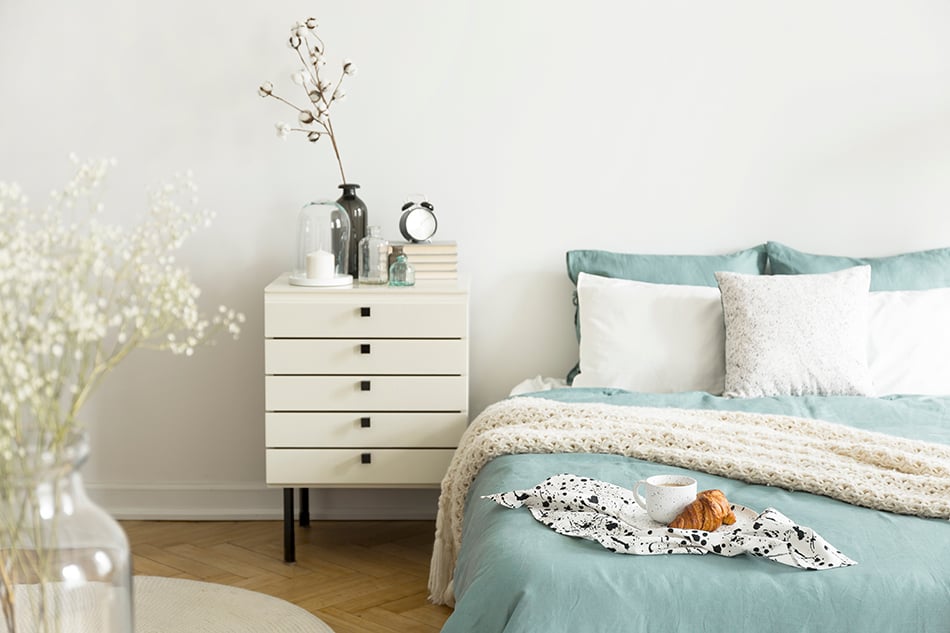 Bedside chests are one of the most popular nightstand styles. They are similar to the chest of drawers you would have in your bedroom, but it's to store clothing, except they are smaller and lower. Bedside chests usually have several drawers in addition to a flat tabletop where you can place a decorative vase or mini-speaker.
If you want to use a bedside chest as a nightstand, choose one about the same height or just an inch or two shorter than your bed, which is averagely between 24 and 28 inches in height.
Bedside Cabinets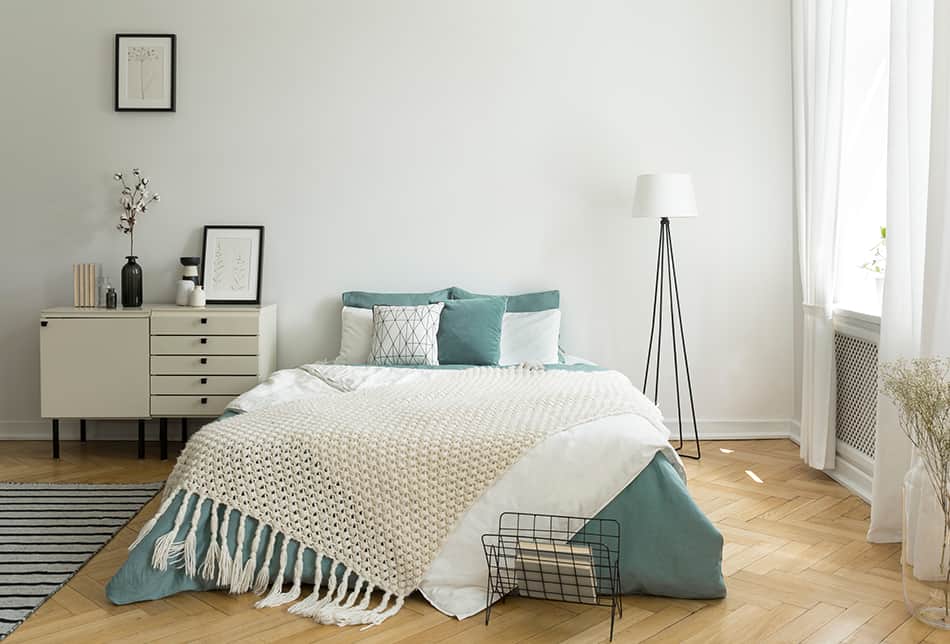 Do you want a place to store your items within easy reach of your bed but out of sight? If your answer to this question is a resounding yes, then a bedside cabinet is the best nightstand for you.
The storage sections of a bedside cabinet typically offer enough storage space for a few books or toiletries. The best part is that the nightstand is fitted with cabinet doors so your personal items can be stored discretely. And all your clutter can be hidden away, too!
Cube or Block Nighstands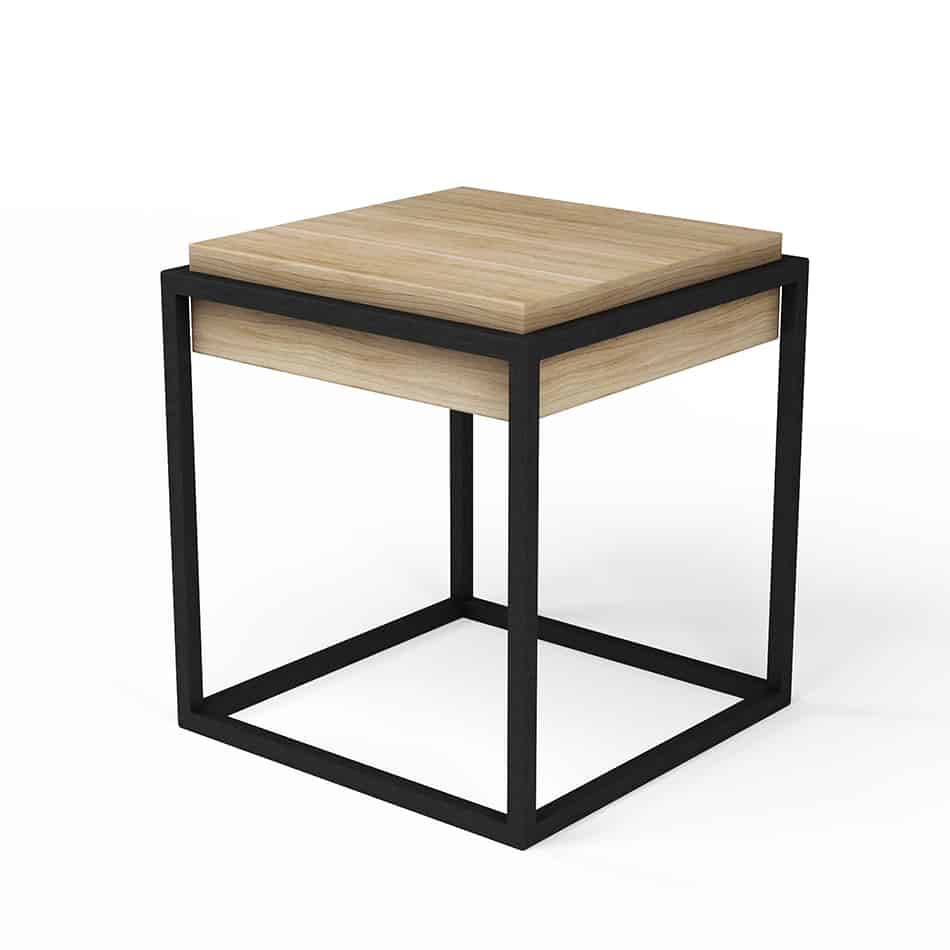 Bedside cubes can be solid or hollow, plain or textured, and offer versatile functionality. They're usually made from acrylic, wood, or even stone and sit flat on the ground, slightly lower than the height of your bed. With solid block nightstands, only the top can be used to put items.
Still, it can serve as a beautiful decorative piece if it has an ornate design carved into it. If you think a solid cube will make your bedroom feel too heavy, consider a hollow cube nightstand instead.
As an added advantage, the open section of the nightstand can be used for storage. You can also have the best of both worlds by settling on a cube with compartments cut out of it while keeping other sections of the block solid. Not only does this look stylish and contemporary, but it also allows you to use the compartments as storage nooks for small items like your smartphone.
Multi-level or Tiered Nightstands
Tiered nightstands have two or three different levels, with one or more storage solutions for you to put your personal belongings. The tiers of the multi-level nightstand come in different variations. They can be shelves, cabinets, drawers, or a combination of these.
Because of the multiple levels, tiered bedside tables tend to stand a few inches taller than the height of your bed. For this reason, the flat counter surface on the top level wouldn't be ideal for placing items like your phone, which you need to be within easy reach. Luckily, the lower tiers are better positioned for this purpose.
Floating Nightstands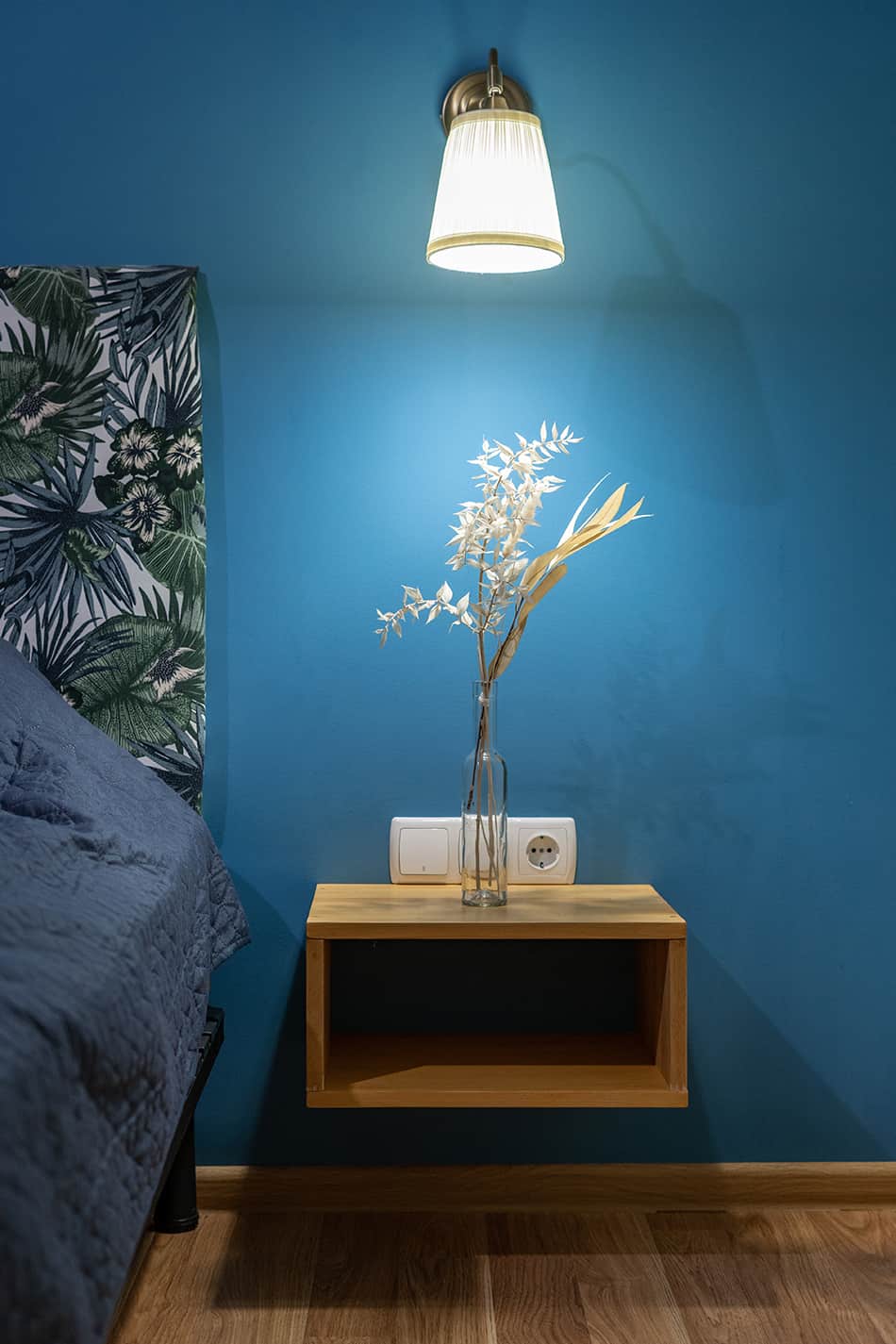 Floating nightstands are fabulously modern and minimalistic. Unlike traditional nightstands, they don't have legs or a base of any kind and appear to be suspended in mid-air. Of course, they do have support in the form of a wall mount or bracket.
Floating nightstands are great if you don't have a lot of space next to your bed and would instead not fill it with a block nightstand or extra storage space. Floating nightstands are usually small and compact.
They are ideal for putting the bare minimum of items on them to maintain their minimalist look. If you have more things, like a pile of books or slippers, they can be stacked or put under the nightstand.
Nesting Nightstands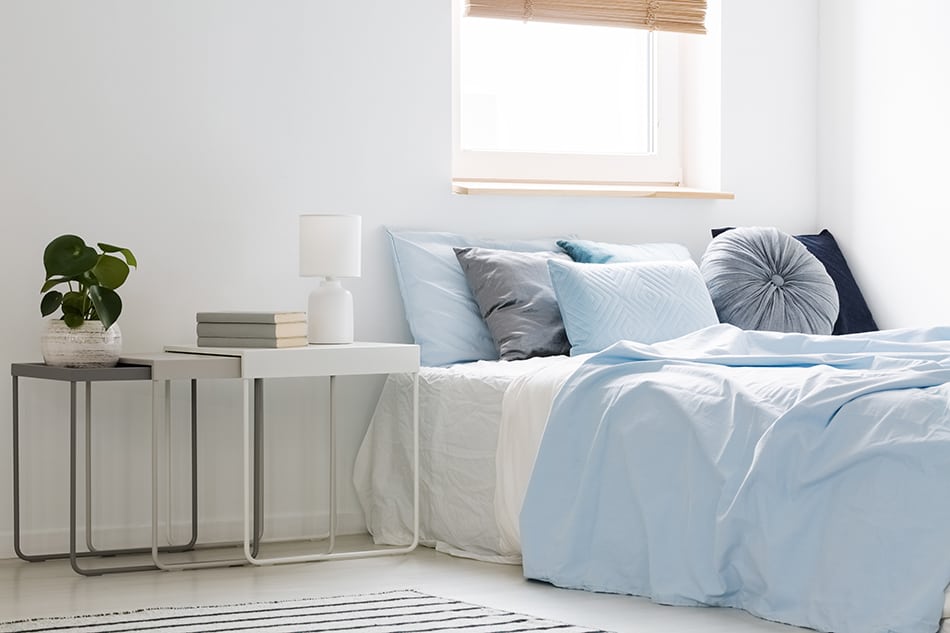 You'd typically expect to find nesting tables in the sitting room, but they work just as well in the bedroom. When used next to your bed, nesting tables are a flexible solution that allows you to increase or decrease the amount of tabling space according to your needs.
Whenever you need an additional place to put a breakfast tray or cup of tea, you simply pull out the smaller nested table to double your space. When you're done, you stack them back and out of the way again. The different heights of the nesting tables also make them ideal for displaying potted plants, lamps, and other decorative items stylishly.
Round or Oval Nightstands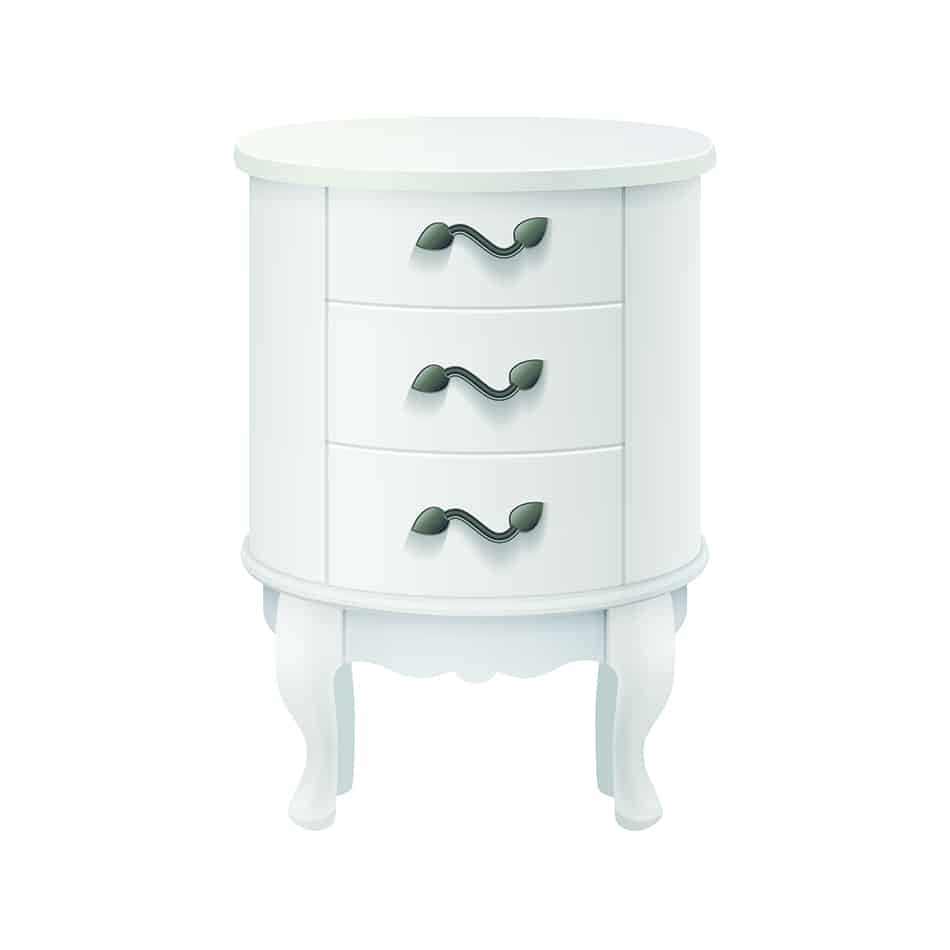 If you want an unconventional nightstand, go for a round or oval-shaped one. While the square is a familiar shape for bedside tables because it complements the shape of the bed, circular nightstands break the monotony and stand out. A circular nightstand is just the thing to add a retro accent to your bedroom décor. It harks back to the design trends of the 60s when round and oval furniture was all the rage.
A round bedside table with tiered drawers and table legs provides adequate storage space and is eye-catching. And to add a dash of color to a dull bedroom, opt for a design painted in muted in bright colors instead of plain wood.
Glass and Mirrored Nightstands
Glass bedside tables are ultra-modern, stylish, and are noticeable. Some designs are simple and made from a single piece of thick glass shaped into a 3-sided box with angular or curved edges.
In this case, you have the flat top part of the box to put your belongings, plus an open space under the table to stack books or slide your slippers under. Some bedside chests feature one or two glass shelves that work well as a countertop above the natural wood or painted acrylic drawers.
A bedside table covered partially or entirely with mirrored glass may seem unusual. However, it can be a striking and luxurious choice with practical use. It can help to brighten a dim room as natural or artificial light reflects off its surface.
Glass is an elegant nightstand option; however, it has a significant downside. Since fingerprints and dust can quickly accumulate on it, you'll find that you have to clean it more regularly than other materials.
Industrial-Style Nightstands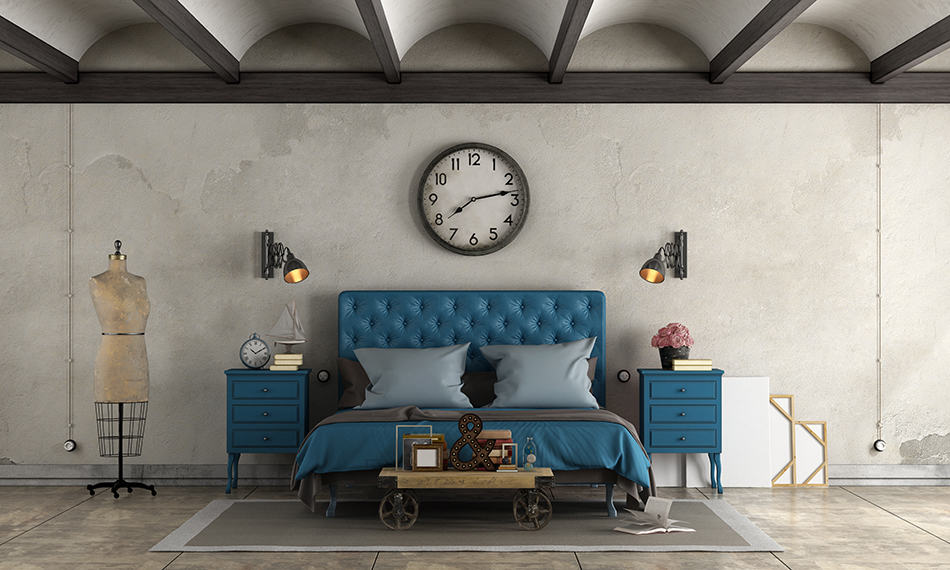 Nightstands with an urban industrial design aesthetic are understated and chic. Like many industrial-style furniture, the bedside tables are constructed with a combination of raw, aged woods and galvanized metal. Two bedside tables on both sides with a metal cage bottom and flat wooden top is an excellent example of the simple elegance of this design style.
Industrial design may appeal to you, but you may find that you're concerned about it being too rustic or cold for your bedroom decor. Fear not, a nightstand is an easy way to bring in a light touch of that edginess without it being overwhelming.
Smart Nightstands
Like many other people, you probably have multiple tech gadgets that you charge overnight on your nightstand. You can also probably relate to the frustration of running out of space because of the clutter and messy cables! Furniture manufacturers have made our lives easier by building chargers and other tech-inspired solutions into modern nightstand designs.
Smart bedside tables are sleek and stylish to look at. They're also packed with useful features that help you maintain clean, uncluttered space. USB chargers or wireless charging pads for your smartphone, tablet, or e-reader, and the unsightly cables are hidden away in the design and out of your sight.
Because smart nightstands also have Bluetooth-enabled speakers built into them, you can say goodbye to your portable mini-speaker too. Finally, fancier models include a refrigerated compartment, in addition to regular non-refrigerated storage drawers, so your water stays cool throughout the night.
Of course, all these features come at a price. Smart nightstands are significantly more expensive than the average bedside chest or cabinet. And if you want to get one for each side of your bed, you'll need a pretty big budget. You may also need to have more space next to your bed as these multi-purpose units can be larger than standard bedside tables.
Cocktail Bedside Tables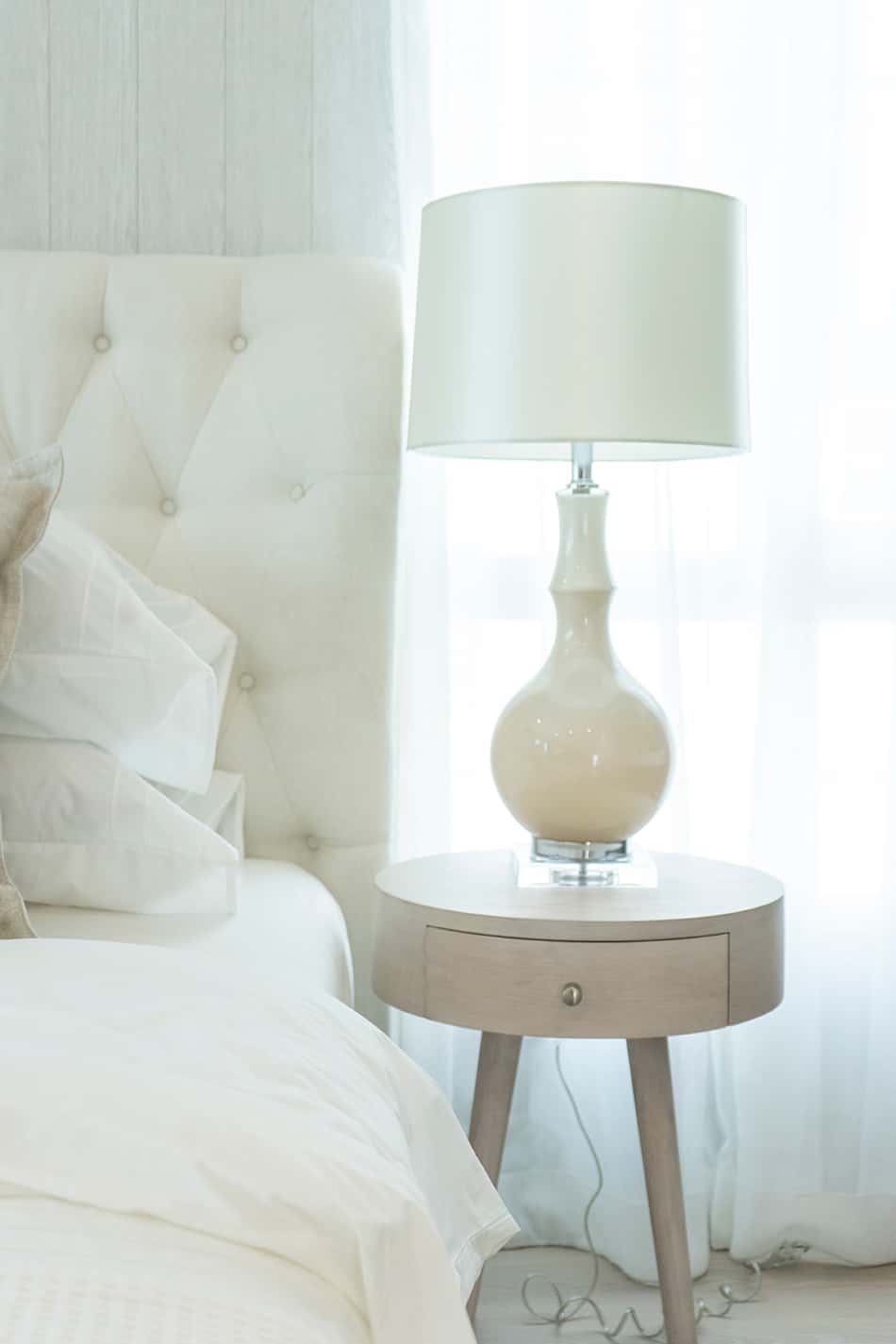 A bedside cocktail table stands on a pedestal and has legs. You can find it in various styles – from antique tables with ornately designed Cabriole legs to contemporary tables with a chrome pedestal, disc stand, and granite top.
If you prefer your nightstand to be a little taller, then the bedside cocktail table will be right up your alley. They are elegant and can also be a bit formal, so they may not always work if you prefer a more relaxed bedroom setting.
Because of their appearance and tall height, cocktail nightstands can be used in other rooms without looking out of place. If you no longer want to use them in your bedroom, you can relocate them to another room like your lounge, sitting room, or entrance hall.
Drum-Style Bedside Tables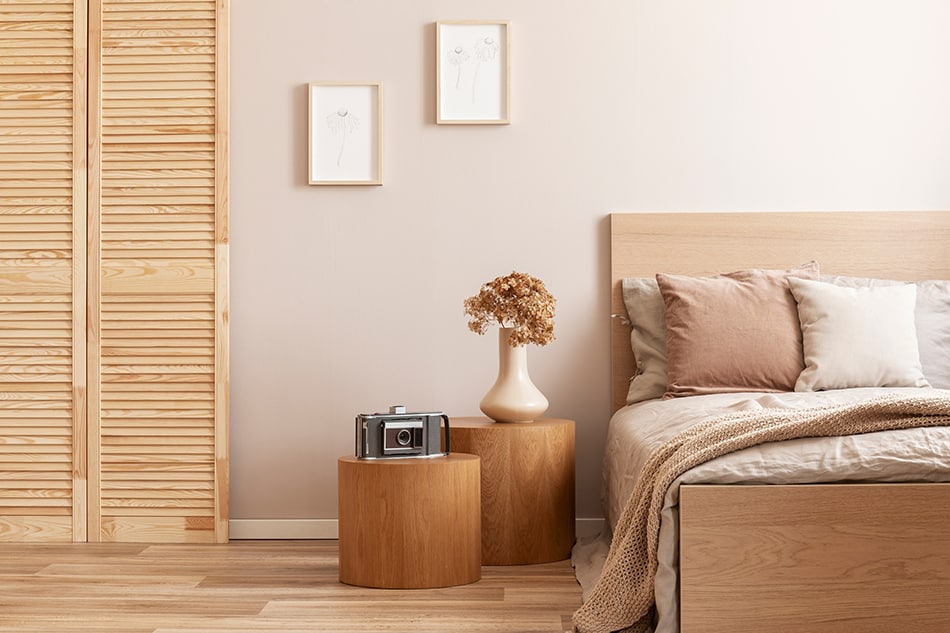 Barrel or drum-shaped nightstands are solid and are usually made from natural woods and iron. They work well as an accent piece in bedrooms with a rustic, industrial or minimalistic design theme. If you take a shine to a drum-shaped nightstand, keep in mind that they can be somewhat limited in terms of storage space.
You can put items on top of them, but that's just about it. You'll also want to consider what other items of furniture you have in your bedroom. If you have a lot of chunky furniture, like an oversized ottoman or low chaise, adding a drum nightstand – which itself is stocky and low – will make the room feel heavy.
Built-In Bedside Tables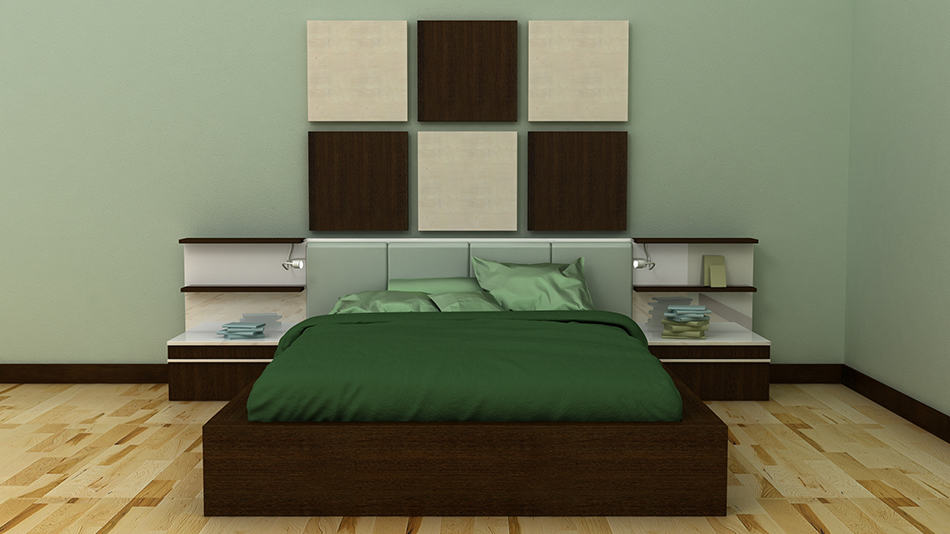 If you couldn't be bothered with the fuss of shopping around for a nightstand, finding one that's built into your bed frame is the easiest solution for you.
Apart from saving you hours of searching, a built-in nightstand will also perfectly match your bed and is constructed with your bed's height in mind. So, you're guaranteed that its proportions will be correct. On the other hand, if you like to change your decor regularly, you may find a built-in nightstand limiting and boring after a while.
The design options of a built-in bedside table can be pretty basic, comprising of nothing more than a shelf or two that can hold a few items.
Bedside Table Attached To The Bed
When you have a very narrow space next to your bed, and a permanent nightstand is impractical, you could consider a removable bedside table. Temporary bedside tables comprise a flat shelf that attaches horizontally to your bed's frame. They're small enough to hold a few items like a cup of tea, book, and phone. Once you're done using the table, you can simply remove it and tuck it away.
Still, a detachable table may not be enough if you need a more permanent storage solution. A helpful alternative could be a pouch or basket that hooks over the edge of your bed frame and has small pockets for you to slot in your belongings overnight.
Open Bookshelves As A Nightstand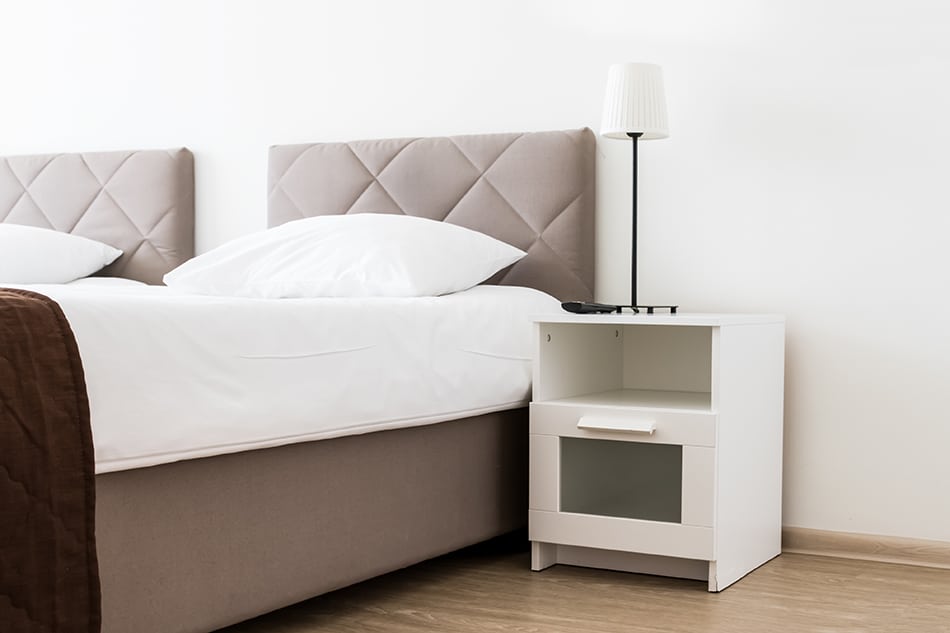 If you're an avid reader, the chances are that the tabletop of your nightstand, as well as any other storage space you have in or around it, are piled high with books. Using an open bookshelf as a bedside table can help you organize your bedroom and store your favorite books within easy reach.
Luckily, furniture brands have beautifully designed bookshelves of varying sizes, so you won't be short of options. If you're a fan of industrial design, a low metal-framed bookshelf with wood shelves will work well.
Or, if you don't want two or three tiers filled with books, you can go for a nightstand with a single drawer at the top and an open shelf at the bottom so you can use the space in a way that suits your needs better.
Stool, Ottoman, or Chair as a Nightstand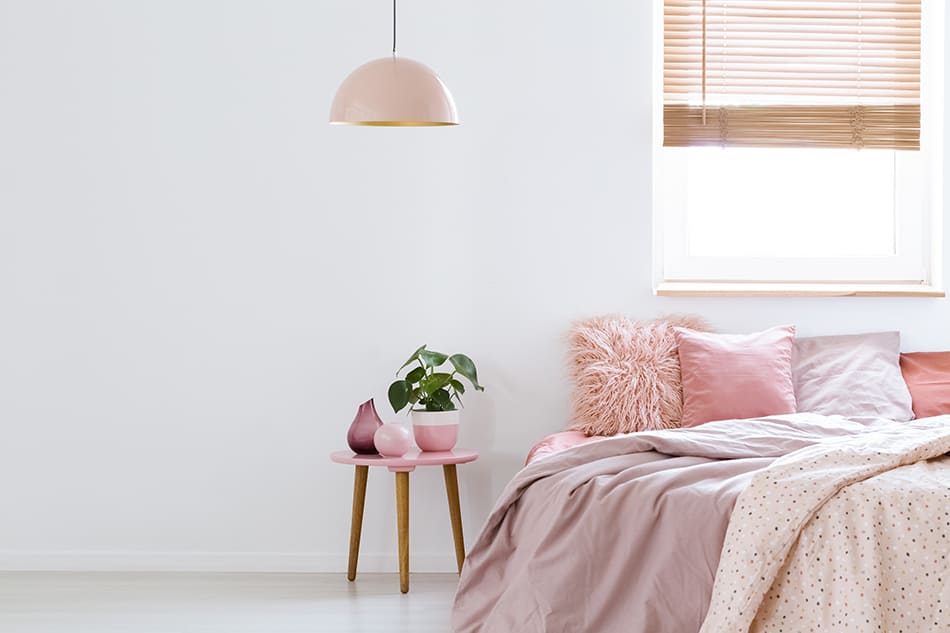 Sometimes a bedside table isn't a table at all! Small stools, ottomans, and chairs are a creative and quirky nightstand idea for the eccentric homeowner who couldn't be bothered to stick to conventional furniture rules.
Use vintage or antique-style wooden chairs or stools, which won't only look cool but can also be functional as the chair's seat provides a flat tabletop for your things. Or, opt for an upholstered square ottoman with a lid for a softer look, which has the added advantage of sizeable storage space underneath. Ottomans are an excellent nightstand option because you'll have plenty of designs to choose from.
Rolling Desk as a Nightstand
If you work in your bed a lot, a desk may be more beneficial to you than a traditional nightstand cabinet or chest. It's also practical in a university dorm room, for example, where the space to have both a desk and a bedside table may be limited.
Desks serve a more functional use than a decorative one, so your number one priority when looking for one should be ergonomics and comfort. This is essential because you'll likely be spending using it.
Ideally, you'll want a desk that's small enough to position next to your bed, as you would a regular nightstand. If the desk is always at table height, it will look awkward. So look for one with an adjustable height and can be lowered to the same level as your bed when you're not using it.
Since you'll be moving the desk from one part of your bedroom to another, it's also a good idea to look for one that is fitted with casters to make it easier.
In Conclusion
As you can see, a nightstand can be far more than just a functional piece of furniture. The ideas presented here give you just a hint of the array of configurations and designs available out there to meet your bedside storage needs. Happy shopping!