Redwood is a type of wood that is popularly used for lumber because it contains naturally occurring oils that give it excellent resistance to moisture, rot, and pests. It is widely considered the best type of wood to use for outdoor applications such as decking and patio furniture because even when untreated, it won't absorb water or be affected by wet or humid conditions.
It is able to resist warping from changing temperatures and has an attractive natural reddish-brown color that blends seamlessly into outdoor settings.
Redwood lumber is also used for architectural components within the interiors of homes, for example, exposed beams and trim. This is because the wood is strong and has many qualities that make it low maintenance and give it superior performance in houses.
If you have redwood features in or around your home, you might be wondering what colors you can use to allow the red tones to shine or how to use colors to help the redwood blend into the decor.
What Color is Redwood?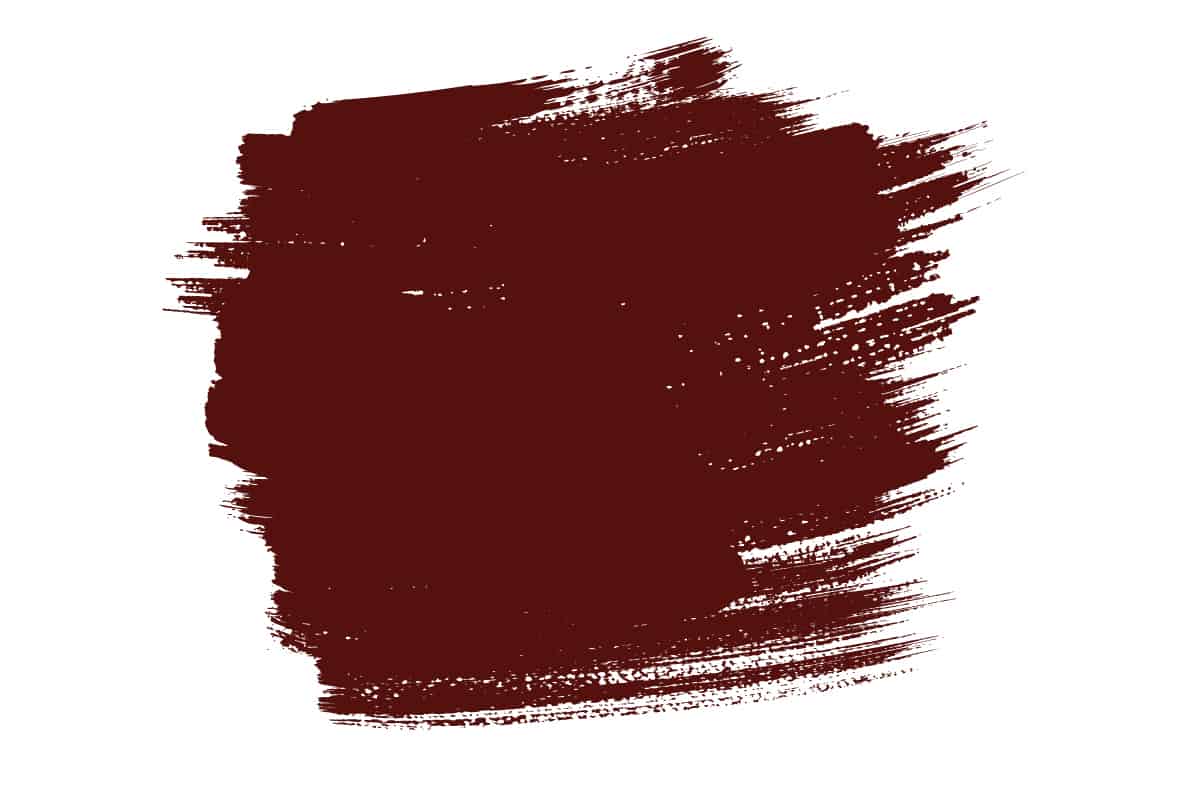 With redwood lumber, the clue is in the name! You won't be surprised to find that redwood has a reddish tinge, although it is worth noting that the name of wood doesn't always indicate its coloring. For example, white oak is not white.
The heartwood of redwood trees is the most valuable part because it is the most durable, and it also has the highest potency of natural oils. The heartwood has a red-brown or pink-brown color that will deepen to a rich dark red-brown as it ages. The sapwood of a redwood tree is less valuable, and it has a creamier color that lacks the red hue of the heartwood.
Redwood in the Garden
Since redwood has excellent moisture-resistant and pest-resistant qualities, it is ideal for use in the garden. You could use this wood to build an outdoor pergola or a deck or buy an outdoor dining table and chairs made from redwood.
Home decor extends to the garden for many people because the garden is simply an extension of their indoor living area. If you want to accessorize your redwood deck or your patio area with redwood furniture, consider summer fresh shades of green and blue.
Cobalt blue
Cobalt blue is a vivid and heavily pigmented shade of medium blue that has a bright and bold look. As redwood has rich, warm tones, cobalt blue creates a nice contrast because it is a distinctly cool shade.
Cobalt blue can add a lively atmosphere to an outdoor space which is perfect for entertaining, but blue is also believed to be calming and relaxing, which makes it a good choice of color for resting and enjoying a peaceful garden space.
On redwood garden furniture, add cobalt blue cushions to the chairs and a cobalt blue fabric parasol to provide shade over the redwood table.
Lime green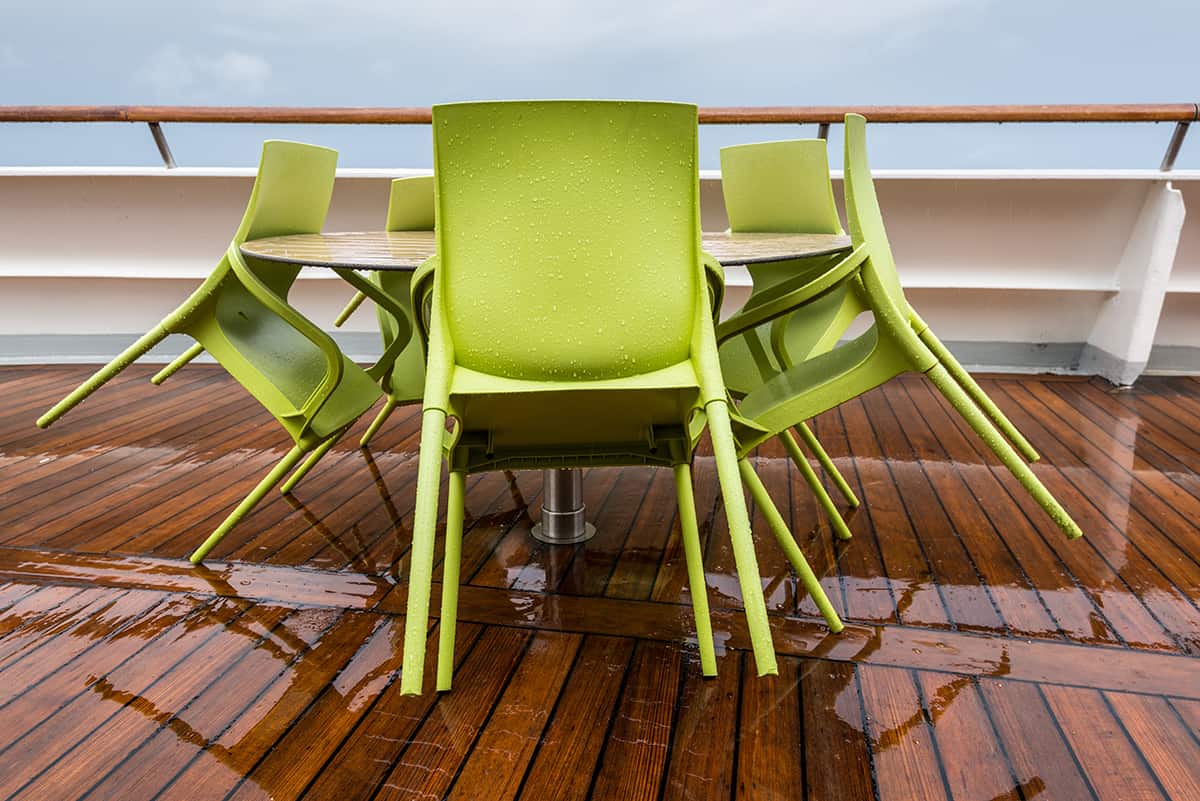 Lime green is a striking color that will create an intense contrast against redwood since green and red are opposite colors on the color wheel.
Although these colors make for a very bold look on their own, they actually won't appear to be overstimulating or overwhelming because, in a garden, they will typically be set against a natural background of green, red, and brown shades.
On a redwood deck, choose lime green sun loungers and lime green ceramic plant pots. The lime green will blend in seamlessly with the other green elements of your garden, such as the lawn, shrubs, and plants, enabling the redwood deck to really stand out.
Navy blue and white
If you want a look that feels more low-key, use navy blue and white furnishings with redwood features. The blue aspect of navy will provide a very slight contrast against the warmth of redwood, but it will be subtle because of the dark and muted shade.
White will help to add a neutral color to the mix and bring a classic edge to the feel of the look. On redwood garden furniture, choose navy blue and white striped seat cushions, with a white parasol umbrella and white placemats. The resulting look will feel classic and stylish, with a hint of nautical chic.
Redwood in the Home
Redwood timber can be used for any area of the home where you want the wood to be featured. For example, it works well for trim, interior doors, paneling, flooring, and beams.
If you have a home with redwood features, then you will likely want to decorate in a way that either enhances the natural warm tones of the redwood or in a way that helps the redwood to blend into the background.
Enhancing redwood
The best way to enhance the appearance of redwood is to contrast against it using complementary colors. Since redwood has a rich and deep red-brown color, the contrasting and complementary colors will be green and blue.
You can also achieve muted contrasts with cool shades of gray and purple. Using a contrasting color will bring out the red tones in redwood and make them appear more obvious and vibrant.
Green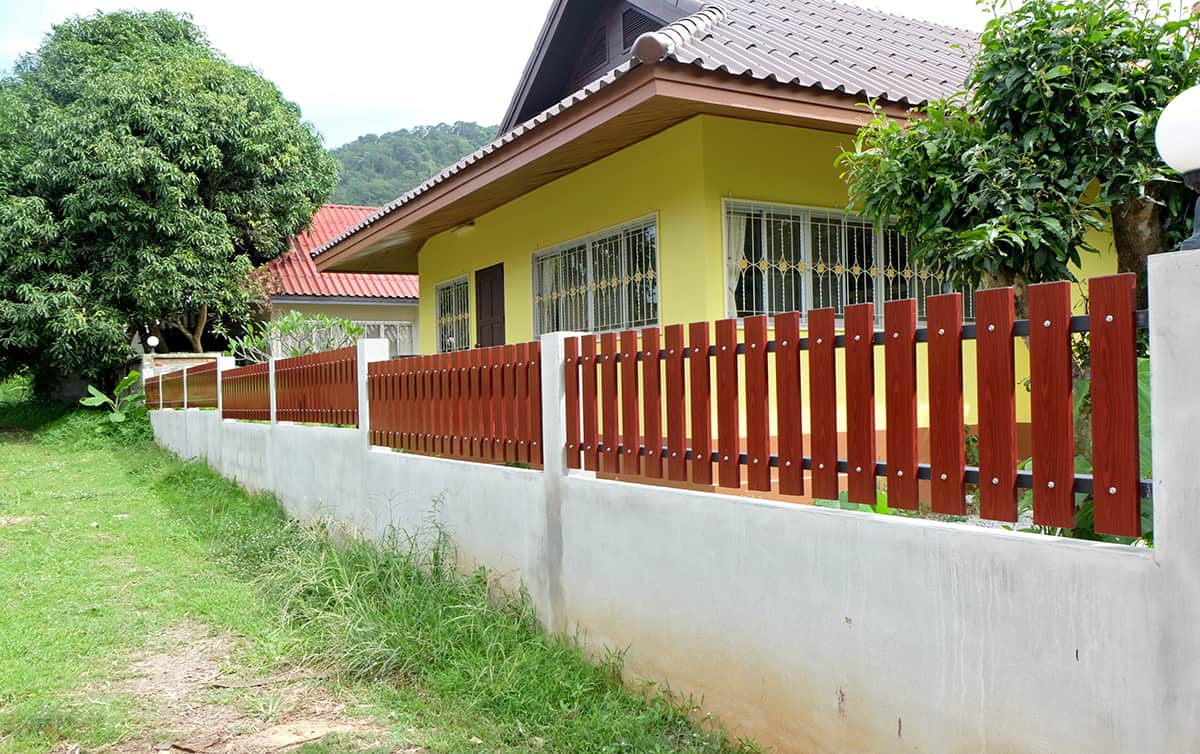 Green is an ideal color to use with redwood to draw out the natural red tones because green and red are contrasting opposite colors. Green will work to make any red hues appear more clearly. Even if your wood is mostly brown with only a subtle hint of red, if you set it next to something that is green, the wood will instantly appear redder.
Choose a muted shade of green, such as sage or olive, if you want your space to feel earthy and relaxing. For example, paint the walls sage green in a room with redwood floors, or choose an olive green subway tile backsplash next to redwood kitchen cabinets.
Redwood will also work well with dark shades of green to create a dramatic and luxurious space, such as emerald green and forest green. These colors will work equally well to bring out the red hues in redwood. Avoid using bright shades of green unless you want a very vivid contrast.
Blue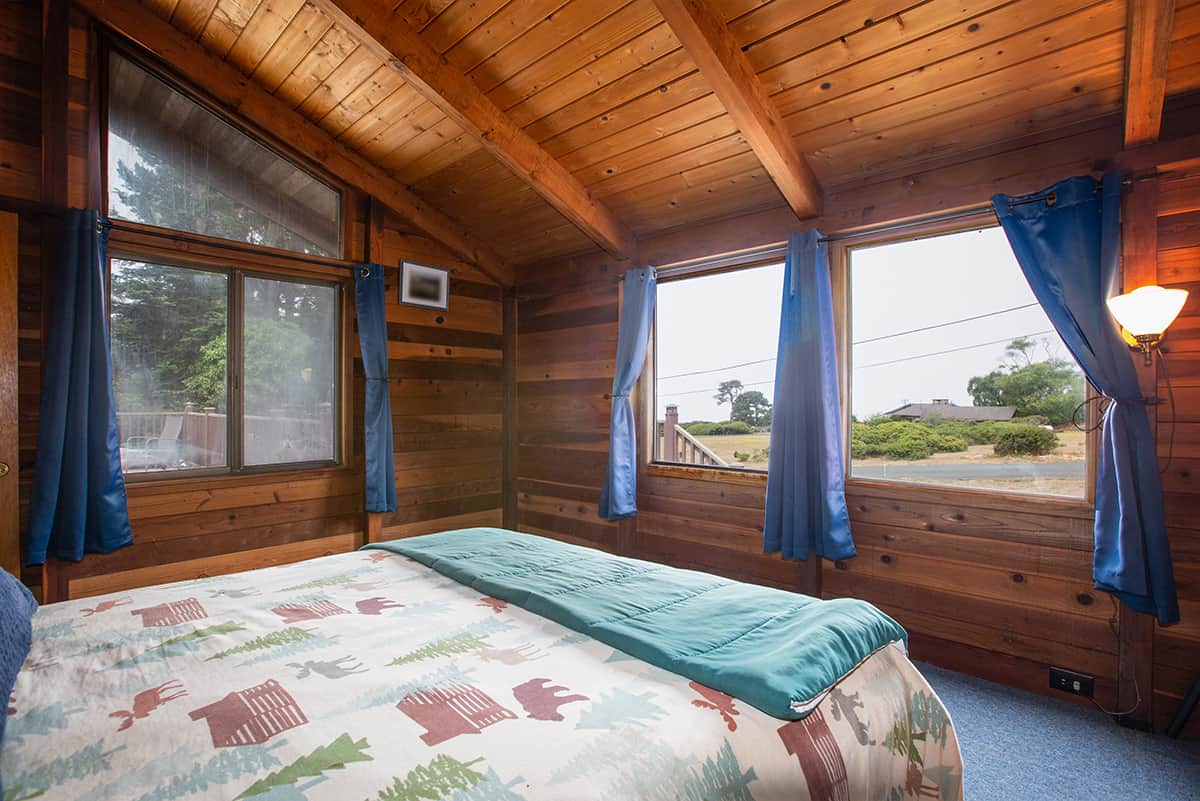 Blue creates a slightly more subtle contrast with redwood as a cool shade against a warm shade. Use soft blues for a soothing feel in a room which will also work to lure out the natural red hues in redwood, or opt for darker shades like navy or sapphire for a more dramatic style.
Bright shades of blue will work with redwood, such as periwinkle or cornflower blue. Since blue is not directly opposite red on the color wheel, the contrast these colors create won't be too intense.
Gray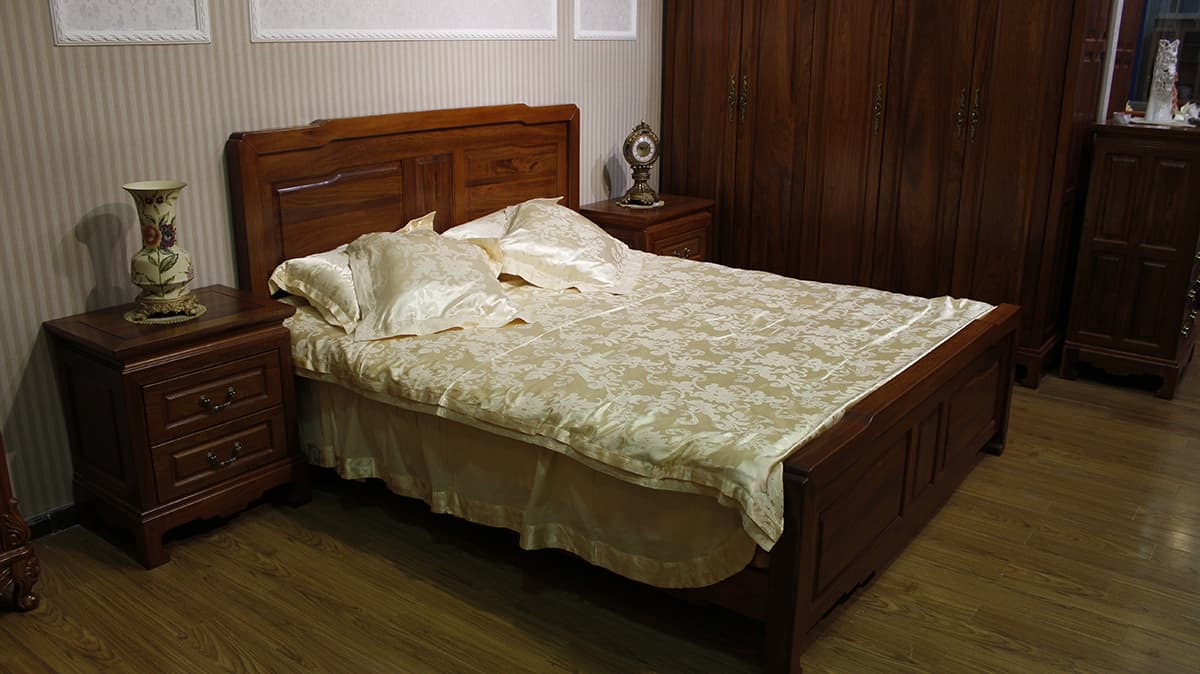 Cool tones of gray look great with redwood because they make for a contrast that is subtle and modern. In a bedroom with redwood doors and trim, paint the walls in dove gray and opt for darker shades of gray for the bed sheets and curtains. This will enable the red tones in redwood to appear warmer and richer without creating a stark contrast.
Minimizing redwood
If you have moved into a home that has redwood features and you don't like the red hue, then there are ways you can decorate to minimize the natural hues of the wood.
This can be done by using distraction methods that divert attention away from the redwood or blending methods that cause the redwood to blend into the background, so it doesn't appear to be such a prominent feature. This can be done using analogous colors, which include orange, beige, yellow, brown, red, and cream.
Orange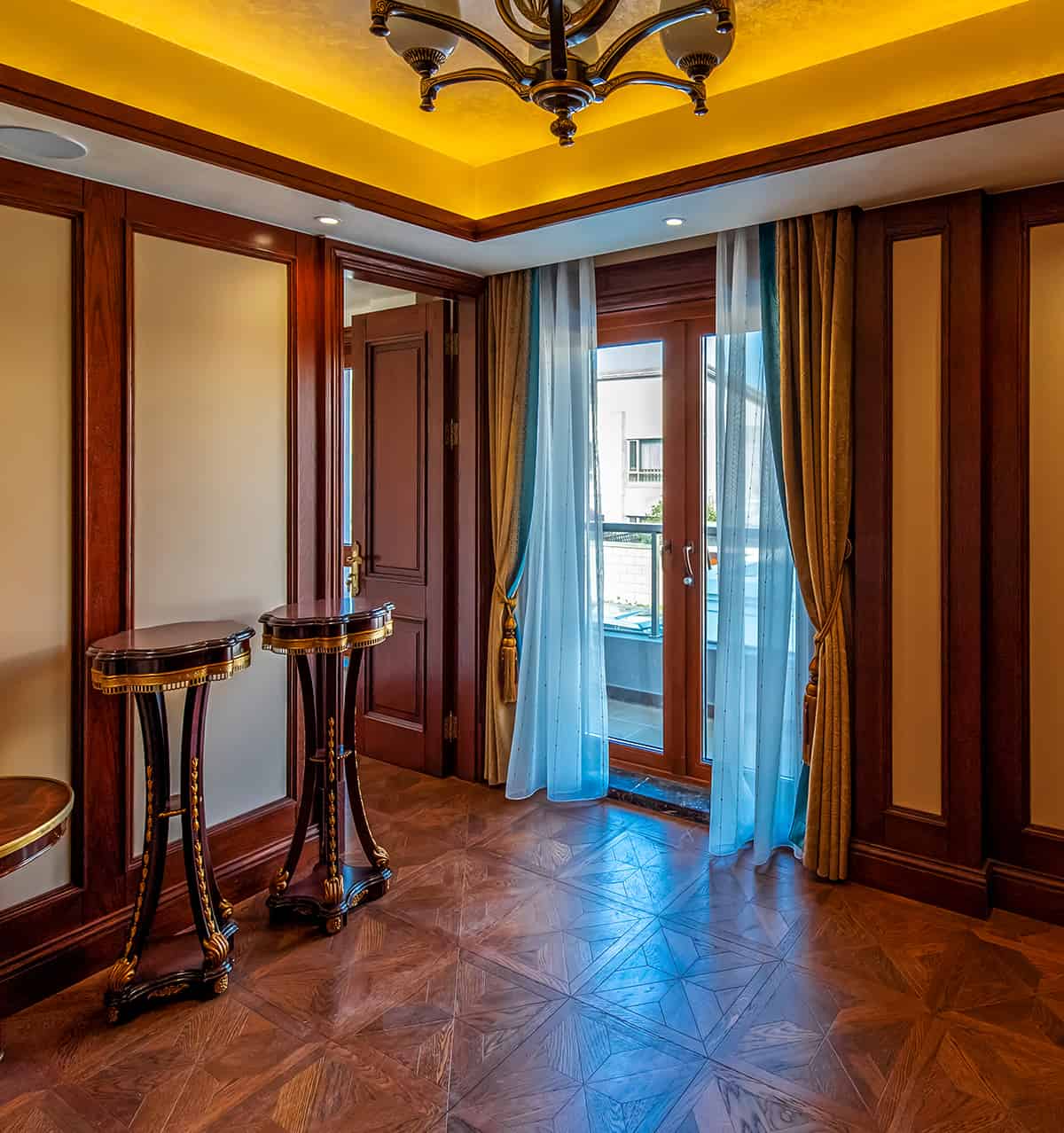 Since orange is next to red on the color wheel, it will create a harmonious look when used with redwood. For a warm and cozy style, opt for deep shades of orange such as burnt orange or cinnamon.
For example, in a living room with redwood coffee tables, paint the walls burnt orange and choose brown sofas with orange cushions. Using orange as the primary color in the decor will allow the redwood features to blend in rather than stand out, and the red tones will not be so obvious.
Beige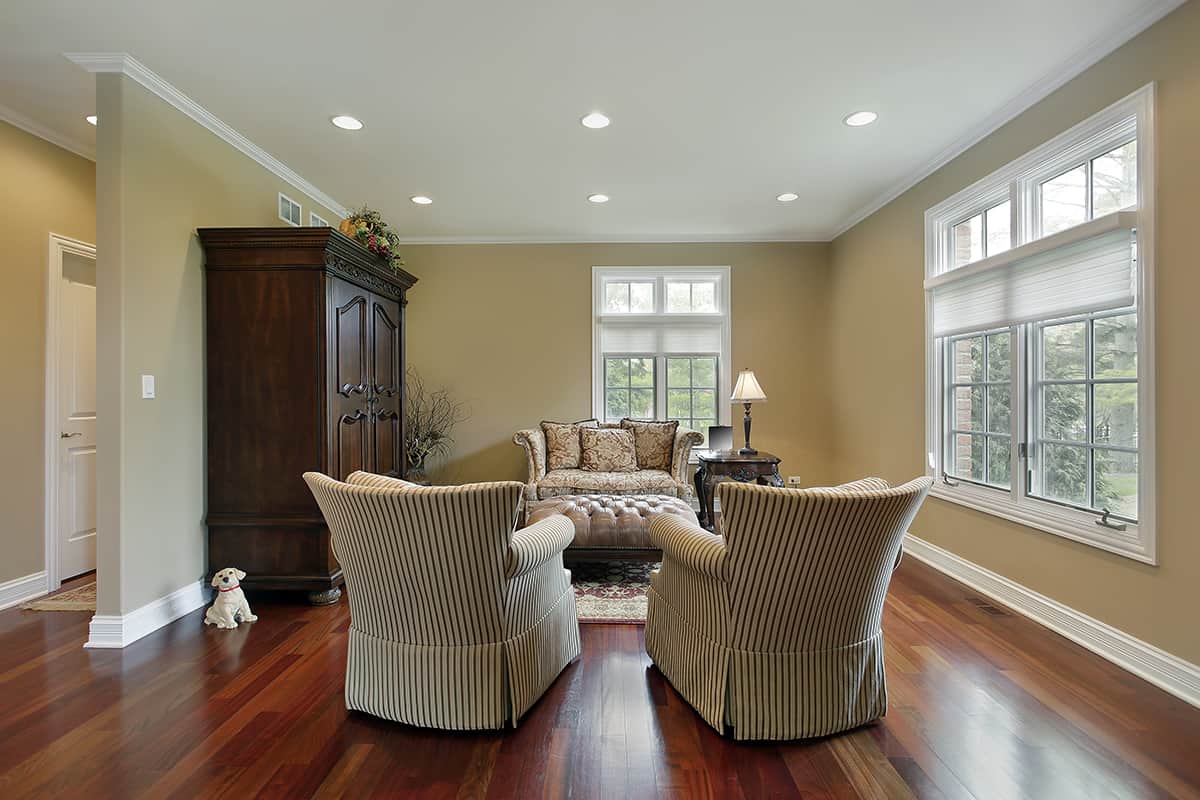 If you have redwood beams in a house that you want to disguise, then paint the walls in a warm shade of beige, such as tan or fawn.
The warmth of these colors will work to tone down the red hues of redwood and make it appear more neutral and brown-colored, while creating a classic look.
Brown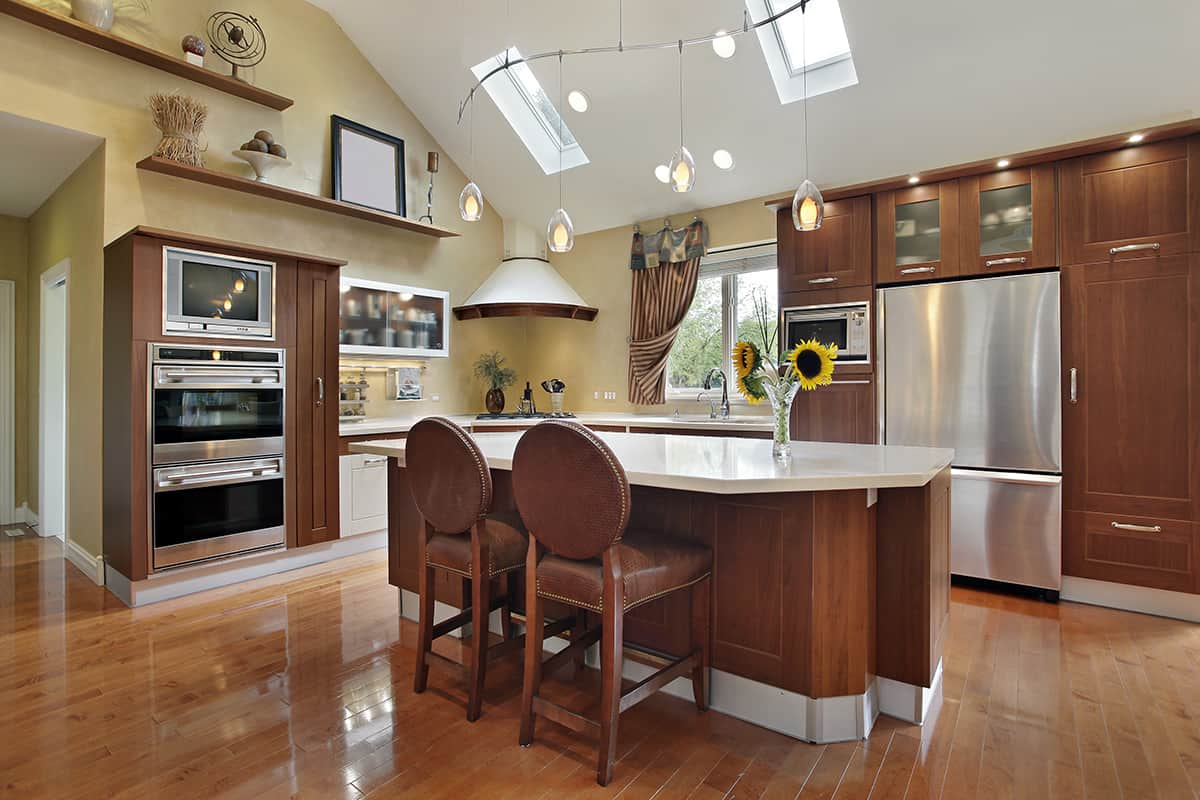 Since redwood is a red-brown color, using brown alongside it will do double duty to help the wood blend in while also muting the red tones and drawing out the natural brown aspects of the grain. In a living room with redwood flooring, choose dark brown leather sofas and pale brown paint for the walls.
Stick to warm shades of brown to create a cozy vibe and ensure no contrast is created. Cool shades of brown which have gray undertones will make the redwood appear even redder, so avoid these types of shades.