Black and pink are a pair of colors that work really well together, with black providing a neutral background for pink to stand out against.
With this color scheme, add in a third color to define the style and create personality.
Vintage Vibes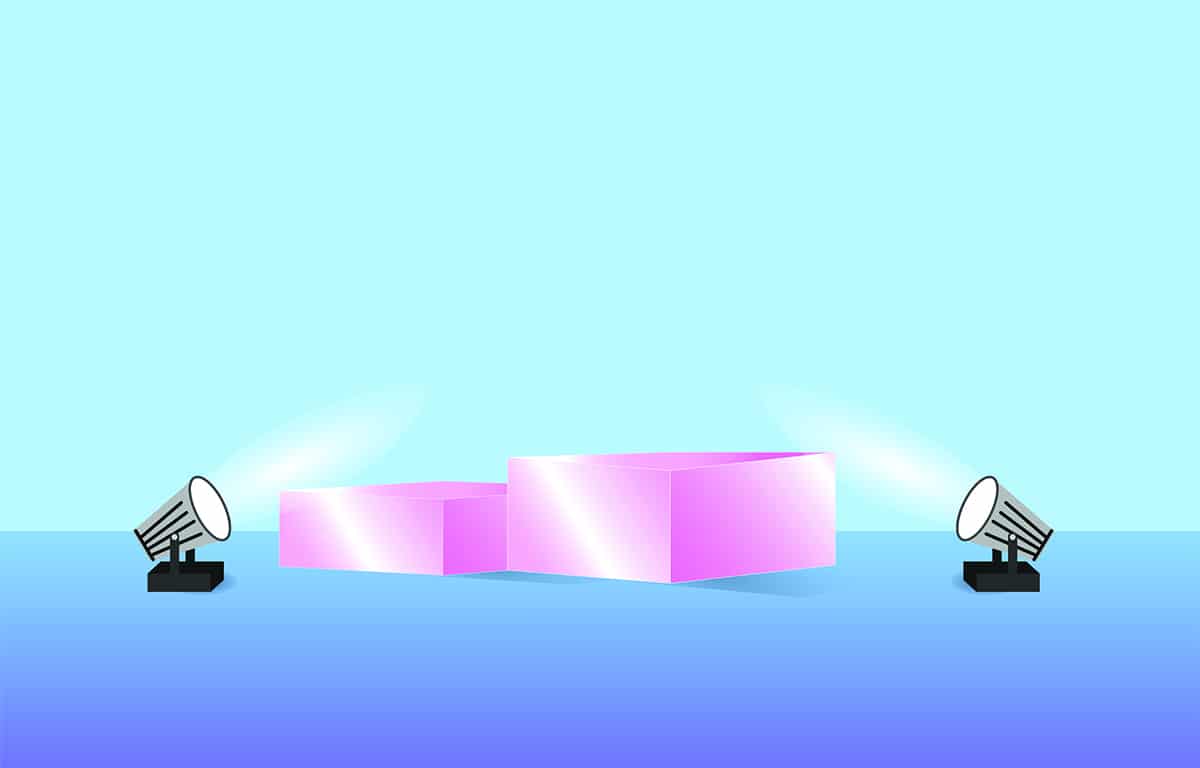 Colors to Use For This Style: Black, ballerina pink, bright aqua blue
For a vintage look that lures you back to the 1940s and 50s, opt for a color scheme based around black, ballerina pink, and bright aqua blue. With this color palette, the pink and blue create a subtle contrast since pink falls more towards a warm shade, and blue is resoundingly cool.
This temperature contrast is appealing to the eyes since it isn't too striking yet adds interest and balance. Black is a neutral shade, and as such, it can be used to add definition in this color scheme, as well as break up the blue and pink colors so that they don't become too overwhelming.
For a cheerful and positive vintage style, don't use black as the main color in the color scheme, as this will result in a dramatic or deep look, which can be nice, but it isn't what we are going for with this style.
Instead, select aqua blue or ballerina pink as your primary color, then use the two remaining colors for accents.
In a kitchen, choose black marble countertops and black tile flooring, then opt for an aqua blue backsplash and ballerina pink painted walls. Leave the kitchen cabinets in a neutral wooden finish, or paint them white.
Art Deco Decor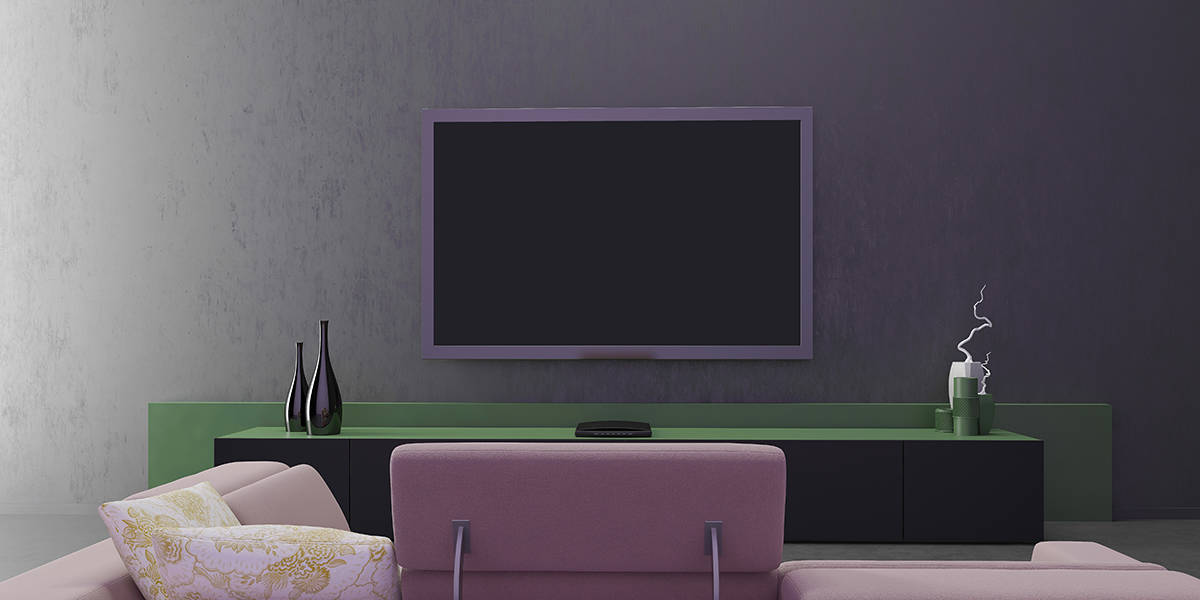 Colors to Use For This Style: Black, dusky pink and mint green
If interior styling based around art deco is your thing, then add a refreshing hit of mint green to a black and pink space. Dusky pink works best with mint green if you want to achieve an art deco-inspired look, as it provides a contrast that is interesting without being too intense, and it helps to make for a more muted look.
With this color palette, use mint green for your primary color if you want the space to feel cool and revitalizing, then opt for dusky pink accents with a few black details to add definition.
For example, in a living room, paint the walls mint green and use a mint green area rug, then choose a dusky pink sofa with dusky pink curtains to coordinate. Set some black cushions on the sofa and hang some black framed art on the walls to tie everything together.
If you want a more pared-back, sultry style, use dusky pink as your main color and the remaining two colors as accent shades. For example, in a bedroom, paint the walls dusky pink and choose dusky pink bed linen. Set some mint green table lamps on your pairs of nightstands and a mint green throw over the end of the bed.
Opt for wooden furniture which has been finished in a black stain or painted black, such as a dressing table and a chest of drawers, and add further black details such as a black vase on the window sill or a black upholstered occasional chair to one side of the bed.
Tropical Transformation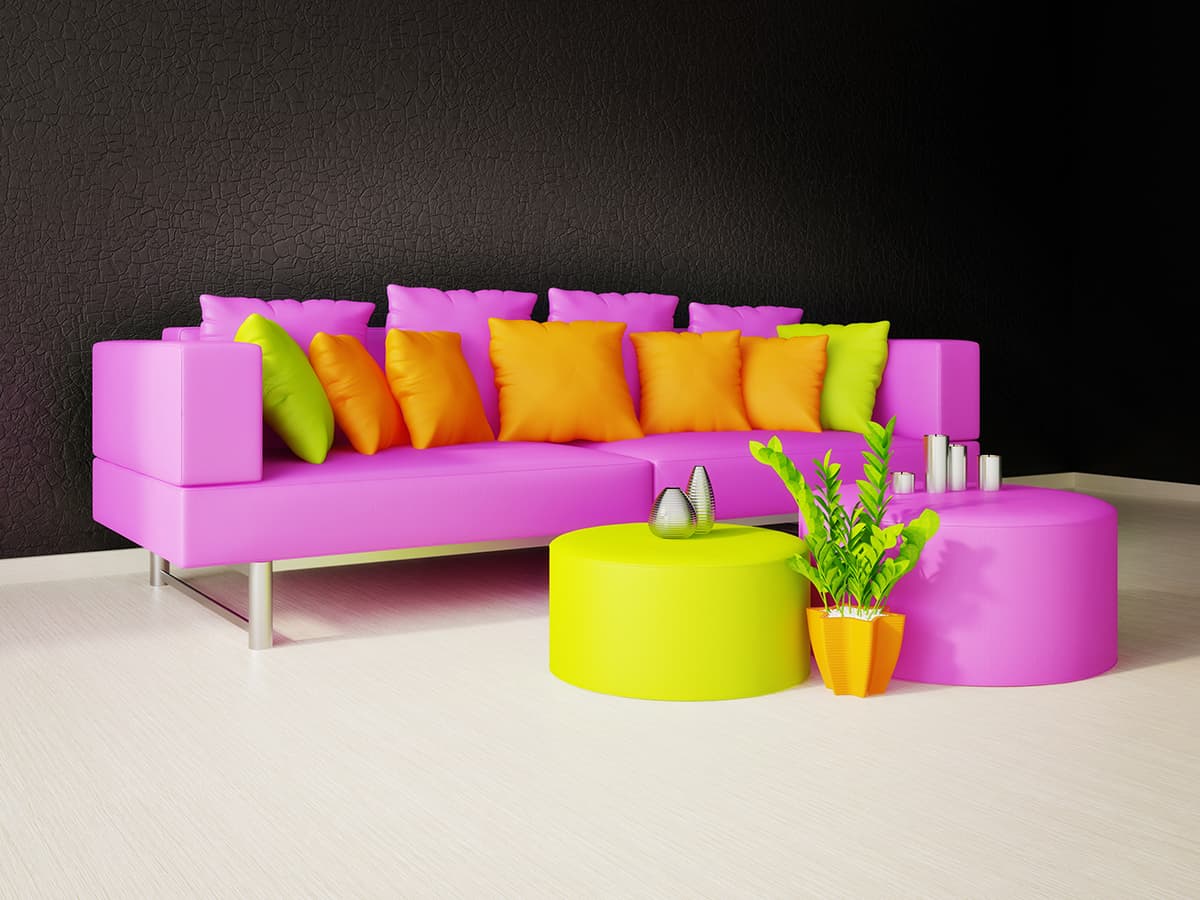 Colors to Use For This Style: Black, bright pink shades and lime green
A fun and lively tropical style can be achieved in a black and pink space by adding striking accents of lime green for a vivid and shocking contrast. For the best results, use a bright shade of pink such as fuchsia with your black and lime green color palette.
Patterns work really well to define a tropical-themed space, so use a wallpaper featuring lime green foliage and bright pink flamingo prints or curtains made from fabric with a lime green and hot pink exotic floral pattern on them.
Black can be used as your primary color in this interior style, as a backdrop from which fuchsia pink and lime green will really stand out. In a dining room, paint the walls black except for one feature wall, which is covered with tropical lime green and fuchsia print pattern.
Opt for shocking pink upholstered dining chairs and matching bright curtains, then add lime green placemats and a shocking pink plant pot to a wood dining table that has been finished with a black stain.
This look will feel playful and flirtatious and will also create an energetic atmosphere that provides the perfect setting for an entertaining dinner party with cocktails.
Modern Earthy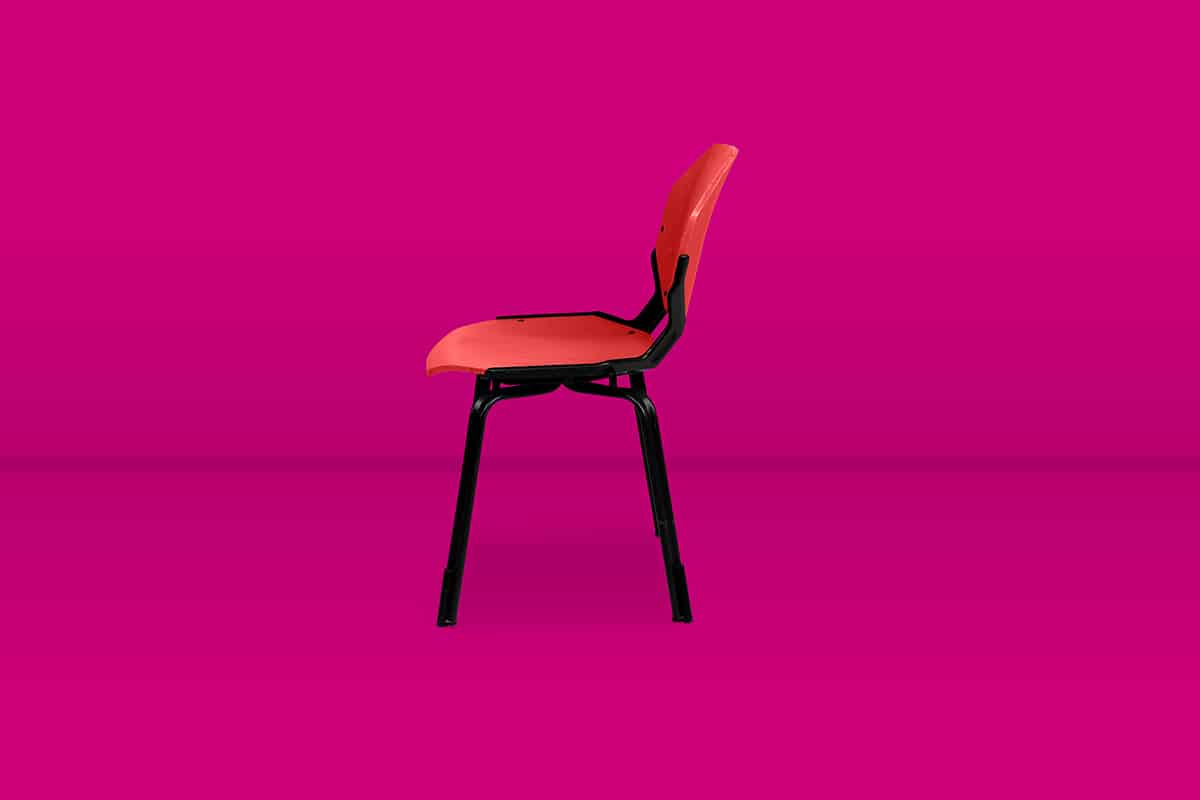 Colors to Use For This Style: Black, blush pink shades and terracotta
You might not think of black and pink as earthy colors, but they actually work really well in this kind of style when you choose the right shades and accessories. Opt for blush pink, which is a muted, almost gray-toned shade of pink, along with terracotta.
The blush pink, black, and terracotta color schemes complement each other really nicely to give a subtle warm feel, with black added as an accent shade for small features around the space.
Opt for natural fabrics to accentuate the earthy look, such as twine woven baskets and rugs made from rope. These colors are really easy to be around, making for a casual space that feels modern and eclectic. In a living room, paint the walls terracotta and choose black cotton sofas with blush pink cushions.
A terracotta throw casually laid over the back of the sofa will help to bring the color scheme together. Opt for small blush pink accessories around the space, such as candles and ornaments, along with some black details like black frames, black wire baskets, and black furniture legs.
Princess Palace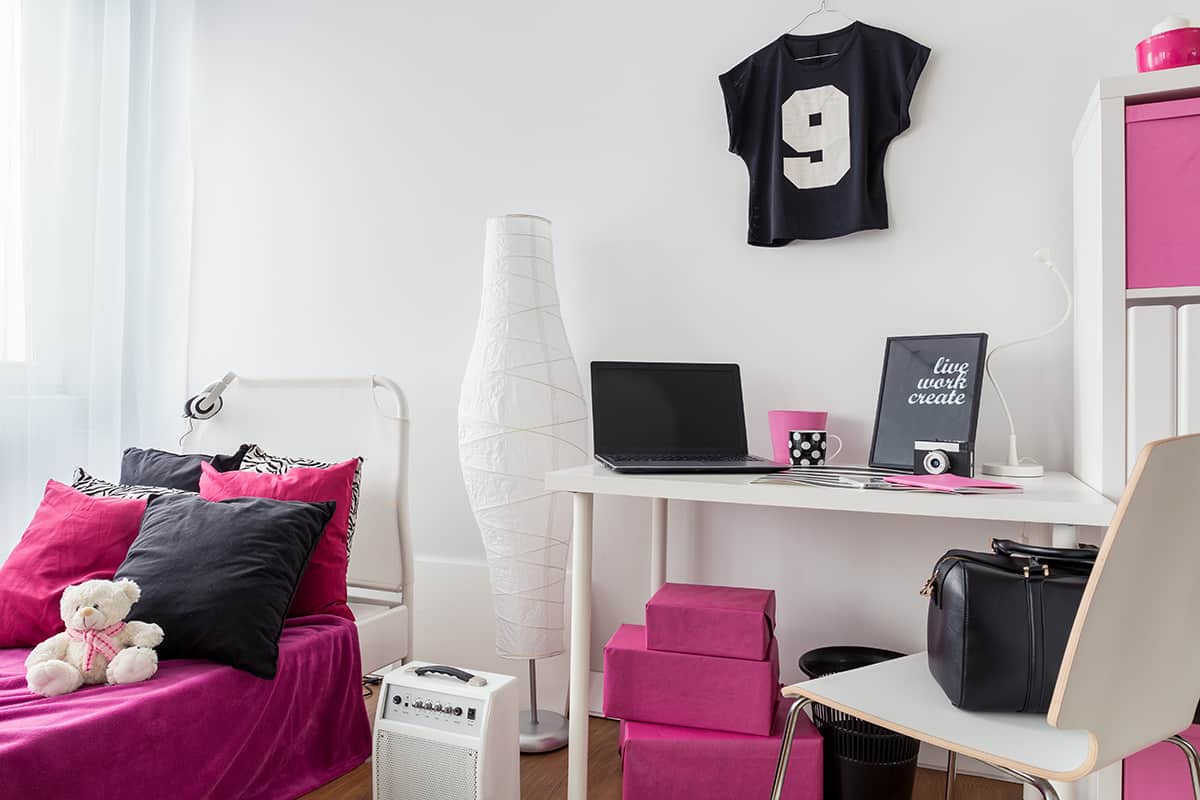 Colors to Use For This Style: Black, barbie pink and white
Pink is a popular color used to decorate the bedrooms of young girls, but black may not be a color you immediately put with it. However, black is great for adding definition and making the room feel more elegant and stylish.
White is the perfect third color to set off this color scheme, as it contrasts against black and is a nice base for pink to stand out against. Use Barbie pink to make a child's bedroom feel young and playful, with a generous handful of princess vibes.
Paint the walls white and select barbie pink textiles for the curtains, bedding, and rug.
Opt for furniture that has been painted in white, such as a dressing table and a wardrobe, and choose black handles to contrast against the white. Other black details around the room will help to balance out the theme and ensure it doesn't look too predictable, such as a black bean bag to sit on and black light fittings.
Elegant Sophisticated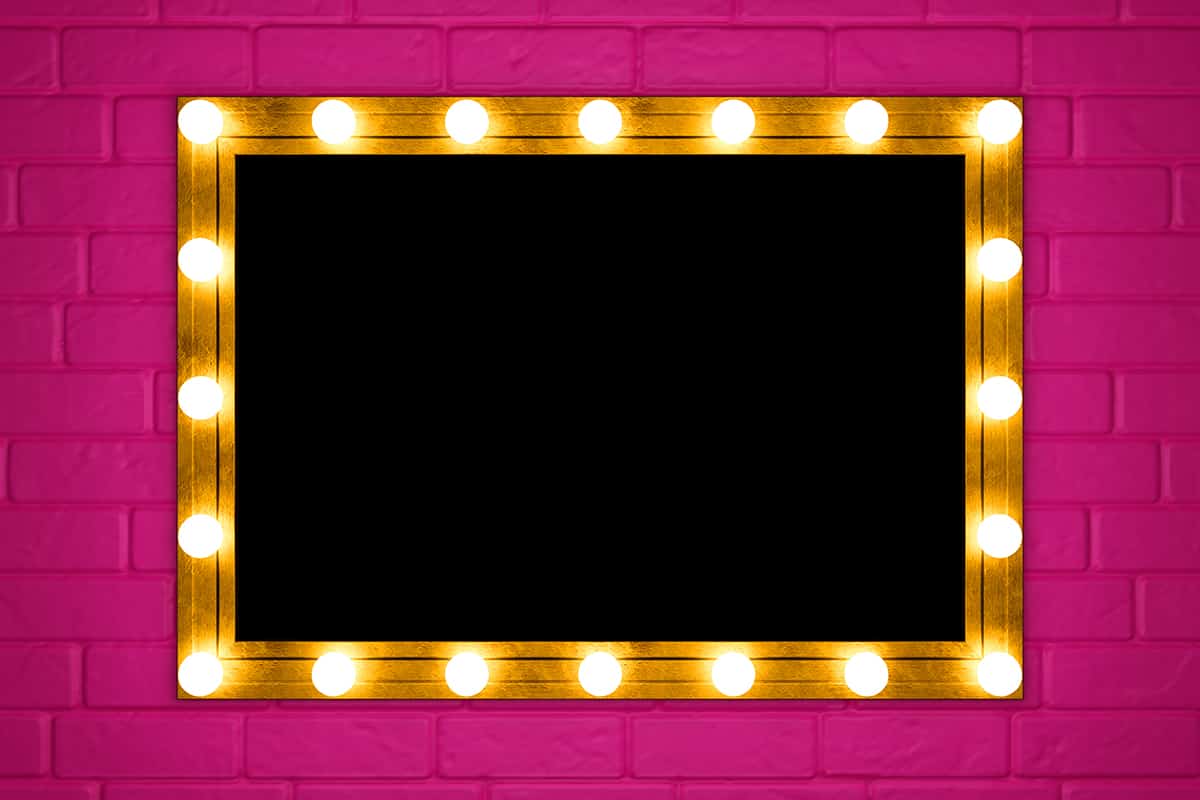 Colors to Use For This Style: Black, millennial pink and gold
If you want a bedroom that feels elegant and sophisticated, with a hint of modern femininity, then use black with millennial pink and gold. Black and gold are a stunning classic color pairing that never fails to look luxurious together, but the addition of millennial pink to the color palette adds another layer of interest and attraction.
This is a color that is almost an ironic take on pink since it is neither bright and bold nor playful and ditsy. Instead, it is the modern woman's shade of pink which is synonymous with strength and independence.
In a sultry bedroom, paint the walls in black for a sense of drama and depth, then opt for furniture in gold, such as a metal gold bed frame and matching nightstands. Choose millennial pink for the soft furnishings, such as velvet pink curtains and soft pink bed sheets.
Alternatively, for an elegant yet more low-key style, paint the walls in millennial pink and choose black-painted furniture with gold accessories such as gold velvet drapes, gold lamp shades, and metallic gold bedding.
Retro Punk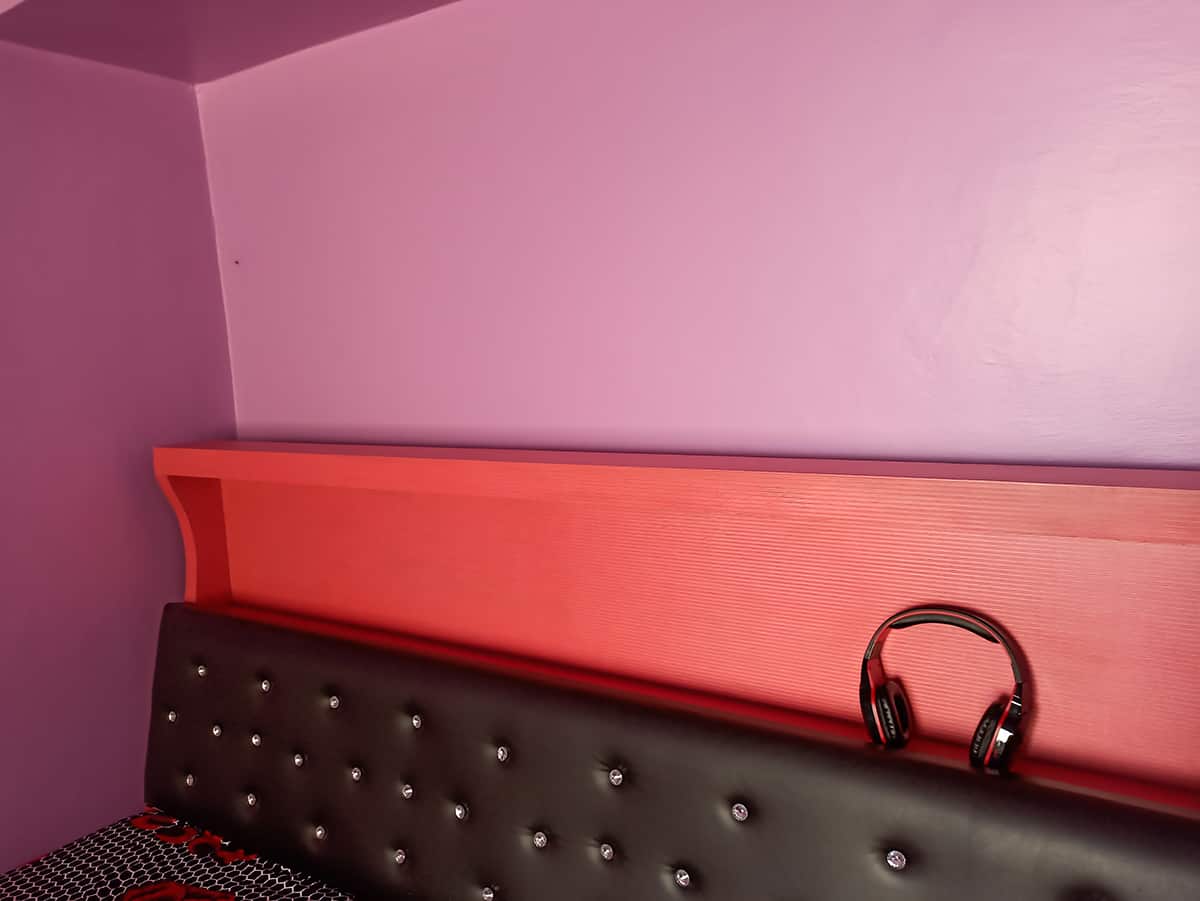 Colors to Use For This Style: Black, hot pink and bright red
Pink and black are two colors that represented the punk scene and have more recently been associated with the pop punk genre. To create a lively space full of punk attitude, use black with hot pink and bright red in your interior design.
Red and pink create a clash that feels edgy, yet this is balanced out by the neutrality of black so that the space does not feel overstimulating.
In a punk-inspired bedroom, paint the walls in black and choose an array of hot pink and bright red accessories, such as bold red and pink artwork on the walls, a shocking pink upholstered occasional chair, and red curtains.
You could achieve a slightly more reserved punk look by painting the walls in hot pink and using red and black as the accent shades.
Casual Contemporary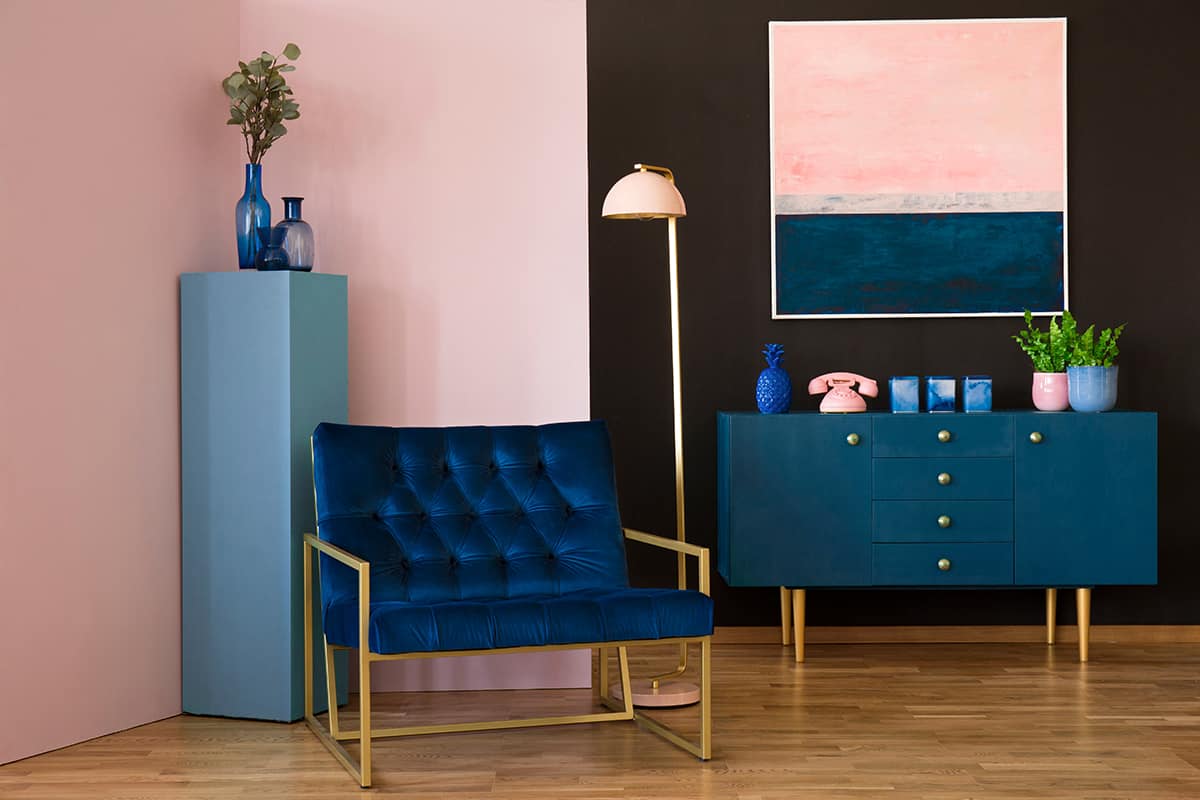 Colors to Use For This Style: Black, pastel pink and navy blue
Pastel pink and navy blue make for a color scheme that feels easygoing and carefree. The two create a lowkey contrast since pink is close to orange on the color wheel, and blue is the contrasting shade to orange.
As a dark and muted shade of blue is used, the contrast feels even more subtle. Add black to this color palette for an interior look that feels contemporary and effortlessly casual.
In a living room, paint the walls pastel pink and choose a navy blue sofa with pastel pink cushions. Opt for a black rug and a black framed mirror on the wall, along with navy accessories like a plant pot and a navy storage basket.