Dark purple is a deep purple shade that is sometimes known as royal purple because of the long history of this color being used by monarchs. Dark purple can vary from eggplant through to plum or mulberry, and it sometimes has blue undertones, or it can also have red undertones, which give it a fiery intensity.
This is a color that is not common in interior design, but if you want to choose something a little different from the norm, then it can be used to create a really stylish space. The key is knowing how to use dark purple effectively and which colors to use alongside it.
Using Dark Purple in Home Decor
Wall paint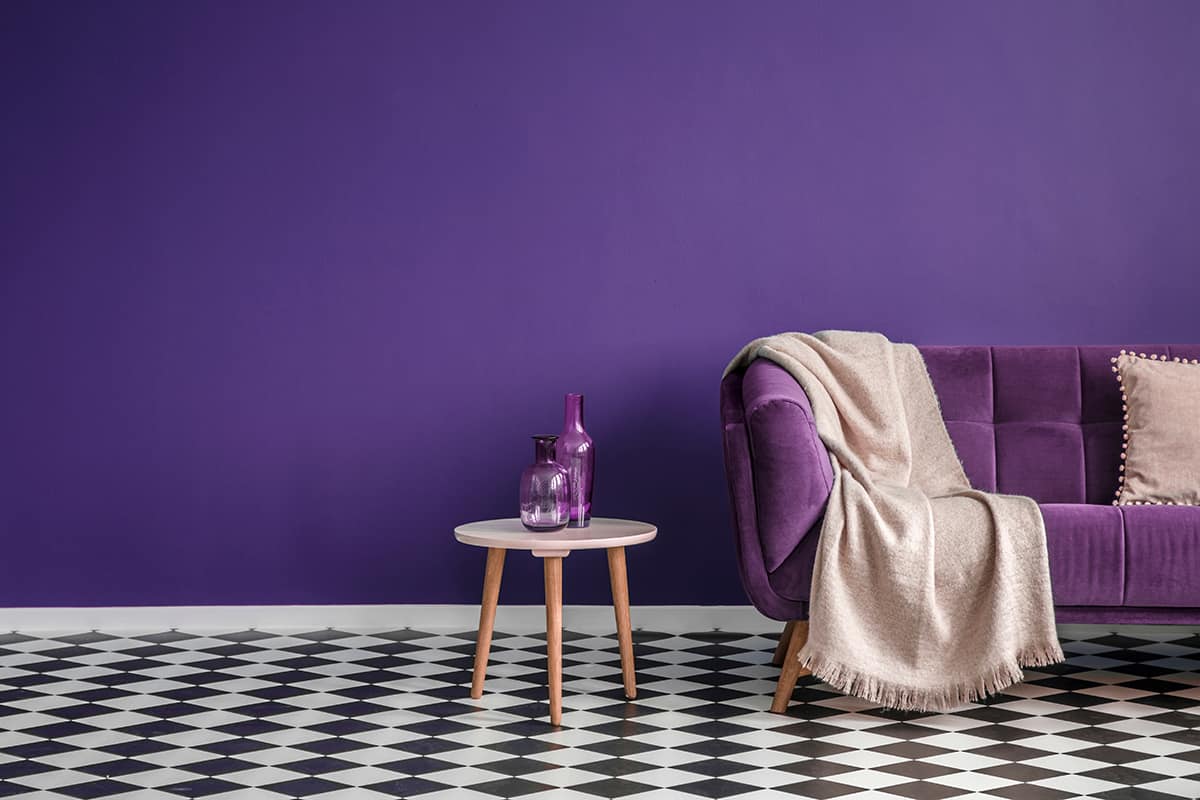 Dark purple walls on all sides of a room will result in a dramatic and moody space. Though you might expect a color such as this on the walls would make a space feel like it is closing in on you, it actually can add depth which makes the room feel bigger than it really is.
This means dark purple is a nice choice in small rooms like bathrooms, but it can also be used in larger rooms if you want to make the space feel cozy like it is enveloping you in dark purple.
Although a full room of dark purple walls might seem daring at first, if you choose a dusky shade of purple, it can create a muted and subtle space. If you would prefer to use purple paint for a feature wall, it will look great, with the remaining walls in a neutral shade or a pale purple color. This will make dark purple the focal point as opposed to the background color when it is used on all walls.
Soft furnishings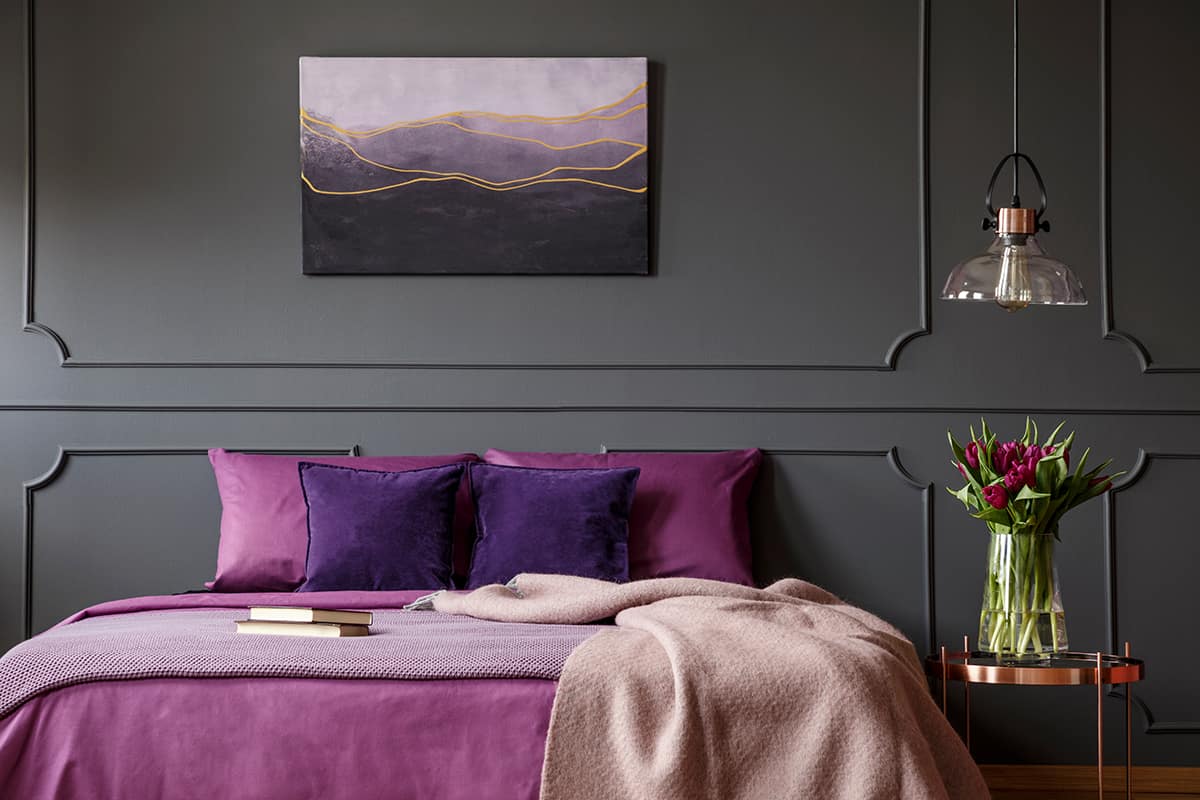 Some people are afraid of dark purple paint because it is very intense, but if you want to incorporate it into your color scheme in other ways, then try using soft furnishings. Dark purple curtains are a good choice in bedrooms because they can help to block out light and help you sleep better.
For a dark purple contrast in a light gray room, add a plum-colored velvet throw over a sofa or a dark purple area rug under a coffee table. For smaller hits of dark purple, you can use cushions on sofas or on the bed.
Accents
Using dark purple as an accent color is a nice way to bring this color into a space without committing to it as the dominating shade. There are various color schemes that would look striking with dark purple accents, such as blush pink, teal, lemon yellow, olive green, and dove gray.
To introduce dark purple accents into a bathroom, add mulberry candles to the bathroom windowsill and matching towels hanging over a hanging rail. In a dining room, use dark purple placemats on a dining table and tie this in with a bunch of purple flowers as the table centerpiece.
Cabinets
Dark purple cabinets add a really modern edge to a kitchen. This is a great color choice if you want to keep the space contemporary while also introducing a dramatic feel. Dark purple cabinets look best when they have a gloss finish, which will reflect the light and make for a really clean and chic feel.
Pair eggplant-colored kitchen cabinets with white granite countertops or black quartz. Dark purple cabinets are also a nice choice on a bathroom vanity unit. This can look great with dark green walls for a mystical autumnal style or pale gray walls for a modern effect.
Modern florals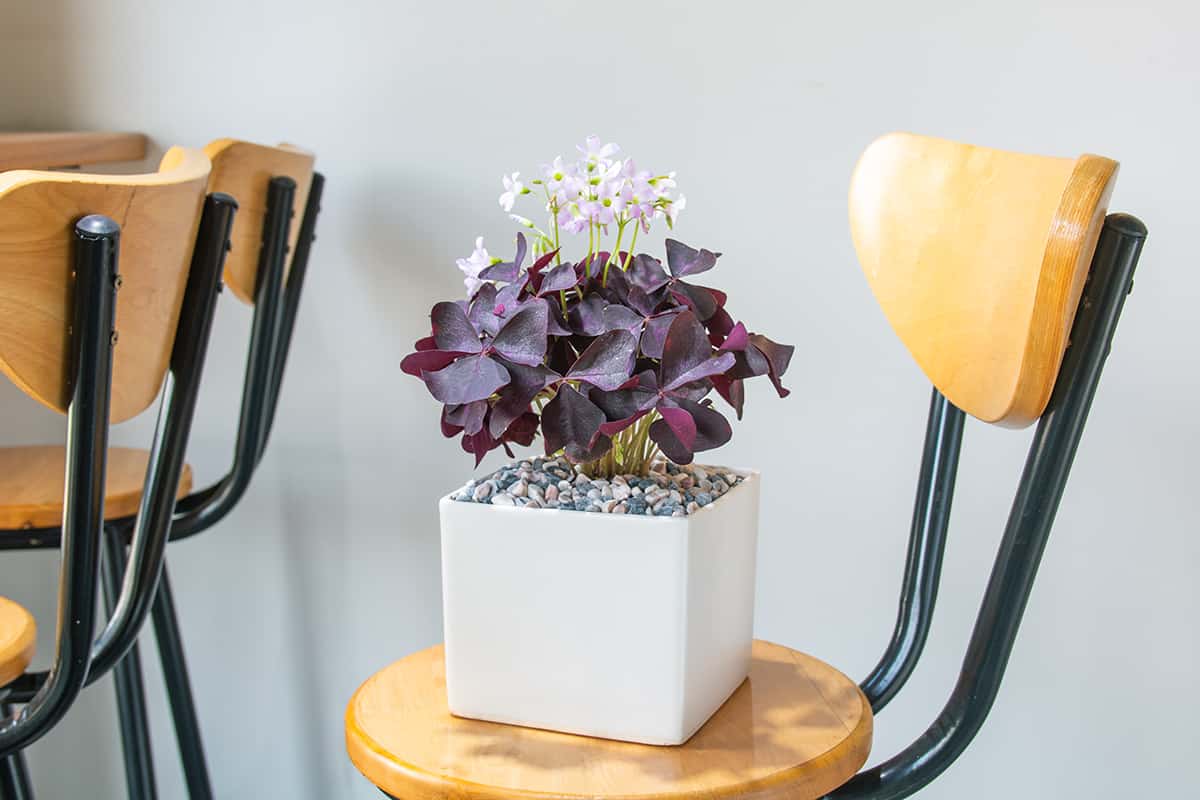 Dark purple floral prints can look really decadent on fabrics and wallpapers. Choose floral bedsheets with a dark gray background, purple flowers, and deep green foliage. Larger floral prints will look more contemporary, while smaller and daintier floral prints will have a traditional look.
Dark purple can look bold, dramatic, and intense, but by using it in a floral decor theme, it will appear more feminine. The finishing touch to any floral room will be a bouquet of dark purple flowers displayed on a table, which could be fresh or artificial.
Colors to Use with Dark Purple
Teal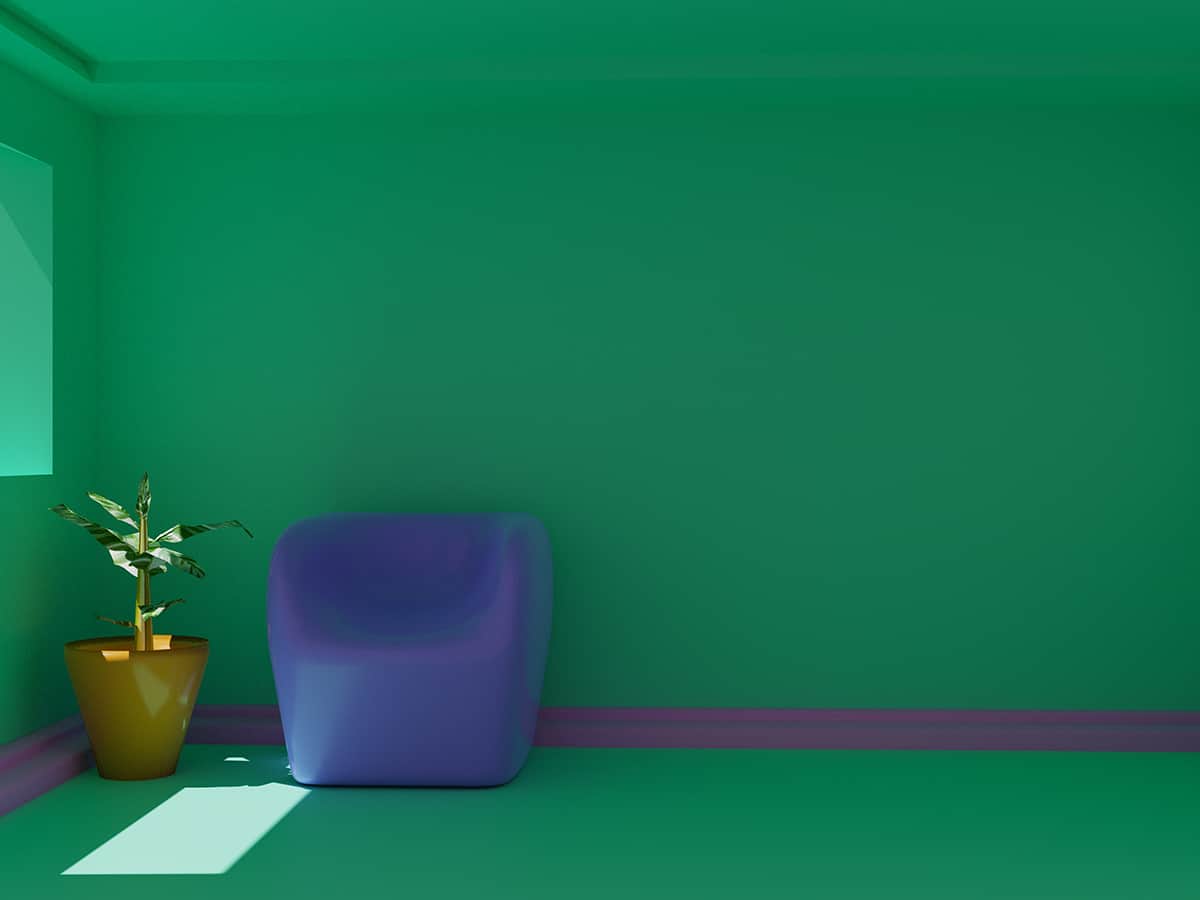 Teal has blue and green tones, and it has an energy that is simultaneously vibrant and soothing. It works well against dark purple because it doesn't contrast too strongly, but it does bring a fun and playful edge.
These colors create a similar feel to royal blue and dark purple, but as teal is slightly brighter, it will have a more energetic vibe.
Emerald green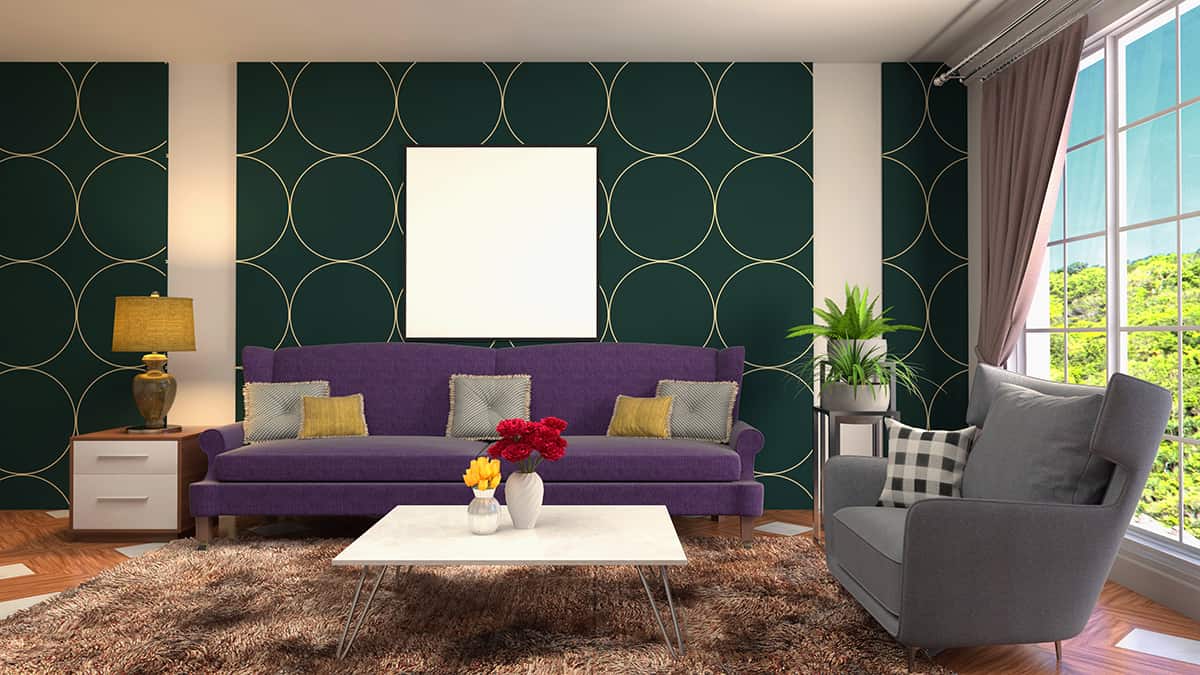 Purple and green contrast each other really well, and this is especially true for the dark purple and sage green color duo. These colors can be used to create a modern luxury feel.
Emerald green is a very popular color in interior design at the moment, but it is rarely paired with dark purple. If you love emerald green but don't want the same decor as everyone else, choose dark purple to contrast with emerald green and achieve a room that feels original and stylish.
You can use emerald green as your main color, such as emerald green walls, and then accent this with dark purple by using a plum-colored velvet sofa or eggplant curtains. This color scheme works equally well in reverse, with dark purple as the base color on the walls and accents of emerald green on bedsheets or sofa cushions.
These colors are ideal for a luxury botanical style as well. Ordinarily, botanical-themed rooms are quite casual, using earthy and muted tones with natural textures; however, it is also a theme that looks stunning with a more glamorous look.
Choose dark purple bed linen with an emerald green leaf print or frame pressed dark purple flowers against an emerald green wall. Adding gold metals to this color scheme will help to highlight a glamorous style, such as with gold light fittings and gold photo frames.
Cerise pink
Cerise pink is a hot pink color that will add a fun and vibrant contrast to dark purple interiors. This works really well when an entire room is painted dark purple, and cerise is used for striking shocks of color around the space, for example, with a cerise upholstered accent chair or cerise lamp shades.
Despite pink and purple both being associated with femininity, this is a color scheme that does not feel overly girly, and it can work in any room of the home. It works in both casual and luxury styles, depending on the fabrics selected.
Blush pink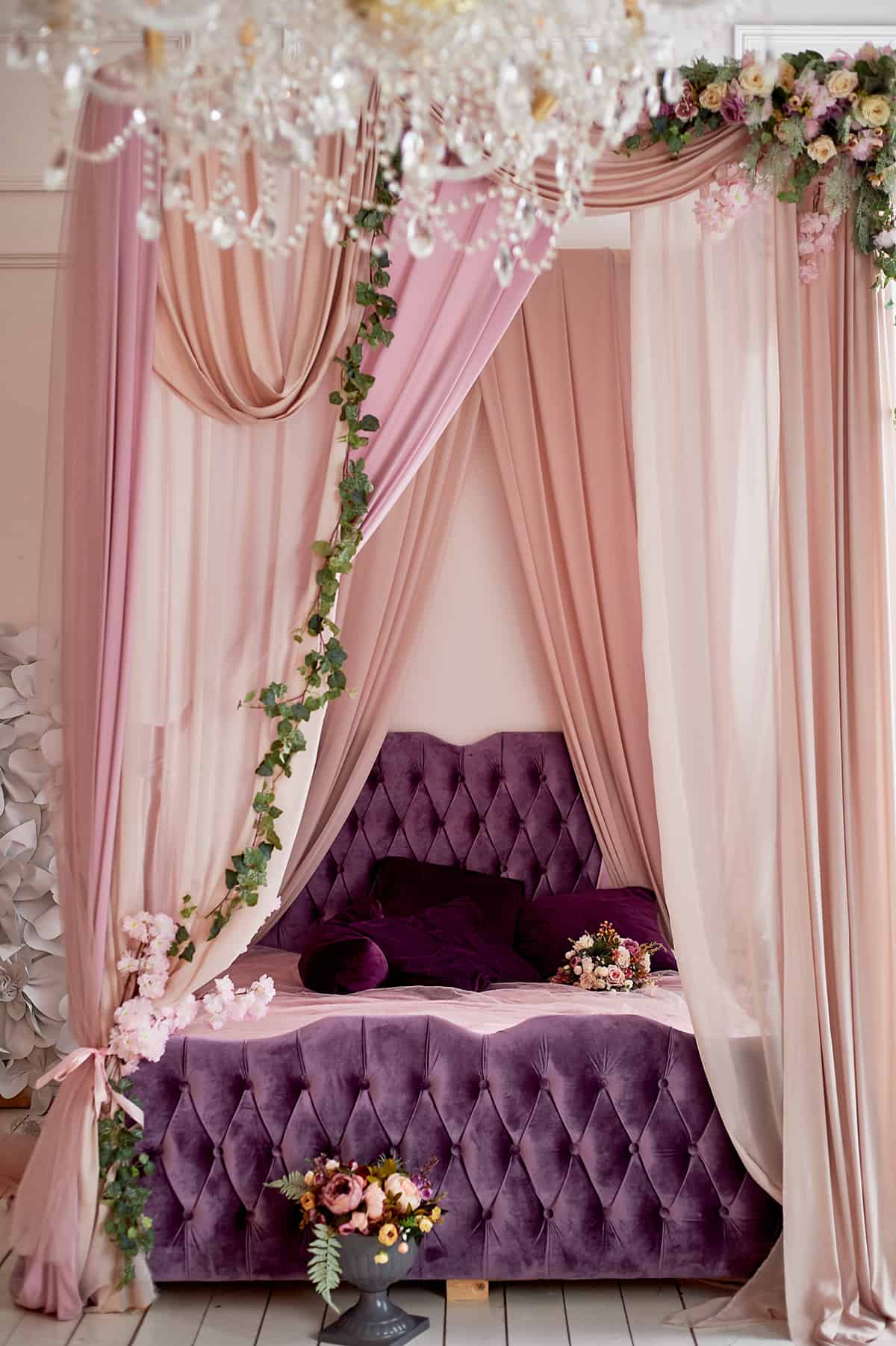 Blush pink is a trendy shade of pink that is dusky and muted. Using this color with a dark purple interior helps to create a more feminine and romantic style. Blush pink will soften dark purple to make it more alluring.
These colors work really well together in a bedroom, but they will also look stunning in a bathroom or living room. Paint bathroom walls in a deep shade of plum and then accent this with soft blush pink towels and a small vase of pale pink roses.
Chartreuse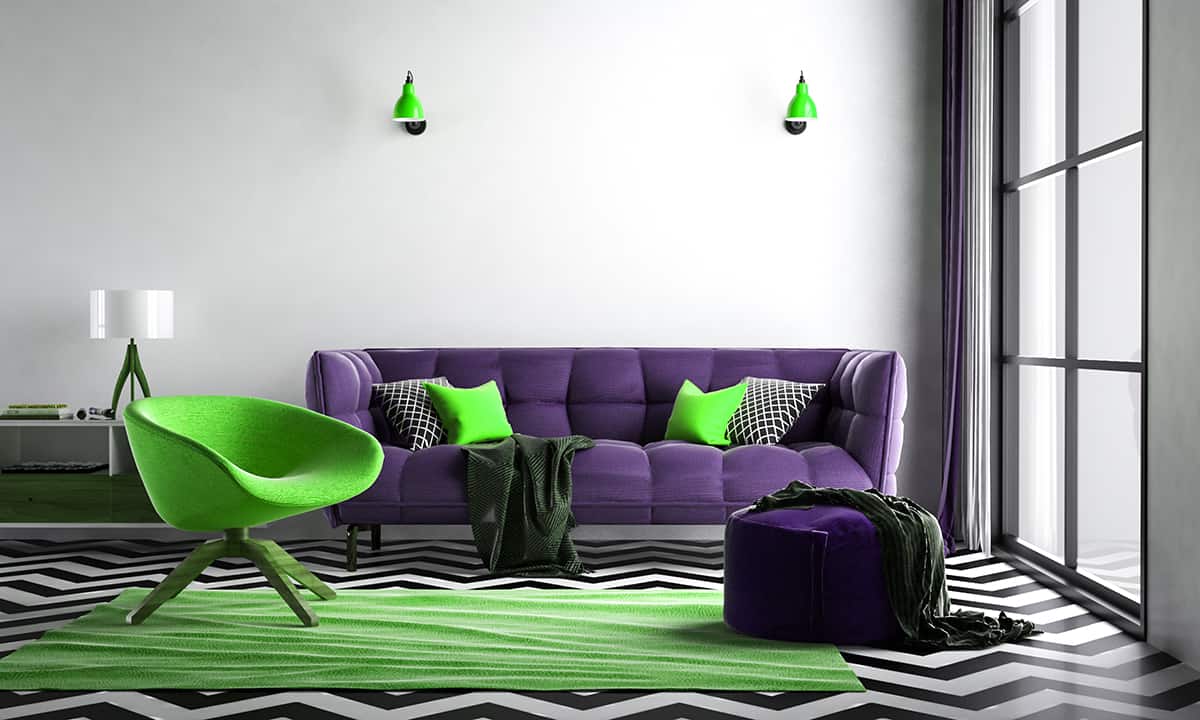 This is a color that sits right between green and yellow on the color wheel. Its exotic name comes from the French liqueur called Green Chartreuse, which is also an intoxicating shade of yellow-green. This shade contains more yellow than lime green, though the two colors do have similarities.
As both yellow and green contrast well against purple, it makes sense that this color would look good next to dark purple shades. Use chartreuse to add vibrancy to a dark purple space and create a tropical feel.
Ochre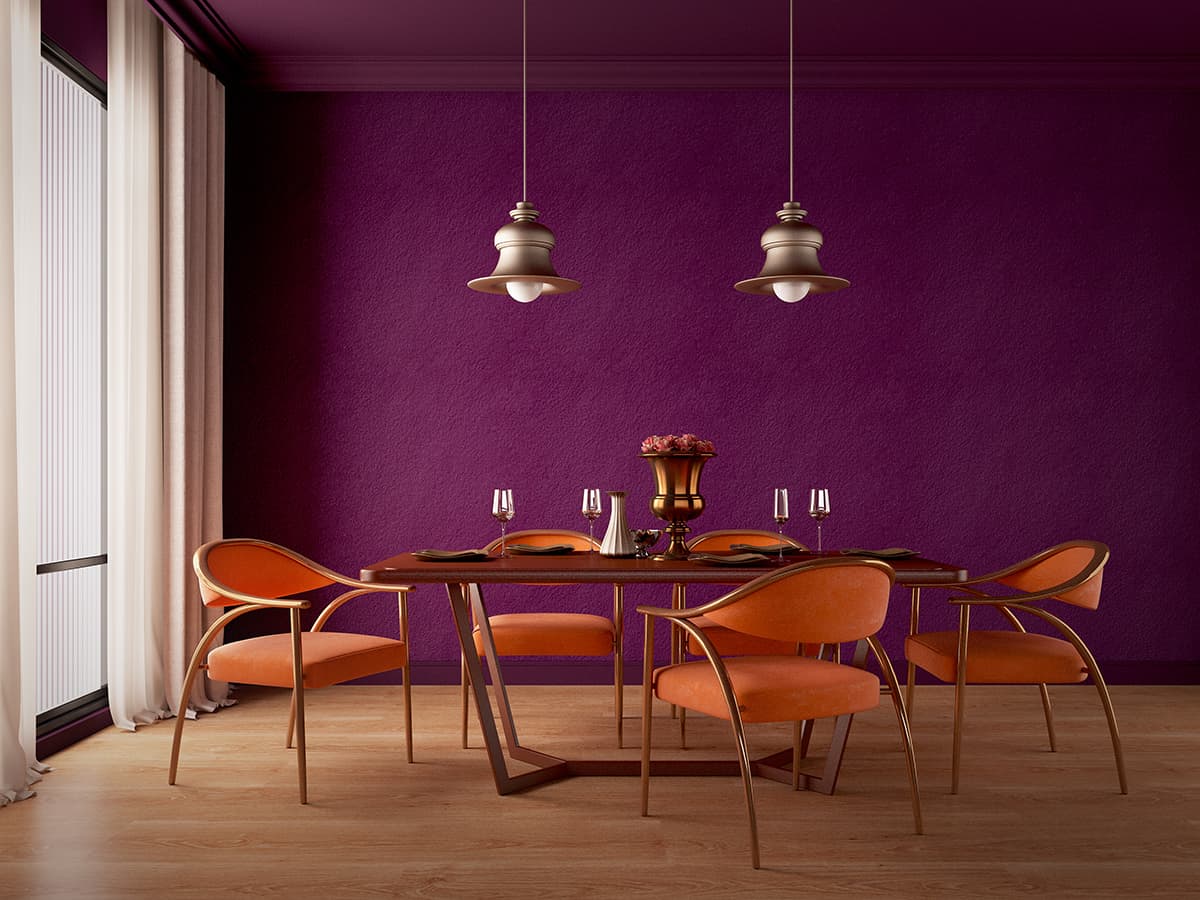 This is a shade that combines yellow, orange, and brown. It is similar to cinnamon but with a more sandy tone to it. This color looks rich and luxurious alongside dark purple, and the two work together to create an interior that feels opulent.
Choose sumptuous fabrics such as suede and silk to enhance the elegance of a room in ochre and dark purple. As ochre feels like the matte equal to gold, it can add warmth to a dark purple space while also maintaining a sense of regality. This color can also work well in a dark purple floral theme.
Looking for more suggestions on pairing with ochre, here are a few more ideas on colors that go with ochre.
Royal blue

Royal purple and royal blue can be used together to create an interior decor scheme that feels decadent and indulgent. As both of these colors have historical links to royalty, it makes sense that the royal purple and royal blue color combinations work well to create a sense of grandeur and luxury.
Choose fabrics that are elegant such as silks, velvets, and satins, to further define the room as an opulent space. Both dark purple and royal blue are deep and intense colors, so they can be used without a third color to create a really immersive color experience or add an extra color to the color scheme to help break it up.
Gold would work well as an accent color with dark purple and royal blue, or you could use pale gray to lighten the tone.