Sage green color has been popular in interior design over the last decade, and it shows no sign of waning.
This timeless color is a combination of medium to pale shades of earthy green and gray undertones. It is on the cooler side of the scale in terms of color temperature, which gives it a refreshing and crisp feel.
As a natural color, it can be used as a neutral, despite the fact that it is not technically categorized as a neutral.
Using sage green in home decor is a great way to create a feeling of bringing the outdoors inside, helping to achieve a sense of balance that can be beneficial to our emotional wellbeing and mental health.
8 Nice Colors That Go with Sage Green
Sage green, named after the sage color, is a versatile color that works in so many color palettes because of its neutral-like qualities. Here we look at some of the best colors that go with sage green to feed your imagination and inspiration.
White + Sage Green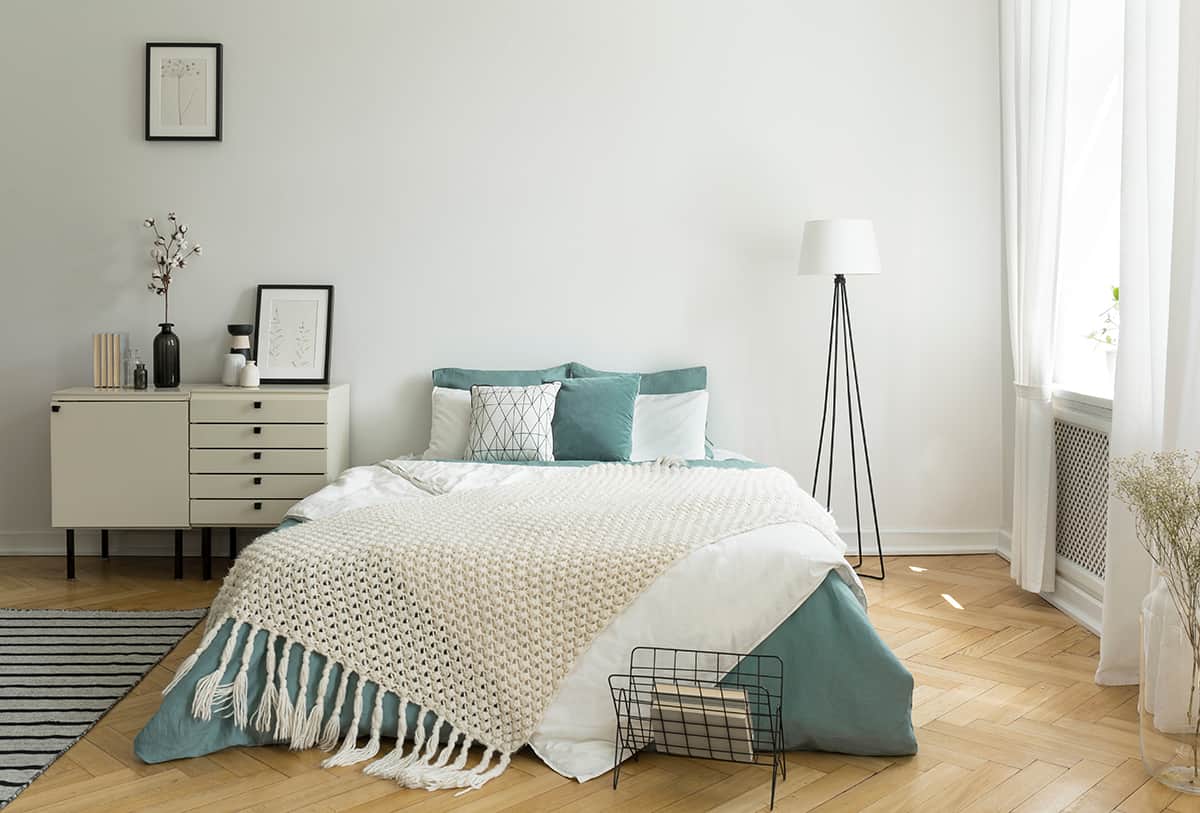 | | | | | |
| --- | --- | --- | --- | --- |
| Shade | Hex Code | CMYK Color Code (%) | RGB Color Code | Color |
| Sage Green | #94a488 | cmyk(10%, 0%, 17%, 36%) | rgb(148, 164, 136) | |
| White | #ffffff | cmyk(0%, 0%, 0%, 0%) | rgb(255, 255, 255) | |
If you want to achieve a crisp and fresh look in a room, then there is no better color to pair with sage green than white.
These two colors make a space feel clean and airy and create a sense of well-being that will make you want to keep your room free of clutter.
Sage green is surely a color that pairs well with off-white shades for a slightly more subdued clean look.
Paint a room in white or ivory, and add sage green accents such as waffle throws over sofas and sage green lamp shades. Green glass can also work really beautifully in a casual, airy decor, so invest in a green glass vase to display some dried flowers or white blooms.
In a bedroom, you can make a combination of an antique white wall and sage green bedding sheets or pillows. The focal point in this photo is the bed in sage green covered with a pure white blanket. The white wall and dresser make a perfect and safe choice in the overall color scheme of the room.
Gray + Sage Green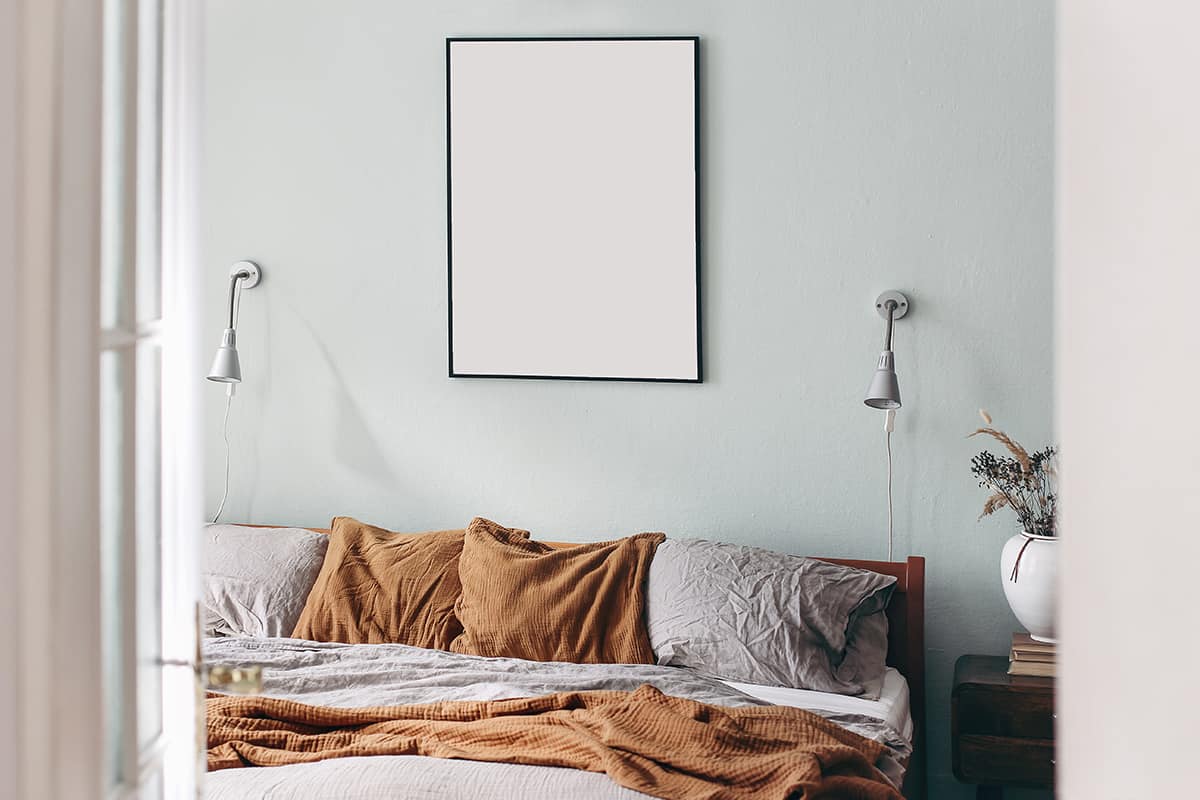 | | | | | |
| --- | --- | --- | --- | --- |
| Shade | Hex Code | CMYK Color Code (%) | RGB Color Code | Color |
| Sage Green | #94a488 | cmyk(10%, 0%, 17%, 36%) | rgb(148, 164, 136) | |
| Gray | #918b8b | cmyk(0%, 4%, 4%, 43%) | rgb(145, 139, 139) | |
Sage green has a gray tone to it, making the sage green and gray color combination work effortlessly together. If you want to avoid your sage green room from looking too quaint or country, then pairing it with gray will ensure a more modern style is achieved.
Pale gray and sage green go well together for a laid-back, easy-going style, while a darker charcoal or slate gray will bring depth and definition to a sage green room.
Paint walls in dark gray for an intimate atmosphere in a living room or dining room, and add sage green touches such as upholstered dining chairs and sage plant pots displaying dramatic houseplants.
Alternatively, use pale gray as an alternative to white in a breezy coastal style decor theme, where the resulting look will be chilled and refreshing.
Coral + Sage Green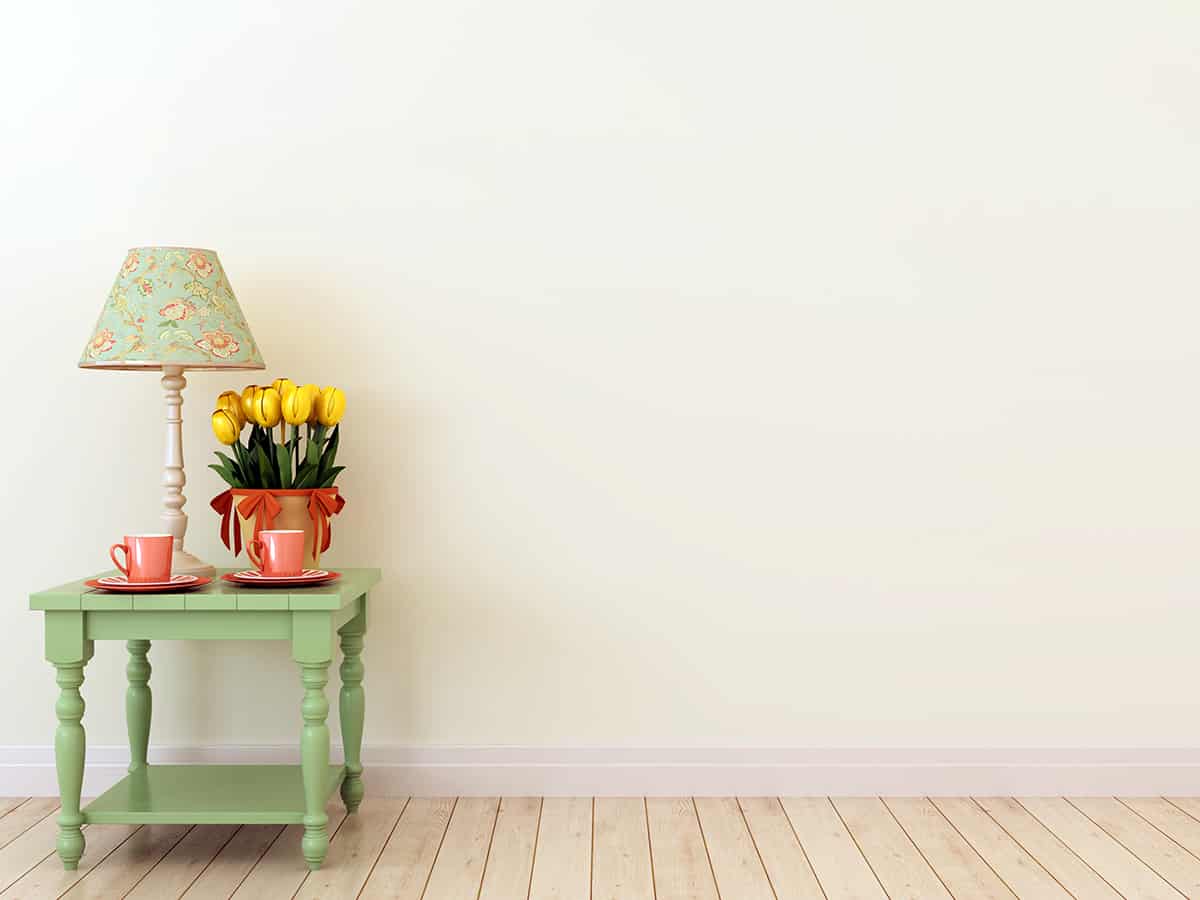 | | | | | |
| --- | --- | --- | --- | --- |
| Shade | Hex Code | CMYK Color Code (%) | RGB Color Code | Color |
| Sage Green | #94a488 | cmyk(10%, 0%, 17%, 36%) | rgb(148, 164, 136) | |
| Coral | #ea7561 | cmyk(0%, 50%, 59%, 8%) | rgb(234, 117, 97) | |
Coral is a color that has components of orange, red, and pink. It is a vibrant and intense color that will look even more dramatic next to green because the two shades are contrasting colors.
Coral and sage intensify each other, but the fact that sage green has a very muted and subtle tone means that this color combination will not feel overstimulating. Use coral sparingly in a sage green room so that it doesn't take over the space and steal attention from the green.
In a sage room, add splashes of coral on soft furnishings such as cushions, fabric placemats, and fabric storage baskets. You could also make a focal point out of one larger furniture item, for example, paint a fireplace in coral paint, or buy a single armchair upholstered in bright coral velvet.
Dandelion + Sage Green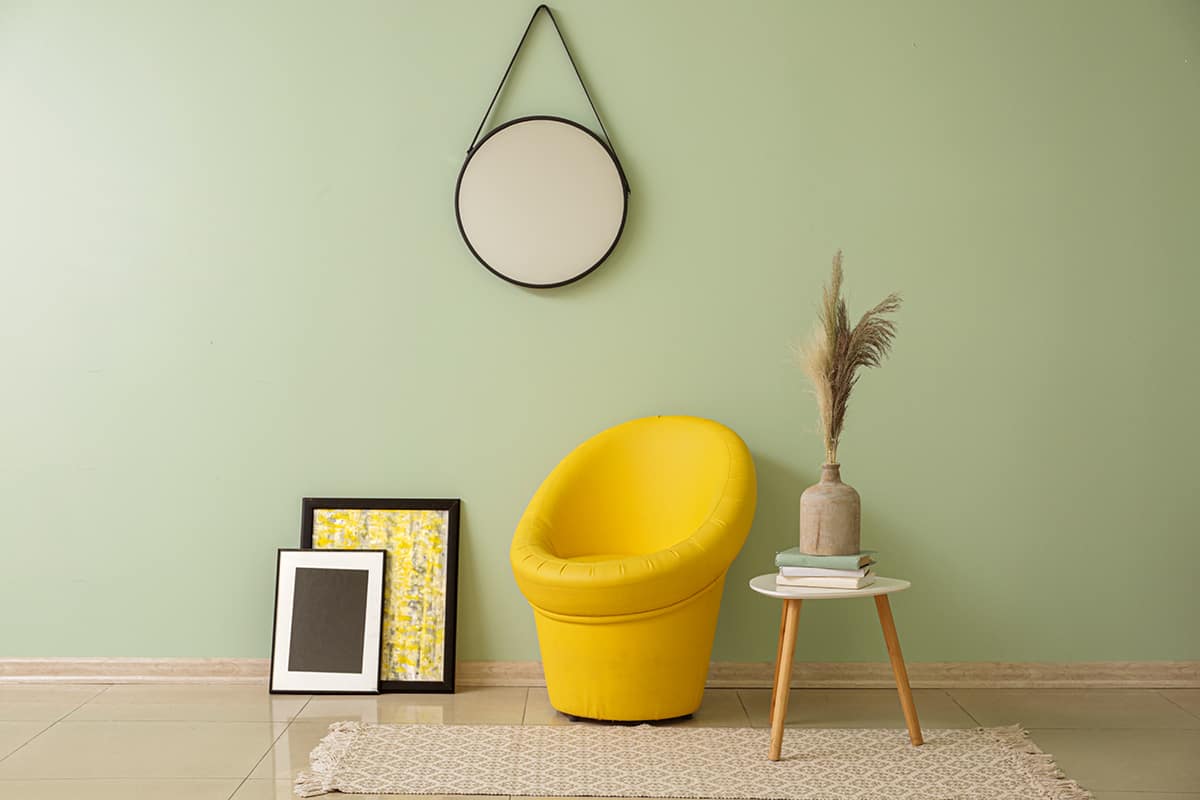 | | | | | |
| --- | --- | --- | --- | --- |
| Shade | Hex Code | CMYK Color Code (%) | RGB Color Code | Color |
| Sage Green | #94a488 | cmyk(10%, 0%, 17%, 36%) | rgb(148, 164, 136) | |
| Dandelion | #f4cd1f | cmyk(0%, 16%, 87%, 4%) | rgb(244, 205, 31) | |
Dandelion is an attractive shade of yellow that is richer than primary yellow but not as deep as mustard yellow. It works really well with sage green in a natural-themed room because yellow and green are commonly seen together in nature.
A floral motif would be easy to achieve with these two shades by opting for a sage, and yellow floral print wallpaper or a set of floral cushion covers using these colors.
Blush pink + Sage Green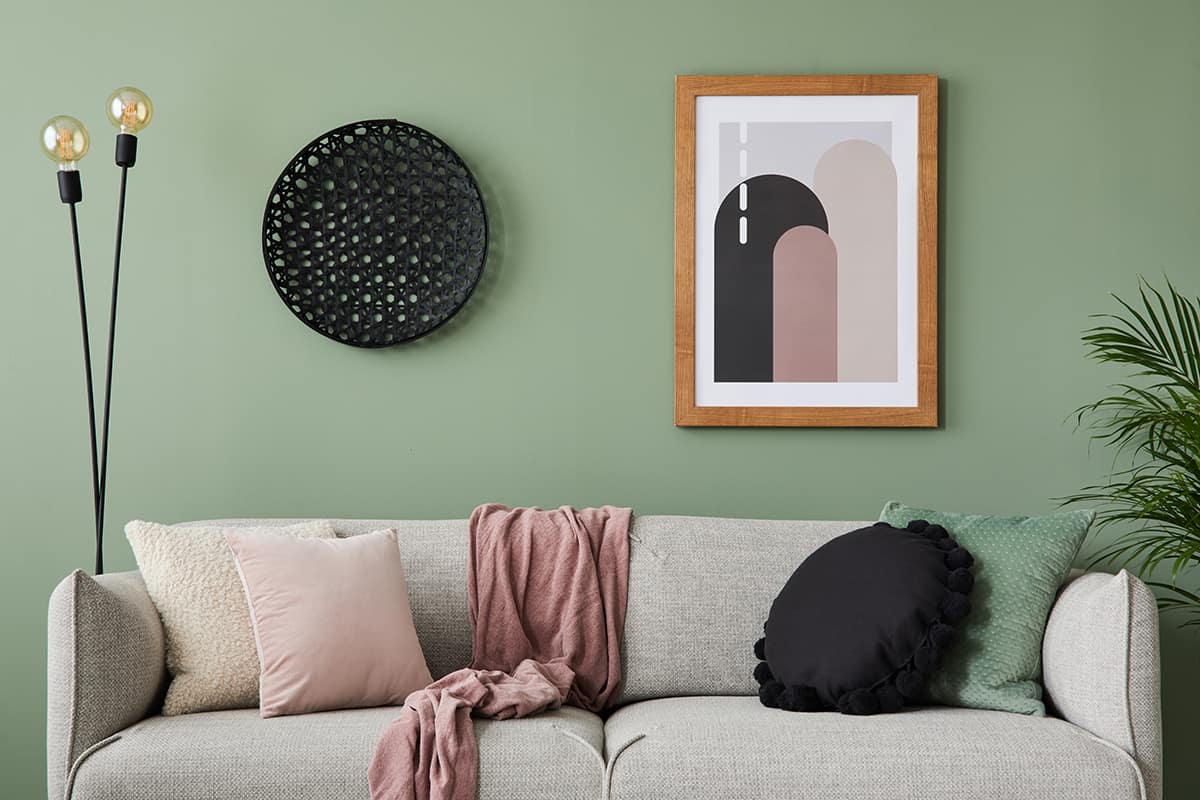 | | | | | |
| --- | --- | --- | --- | --- |
| Shade | Hex Code | CMYK Color Code (%) | RGB Color Code | Color |
| Sage Green | #94a488 | cmyk(10%, 0%, 17%, 36%) | rgb(148, 164, 136) | |
| Blush Pink | #e7c6bc | cmyk(0%, 14%, 19%, 9%) | rgb(231, 198, 188) | |
Sage green and blush pink both have gray tones, so although at first glance they might seem like very different colors, they actually belong to a similar color palette, which means they work really well together. Both of these shades are very trendy at the moment, so using them together gives you double style points.
Blush pink and sage green are both subtle and subdued shades with a dusky edge, and as such, they can be used together without any other colors and still look understated. However, you could always add a third color to this duo to add some definition, such as black, gray, navy, or beige.
Blush pink has a delicate and feminine appeal, which will be balanced out by the freshness of sage green. Use them together in a sultry bedroom or a floral living room for a space that feels both classic yet fashionable.
Sage green is a good complementary color for blush pink and they work in both a luxury glam style, as well as a muted natural style. Choose lavish fabrics in these colors for a decadent and romantic style, such as blush pink silk cushions and velvet sage upholstered furniture.
To lean towards a more natural style, the fabrics are important. Opt for cotton-based materials such as blush pink linen or wool in sage green.
Beige + Sage Green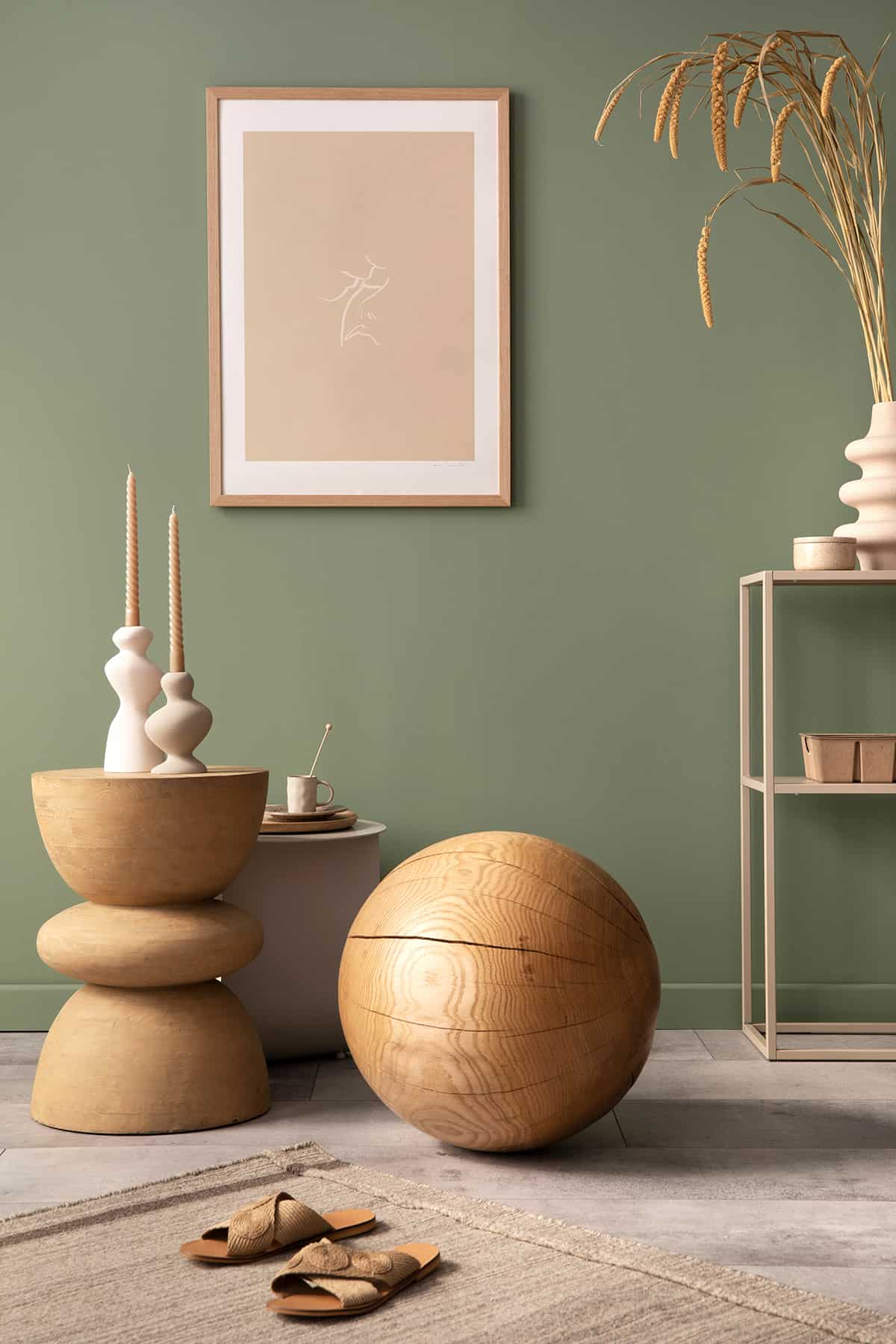 | | | | | |
| --- | --- | --- | --- | --- |
| Shade | Hex Code | CMYK Color Code (%) | RGB Color Code | Color |
| Sage Green | #94a488 | cmyk(10%, 0%, 17%, 36%) | rgb(148, 164, 136) | |
| Beige | #eed3be | cmyk(0%, 11%, 20%, 7%) | rgb(238, 211, 190) | |
Beige is a warm neutral, which softens the fresh appeal of sage green to make it feel warmer and more comforting. These two shades create a subtle contrast with each other as they sit at opposite ends of the temperature scale, yet are both earthy, muted tones.
Beige and sage green are both found together in nature, which is what makes them such great choices for a nature-themed space.
Paint walls beige and add sage green soft furnishings, or break up a sage green room with beige flooring and beige sofas. A bathroom is a nice room to use this color scheme because it feels refreshing and spa-like.
Choose beige-colored wall and floor tiles, and add sage green accessories such as towels and a bath mat or candles to display along the edge of the bath. Plants also work well in bathrooms to highlight a nature theme.
The contrasting option with sage green wall and beige accessories still works fairly well, creating a spa-like and calm environment, where you would want to take a rest after a long day of work.
The photo above chooses a sage green wall in a dark green tone, which blends in well with the beige color tones of the rugs and the photo frame. For a bold sage green shade, you can choose the palmer green paint color from Benjamin Moore.
Tan + Sage Green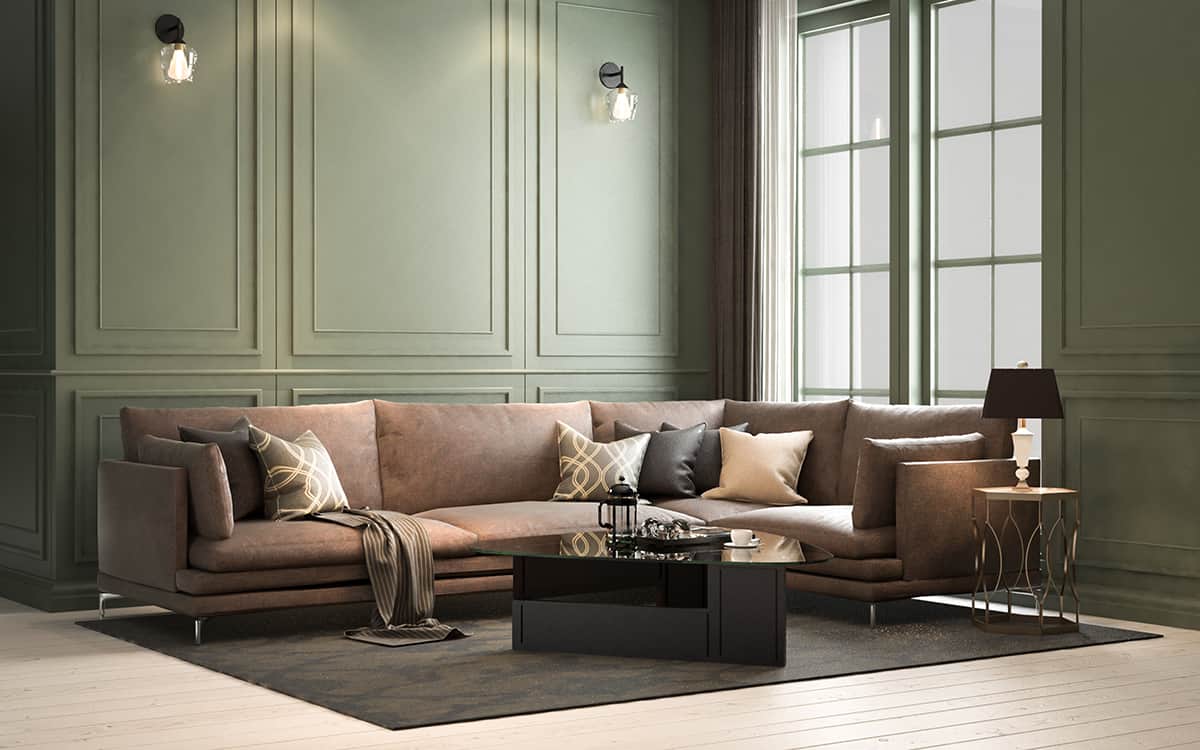 | | | | | |
| --- | --- | --- | --- | --- |
| Shade | Hex Code | CMYK Color Code (%) | RGB Color Code | Color |
| Sage Green | #94a488 | cmyk(10%, 0%, 17%, 36%) | rgb(148, 164, 136) | |
| Tan | #8d776c | cmyk(0%, 16%, 23%, 45%) | rgb(141, 119, 108) | |
Tan is another warm neutral that lays somewhere between beige and brown, being darker than beige but lighter than brown. This color has some orange and yellow undertones, which is what makes it so warm and comforting. Use this color in a sage green room to add depth and a warming richness.
Popular ways to bring tan into a color scheme are with natural materials, such as a tan leather sofa, a tan-colored jute rug, or a tan-colored golden oak flooring. As orange is a contrasting shade for green, this makes tan a subtle contrasting shade for sage green.
The two colors work well to balance each other out, resulting in a room that feels inviting and soothing. Alternatively, paint walls in a tan shade and opt for sage green accessories such as sage bed sheets or a sage rug.
Gold + Sage Green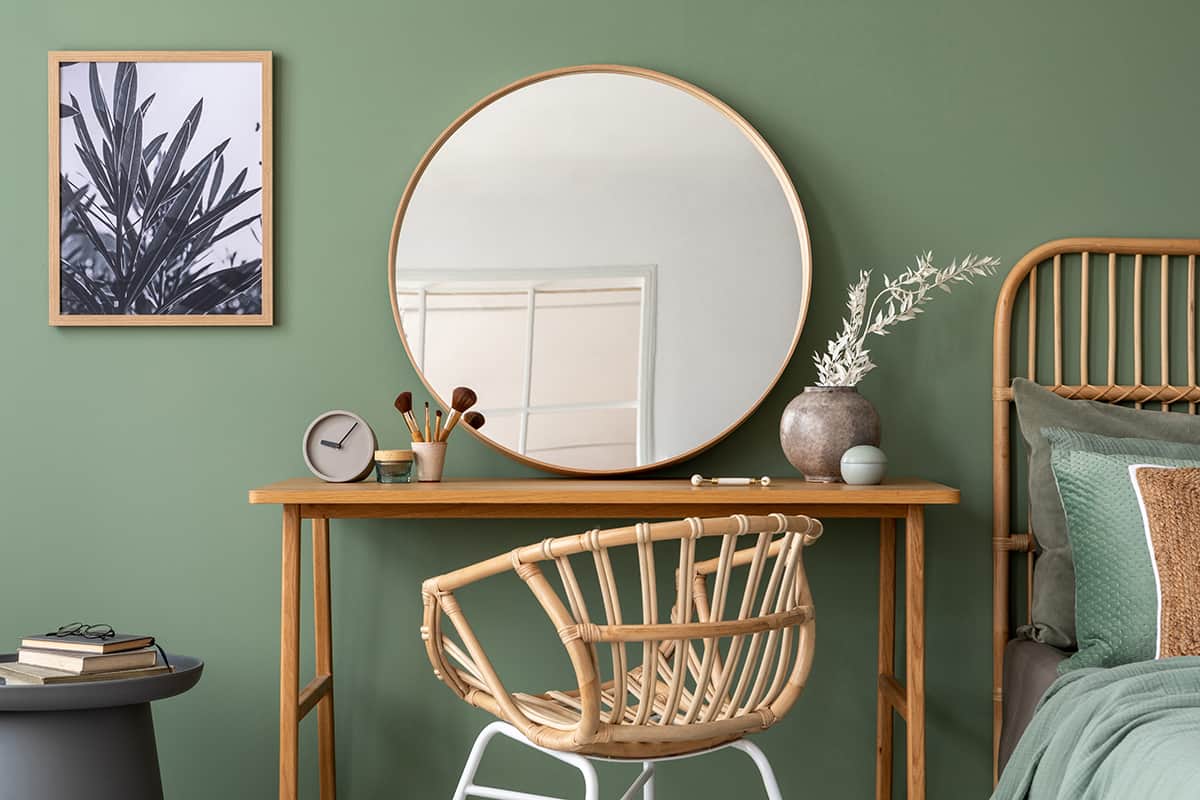 | | | | | |
| --- | --- | --- | --- | --- |
| Shade | Hex Code | CMYK Color Code (%) | RGB Color Code | Color |
| Sage Green | #94a488 | cmyk(10%, 0%, 17%, 36%) | rgb(148, 164, 136) | |
| Gold | #f9d7aa | cmyk(0%, 14%, 32%, 2%) | rgb(249, 215, 170) | |
The light and bright hue of gold complements the dark tone of sage green well. The easiest way to bring gold color to a sage green room is to introduce some gold colors for accent items with frames such as mirrors, tables, or photos.
Here using the golden hues in the mirror, photo frames, and the wooden tones in the tables and beds bring down the overall color temperature of the room fairly well.
Using Sage Green in Interior Decor
There are a variety of ways sage green can be used in interior design. Follow these easy tips to incorporate this casual and easygoing color into your home decor.
Soft furnishings
If you want to add sage touches to an existing interior decor style, then the simplest way to do this is with soft furnishings.
Swap out old cushion covers for new sage green cushion covers, and update throw blankets with sage green alternatives. Doing this can completely transform the look of a space and give it a fresh feel.
Natural fabrics
Sage green is an earthy shade that lends itself perfectly to natural-style decor designs. To build on this, select natural fabrics in a sage green room, such as rattan baskets for storage, wooden dining tables, jute rugs, and canvas cushions.
Nature themes
If you are using sage green to create a more outdoorsy feel in your home, then embrace the trend for a nature-focused theme. This could include building your decor theme around plants, insects, or woodland animals.
For a plant-themed look, opt for wallpaper and fabrics featuring leaf prints and patterns, grow indoor houseplants, and display a sprig of rosemary or lavender from your garden in a glass.
Insect themes are also popular, with cushions featuring embroidered bees and butterflies or dinnerware with insect motifs. Sage green also looks cute and quirky with a woodland animal theme, which can be achieved using fabrics with rabbit prints, or a faux stag head fixed to the wall.
Due to its natural characteristics and earthly color, sage green is also much loved and makes the main wedding color scheme for many contemporary and outdoor weddings. The sage green tone makes a perfect combination with natural elements such as wooden tables, chairs, photo frames, and a flower gate
Paint furniture
Painting walls in sage green is one way to add this color to your room, but if you don't want to make such a big commitment, you could instead choose wooden furniture with sage green furniture paint color.
Old wooden chairs can be given a new lease of life with sage green paint, as can kitchen cabinets, shelf units, and coffee tables.
As sage green is commonly used in earthy rustic or country cottage vintage looks, it doesn't matter if your paintwork doesn't look professional.
Small flaws and imperfections such as scratches or scuffs will all add to the character of the furniture.