Dark green is a huge trend in interior design right now, which keeps going from strength to strength. One of the reasons why dark green has longevity and is taking center stage on the interior scene for longer than you might expect is because it can actually be used as a neutral.
Technically a neutral is a shade that lacks color, such as white and black, but actually, we consider gray and beige to be neutrals when these can have hues of orange, yellow, or blue.
Dark green can be a neutral shade in the sense that it goes with any color, and it is easy on the eyes. Shades of dark green can vary from rich emerald greens through to dark gray-greens that almost appear black, as well as deep warm greens that have a hint of muddy brown in them.
Here we look at how to use this popular color in your interior space and which colors to pair it with.
Using Dark Green in Home Decor
Wallpaper
Due to the fact that dark green is taking the interior decor sector by storm, there are so many beautiful wallpaper prints available that feature this color.
You will easily be able to find a dark green wallpaper you love, and in fact, you might find so many that having to choose just one feels impossible! Wallpapers featuring dark green shades are frequently botanical in nature, with floral prints and dark green foliage, or in a rainforest style with large leaf prints.
You can also find dark green wallpaper in modern geometric prints, as well as more traditional patterns. In a large room, a busy wallpaper might feel too intense on every wall, so instead, create a feature wall by just applying it to the main wall in the room.
In smaller rooms like bathrooms, you can get away with more elaborate prints covering all of the walls, so if you find a dark green wallpaper you love, commit completely to it by decorating an entire bathroom in the paper.
Paint
For so long, we have been convinced into thinking that neutral or pale colors of paint on walls will make our rooms feel bigger, which has resulted in a fear of dark paint colors, but it actually turns out that this isn't the case. Dark paint colors can add depth to walls and make the walls feel as if they are receding rather than encroaching on us.
Dark colors of paint can help to make a small room feel deeper, and they can also make a big room feel cozier, so they are great for almost any space in the home.
Dark green is a beautiful choice of paint color that can work for any style. It has a rich and nostalgic feel when paired with antiques and more traditional furniture, which makes it a great choice for old-world-style interiors.
It can also look brilliantly modern when used with monochrome or luxurious and glam when used with sumptuous fabrics and glossy gold metals.
Another reason why dark green is seeing such a huge revival is that it works really well with botanical-themed interiors, which is very popular at the moment. It can be used with browns and murky greens to achieve a natural theme, alongside houseplants and natural textures.
Accessories
Dark green, despite being a fairly subdued color, can make quite a big impact even in small doses. This makes it an ideal color to use if you want to liven up an interior space without entirely redecorating it. If your room is neutral at the moment, for example, it is painted cream, beige, or gray, then you can add in shots of dark green such as dark green cushions or a dark green rug.
Selecting houseplants that have dark green foliage will also be a nice way to add this shade to a room. For a bolder splash of dark green, consider a new couch upholstered in dark green or a dark green duvet cover.
Soft Furnishings
Changing your soft furnishings is a fun way to refresh the look of a room with minimal effort or expenditure. Swap out old curtains for new dark green drapes, or add a new dark green blanket to the end of your bed.
When choosing dark green soft furnishings, think about the type of style and atmosphere you want to achieve in the space, and reflect this in your choice of textures. A laid-back, casual, natural-style living room will have its style highlighted with the use of linen curtains, while a glamorous bedroom will look refined and elegant with a velvet bedspread.
Kitchens and Bathrooms
Dark green is a color that probably doesn't spring to mind when you think about decorating kitchens and bathrooms, but actually, it looks really high-end when used in these spaces.
In a kitchen, opt for dark green kitchen cabinets for a modern farmhouse style, with black metal handles and white marble countertops. For a more glamorous style, choose dark green subway tiles in a bathroom and contrast these with gold metal accents such as a gold soap dispenser and gold wall light sconces.
Colors to Use with Dark Green
Olive Green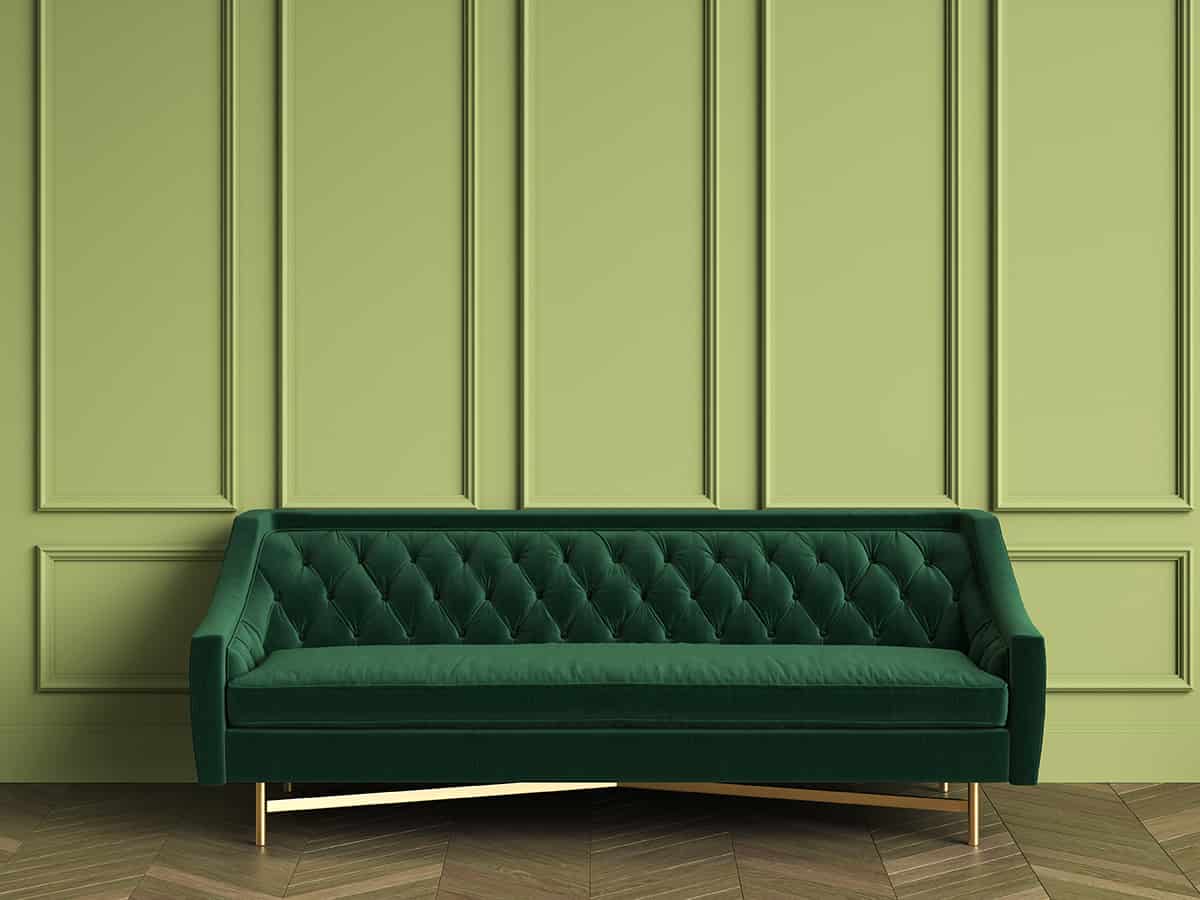 Dark green look elegant and earthy when used together with olive green in a room. Layer these colors across space, for example, a dark green blanket draped over an olive green sofa or a dark green lampshade set against an olive green painted wall. These are dynamic colors that work well in luxurious spaces or more natural and casual spaces.
A room that is so heavily dominated by shades of green might sound intense, but the fact that green is believed to be the most restful color for our eyes actually makes a room like this very soothing to be in.
Mustard Yellow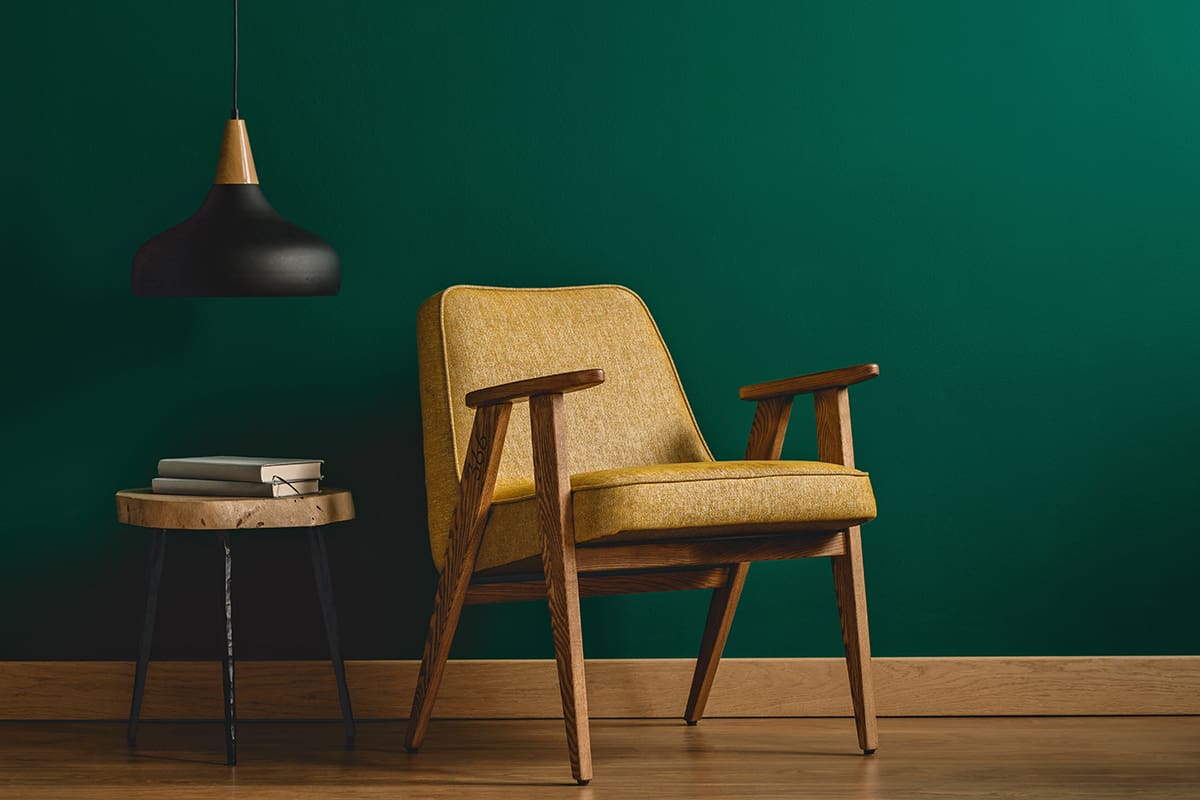 As a deep and rich shade of yellow, mustard yellow holds up well against dark green. Use these colors to achieve an opulent look in a living room or dining room, with mustard-colored silk cushions on a velvet dark green sofa or mustard napkins folded on top of dark green placemats on a dining table.
Mustard crushed velvet lampshades offer an interesting and luxurious texture against dark green walls.
Burgundy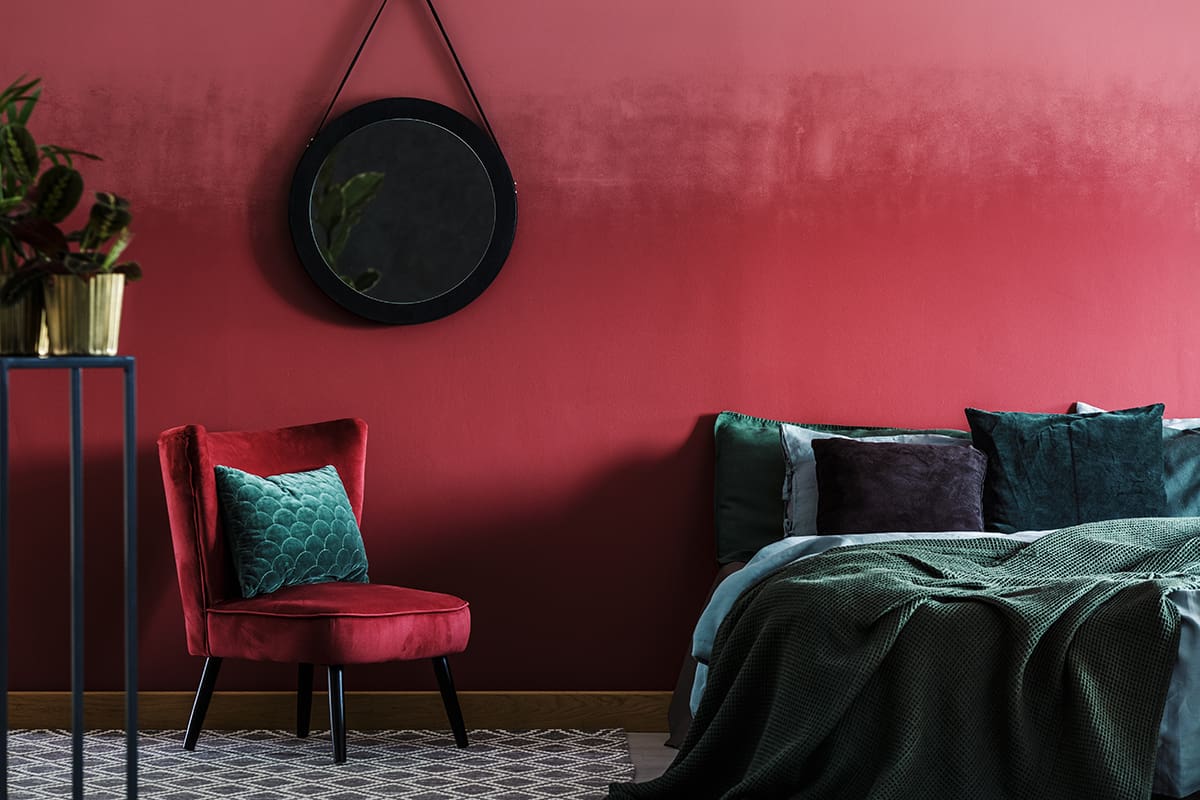 For a more classical-looking space that hints at bygone eras, put burgundy with dark green interiors. The dark green and burgundy color combination are deep and rich, and they have a decadence and almost medieval feel to them, which means they work really well in traditional-style rooms or spaces featuring antiques.
The two colors together are also reminiscent of festive decor, creating a cozy and autumnal feel. Paint bedroom walls in dark green and opt for a burgundy comforter on a stately four-poster bed in dark wood.
Pale Blue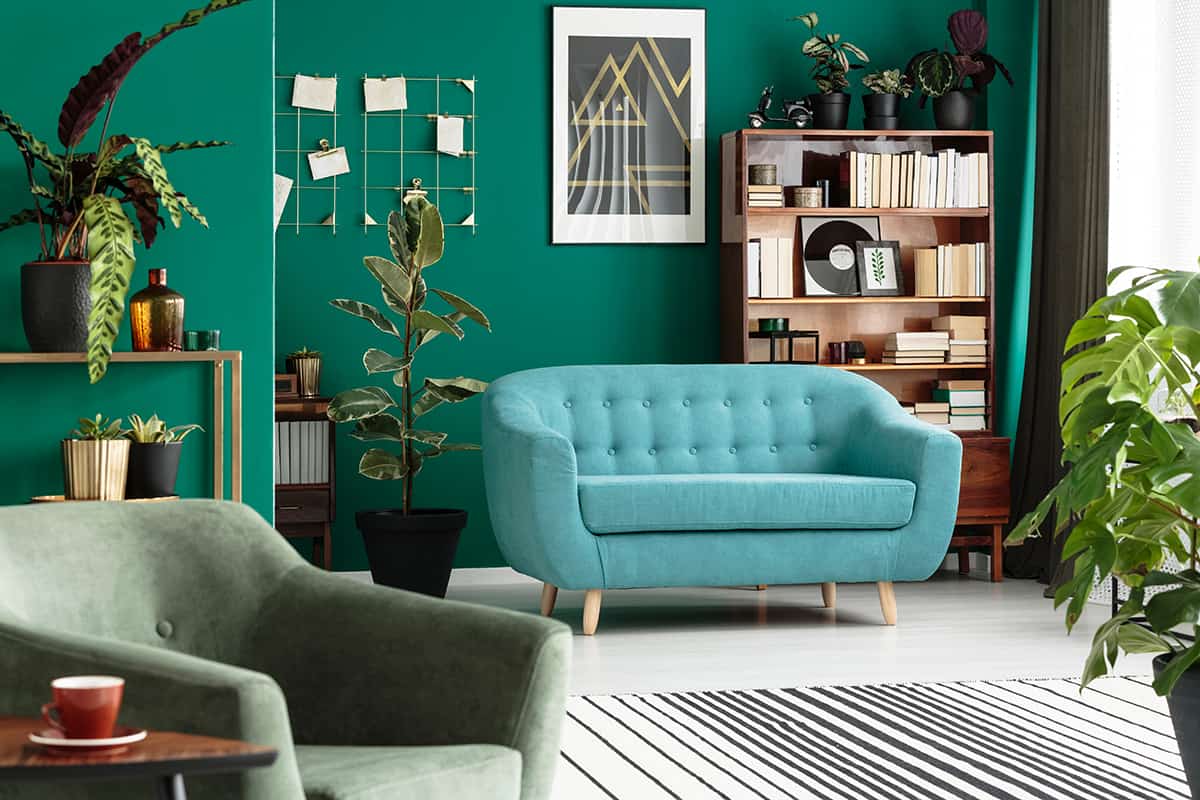 Dark green looks great with any shade of blue, but if you want a calming and serene space, then pale blue will be an ideal color pairing. This light shade of blue makes for a nice contrast against the dark hues of green, in spite of the fact that both of these colors are cool shades.
As blue has soothing energy, and green has refreshing and relaxing energy, they are a nice duo of colors to use in spaces where you want to create a tranquil atmosphere.
Bathrooms with a spa-like theme will benefit from these colors; choose pale blue paint for the walls and accent with dark green towels draped over towel rails and dark green soap dispensers.
Gold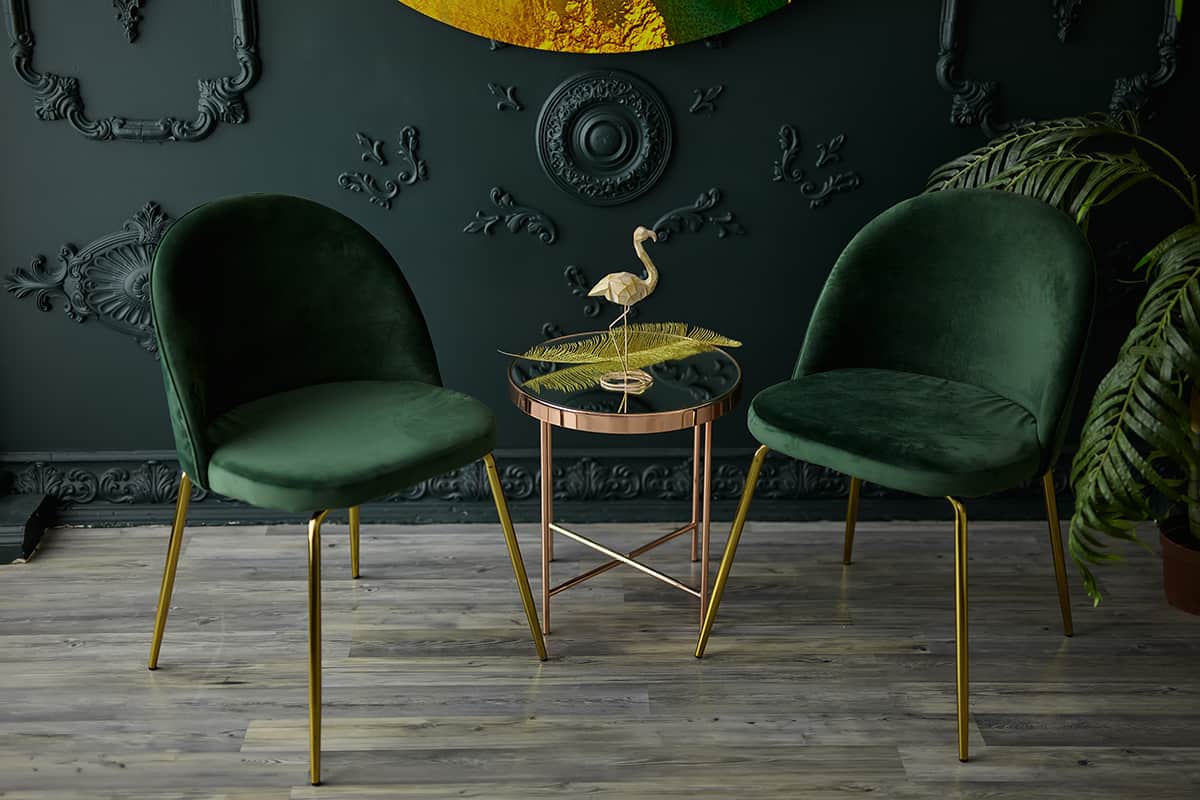 If you're looking for a metallic shade to use in a dark green room, then you can't go wrong with gold. In a traditional space, use gold-toned metals that have an aged look, such as aged bronze or brushed gold.
In more modern spaces, glossy metals work better, such as bright gold fittings and fixtures, including door handles, lamp stands, metal plant pots, and kitchen cabinet knobs.
Cerise Pink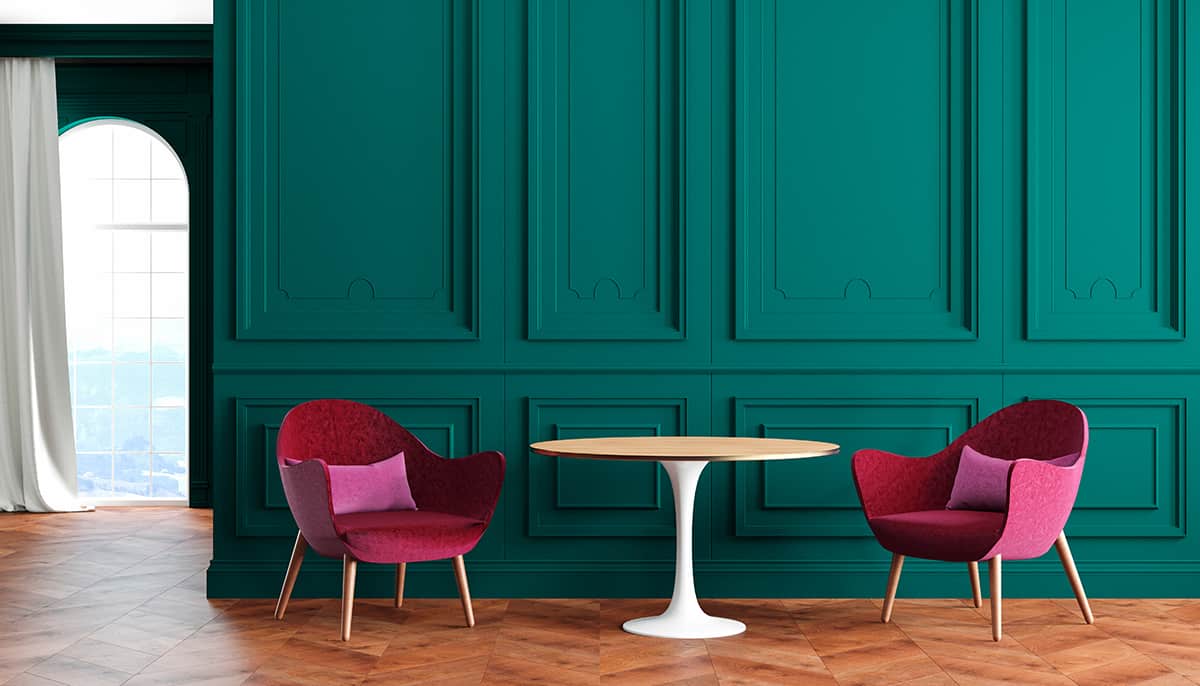 Pink is the opposite of green, so these colors contrast each other really well. For a vivid contrast, choose cerise pink with dark green. Cerise pink accents will uplift a dark green room and make for a more playful look.
Use this color sparingly against dark green so that the items you have chosen really stand out. Consider bold cerise pink cushions on a dark green sofa or a cerise lampshade on a wall sconce against a dark green painted feature wall.
Gray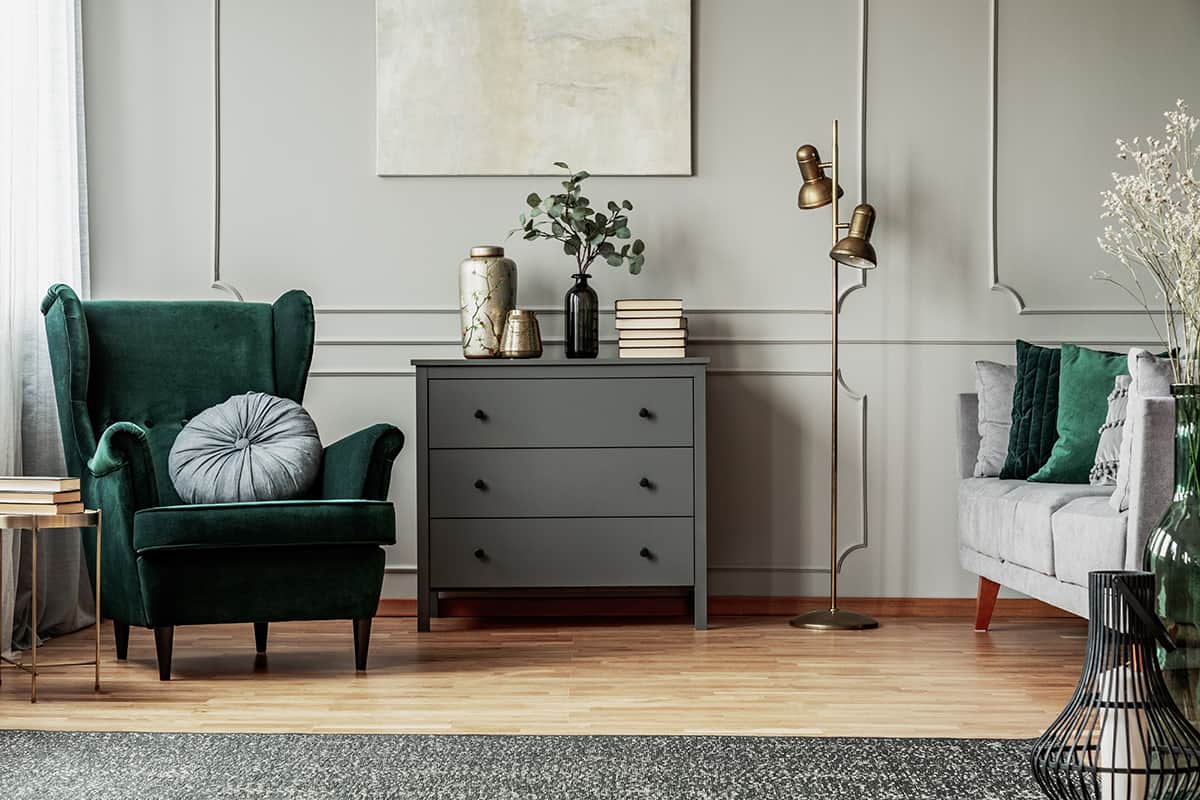 Gray is a good color choice with dark green if you want to create a cool and modern space. Pale gray will be more refreshing, while charcoal can make for a moodier atmosphere with dark green.
Opt for concrete gray countertops in a contemporary dark green kitchen or dove gray backsplash tiles in a dark green bathroom. Be sure to use a cool-toned gray for a fresh look, rather than a gray with brown undertones, which would make for an earthier style.