Royal blue is a heavily saturated shade of blue that sits somewhere in between being a medium and dark color.
It is a vibrant and bold shade, which sometimes gets incorrectly confused with navy blue. Some people have a habit of using the terms 'navy blue' and 'royal blue' interchangeably, but in fact, royal blue is not as dark as navy blue, and it has a much brighter hue.
Here we look at royal blue in more depth and offer colors that go well with royal blue. These color combinations can be used in your own home to create stylish interiors in various styles.
The History of Royal Blue
Royal blue is named as such because it was a color of fabric used to make a dress for Queen Charlotte of England, the wife of King George III, in the early 1800s. The color henceforth became known as royal blue due to its association with the queen and the royal family.
Other colors associated with royal blue include 'imperial blue,' which is darker than royal blue, and 'queen blue,' which is a softer, more subtle version of the color. Royal blue is one of three colors used on the Union Jack, the flag that represents the United Kingdom, continuing the tradition of this color being linked to the history of England.
Royal Blue Meanings
Thanks to its association with royalty, royal blue is thought of as a regal and respectable color. For this reason, it is a popular color choice for formal attire, such as suits and evening dresses, as well as bridesmaids' dresses, and is also a popular color for wedding decor. It is also a color that can convey trust and loyalty and therefore is used by businesses in their branding to help build customer confidence.
Blue, in general, is linked to feelings of tranquility and relaxation because of its associations with the sky and the ocean, though royal blue is a more vivid and intense shade, so it will not necessarily offer a soothing atmosphere in interior design as softer blues would.
Blue is a cool color, so it can make a space feel chilly and unwelcoming, but this can easily be counteracted by choosing a warm shade to help balance out the cool tones.
What Colors Go with Royal Blue
Gold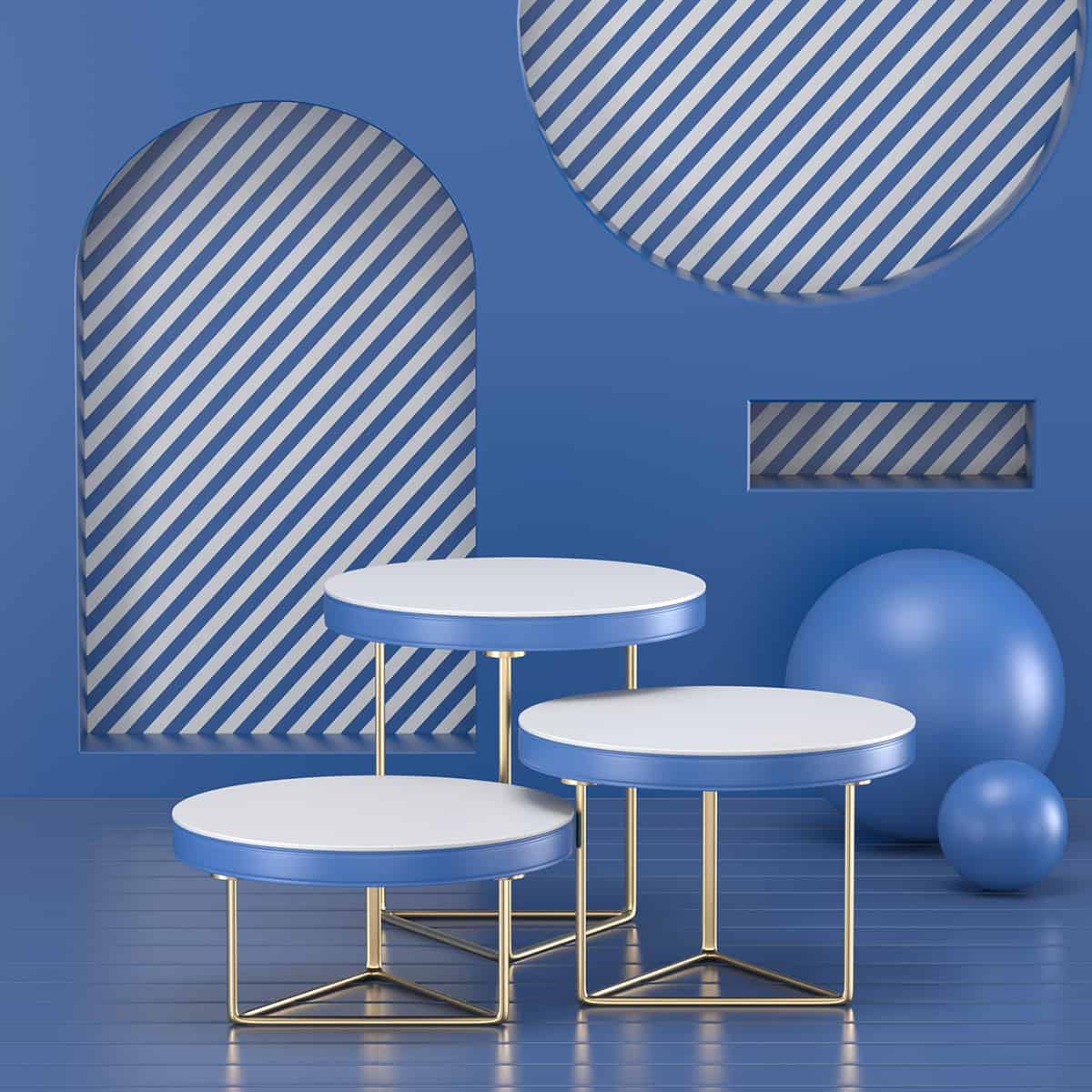 Blue and yellow sit almost opposite each other on the color wheel, which makes them both contrasting and complementary shades. As gold is a metallic variation of yellow, it works beautifully with royal blue.
Gold and royal blue are both considered luxury colors associated with nobility and grandeur, so they can be used together to create a sophisticated and opulent style in a room.
Choose a royal blue velvet upholstered sofa with shiny gold metal legs, or hang gold picture frames on a royal blue painted wall. You could introduce black or dark gray as a third color to add dimension to this color palette without sacrificing the luxury style.
Champagne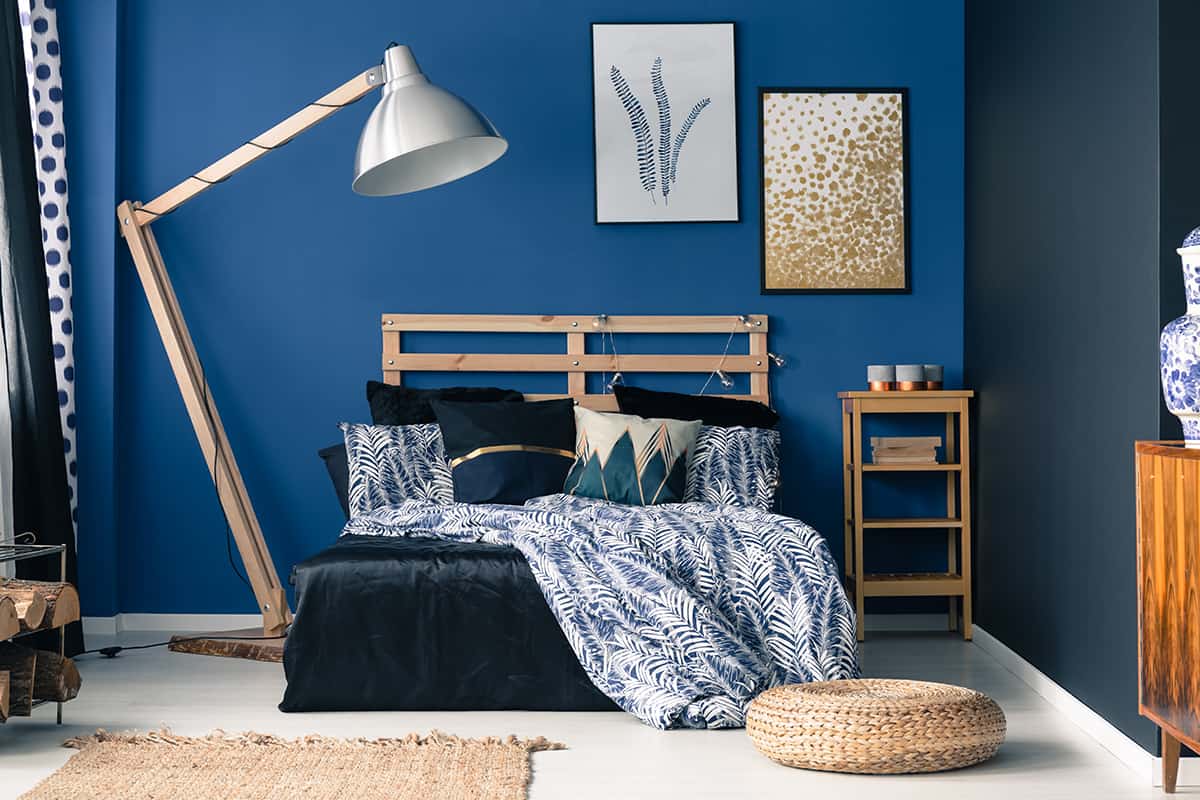 Champagne is a softer shade of gold, similar to brass. It can work really well with royal blue to create a regal and elegant style in a room if you don't like the gaudiness of yellow gold.
Champagne offers a more subtle contrast as it has pale gold to beige tones, and therefore can work almost as a neutral alongside royal blue.
Jade Green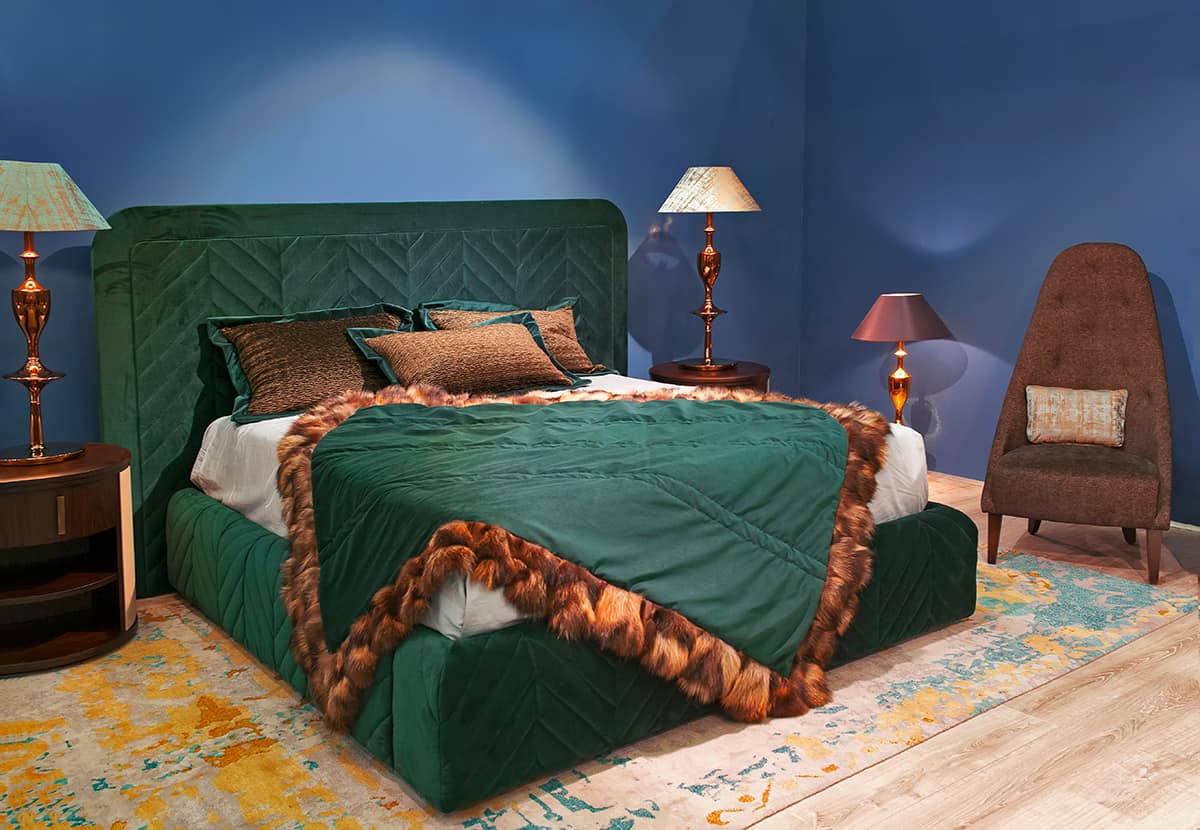 Jade green is a medium shade of green that falls more on the side of earthy greens rather than refreshing greens.
Royal blue is a color that goes well with jade green and can make for a really stunning palette in contemporary design. Paint walls in jade green and use royal blue upholstered furniture.
Dusky pink works really well in small doses as an accent shade with this color scheme—for example, a bouquet of dried pink flowers in a royal blue vase.
Blush Pink

Blush pink is a soft and dusky version of pink that contrasts with royal blue to create a romantic, modern vibe. Use blush pink as a base color on your walls, and then accent this shade with royal blue soft furnishings such as curtains or a rug. This will bring a shot of vibrance to a sultry room and liven up the pink.
Alternatively, use royal blue as your main shade and accent with blush pink to add a touch of romance and femininity to the space. This color scheme can work really well in any room in the home. Use royal blue wall paint in a bathroom with blush pink towels, or paint kitchen walls blush pink with royal blue kitchen cabinets.
The bedroom is also a really nice place to use these two colors together. Choose a blush pink velvet headboard set against royal blue walls, and add a high-end feel with crisp white bed linen. Tie the color scheme together with a range of throw pillows in royal blue and blush pink fabrics.
Mauve

Mauve is a light shade of purple that can be used with royal blue to achieve a pretty look in a bedroom. Opt for mauve-painted walls and a floral bed linen on a white background featuring purple and blue flowers. Complete the look with royal blue throw pillows and a royal blue accent chair.
You could also use the royal blue and mauve color palette in a bathroom for a vintage country style with lavender soaps and bath products. Other pale shades of purple can also work well with royal blue such as lilac, but avoid using heavy or intense shades of purple because these will compete too much with blue for center stage.
Peach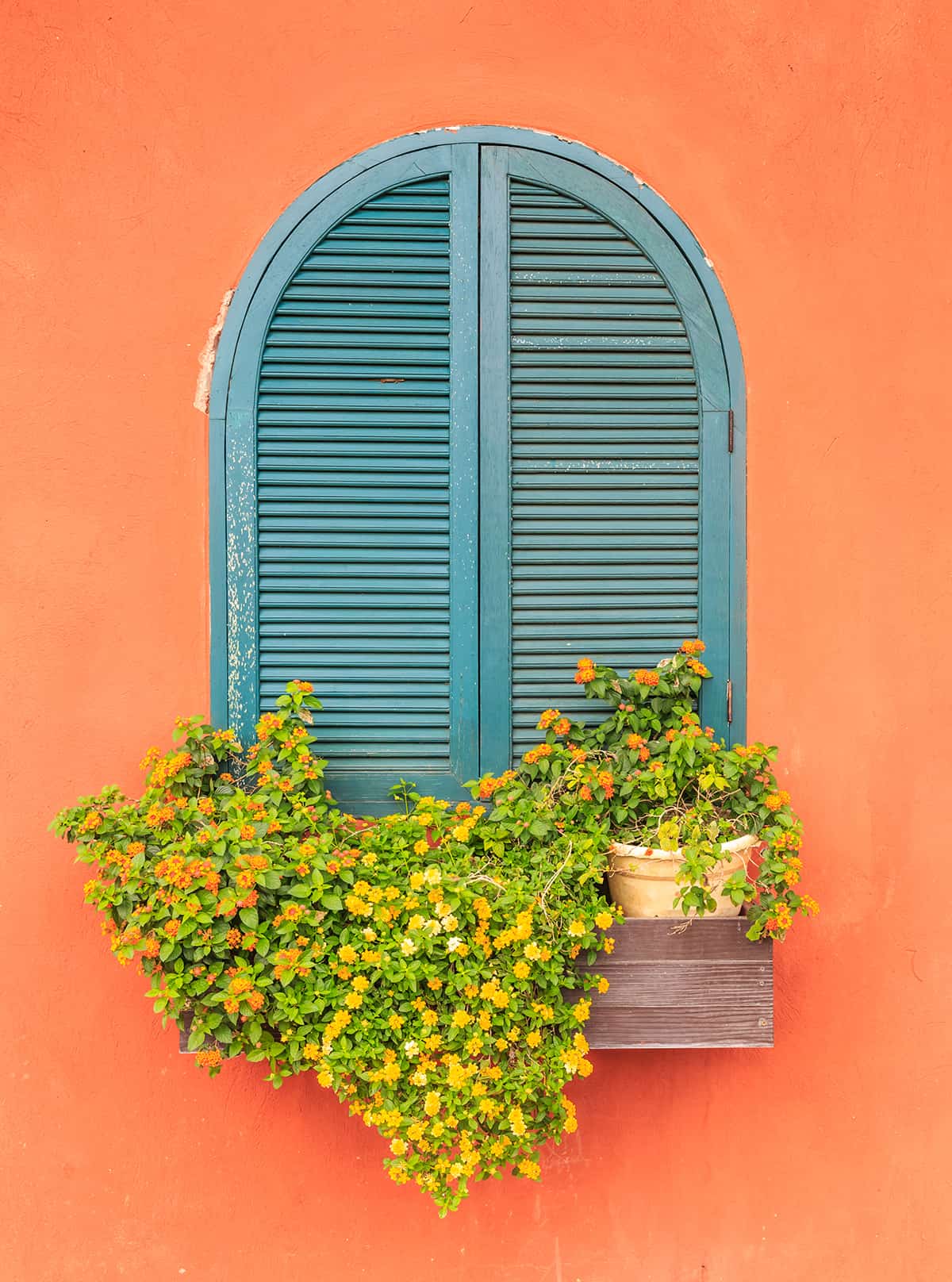 Peach is a mixture of orange and yellow, which means it provides the perfect contrast to royal blue. These two colors can be used in a range of interior design styles, including art deco and mid-century modern.
Brighter shades of peach could also be used with royal blue for a playful Scandinavian look. Choose white or ivory as a third and final color to use in the royal blue color combination with peach to help add definition and create vacant space that will enable the peach and blue shades to stand out.
Mustard Yellow

Mustard yellow is a dark shade of yellow that has undertones of brown, giving the color a warm and inviting feel. For royal blue rooms that feel too chilly in terms of atmosphere, mustard yellow can really bring warmth and make the space feel more comforting.
Royal blue is a fresh and vibrant color that can add real drama to a room, but if you want to balance it out and ensure the space feels welcoming and like a place you want to hang out in, then add some mustard textured accents such as a knitted mustard yellow throw blanket, or woven mustard yellow curtains.
Patterned fabrics containing both colors can work really well to ensure continuity between the two shades, so look for smaller items like cushions and vases that feature both mustard yellow and royal blue.
Raspberry Red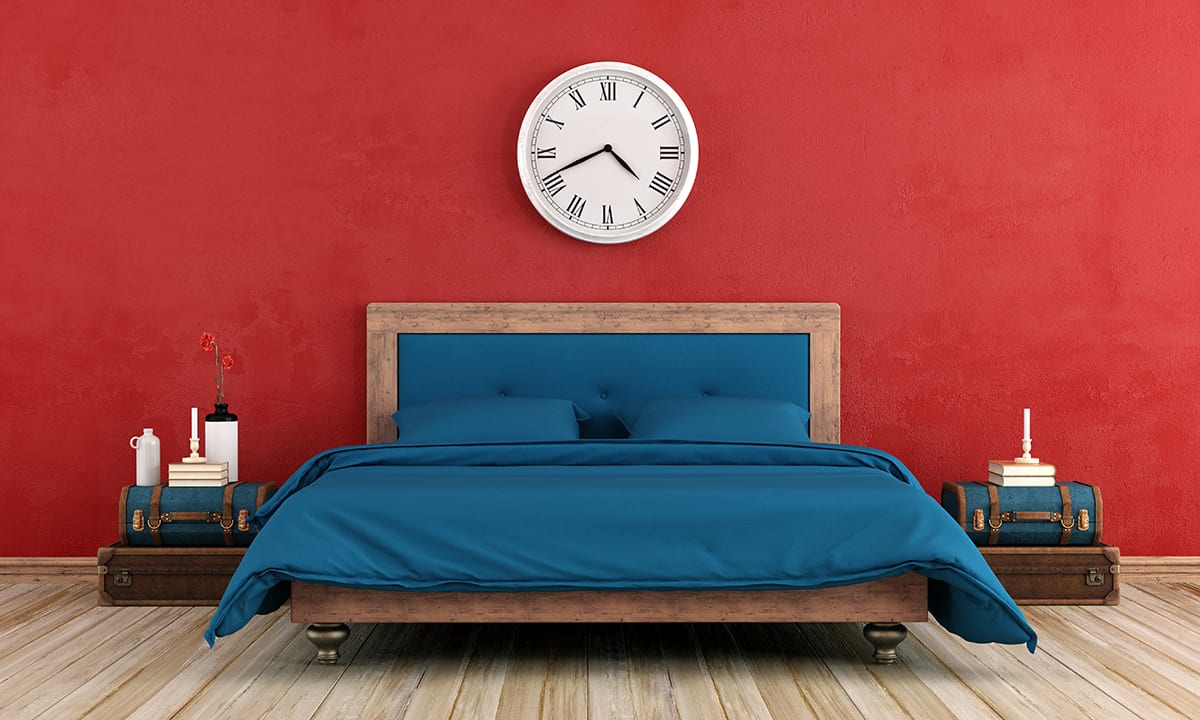 Raspberry red is a pinkish shade of red. Royal blue in a color scheme with raspberry red can be playful or dramatic, depending on how you use them. For a striking and arty look, paint walls white and opt for a raspberry red sofa with royal blue cushions and a royal blueprint on the wall in a black frame.
These colors are both bold and bright, so don't use them without a third neutral shade. You should aim to use the 60:30:10 principle with these colors, using a neutral shade such as white or gray for 60% of the room, with royal blue and raspberry red representing 30% and 10% of the space.
This will allow the colors to make a bold impact without feeling overwhelming or overstimulating. Too much surface space of intense colors like this can create a space that feels like a headache, and you won't want to spend much time in there, so it's best to use them sparingly.
Powder Blue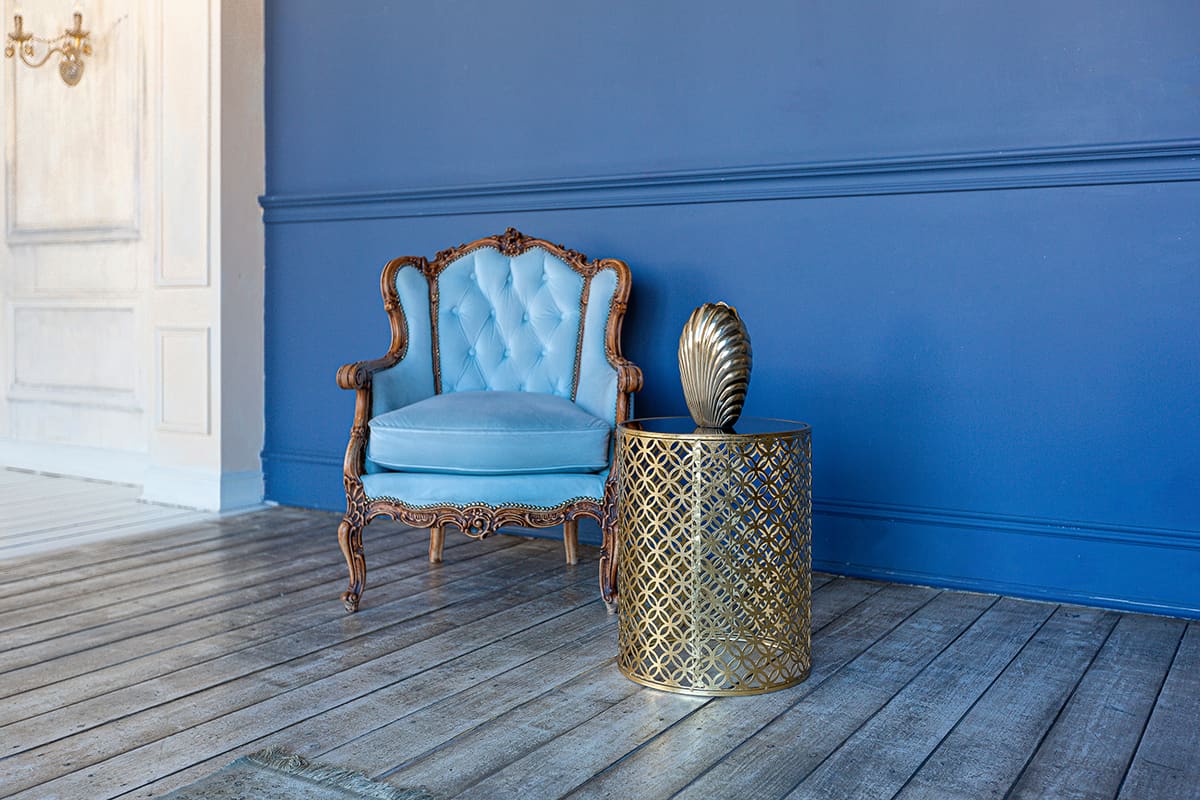 Powder blue is a soft and serene shade of blue that can be used with royal blue to create a tonal room that features varying colors of the ocean. This is a color scheme that would work well in a traditional bathroom with a coastal theme, incorporating seashell prints and beige accessories such as golden tan towels to represent the sand on the coastline.
Contrasting dark and light shades such as this can create an immersive experience by surrounding yourself with varying levels of the same color. As powder blue has a soothing and tranquil feel to it, it can help balance out the bolder energy of royal blue, even though they are the same color.
If you find that using a lot of blue in a room makes it feel too cold due to the cool energy of blue, then balance this out by adding a warm neutral shade such as wheat or biscuit beige.