From lilac, violet, and eggplant to soothing lavender and mauve, these stunning shades of purple can transform any bathroom into a soothing retreat. Although purple isn't the first color that comes to mind for a bathroom, it does work very well in both modern and traditional designs.
This comforting color will transform a bland bathroom into a majestic space, and the good news is, there are so many shades you can experiment with. Today we will show you some beautiful purple bathroom ideas and styles as well as some tips on other color schemes that work with purple.
Purple Bathroom Ideas
Make it Dark and Deep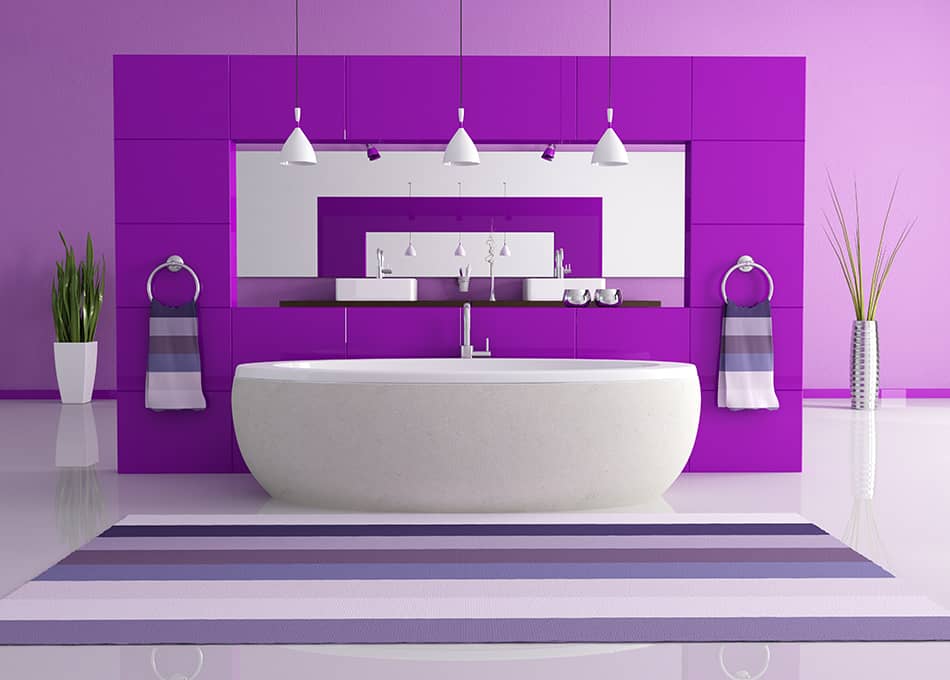 A large, contemporary bathroom doesn't get more luxurious than when it is featuring a deep, dark shade of purple on its walls. Dark shades of purple are perfect for just behind the bathtub as they promote relaxation.
Pair the color with accent lighting to enjoy your candlelit tub soak. A deep shade of purple sets the mood in sleek, modern bathrooms. You may even play with two shades of purple for the walls and accessories in order to add a statement.
In this contemporary bathroom, the darker shade of purple frames the vanities beautifully, with a lighter shade as the backdrop. The rug also complements the rest of this bathroom thanks to its multitude of white and purple hues.
Balance Purple with White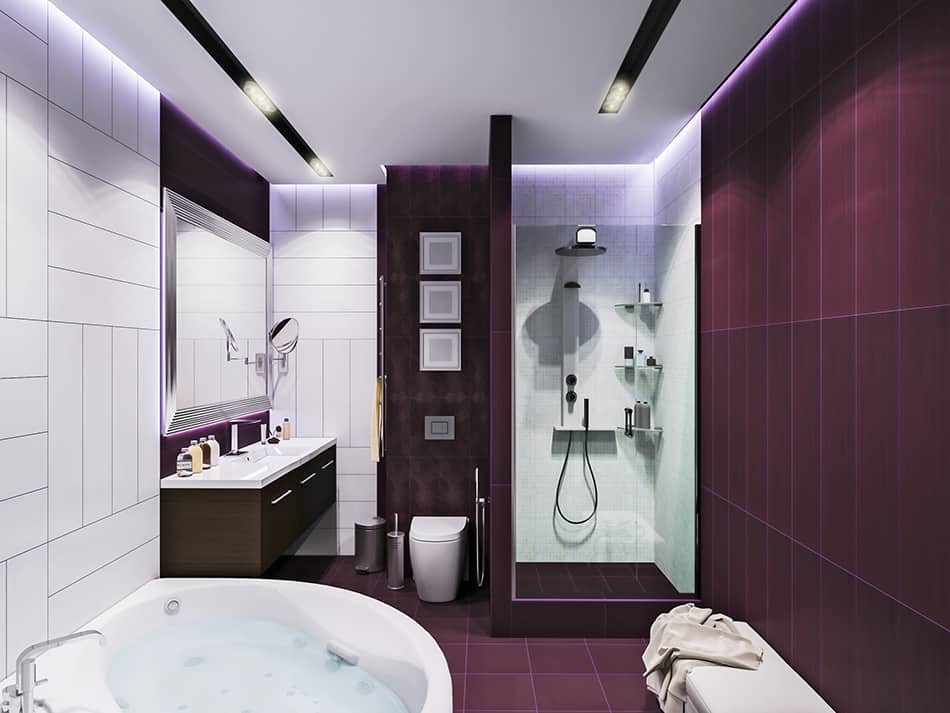 Instead of going all-purple for your bathroom, balance the hue with a less audacious tone. Incorporate a dark shade of purple with white to emit a classic vibe. This pairing is a no-fail idea, and for good reason! Imagine a bathroom with two halves divided into white and purple.
No single color can overtake the other one, but they don't need to always be equal. Experiment with how much purple or white you want in your bathroom. For example, you may opt for purple flooring to match some of your walls, plus some white walls to match your vanities. Take a look at this purple and white bathroom to get a better idea of how to plan this design.
Spicy Pink for Feminity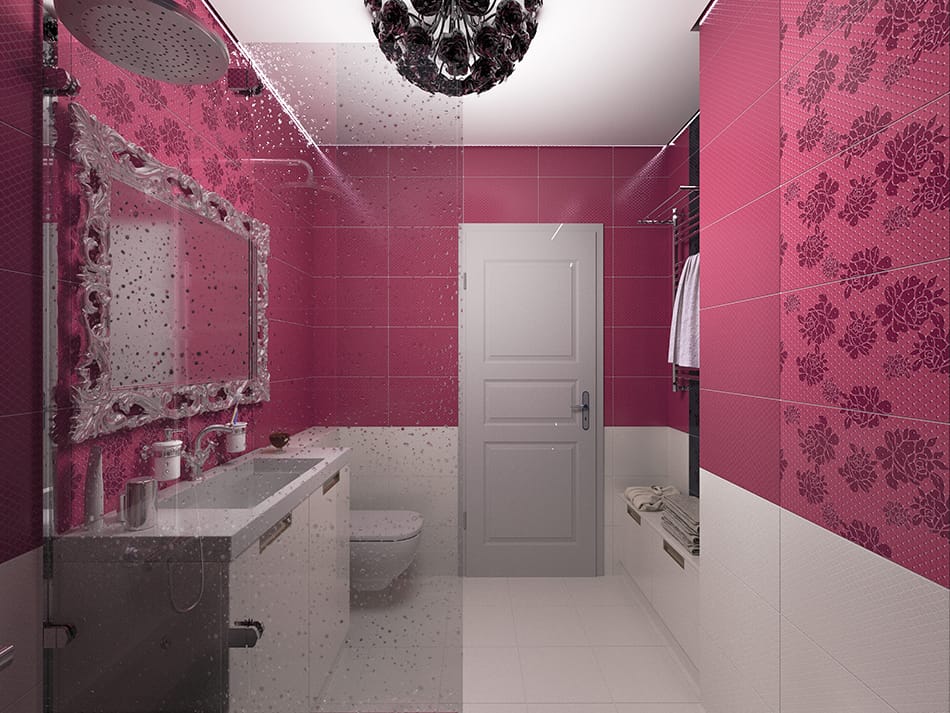 A pink shade of purple is a fun and feminine combination, especially when you add some floral patterns to go with the tiles. Medium shades of purple tend to lean toward pink, which prevents your bathroom design from looking outdated. Since pinks are a close relative of purples, it makes sense to use these hues in your bathroom.
This bathroom looks feminine with its floral and spicy pink tiles. Spicy pink is, in fact, a shade of purple, which works well in feminine bathrooms. It is yet another hue that goes well with white.
Go for a Refreshing Shade of Purple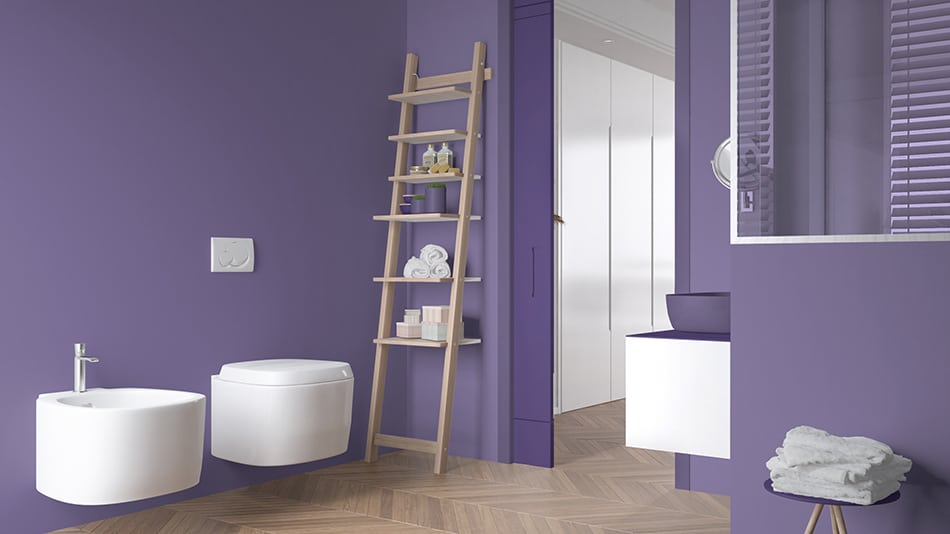 A refreshing shade of purple can brighten up an old bathroom. If you are remodeling your bathroom and love the color purple, consider a bright hue like violet or lavender to make the entire room look attractive.
You may paint the walls instead of tiling them or install waterproof purple wallpaper. Even lighter tiles in deeper shades of purple hues can do wonders in brightening up a bathroom. To make your purple walls stand out, go for all-white sanitary units and vanities.
In this newly renovated bathroom, the paint color violet is used throughout the walls, which makes the white units stand out.
Add a Feature Wall in Purple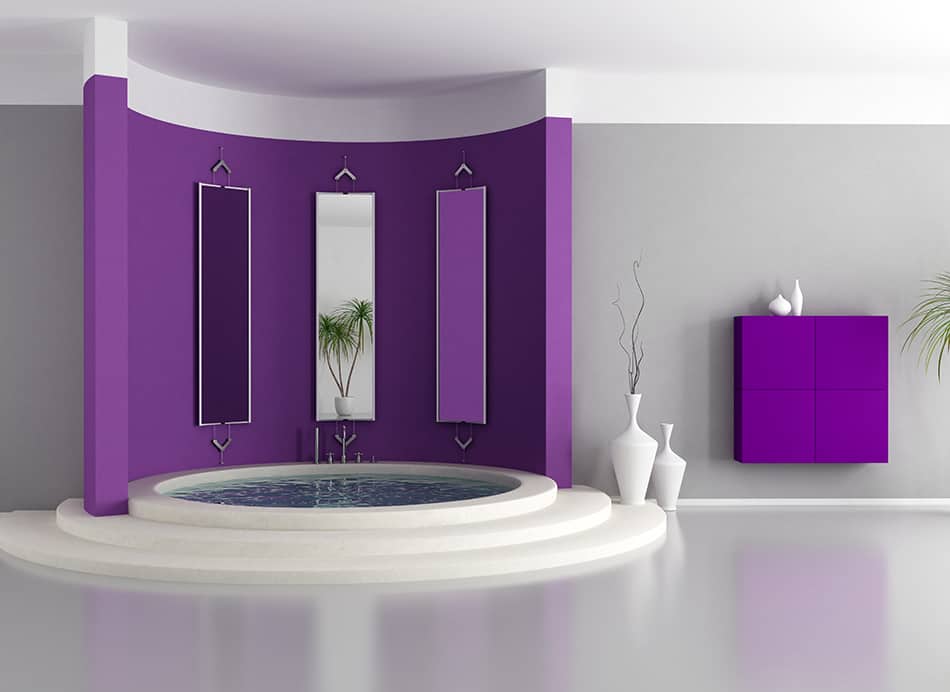 If you love the idea of a luxurious soak in a deep tub, you'll want a feature wall painted in a jewel-tone of purple. Rather than painting all your walls purple, go for just one wall behind the tub and decorate it with interesting wall decor. This wall will be the focal point of your bathroom, so the darker it is, the more impact it can make.
A feature wall in purple gives the bathroom drama and contrasts the white tub, as shown here. This luxury bathroom is far from dark and cramped thanks to its statement-making purple wall and circular bathtub.
Layer Purple with Black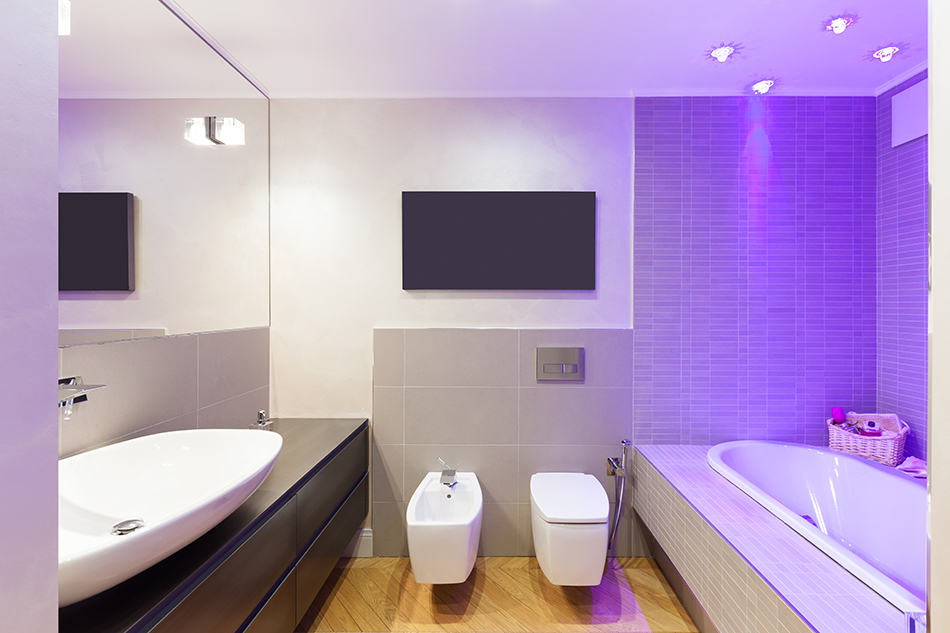 Some people are afraid of using black for their bathroom as they fear it may make the room darker. But to make an impact, consider pairing purple with black for elegance.
With the help of multiple lighting sources, such as recessed lights or sconces strategically placed around the bathroom, the purple and black combo will look anything but dark or dreary. Black is, after all, full of sophistication, and when used with purple, it can lend an air of formality.
In this bathroom, the sconces above the purple tiled wall highlight the color so the black countertop doesn't overpower the room.
Use Two-Tone Colors for Drama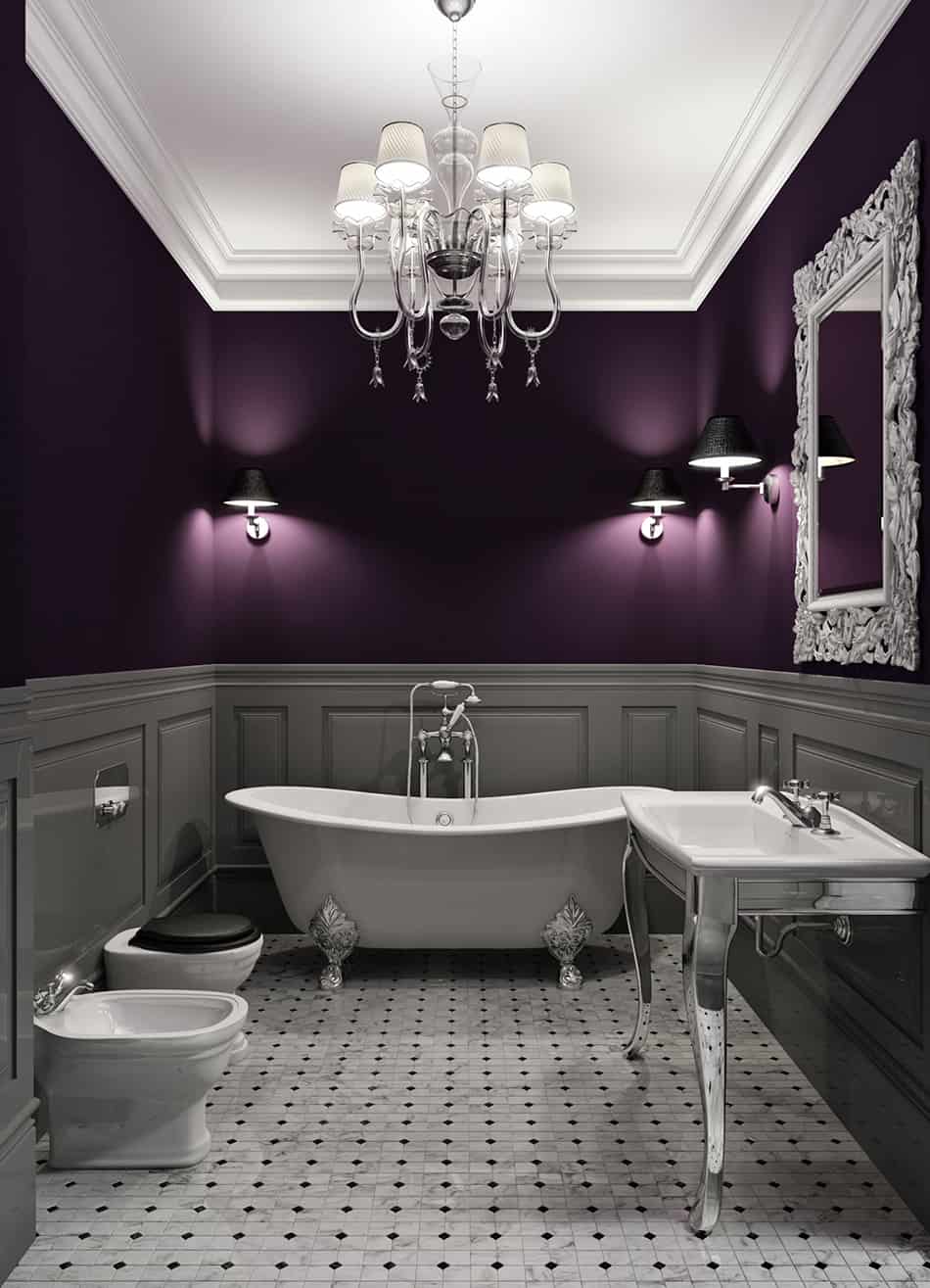 We've mentioned purple and black, but how about a two-toned color in the form of dark violet and medium-toned gray? Paint the lower half of your bathroom wall gray and its upper half violet.
For the floor and sanitary units, opt for black and white to create a majestic design like the one shown here. We love the classy chandelier and elaborately designed mirror in this stunning dark purple and gray bathroom. The charming wall lights highlight the elegance of the dark violet paint, which makes the two-toned wall stand out.
Choose Purple Vanities for Instant Color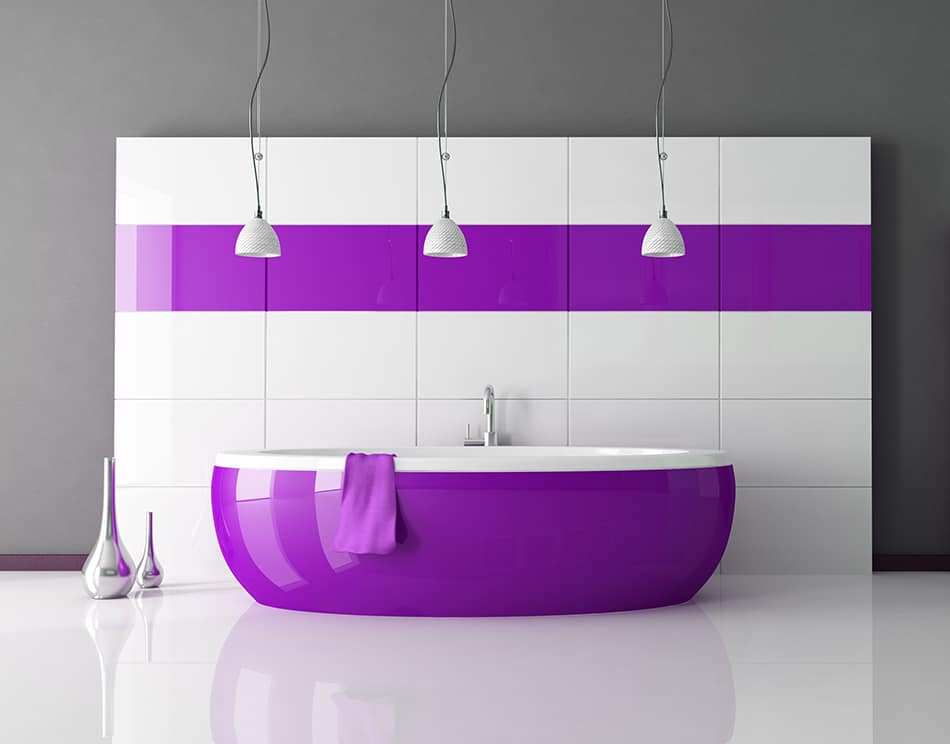 A ravishing purple bathtub allows you to instantly add elegance to a neutral bathroom. Purple doesn't have to be confined to wall tiles or paint alone.
When incorporated into sanitary units or accessories, it can bring a pop of color instantly to the room. A freestanding purple bathtub in beaming lavender or violet will draw the eye to the trendy tub. This focal point can be enhanced with other purple add-ons for maximum visual interest.
This purple tub isn't the only focal feature of this simple yet elegant bathroom. The interesting ceiling lights and the feature wall behind the tub also add to the attractiveness of this room.
Add Purple Accents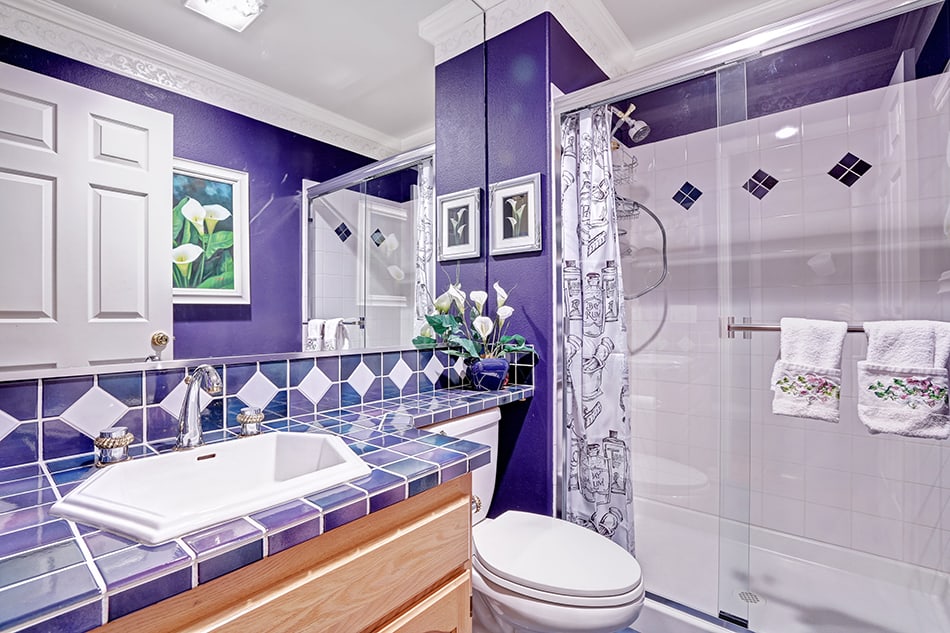 Accents help bring a purple bathroom together. Towels, wall art, floral tiles, and even floor covering can all be incorporated into a purple bathroom. Floral purple tiles are also a great way of giving a dramatic look next to white features.
Purple and white help create a monochromatic look in a bright bathroom. We love the purple accents and tiled wall trim in this elegant bathroom. Although there isn't a lot of space here, the purple and white accents balance out the room and make it shine in sophistication.
Unite Contemporary with Minimalism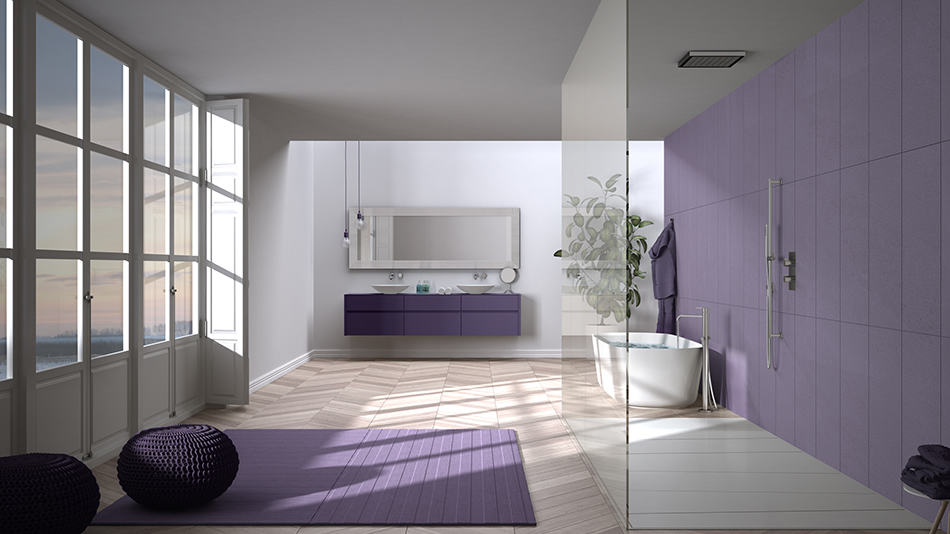 We've shown you many contemporary purple bathrooms in our list, but did you know a contemporary bathroom design goes hand in hand with a minimalist style. You can surely notice the contemporary yet minimalist setting in this spacious purple and white bathroom.
The lively and vibrant shade of light purple adds dynamism to the entire room. We especially love the generously sized walk-in shower with a prominent purple wall as the main feature. The shade is soothing yet vibrant, and next to white, it provides the bathroom with perfect balance. This is one of those minimalist bathrooms that will benefit from any shade of purple, thanks to its larger-than-average dimensions.
What Colors Work with a Purple Bathroom?
– If you love a pop of color in your bathroom, mix purple with blue. This dynamic duo creates a contemporary vibe and is the best way to spice up traditional interior decor. Rather than relying on neutral colors to pair with purple, go with bold pops of color.
– To tone down the purple, pair it with an earthy tone. The balance between the nature-inspired tones and purple creates a clean and sophisticated look. An ideal hue that works with purple is pastel green.
– A full palette of deep purples and grays also provides a clean look. For a bit of mystique, mix violet with dark gray as a perfect color combination. Although purple's complementary hues are yellow and green, neutral grays bring together the bold purple tones just as beautifully. For a mix of colors, why not add green and white accessories to your neutral gray and purple bathroom?
– Purple and muted yellow is another trendy color combo for a modern bathroom. Consider this winning combination by balancing the palette between all the accessories and walls. We recommend a reddish-purple tone next to a warm yellow shade. A muted shade of yellow won't overpower the purple, thus particularly ideal in small bathrooms.
– Brown and purple is a no-brainer. A dark shade of purple, like plum, will look beautiful next to tan or chocolate brown. This idea works best in traditional bathrooms that need a hint of color.