Brass is a metal alloy that is made by combining copper and zinc. The resulting look of brass resembles gold, but it has a more muted look with slightly less obvious yellow hues. This is a metal finish that can be used to create a traditional or contemporary look, depending on how you style it and the type of brass you choose.
It is a warm color with brown and yellow tones, so it can be used to bring a sense of comfort to a space. It works best with cool shades because they will create a contrast, especially if you plan to achieve a modern look. Avoid using brass finishes with other warm colors unless you are aiming for a traditional style.
Brass is a great alternative to gold if you want a low-key look because brass offers the same warmth and hue but with a more dull finish. For those who find gold to be too showy or gaudy, brass is an ideal replacement. Here are some of the excellent color options that match well with brass.
Cobalt Blue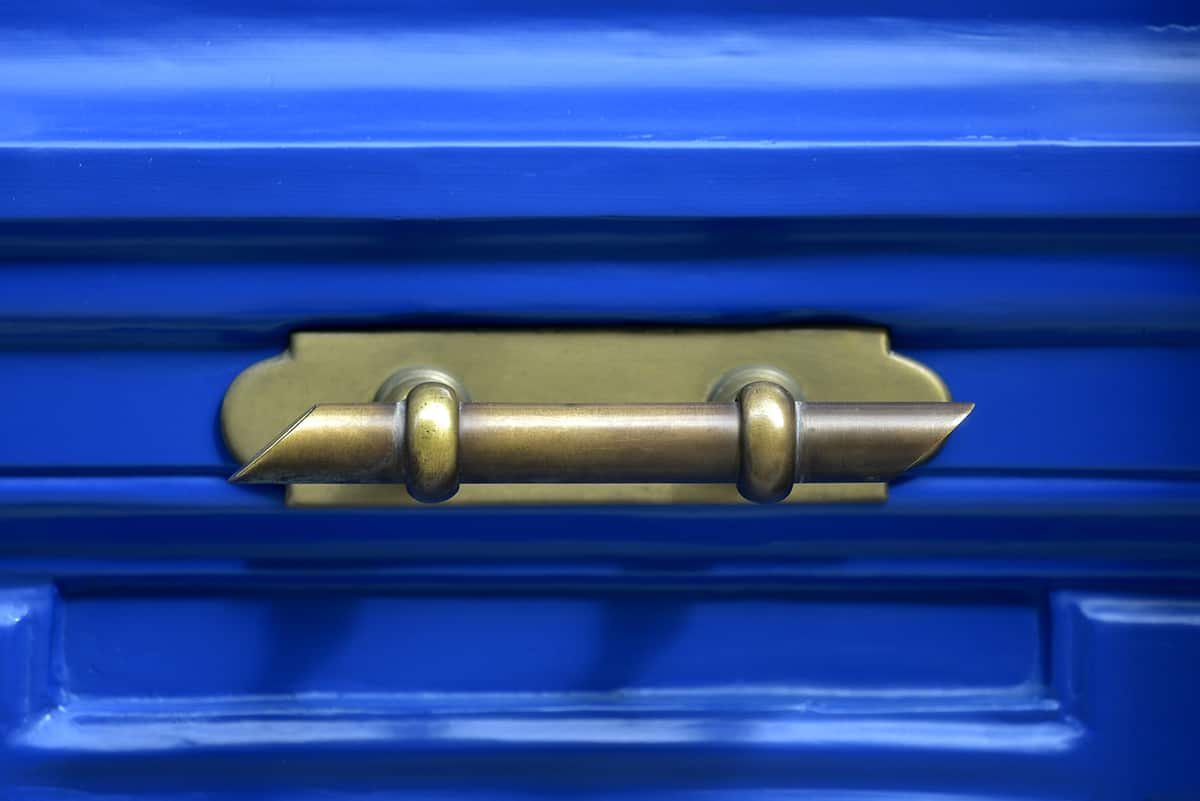 Cobalt blue is a heavily saturated mid to dark shade of blue that is bright and intense. It is a dramatic and striking color that works well in modern or quirky style spaces.
Brass is a good choice of metal for fixtures and fittings in a room decorated with cobalt blue because this will create a contrast that is distinctive and appealing without being too intense.
The opposite color to blue on the color wheel is orange, and as brass has more of a yellow than orange tone, it makes for a slightly milder contrast. Brass will add warmth to a room decorated with cobalt blue because, as quite a vivid and cool color, cobalt can make a space feel quite cold and hostile.
Use satin or flat brass finish for accents in a cobalt blue room to ensure a contemporary style is achieved. In a living room, pair a cobalt blue lampshade with a brass lamp stand or a cobalt blue upholstered accent chair with brass legs.
Emerald Green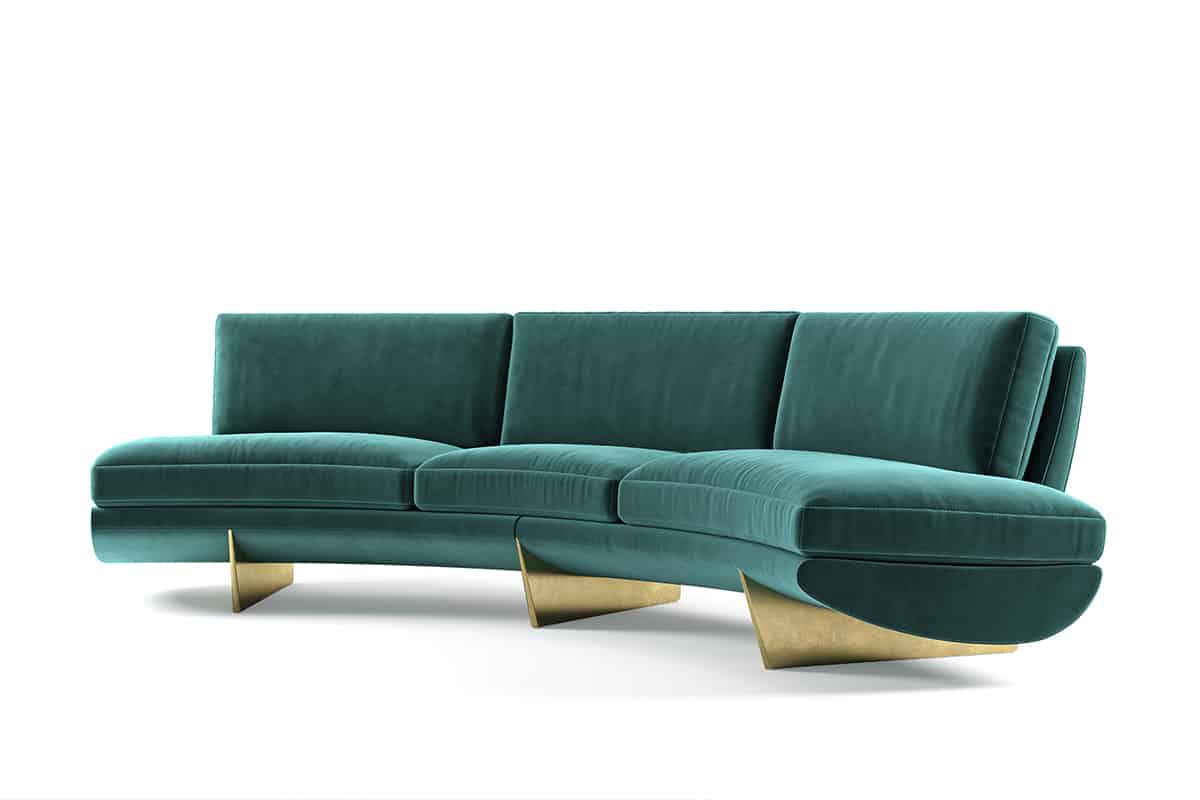 The trend for all things green in interior design is showing no sign of slowing down. Emerald green is a particularly popular shade of green because it is deep and luxurious, making for an atmosphere in a room that feels elegant and sophisticated.
Emerald green like most shades of green is very versatile. It is a jewel tone, and as such, it can be used to indicate glamor and opulence, but it is also a color found in nature, so it works well in natural-themed interior styles.
Emerald green is also a color that can be applied to a mid-century modern style room, which works especially well with brass as an accenting metallic finish.
If you want to achieve a luxe look in a bathroom, paint the walls in emerald green and use brass metals for the fixtures and fittings, such as brass taps and brass wall sconces. In a living room, go for a more natural style with pale gray walls and an emerald sofa with brushed brass legs.
Emerald green is a cool shade, so using it with brass will add warmth to the space, as well as a temperature contrast. The contrasting shade to green is red, while brass has yellow tones.
As a result, emerald green and brass, when used alongside each other, will create a very subtle contrast since they are not opposite colors on the color wheel, but they each have opposing warm and cool tones.
Black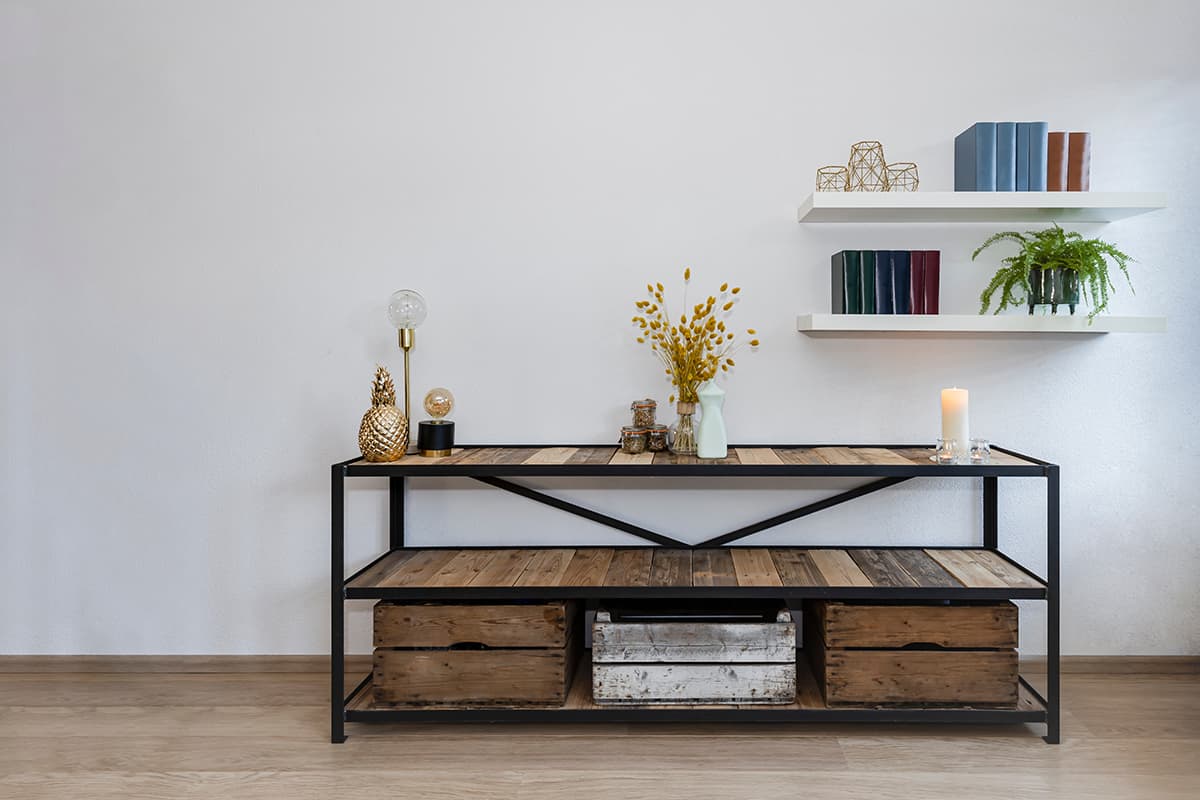 An interior design color scheme based around black can be elevated with brass accents. Black is a color that will either look dull and morbid or sleek and sophisticated. Most people using black in home decor are aiming for the latter, and brass details are a great way to ensure the whole look is heading in this direction.
In a dining room with black walls, choose a glass table with a brass frame, and use a brass curtain pole to hang black curtains.
On the table, use black placemats with brass cutlery laid on top of them. This will create a look that feels elegant and chic, with the brass bringing a touch of warmth to the space that will make it feel inviting.
Some people lean towards gold accents when decorating with black, which will create a vibrant contrast and a glamorous style, but if you want a more low-key glamor, then brass is a better option. This is because brass has a more muted coloring that won't contrast as heavily with gold, and it has an overall more subtle appeal.
White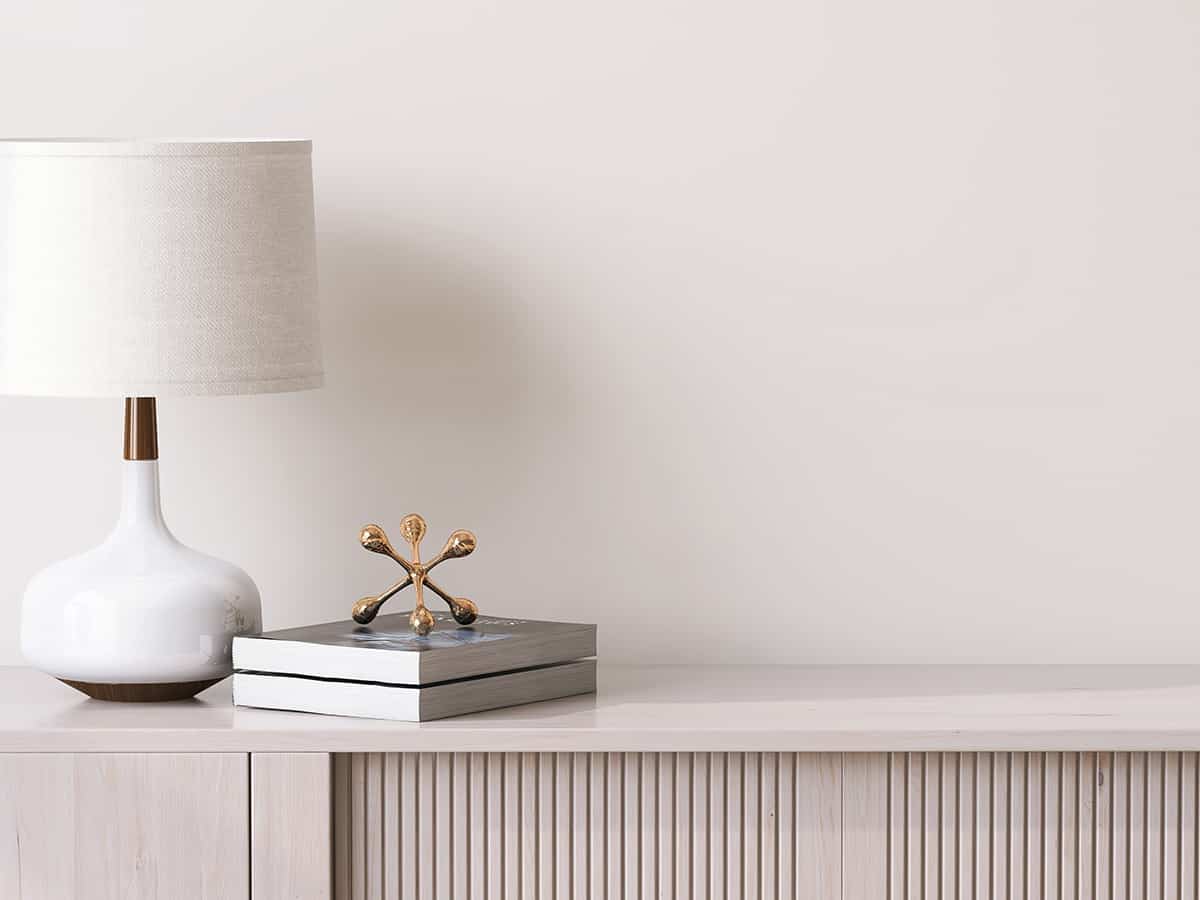 If you want a clean and crisp look in a room, then you might be drawn to white paint for the walls; however, this can come off as cold and sterile if you don't get much natural light in the space.
Chrome or black metal finishes will further exacerbate this issue of a room that feels cold, whereas gold or brass accents will bring warmth and elegance to the space.
In a living room with white walls and white furniture, choose brass light fixtures and brass handles on interior doors and cabinets.
As well as bringing warmth to the space and making it feel more welcoming, it will also ensure a sophisticated look is achieved, compared to gold accents that could look harsh or gaudy.
Beige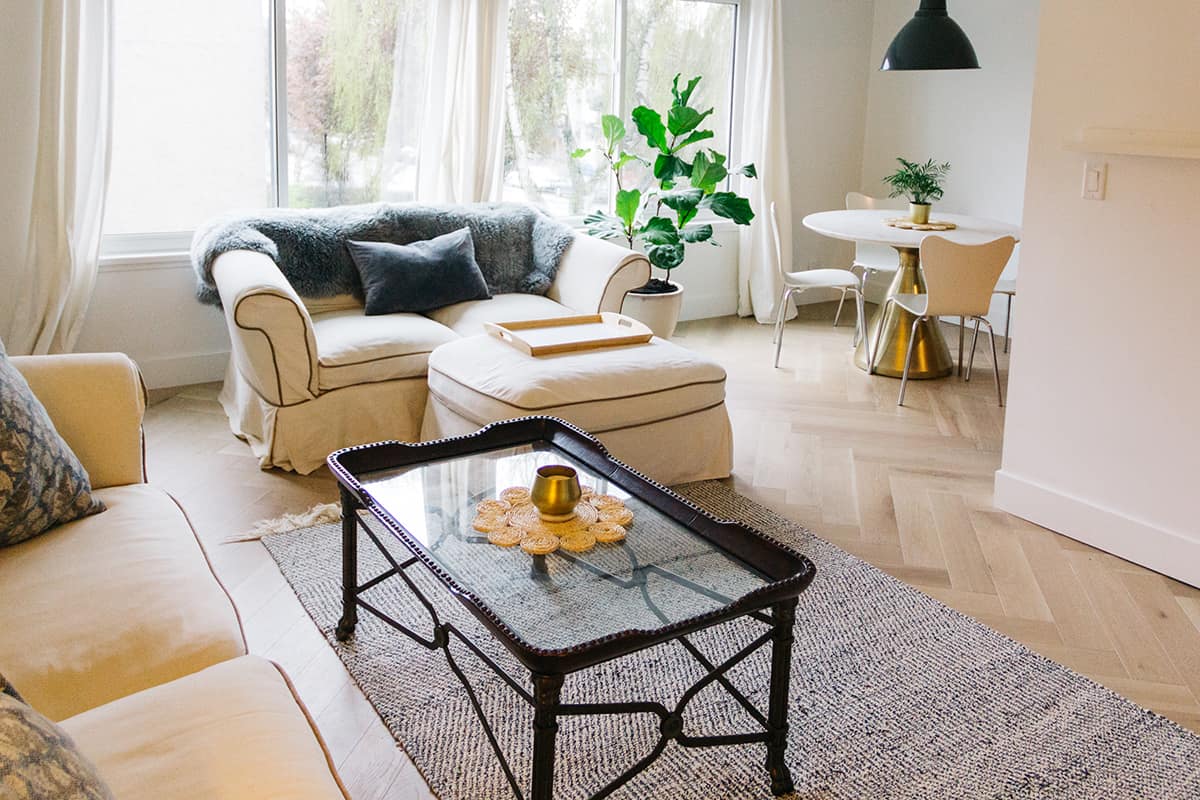 If you want to use brass accents in a room, then other warm shades are usually best avoided. This is because warm colors alongside brass can make the space feel dated and old-fashioned. However, there are ways you can use brass with beige if you follow a few guidelines.
First of all, only use brass fittings with matte or flat finishes. Shiny brass will look distinctly old-fashioned, and this will be accentuated when used with warm tones like beige. Secondly, choose a muted shade of beige to help guide the style of the space towards a modern feel.
Beige colors that have very obvious yellow or orange tones will veer towards a more dated look. You can also ensure the brass and beige color scheme appears contemporary by using a third cool color in the space, such as blue or gray.
If you want to style a room in a more vintage or retro look, then beige and brass will work well for this. In this instance, you can even use brass with a glossy finish.
Charcoal Gray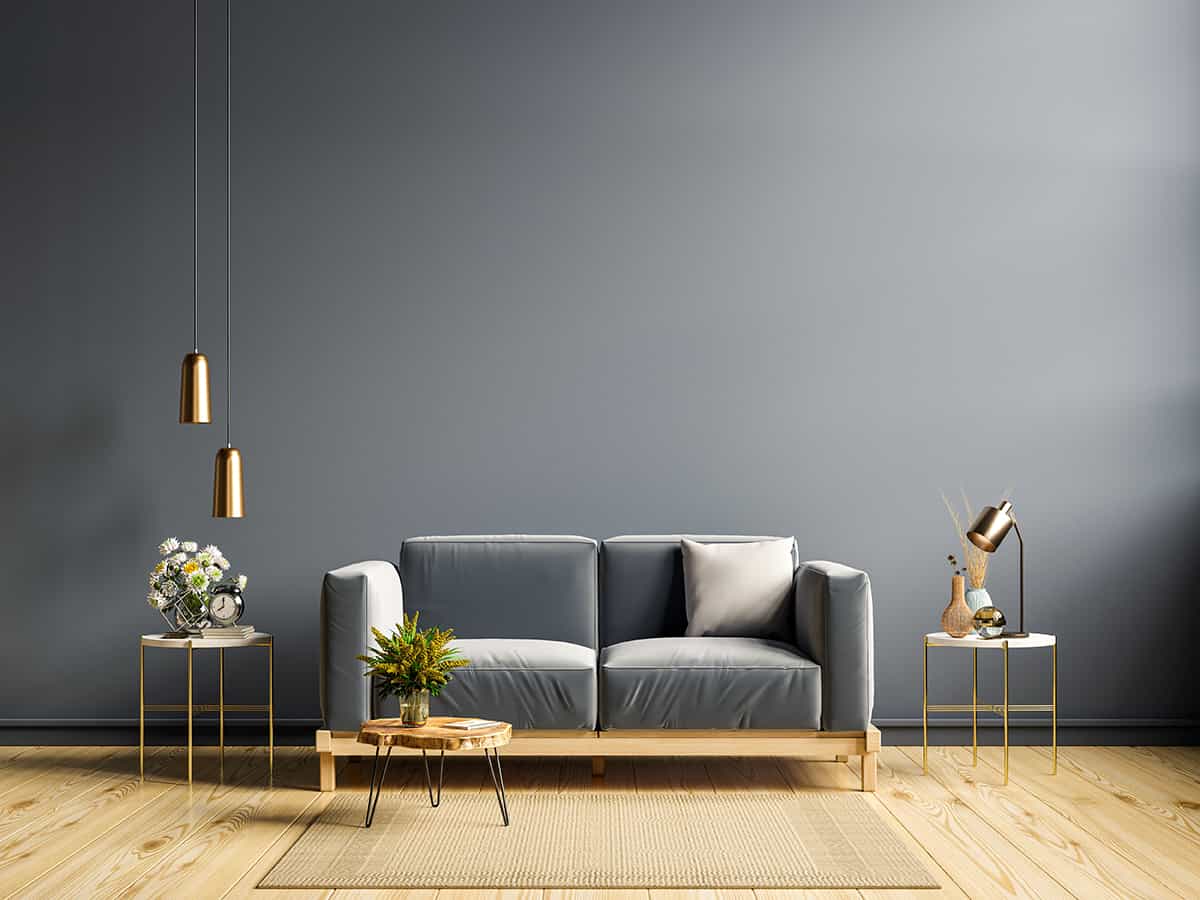 Charcoal is a dark and heavily saturated shade of gray that can be used to add depth and drama to a space. In a small room, painting the walls in charcoal can make it appear as though the walls are receding, thereby creating a sense of increased space.
In a bathroom that has been painted in charcoal, use brass fixtures and fittings to add a subtle elegance to the room and to ensure the space doesn't feel cold. Charcoal upholstered furniture will look simultaneously classic and contemporary with brass legs, and a kitchen will look chic with charcoal-colored cabinets and brass handles.
Brass is a great color that goes perfectly with charcoal gray, which is a cool neutral that works well with any color of metal, but using silver finishes with charcoal can make a room feel cold. Brass, by comparison, will warm up the appearance of a charcoal room and help to balance out the energy.
Dove Gray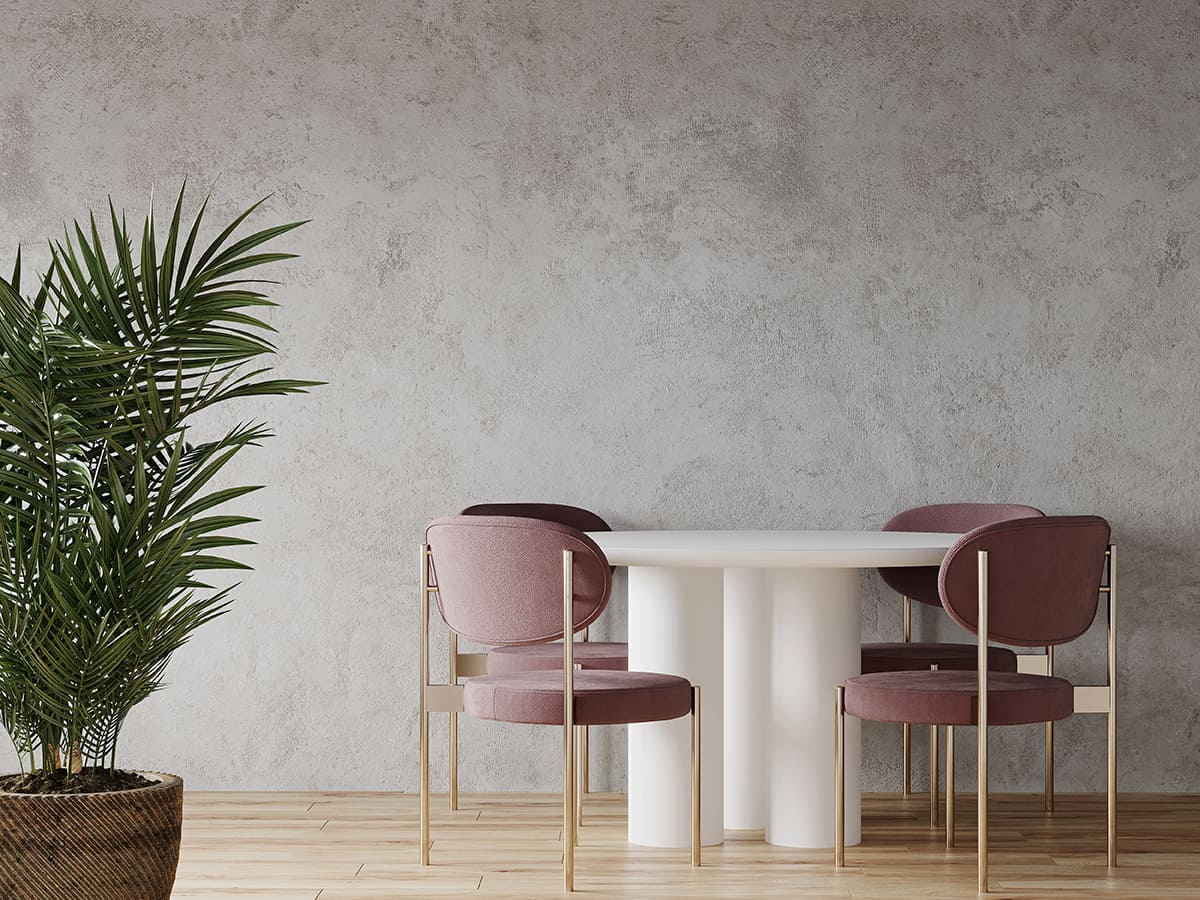 If you have brass fittings in a room and feel that this makes the space look outdated, then paint the walls in dove gray or add dove gray accessories. You may have a brass fireplace surround, for example, which is too expensive to replace, so there are colors you can use that will help to make the brass look like it works better in the room.
Dove gray is capable of instantly creating a modern vibe in a room, and it will also balance out the warmth in the brass, so using it as a wall color next to a brass fireplace is a good idea.
Dove gray looks stunning next to brass in any context, so consider using brass handles on dove gray closet doors or brass lamp stands with dove gray lamp shades.
Greige
If you want to use brass accents in your home decor but don't want to use a cool color as your main shade, then greige provides the perfect color combination.
Greige is a shade that is created by mixing pale gray with pale beige, resulting in a color that offers the best of each color. Greige brings the warmth of beige with the contemporary feel of gray, making it a perfect neutral.
Many people shy away from gray because it feels too cool, or they avoid beige because it feels dated, so the atmosphere that greige offers really is fabulous on every level. Greige walls will look stunning as a base for brass light fittings, or you could choose greige upholstered dining chairs with brass frames for a warm and modern style in a dining room.