As a confection of rich, honey-toned furniture color, a caramel couch in leather or upholstery can be the perfect addition to any living room. Caramel is a blend of neutral brown and gold, thus making it compatible with numerous other shades. Whether you're furnishing your house or apartment, you need to think of the most complementing colors that work with a caramel couch.
The best thing about caramel is that it's not a seasonal color. This classic color will not go out of fashion, so you can safely design a timeless interior using a caramel leather couch paired with compatible wall and accessory colors.
So the question is, what colors go with a caramel couch? Well, pretty much everything works with this brown shade, such as off-white shades, pale pinks, soft greens and all neutrals to name a few.
While a caramel couch is mostly seen in eclectic, bohemian, and Mid-century modern interiors, it doesn't mean a traditional or modern home can't look stylish with this furniture color. On the contrary, caramel is an inviting color that oozes sophistication without the risk of overwhelming the space.
To give you some ideas on the most compatible and exciting color schemes to pair with your caramel couch, take a look at our following examples:
Best Color Schemes that Work with Caramel Couch
| | | | | |
| --- | --- | --- | --- | --- |
| Shade | Hex Code | CMYK Color Code (%) | RGB Color Code | Color |
| Caramel | #a0511c | cmyk(0%, 49%, 83%, 37%) | rgb(160, 81, 28) | |
| Yellow | #f7f700 | cmyk(0%, 0%, 100%, 3%) | rgb(247, 247, 0) | |
Earthy tones emit the brown hue of caramel, so it makes sense to surround your couch with such colors. Yellow is a warm, earthy color that complements a rich caramel couch by adding dimension to the room.
You can incorporate yellow into your walls to make your living room look incredibly attractive and inviting. A bright shade of yellow can liven up a room with a caramel couch as the combination of brown and yellow add a splash of energetic fun to the space.
See how bright and welcoming this living room with a caramel couch and dark brown furniture feel thanks to the yellow walls that made the room pop. This living room has the best of both worlds: modern and traditional all in one place!
Mint Green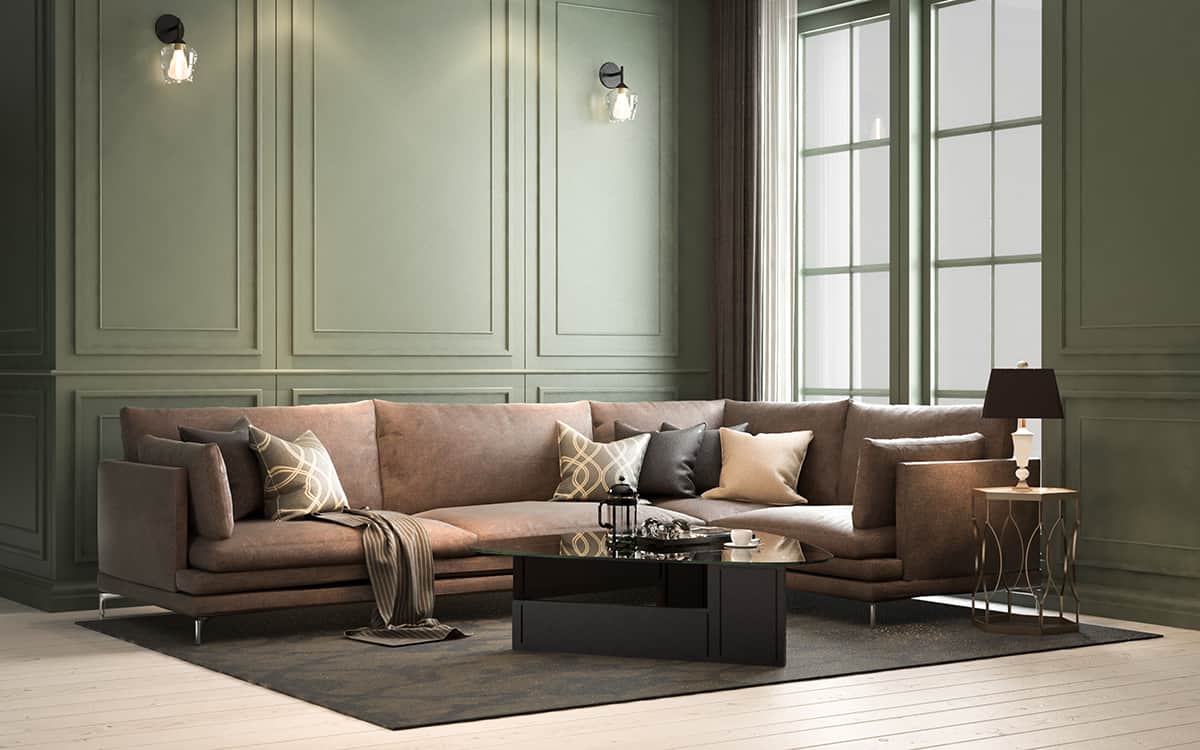 | | | | | |
| --- | --- | --- | --- | --- |
| Shade | Hex Code | CMYK Color Code (%) | RGB Color Code | Color |
| Caramel | #a0511c | cmyk(0%, 49%, 83%, 37%) | rgb(160, 81, 28) | |
| Mint Green | #a8b79d | cmyk(8%, 0%, 14%, 28%) | rgb(168, 183, 157) | |
A pale shade of green goes a long way to spruce up a living room with a caramel couch. Just like yellow, green is another warm-toned color that works well with doses of brown shades.
This color combo emits an air of sophistication in a classic style interior. Blend the green with wooden furnishings for an organic vibe.
To boost the overall ambiance of your living room, paint your walls mint green as shown here. The caramel couch is dressed with gray, yellow, and brown throw pillows for a stylish and retro feel. When combined with the green walls, the color scheme works well in any classical-style interior.
Gold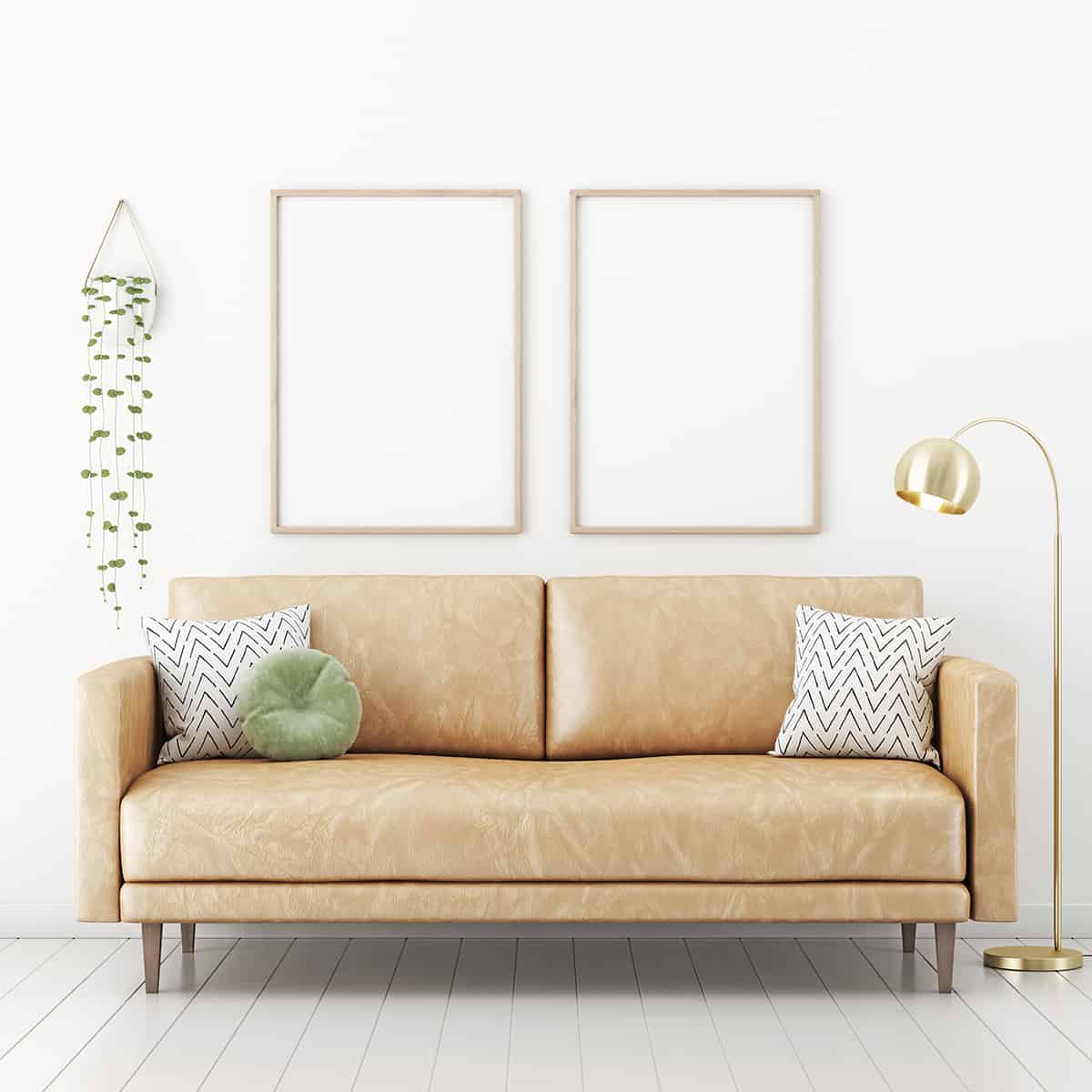 | | | | | |
| --- | --- | --- | --- | --- |
| Shade | Hex Code | CMYK Color Code (%) | RGB Color Code | Color |
| Caramel | #a0511c | cmyk(0%, 49%, 83%, 37%) | rgb(160, 81, 28) | |
| Gold | #d7cfb2 | cmyk(0%, 4%, 17%, 16%) | rgb(215, 207, 178) | |
The bold characteristics of the gold color make it a perfect match with a caramel couch. The charming yellowish-brown gold is toned down with the help of the caramel couch, making your living room look lively and welcoming.
Whether you add a gold floor lamp or mirror to your living room with a caramel couch, the combination of these two colors is extremely luxurious.
This gold lamp looks ultra-glamorous next to the caramel couch with green pillows. It works especially well in minimalist-style living rooms as you don't want to overwhelm the space with too many gold accessories.
Soft Pink
| | | | | |
| --- | --- | --- | --- | --- |
| Shade | Hex Code | CMYK Color Code (%) | RGB Color Code | Color |
| Caramel | #a0511c | cmyk(0%, 49%, 83%, 37%) | rgb(160, 81, 28) | |
| Soft Pink | #f5aaba | cmyk(0%, 31%, 24%, 4%) | rgb(245, 170, 186) | |
Imagine a leather caramel couch against soft pink walls and rose curtains. There are no other bold colors needed to bring out the beauty of your couch color. The only missing ingredient would be a classic chandelier or a marble fireplace surrounded with gold-framed paintings on the wall.
In a formal living room, this is exactly the way you would furnish and decorate your space using a caramel couch, pale pink walls and gold accessories.
And let's not forget some green patterned throw pillows to complement the caramel couch. This color scheme injects texture and elegance into the room, especially when you add natural wood tones to the living room.
Cream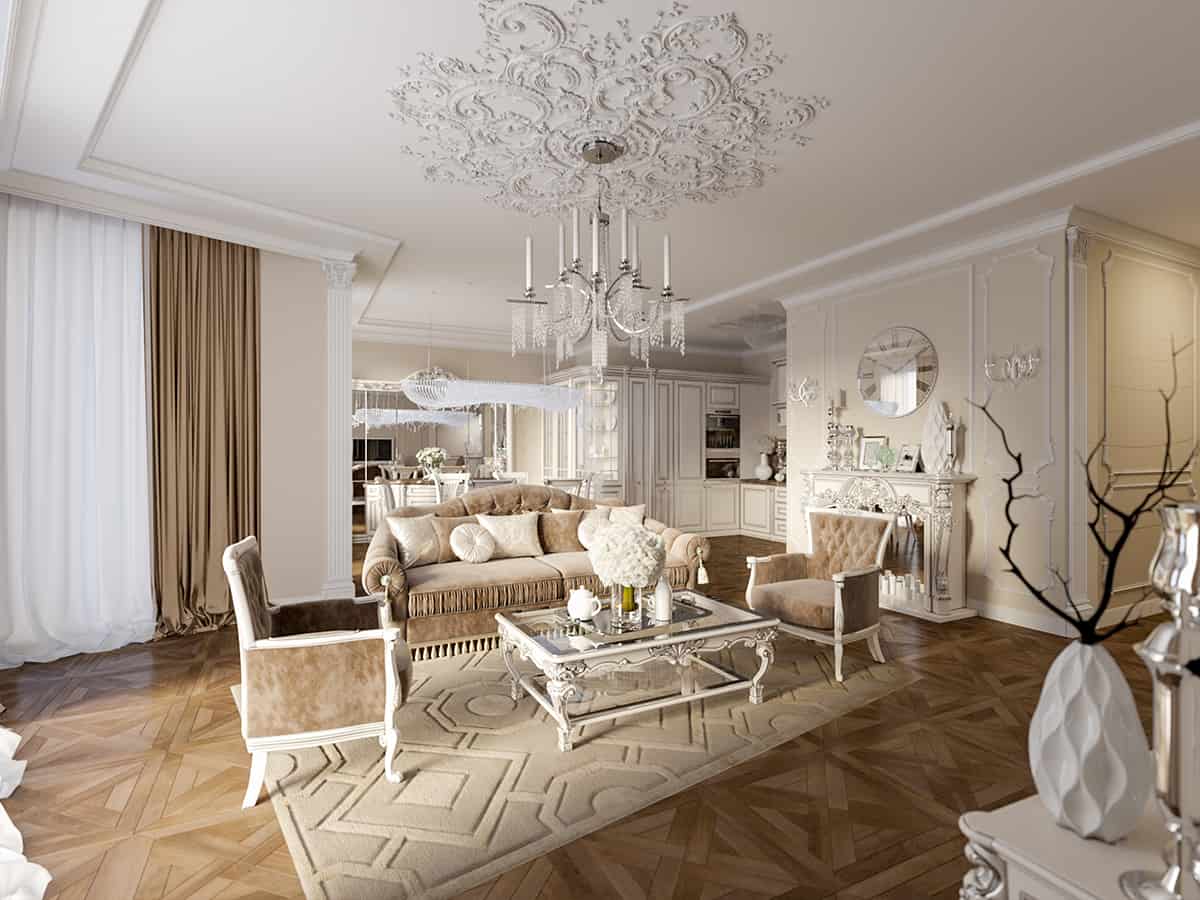 | | | | | |
| --- | --- | --- | --- | --- |
| Shade | Hex Code | CMYK Color Code (%) | RGB Color Code | Color |
| Caramel | #a0511c | cmyk(0%, 49%, 83%, 37%) | rgb(160, 81, 28) | |
| Cream | #efe6d8 | cmyk(0%, 4%, 10%, 6%) | rgb(239, 230, 216) | |
When paired with cream walls and caramel curtains, a matching caramel couch can look incredibly stylish thanks to the high contrast it provides against the neutral, light background. The timeless caramel color scheme with cream can make the space feel upscale and rich as shown here.
Caramel is the perfect partner for neutral colors. But rather than painting your walls a crisp white, opt for a softer, warmer shade like cream. Add natural oak furniture and a chandelier to the mix for a modern and classic blend.
The example we've picked here is a combination of cream walls, caramel drapes and caramel seating, with the latter acting as an attractive focal point.
Cream walls add a cozy ambiance against the caramel seating furniture as they allow you to introduce accessories in contrasting colors. Feel free to experiment with other bold decor colors in the form of throw pillows and blankets to dress up your caramel couch.
Ivory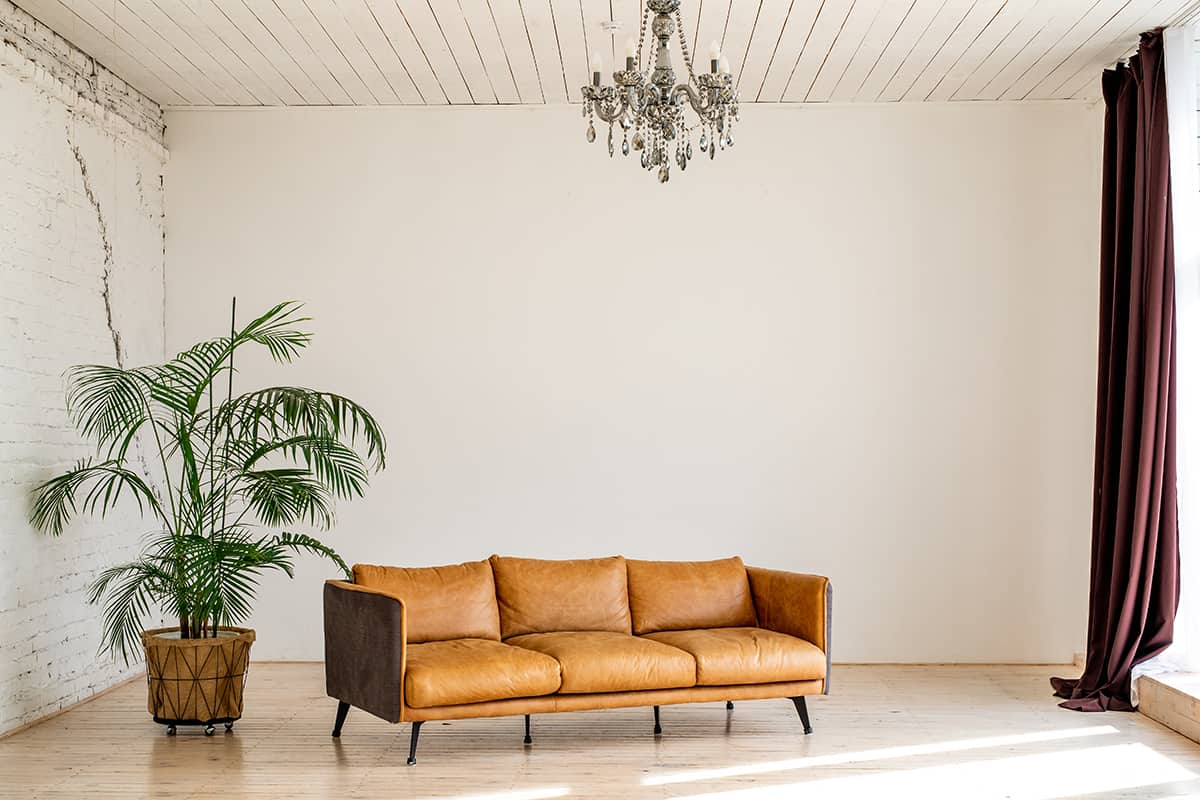 | | | | | |
| --- | --- | --- | --- | --- |
| Shade | Hex Code | CMYK Color Code (%) | RGB Color Code | Color |
| Caramel | #a0511c | cmyk(0%, 49%, 83%, 37%) | rgb(160, 81, 28) | |
| Ivory | #e2ddd7 | cmyk(0%, 2%, 5%, 11%) | rgb(226, 221, 215) | |
Another soft version of white that's similar to cream is ivory. This neutral color pairs beautifully with a caramel couch as it doesn't look harsh and cold like white. As a mellow hue, ivory provides a tonal contrast without making your living space appear cold and unwelcoming.
The clean and simple shade of white looks wonderful next to caramel as it brings an amazing flair of charm to the room. By blending these two colors in small doses, your living room can enjoy a glamorous ambiance that's highly inviting.
Beige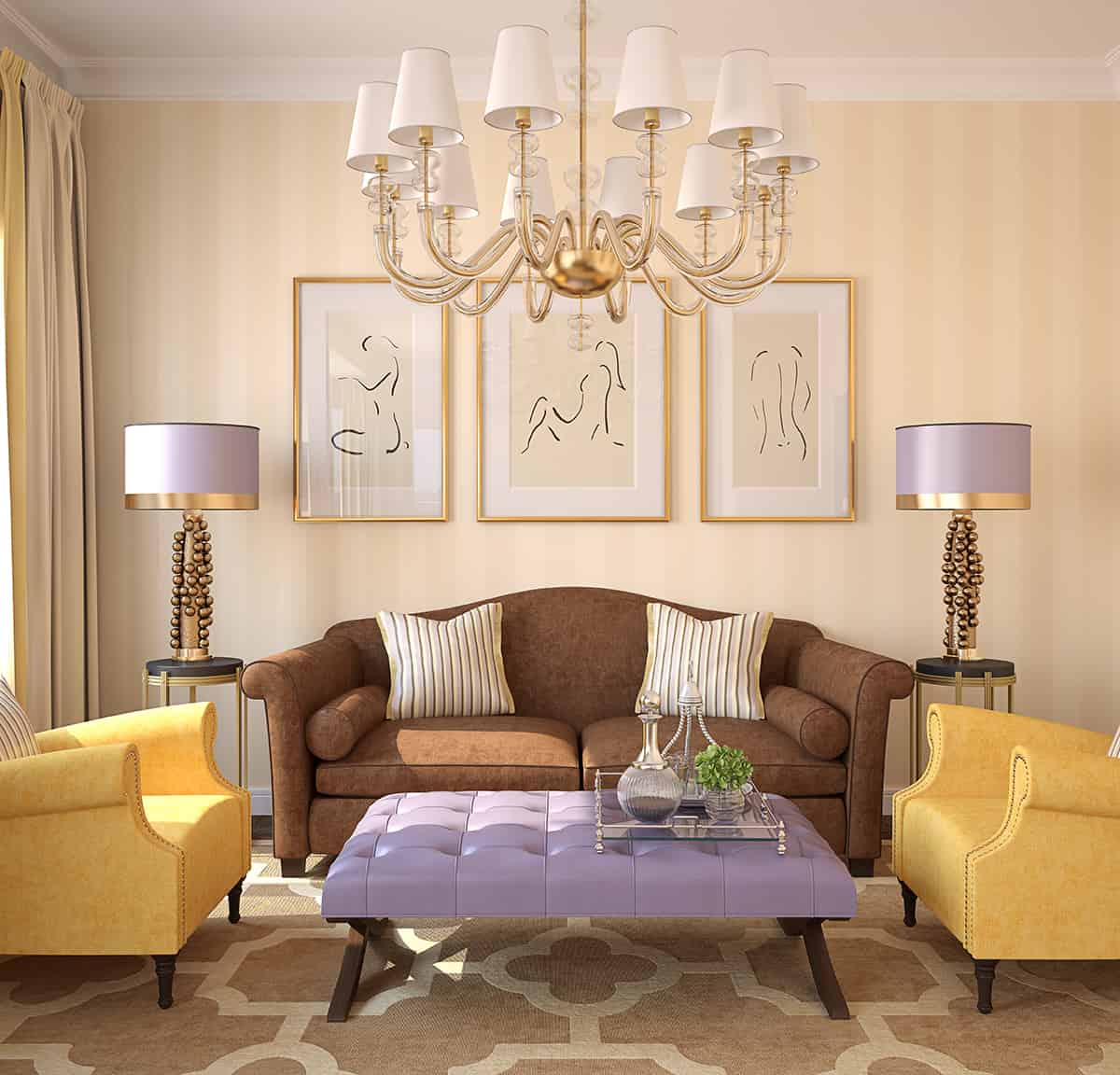 | | | | | |
| --- | --- | --- | --- | --- |
| Shade | Hex Code | CMYK Color Code (%) | RGB Color Code | Color |
| Caramel | #a0511c | cmyk(0%, 49%, 83%, 37%) | rgb(160, 81, 28) | |
| Beige | #e2cdb2 | cmyk(0%, 9%, 21%, 11%) | rgb(226, 205, 178) | |
Yet another neutral color option that matches your caramel couch is beige. Beige walls paired with a caramel couch can offer a cozy feel in any formal or casual living space.
The classic color combination of beige and caramel is highly popular as they are both warm neutrals. Add other vibrant, warm shades like yellow to the mix to inject excitement into your interior.
Just like you can see here, the blend of yellow and caramel seating with the beige walls add depth and visual interest to this living room.
Soft Blue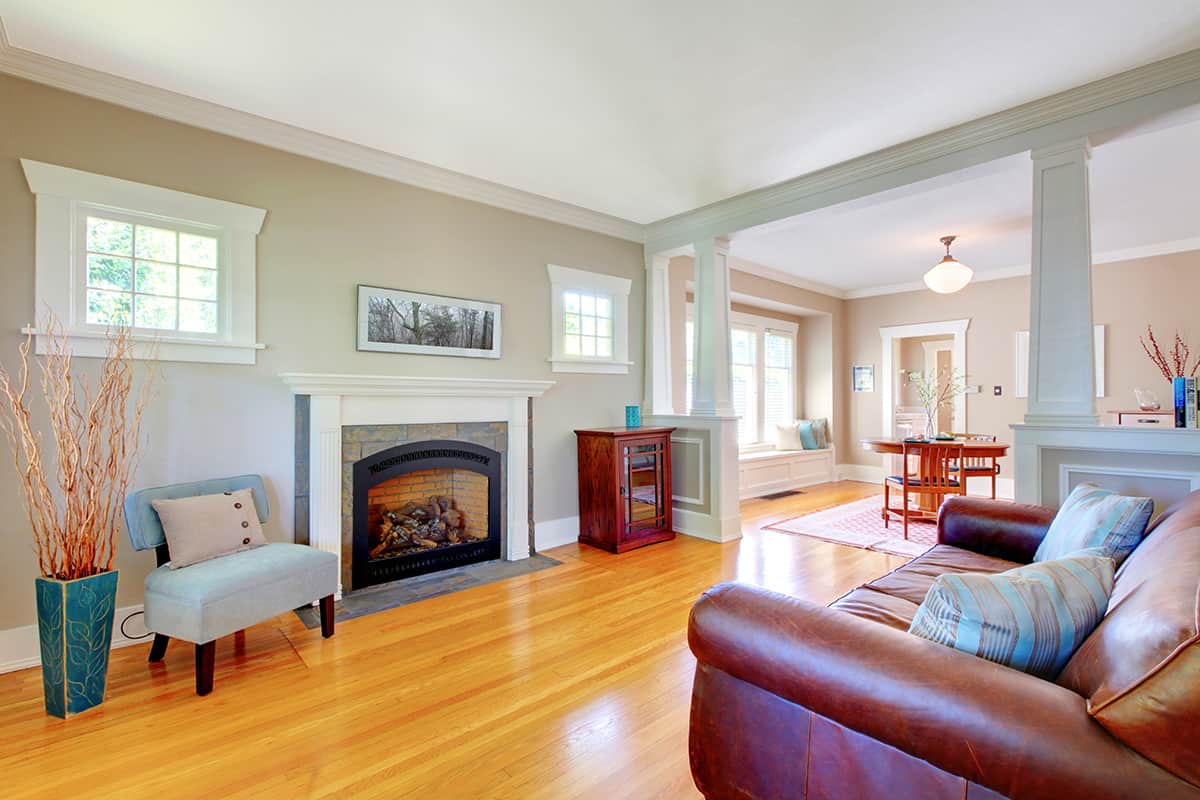 | | | | | |
| --- | --- | --- | --- | --- |
| Shade | Hex Code | CMYK Color Code (%) | RGB Color Code | Color |
| Caramel | #a0511c | cmyk(0%, 49%, 83%, 37%) | rgb(160, 81, 28) | |
| Soft Blue | #94d1f6 | cmyk(40%, 15%, 0%, 4%) | rgb(148, 209, 246) | |
For a more modern and stylish look, consider a contrasting color to caramel brown; how about a soft, relaxing shade of blue! This trendy color complements the caramel couch as a cooler tone that harmonizes the warm brown undertone.
You can dress up your couch with darker blue throw pillows while painting your walls a light blue shade. This tranquil blend creates a fine balance between a modern and classic ambiance as shown in this example.
Here, the soft blue walls blend perfectly with the caramel leather couch and light beige flooring. The living room feels homely and warm thanks to the mix of cool and warm tones.
Does a Caramel Couch Go with Red Walls?
A caramel couch can be paired with other warm tones, including red. Whether you paint your living room walls a bold burgundy or bright ruby shade of red, the gold undertone of caramel will work beautifully with the red.
Note: avoid using a shade of red with orange undertone as this will overwhelm the sofa's almost yellowish tone.
Is Caramel a Neutral Brown Shade?
Yes, caramel is a neutral shade of brown, and just like other brown shades, it can be paired with many colors. This neutral shade serves as a subtle backdrop thanks to its earthy tone that makes your decor colors stand out.
The advantage of choosing a caramel couch is its versatility. You can combine any accessory or accent color with this neutral, light shade of brown in order to create a cohesive design.
What Colors Contrast Caramel?
Blue is the opposite of caramel on the color wheel. However, opposite colors actually complement this shade of brown rather than clash with it. So if you're after a stronger look, consider pairing your caramel couch with a soft, cool blue shade like turquoise or aqua.
Other contrasting colors that complement caramel include purples and soft greens. These contrasting colors soften the warm tone of the caramel, thus a great choice as living room walls or throw pillows.
Conclusion
When you have a caramel couch and want to boost the warm vibes in your living room, pairing this neutral shade of brown with other neutrals and warm tones will give you a unique and chic interior.
There are endless color scheme options to pair with this brown shade as you've seen from our examples. Caramel is such a versatile color that it can work with both contrasting and complementing colors.
We hope you've been inspired by our color scheme ideas to pair with your caramel couch. See our post ' What Goes with Red Couch (8 Complementing Decor Ideas)' if you want some color combination ideas to use with your red couch