Brick and rust are two very similar colors, coming from warm and dusky color palettes. Rust is a very on-trend color in interior design ever since it was highlighted at the Milan Furniture Fair several years ago. This exhibition is the largest of its kind in the world, and each year it sets the tone in the interior design industry and predicts trends for the future.
Rust remains popular in home decor as it brings a warm and cozy feel to a space while also remaining modern and edgy. Rust works well with so many colors because it can be used as a neutral base color, or it can also stand out as the accent shade.
The trend, which leans toward more natural and sustainable style decor, is ideal for a rust-based color scheme because the shade feels earthy, and it brings us closer to the outdoors.
Brick is another dusky shade that has rich and warm tones, varying from red and orange through to brown. Brick works perfectly alongside rust in interior decor because the two shades are so similar that they create a layered effect, almost as if one of the colors is shadowing the other.
This helps to achieve a feeling of depth and intensity in the space. Here we look at a range of other colors which can be used with brick and rust in home decor.
Millennial Pink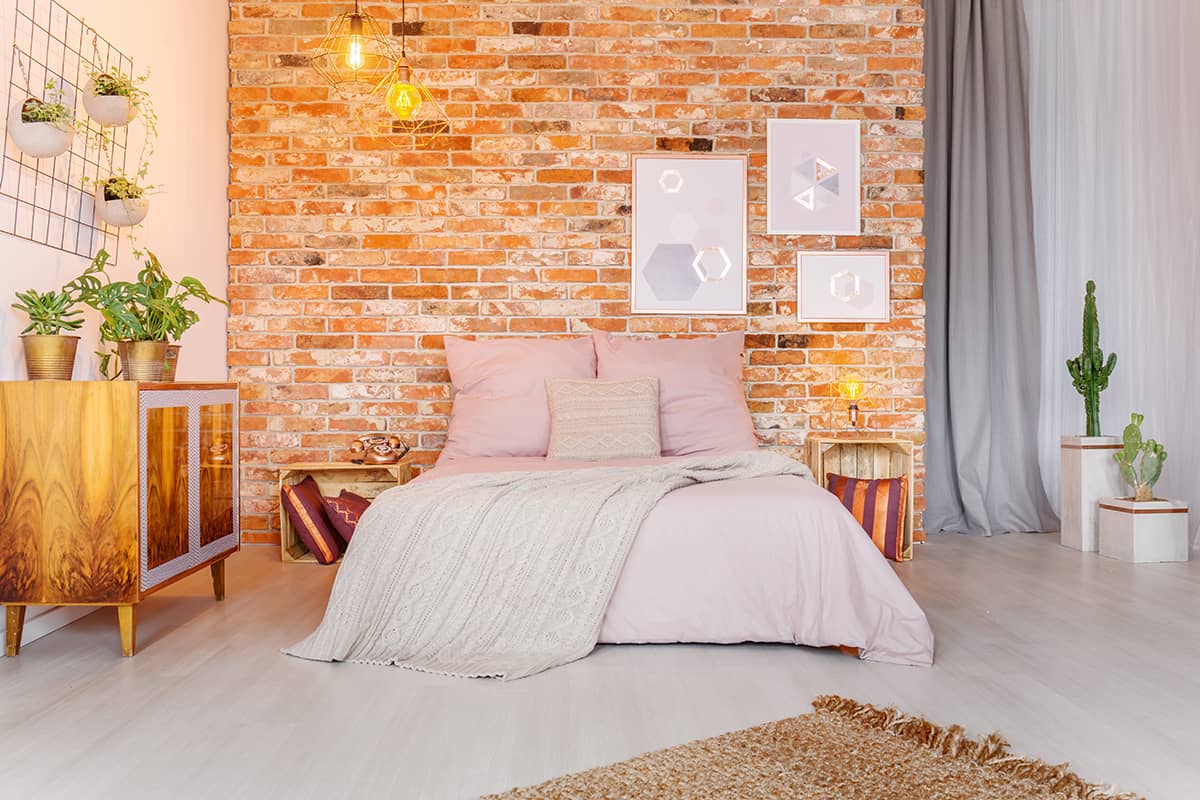 Rust might be a popular color in interior design right now, but it pales in comparison to the popularity of millennial pink. This muted, dusty pink shade can seemingly be used in all manner of styles and color schemes.
It works well with brick and rust to bring a modern and playful edge to a room. For example, if the room is predominantly decorated in brick and rust, choose millennial pink curtains and millennial pink cushions to add a touch of frivolity to the space, so it doesn't seem so stuffy.
You can use rust and brick in a room which is predominantly colored with millennial pink to give the space a touch of elegance and sophistication, making it feel more like a grown-up space.
In a bedroom with millennial pink walls and a millennial pink rug, position a rust-colored upholstered ottoman at the end of the bed and brick-colored lampshades on either nightstand.
Olive Green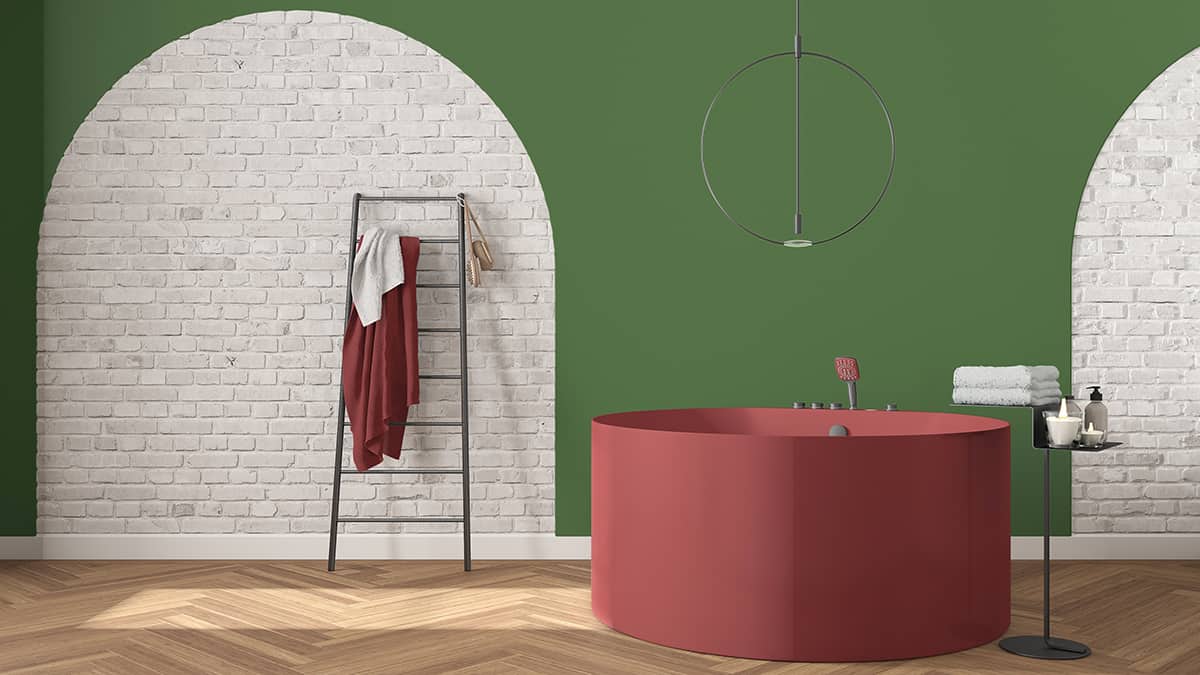 Since brick and rust are both very earthy and natural colors, you can pair this color scheme with olive green perfectly.
In a room with off-white walls, opt for an olive green sofa and rust-colored cushions, along with a brick fireplace surround, a rust rug, and some houseplants for extra dimensions of green. This color scheme is great for an urban jungle-themed room, with rust-painted walls and a feature wall with olive green foliage print wallpaper.
It will create a vibe that feels fresh and warm, where you want to chill out and relax at the end of the day.
The way that these colors are associated with nature helps to bring the outside in, creating a sense of connection between a home's interior and exterior. This is important for our well-being, to feel in touch with the natural world, and it helps us to feel focused and secure.
Midnight Blue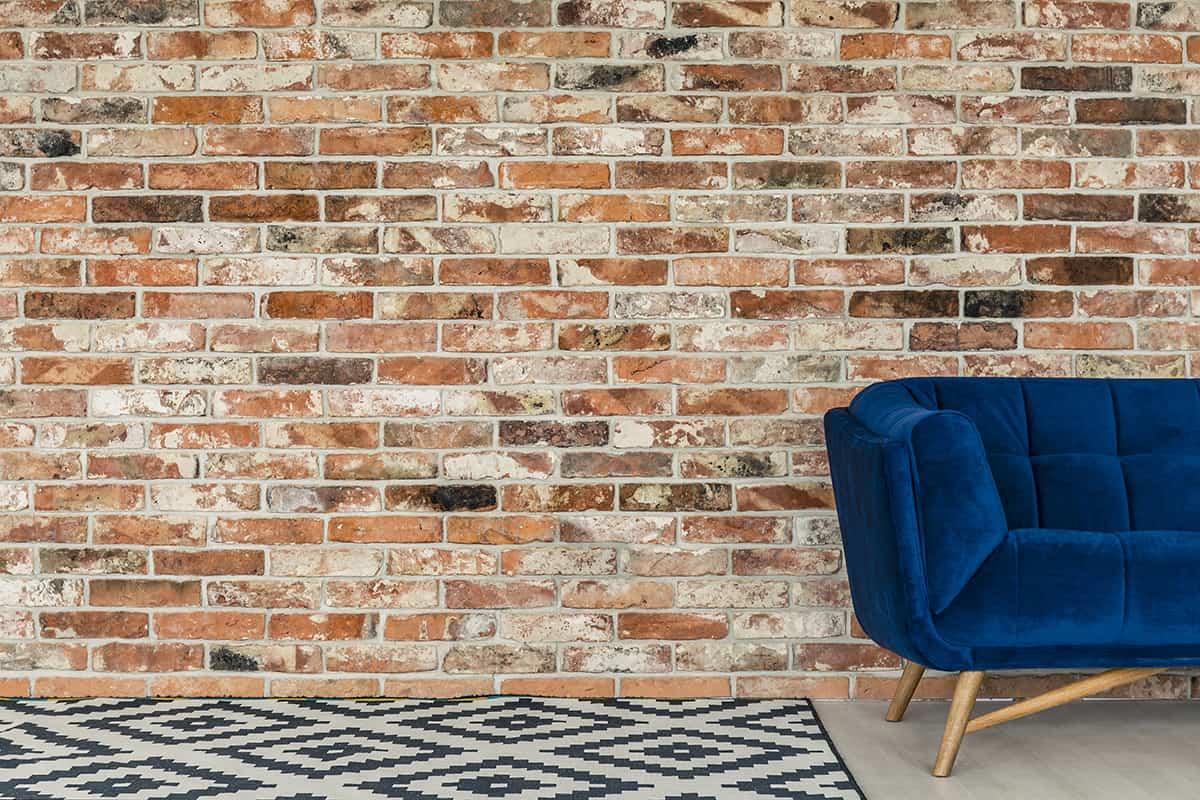 Midnight blue added to a rust, and brick color scheme creates a slick contrast. Blue and orange are opposite colors on the color wheel and therefore are complementary and contrasting colors. Rust and brick are both orange-based colors, and midnight blue is, of course, a dark blue color, so these create a contrast together.
However, the contrast feels more muted since midnight blue color is dark instead of vivid. The resulting look is one that feels modern and eclectic.
In a loft apartment, paint the walls midnight blue and choose rust-colored soft furnishings such as curtains and blankets. This style would also work for a bohemian look, with a vintage parquet floor and a woven wall hanging.
Blue is known to be a color that is soothing and relaxing, and despite the dark shade of midnight blue, it still possesses these qualities. It offers a stillness and a sense of peace that comes from its connection with the midnight sky.
This is a perfect energy to pair with rust and brick because these colors have warm and welcoming energy, so the resulting space will feel peaceful and warm. It will work well in a living room or bedroom, as well as a contemporary kitchen or dining room.
Forest Green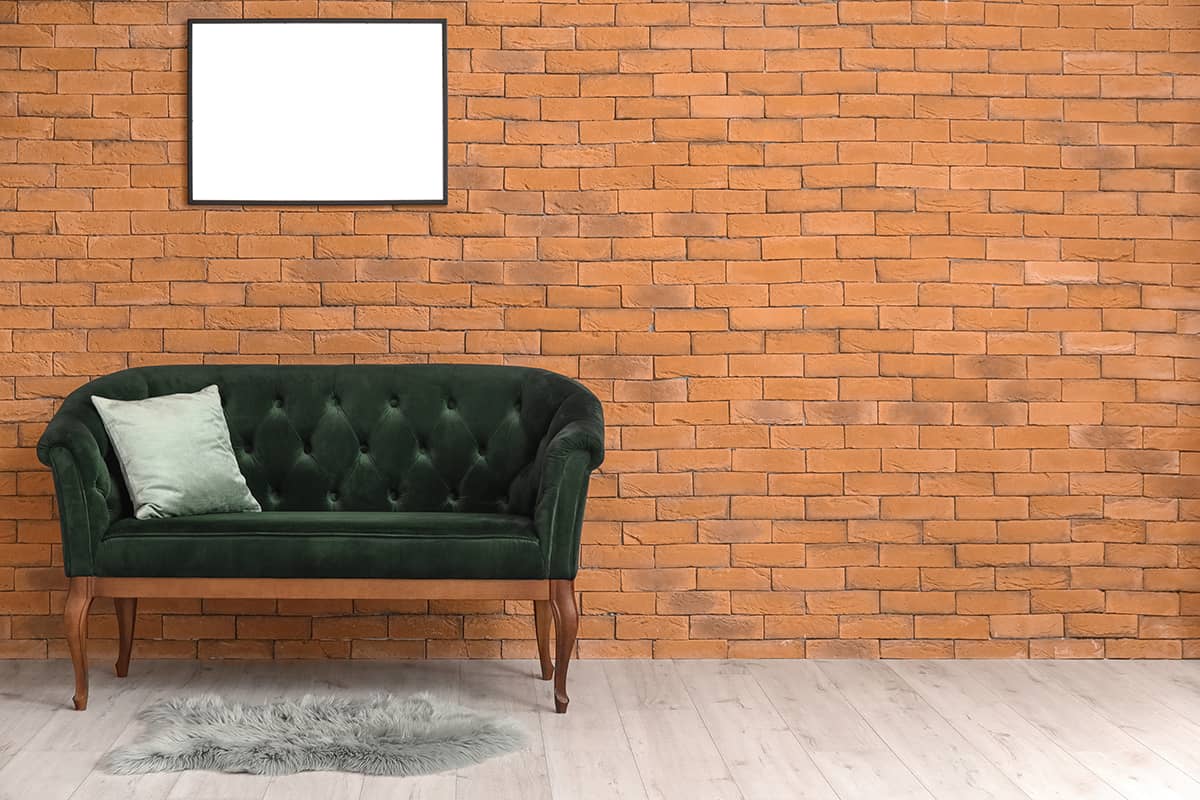 A brick and rust color scheme matches perfectly with forest green to create a space that feels wild and energetic. This color is aptly named because it feels reminiscent of a deep forest, with a medium to a dark shade of green.
Rust is an earthy shade like the color of rich and fertile soil, so it pairs really well with the natural hues of forest green.
These colors can be used in a modern glamorous style, with rust-painted walls and a forest green velvet sofa with gold metal legs.
It will also work well in a more natural-themed space. For example, a living room with white walls, a rust-colored woven rug, and forest green cotton sofas. Accentuate the natural theme in this room with rattan baskets and an array of houseplants.
White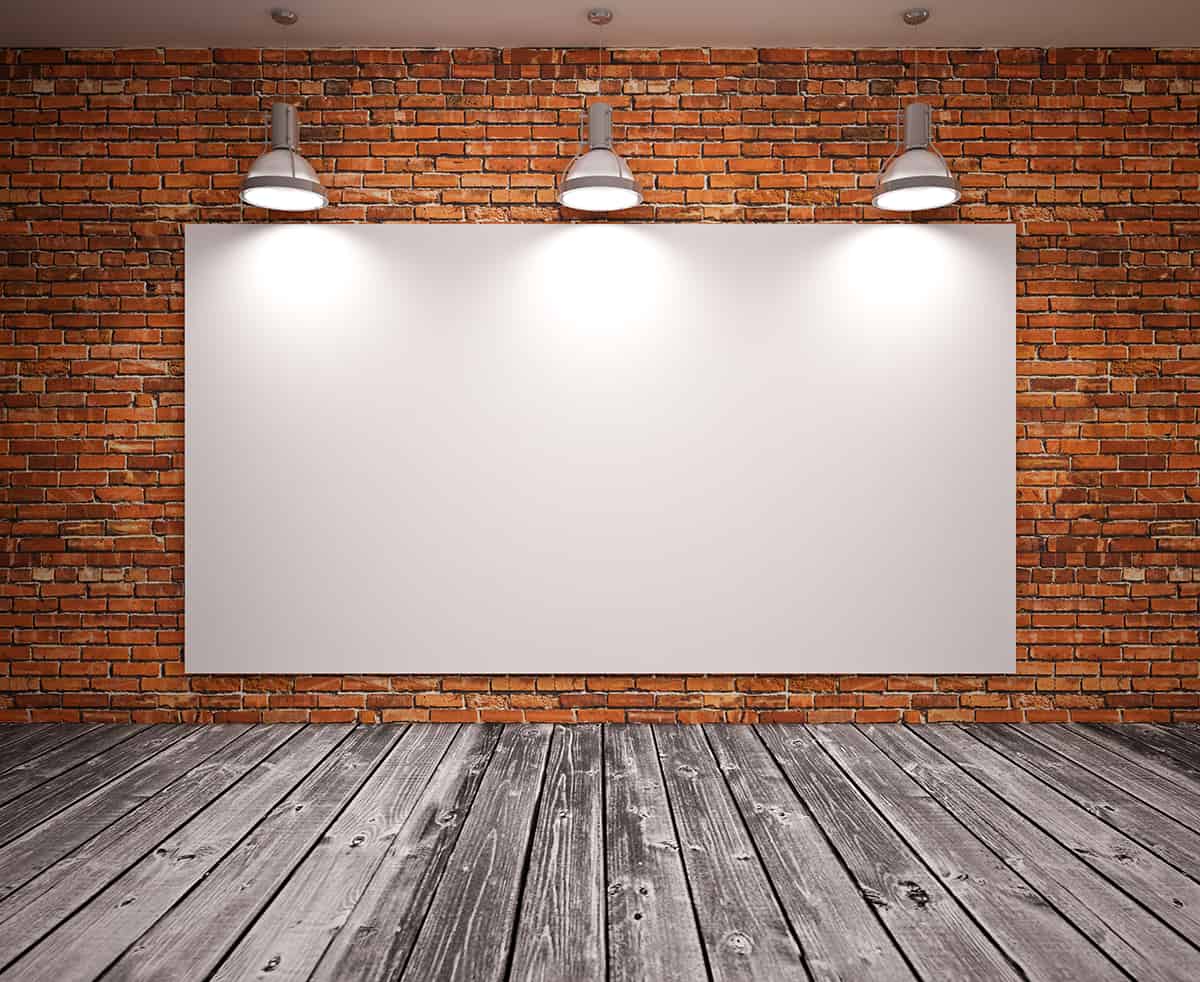 A rust and brick color scheme will create the ultimate contemporary look. Paint the walls in a crisp, pure white paint for an art gallery style look, and use rust and brick-colored furniture and accessories to bring a warmth that will balance out the cool white shade.
Use predominantly white furniture with the occasional splash of rust and brick, such as an exposed brick feature wall, a rust-colored chaise lounge, and some rust-colored planters.
White is a color that can be tricky to use as a wall paint because the way it translates will heavily depend on the light in the room. A low-lit room may read as gray or blue, whereas a room with plenty of natural light will look brighter or a purer white.
Since you will be adding rust and brick-colored accents to this, the way that the white reads won't be as important because these colors will help to warm up the space even if the low levels of natural light make the white feel cool.
Pale Gray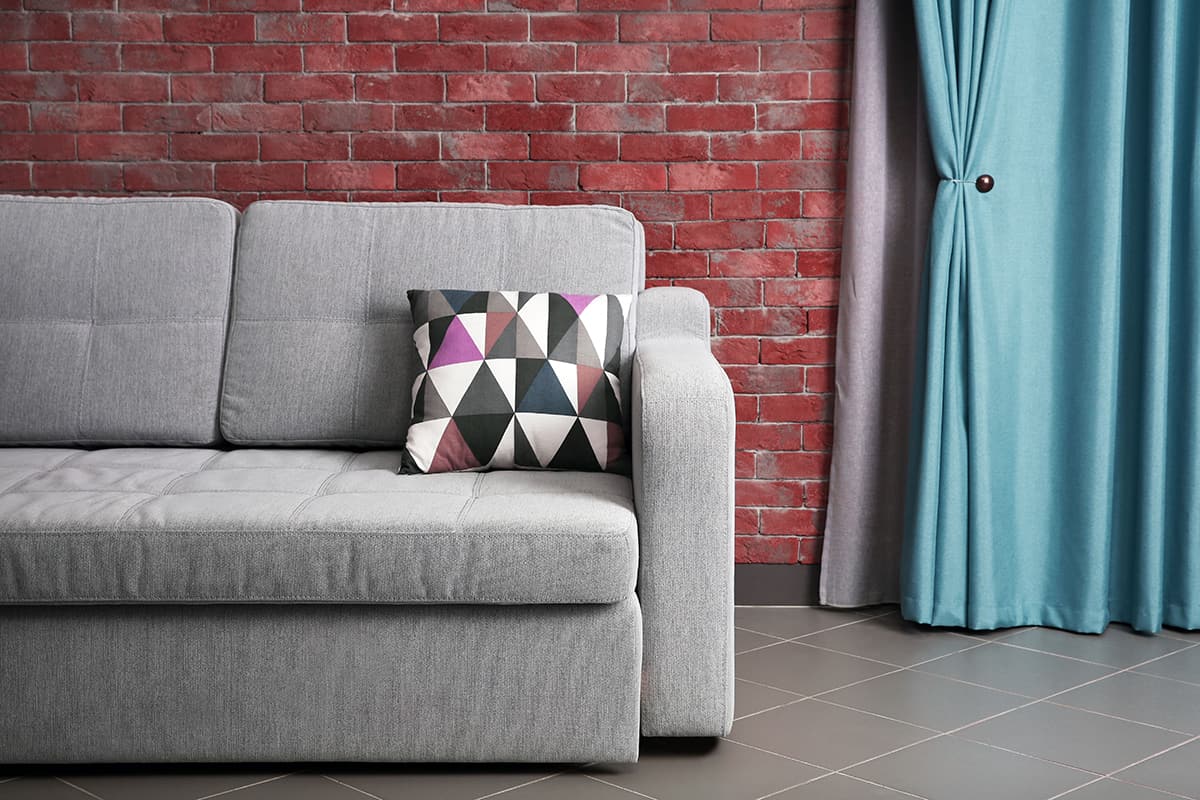 Pale gray colors that have cool undertones of blue, green, or purple will look modern and chic with rust and brick accents. Since rust and brick are both warm shades, and pale gray is a cool shade, they are able to create a muted contrast.
Paint the walls of a bedroom in pale gray and choose a brick-colored upholstered headboard for the bed, along with white sheets and rust-colored cushions.
The resulting look will feel contemporary and casual. This is a really beautiful gender-neutral color scheme that will be ideal for a teenager's bedroom or a living area.
Sand
Sand is a pale shade of beige with yellow or orange tones. It will create an analogous color scheme with rust and brick since all of these shades run alongside each other on the color wheel, resulting in a harmonious feel.
All of these shades have a warm energy that will make any room feel inviting and welcoming, achieving a space where you want to relax and spend time.
If you want to create a rich and cozy feel, then use predominantly rust and brick colors in the space with sand as a neutral shade to help break them up. For a more light and airy feel, use sand-colored paint on the walls with rust and brick accents.
Brass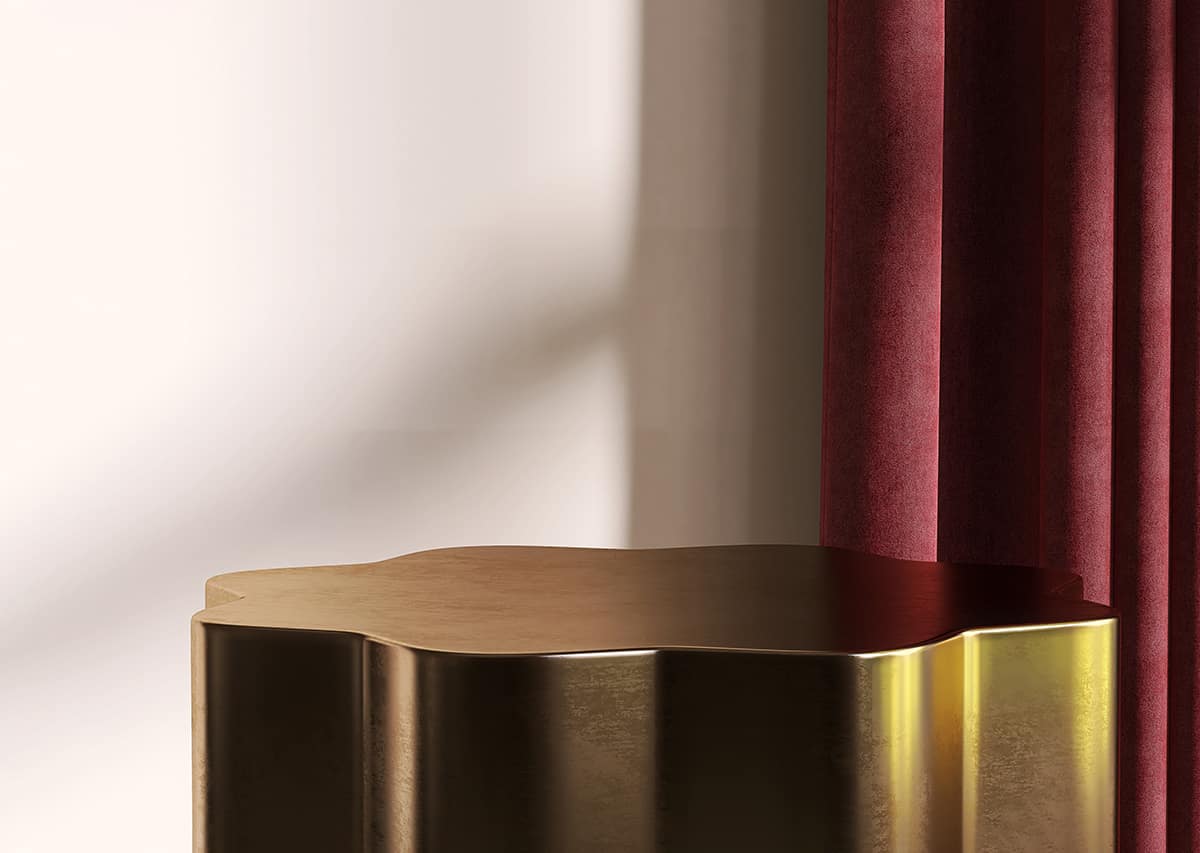 In any color scheme where rust and brick are used, brass is the ideal metal finish to pair with it. This is an alloy that is similar in hue to gold but with a more muted, dull tone. It has a distinctly modern appeal when used in a flat or matte finish.
Chairs upholstered in rust-colored velvet will look stunning with brass metal legs, or choose brass handles on closet cabinets painted in a brick color.
Mustard Yellow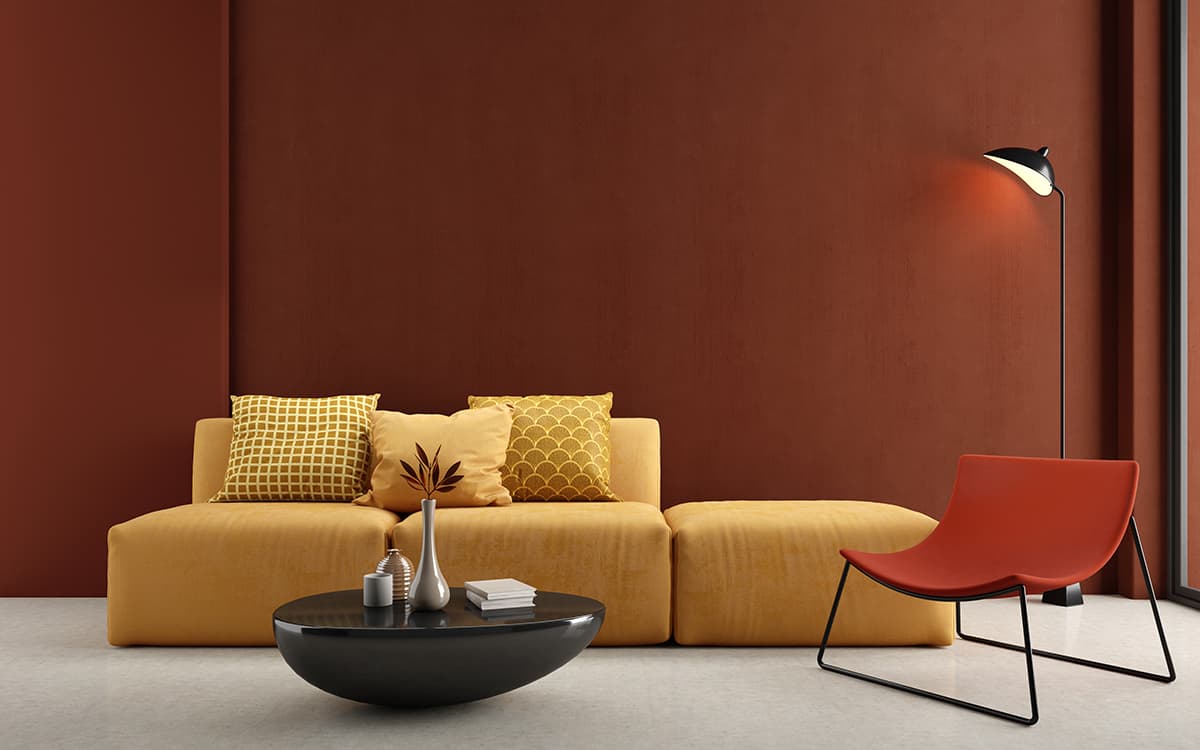 Rust is a very modern shade when paired with the right colors, but it can also have a retro appeal in some instances. To tap into a retro or vintage style, decorate with mustard yellow and rich brown shades alongside rust and brick.
This is a color palette that was popular in the 1970s, and when these colors are used together in the same space, they create a distinctly retro feel. To emphasize the retro vibe, use large and bold patterns such as big florals and circular-based motifs.
You can put a modern twist on this color scheme by using contemporary metal finishes such as copper or brass rather than gold or silver, which would give a more authentic style.