Gray is an enormously popular color in interior decor whose reputation has rapidly been transformed from that of a dull and drab color to a highly sought-after color that is used to create sleek, cozy, or ultra-modern styles.
There are such a huge variety of gray colors available, but in terms of dark gray shades, charcoal gray is undeniably the most desirable. Charcoal gray has become a mainstay in interior design, and it doesn't seem to be going anywhere fast.
Here we look at ways to incorporate charcoal gray into home decor and the best colors to use with it for the most stylish finish.
What is Charcoal Gray Color?
Gray is considered a neutral, but it commonly has undertones that will affect the temperature of the color. Gray with brown or beige undertones will have a warm effect, while gray shades with blue or green undertones appear cooler. Charcoal gray is a distinctly cool shade, which is so dark that it will look black in some lighting.
There are different charcoal shades available, and these can have blue or green undertones, which will alter the effect slightly, but either way, they remain on the cool side of the scales. It is this coolness that makes charcoal gray effortlessly modern, so if you want to bring a contemporary edge to any space, simply add touches of charcoal.
Charcoal gray accents can be added to almost any color scheme because, as a neutral, it can be paired with any shade. Small hits of charcoal gray will create contrast and a sense of weight in a light-colored room, or large swathes of gray will make for a cozy and comforting atmosphere.
Introducing Charcoal Gray to an Existing Interior Style
If you want to update your interior without entirely renovating the room, you can add splashes of charcoal gray instead. This presents an easy and inexpensive option that can really bring new life to an interior. As a truly modern shade, hints of charcoal gray are great for bringing a more traditional space up to date.
Charcoal Frames and Accessories
You can add a contemporary touch to a room just by inserting a few dark charcoal gray accessories to the space. A really easy way to do this, which has a high impact, is with charcoal gray picture frames fixed to the wall. This will look best against a pale-colored wall because the contrast will be intense.
Use these frames for art prints or family photos, and tie them in with other charcoal accessories dotted around the space, such as charcoal plant pots, candles, ornaments, lampshades, or storage baskets.
Charcoal Soft Furnishings
Changing out cushion covers and throws is a really popular and easy way to transform the look of a room. You can add charcoal faux fur blankets or chunky knit charcoal throws to a sofa or a bed to provide a strong hit of the color and increase the impact with a variety of different cushions in charcoal shades.
Select cushion covers of different designs to add interest and a high-end look, such as some plain gray covers, as well as covers in other colors which have charcoal gray prints or embroidery featured on them. Other soft furnishings which can be updated to bring charcoal gray into a room include curtains and area rugs.
Charcoal Furniture
If you are considering making a big purchase for your home, such as a sofa or an upholstered bed frame, then charcoal gray is a good color choice. It is a neutral shade which means it goes well with a wide variety of colors and therefore will still work in your room even if you completely transform your color scheme in the future.
Unlike many neutrals, charcoal gray is a highly pigmented and strong shade, so if you want to choose furniture which is not the usual 'boring' neutral such as beige or brown, then charcoal is a perfect alternative. Adding a charcoal gray sofa to a room will instantly update the space and make it feel stylish and contemporary.
Colors to Use with Charcoal Gray
If you want to overhaul your interior design color scheme, then these are some of the best colors to go with charcoal gray.
Teal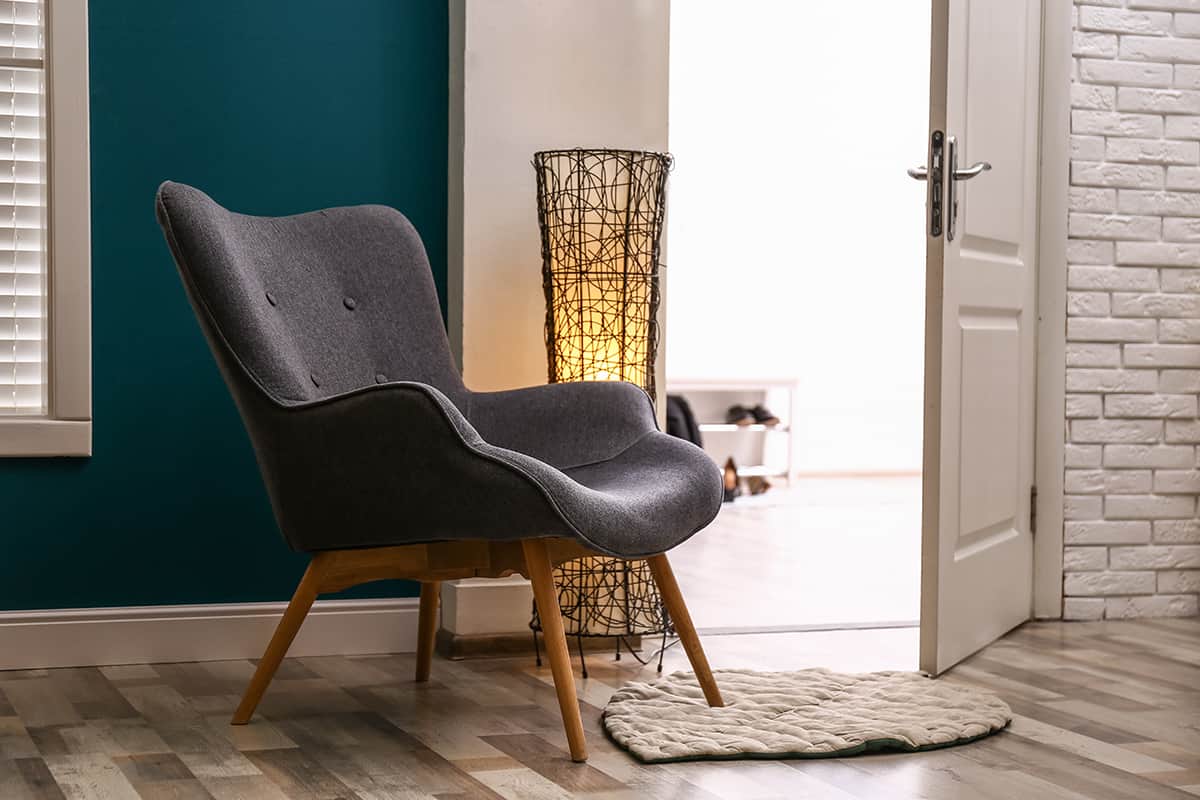 Teal is a deep green-blue shade that is highly saturated, and it requires an equally saturated color to balance it out. Charcoal gray does this job effectively and also serves to mute the teal color so that it feels relaxing rather than intense.
Paint walls in teal paint and opt for charcoal gray trim or charcoal gray curtains. If you want to add a lightness to this color scheme, you can also introduce a third paler color, such as soft pink, off-white, or dove gray, for a contrasting effect.
Blush Pink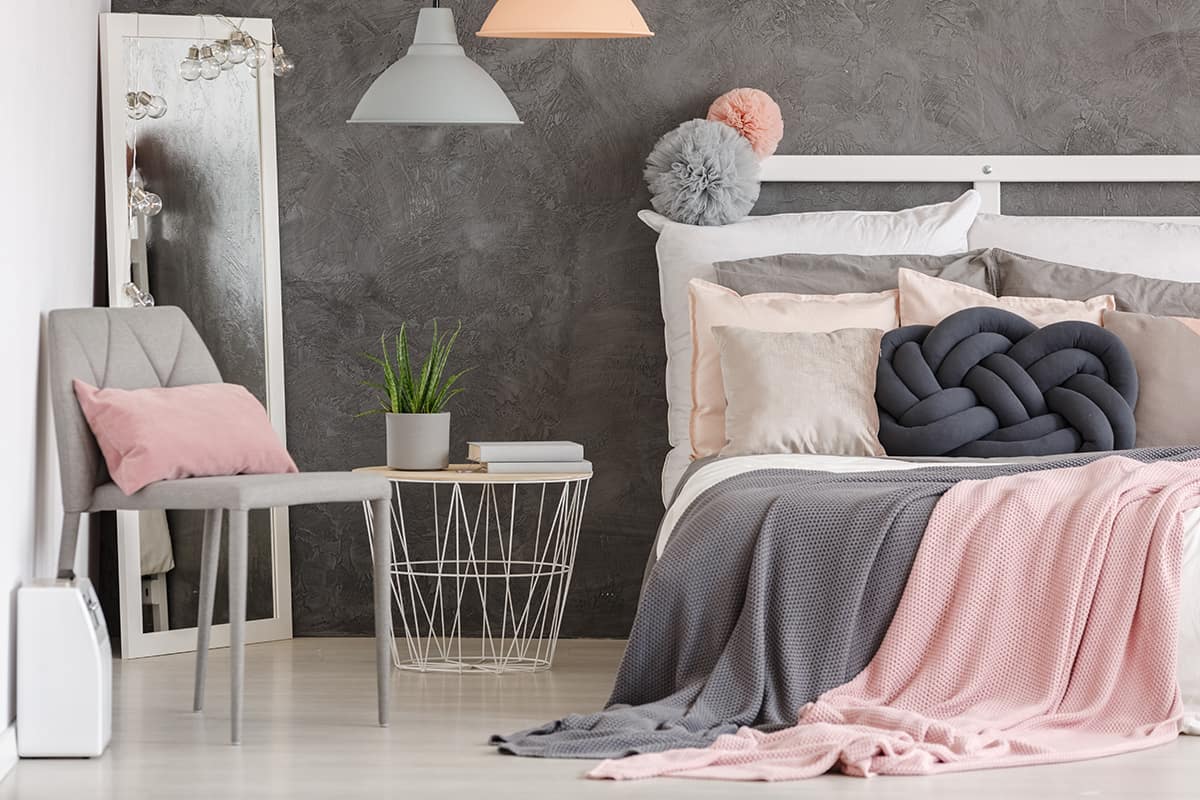 Blush pink and charcoal gray are a match made in heaven. These two colors sit on opposite sides of the spectrum in multiple ways, serving to provide a perfect contrast.
While charcoal gray is dark, blush pink is pale, so they contrast in terms of lightness. Charcoal gray has a strong and heavy feel, while blush pink is soft and dainty, so they also contrast in terms of associations. This means they balance each other out really well.
If you are concerned that charcoal gray will feel too oppressive or harsh, then incorporating blush pink into the color scheme will add gentle femininity to the space, which takes the hard edge off of charcoal gray.
Similarly, if you are a fan of blush pink but don't want a room to feel too overtly pretty, then using dark charcoal gray accents will ensure the room feels modern and balanced.
Mustard Yellow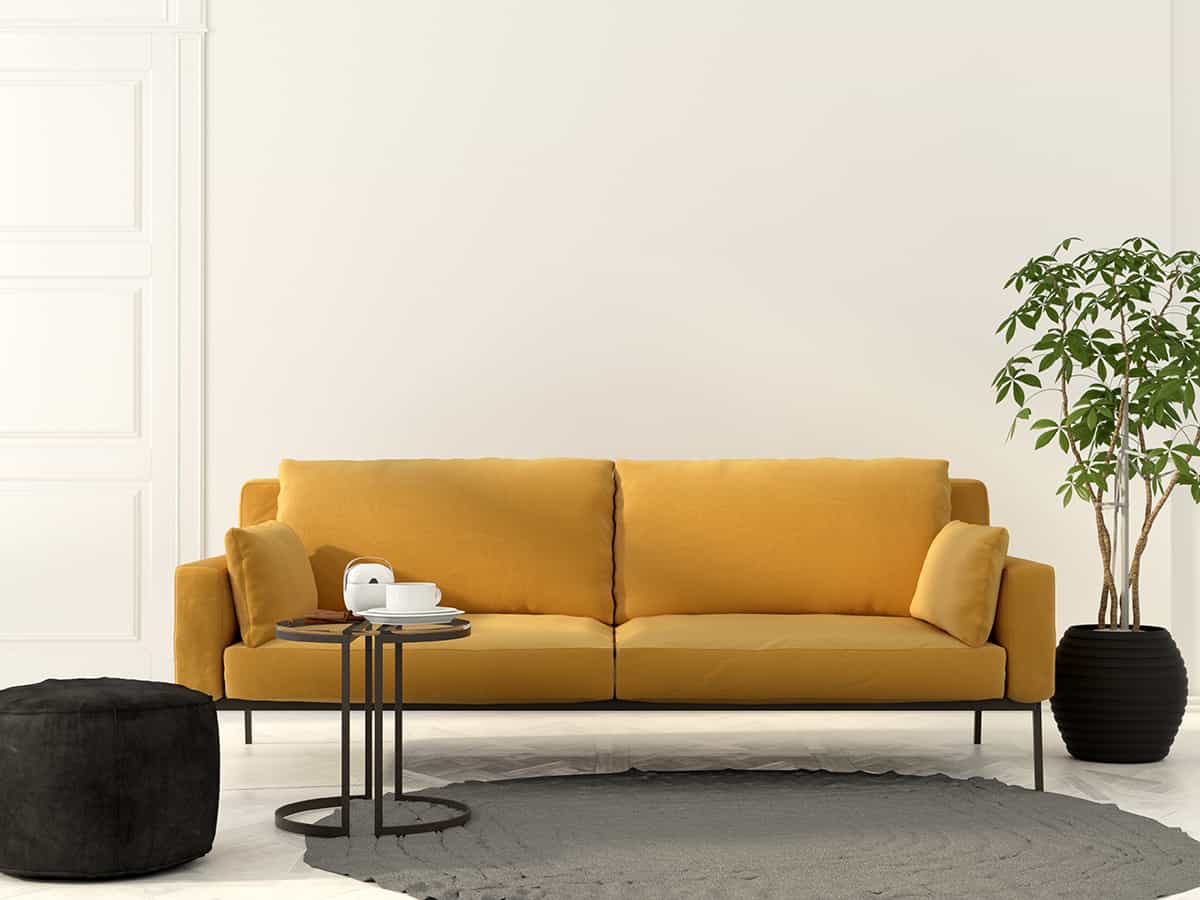 Mustard yellow is a warm and rich color that can make a cold charcoal gray space feel more welcoming. These are two shades that contrast each other really well, and as they are both heavily pigmented, there is no battle over which color is the more dominant.
To create a cozy and relaxing space where you want to unwind, paint walls in charcoal gray and invest in soft and sumptuous mustard yellow soft furnishings, such as suede curtains or a velvet sofa.
Texture, as well as color, is important when you are trying to create a particular atmosphere, so pay attention to fabrics and the way they feel against your skin in order to help you make the right choices.
Copper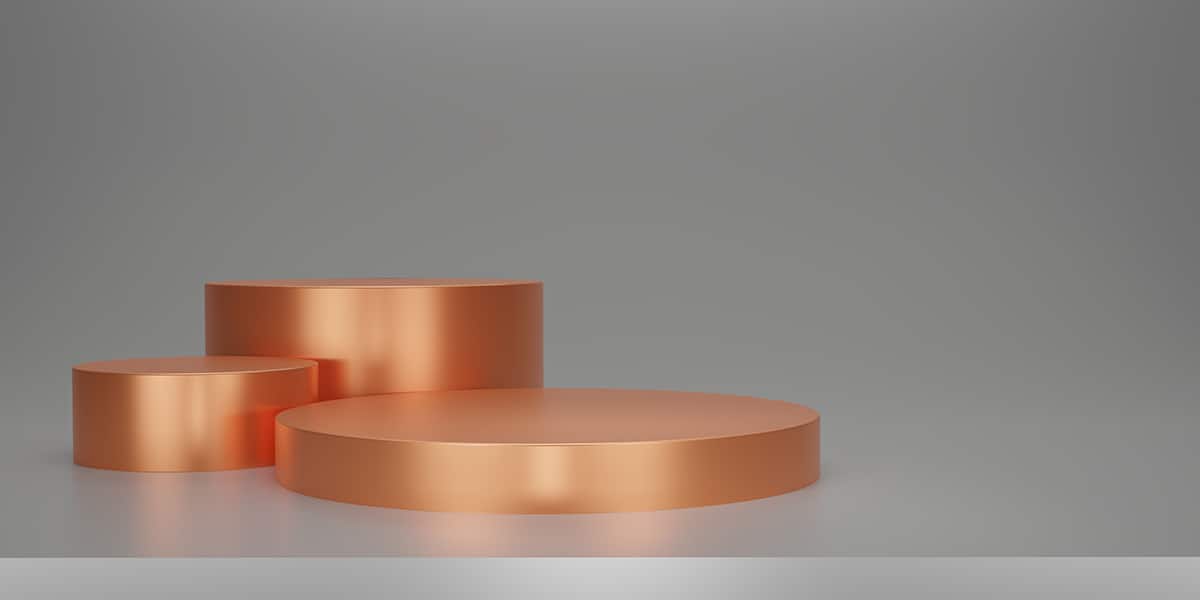 When it comes to metal surfaces in a charcoal gray room, copper is an excellent choice. It is both warm and contrasting, and it is a striking modern choice that will stand out against a charcoal gray background.
Both glossy and matt copper finishes go well with charcoal gray, and they work best when they are positioned directly next to each other so that the intense contrast can be enjoyed.
Consider using a copper frame on a charcoal gray wall or copper metal legs on a charcoal gray sofa.
If you want to see more copper inspiration? Check out our guide on colors that go with copper.
White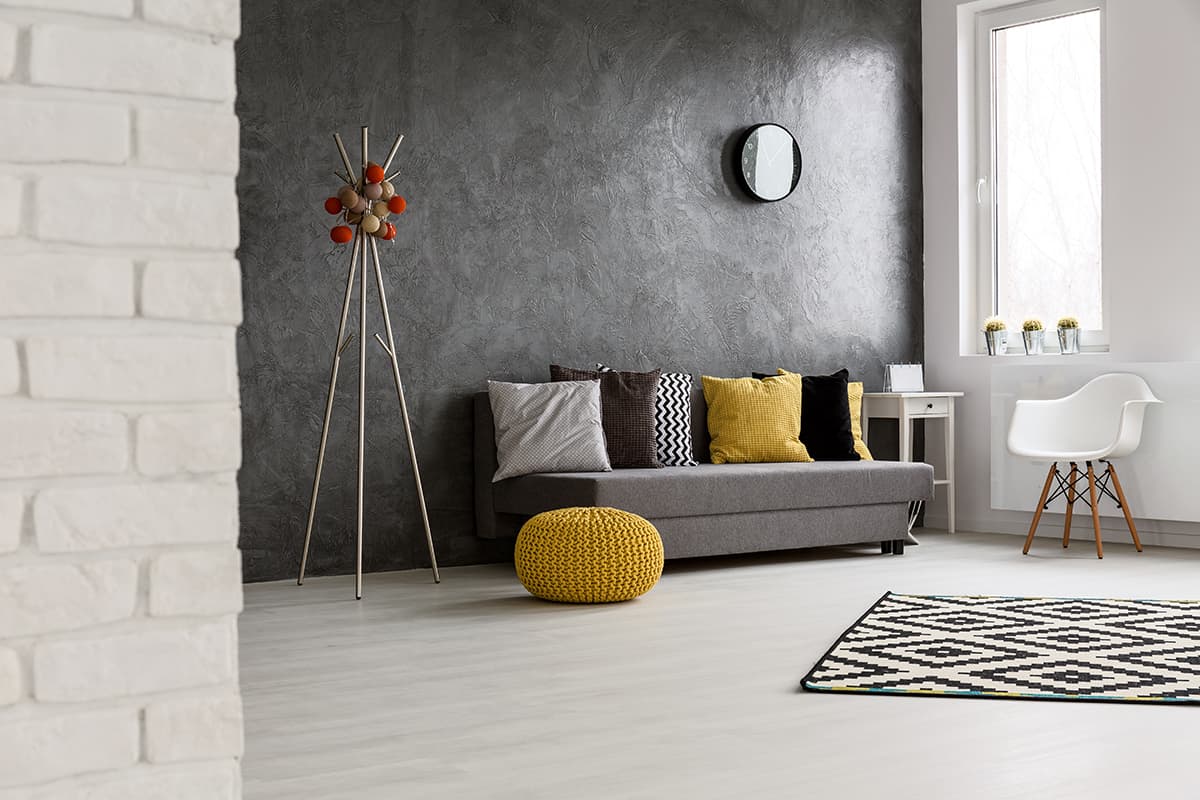 Charcoal gray is among the colors that can be used alongside white for a modern or minimalist style. As charcoal is so close to black, white and charcoal can be used to achieve a slight twist on a traditional monochromatic color scheme.
Pick one of these colors to use as the main color and accent it with the remaining color because if the two colors are used in equal amounts, it can give a chaotic and confusing feeling.
For example, opt for charcoal walls and charcoal sofas with small hits of white in the way of white trimmed cushions and white candles. This will make for a cozy yet elegant space.
Alternatively, paint walls white and keep the main furniture pale, then add little touches of charcoal to create a striking contrast, for example, with charcoal light fittings or charcoal-painted floating shelves.
Greige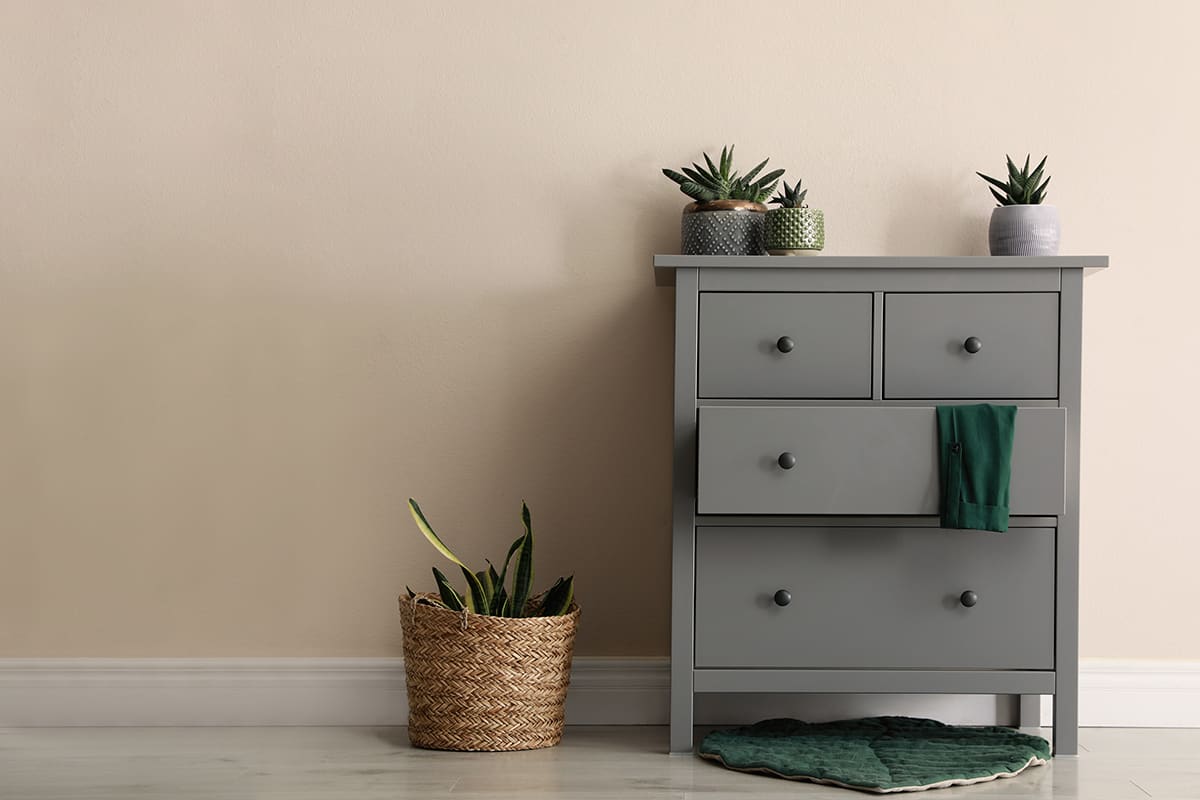 Greige is a color that is a cross between gray and beige. It is a popular color choice in modern decor because it is able to look timeless and classic while also being contemporary and fresh. Charcoal gray will instantly become more sophisticated when used alongside pale greige.
Consider this color pairing for more grown-up areas of the home, such as the master bedroom, dining room, and kitchen. If you have charcoal gray wardrobes or kitchen cabinets, paint the walls in a greige shade to maintain a neutral space while adding a feeling of elegance to the room.
Greige is a really nice color choice for furniture because it will work with both warm and cool color palettes in the future, ensuring your investment purchase won't need replacing when you want to switch up your color scheme.
Charcoal gray is a color that works best with pale shades of greige because they offer the best contrast. Medium to dark shades of greige will blend in with charcoal gray too easily and can result in a space that looks flat or dull. The exception to this is if you are also using a pale third color, such as white.