Greige is a shade that is achieved when blending gray with beige. Many interior designers think of greige as the perfect neutral because it balances the warmth of beige with the modernity of gray. Beige is a color that can easily go wrong and end up looking too pink with a 90's vibe or even too orange.
Gray is an equally tricky color because it comes in so many varieties with different undertones, and it can make a space look cold. However, both of these colors have appealing attributes which can be appreciated with greige.
One of the great things about greige is that it will go well with almost any color, so the sky's the limit when it comes to choosing your color scheme. Having endless possibilities can make it difficult to come to a decision on what to pair with greige, though, so check out our guide on some of the best colors that go with greige for some inspiration.
We will also investigate how to choose the best shade of greige for home interiors and how to implement the color in home decor.
Choosing the Right Shade of Greige
if you want to find a shade of greige for your wall paint that will feel warm yet modern and that will go with any color, it's vital that you choose a truly balanced greige. There is an easy way to do this by utilizing paint swatch strips. You should gather a handful of paint swatch strips that contain shades of greige you want to consider.
The greige shades will usually be among the top three colors at the paler end of the swatch. What you need to do is look to the bottom end of the swatch, where the colors are darkest.
These colors will indicate to you what the undertones of the greige will be. For example, on one paint swatch, you may find a color at the paler end that looks like it could be a nice greige to use however when you look at the darkest version of this color, it may be a red-brown or a purple-brown.
The undertones in the darkest color will be visible in the greige when painted on the wall, even though it may not be obvious from the greige on the color swatch. A swatch with a red-brown dark color will have greige that has pink tones, for example. What you should look for is a greige swatch which has a dark color that sits in between brown and black, with no green, red, or other obvious colors evident.
In doing this, you can be sure that your greige will be a balanced neutral, with a timeless look that works with any other colors.
Using Greige in Home Decor
Wall color
Greige is most commonly utilized as a wall color because it lends itself so perfectly to being a base or background color. It is an easy color to work with because it goes well with both cool and warm shades, and it has a timeless quality that makes it feel simultaneously classic and modern.
The warmth of greige makes it feel inviting and relaxing when used as a wall color, while the gray elements of it prevent it from feeling outdated.
If you are looking for a neutral wall color in any room, greige makes for a great choice. Many people find gray alone to be too cold or unwelcoming, while beige can look a little musty. Greige offers the best of both worlds by being a color that is warm and soothing while still maintaining a contemporary feel.
When you use greige as a wall color in a room, use white for your trim or accessories. Greige walls really make white trim pop for a clean and fresh look.
Tile color
Greige works well as a tile color for floor tiles in a bathroom or kitchen, as well as wall tiles for a backsplash. If you have a room that already has a lot of colors, then using greige neutral-colored tiles is a good way to prevent the space from being overstimulating.
A greige backsplash would work well in a bathroom with navy walls and blush pink accessories, or greige floor tiles would make a nice neutral surface in a kitchen with wooden cabinets and olive-green walls.
Furniture paint
if you want to update your furniture, then using greige furniture paint is a stylish way to do this. Greige-painted furniture will work well in any color scheme, which means you can move the furniture between different rooms in the home with the knowledge that it will not look out of place.
For example, a painted greige chair in a pink bedroom could double up as an additional chair in a brown dining room when you have extra guests.
Trim color
Greige makes for a stylish color choice on the trim in interior decor. It provides a subtle and contemporary alternative to typical white-colored trim, giving a softer look. Use greige trim next to darker shades such as navy or charcoal-painted walls for a more muted contrast, or set it against white walls to frame the space and make the walls pop.
Best Colors to Use with Greige
Olive green
Use olive green with greige to achieve a modern natural style. The greige and olive green color duo has an earthy appeal about them which makes them comforting to be around, and they also link to nature.
Opt for greige walls with an olive-green sofa and dark brown wooden furniture, or choose a greige flooring surface in a room painted with olive-colored walls
Dark blue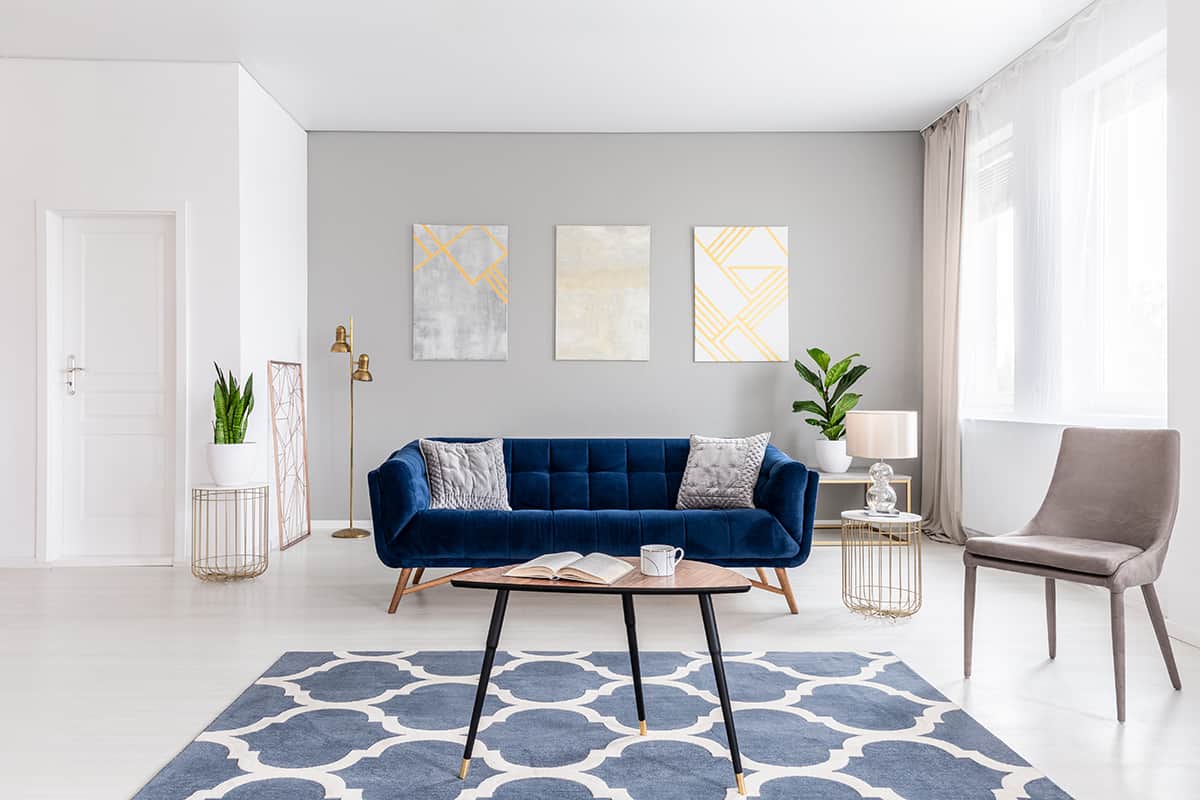 Dark shades of blue like sapphire and navy create an easy contrast with greige that is not too stark or intense but still provides depth and definition. Dark blue and greige can be used to achieve a formal space, or a soothing and casual space, depending on the style of furniture and accessories you choose.
Greige trim can work well in a navy-blue painted room, creating a softer and more subtle contrast compared with white trim. Dark blue accessories such as heavy sapphire blue drapes, or a dark blue sofa, will look cool and modern set against a greige background.
Teal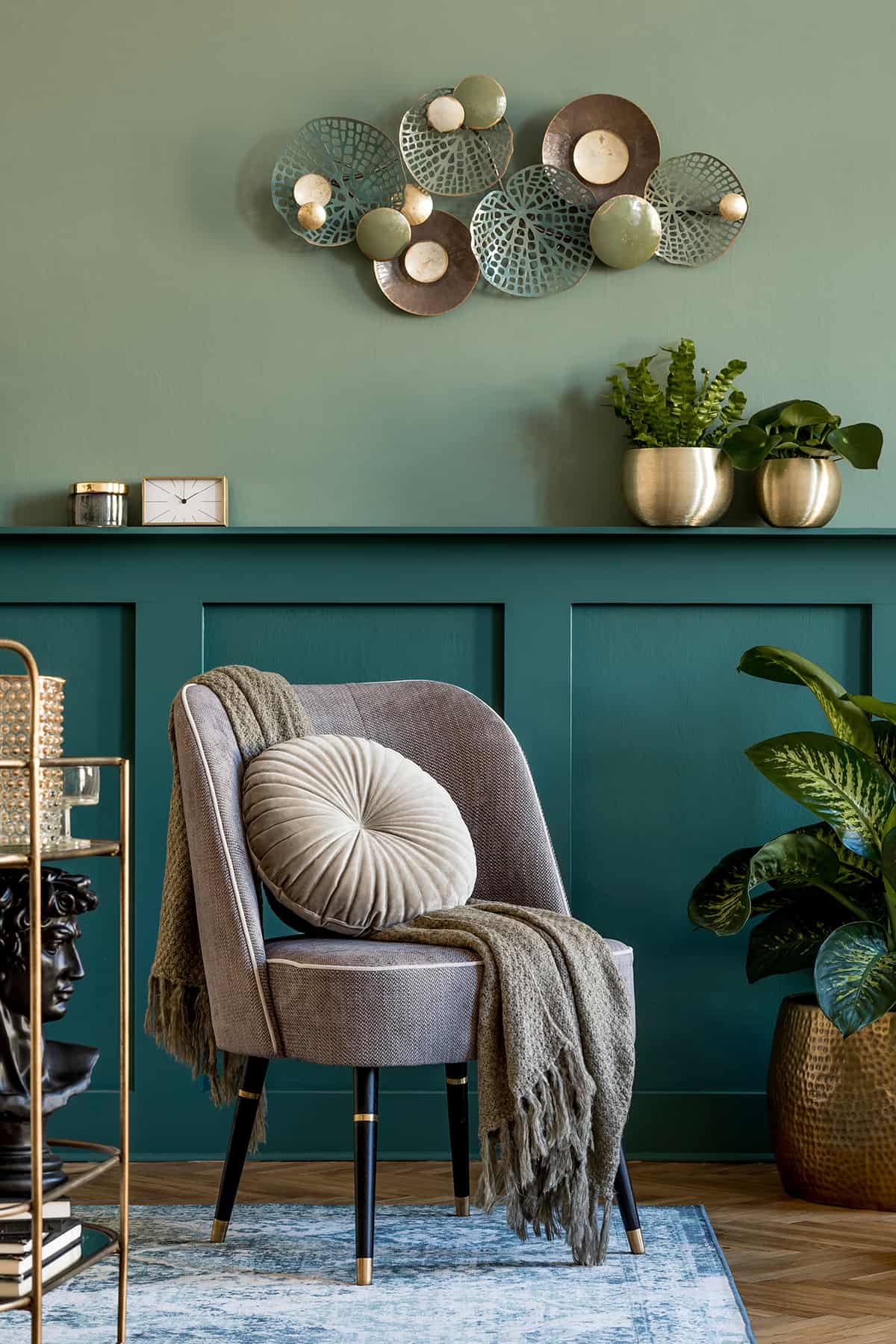 if you want a decor style that has elements of vibrancy amongst a soothing backdrop, choose teal accents in a greige room. Teal is a bright shade of blue-green that feels energizing, and it looks striking against greige despite not being too much of an intense contrast.
Teal can bring an element of fun to a greige room, making it feel interesting and lively while still maintaining a sophisticated style. Opt for small pops of teal color set against greige walls, such as teal lampshades and teal cushions, or commit more heavily to this color scheme by introducing a teal accent wall and teal sofas or curtains.
Lemon yellow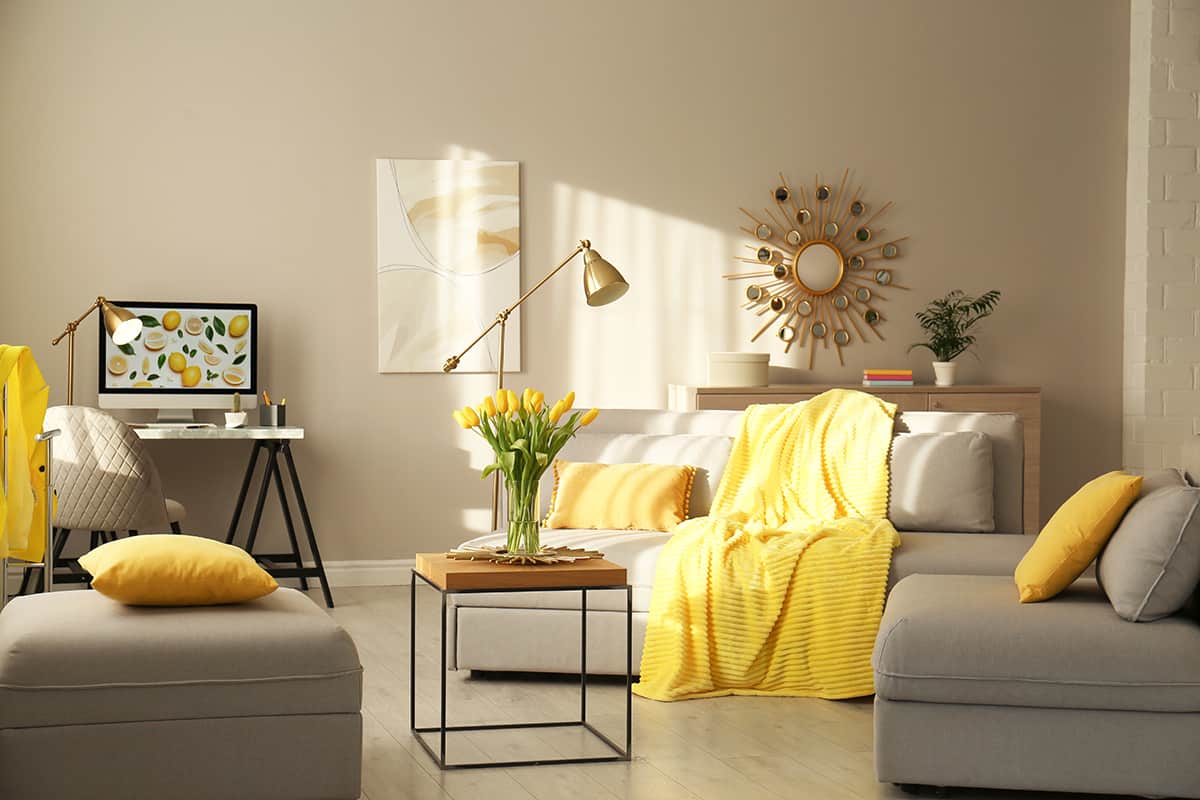 Lemon yellow is a bright shade of yellow that is slightly less saturated and intense than primary yellow, and it can bring a cheerful yet subdued sense to a greige room. Introduce lemon yellow accents alongside a gray and greige room, with greige walls, a gray sofa, and lemon-yellow cushions.
Yellow will also be a nice accent shade in a kitchen because it feels bright, uplifting, and clean. Choose a yellow tile backsplash with greige painted kitchen cabinets or lemon-yellow accessories against a predominantly greige kitchen.
Tan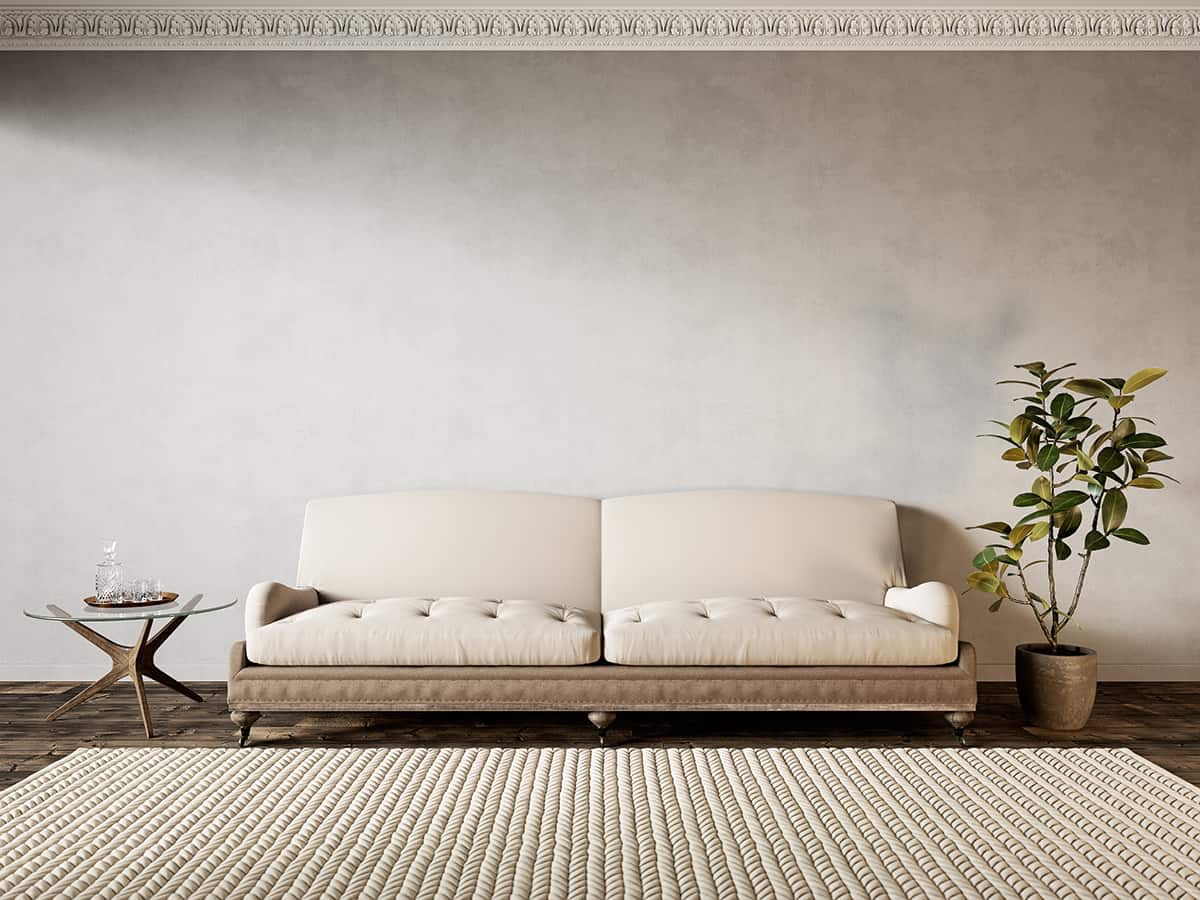 Tan is a shade that hovers between beige and brown, and it is a rich and warm color choice for cozy and comfortable spaces. By pairing tan furniture with greige, you can create an inviting atmosphere that also maintains a contemporary style. Opt for tan leather sofas against greige walls or a tan rug on a greige carpet floor surface.
The warm tones in greige mean it works really well with other warm shades like tan, but there are also subtle hints of cool gray in it that help it to maintain a fresh feel.
If you have tan furniture or accessories and are conscious of them looking dated or old-fashioned, pair them with greige to ensure you achieve a modern look. This will work better than using tan with a cool gray because the different temperatures of the two colors can be too stark and make a space feel awkward.
Chocolate brown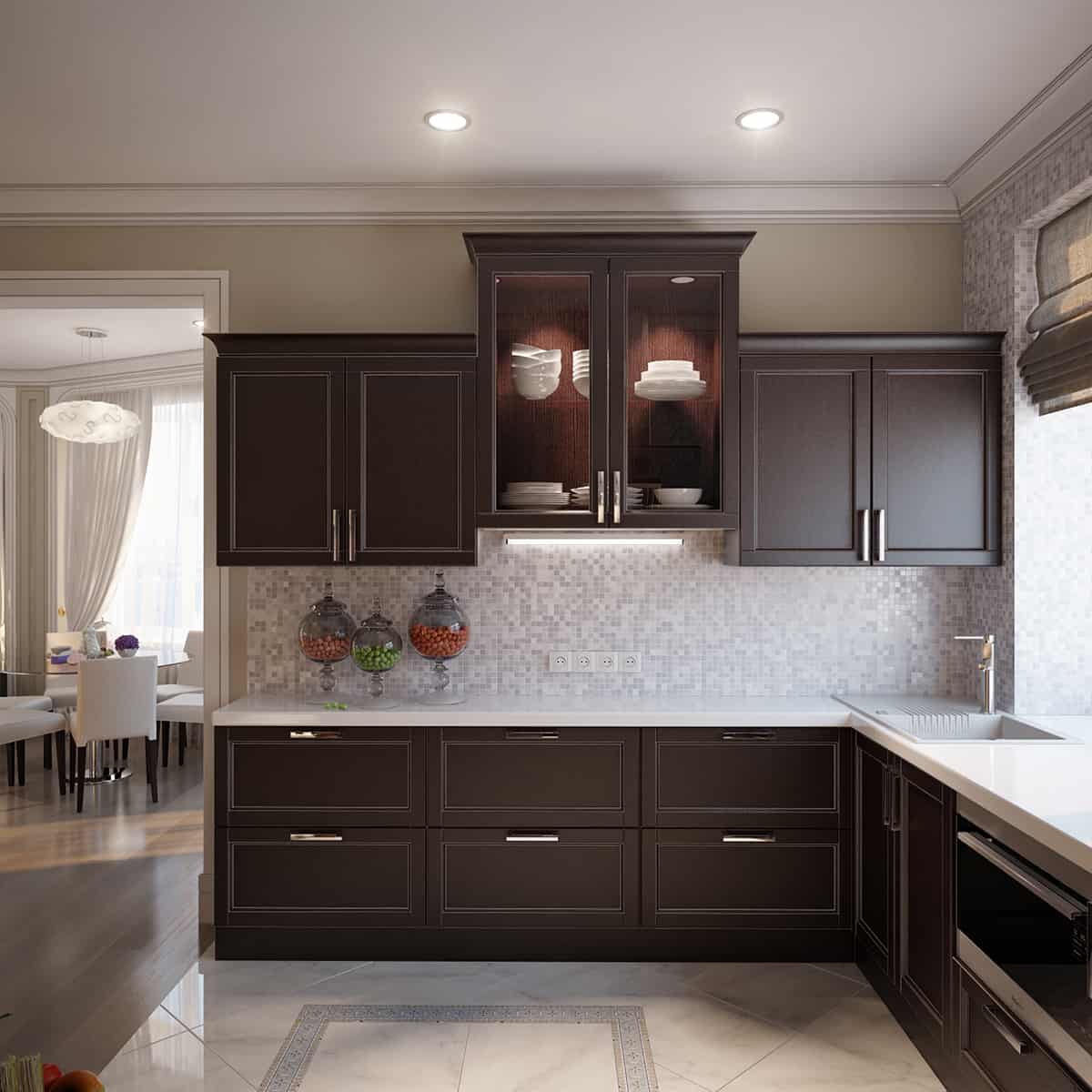 A greige background is perfect for a rich chocolate brown color scheme because it is warm and soothing with a hint of cool undertones, making sure that your chocolate brown items feel luxurious and welcoming without becoming stuffy or too intensely warm.
With greige painted walls, choose brown sofas or rich brown colored wooden furniture to achieve a style that feels sophisticated and high-end.
Chocolate brown hardwood floors also look classic with greige walls, and the greige will help to lighten up brown decor so that it doesn't feel oppressive. This color scheme will work equally well with silver or gold hardware and fittings.