From sapphire and yale to royal and perussian, yes I am talking about the different shades of blue.
It's everyone's favorite color, right? Perhaps no space is better suited for blue than the bedroom. This calming shade emits tranquility, serenity, and spaciousness that's reminiscent of the sea and sky.
If you can't wait to add this color to your sleeping space, then take a look at my collection of stunning blue bedroom ideas with pictures to give you some inspiration.
1. Simplicity is the Name of the Game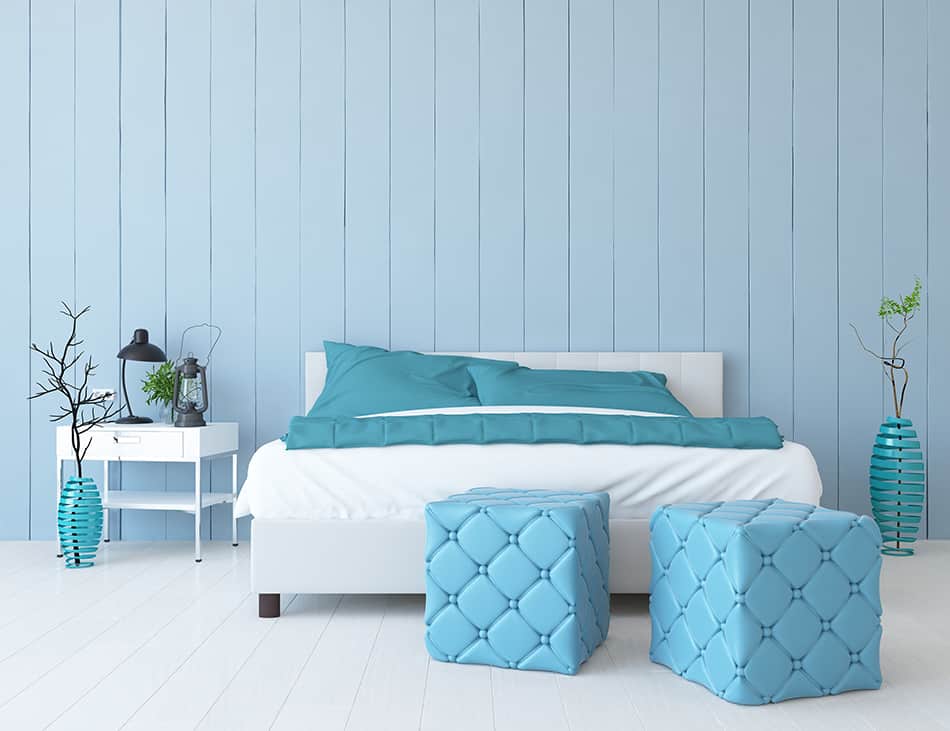 A blue bedroom with a simplistic design is ideal for minimalist lovers who want to feel relaxed and sleep in peace.
This soft blue Nordic-style bedroom is a perfect example of a minimalist design with white and blue bedding, blue walls, and decorative blue vases. The white floor and a matching white dresser type complement the whole look beautifully.
2. Blue in a Modern Bedroom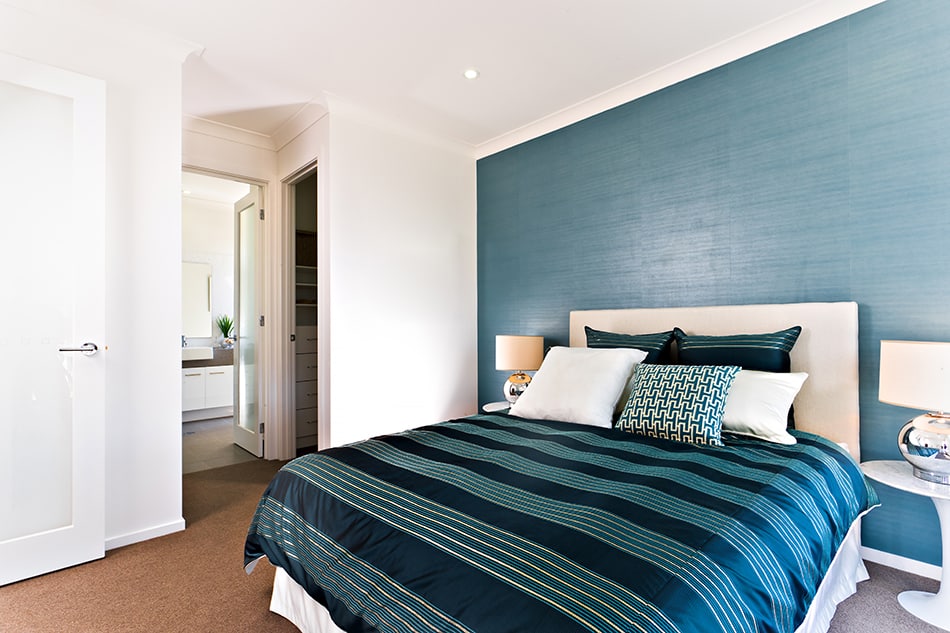 Speaking of minimalism, contemporary bedrooms are best suited for this feature. With simple and minimal decor, you can just focus on releasing all your stress.
To create a relaxing sleeping space, paint the wall blue as shown here. The striped blue bedding with the white and blue pillows match the wall and emit the feeling of relaxation. As a rule of thumb, always keep bedroom accessories to a minimum in order to enhance the modern feel.
3. Blue in a Rustic-Style Bedroom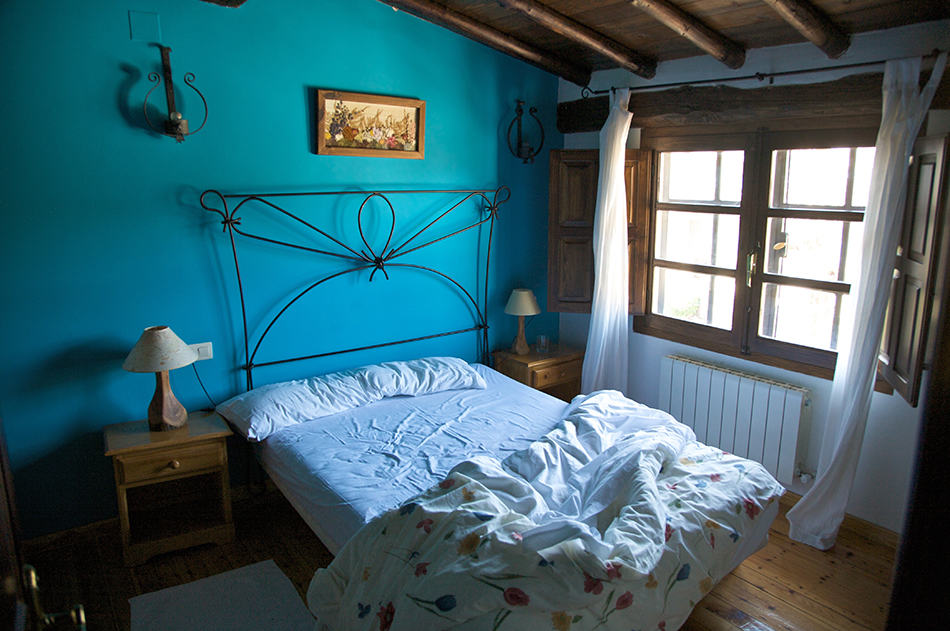 In a farmhouse or rustic-style bedroom cottage, all that's needed to create a vintage touch is a blue wall.
The vintage decor in this example, in the form of wooden bedside tables, lampshades, exposed beams, and wooden windows, means you can add a bold shade of blue to bring all the variations together. Since the blue wall stands out on its own, there is no need to add any other blue accents here.
4. Statement Lighting in a Blue Bedroom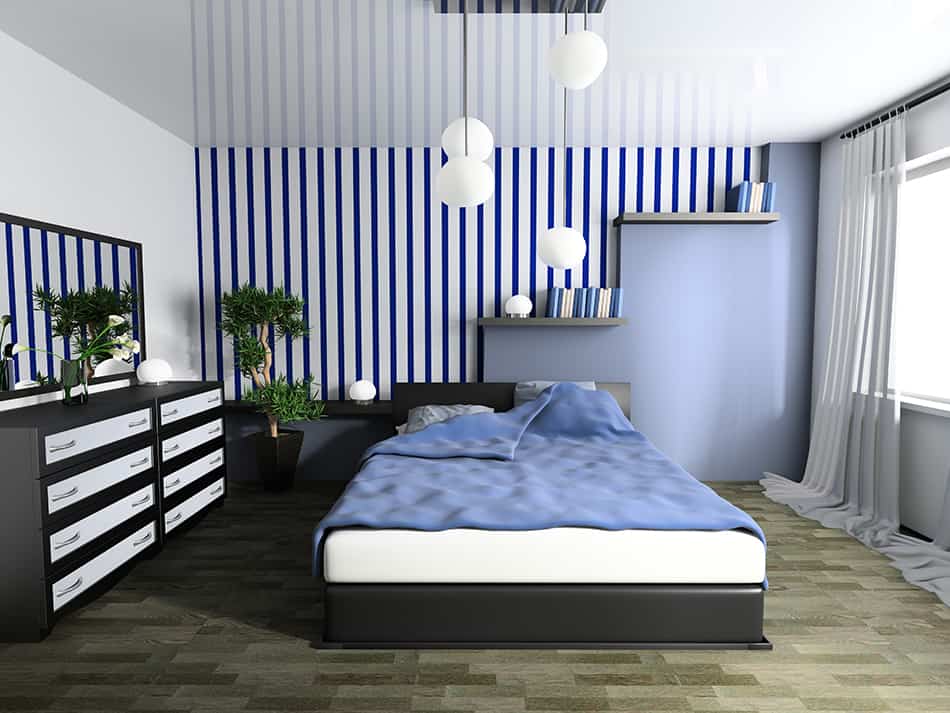 In addition to painting a wall in color blue to make a statement in the bedroom, the right type of lighting can complete the relaxing look. Notice how this attractive bedroom highlights the unique modern lighting that has made a statement.
This time, rather than painting the wall blue, the designer has opted for blue and white striped wallpaper.
5. Blue with Lots of Textures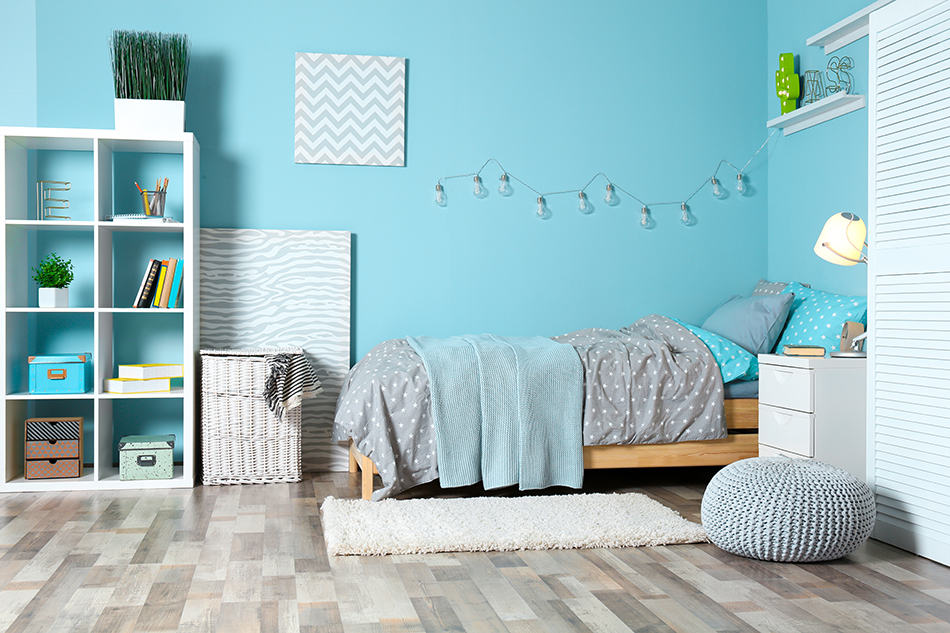 Just looking at a blue bedroom will calm you down and send you into a deep sleep.
This cool shade allows us to focus on the furnishings around the room, so it makes sense to add lots of textures in the form of a throw blanket, pouf, wall art, and floor covering. The soothing tones and monochrome shapes throughout this modern bedroom make the blue wall both bold and understated.
6. Blue with Velvet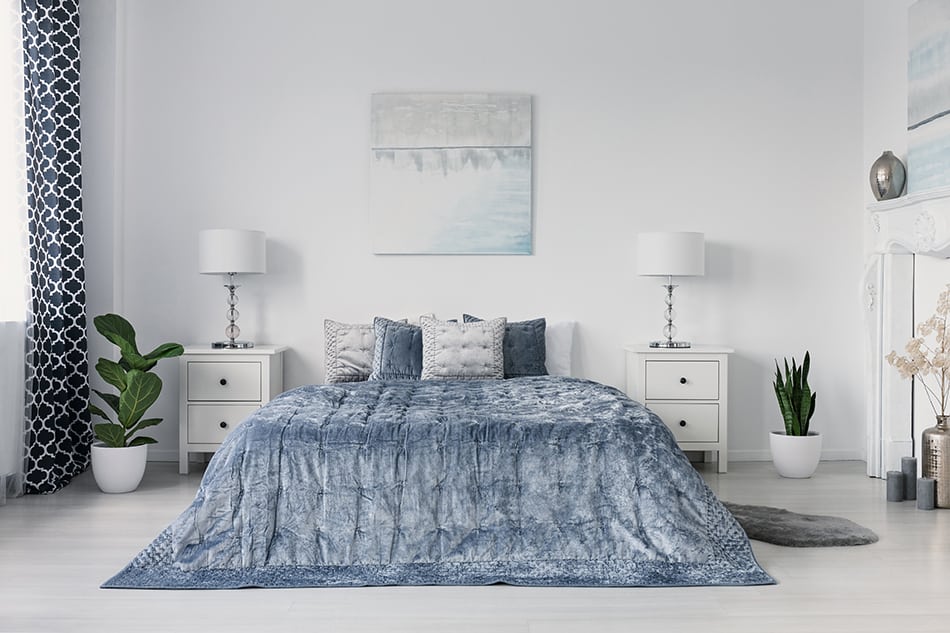 While striking textures are an excellent way to bring modern style to the bold blue bedroom, a subtle shade of blue will work just as well against rich, velvety fabrics.
See how this discreet blue bed has caught the eye with its luxurious bedding and patterned curtain. And it's not just the decorative pillows that complement the bed cover; the wall art also has the same color combination.
7. An Industrial-Style Blue Bedroom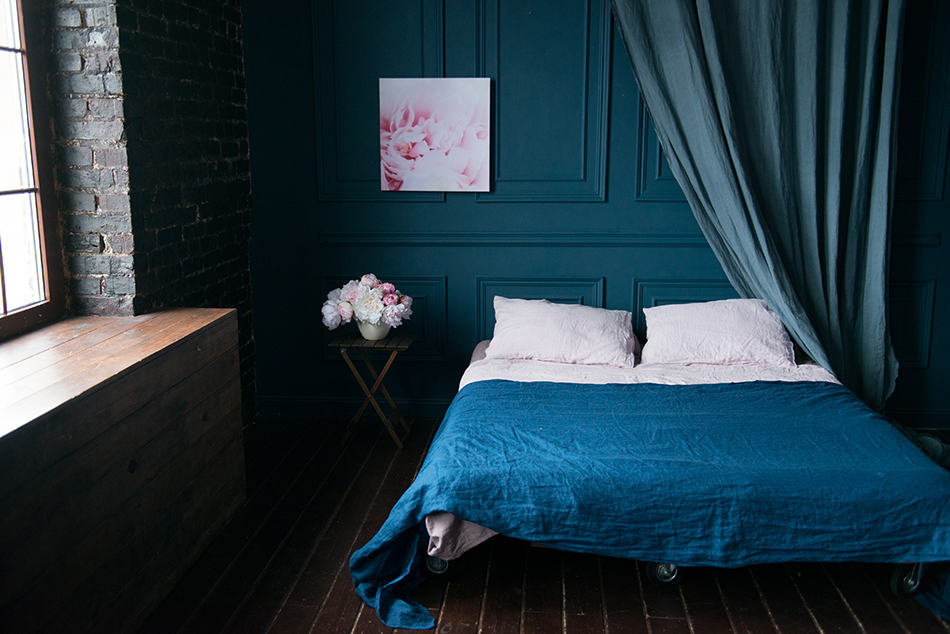 Who said blue bedrooms aren't flamboyant enough? When you introduce dark blue shades like lapis and admiral, you will give your bedroom its own charm and sparkle.
This industrial-style bedroom with its exposed brick wall and wooden panel has provided a contrast to the dark blue wall, matching bedding, and blue curtain. What's more, the peonies and the floral wall art have unexpectedly softened the dominating blue decor, but admittedly, everything works in harmony.
8. A Floral Bedroom for a Feminine Touch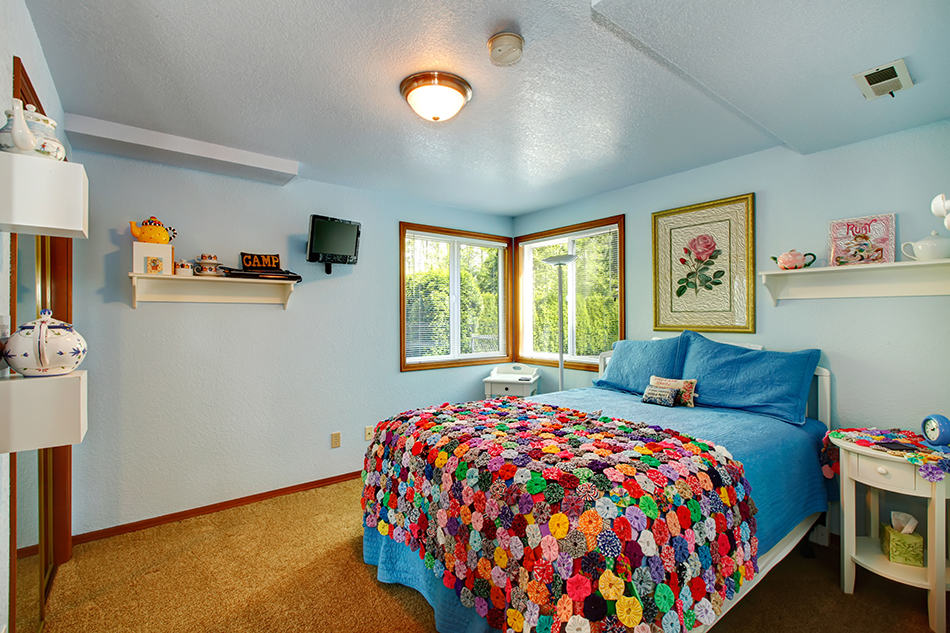 Everyone loves flowers, so why not add floral decor or a multi-color bed covering to complement your blue bedroom.
While the only blue you see here is the bedding and the table clock, the refreshing atmosphere of the room encourages a splash of cheerful accents.
Just one look at this bedroom and you can tell it's designed for a lady. The color palette goes perfectly with the blue pillows and bedding without overwhelming the space.
9. Blue Bedroom for Boys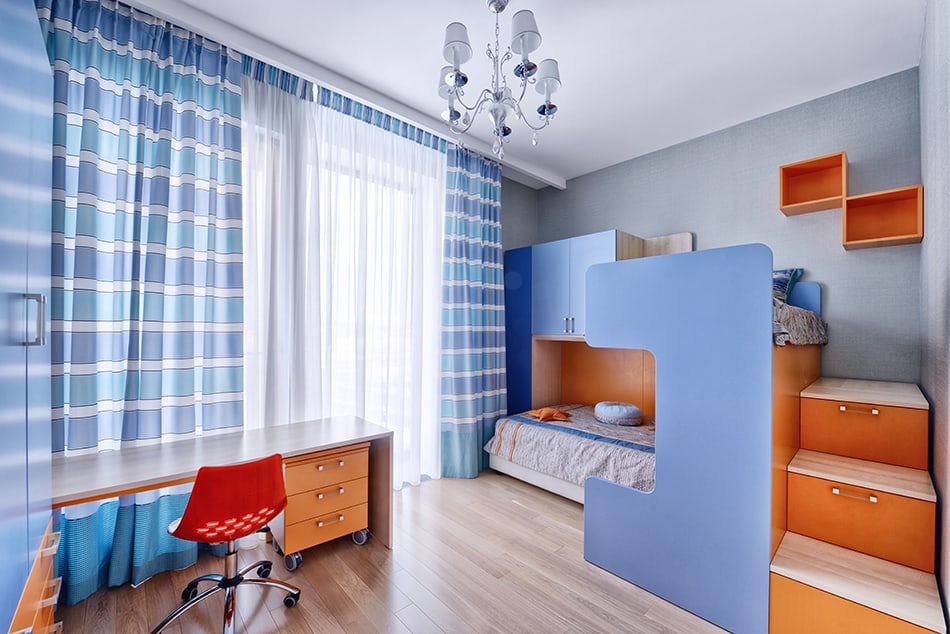 While floral colors are reserved for girls, it's obvious that blue is especially for babies and teenage boys.
There are many ways you can create a boy's bedroom using this beautiful color, from the bedding and curtains to the actual bed and wardrobes. Yes, all of these can be in a shade of blue as shown here.
10. Make Blue Center of Attention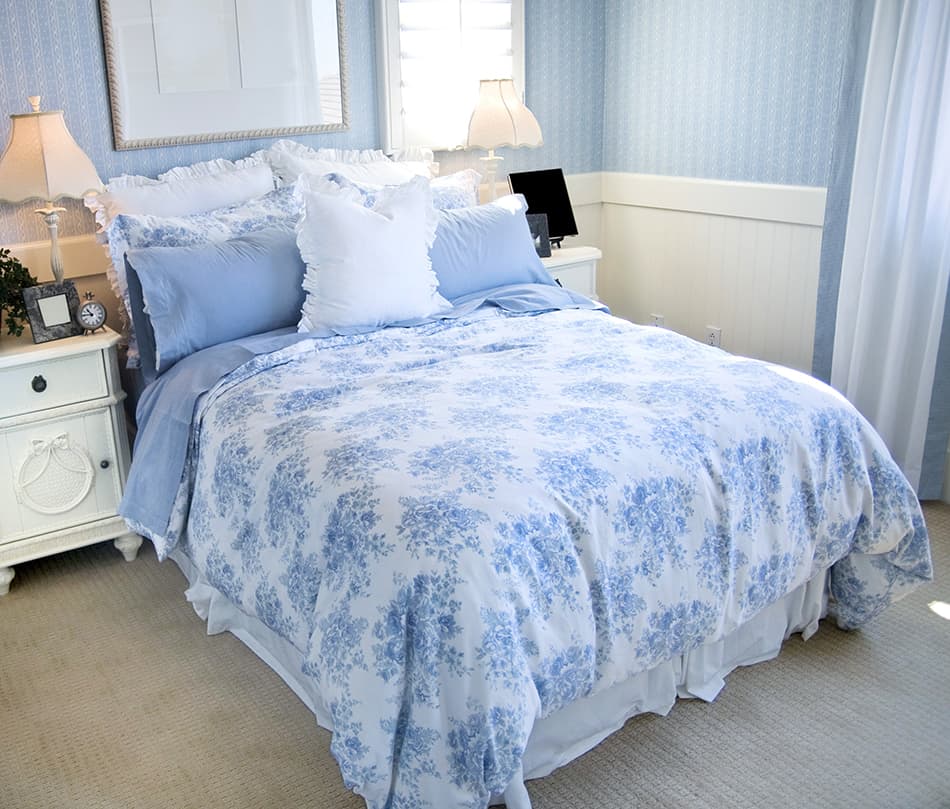 Any shade of blue, especially softer tones, adds style to the bedroom. Here, the color is applied to the walls, bedding, and curtains to emit elegant softness.
This blue bedroom commands attention as it draws the eye to the bed. It's a perfect example of how blue can be a solid color to accentuate the bedroom.
11. Create a Themed Blue Bedroom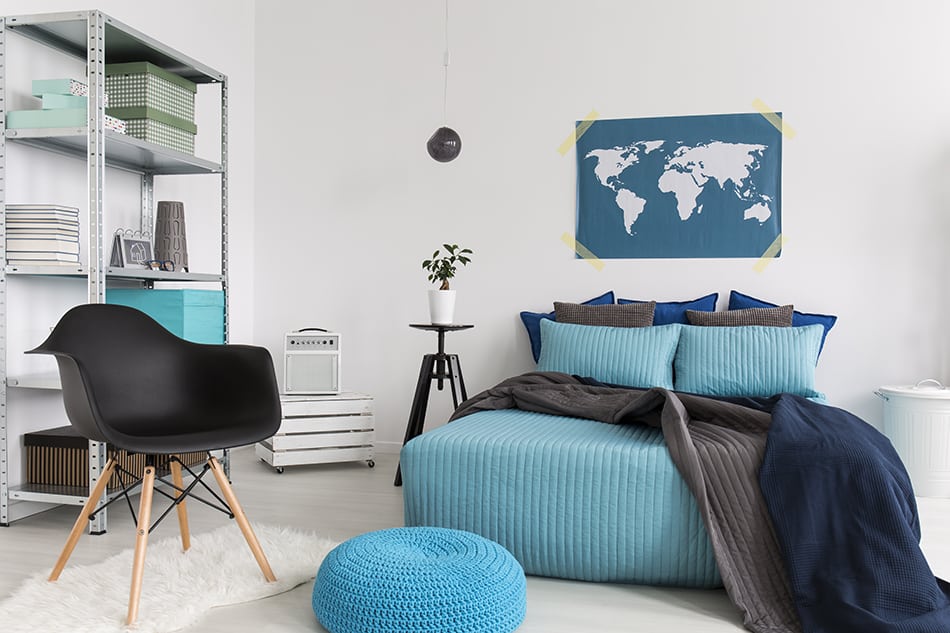 A blue bedroom can be in many themes, from sophisticated nautical style to the traditional travel theme. The resulting effect is certainly mesmerizing.
See how this light blue bedroom has creatively integrated a blue map of the world into the travel theme. When you combine dark blue with muted white and lighter blue shades, you will create a lively and comfortable look just like in this example.
12. Wooden Furniture and Blue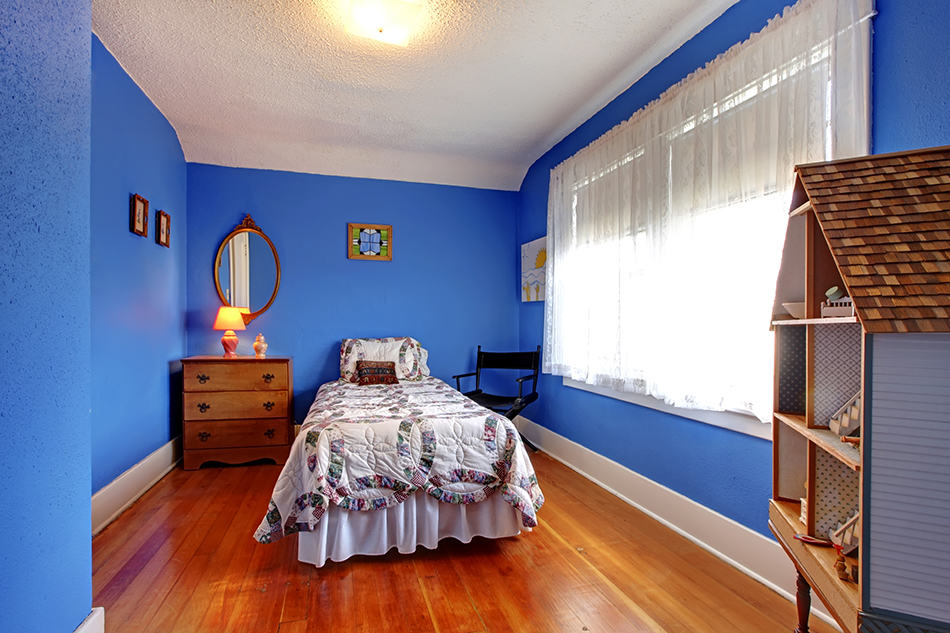 Cherry wood or oak furniture can be an ideal contrast to the blue. The bold blue walls of this bedroom bring a subtle elegance to the wooden furniture and flooring.
Not even the intricately detailed bedding and the popcorn textured ceiling have managed to distract the focus from the contrasting color scheme of the wall and the floor. This bedroom is a classic example of how traditional decor works wonderfully with blue.
13. A Plethora of Patterns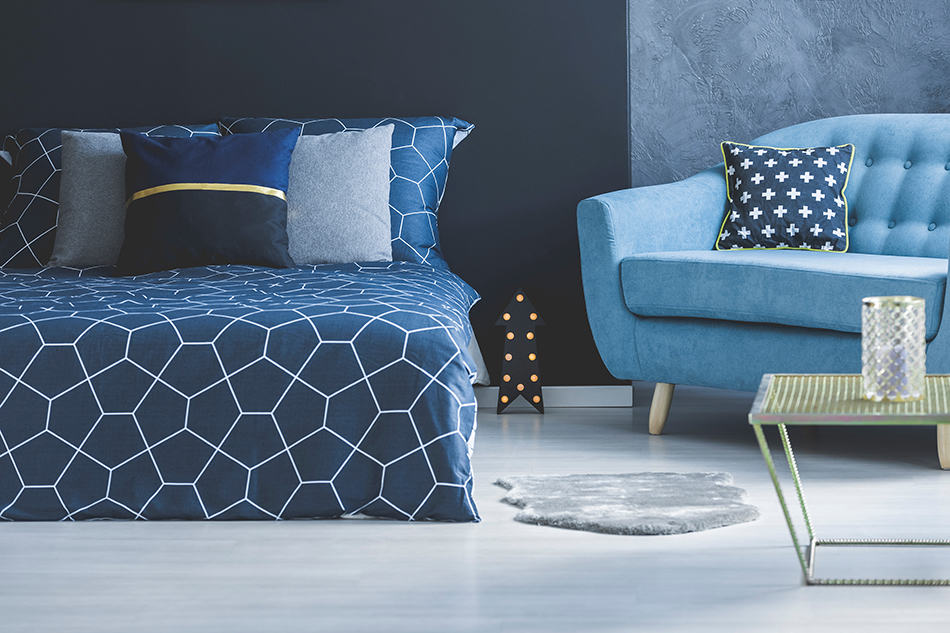 Give your blue bedroom a refreshing touch by adding a plethora of eye-catching patterns throughout the space.
Some unique ideas can be patterned cushions, bedding, and blue textured walls. The vibrant patterns of this blue bedroom have livened up the overall atmosphere.
13 Blue Bedroom Color Scheme Examples
1. Navy Blue Bedroom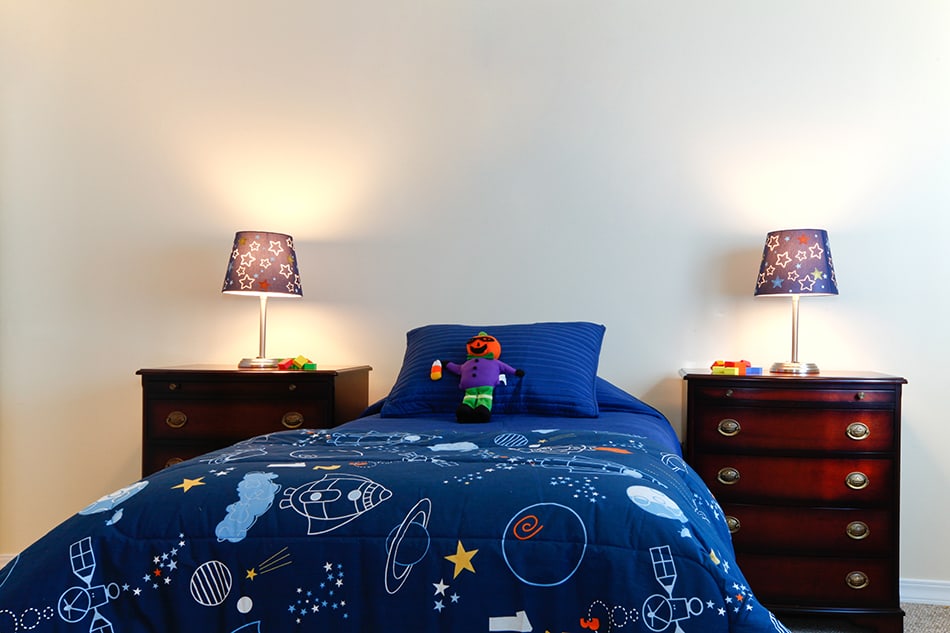 There is no mistaking how masculine navy is so where better to use it than in a boy's bedroom. Why not bring the thrill of the stars to the bedroom by incorporating navy into the bedding and the lampshades just like here.
Navy is certainly the color that every boy loves as it makes their room stand out from the crowd.
2. Blue and Beige Bedroom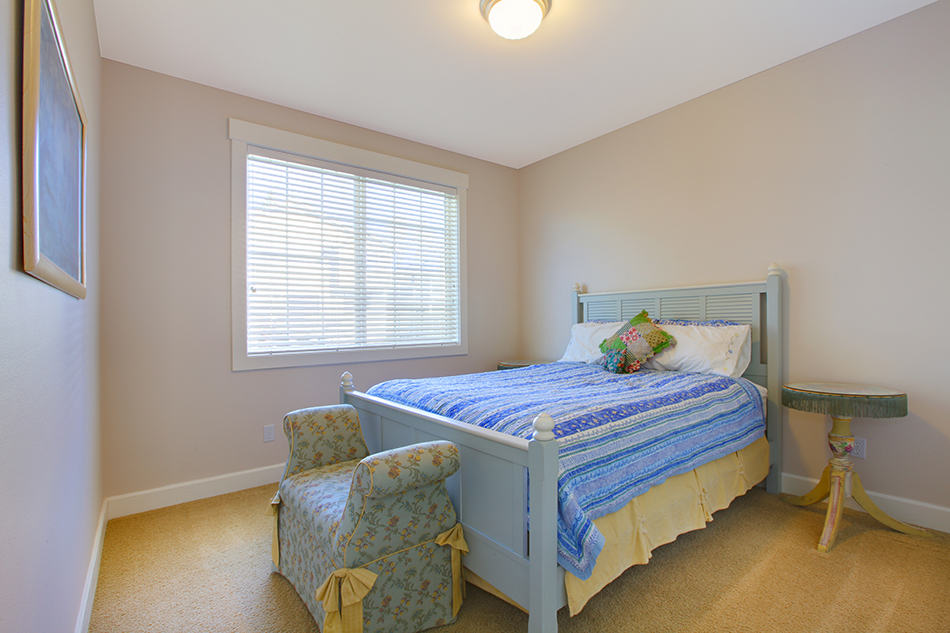 We all know beige goes with everything. So it makes perfect sense to use beige color in any bedroom, including blue, to create visual interest.
Think of a subtle tone like beige or soft yellow with a pale aqua for an ultimately relaxing bedroom. This simple yet elegant blue and beige bedroom oozes comfort in a neutral setting.
3. Classic Blue and White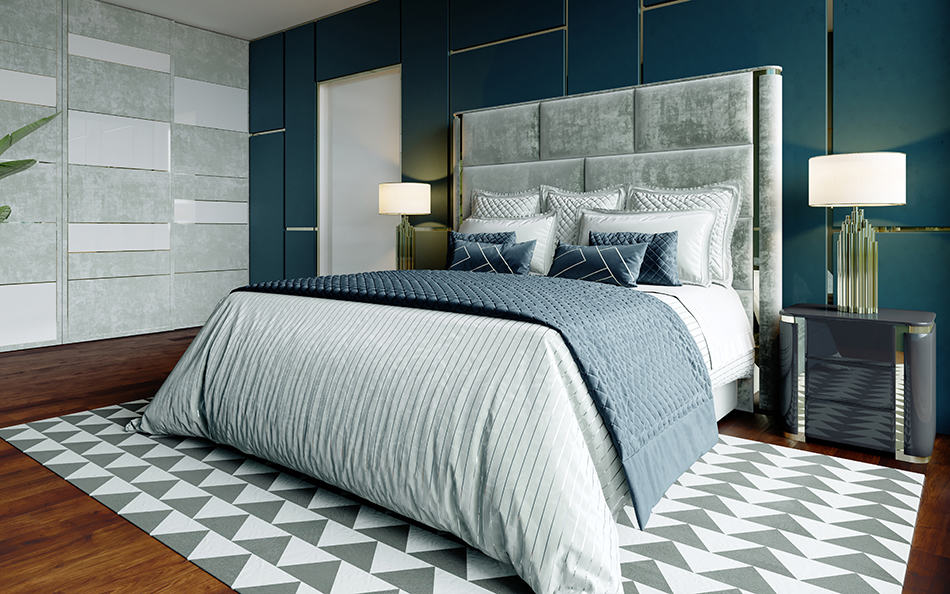 A fresh combination of classic blue and white gives the bedroom such a cozy feel. The Blue and white combination brings warmth to both small and large bedrooms. In this example, the blue comforter and the paneled wall have created visual appeal. The white tone used here is subtle rather than sharp so as not to distract attention from the dominant blue.
4. Teal Bedroom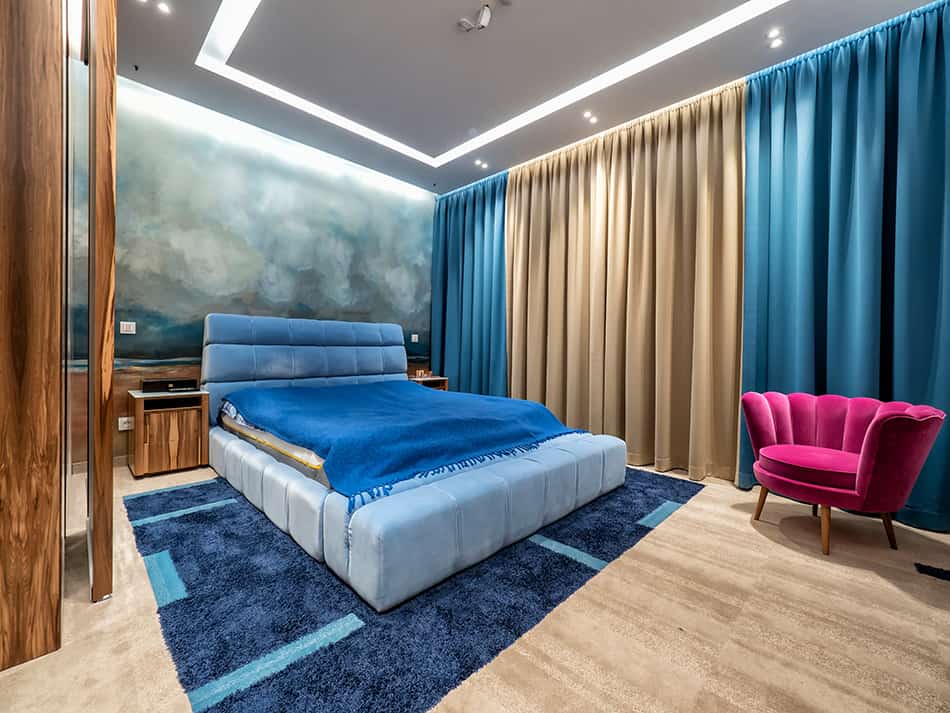 If you want variety, try adding teal to your bedroom. This rich tone can be used to create an eye-catching variation when you introduce other bold tones alongside it. In this bedroom, for example, the soft, soothing teal and the sky blue variations complement the dark pink chair and the curtains.
In fact, you get a feeling of total serenity in this inviting bedroom thanks to the variety of rich tones that are used together with teal.
5. Blue and Grey Bedroom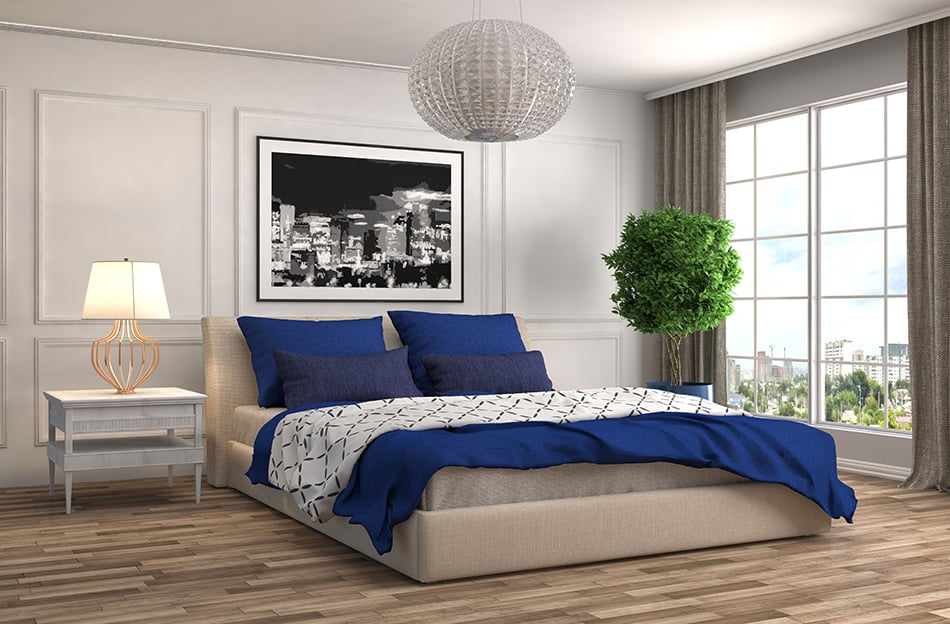 Apart from experimenting with a variety of colors, you can give your blue bedroom a refreshing new look by using white and grey as the backdrops against the blue. Here you can see two shades of dark blue with white have been used as the bedding.
The backdrop has been filled with light grey and hints of white for greater visual impact. The idea of using a grey background is to allow you to switch between the hues with ease.
6. Royal Blue Bedroom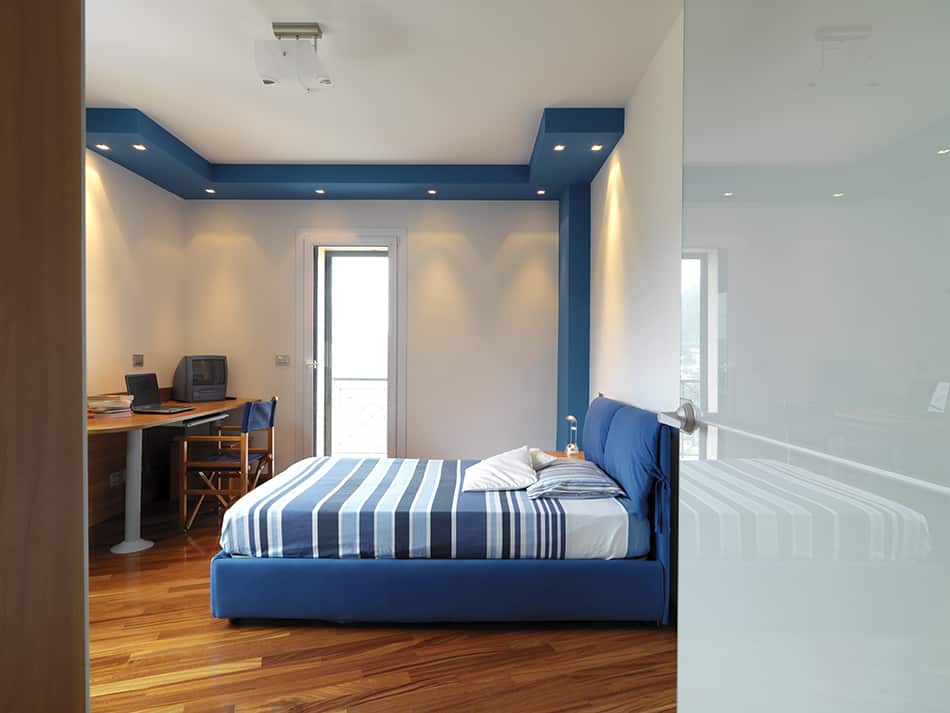 Royal blue is considered both a dark and bright shade of blue. See how this bedroom's bed, bedding, and paneled ceiling have given the space a welcoming touch.
The corner workspace doesn't even look out of place as you can see hints of blue and wood that match the rest of the room.
7. Blue and Pink Bedroom

Feel like a princess in a blue and pink bedroom. Since pink can look a little flat next to grey, it makes sense to use it with a striking shade of blue without the fear of clashing.
In this example, the dark blue wall stands out as the dominating color, even though soft pink hues can be seen throughout the space. There is no denying how the overall design of this blue and pink bedroom has added to the feeling of serenity.
8. A Blend of Sky Blue Hues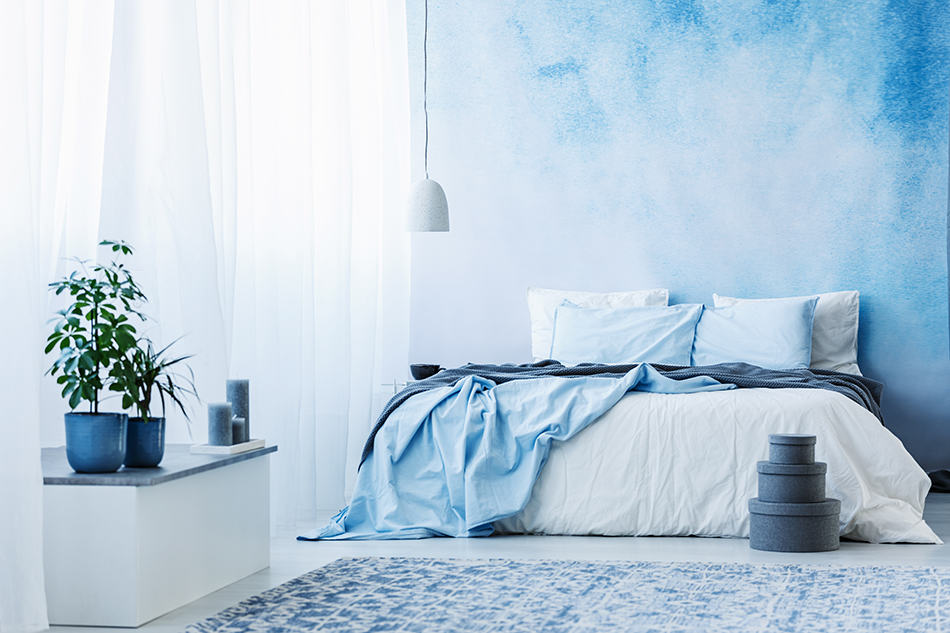 A bedroom with a high ceiling can have the added benefit of sky blue hues to give it additional brightness.
The sky blue tones of this bedroom are seen on the wall, bedding, floor covering, vases, and candles. All these have framed the space beautifully. The only feature I would change here would be the lighting. For high-ceiling bedrooms, consider a chandelier or an oversize lantern for added interest.
9. Blue and Orange Bedroom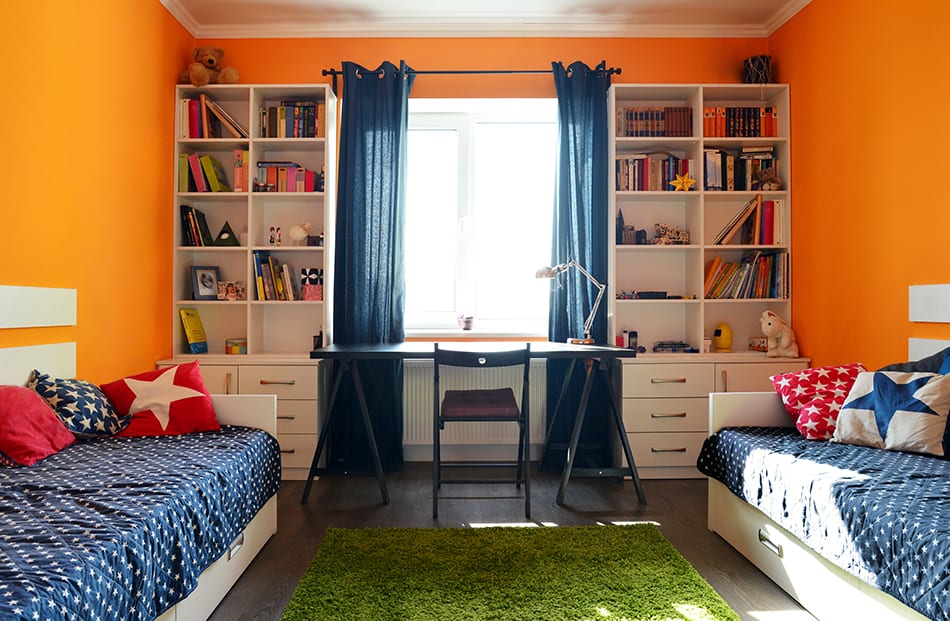 For complete contrasts, consider adding orange to your blue bedroom. Contrary to popular belief, orange and blue aren't just suitable for a girl's bedroom. It can also work in a boy's bedroom as shown here.
So if you don't like to play it safe with neutral colors, why not introduce orange to your blue bedroom. How about this fine example of dark blue bedding and curtains against the orange wall. The vibrant orange has created a hot contrast to the dark blue's coolness.
This bedroom with an orange color scheme certainly has a lot of drama with a few fabulous touches like the green floor covering and the red cushions to add sparkle to the lively space.
10. Peacock Blue Bedroom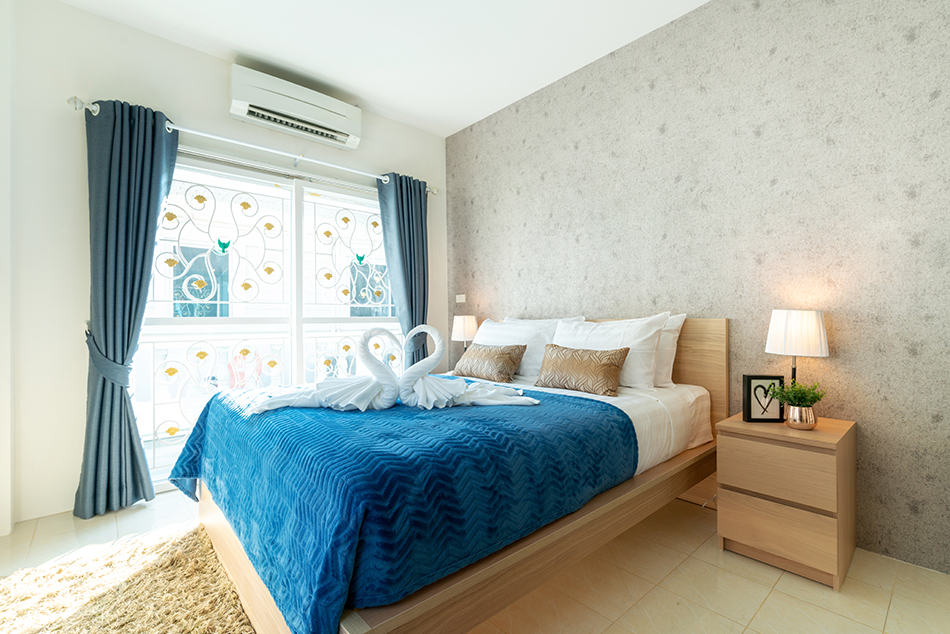 Peacock blue is a beautiful shade that has its own special meaning for different people. This hue provides a wonderful touch to a neutral setting as shown here. This bright and airy bedroom doesn't look dark just because a dark shade of blue has been used. The hue blends beautifully with the surroundings and gives the space a serene vibe.
11. Brown and Blue Bedroom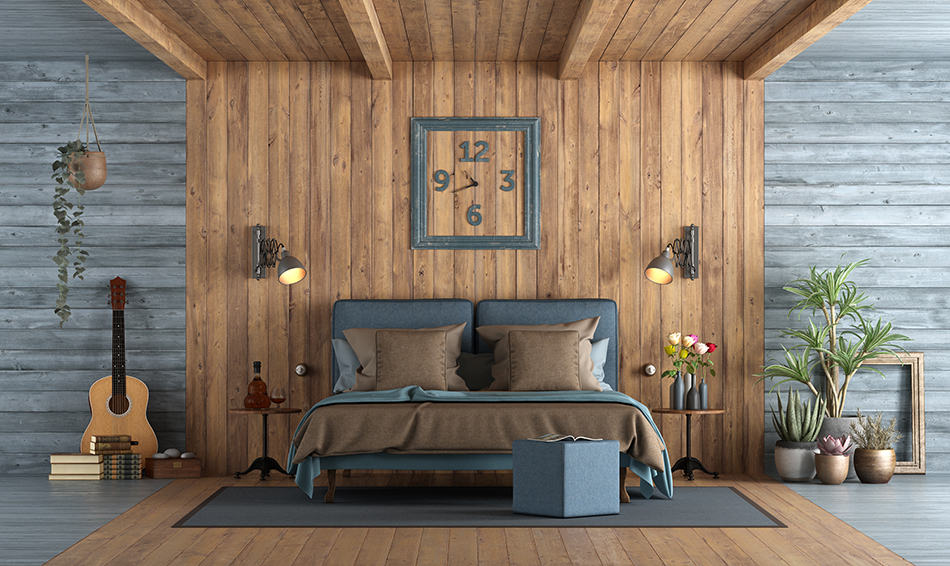 Blue and brown are both natural colors that represent the sky and earth. These two colors give a calming effect that makes them ideal for the bedroom.
Here you can see how the brown bedding, the wooden panels on the wall, and the matching ceiling blend beautifully with the dark blue bed and floor covering. Doesn't this bedroom feel homely and special?
12. Tiffany Blue Bedroom
A soft blue shade like tiffany, for example, can make an entire room feel warmer and relaxing. You can use white shades to highlight the attraction of your blue bedroom as shown here.
The design of this simple bedroom emits comfort and warmth.
13. Blue Red and Yellow Bedroom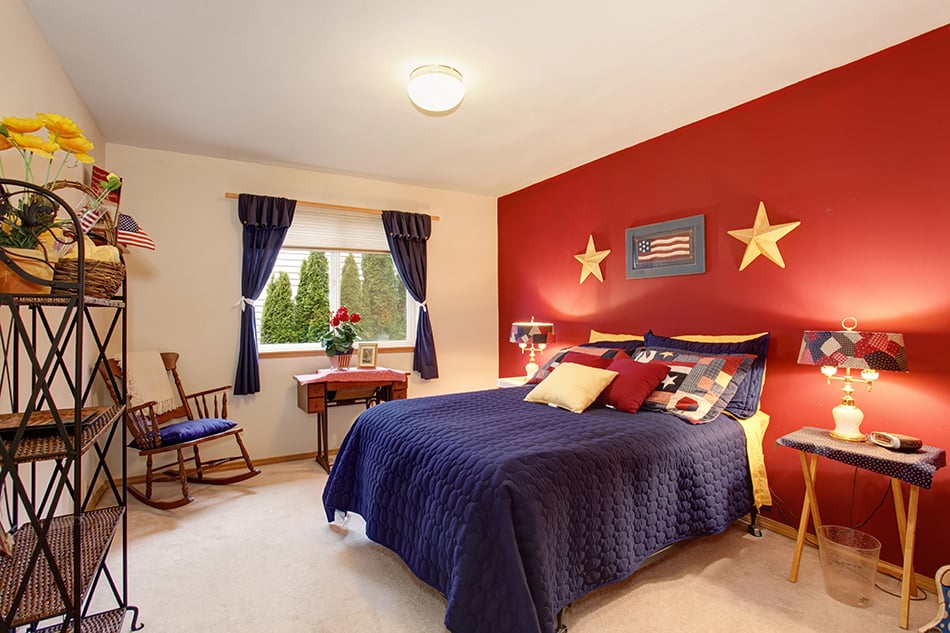 Do you like adding lots of colors to your blue bedroom but fear they may clash with the blue tone? Then choose two dominating colors like red and yellow for your blue bedroom.
Yes, you head right! These bold colors are guaranteed to give great results when used together moderately. So if you like it bold and bright, you'll love this example.