The colors you choose for your bedroom are a direct reflection of your personality. Since we spend most of our lives in our bedrooms, we need to think carefully about selecting colors that evoke energy and excitement.
Orange is one such color that works perfectly in bedrooms as it brings out positive energy and enthusiasm. In fact, in ancient times, orange was believed to have healing effects on the lungs.
With so many warm shades of orange to choose from, you're certainly spoiled for choice. To help you with this task, here are some great ideas on how to incorporate the color orange in your bedroom.
1. Combine Orange with Black and White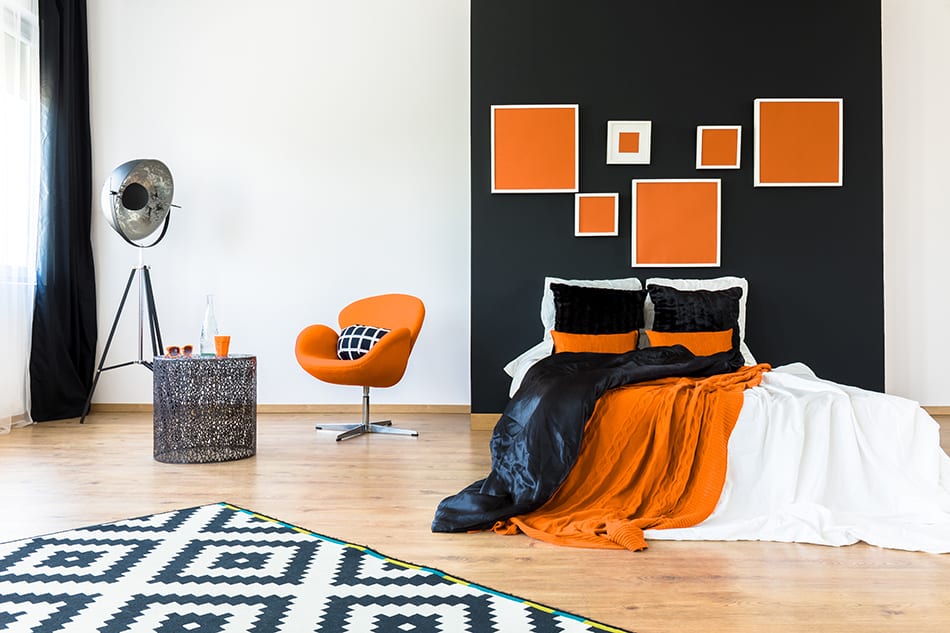 A warm color combination for bedrooms is orange with black and white. Whether you use black and white as the base color with orange accents, or vice versa, this combination works well, especially for contemporary bedrooms.
For a more dramatic effect, add a black and white rug, orange wall art with a matching chair, and paint half of your bedroom wall black, with the other half in white as demonstrated in this bedroom.
2. Highlight One Feature with Orange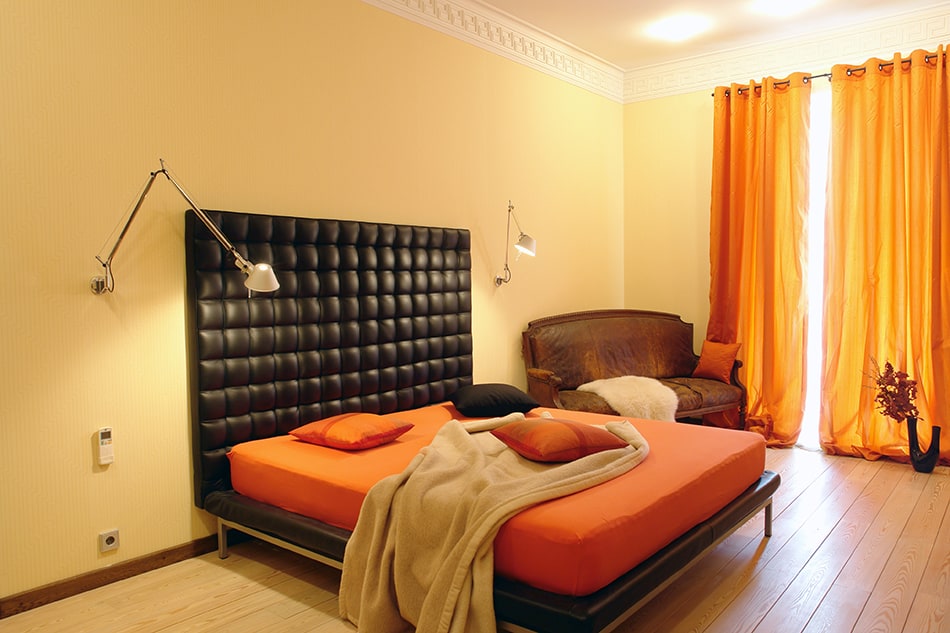 A great way of drawing attention to a feature in your bedroom is to use orange. This bedroom showcases the black headboard as the main feature of the room.
The orange bedding has created a huge contrast that draws the eye directly to the black headboard. This is a great technique for keeping the focus on the central feature of the bedroom.
3. Neutralize the Orange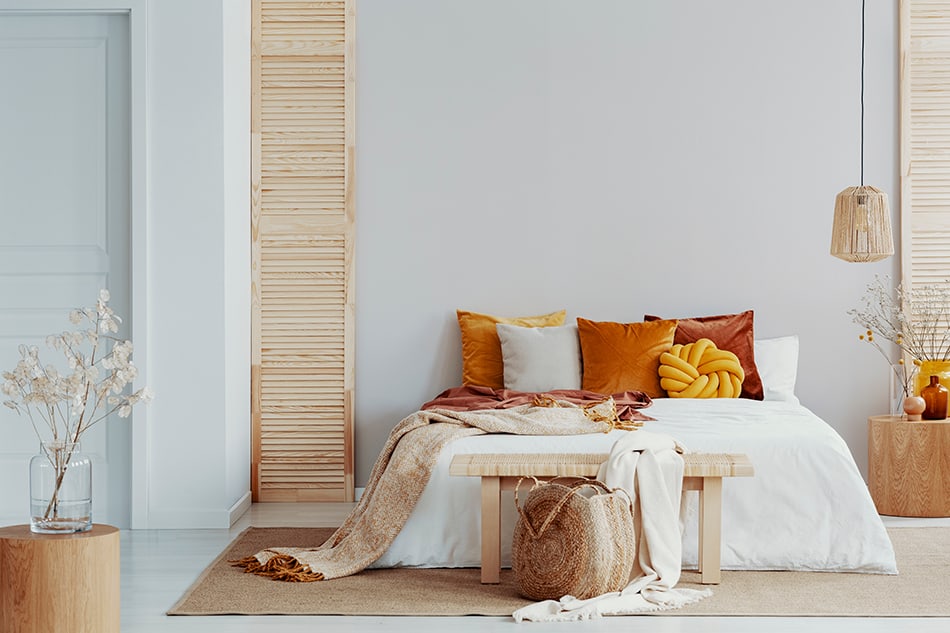 To neutralize the orange hues, without taking the spotlight away from this shade, consider adding brown and orange pillows to a white bed and decorate the entire room with wooden accents.
This bohemian bedroom is a great example of how subtle orange is used with soft browns and creamy whites. The design is well thought out, thanks to the beautifully balanced color palettes. You can easily incorporate a few simple items, such as accent pillows, bedding, vases, or rugs, to create the same look as this bedroom.
4. Orange with Pink as a Louder Alternative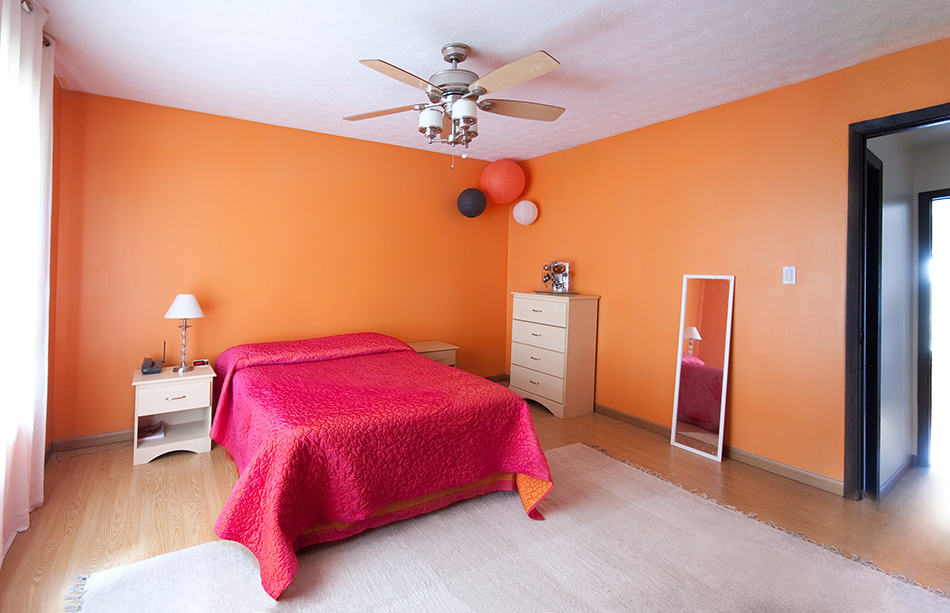 Orange and pink are a great combination for a teenage girl's bedroom. These two lively shades create a stunning contrast for modern bedrooms.
With the right items of furniture or accents, like the ones you can see in this bedroom: a white dresser and matching rug, pink walls, a mirror, and orange bedding, you can balance out the design and make a bold statement – without making the room look chaotic.
5. Add Orange Textures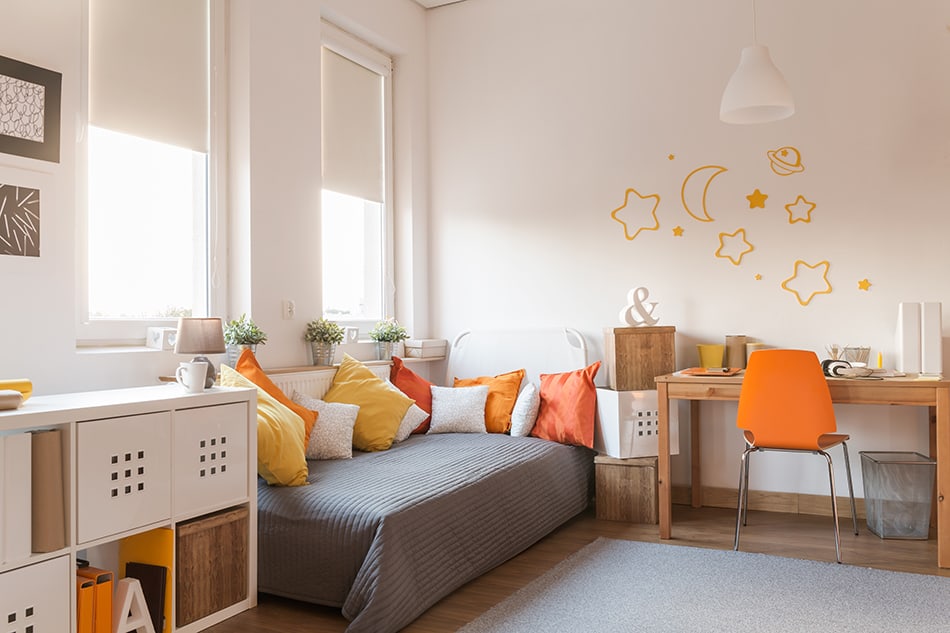 Using several orange patterns and textures is another great idea for creating a warm orange bedroom. This bedroom feels totally serene thanks to the beautiful orange hues in the form of pillows, chairs, and wall decor, together with the blend of neutrals.
6. Orange with Blue as Complementing Colors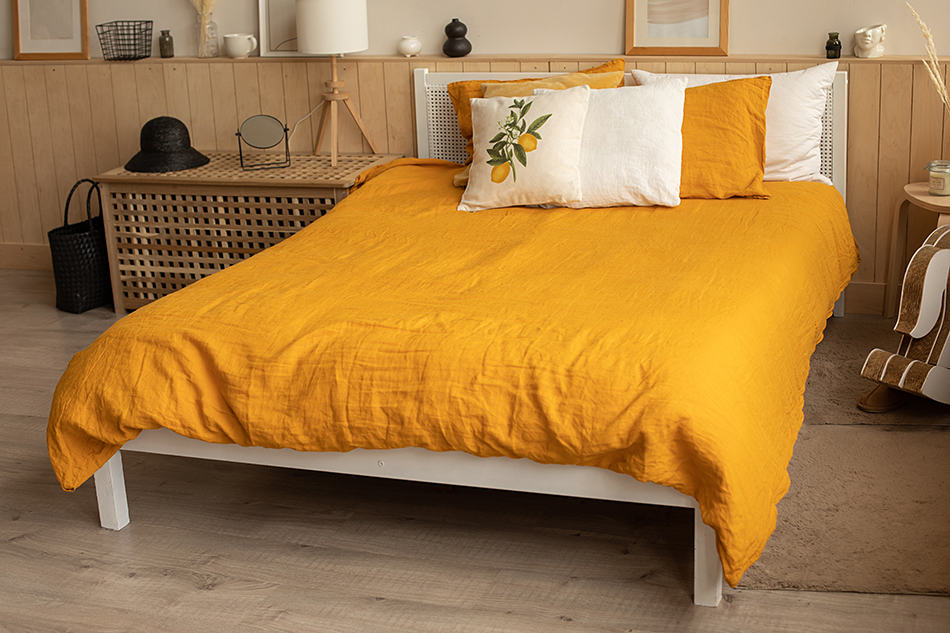 Complementing colors make wonderful color combinations for bedrooms. In a modern bedroom, for example, dark blue curtains with matching rug and bedding take the focus away from orange.
This color scheme is a fun way of experimenting with two bold shades, with dark blue being the dominating hue in this bedroom. The orange accent wall in this bedroom is what completes the look of the room without overwhelming it.
7. Create an Accent Wall in Orange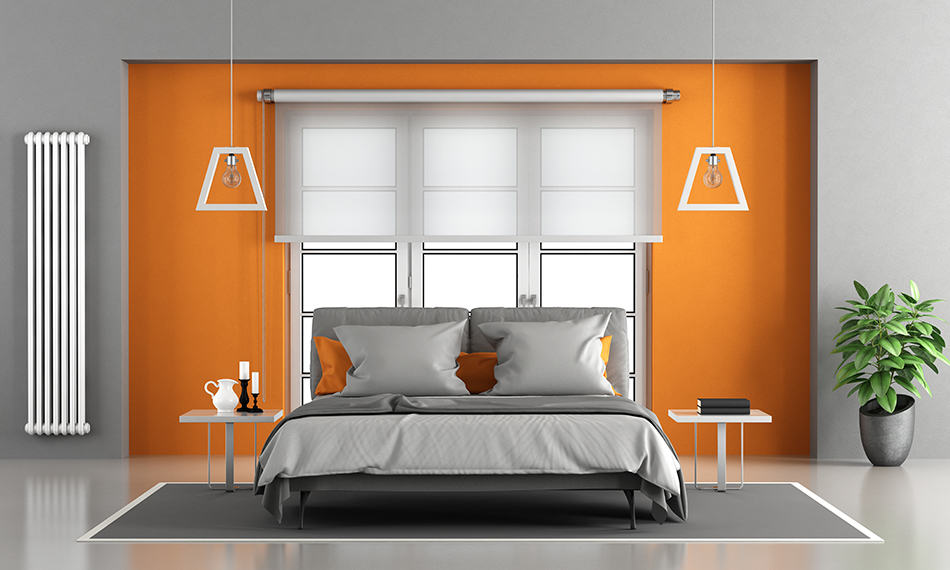 Using orange as an accent in a neutrally decorated bedroom is always the best solution for those who don't want to use too much orange.
This bedroom's focal point has to be the accent wall behind the bed. The melon shade of orange has given some depth to the room and made it appear larger. Notice the subtle hints of orange cushions that perfectly complement the grey bedding.
8. Go for Orange Furnishings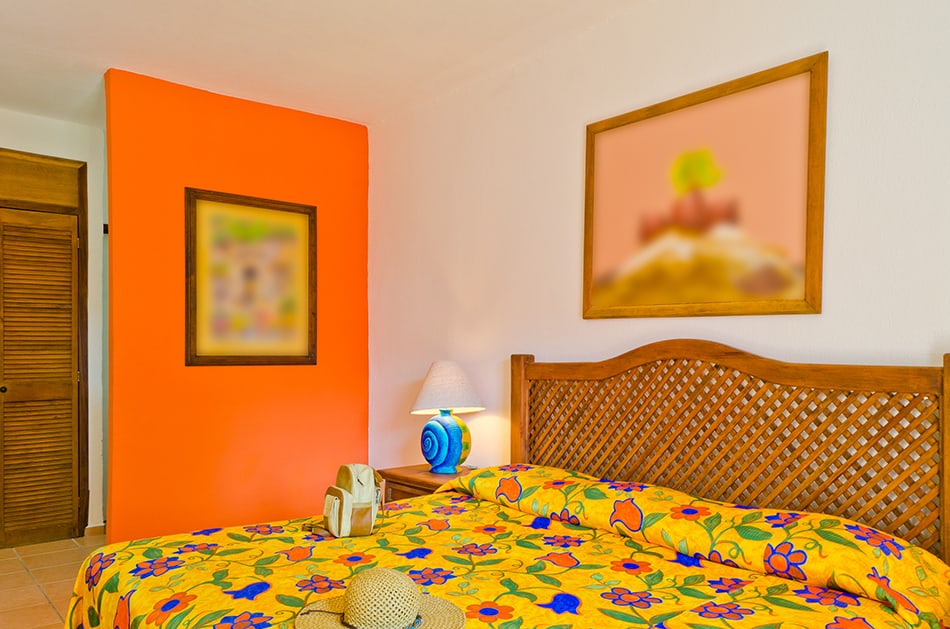 Aside from painting the wall orange, you can also incorporate this shade into the furnishings that include: bedding, pillows, curtains, and lighting for a truly girly bedroom.
9. Dare to Go Bold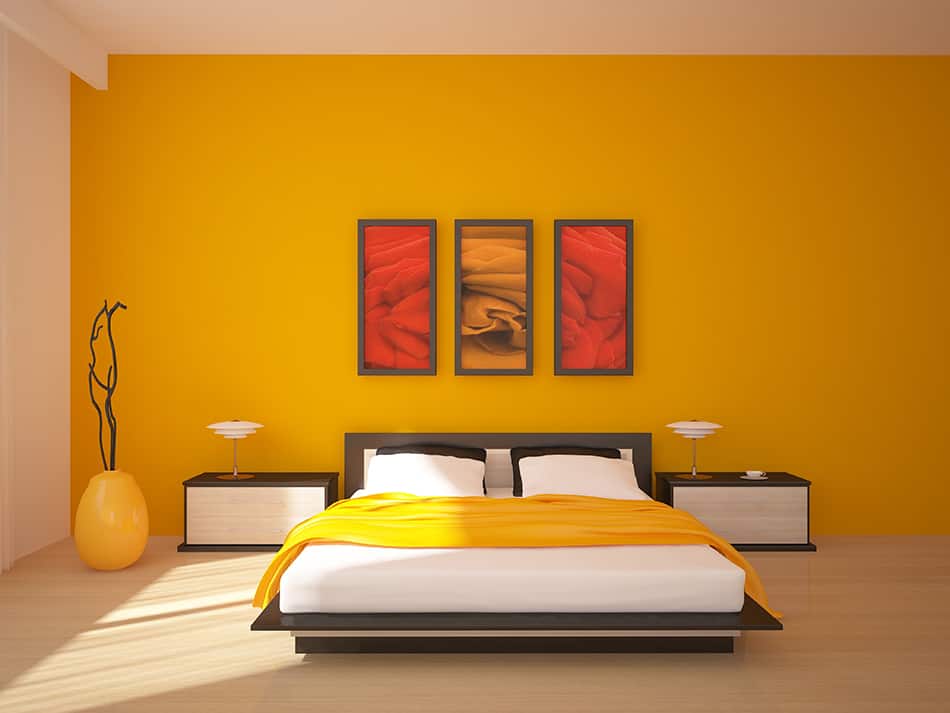 For those who love the bright orange and want as much of it as possible in their bedroom, then this bedroom is the perfect example of a bright and vibrant pop of orange against black and white furnishings.
We can safely say this room is somewhat masculine with an energetic vibe in a modern space. The simple furniture has made the bedroom look clean and minimal, and the huge pop of bold orange-painted wall truly stands out as the main focal point.
10. Soft Orange for the Color-shy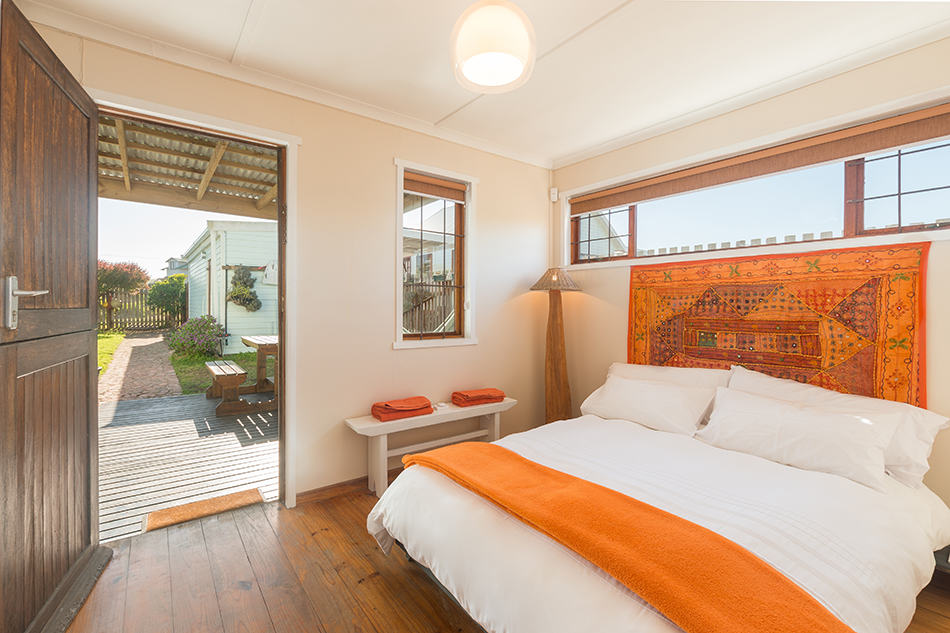 Soft orange against white evokes a peaceful and airy vibe that's ideal for the color-shy.
In this room, the soft shade of orange is still a dominant focus, although it is more of a toned-down version next to white.
11. Pop of Brown with Orange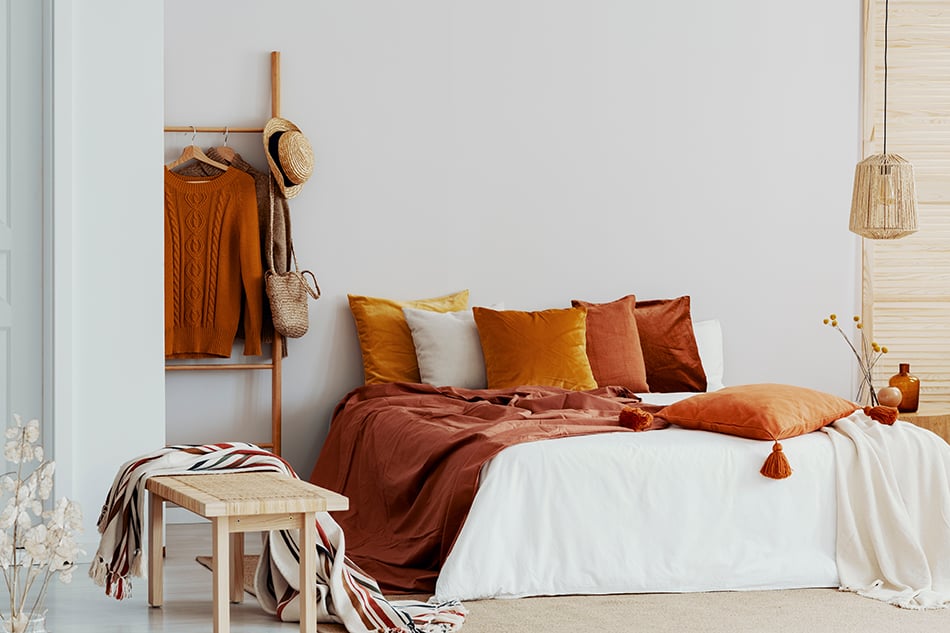 Using bright orange with other bright colors like brown gives the bedroom a pop of color.
As you can see here, the mix of orange and brown bedding and pillows stand out beautifully and create a visual interest that takes the attention away from the rest of the room. The two colors of orange and brown are warm and blend together easily.
12. A Subtle Blend of Yellow with Orange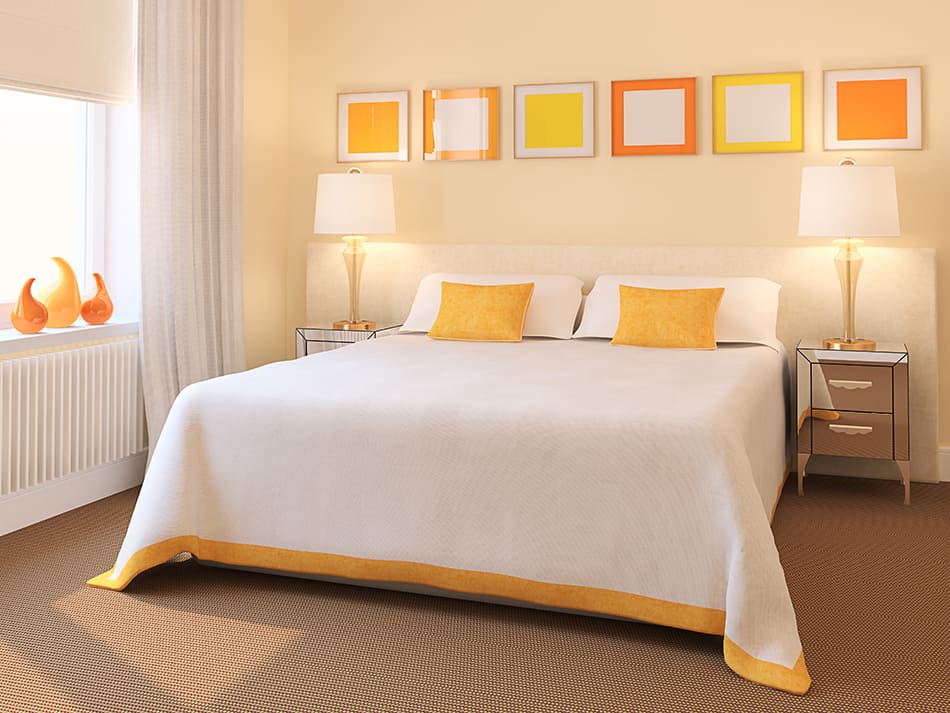 Yellow can overwhelm a bedroom. But a neutral color scheme using subtle hints of orange and yellow with white as brings out the modern feel of the bedroom. The yellow pillows with the matching wall art and vases here have created visual interest while keeping the soft shade of orange as the dominating color.
This is a great technique for unifying three different colors, with one (orange) being the main feature.
13. Draw the Eye to Orange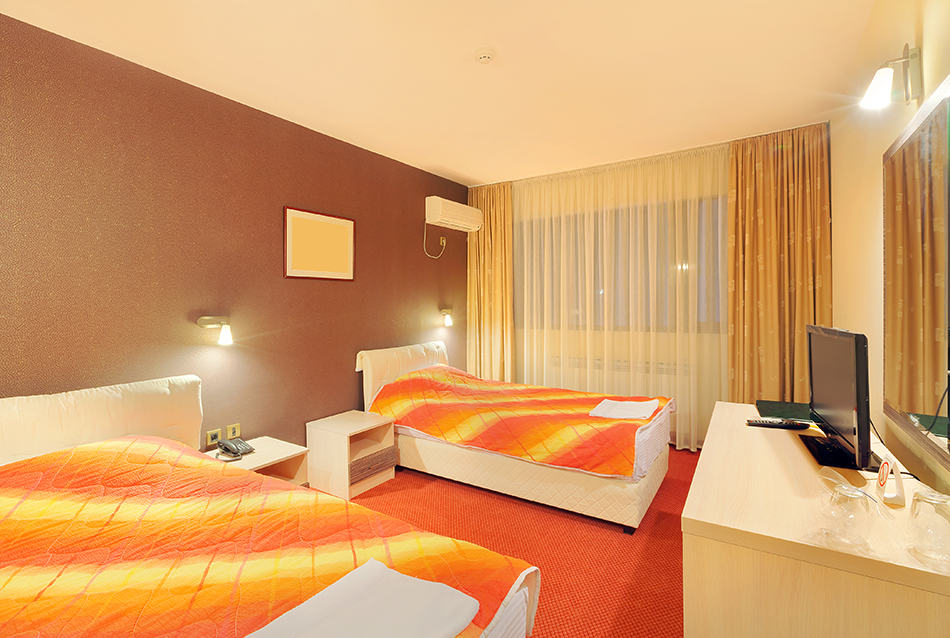 To catch attention, use multi-colored orange stripes on the bedding. The red wall and orange floor have given this room an energizing and cozy feel, with striped orange bedding for added warmth.
This bedroom design makes sure the room doesn't feel unwelcoming. The trick is to provide a main focus, which in this case is the orange bedding.
14. Give the Bedroom Some Depth with Accessories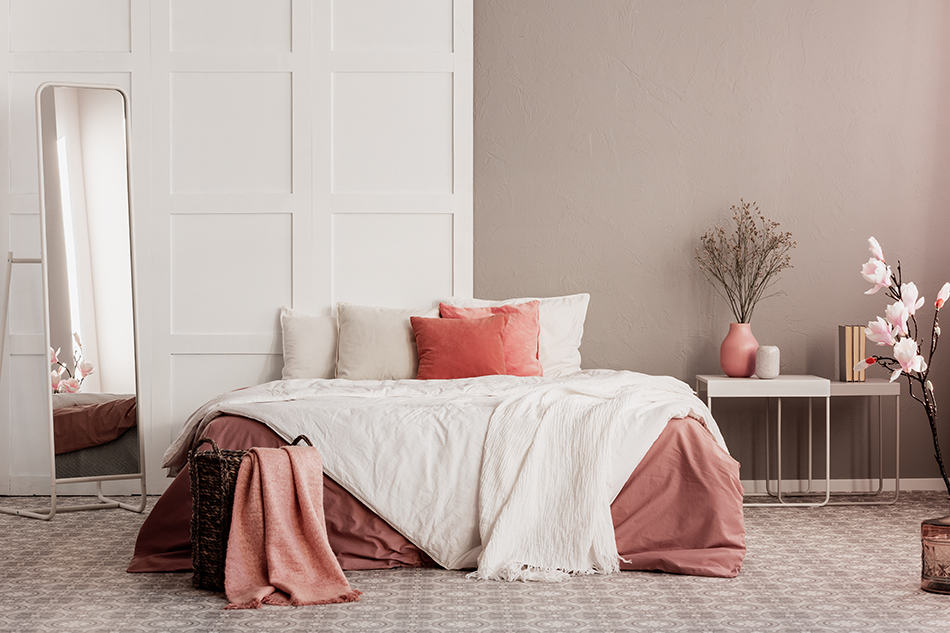 Adding several accessories to your bedroom provides greater interest and depth. Be sure to select the right size and style when it comes to adding accessories such as vases, bed throws, and cushions.
Everything must fit in with the overall decor of the bedroom. For example, in this fashionable, feminine bedroom, orange is incorporated into the pillow, bed throw, bedding, and vase for a contemporary touch.
15. Make a Strong Statement with Orange Wallpaper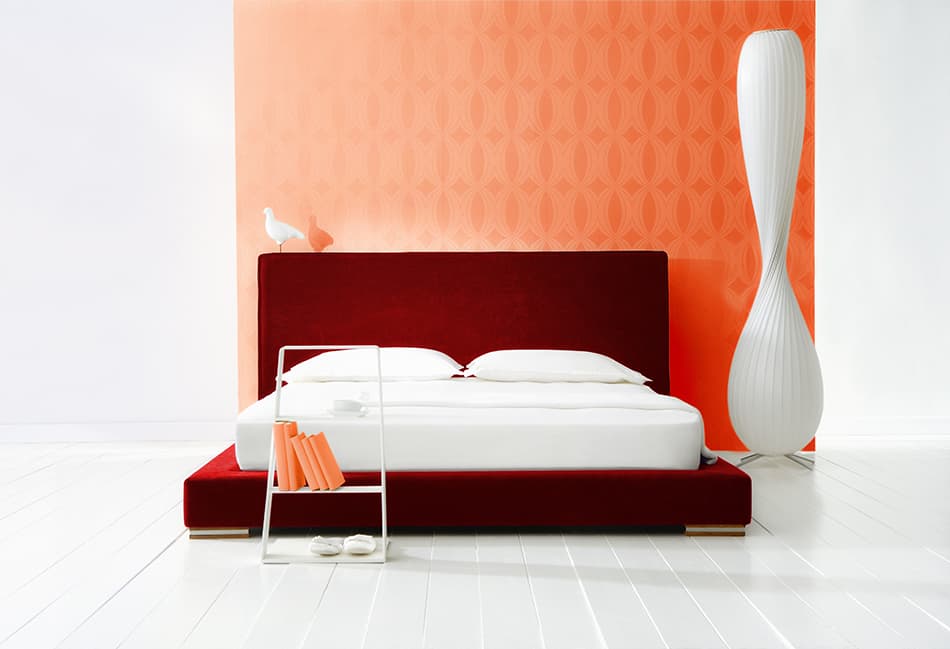 Orange wallpaper will create a warm and intimate focal point for the bedroom. Even if you only want to create one single accent wall, make it a bold orange wallpaper for a touch of sophistication and elegance. This bedroom is a classic example of how the orange wallpaper stands out as a beautiful accent wall behind the red velvety bed.
Good to Know
– Orange is a shade that works with both cool and warm tones. It is, therefore, ideal for using in combination with multi-colored textures and patterns.
– It's not just black and white shades that mix well with orange. Grey is another color that makes a stunning backdrop in an orange-decorated bedroom. When bright orange is used for the bedding and pillows, it makes them pop out visually against the grey background.
– Aside from an orange wall accent, another sure way of making a bold statement in your bedroom is by buying orange furniture.
– A soft orange bedroom is synonymous with happiness and peace, so if you're a little color shy, incorporate apricot or amber shade of orange into your bedroom decor.
– For those who love all things retro, carrot or salamander hues create an ideal backdrop in the bedroom.
– For an exciting blend of color palettes, use complementing colors like cobalt blue for the bedding or lighting in order to achieve a dark balance with the light orange. To bring vibrance to your bedroom, deep shades of purple for the curtains or bedding also work as a complementing color with orange.
– A nursery can also be decorated in muted shades of orange like delicate peach against white bedding. Wooden furniture in vibrant shades of red or blue will work well in an orange-decorated nursery.
– For a teenage boy's bedroom, use darker shades of orange with black or grey bedding and neutral window coverings. You can even experiment with geometric patterns, and make sure you include wall decor or striped wallpaper in complementary colors.
– A mix of bright orange and pink with white fabrics will look great in a teenage girl's bedroom without making it appear too frilly. But don't go overboard with the orange. It should be used more as an accent rather than the focal point.