If you're a jewelry lover, you might have known this interesting color. This blue-green tone reeks of elegance and luxury and is now used not just in jewelry or gift boxes but in clothes and home decor as well. In this article, we'll learn about what the tiffany color is, its meaning, and how to pair it with it in the home.
What is Tiffany Blue?
Tiffany blue is a medium-light shade of blue-green that is synonymous with the Tiffany and Co jewelry company.
Tiffany and Co was founded in 1837 by John Young and Charles Tiffany, and several years later, in 1845 the Tiffany's Blue Book was published to showcase their collection of luxury jewelry, with the shade of blue-green heavily used on the cover. The company adopted the color as their official shade for branding and packaging, and as the popularity of Tiffany jewelry grew, the color became known as 'Tiffany Blue.'
Tiffany boxes that contain Tiffany jewelry are now iconic and are also known as 'little blue boxes' The color itself was trademarked in 1998.
The Meaning of Tiffany Blue

Tiffany blue is similar to teal and turquoise, which are both vibrant and refreshing, however as Tiffany blue is slightly lighter and softer, it has a more refined appeal. Since it is the official color of Tiffany and Co, Tiffany blue stands for luxury and elegance.
It is regarded as a color that is trustworthy and sophisticated and can be used to inspire these feelings in branding, interior design, and fashion.
Similar Colors to Tiffany Blue
Turquoise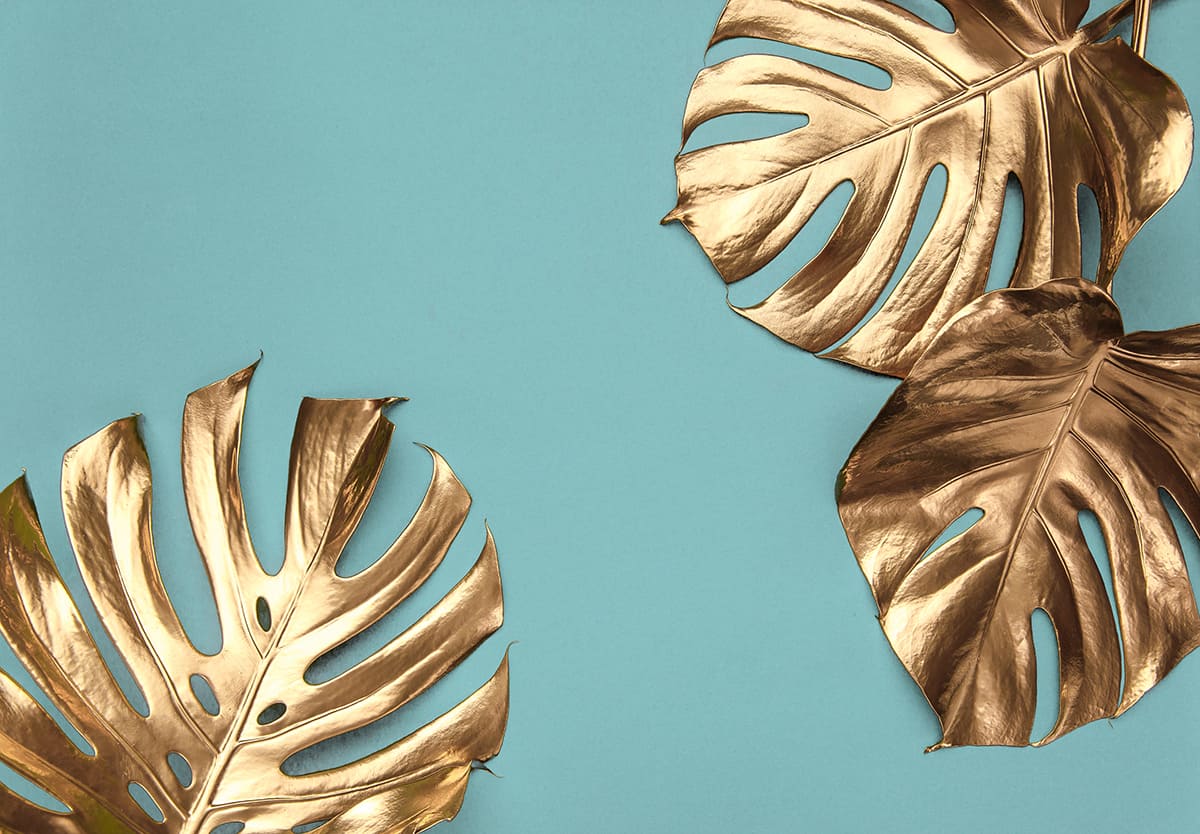 Turquoise is the closest color to Tiffany blue in terms of similarity. It is bolder and more intense than Tiffany blue, with Tiffany blue being a little lighter and softer, but it has the same tone. Turquoise is a blue-green shade like Tiffany blue, but the stronger vibrancy of turquoise makes it feel more refreshing and soothing.
Turquoise is associated with tropical clear ocean waters, which give it a sense of being powerful yet calming. In interiors, turquoise makes for a bolder look and is commonly used in coastal or nautical interiors, while Tiffany blue is not associated with the ocean and creates a more subtle style.
Teal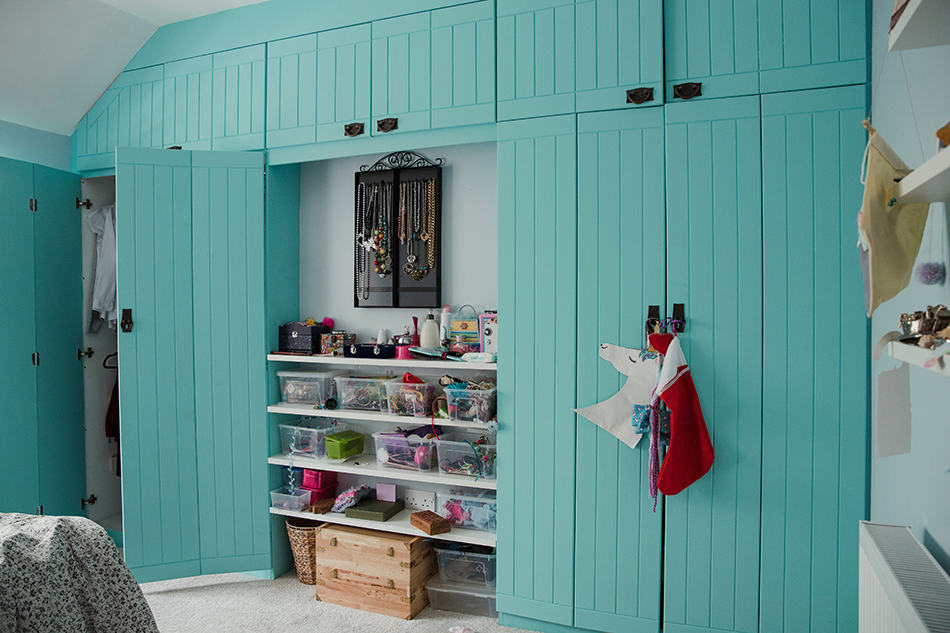 Teal has the same blue-green tone as Tiffany blue, but it is considerably darker. Teal has an intense look to it which comes from the depth of the shade, and it can be used to convey drama, which Tiffany blue is unable to do.
As both of these colors have the same tone, they work well in the same color schemes. Both teal and Tiffany blue work well with soft pinks and peaches, and they can also be used together in a layered interior decor look.
Royal blue
Royal blue offers a similar intensity to Tiffany blue, but it lacks the green tones that Tiffany blue offers. Royal blue is a distinctly true blue color in a medium shade. However, these two colors have a lot of similarities in terms of the atmosphere they can create, as they are both linked to luxury and elegance.
Aquamarine
Aquamarine is a blue-green color much like Tiffany blue, but it is brighter and has a more nautical feel. Tiffany blue is more subdued compared with aquamarine, whereas aquamarine feels fresh and energizing.
Using Tiffany Blue in Home Decor
Upholstery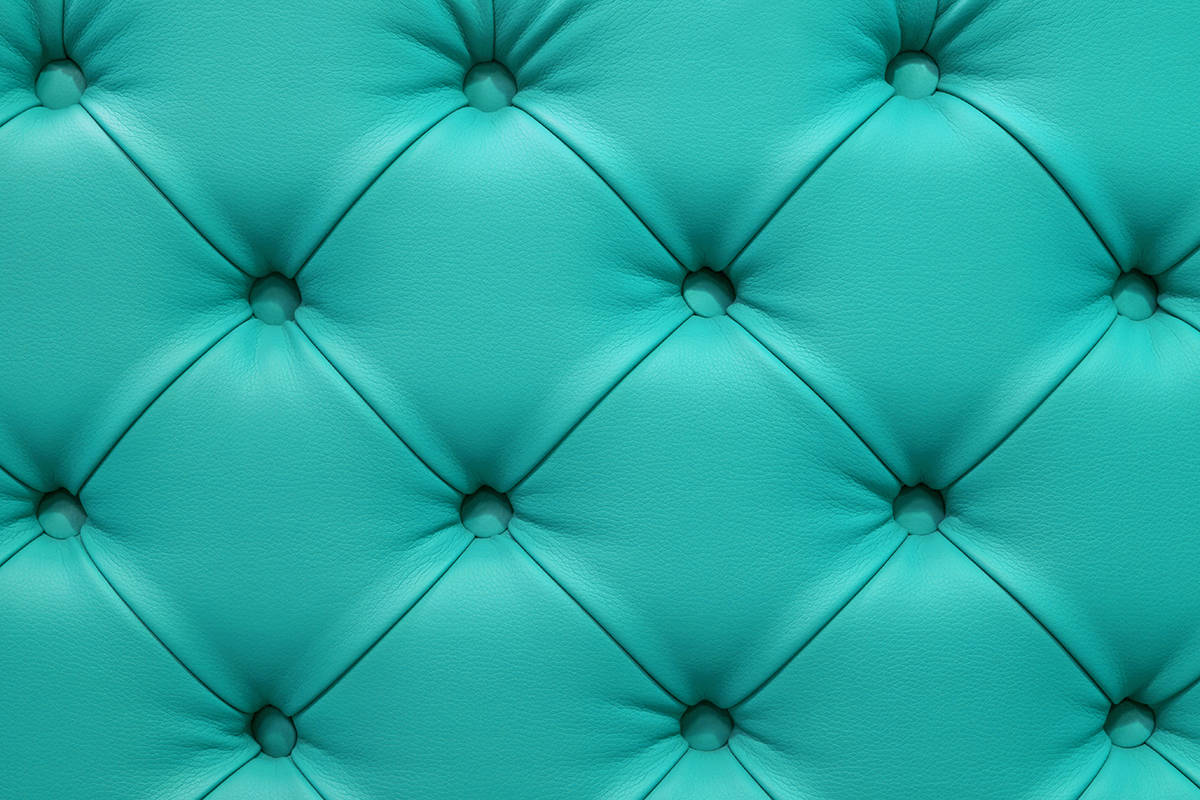 Tiffany blue fabrics give a really luxurious feel to upholstered furniture. This is a great color to use in a bedroom for a rich and elegant vibe that also feels relaxing and soothing. Consider using Tiffany blue silk for a buttoned chesterfield style upholstered headboard in a bedroom to set the style for a sophisticated space.
Tiffany blue also works really well in linen and cotton fabrics to hint at a more casual luxury in upholstered items. Consider Tiffany blue classic shaped sofas and armchairs in a living room with a contemporary, traditional style, or Tiffany blue upholstered dining chairs on white painted wooden frames for a tasteful look.
To retain a classic style, pair Tiffany blue upholstery with white accessories, such as white cushions and throws, or add in pastel shades like blush pink and mint green for a more colorful aesthetic.
Soft furnishings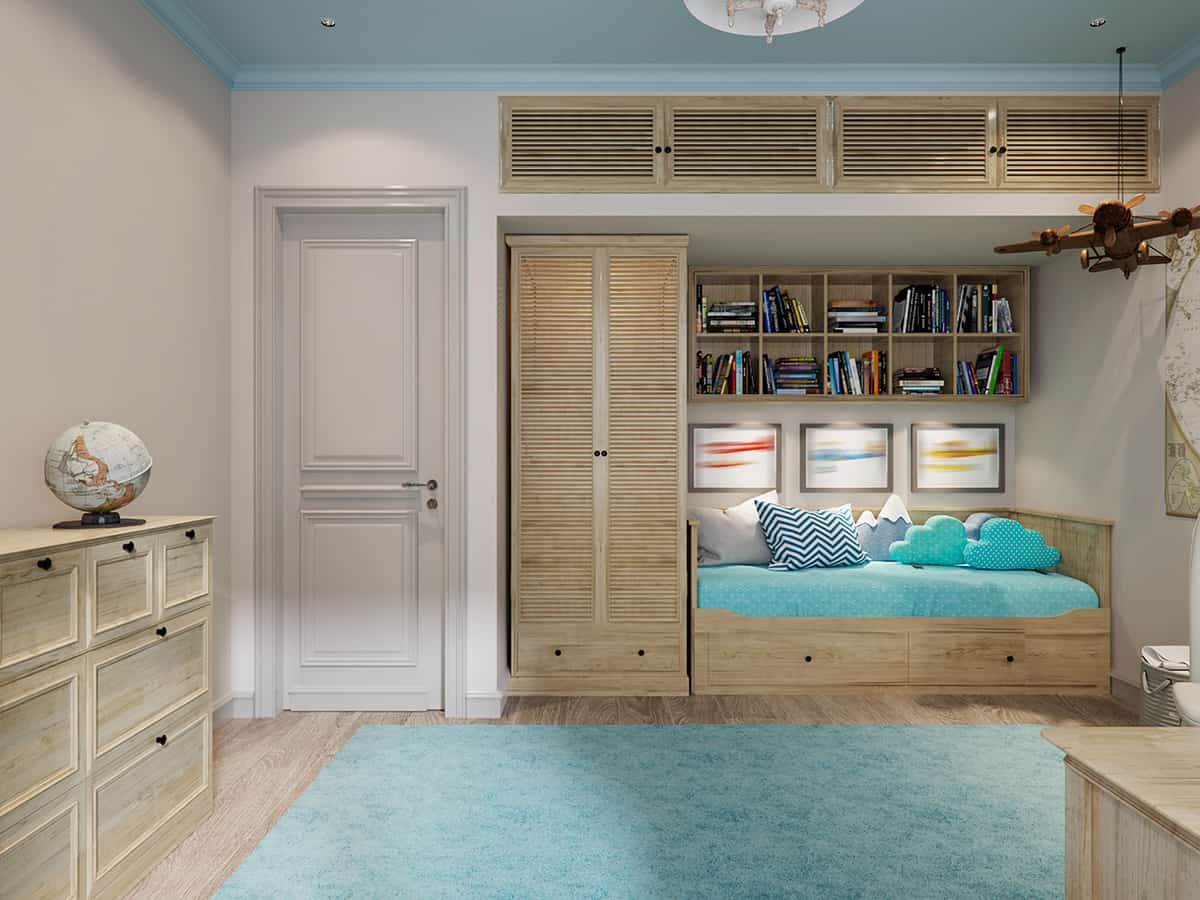 Use soft furnishings as a way to introduce Tiffany blue to your home decor. This is ideal if you don't want to commit to large ticket items like sofas in this color or have the intensity of being surrounded by Tiffany blue wall paint.
Using soft furnishings allows you to really customize the level of color that you use, to achieve a high or low intensity. For a bold impact with Tiffany blue, use it in large swathes, such as with a large area rug, curtains, or bedding. For a more subtle effect, use Tiffany blue cushions and throws.
Using fabrics that contain elements of Tiffany blue rather than being an entirely solid color can also introduce this color in a more subtle fashion. Opt for cream-colored cushion covers with Tiffany blue embroidery or a striped rug in coral and Tiffany blue.
Wall paint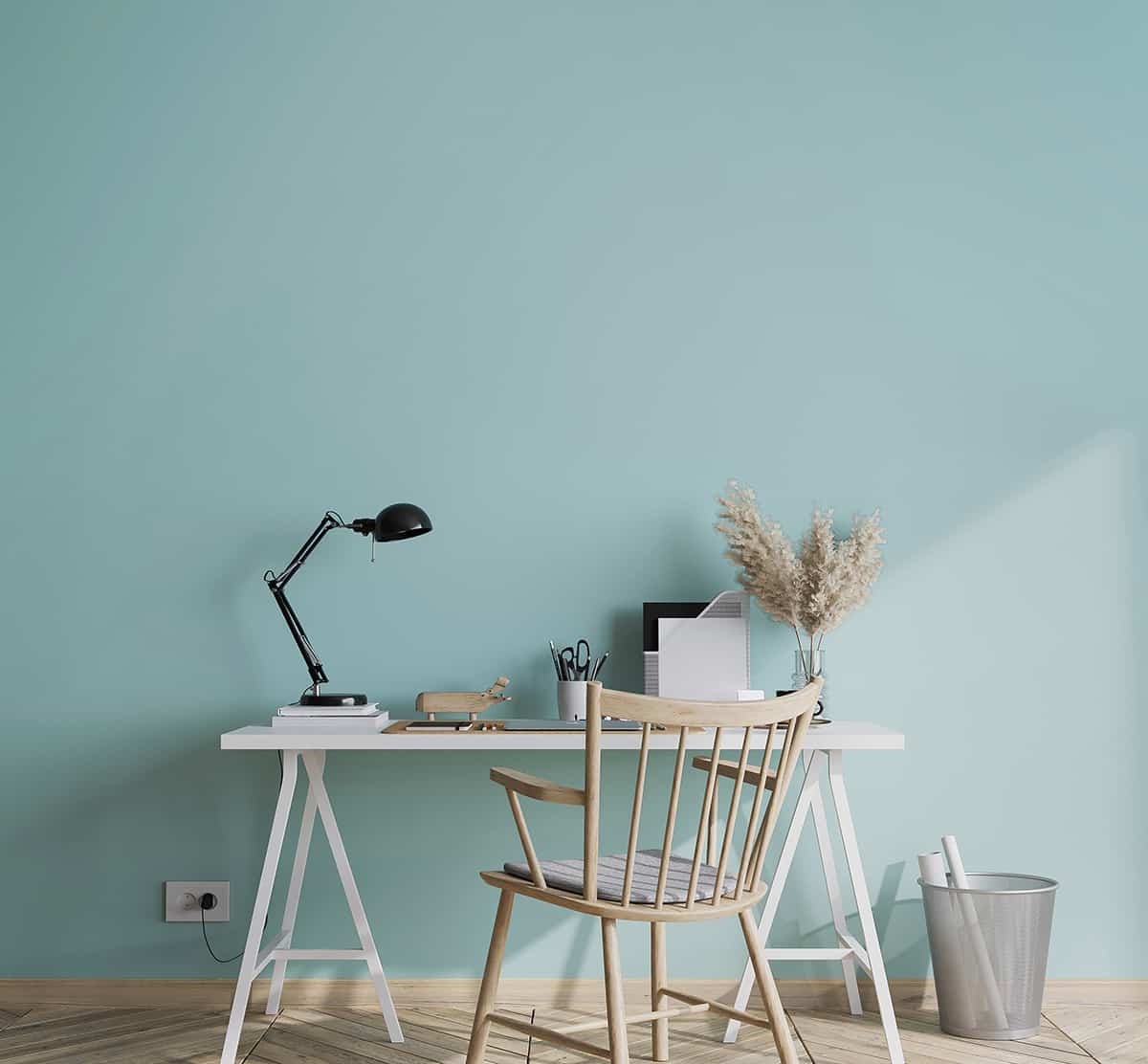 For a space that surrounds you in Tiffany blue, choose this color as a wall paint across all walls in the room. As this shade is quite light and muted, it works well as a wall paint because it isn't too intense or loud; however, it is vibrant enough to make a bold impact.
When Tiffany blue is your dominant color, be sure to use at least one neutral shade alongside it, such as black or gray. For a sophisticated look, paint bedroom walls in Tiffany blue and hang black picture frames against them featuring classic black and white prints.
Use white bed linen with black and Tiffany blue cushions to tie this classic color scheme together.
Cabinetry
Tiffany blue is an unusual color choice to use for cabinetry, but it can work really well to achieve a casual yet high-end luxury feel. Opt for a high-gloss finish for Tiffany blue cabinets in a kitchen and white marble worktops with gray or black subway tiles for a backsplash.
Use silver hardware for a pristine modern style, or opt for gold fittings to hint at a luxury by-gone era. Tiffany blue will also work really well for cabinetry on a bathroom vanity unit since blue is a refreshing color choice in bathroom spaces.
To create a quirky sense of style, add in floral towels and bathmats featuring flecks of Tiffany blue and lilac, or go for a spa-inspired feel with cream-colored tiles and gold accessories.
Accessories
When decorating a room, it can be useful to apply the 60:30:10 rule, which means that one color from your chosen palette will be used across 60 percent of the space, another color will be used across 30 percent of the space, and a final color will be used across 10 percent of the space.
If you choose Tiffany blue for your 10 percent, then you might be wondering which types of items you can include to achieve the right level of application. You could opt for Tiffany blue cushions and nothing else or choose smaller accessories to hit your 10 percent, such as candle holders, plant pots, vases, picture frames, or ornaments.
Colors that Go with Tiffany Blue
Blush pink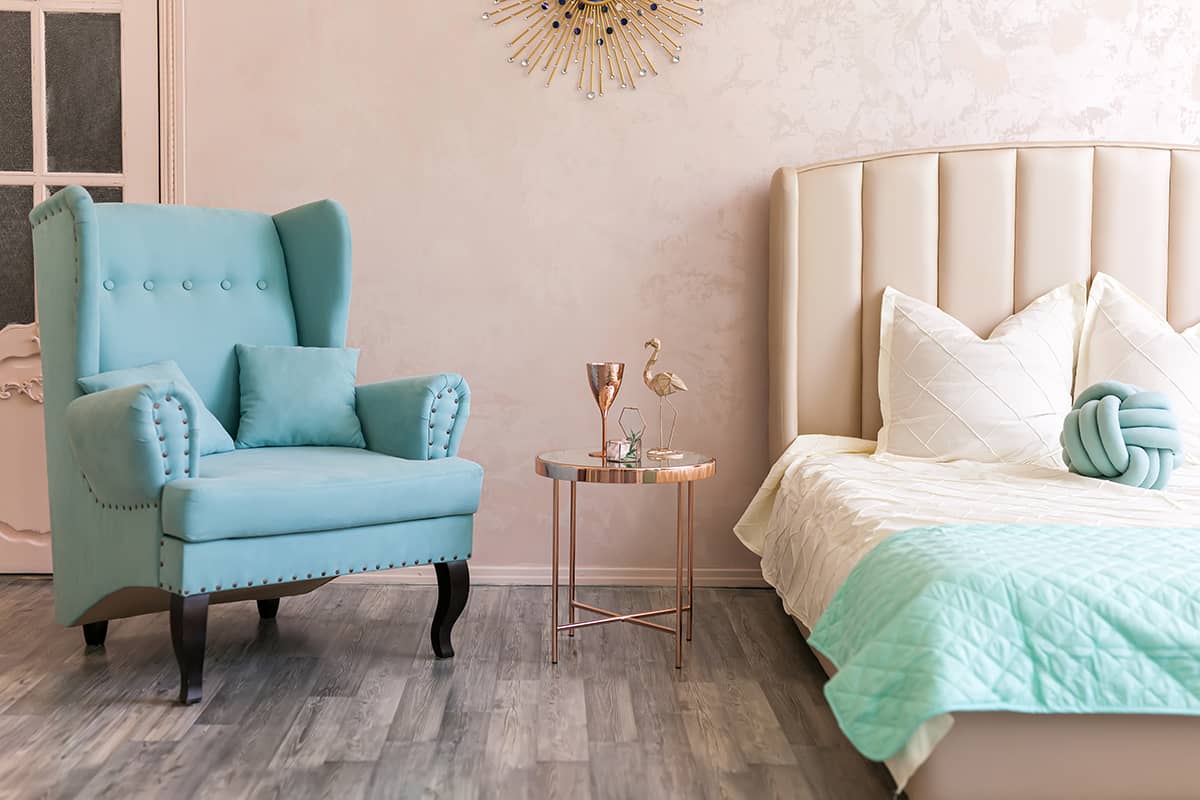 Blush pink is a muted light-medium shade of pink and Tiffany blue is also a muted light-medium shade. Tiffany blue is such a color that can complement well with blush pink. These are both cool shades that ensure a contemporary feel in any space, and they create a nice contrast since pink is close to being on the opposite side of the color wheel to blue.
In a room with blush pink painted walls, set a Tiffany blue fluffy throw over an off-white sofa, or set blush pink cushions against a Tiffany blue upholstered headboard in a bedroom. Blush pink will add a playful and feminine touch to a Tiffany blue space, toning down the refreshing feel to make it feel more comforting and cozy.
Lilac
Lilac and Tiffany blue are analogous colors that create a fresh feel while providing a sense of harmony that is soothing and relaxing.
Set lilac and Tiffany blue cushions against white bed sheets for a refreshing, luxury look, or paint walls in lilac with Tiffany upholstered sofas. This color scheme would work well with gold or rose gold metal fixtures and fittings for a contemporary glamorous vibe.
Coral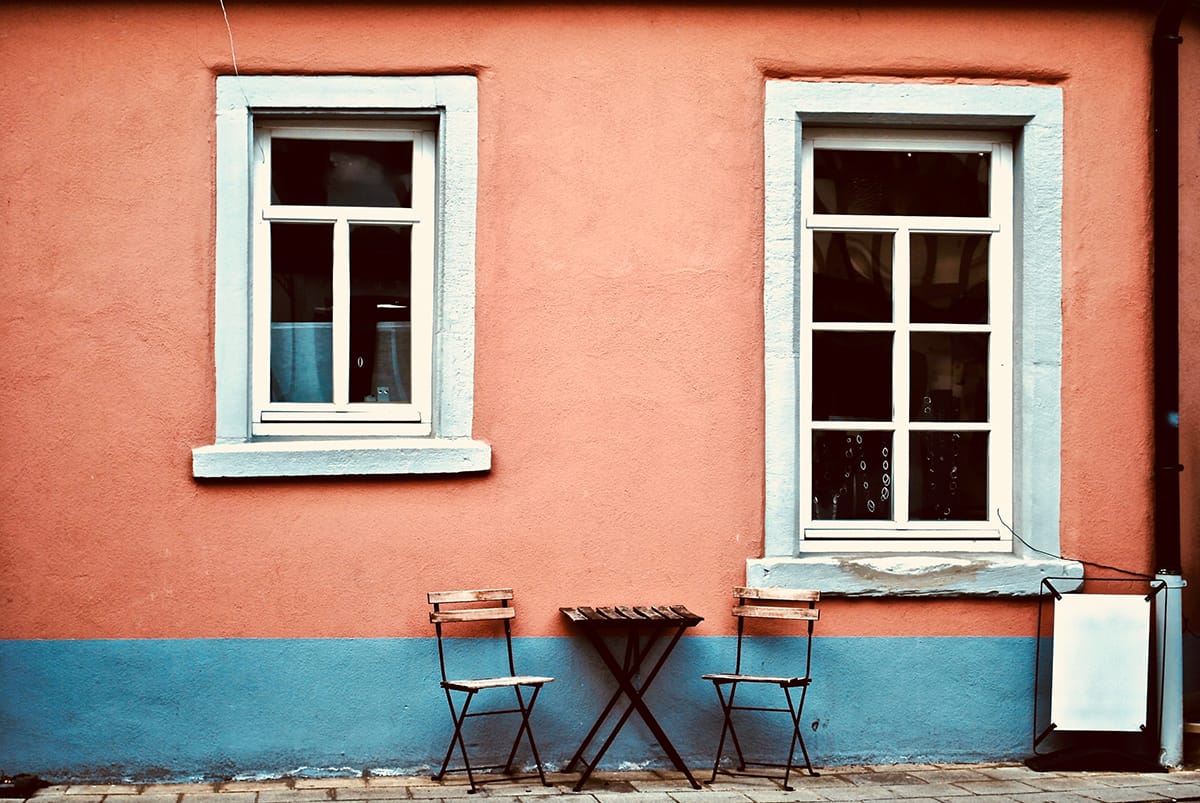 Coral is a pink-orange color that provides an interesting yet slightly muted contrast against Tiffany blue since blue and orange are opposite colors on the color wheel. Choose fabrics that contain both shades rather than using solid fabrics, as this will achieve a more stylish and high-end look.
Sage green
Sage green is a muted gray-green color that feels both fresh and earthy. It looks modern yet classic with Tiffany blue to create a color scheme that feels both relaxing yet energizing.
Use these colors in a botanical-themed interior, with a Tiffany blue sofa and white cushions with sage green leaf prints, or opt for a floral decor theme with fabrics featuring Tiffany blue colored blooms and sage green foliage. Use white or off-white as a neutral with this color scheme to help ensure it feels easy-going.