Blue and white is a classic color combination that is popular in interior design since blue is a soothing and relaxing color to be around, and white helps it to be seen in its truest light.
Blue and white are very versatile and can be used in a wide range of interior styles, depending on what furniture and accessories you choose and which accenting color you put with them.
Here we will look at some of the trendiest interior decor styles that can be achieved using blue and white and which other color works well alongside them.
Interior Decor Styles using Blue and White
All-American
The all-American interior decor style is inspired by heritage prints and colors celebrating classic American interiors. This centers around a crisp blue and white theme, with the addition of a third accent color, which is often red or green. The all-American interior style is easy to achieve at home with white fabrics featuring stripes in any shade of blue, from aqua right through to navy.
Stripes are a recurring theme throughout Americana decor, and they can be thick and chunky stripes or slender and narrow stripes. This is a decor style that also incorporates naturally finished furniture in classic styles, along with wicker items in more casual spaces.
Nature-inspired
Blue and white work well in a nature-inspired interior style, although they might not be the colors that immediately spring to mind when you think about nature. White and blue make for a crisp, clean, and soothing atmosphere which is the perfect backdrop for a space that takes its cue from the outdoors.
To achieve this style in your home, opt for white walls with blue sofas and curtains, then add in touches of green to create a visual link between your home's interior and exterior. Green cushions in the same shade as a tree in your yard would work well, as well as houseplants to add life and a refreshing energy to the room.
Farmhouse
The classic farmhouse style combines elements of country cottage living with a somewhat rustic decor. This style is best achieved using blue and white with beige or tan. In a kitchen, opt for a chunky pale wood countertop on navy blue painted cabinets with white walls.
An aged tan leather chair in the corner of the room would be a good addition to help define the antique style of farmhouse living, along with natural stone floor tiles in a shade of beige.
This decor style is really cozy and comforting to be around, with the natural textures and the warmth of the wooden tones contributing to a welcoming space and the soothing vibe coming through from the dark blue.
Industrial
Industrial decor styles take inspiration from warehouses and unfinished lofts with exposed pipes and fittings that are designed for functionality over aesthetics. This is a style that has become increasingly popular in interior design over the last few years, and it can be created using a blue and white color scheme.
Paint walls in a dark shade of blue with white accents to lighten up the space, such as white subway tiles or white framed artwork on the walls. Define the space as industrial with the use of raw materials and fittings, such as copper light fittings and exposed brickwork.
Copper works really well with navy blue and white color schemes because it creates a stark contrast against the blue and also adds warmth to the space.
Classic English
A classic English interior decor using blue and white will feature cerulean blue on patterned prints for wallpaper, fabrics, and dinnerware set against a white background. Popular prints for this look include petite florals, checks, tartans, toile de jouy, and stripes.
To maintain the classic style, choose white as your main wall color with cerulean blue accents, or you can invert these for a more contemporary take on the look and paint walls in blue with white accents.
Painted white furniture goes well with this style, or you can opt for natural wooden finishes to increase the warmth in the color scheme. For a third color to use in conjunction with this style, consider fresh sage green accents or pretty lavender.
Summerhouse
The summerhouse style takes inspiration from a beach house or pool house, combining coastal aspects with an ultra-casual and laid-back feel. Use pale to medium shades of blue such as aqua or sky blue along with white to achieve this.
White should be the main wall color for an airy and breezy atmosphere, with blue used for soft furnishings and other accents such as curtains, cushions, rugs, and upholstered furniture. Bright primary yellow is a good color to add to this interior style to highlight the easygoing nature of the space.
Consider yellow-painted wooden dining chairs or yellow candles for small shots of contrast and warmth.
Nautical
A nautical style is synonymous with blue and white. It differs from the coastal style in that it feels more structured and formal compared to the easy-breezy feel of coastal decor. For a nautical-themed room, use darker shades of blue such as navy and indigo with white, and avoid bright or soft blue shades.
Dark wood such as mahogany works well with a nautical theme to add grandeur and give the room a statelier feel, like the living quarters of a yacht. The brown finish of dark wooden features makes brown the third and final shade in this color scheme.
Accent Colors with Blue and White
Indigo blue, white, and blush pink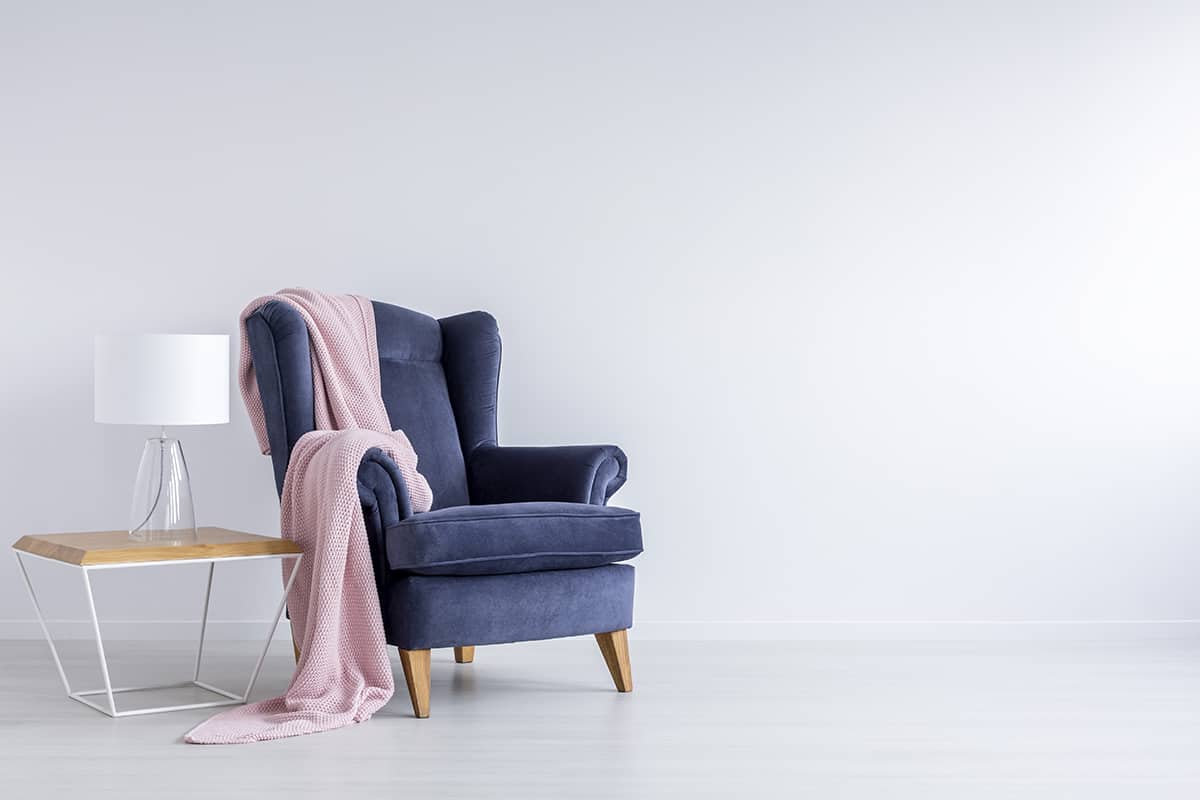 This color scheme is ideal for creating a modern luxury style. Choose white walls and velvet-upholstered sofas in indigo blue with faux fur blush pink cushions. These three colors are popularly used in geometric prints, for example, on wallpapers or bed linen.
The soft and dusky color of blush pink makes a nice contrast against dark blue, and it also adds a touch of subtle femininity to a room that might otherwise appear quite masculine.
Navy blue, white, and red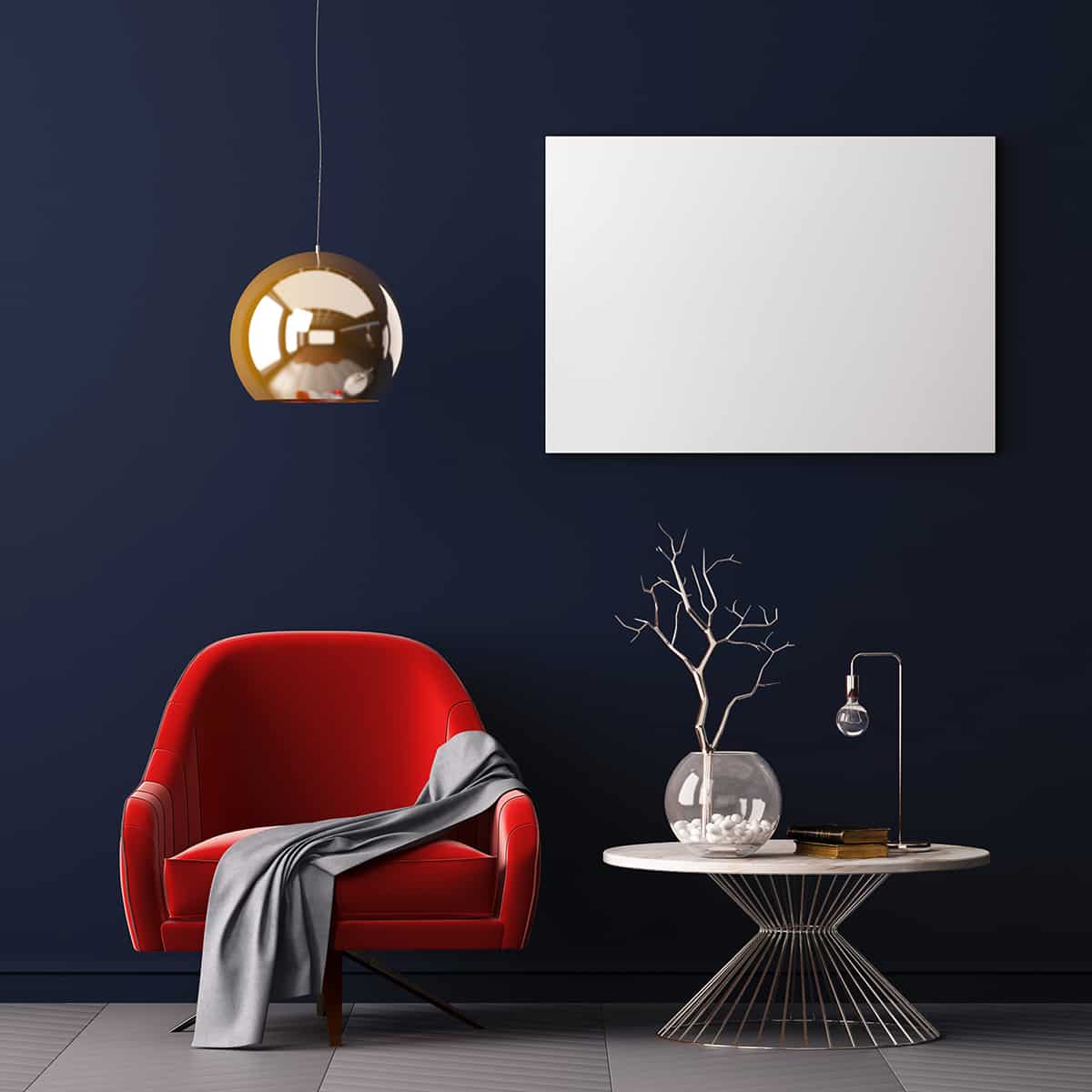 For a classic Americana or heritage-style interior, add red accents to a navy blue and white room. These colors draw inspiration from the stars and stripes and can work well in a variety of rooms, such as a casual living room or a teenager's bedroom.
Use navy blue and white as your primary colors at a ratio of 60 to 30, and use red for your final 10% of the space for occasional accents such as some small placemats or cushions.
Blue, white, and emerald green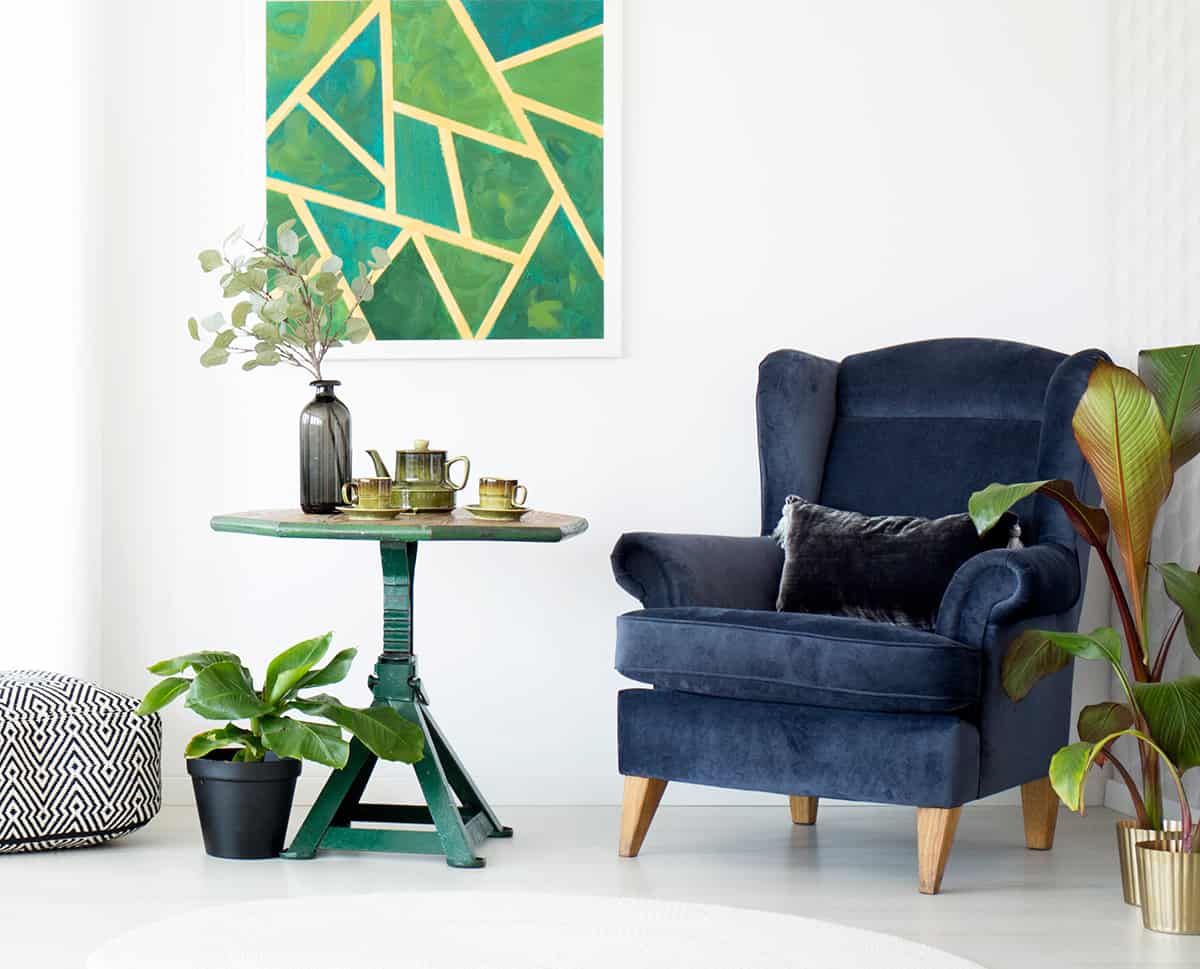 Emerald green goes nicely with white and almost any shade of blue. Choose a pale shade of blue such as duck egg blue for an elegant and relaxing feel with this color scheme, or opt for royal blue for a more intense and opulent look.
Sky blue, white, and yellow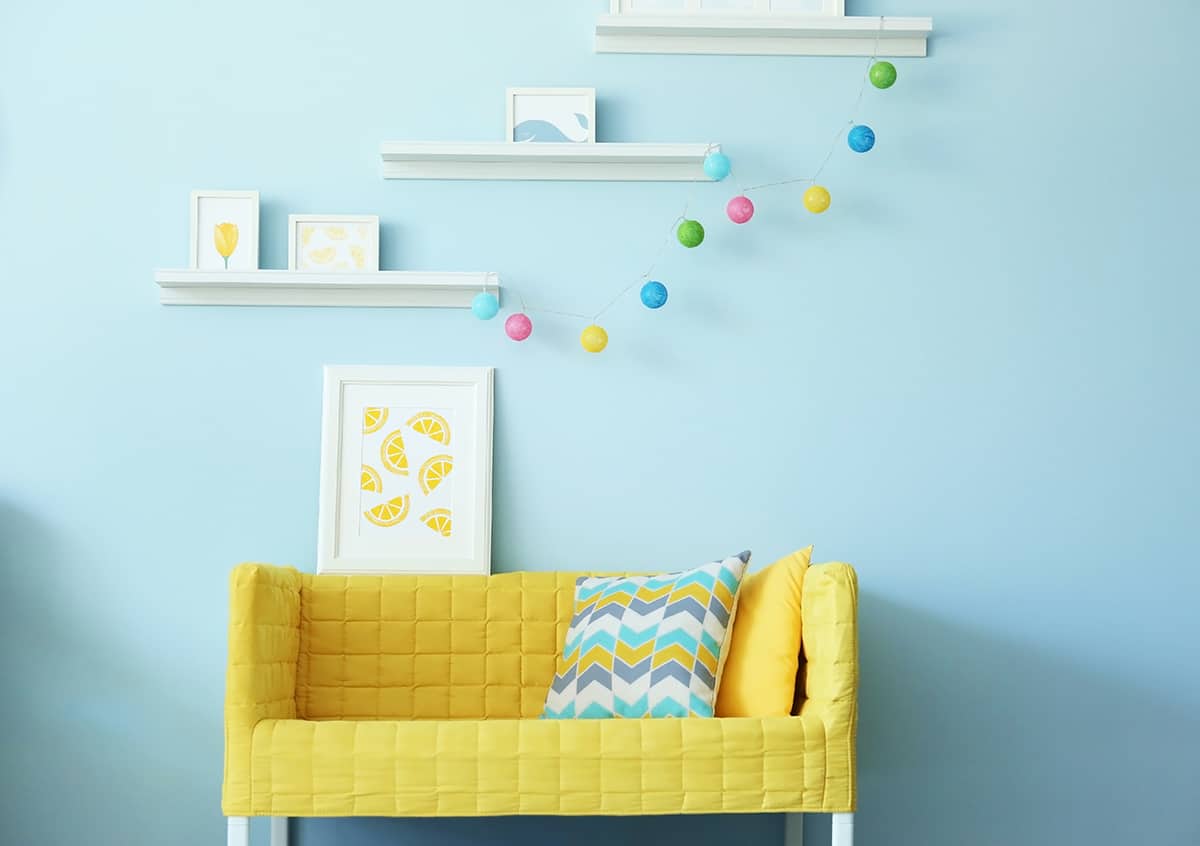 These three colors work really well together for a casual coastal vibe. The blue color represents the ocean and the coastal sky, while the white represents clear sands or fluffy clouds, and the yellow represents the sun.
This will make for a bright, cheerful, and relaxing space that is perfect for lounging in. Use white as your wall color with blue sofas and yellow accents such as plant pots or picture frames.
Cobalt blue, white, and peach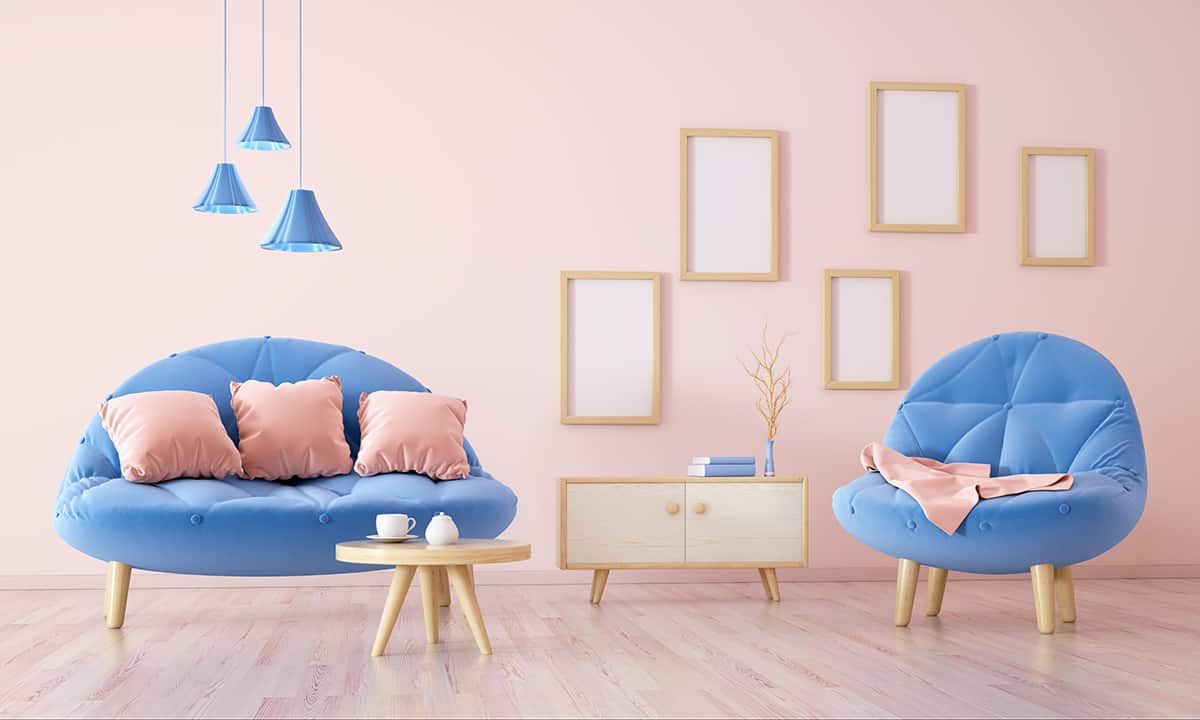 This color scheme offers a modern look, with blue and peach operating as contrasting shades. The peach will add some femininity any color it combines with, while the blue and white provide crisp and clean energy.
Paint walls in peach and introduce cobalt accents such as curtains or bed sheets. White painted furniture will stand out against the other two colors and help to bring some neutrality to the room.
Blue, white, and black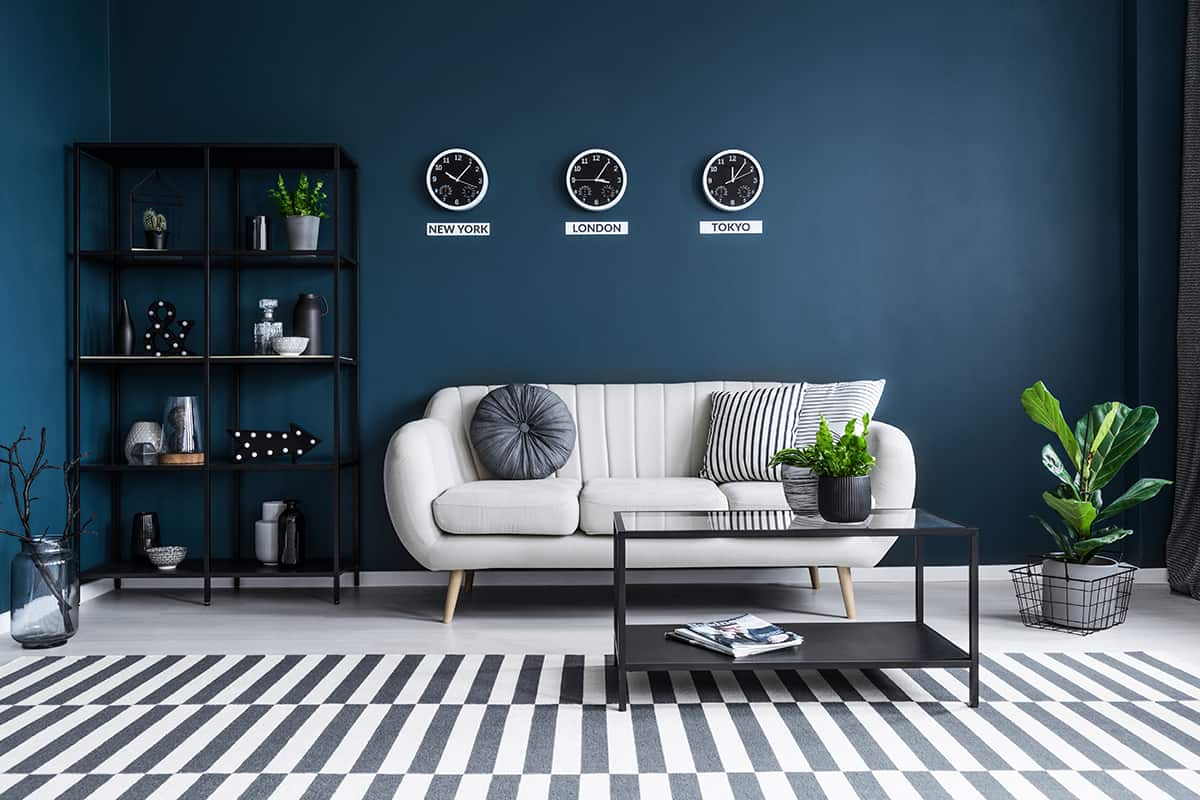 Black brings a slightly edgy feel to a blue and white room. Use it to add definition or make a space feel more mature or classier.
Black frames will look great against a white wall with blue soft furnishings, or set a black rug on a white-washed wooden floor with blue painted walls.
Denim blue, white, and copper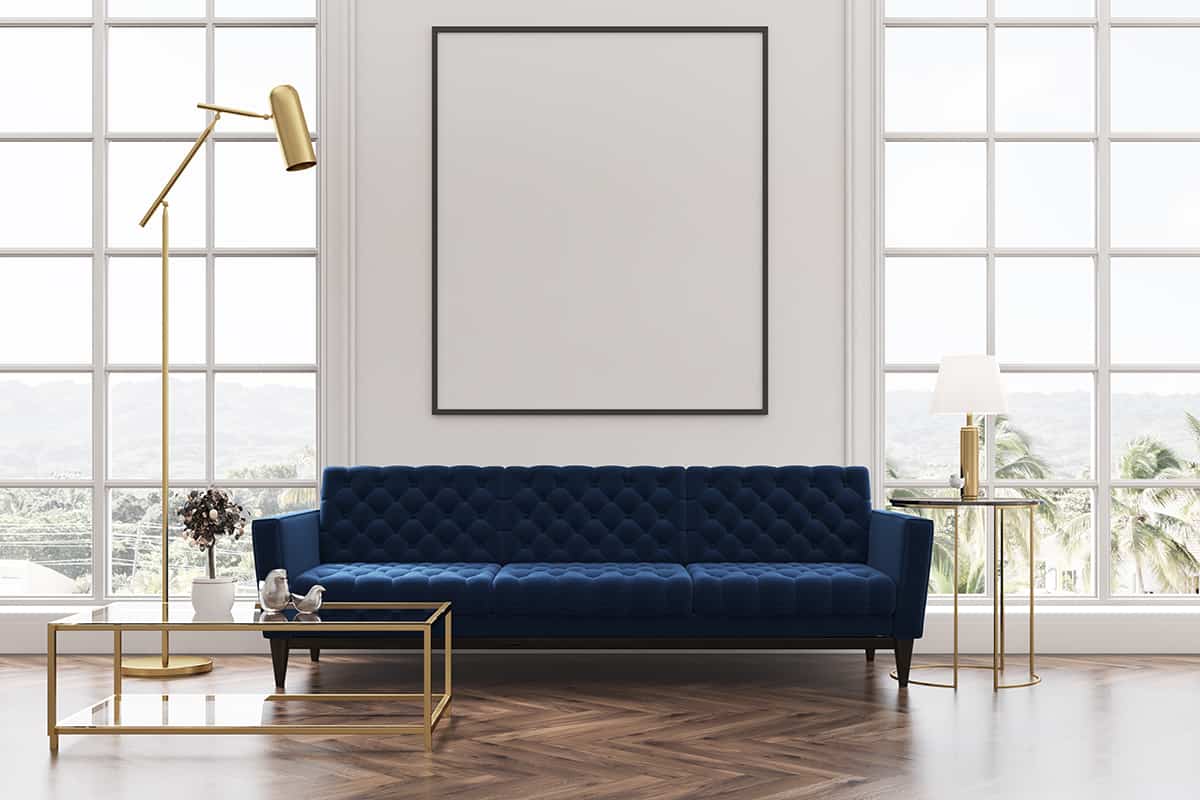 Copper is a beautiful metal to use with blue because it provides a stark and warm contrast. As orange is the opposite and contrasting color to blue, and copper is essentially a metallic version of orange, we can see that these colors will always look great together.
Adding white to the equation helps to ensure the space doesn't get overwhelmed with color.
Blue, white, and brown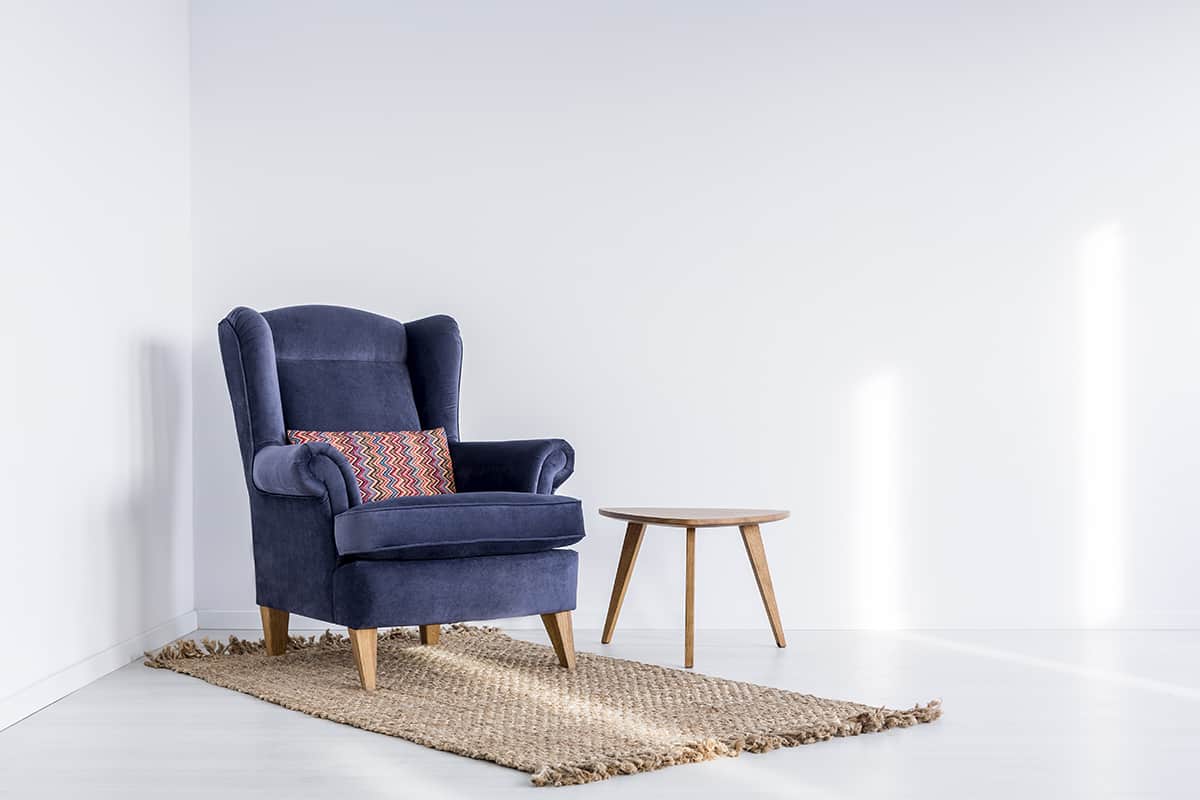 Brown wooden finishes are great, with a blue and white color scheme to help define the style. Choose worn or unfinished wooden furniture for a rustic look or high lacquered dark wooden furniture for a formal or regal flair.
The warmth of wood will contrast against the cool of the blue and help to make a room feel more welcoming and comfortable. Consider brown hardwood floors or wooden countertops in a kitchen.