Raising a newborn baby always brings a combo of worries and joy, but there is at least one thing that is all about fun. Designing your youngling's nest is your opportunity to make the baby his own safe comfort zone, and functional space for yourself. When it comes to safety and functionality, it doesn't matter if you're welcoming a girl or a boy.
One of the first things that come to mind when talking about a baby boy nursery is the color blue. Though you can use it in various ways, blue doesn't have to be the dominant tone. Some designs can give those sweet old baby boy nursery clichés a new and authentic touch, and provide you with a possibility to pull out your own style.
Baby Nursery Essentials
The first step is to prepare yourself for the bare necessities you have to take into your baby boy's nursery.
The crib and the bedding are an absolute must. A changing table another is another highly useful piece that will ease you and your cub those dirty diapers moments. To store all of the baby's stuff (and we all know how much stuff those little creatures need from the very first day), you will need lots (and lots) of storage. Lastly, if you have enough room, a rocking chair is the item that will help you to rest, feed your boy and make you both fall asleep together.
We will show you the variety of ways to combine all these elements in the package satisfying for the whole family, with the accent on the boyish style.
Here is a good article that explains what you need to have for a nursery DIY – https://www.crateandbarrel.com/ideas-and-advice/how-to-design-nursery
Baby Boy Nursery Ideas
Here is the list of 15 baby boy nursery ideas you can use as an inspiration while building your newcomer's happy place.
Either you opt for the minimalistic or more of a whimsical design for the nursery, be sure to enjoy while working on it, bearing in mind all the safety standards.
1. Gender Neutral Baby Nursery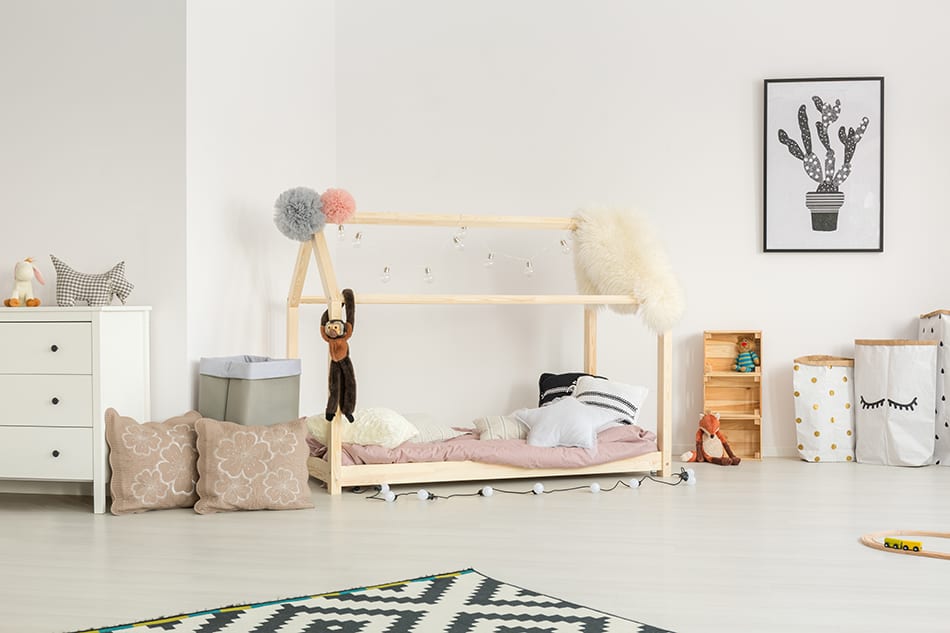 If you plan to expand your family sometime in the future, gender neutrality in the selection of colors and themes is always a pragmatic solution. Keeping it simple and straightforward is the best choice in such a situation, especially if you are among those parents who don't mind the gender labeling of their baby's outfit.
In this case, white and beige are the winning color, bringing a sense of cleanliness and simplicity to the space. Just as importantly, baby furniture in white/beige is available and affordable most of the time, working on your budget. However, you can choose whatever neutral color you like and manage to find the pieces colored in it.
If the crib, storage, and changing table come in white (or beige, grey, yellow, green, etc.), you can add some accessories in different colors to break the monotony. Try to combine one or two more colors with the dominant one to add some contrast.
That is especially useful for changing elements, such as wall color, bedding, carpet, art pieces on the wall, and other items. You can easily modify them in the future once you welcome a baby girl or simply decide to make a change in your living space. Or check our our guide on ' 17 Colorful and Creative Teenage Girl Bedroom Design Ideas ' for some girl bedroom decorating ideas
BUILD THIS NURSERY: https://www.babylist.com/hello-baby/gender-neutral-nursery
2. Nautical Theme Baby Boy Nursery

Naval colors and motives have traditionally been related to boys and are commonly used in the design of boy clothes, toys, and rooms. This characteristic combination of blue, white, and a pinch of red, can be easily applied to your son's nursery.
One possibility is to get a crib that follows the shape of a boat. You can add other pieces of furniture in the same design. In this case, color is not essential.
The easier way is to paint the crib, storage, and changing table in a navy blue color. Then you can add another nautical décor around the room to complete the concept. Bedding is usually available in this pattern, so it's the easiest part.
Paint the walls in blue-and-white stripes, or put the wallpaper with maritime symbols, such as seagulls and lighthouses. Try to complete the design by using details you can find in the home décor stores or the antique shops – ship in a bottle and a buoy, or the pictures of a deep blue sea, swimming whales, and sailing ships.
If you want to add a nice finishing touch, you can put the bolded caption "Captain (your son's name)" above the crib (you can use wallpapers for this).
BUILD THIS NURSERY: https://www.instructables.com/id/Nautical-Themed-Nursery/
3. Across the Universe Baby Boy Nursery
Nobody expects that the design theme of their children's rooms will affect their future profession. However, we can do our best to inspire them to look at the stars and to strive for greater heights, expanding their horizons and imagination.
Is there a more convenient way to do so than make their room inspired by the astronomical theme?
It is one of the most playful options that will make you feel like a child again. There are plenty of possibilities to use the universe as a nursery leitmotif. Paint the ceiling dark blue, adding to it the moon and the stars. Hang the map of the Milky Way on the wall and put the rotating toys above the crib, with the rocket ship, planets, astronauts, and the stars. Put the led starry night light on the shelf.
"Wish upon a star," "Dream Big," and "Shoot for the Moon, Reach for the Star" are some of the most common labels parents use while decorating such nurseries.
BUILD THIS NURSERY: https://www.brooklynlimestone.com/2018/02/girl-astronaut-nursery-makeover.html
4. Tropical Baby Boy Nursery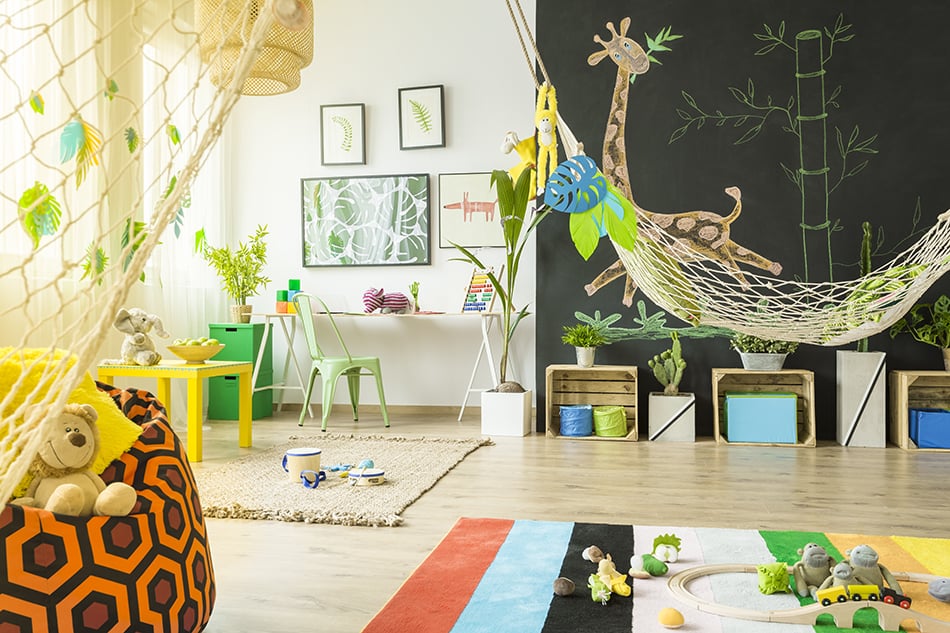 Tropical plants became among the most popular decoration nowadays, whether they are used as real plants or just as decorative motives. It is easier than ever to shop a blanket, a carpet, or a pillow painted with Monstera deliciosa plant or a banana leaf.
The key color for this outline is green, with a variety of shades. If you paint the walls white, you can add green wallpaper details with giant leaves, palms, or flowers. Don't forget to bring a monkey, parrot, or flamingo toy to introduce your youngster to exotic animals from a young age.
Put a cotton leaf play mat, rotating toys with Monstera plants or palm leaves and exotic birds, a small flower pot by the window, and a LED light in the shape of a flamingo. They will make this jungle galore even more amusing.
BUILD THIS NURSERY: https://cozynursery.com/the-jungle-theme-nursery/
5. Safari Baby Boy Nursery
Right next to the tropical lies a safari nursery. You can put them together, making an exotic blend, or go separately.
There are several things not to be missed regarding the safari baby nursery. The first one is a giraffe in all its incarnations: painted on the wall, as a stuffed toy, or as a painting. The elephant is another favorite children's animal available in different shapes. Its color brings calmness to the tropical diversity of colors that usually surrounds safari animals.
If you like the black-and-white combination, you can use it as a decoration color, along with the zebra pattern.
BUILD THIS NURSERY: https://www.alphadorable.com/blog/10best-safari-jungle-nurseries
6. Boho Baby Nursery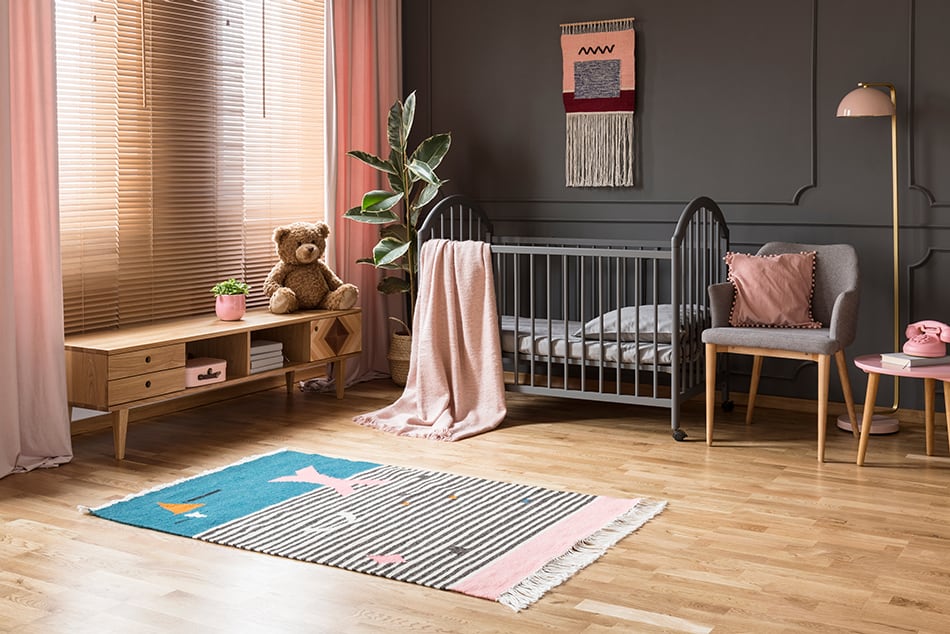 Another popular and universal decoration style that can you can apply to the baby's nursery is boho. The buzzword related to this style is – natural. More specifically, natural materials and natural colors.
The interior designers agree that the best materials for boho are wood, rattan, jute, and seagrass. Speaking of color, the wooden elements should be natural, ivory, or beige, while the wall and the bedding can be mint green if you're welcoming a boy.
The most famous boho accessory that can be applied to the nursery room is the dream catcher. It will symbolically provide your infant with protective charm (and the nursery room with a nostalgic atmosphere).
Other ornaments are supposed to be made from rattan. If you can't find the rattan crib, then the rattan chandelier or simply the seagrass basket will do its thing.
The boho style can be very inspiring. Try to play with it and make your baby boy an Indian cotton tent, or at least a cotton canopy above the crib.
BUILD THIS NURSERY: https://projectnursery.com/projects/boho-baby-nursery/
7. Woodward Baby Nursery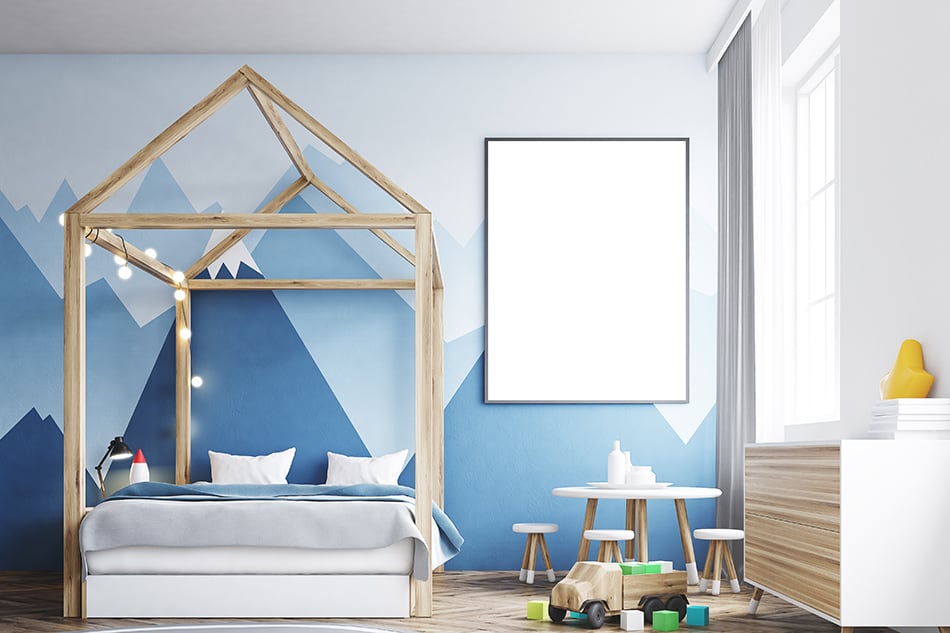 An additional sweet cliché for the baby boy nursery is to make a woodland out of it, giving it a timber-like look. It is usually rustic in style, but you can combine modern design with wooden elements and forestry symbols.
Even though the brown and green colors dominate this design, you can simply use what you have. Even the white crib and the changing table can become part of a woodward nursery if you add a giant grizzly bear, paint the walls green, add a mountainous contour, and hang the fake deer antlers on the wall.
Put the plaid bedding set and a moose toy inside the crib and a dwarf conifer tree next to it to make your little lumberjack feel complete.
BUILD THIS NURSERY: https://www.thespruce.com/beautiful-nurseries-inspired-by-nature-2504955
8. Library Baby Nursery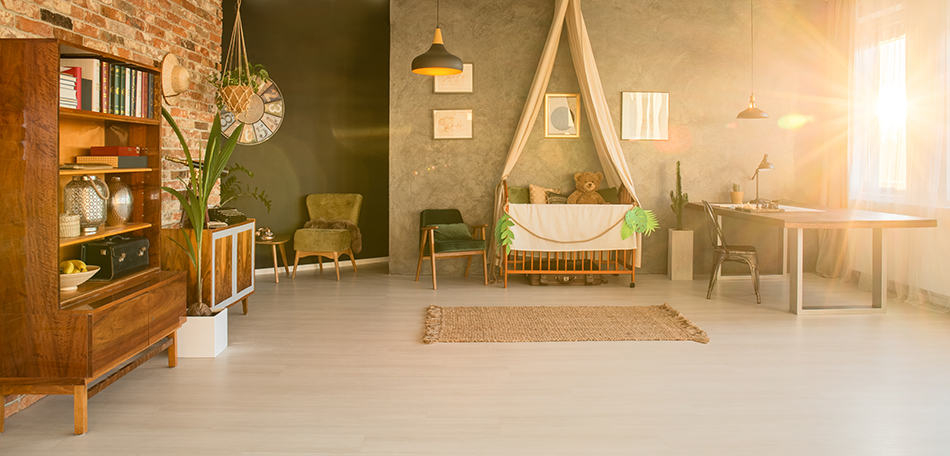 If you're a book-loving parent, making a bookworm out of your child should be a life-long project starting from the very first day. Not only should you read to them from an early age, but they should be surrounded by books and literature motives to embrace them as their natural habitat.
Adding the library chic to your baby's nursery shouldn't be a difficult task. However, putting too many books on the shelves right above the crib is not the best option – books collect dust which is not healthy for a newborn. You can grow their number gradually, just as your son grows himself.
Instead, you can make a selection of your favorite children's books and set them out on the shelf just as in the shop window. You can paint the wall with the literary quotes you like, or pick the favorite one that will be bolded and centered on the wall. Don't forget to choose some nice cursive font. Books can also be painted on the wall, or you can find them as wallpaper.
Lastly, don't forget to put a reading lamp on a place where you will read the goodnight stories to your baby.
BUILD THIS NURSERY: https://projectnursery.com/projects/library-nursery/
9. Jurassic Baby Boy Nursery
It seems like a constant of childhood throughout the eras – boys are obsessed with dinosaurs. So why don't you make your dinosaur-loving junior happy in advance – especially because dinosaurs are widely available in children's shop stocks?
Whatever pieces of furniture and other items you have already prepared, you can just add the Jurassic decoration to them. Set the wallpaper with dinosaurs, and put the collection of toy dinosaurs on the shelves, and the bedding with the same motives inside the crib.
They are usually available in green, but blue and grey are also quite common. In the end, hang the picture on the wall telling, "Roar means I love you in Dinosaur."
BUILD THIS NURSERY: https://athomewithashley.com/diy-dinosaur-shelf/
10. Patterns Baby Boy Nursery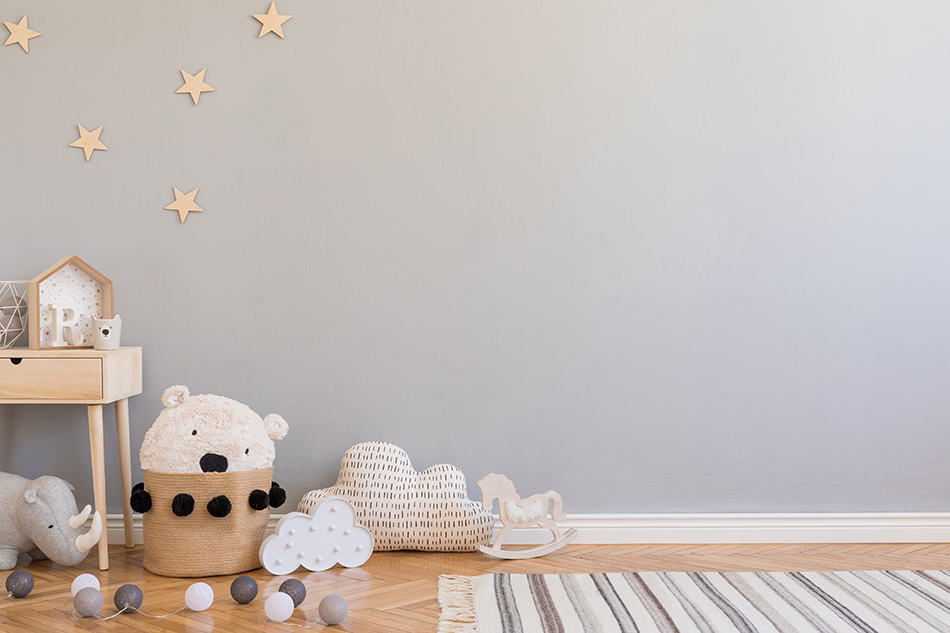 A simple way to decorate your baby's room is to introduce it with various patterns, combining them all tastefully. Whether they come as geometric or non-geometric, be careful not to mix too many of them.
Preferably, you will choose one pattern to vary it around the nursery. If you like stripes, you can find the curtains in this pattern. If polka dots are your favorite, you can paint the walls with giant dots and add the bedding in the same pattern.
Whatever pattern you opt for, color is of secondary importance. The advantage of this approach is the possibility of contrasting the colors you like. Furthermore, it gives you all the freedom to combine various shapes and colors.
BUILD THIS NURSERY: https://www.houzz.com/photos/nursery-polka-dot-phbr0lbl-bl~l_83727
11. Shades of Blue Baby Boy Nursery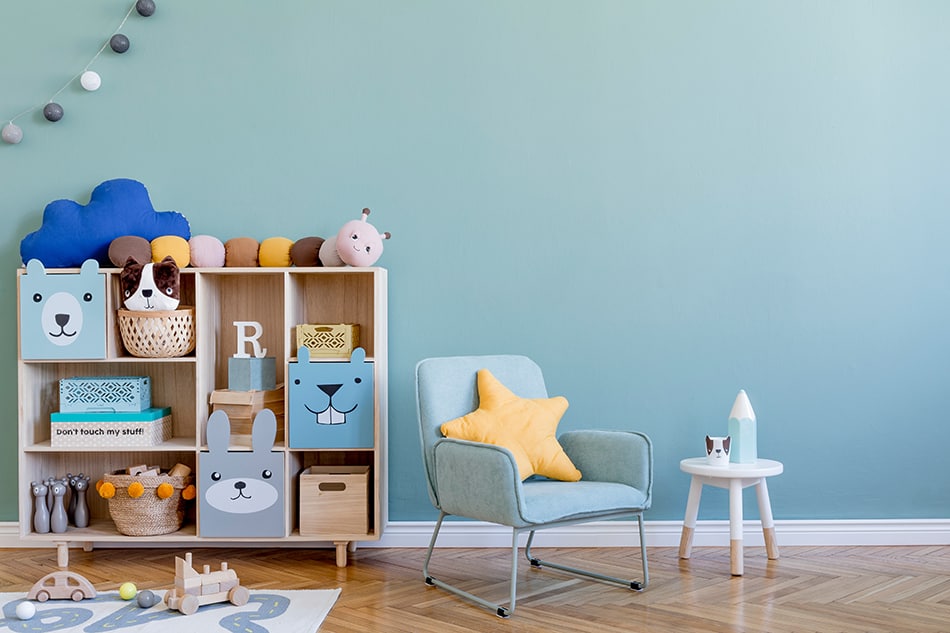 If you can't resist the blue color priority for your baby boy's room, we can't blame you. It is believed to be the most chilling color, with a calming effect. Blue is often associated with depth and stability, symbolizing wisdom, confidence, and heaven. For that reason, putting it in the baby's nursery can't be the wrong choice.
An interesting way to play with the blue is to use the variegation of its shades. Choose a few you prefer the most, and combine them with white or ivory. Geometric patterns can be of help again because they allow you to play with the coloring.
You can nail it by adding the blue velvet accessories around the room, introducing your boy to both luxury and popular culture at the same time.
BUILD THIS NURSERY: https://rachelparcell.com/jacksons-nursery-reveal-giveaway/
12. Counting Sheep Baby Boy Nursery
We have all been told sometimes to try counting sheep when we can't sleep, so it can be fun using this theme for our baby's nursery. What's more, sheep are animals that stand for being modest, humble, and gentle. With their white color and soft fur, they make a great theme for the baby's room. Lastly, who knows, it may help you too fall asleep imagining sheep jumping over a fence.
Leave the wall white and paint it with the flock of small sheep or with their contours if you prefer a large painting. This should be easy since their shape is characteristically simple. Add the rotating sheep above the crib to help your child slumber away.
Finally, use the woolen fabric here and there to make the room cozier. The woolen blanket is always the best buy. It will make your baby boy warm while dreaming of herding sheep.
BUILD THIS NURSERY: https://blog.jennysteffens.com/emmas-nursery-soft-cuddly-nursery-pale
13. Barnyard Baby Boy Nursery
This is an original and challenging idea for the baby boy's room. To transform your baby's nursery into the barnyard, you will need wood, lots of paint, and even more patience. But once you finish it, it will be worth the effort.
Choose the center wall to paint it red or, even better, to cover it with wooden panels painted red. Add to it a white framework typical for the barn and the split rail fence made from white panels under the window.
Adorn other walls with paintings of domestic animals – chicken, horse, cow, green grass, corn stalk, and bees. Finally, be careful not to load the space with too showy pieces of furniture. Try to keep them simple and in neutral colors, since the rest of the room should take all the glory.
BUILD THIS NURSERY: https://www.instructables.com/id/Tys-Barn-Yard/
14. Drifter Baby Boy Nursery
If we cannot travel distances due to the pandemic, we sure can go places in our imagination. Make your baby boy a traveler as early as possible by building his room an atelier of a real voyager.
Giant map of the world or a specific continent hung on the wall will help you achieve this goal and will ease the hours of preparing your baby to sleep. You can find a wallpaper with the map, paint it, or buy the real map in an antique shop.
Use different state flags and souvenirs as ornaments. Put the lighting globe on the shelf or the lamp with a lampshade painted with the map.
There is no doubt that, after all these months spent in a room like this, feeding, changing, and playing with your baby, you will have no choice than to become an expert in geography.
BUILD THIS NURSERY: https://projectnursery.com/2015/06/travel-inspired-nurseries/
15. Vehicle Baby Boy Nursery
Cars and airplanes are typical boyish themes frequently used in nursery decoration. You can go vintage or modern, depending on your personal taste.
Aside from the wallpapers, carpets, toys, and other items available with the car and plane elements, you should go beyond the regular shopping and try to find some antique pieces. Paintings hung on the wall with the cars will also improve the space.
You can put the old traffic signs and vehicle registration plates on the wall, combining them with paintings, or you can simply paint them.
In case the aircraft is your choice, buy the airplane chandelier or a vintage propeller, and hang it on the ceiling. Put the airplane models on the shelf, and paint the clouds around the crib. It will make this aviation nursery just fabulous.
BUILD THIS NURSERY: https://projectnursery.com/projects/vintage-car-themed-nursery/
https://projectnursery.com/projects/olivers-light-bright-nursery/
Conclusion
There are many ideas available out there, ready to help you to make your baby boy's nursery comfortable and pleasant, not only for the baby but also for yourself. After all, you and your family will spend a lot of time there, so it's important to keep it cozy and enjoyable.
It is understood that the nursery is not a magic wand making our children what we want them to be. Moreover, we should refrain from affecting their future choices. Of course, that doesn't mean that we should not paint a mountain over their nursery walls and send them the message saying, "You can move the mountains."
After all, nursing is all about cherishing health and their dreams.
Do you have any experience in building a baby boy nursery? Have any advice to share? What's your favorite idea for a baby boy nursery, and why? Let us know in the comments and start the discussion.