From turquoise and teal to sky blue, there is no denying how calming and peaceful the color blue is. It is, after all, associated with serenity and tranquility. Not surprisingly, this is the color most interior designers use for bedrooms to promote relaxation and sleep.
Given that curtains and walls are side by side, it's important to harmonize the pattern and color of your curtain with blue walls. While there is no right or wrong when choosing an appropriate curtain, you'll want to feel good every time you come home and look at your window treatments. In this article, I will help you decide on the most suitable curtain to match your blue walls.
Should Curtains be Darker or Lighter Than Walls?
When deciding on whether your curtains should be lighter or darker than your walls, you must first make sure the wall color matches the existing decor.
A cool color like blue will work perfectly with warm colors like shades of orange, grey, green, and even red.
A monochromatic tone of blue throughout the entire room is often recommended by interior designers. This means you can go one shade of blue lighter or darker than your walls.
Lighter curtains should be of sheer variety so that you can still see out during the day without people being able to see in. These curtains are ideal for keeping the room light and airy during the day and private at night.
Keep in mind that dark curtains will make the room appear smaller, especially rooms with blue walls. However, if you choose lighter color furniture, you can avoid closing in the space. Heavily patterned curtains will only work in rooms with blue walls if the curtain is of light color or has a blend of dark and light colors.
Heavy drapes that are hung from floor to ceiling tend to shrink the space visually. While your room may feel cozier, it is generally better to opt for such curtains if the room has a high ceiling or larger than average dimensions.
With the above tips in mind, you can now take a look at my 10 ideas on choosing the best curtain for blue walls:
1. Orange as a Complementary Color
With solid-colored walls like blue, it makes sense to use complementary color schemes. Orange is one such color that can go beautifully with light blue walls.
This fun-colored curtain from Calypso will enhance the beauty of your interiors and look stylish in any room. There are 8 colors to choose from, which all complement your blue wall.
2. White for Neutral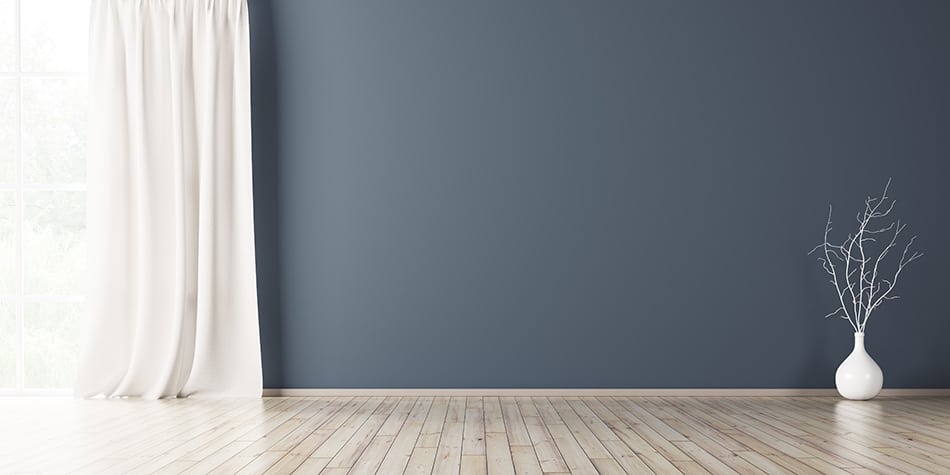 If you're not keen on strong colors like orange, you can tone it down by choosing a neutral color for your curtains. White drapes next to blue walls provide a warm and inviting feel. White is a classic color and can complement both a light blue and dark blue wall. This neutral shade gives a clean look that leaves the mind uncluttered so you can focus on your room's surroundings.
In this example, the white curtain hung above the window line gives the illusion of height. When paired with other neutral furnishings, the blue wall will act as a focal point.
3. Tan Curtain on Blue Wall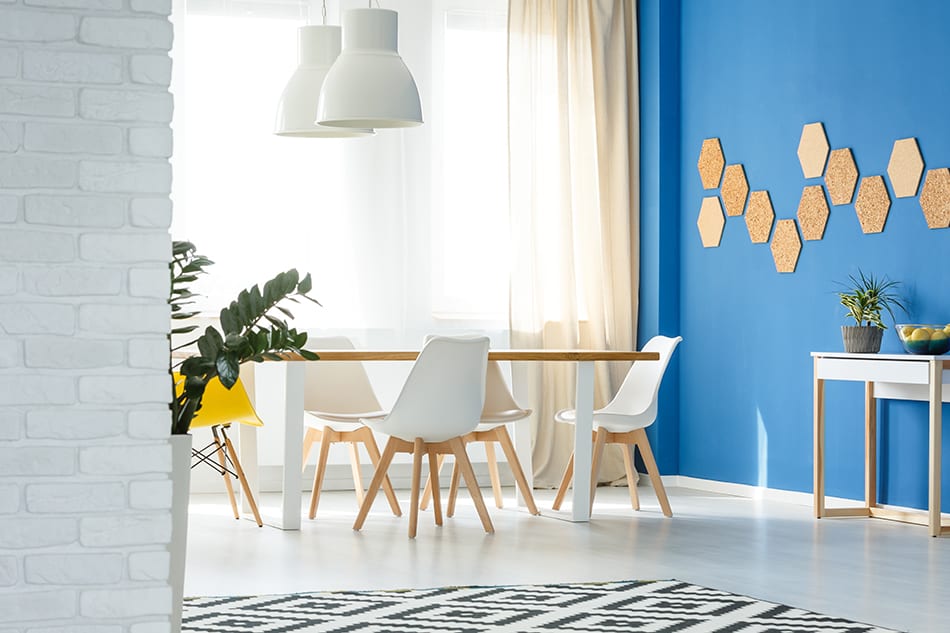 Another neutral variation to highlight your blue wall is by choosing tan curtains. White, tan, and blue make any space airy and inviting. Tan is a warm color that can be used with a cool or warm color for a neutral look.
To add visual interest, you can match the color of your curtain with the furniture and just leave the blue on the wall. In this image, notice how the cool blue wall stands out next to the neutral furnishings without overwhelming the space.
4. Medium Gold Curtain on Blue Wall
A vibrant living room or formal dining room needs elegant curtains to enhance the visual appeal. The idea of using contrasting colors on blue works by adding tall, gold curtains and choosing hardwood flooring to match the curtains.
These stunning gold curtains from KoTing are perfect for high-ceiling rooms for an illusion of space. Block out the sunlight effectively and enjoy the luxurious look of these curtains in any room of your home.
5. Bright Yellow Curtain on Dark or Light Blue Wall
Another contrasting (and even brighter than gold) color you can use is bright yellow. No matter whether you have light or dark blue walls, a combination of the sea (blue) and sun (yellow) will work beautifully.
Here we have vibrant yellow curtains that can be added to the kids' or adults' bedrooms to showcase the blue walls. The extra thick yellow curtains feature woven microfibers that make them drapable and heavy in order to effectively darken the room and help you sleep well.
6. Teal Curtain on Teal Wall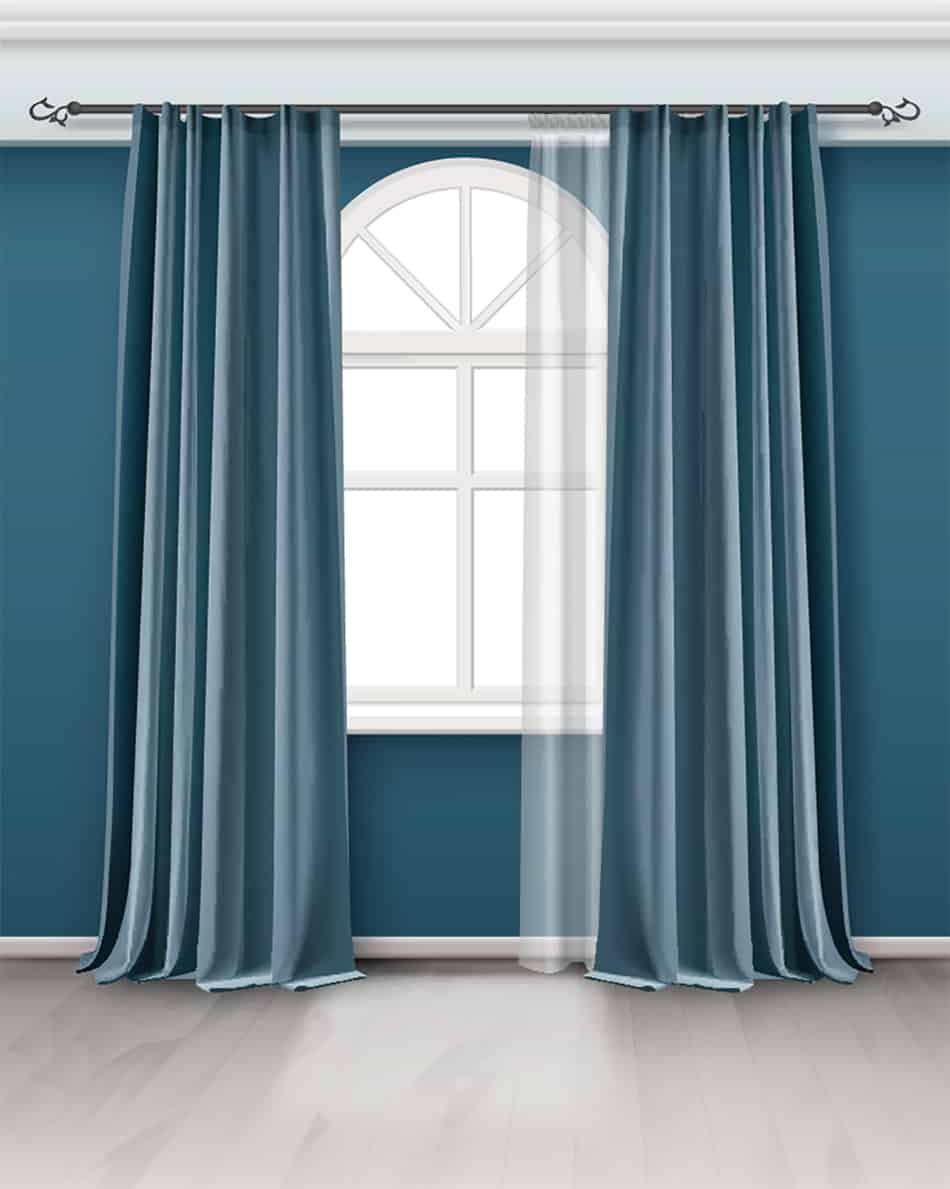 To make your room appear much bigger, opt for the same shade for the curtains as the walls. Going this route will provide you with a wider choice of different color furnishings when it comes to adding other accents to the room.
Here the teal curtains next to the teal walls have created an elegant vibe, which proves you don't necessarily have to go one shade darker or lighter than the walls.
7. Soft Grey on Blue
Since blue and grey are both cool colors, they are a natural match when choosing curtains for your walls. For a subtle and beautiful look, opt for light grey curtains for your bedrooms or living room.
These triple weave light grey curtains from Yakamok are soft with high-performance fabric that effectively darkens the room, reduces noise, and protects your privacy.
8. Peach Curtain on Blue Wall
A stylish room deserves a touch of inspiration in the form of soft peach curtains. When used next to blue walls, your peach curtains will create an exquisite look.
These lightweight yet simple sheer voile curtains will look great in any traditional or modern home. The airy feel of the peach curtains will soften the room's ambience and add a pop of color to your living room or bedroom's blue walls.
9. Green on Blue Walls
For blue walls that are closer to the shades of green, consider choosing dark forest green for your curtains. This subdued combination of sky and woods works well in any room of the house.
These room-darkening green curtains from Deconovo will be the perfect addition to your blue walls. Create a shelter against UV rays and protect your privacy in the bedroom.
10. Floral Curtains on Blue Walls
So we've talked about all the possible color ideas for a curtain on blue walls. But what about patterns? To add a sophisticated country-style theme to your kitchen, living room, or dining room, consider floral fabrics for a tone-on-tone effect. And the best thing about floral curtains is that you can choose any color combination to match your blue walls.
I recommend opting for mainly green or gold blends for a stylish transition between the walls and the windows. You'll make your room more inviting by using a blend of different colors for your floral curtains.
These floral curtains from Kotile come in 5 different designs to match your blue walls. The beautiful arrangement of colorful tree design gives the curtains a visually clean look that's both elegant and luxurious.
The Verdict
When it comes to deciding whether you should go lighter or darker for curtains on blue walls, it's more about what you're trying to achieve. As you can see from the examples I've shown you, lighter curtains work better on dark blue walls and darker curtains for light blue. But having said that, there are other design elements that go into decorating the room, so there is no right or wrong answer.
When choosing the right curtains, no matter whether they are lighter or darker, think about the pattern, texture, size, and how high you want them hung in order to bring everything together in an orderly manner. I hope my ideas have helped you make the best decision.