Whether you want to decorate your master bedroom in a casual or formal style, this is the room you spend most of your time in, so it's only natural that it should be your favorite space in your home. If you're lucky to have a large master bedroom, you'll have tons of decorating options.
To turn your bedroom into a beautiful retreat, take a look at my 23 large master bedroom decorating ideas with pictures below.
1. Matching Drapes and Furniture with Bed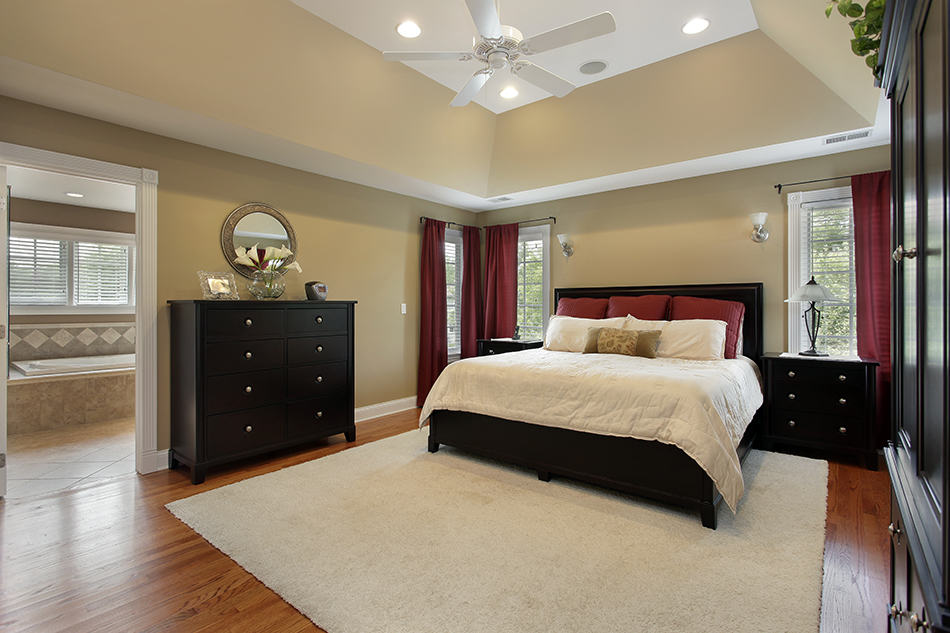 A good trick to use in large bedrooms is to create a unified and cohesive look using the same colors and fabrics. As you can see here, the drapes are of the same color and fabric as the bed's cushions, and the bed frame is the same color and material as the drawers. All this brings the two spaces together beautifully and completes the room.
2. Same Colors for the Adjoining Room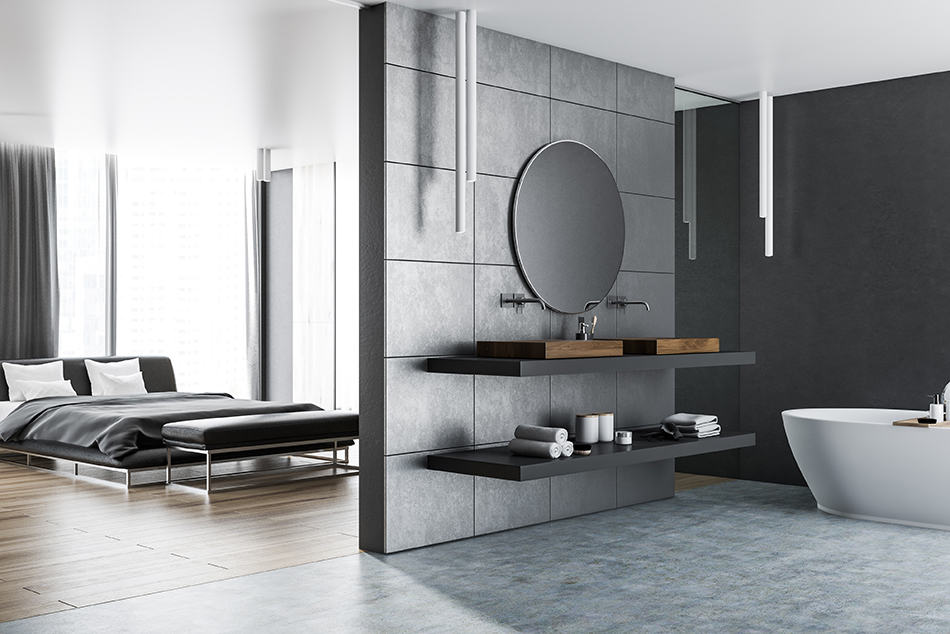 Most large master bedrooms are usually connected with a master bathroom. Using the same colors for both rooms echoes elements from each space. Choose a neutral color scheme throughout while keeping everything unified. In this example, grey and white are the dominating colors in the bedroom and bathroom. A perfect combination! 
3. Brown and White Bedroom for a Romantic Atmosphere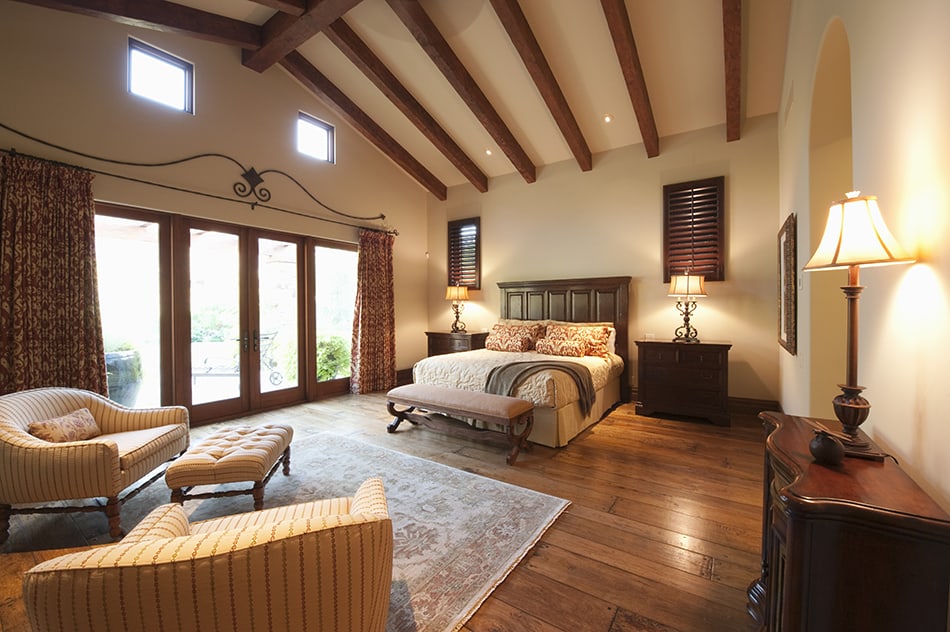 A master bedroom needs to feel romantic, so what better color combination to use than white and brown. This simple color scheme sets the mood for some romance, especially in a rustic setting. The hardwood flooring, the wooden beams and brown furniture bring the whole room in this picture together nicely. All that's missing are some candles!
4. Go All-White for Elegance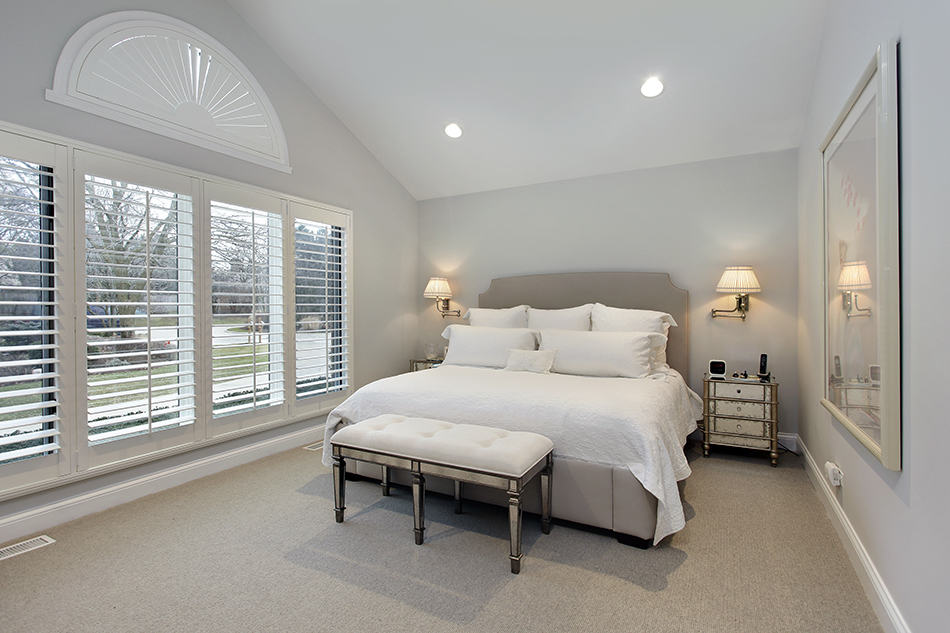 Who doesn't like the color white. An all-white master bedroom from floor to the ceiling is a beautiful way to brighten up the room and create elegance. The large windows in this image give off a reflection that make the room appear larger than it really is. This white bedroom has both a modern and vintage look that emits an inviting feel.  
5. Go Dark for Sophistication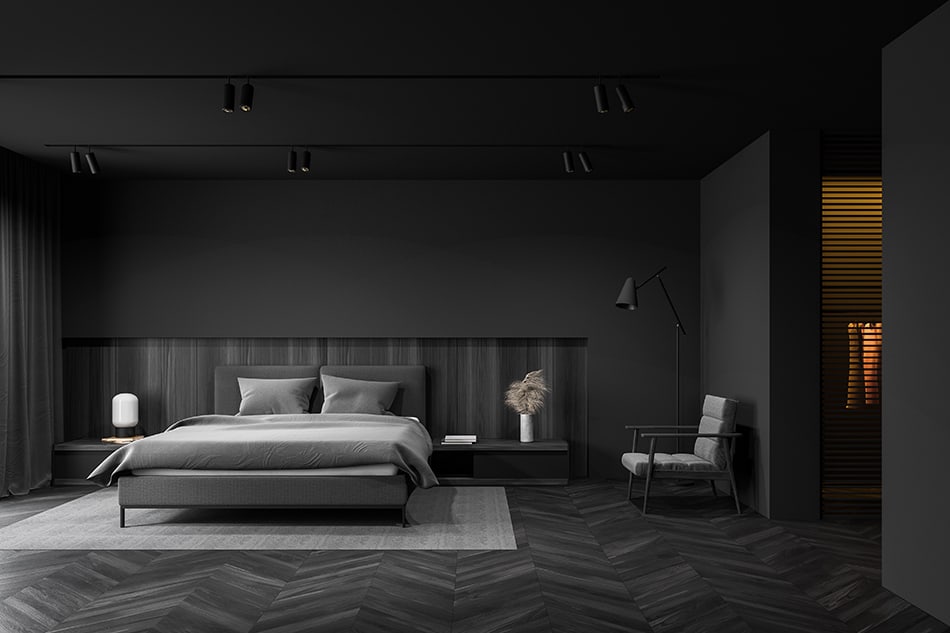 While in smaller bedrooms you can't use many dark colors, in a large master bedroom, there is no restriction on how dark you want to go to create a cozy environment. An all-grey bedroom, for example, with hints of white keep it from being too overwhelming. The furniture is widely spaced out to keep the room feel more open. The tall walls also help make the room look bigger, even though they are in a dark color.
6. Create a Themed Bedroom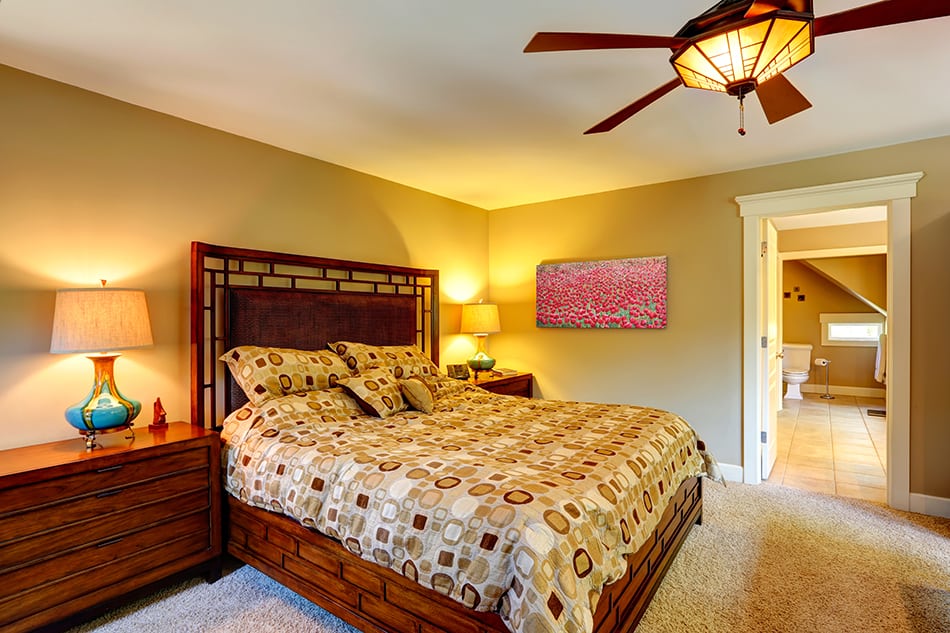 Choosing a themed bedroom is a great way of keeping a large space from being too empty or open. This tropical-themed master bedroom has a rustic vibe with its use of wooden details throughout the room. The wooden decor has an inviting feel that gives a snug and warm ambiance. Feel free to design any theme you like based on your personal taste.
7. Choose the Perfect Lighting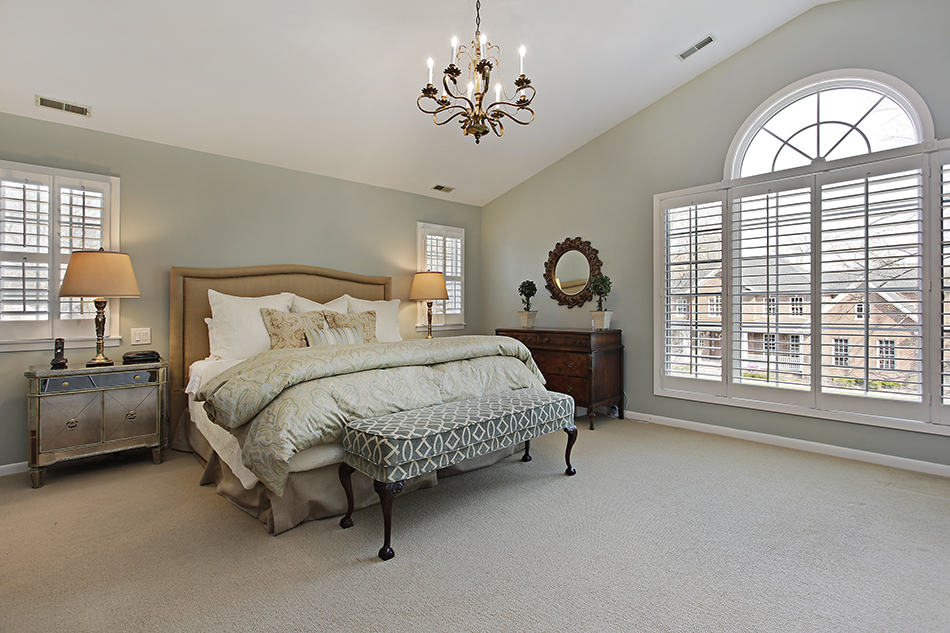 No master bedroom's decor is complete without a statement lighting. But lighting goes beyond decor as you need to see what you're doing when getting dressed or reading a book. This chandelier with the combination of bedside lamps has created a beautiful atmosphere for doing just about anything. I can safely say that once you're in this bed with a good book, you won't want to get out anytime soon! 
8. Choose a Low-Profile Bed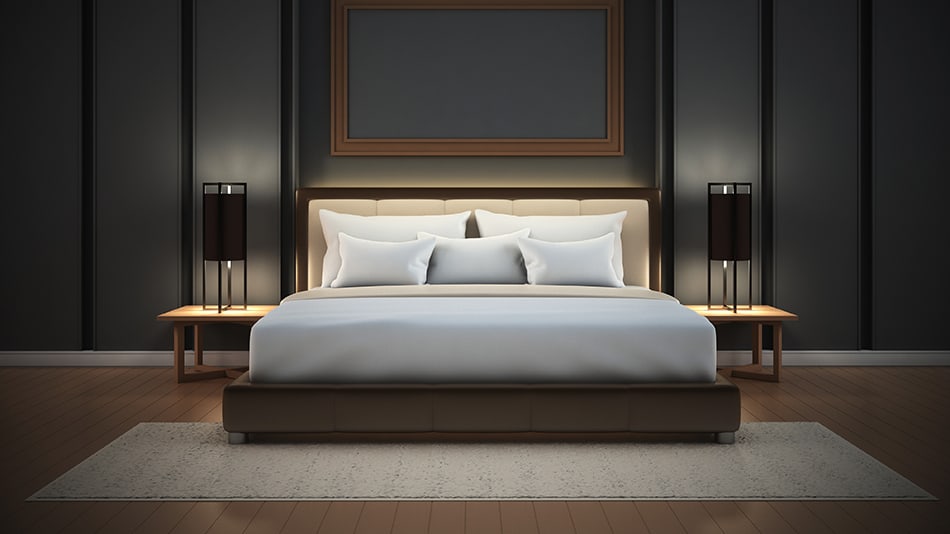 A low-profile bed will give your master bedroom an even more spacious look. These types of beds look sleek and laid-back in comparison to their bulky divan counterparts. In this luxury style bedroom, the platform bed draws the eye directly to the center since the line of sight flows straight over the bed. 
9. Experiment with a Mix of Aesthetics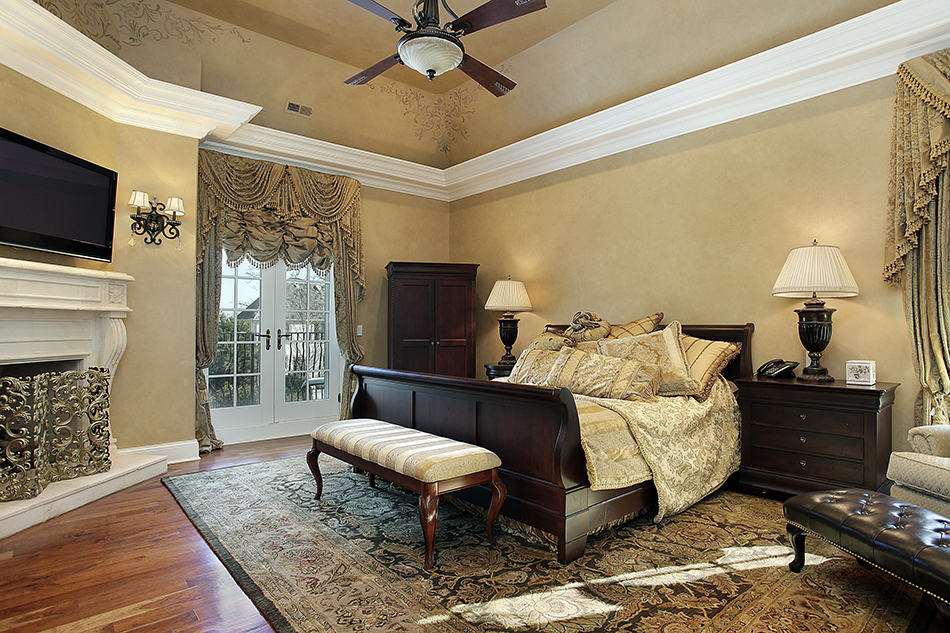 There is no rule that says your master bedroom has to be limited to one style. Feel free to play around with different aesthetics in the form of elegant drapes, floor covering, and other traditional design ideas for a rustic feel. The earthy textures of this traditional bedroom have created an inviting atmosphere that we can't help but want to spend hours in this space. 
10. Mirrors are a Must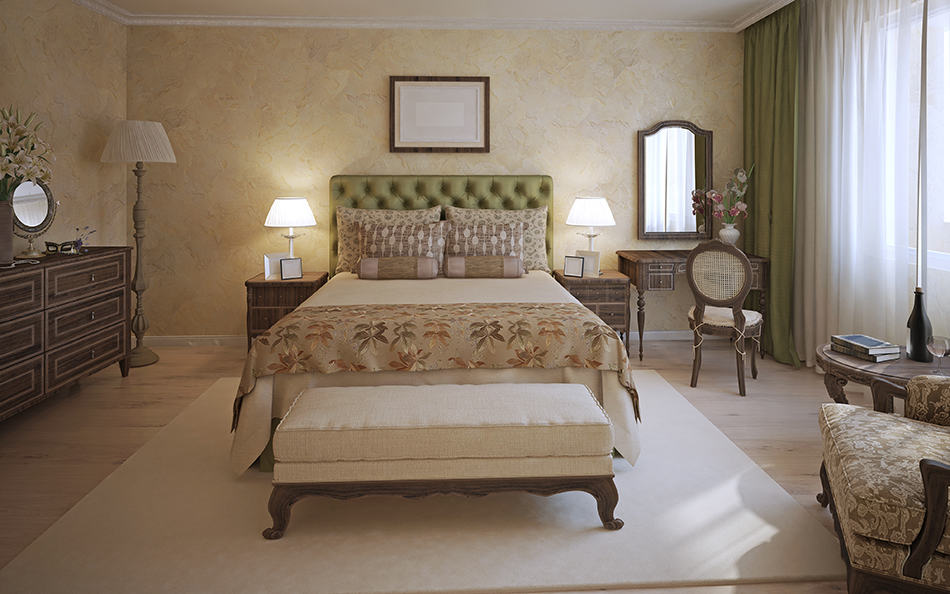 A large master bedroom isn't complete without mirrors. To make your room feel even larger, place mirrors strategically on the dresser and the wall. Mirrored dressers and nightstands are unique and eye-catching as shown in this example of an English-style master bedroom with dark brown furniture and mirrors. 
11. Create Gallery Walls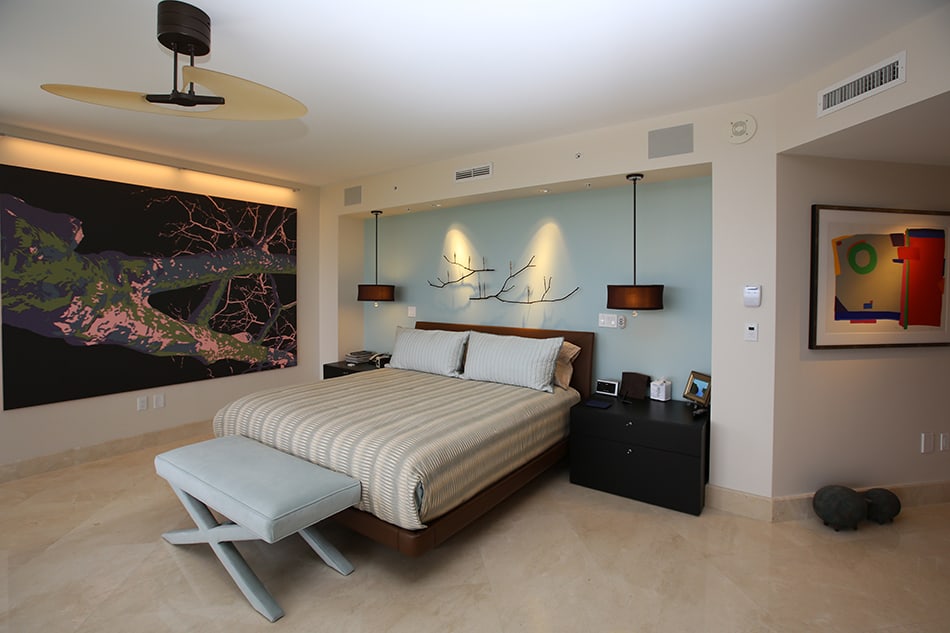 Wall art has been used for decades to pull in patterns and spice up a room. When it appears in the master bedroom, it can complement the color scheme you've chosen. Fortunately, you have a world of options when it comes to selecting a gallery of wall art for your bedroom walls. This is your chance to express your personality while incorporating wall art into your master bedroom decor. Other items that also make a great gallery wall include family photos and wall sculptures.  
12. Use Natural Elements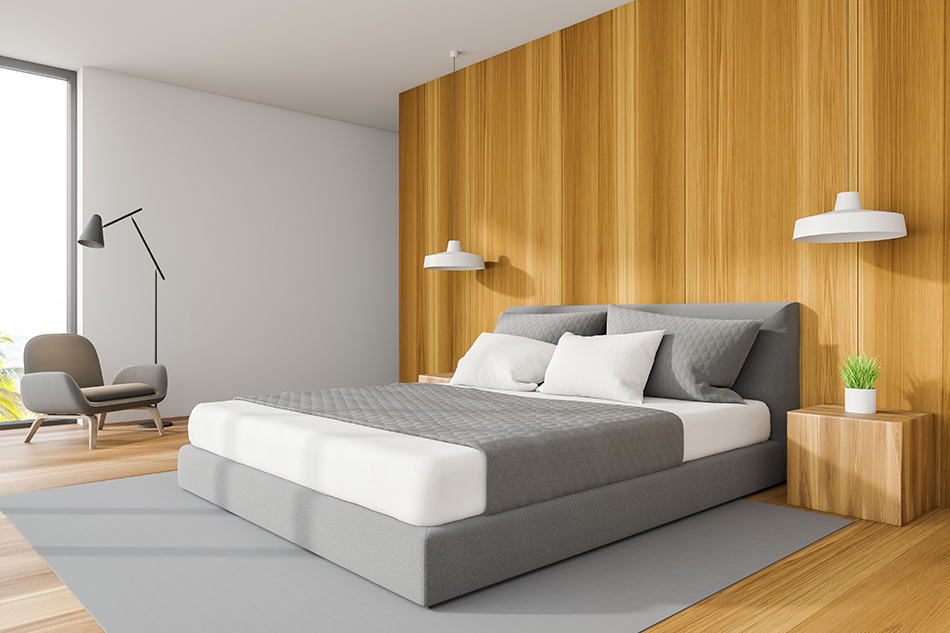 Bringing natural elements like wood to your master bedroom can make the space feel more personal. There is a wide array of different wooden textures you can use for the floor and the walls (and even the bedside table as shown here). No matter whether you're going for a modern or traditional style, polished wood will look beautiful and natural. Plus it will suit just about any color you choose for your bedding. 
13. Lots of Matching Patterns… Everywhere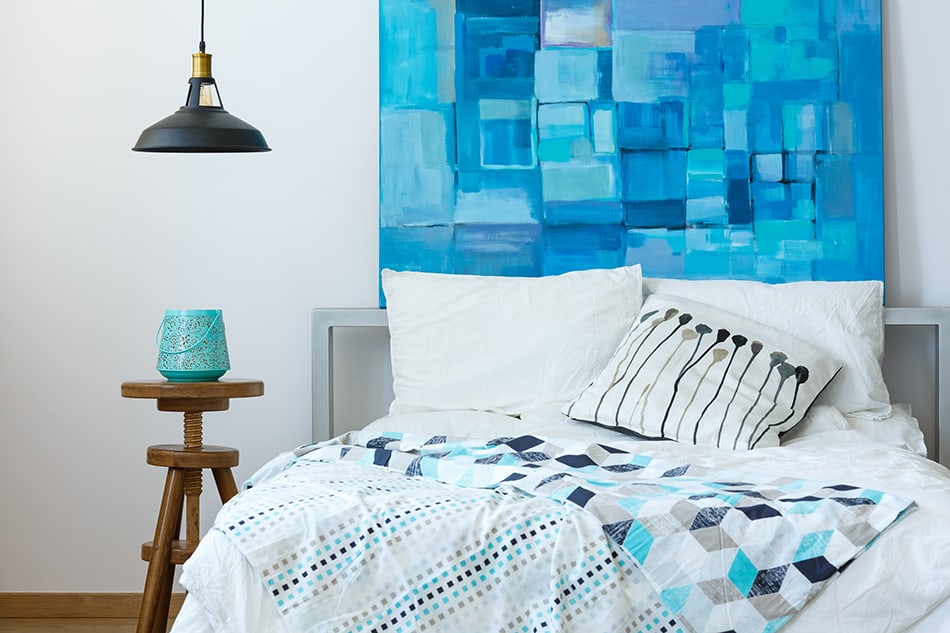 Matching patterns are popular design trends that can be incorporated into a master bedroom decor. Play with patterns on your wall, bedding, and even furniture. Tip: use intense colors like blue to create a focal point as shown here. 
14. Incorporate Built-in Shelves into Your Design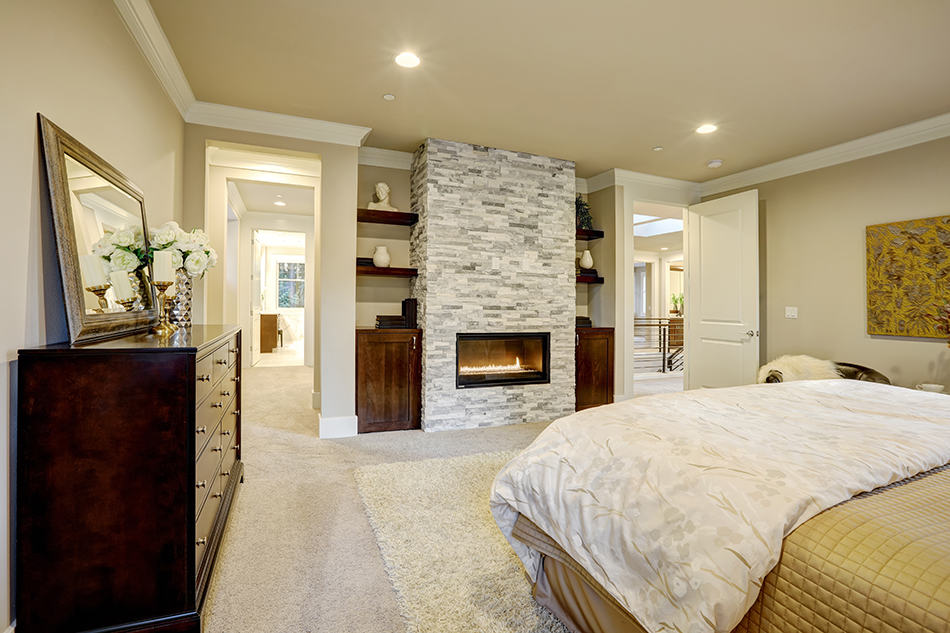 A master bedroom can never have enough storage. But the problem with dressers and drawers is that they tend to cramp the room's style. The only way to get around this is to incorporate built-in shelves into your bedroom's overall design. In order to avoid making these shelves stand out, place them strategically within walls. This allows you to optimize your space without cluttering the room with wardrobes and drawers. See how these shelves subtly provide storage without taking up any space in this bedroom. 
15. Have a Corner Seating Area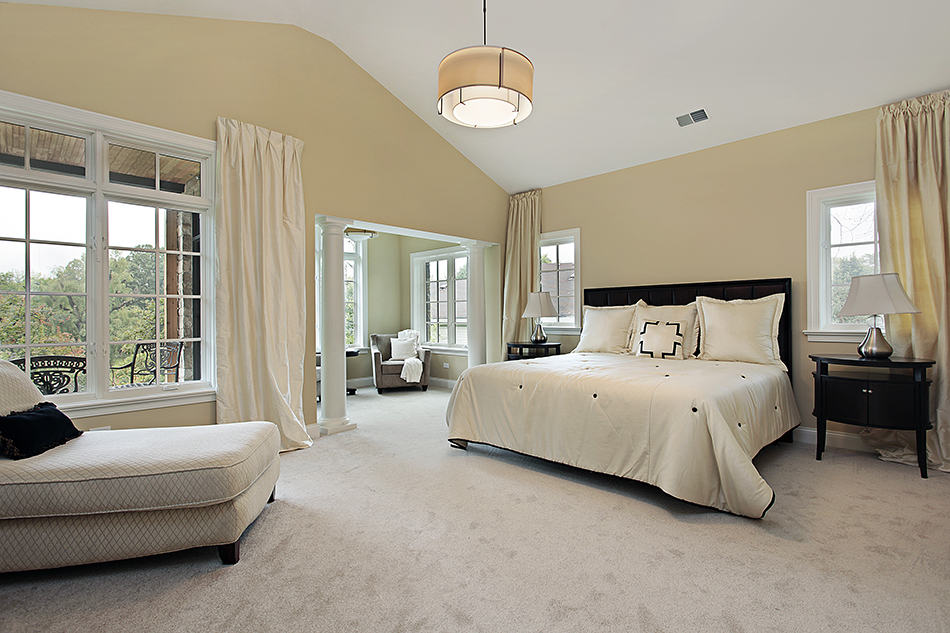 Have an empty space in your large bedroom and don't know how to fill it? Turn it into a corner seating area for relaxing and drinking your morning coffee or reading a book. You can either sit on a corner sofa, next to your bed or close to the window. The choice is yours!
16. Add an Accent Wall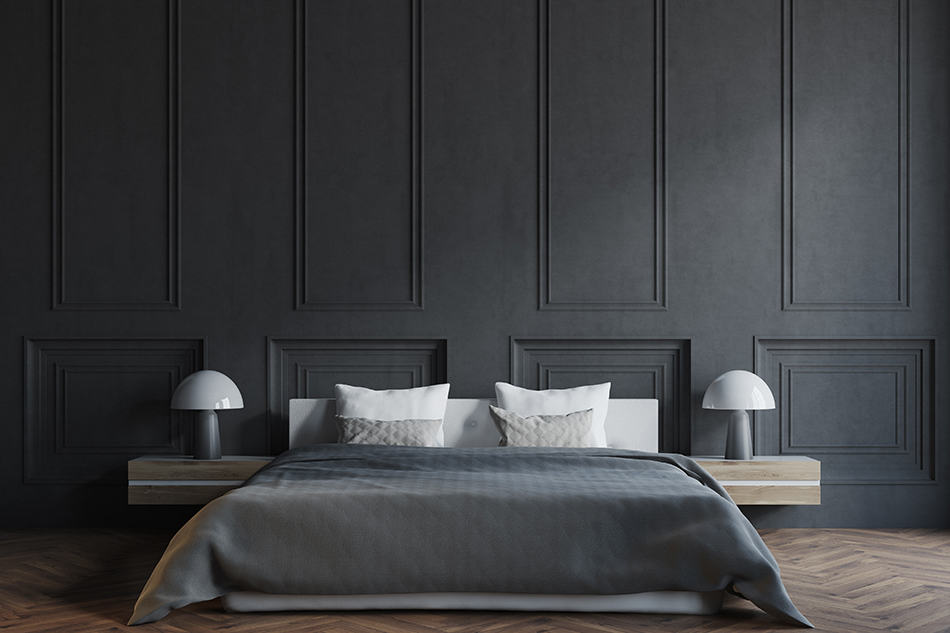 Is your bedroom wall lacking color? Spruce it up by installing panels painted in dark. Accent walls will make your interiors stylish without having to add much to enhance them. This idea is perfect for those who aren't keen on wallpaper. To decorate your master bedroom, make sure you choose lighter colors that don't steal the accent wall's spotlight. See how this dark accent wall has given the room a completely new look without overwhelming it.  
17. Pay Attention to Wall Texture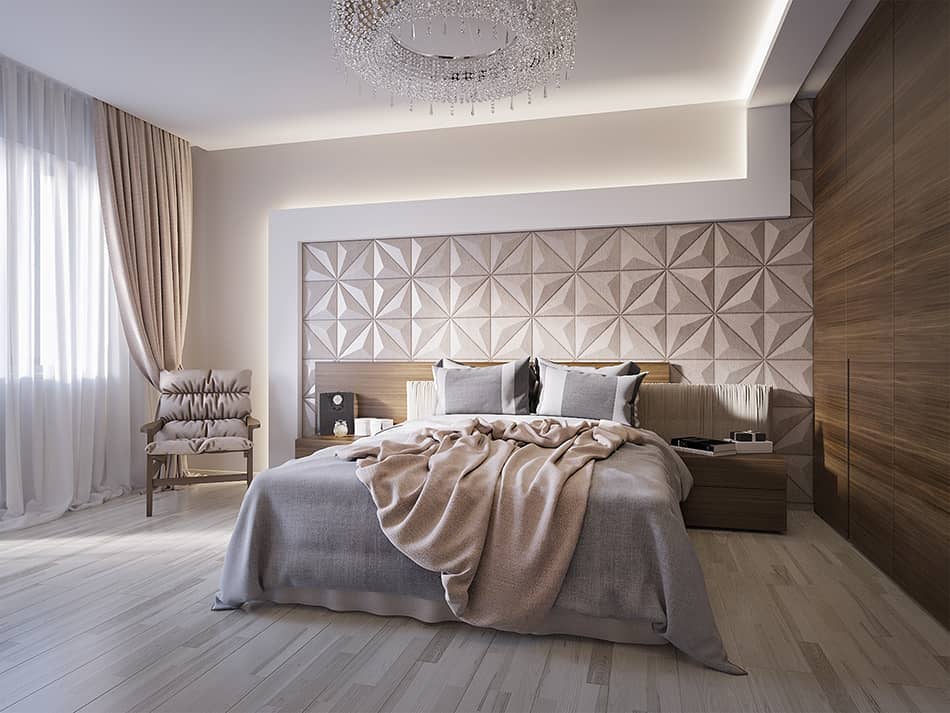 Consider the addition of wall textures to transform your average master bedroom into an extraordinary space. Wall texture is a representative of your interior style and it's the perfect solution for a classic bedroom. Be sure to choose matching patterns or colors to pair the wall with your overall room's decor. Another idea is to opt for exposed brick walls or painted natural stone to coordinate with your bedding or drapes. How about leather walls? Why not! This picture of a modern master bedroom's decor is a great example of how far you can go with wall texture. The sky's the limit!  
18. Make the Ceiling Stand Out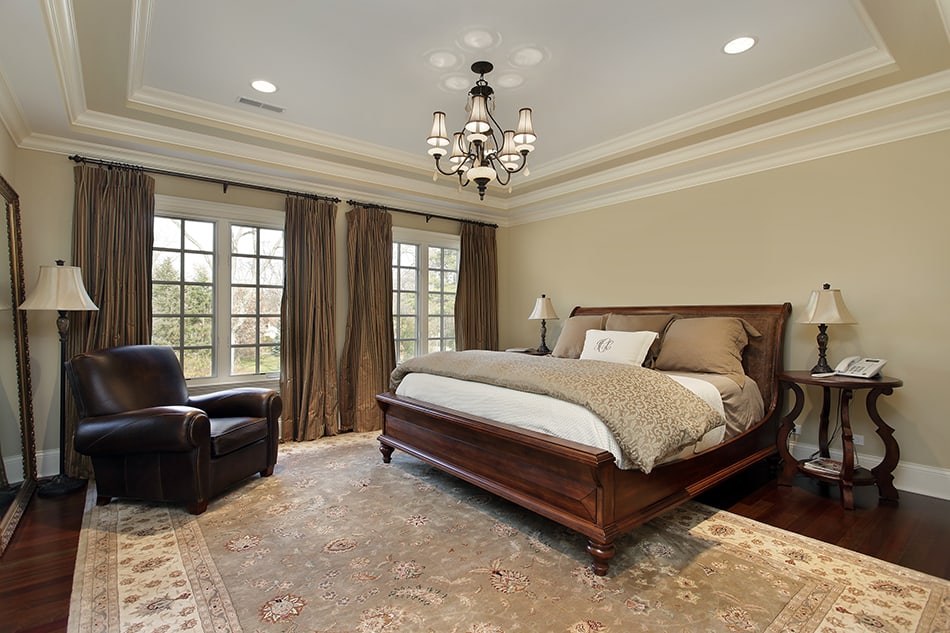 So we've covered the walls, now how about the ceiling? The master bedroom is an ideal place to install a unique ceiling. Since you spend most of your time lying in bed, wouldn't it be nice to look up at a beautiful ceiling. Many traditional and modern bedrooms feature tray ceilings. This popular raised ceiling design can include two or more levels to create a sense of spaciousness and height. Adding extra panels will only work if your ceiling height is  9 inches or higher. When it comes to choosing a unique ceiling to stand out in the bedroom, you have plenty of options, from grid-patterned coffered and beadboard to exposed wooden beams and of course, tray ceilings as shown in this image. For a bold look, paint the ceiling in a contrasting color to the walls, and don't forget the statement chandelier! 
19. Choose Appealing Floor Covering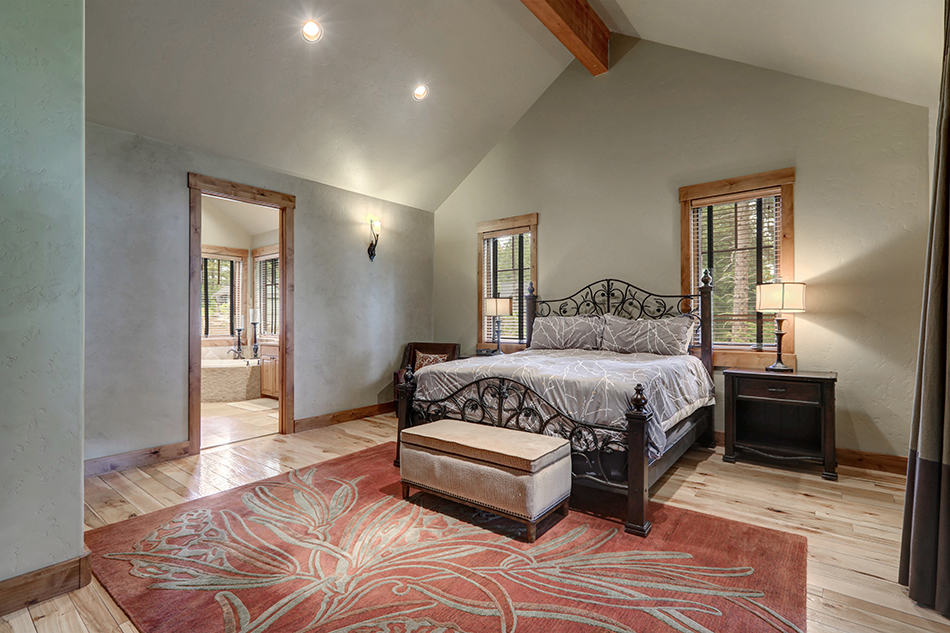 Your large master bedroom shouldn't just look appealing; it must feel luxurious under your bare feet. If you choose to cover the floor with a rug, make sure you choose a soft and thick covering like an area rug or throw rug. These types of rugs soften the room's appearance and offer a soft landing to your feet. Rustic style bedrooms can benefit from Persian or Moroccan rugs. For modern bedrooms, on the other hand, choose solid shag rugs or fluffy flokati.  
20. Use Room Dividers
If you thought room dividers were just for dressing, you couldn't be more wrong. These dividers split up the large bedroom into two separate spaces. On the one side of the room, you can create a seating area while on the other, you'll have your sleeping area. Put a decorative screen or a simple shoji room divider to block some light from entering your sleeping area. 
21. Bring Nature Indoors
We all know how healthy it is to keep indoor plants to purify the air. But rather than just having plants in the living room or kitchen, it makes sense to add pops of color and liven up your master bedroom too. Place houseplants near the window or on the floor to create a positive vibe. The best thing about indoor plants is their low care requirement, especially when you choose succulents like aloe vera and cacti. 
22. Install a Fireplace as a Welcome Feature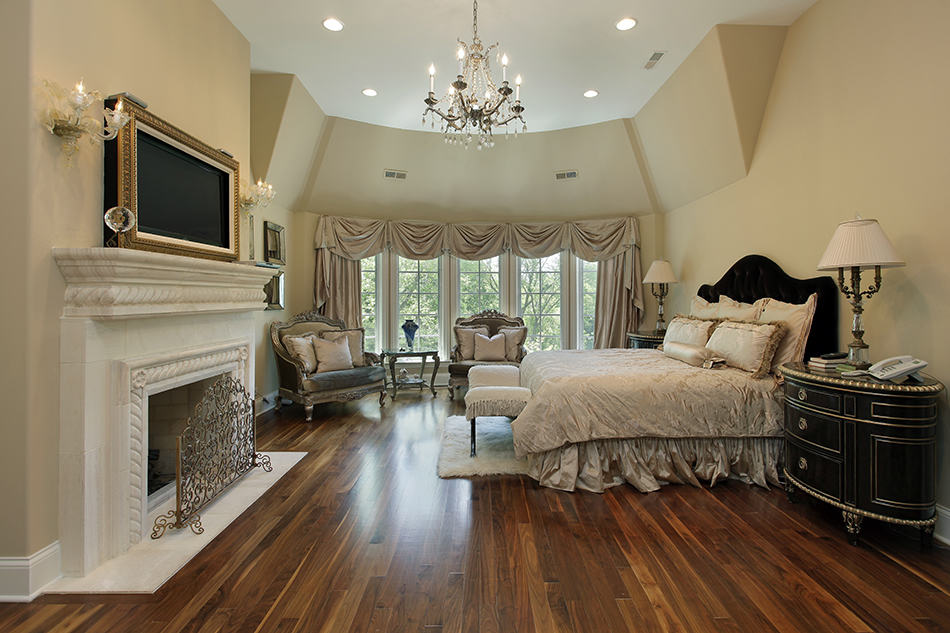 Fireplaces have always been considered as an inviting feature in living rooms and bedrooms. While they originally served a practical purpose (keep us warm at night), today, fireplaces also serve as an aestheti purpose. For modern bedrooms, marble fireplaces are an excellent option. For rustic master bedrooms, stone fireplaces make a better choice. You can take your pick of many different designs including faux logs. In this luxury style master bedroom, the fireplace is accentuated with a framed TV on the mantle  and wall-mounted lighting. I can't help but wonder whether this bedroom would still feel as luxurious if it didn't have such a beautiful fireplace. 
23. A Comfortable Headboard for a Luxurious Feel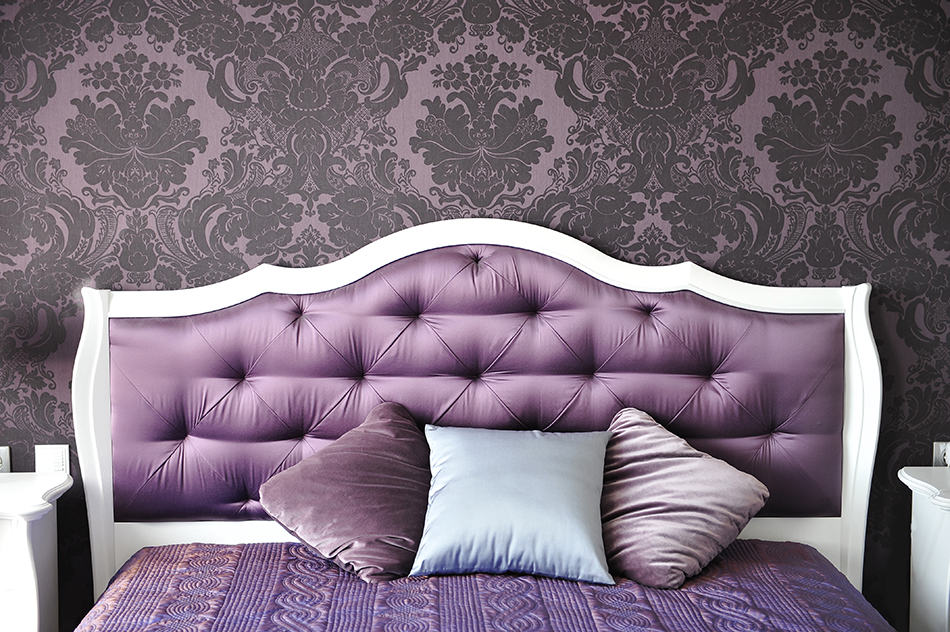 Another touch of luxury is a padded headboard that not only looks attractive, but it also feels comfortable to lean against. You can cover your headboard with any fabric you like to match your bedding. My suggestion? Opt for plush velvet or soft leather.