A rustic style interior can be a little difficult to pull off, hence the reason why most people prefer decorating their bedrooms in the contemporary style. However, if you want to inject some character into your bedroom and turn it into an inviting and cozy space, consider adopting the classic rustic look.
Not sure what rustic is? Then take the time to read this article, which explains what rustic style is in the world of interior design, its main decoration principles, and ten rustic decorating ideas that you can use in your own bedroom.
What does Rustic Style Mean in Interior Design?
Rustic style is an emphasis on all things natural and rugged. This can be in the form of nature-inspired fabrics, furnishings, and decorations that consist of organic textures and earthy colors. The use of natural materials, such as wood and stone, is especially important in a rustic-style room.
A home's decor in this style, whether it's a cottage or coastal property, must include casual and aged features, with the main inspiration being log cabins and barns. In fact, all rustic-style homes take their elements from mother nature by embracing natural materials.
The main rustic bedroom decoration principles include:
– The most common color palettes are dark brown and white or white on white.
– Exposed wooden beams and wooden panels are a common theme.
– Natural fabrics like wool and linen are typically found in rustic bedrooms.
– Most of the bedroom furniture is made from reclaimed wood.
– Rustic style goes perfectly with minimalism, industrial, and shabby chic interior design styles.
– Farmhouse features, such as animal skulls, along with floral fabrics, and a fireplace, are often seen in rustic bedrooms.
Now that we've covered the basics of rustic-style bedrooms let me show you how you can turn your private sanctuary into a cozy and inviting space that oozes character with some simple decorating ideas.
1. Exposed Beams on the Walls, Not Just the Ceiling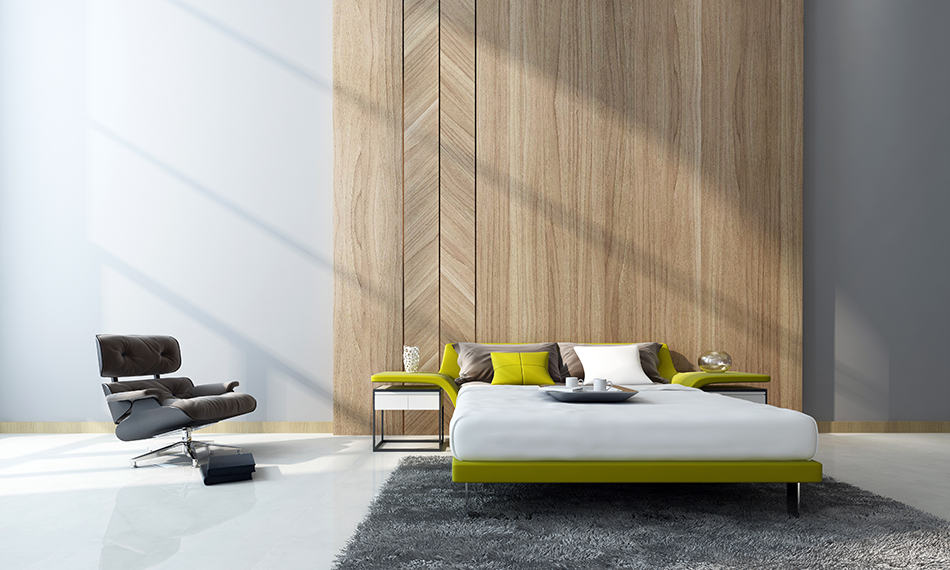 One of our rustic decorating rules was to use reclaimed wood for furniture. However, you can take this a step further by introducing a reclaimed wooden wall as an accent feature behind your bed or using reclaimed wood on all the walls of your bedroom.
A log cabin bedroom with exposed wooden beams on the ceiling, for example, will merge beautifully with reclaimed wooden walls to keep you extra warm in winter. This idea also works in modern-style bedrooms that have vaulted ceilings.
2. Use Lots of Wood…Everywhere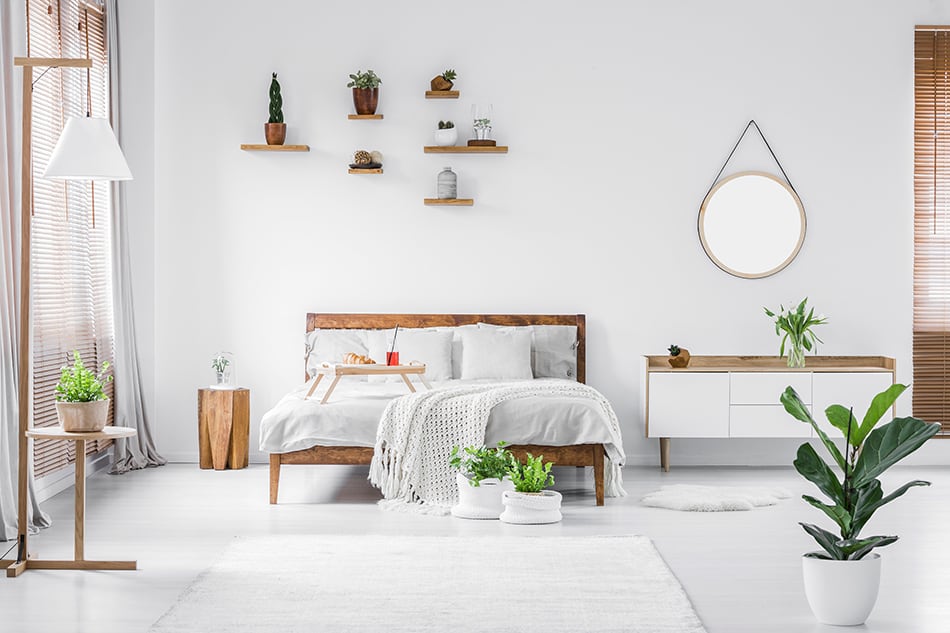 As I mentioned before, wood is a natural material that defines a rustic-style bedroom. This should be your number one material of choice that appears everywhere, from the furniture and flooring to the walls and ceiling. In fact, the more places wood appears in, the better.
3. Vintage Lighting for a Rustic Feel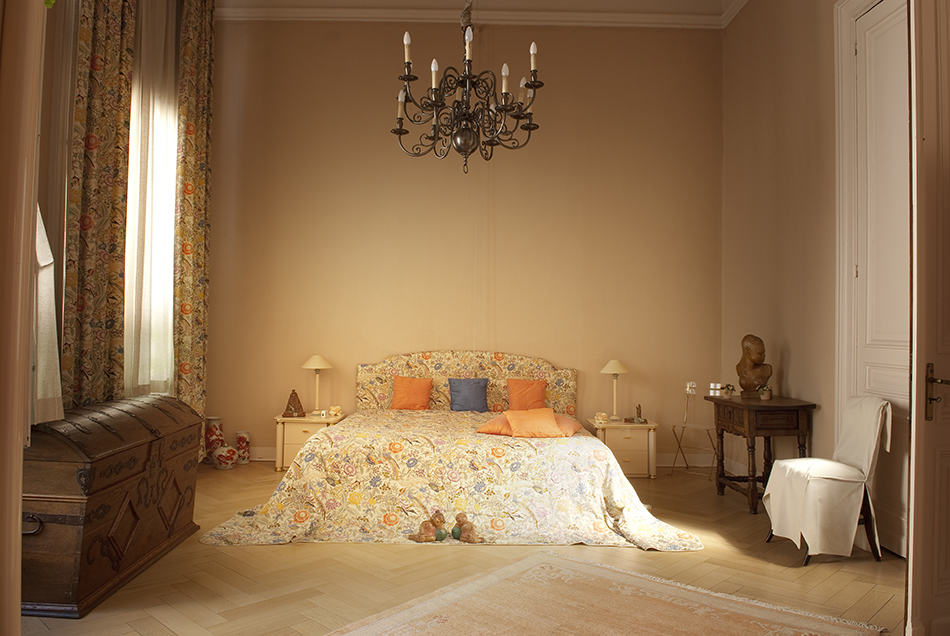 If you have an old chandelier that's collected dust in the attic and you don't know where it's best suited for, let me tell you that now is the best time to give this masterpiece a quick polish and hang it in your bedroom as a focal point.
And don't worry if you don't have one of these beautiful lighting features. There are plenty of vintage stores that sell Victorian-style chandeliers. These timeless pieces add a rustic charm to the bedroom and will never go out of style.
4. Shift the Focus to the Bed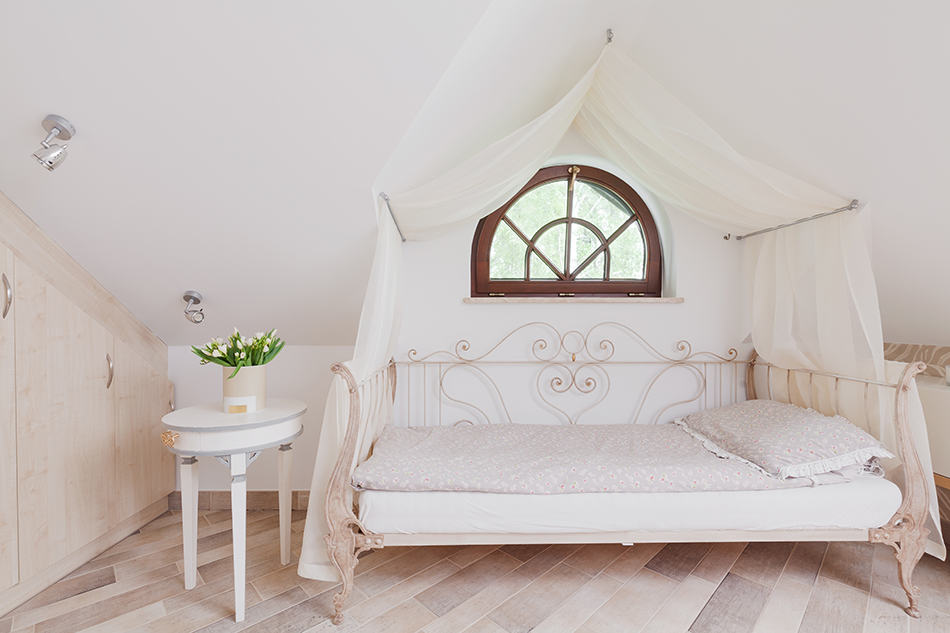 The highlight of a rustic bedroom is usually its bed. One of the most popular types of beds for such rooms is a canopy bed, as it has a dreamy look and feels cozier. But you don't have to be restricted to just one type of bed.
If you like versatility, consider a wooden panel bed made from cedar wood like the ones you see in log cabins. These beds aren't just comfortable, but they never go out of style and can be the central focus of the bedroom since they are the biggest piece of furniture.
In fact, the chandelier can easily be upstaged by the bed if you place it in the middle of the bedroom and use light-color floral pillows.
5. Choose Rustic Style Furniture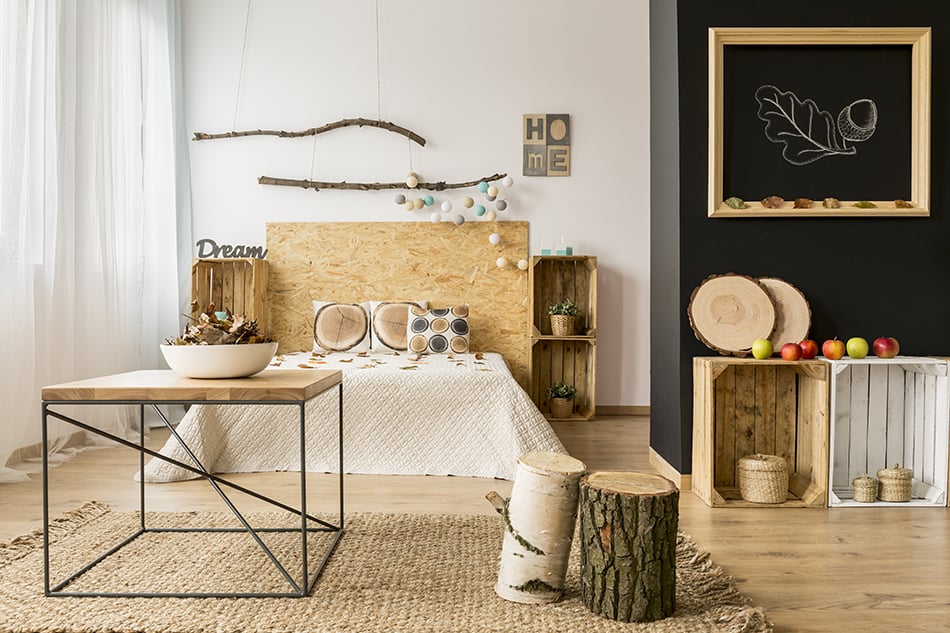 A versatile piece of furniture that doubles as a storage space and seating in the bedroom is a must. An old wooden trunk or a chest of drawers at the foot of the bed will serve as bedding storage as well as seating.
When you're choosing rustic style furniture, don't get distracted by the sleek design of the items. They should serve dual purposes as your goal is to create a warm, rugged, and airy space using old-fashioned furniture.
To give you some examples, bedside tables made from reclaimed wood are often the perfect companions in a modern rustic bedroom. If you're short on space, opt for floating nightstands or a small bedside table with shelves. Remember to choose those with a weathered or distressed finish for a rugged look.
Other furniture ideas include a wooden table with two small wooden chairs or a colorful occasional chair close to the window. To bring color to your room, opt for earthy tones for furniture, and for the walls or wallpaper, go for neutral colors that resemble wood.
6. Use Soft Features to Create Balance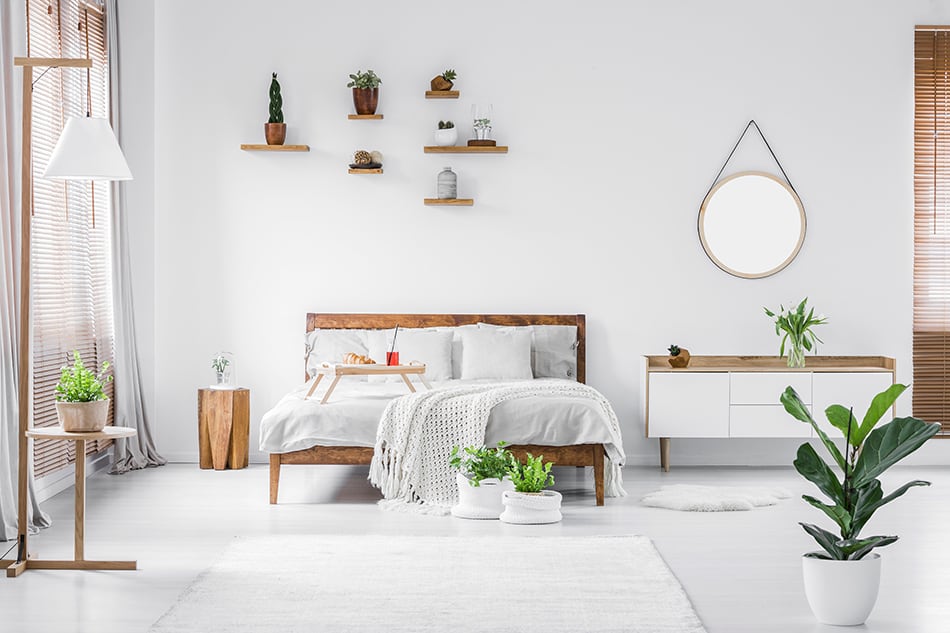 As you already know, one of the main components of rustic style decoration is the use of natural, raw materials. The objective is to reflect the natural elements like stone and wood with symmetry lines. This can be done by adding a round-shaped mirror that softens the wooden features of the bedroom.
Other soft features that can create balance include a rug made out of wool, oak flooring, and a stone fireplace.
7. Select Your Rustic Color Palette with Care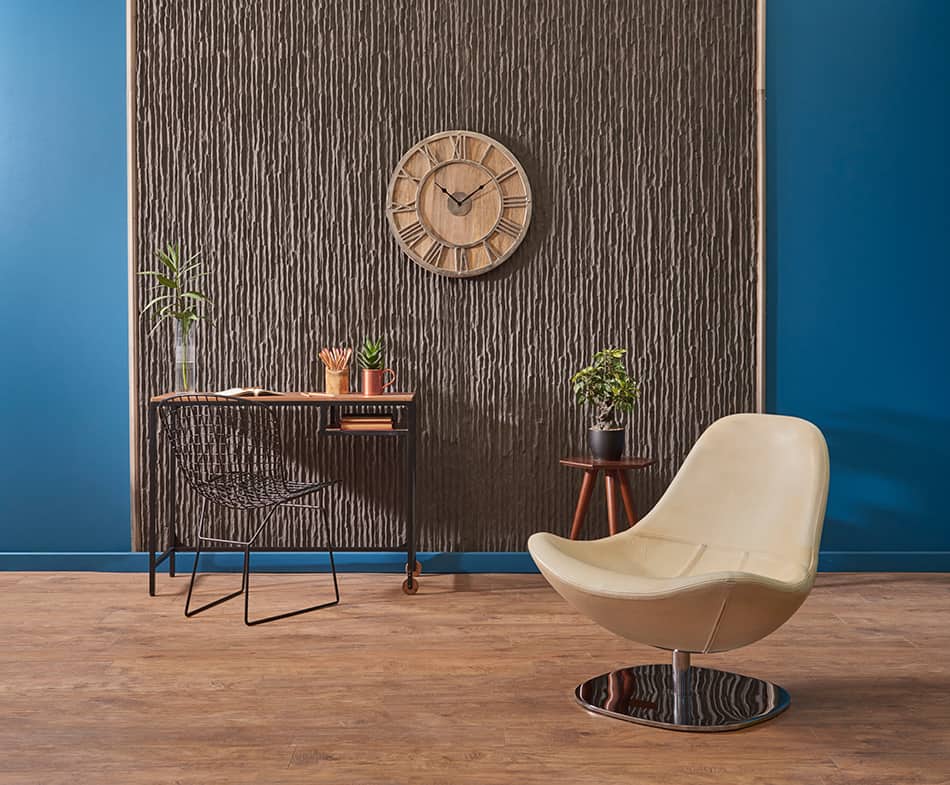 While contemporary style interior design schemes give a lot of flexibility on the colors you choose, the rustic decorating scheme tends to have a more distinct color palette. Generally, earthy, neutral tones favor rustic interior design.
These include greens and blues to blend in with the outdoors. Brown, black, and beige also draw the eye to rustic rooms, but it's better to use a mixture of these colors rather than just one for the entire bedroom space.
As a rule of thumb, avoid colors that are too vivid or bold. While there is nothing wrong with bold hints of color on the bed or on the walls, especially if they are floral, adding too much will contradict the rugged, down-to-earth feel of the room.
For modern rustic bedrooms, adding a subtle hint of grey and white in the form of distressed wood furnishings will work as a great accent. The combination of warm greys and whites with natural elements can further enhance the rustic vibe in a modern bedroom.
8. When in Doubt, Go for Pure White
If you don't know how to mix and match color palettes for your rustic bedroom, the safest option is to go for pure white. This color can be used in the entire bedroom, from the bedding to the walls and ceiling. White matches just about everything, including oak flooring and pine furniture. In fact, it can make these features stand out, plus you can choose any bed set to match white.
To avoid a cold and sterile look, add a wrought iron bed with vintage pieces, such as bedside tables and linen bedding, otherwise, your rustic bedroom will look rather bland.
9. Pile on the Textures and Layers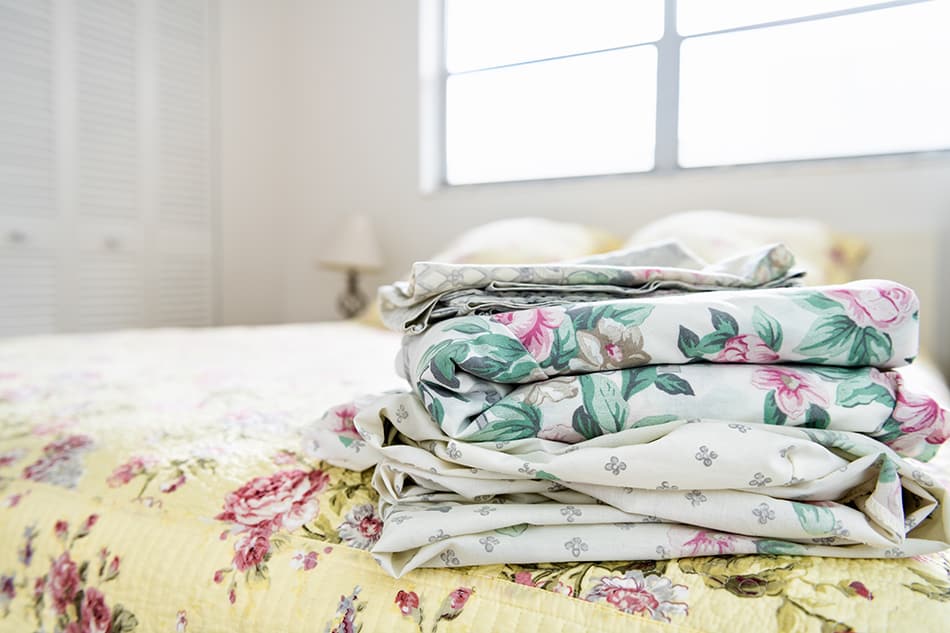 To make your bedroom feel cozy and comfortable, it's important to pile on layers and textures with mixed materials, such as down feather duvet and throw blankets. These layers will work together to create an inviting and warm bed.
Floral quilts can also further enhance a rustic bedroom. You can choose from a wide variety of quilts that are in different patterns and colors, not just for the bed but also to decorate the walls with. Hanging a patterned quilt on the wall as an accent piece provides a down-to-earth feel to the space for sure.
Other layers that add warmth and texture to a rustic bedroom are woven rugs, such as jute or kilim rugs. These are especially ideal for stone or dark wooden floors. Organic layers can instantly make a bedroom feel relaxing as they help us connect with the outdoors, whether you use woven baskets, leather or jute wall decorations, or anything else that's of natural fibers.
10. Don't Forget the Artwork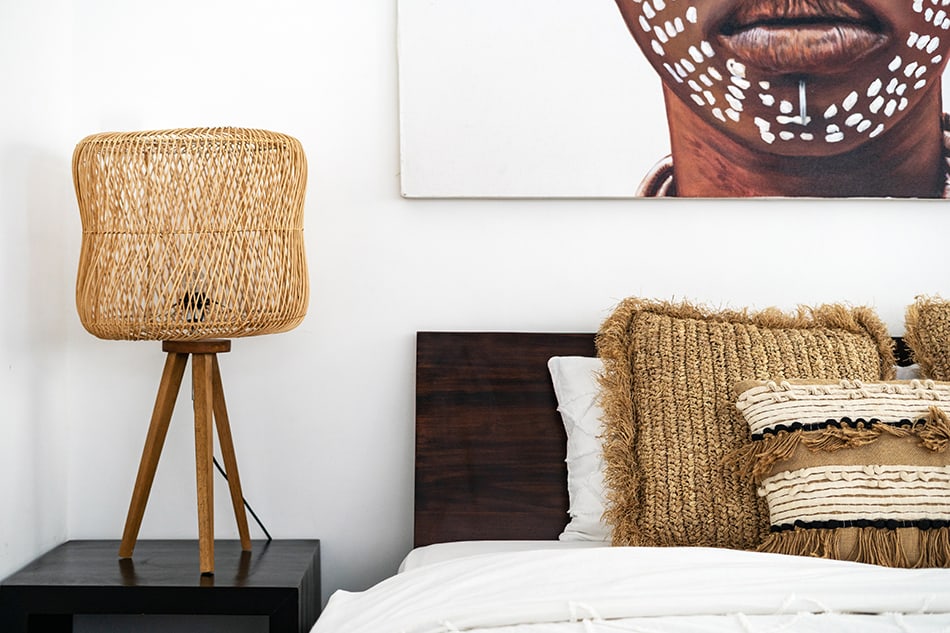 In addition to hanging a quilt on the wall, you must not leave the other walls of the bedroom bare. While there is nothing wrong with unadorned walls in a rustic bedroom, a couple of antique pieces of art will complete the rustic look.
Just remember to mount the artwork in an unpainted, hand-carved wooden frame, which you can find in most vintage stores. You can even hang several smaller art pieces on one wall of the room in a non-symmetrical arrangement.