If you're one of those people who is afraid of bold colors for the bedroom walls and furnishings, there are always the neutral tones, such as beige to play with. Neutral beige tones are the safest way to create a warm and inviting ambiance. Beige is, after all, known for its calming effect on the mind, hence the reason it's such a popular color for the bedroom. From creamy milk, cocoa butter, and champagne to caramel apple, fortune cookie, and fleeting fawn… There are more than 30 shades of beige to choose from! To create a subtle and elegant ambiance in your bedroom, let's find out what colors go with beige and browse through my 11 beige bedroom examples with pictures.  
Which Colors Pair with Beige?
There are lots of colors that pair well with beige.

Warm white and grey

happen to be frequently used alongside beige and you will often see these color combinations in rustic bedrooms. A blend of warm white or grey with beige makes the interior feel clean and comfortable.

Darker

shades of green

go especially well with beige. Since they are both earthy tones, you can use olive green and other similar shades of green to complement beige, or bring plenty of indoor plants to your bedroom.

Since beige is a close cousin of

brown

, it makes sense to include these two combinations for the bedroom. No matter what color you choose for your bedding and flooring, beige walls and brown furniture will support the overall look beautifully.

There is no denying the great personality of beige bedrooms, especially when you add different hues for depth. Creamy shades of beige together with

soft blue

, pink, or bold red work very well, but you can also go the opposite way and choose neutral colors like soft grey and white for the bedding and curtains with a beige wall as the backdrop. The possibilities are endless!

Black

is another bold color that is just as classic as white. For a more welcoming bedroom, combine black and beige to create a sophisticated look. Black pairs well with beige walls and makes a great choice with almost any shade.
With the above color combinations in mind, let me give you some further examples of beige bedrooms with pictures that you'll surely find impressive.
1. Soft Beige with Blue and White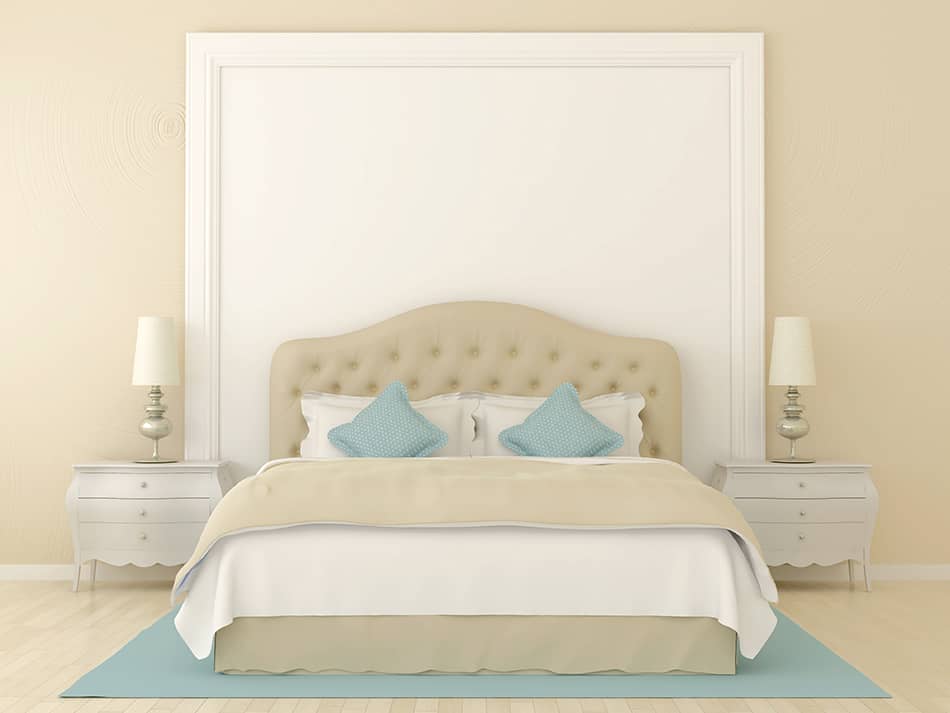 A soft color palette that consists of light beige, white, and blue give your bedroom an elegant touch. If you love neutral shades like beige, consider adding hints of soft blue and white in the form of floor covering, accent wall, and cushions as shown here. Unlike black, which is stark and harsh, beige is a highly versatile color and can be used as a rich or pale backdrop in a modern or rustic bedroom.  
2. Accent Hues with Beige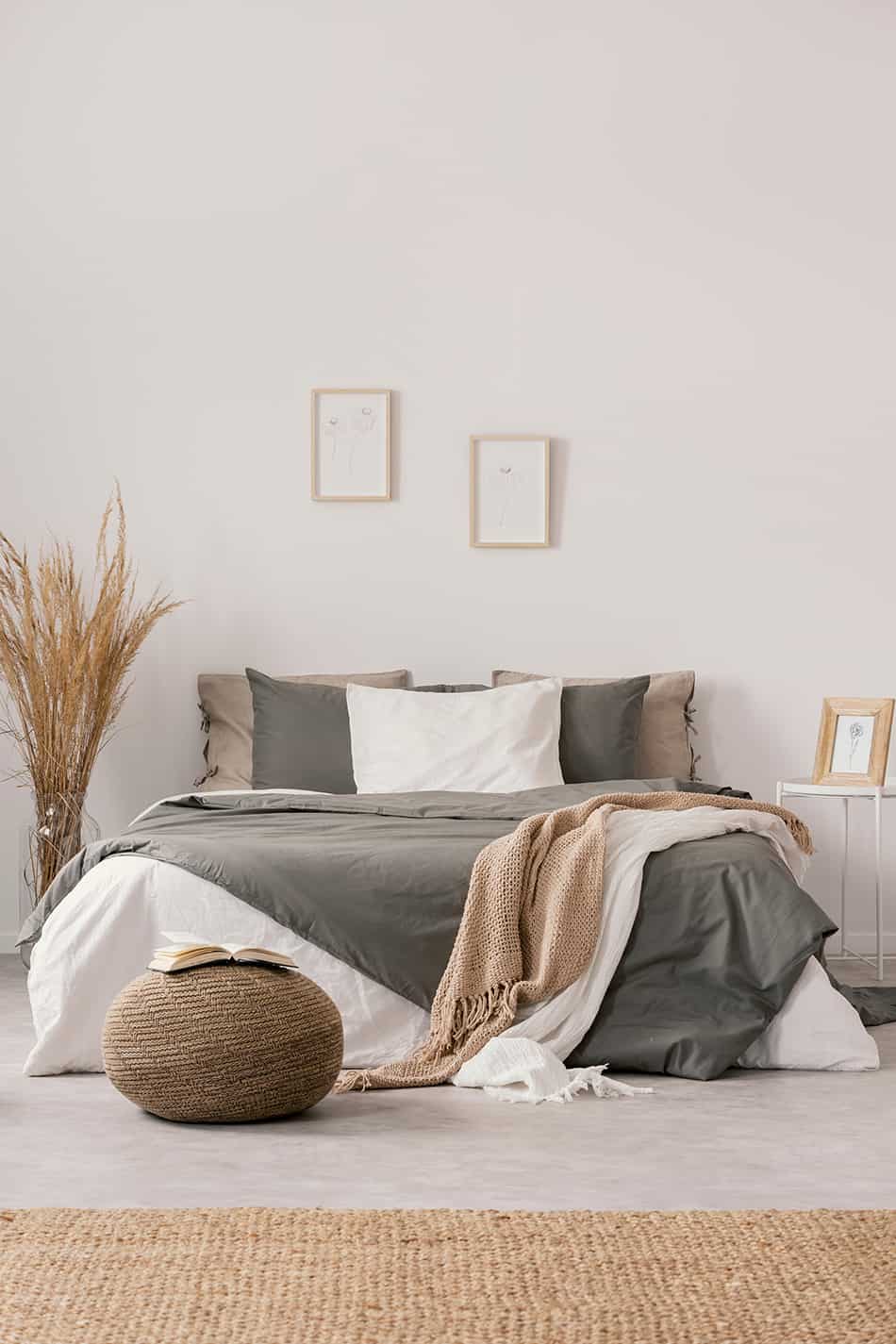 Talking about backdrops, when it comes to using beige with a wide range of themes, this is where you can experiment with different accent colors. Accent hues, such as dark grey and white highlight the trendiness of the bedroom and work seamlessly with beige. Adding these accent hues to your bedroom is more effective than using yellow or pink as you can see in this fine example of a beige bedroom. 
3. Gold Accents with Beige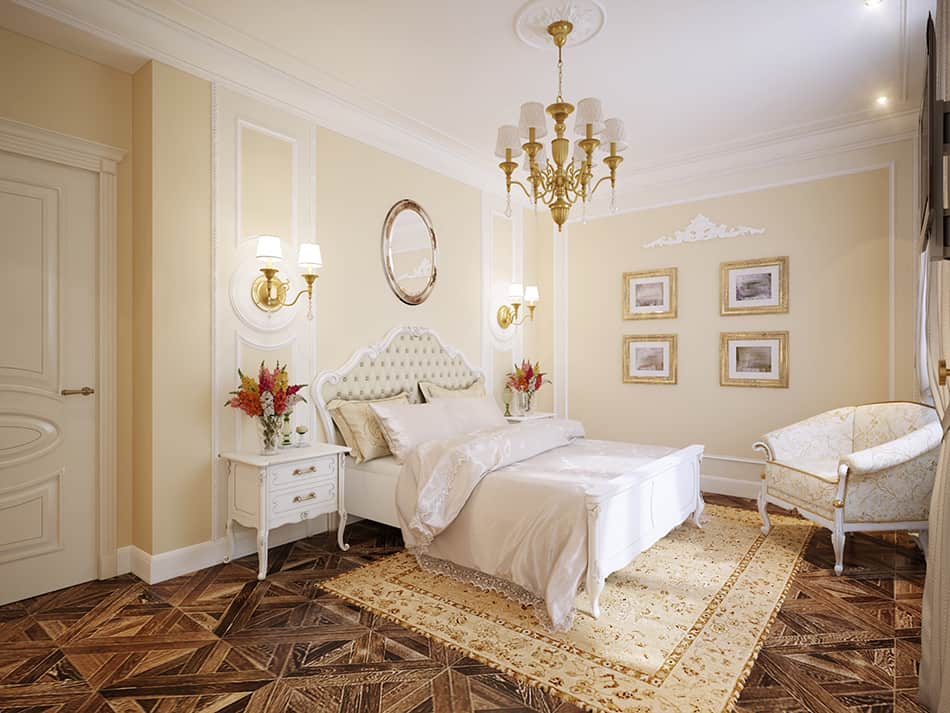 If you love luxury interiors, then you've probably considered adding gold accents to your bedroom. Beige is the perfect canvas for gold accessories. A warm shade of beige works incredibly well with rich gold accents as the two combinations keep the room stylish and calming. In this luxury modern bedroom, we can see how the beige walls and floor covering complement the gold lighting and mirror. But have you noticed how the white furniture is incorporated beautifully into the beige and gold interiors of this bedroom. Simply stunning!  
4. Soft Purple for Contrast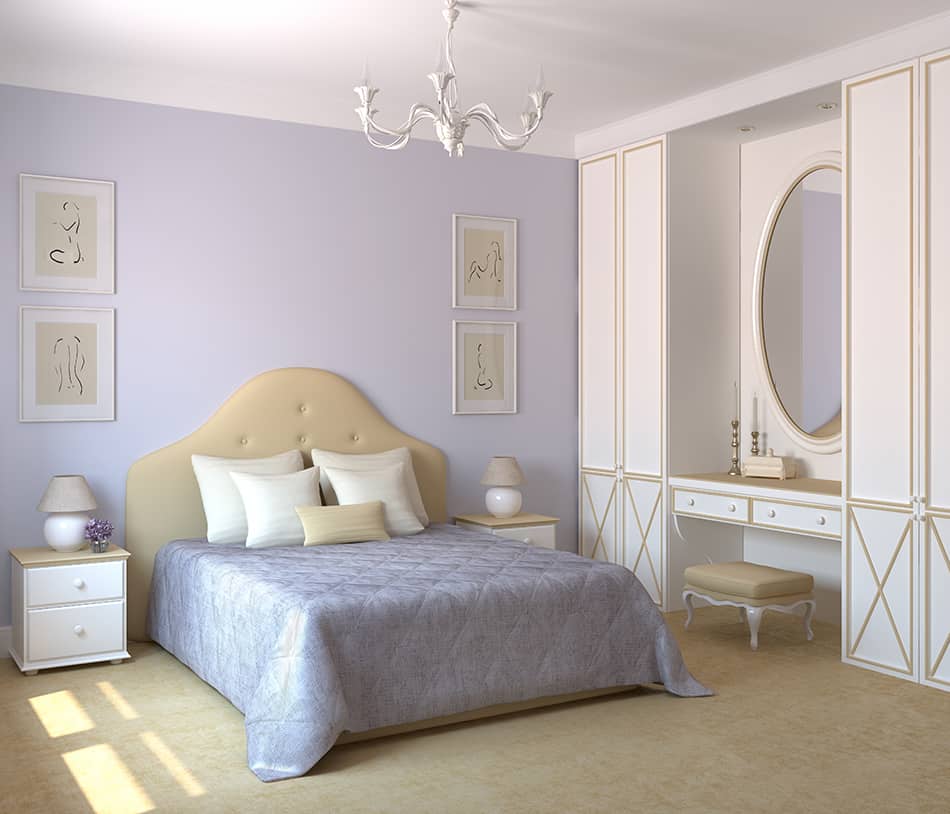 To add a nice contrast, light beige can be paired with soft purple hues. A blend of purple and beige brings some color to the bedroom and makes it come alive. In this example, beige can mainly be seen on the floor, furniture, framed pictures on the wall, and the headboard, with the soft purple wall and bedding providing a beautiful contrast. No matter which contrasting colors you choose for your bedroom, take into account the mood you are trying to create. Luckily, beige can be used with just about any complimenting or contrasting color.  
5. Light Wood with Beige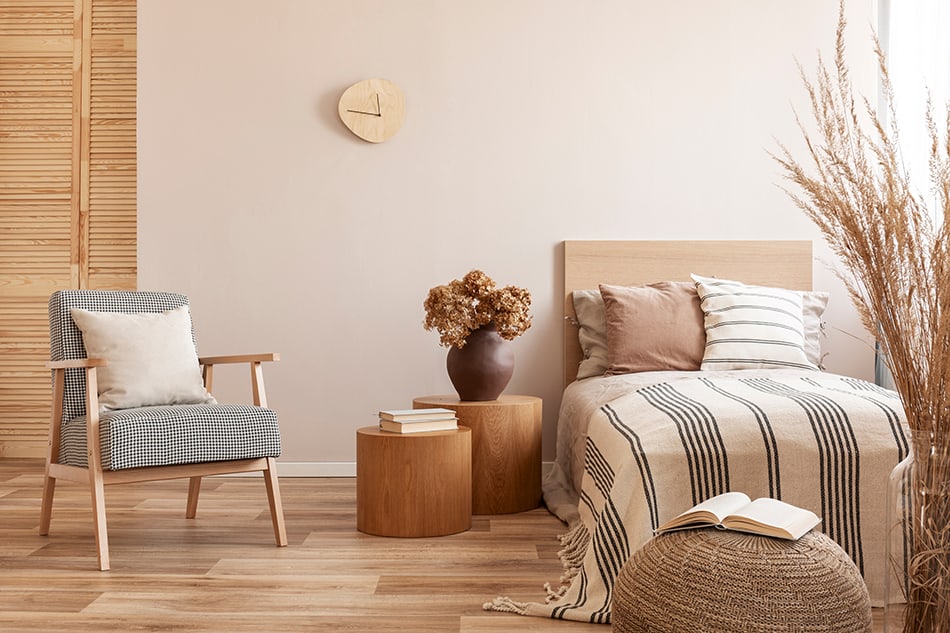 Light wood has a similar tone to beige. This bedroom is proof that beige is the perfect neutral tone to pair with light wood and wicker furniture. The warm colors of this beige bedroom interiors beautifully complement the retro-style furniture. So if you're looking for a dream color match, go for earthy, wooden tones and blend them with beige as shown in this example.
6. Dark Wood with Beige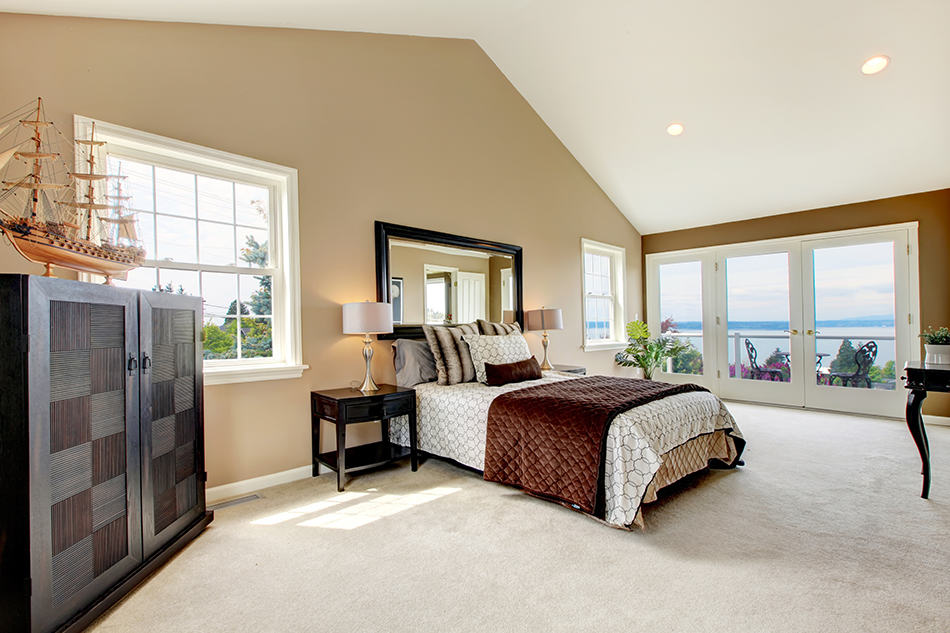 To add color to your beige bedroom, use dark wooden furniture. Dark wood ensures that the beige design isn't dull or bland plus it creates a warm and inviting space. See how the combination of dark wooden furniture with beige walls and floor has brought a fresh lease of life into this classic bedroom.
7. Modern Beige for Brightness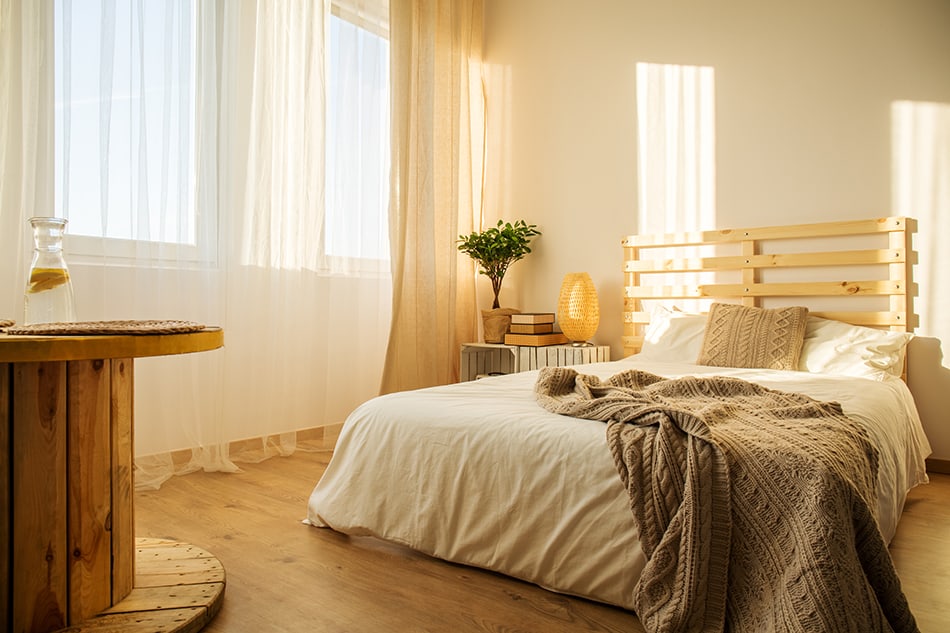 Since beige offers you a huge amount of decoration possibilities, where better than a modern bedroom to use it in. With soft hints of yellow and white, you can create an ultra modern beige bedroom. The visual and brightness effect of this contemporary bedroom are because of its beige tones. Thanks to this neutral shade, you can play around with modern overtones.
8. Add Patterns for Excitement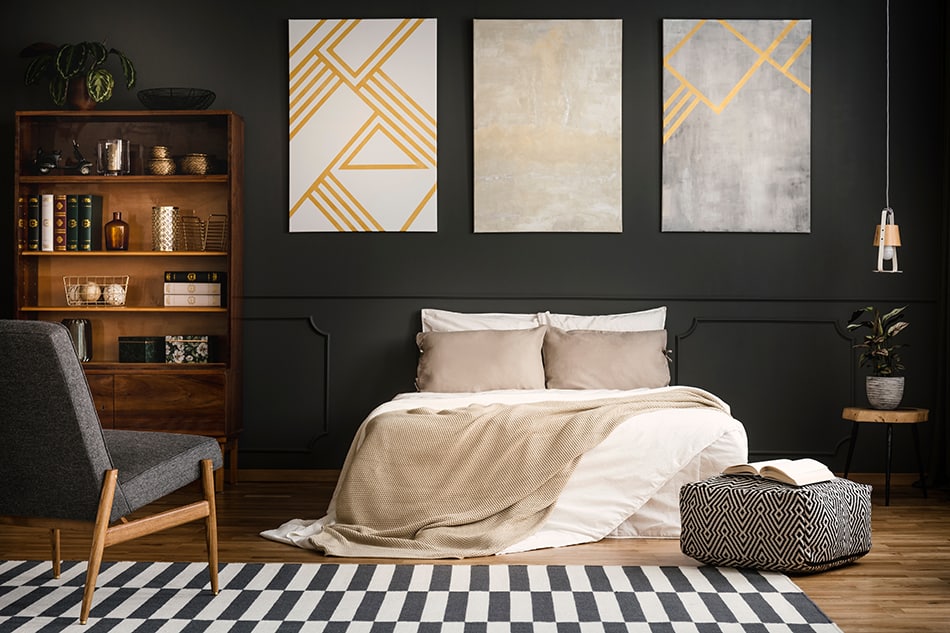 When you opt for a beige bedroom, you don't necessarily have to paint the walls beige. By incorporating this neutral color into the bedding and other accent pieces, you can easily introduce some interesting patterns to create excitement. For example, a patterned rug, ottoman, and wall art as shown here will enhance the beauty of the space – no matter what color you choose for the walls.
9. A Monochromatic Beige Bedroom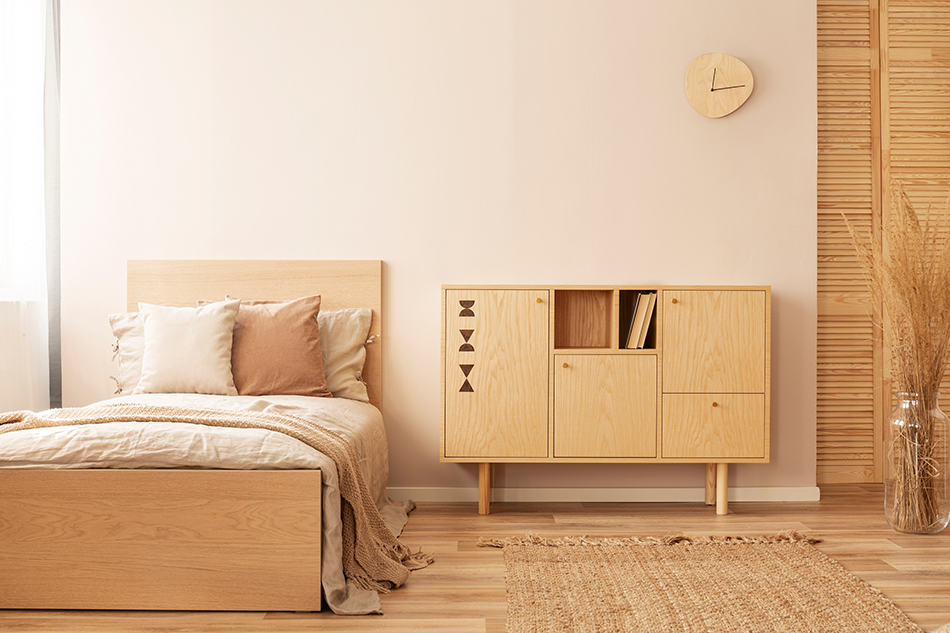 If you want to create a monochromatic or all-beige bedroom, you should consider using an identical texture like wood or wicker to complement the all-beige interior. Remember that monochromatic beige bedrooms don't have to be bland as you can play with different finishes to create a warm space. Wood accents are certainly stylish and elegant as proven in this example.
10. Texture is a Must-Have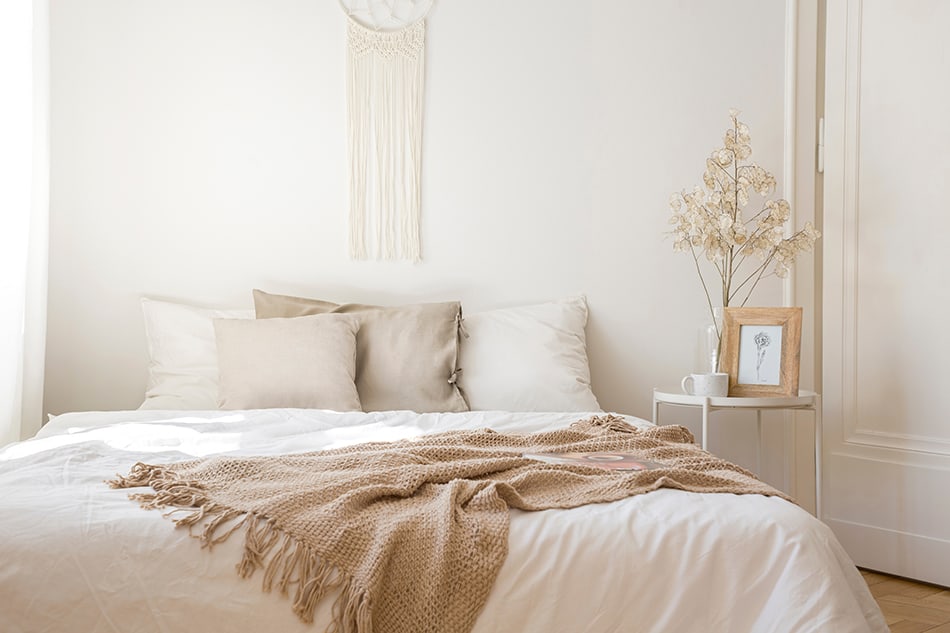 Texture is a great element to introduce to a bedroom. When your room lacks color, use an array of different materials to create depth. The more textures you use, the more inviting the space will feel. In this image, the bedroom is made up of subtle textures like the macrame wall art, the knitted throw blanket, and the framed picture that are all in beige to complement the beige bedding. Since the layers used in this beige bedroom are also of neutral tones, texture becomes of utmost importance here.
11. Choose Lighting Carefully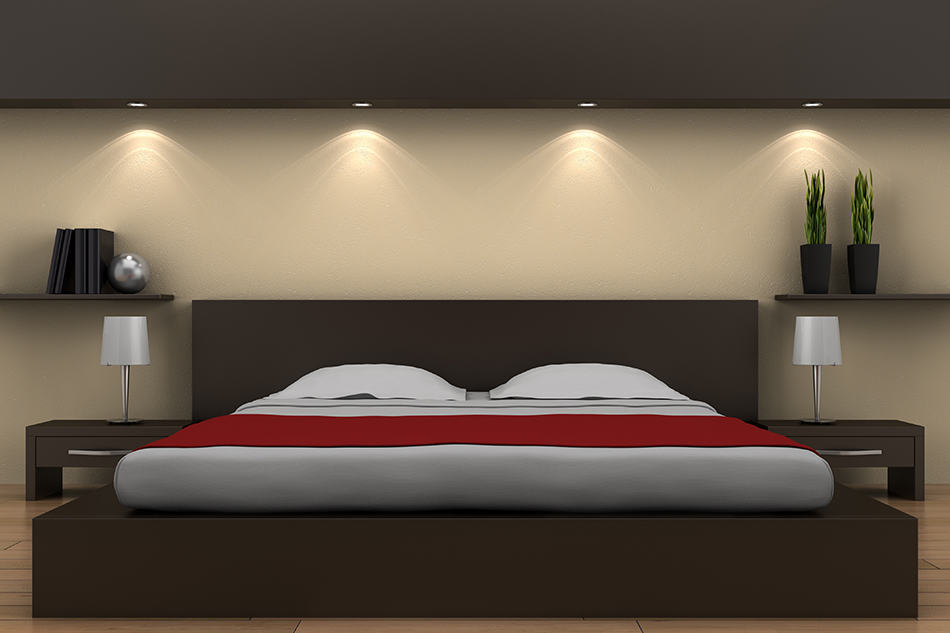 The lighting you use in your beige bedroom can be hit or miss as it can either make the space look depressing or enhance it. If your bedroom lacks natural light, artificial lighting plays a big role in brightening up the room. Use pendant or recessed lights to create a cozy ambiance, and don't forget the bedside lamps for extra lighting when you need it.  
Good to Know
With reference to my last example, a beige bedroom that lacks natural light should have ample source of

artificial light

otherwise it can look rather depressing. Choose your lighting carefully based on the colors you've chosen for the room's decor. The darker the furnishings, the brighter the lighting should be.

Just like white, beige walls can easily reveal the dirt marks and stains as they are light colors. It's best to opt for

washable beige paint

to give your bedroom walls a refreshing look every few years. Keep in mind that having beige walls requires extra care in order to maintain their clean look so be prepared to apply little paint touch ups  periodically. 

Choose the right

accent colors

that go with beige otherwise your bedroom will look dull and bland. (refer to my list of the best colors that go with beige for tips).

Beige is a type of color that brings

sophistication and style

to any room of the house, especially to the bedroom. After all, it doesn't clash with other hues and is ideal for both modern and traditional interiors.

In smaller bedrooms, you can make the space feel bigger by using an

abundance of beige tones

throughout your room (see my monochromatic bedroom example). The advantage of beige is that it can be paired with just about any

accent, texture, or color.