Adding a red couch to your living room is a fashionable way to introduce some color to the room. Red is a bold color that instantly draws the eye. When you opt for a red couch, your seating furniture immediately becomes the signature piece in your living room.
But the question is what goes with a red couch?
Of course, decorating around your red couch depends on your personal taste and style. That said, there are many ways to decorate a red couch by choosing complementary pieces.
The last thing you want is to surround your red couch with visually heavy furnishings or accessories, so it's important not to go overboard and add too much as this would lessen the couch's visual appeal. Therefore, finding balance is key.
For example, neutrals don't take away the attention from the red couch and look great in a contemporary living room. For large spaces, such as walls or window treatments, it's best to either go monochromatic or stick with grey, white, or black and white together.
To get a better idea of how to style and decorate around your red couch, take a look at our examples with images below:
What Goes with a Red Couch: Our Best Picks
Striped Throw Pillows as Accents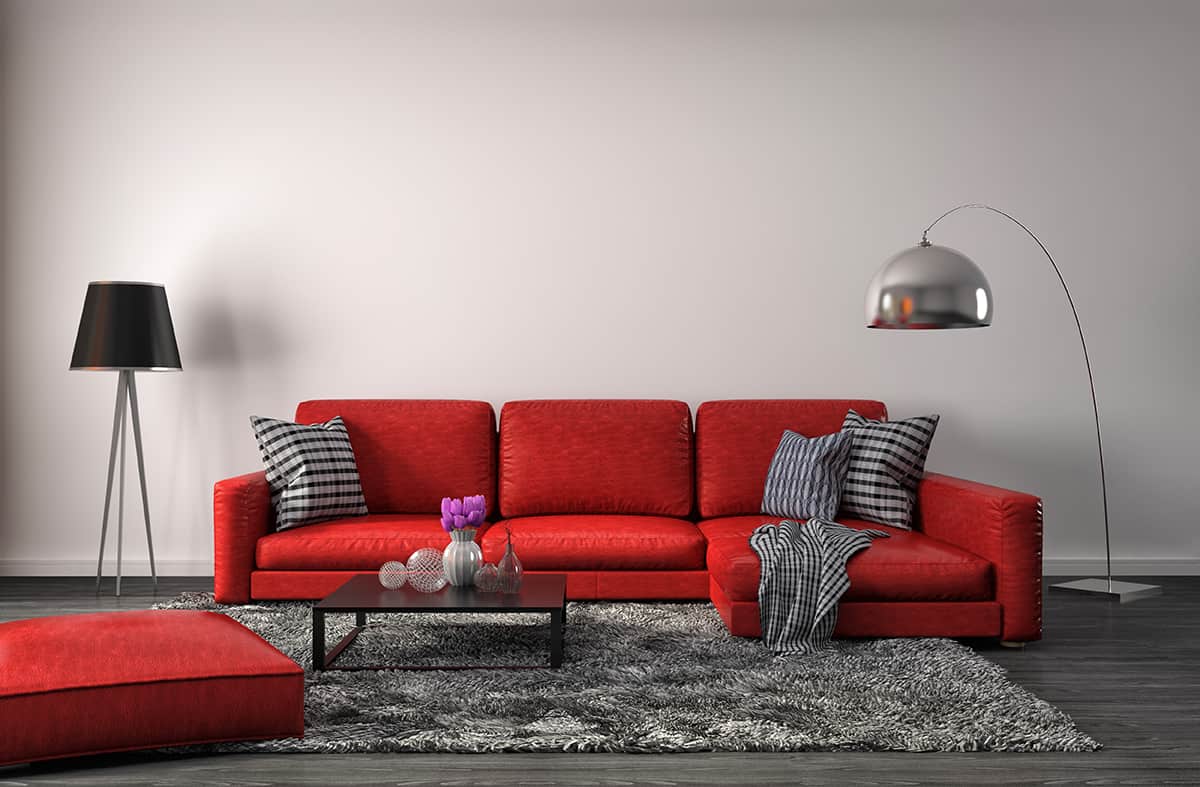 The color of throw pillows on a red couch is one of the first important styling parts. Grey striped pillows, for example, look beautiful on a bold red sofa.
Black and white is another great color combo that contrasts a red couch in the living room. In fact, your throw pillows can change the entire feel of your living room with a red couch, thus going exceptionally well with the entire decor.
You can try different colored pillows as whites, greys, yellows, greens and even blues in stripes or patterns work amazingly well on a red couch. These are eye-catching complementary colors that draw the eye to your red couch.
As you can see in this example, the red couch stands out beautifully with its grey striped pillows paired with a matching throw blanket and rug.
Grey Wall as a Neutral Backdrop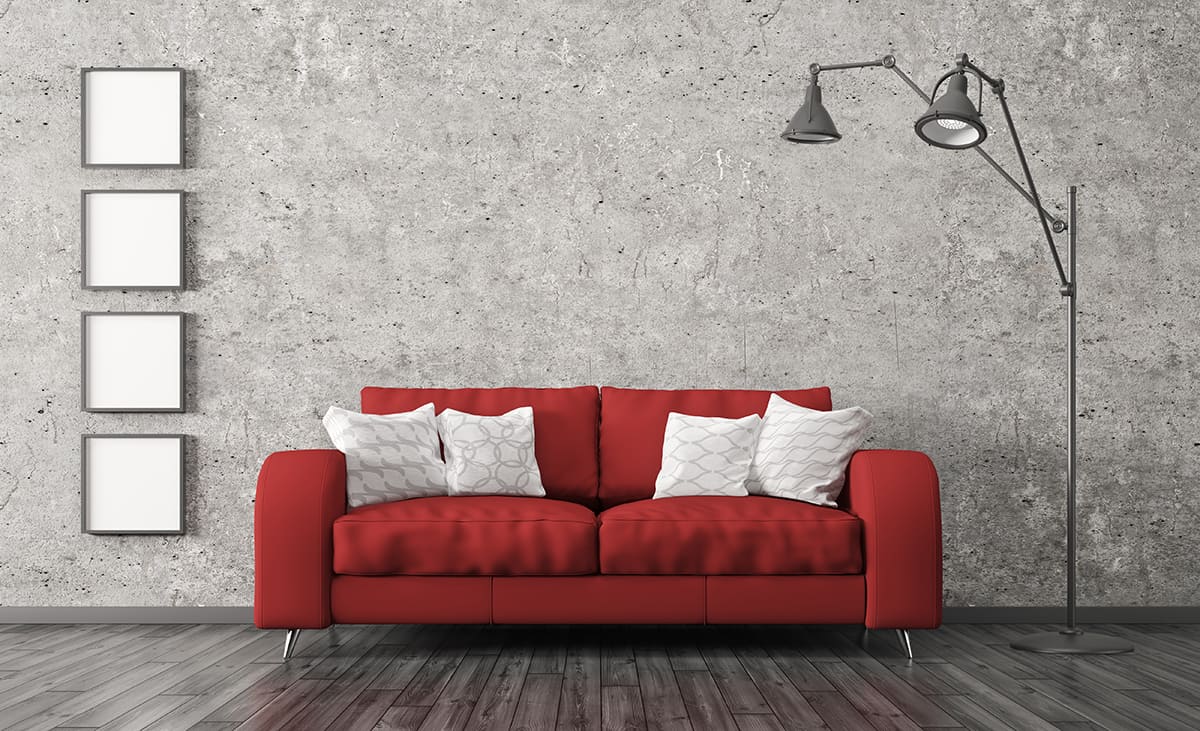 Dark grey walls provide a stunning backdrop to a red couch. In fact, your seating furniture can really stand out in a neutral room. A perfect infusion of grey, black and white accessories will shift the focus on your red couch as shown here.
Black has balanced the room while the vibrant red couch mixes well with the lamp, white cushions, and dark grey wall. The whole look comes beautifully together here thanks to the grey backdrop and black and white accessories.
Red Floor Lamp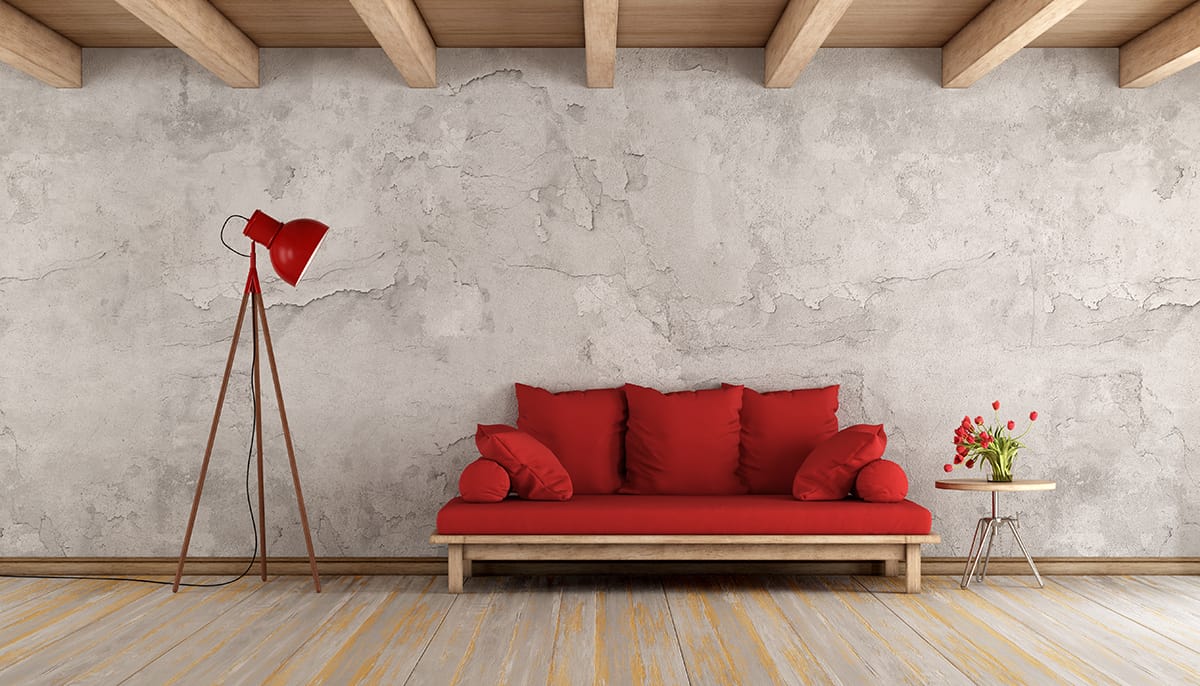 Just like black which never goes out of fashion, red has remained the favorite color of many even with the changing times.
Adding a red floor lamp next to your red couch makes the entire room look striking and welcoming. This is a perfect monochromatic design that still allows your red couch to stand out in the room.
Again, the grey wall in this image has created a neutral backdrop to the red couch and lamp. The height of the lamp and its placement in the room is entirely up to you.
Red Painting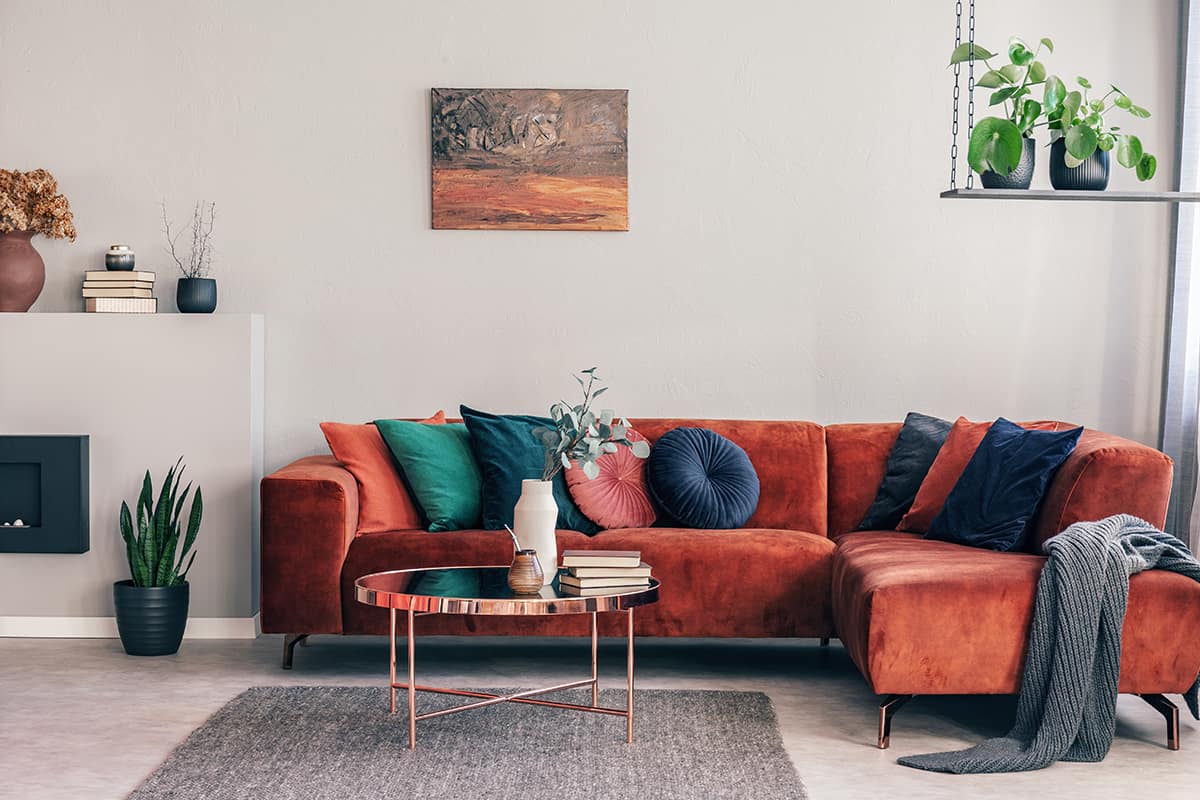 It's not just the color of your accessories that you should coordinate with your red couch. Even the painting on the wall must complement the red furniture.
Since paintings are a great addition to a living room, they should fit your arrangement well. A painting in shades of red and orange will go amazingly well with your red couch as shown here.
This red couch features throw pillows and blankets in different shades of blue, but the painting behind it completes the room's decor thanks to the monochromatic colors.
Formal Decor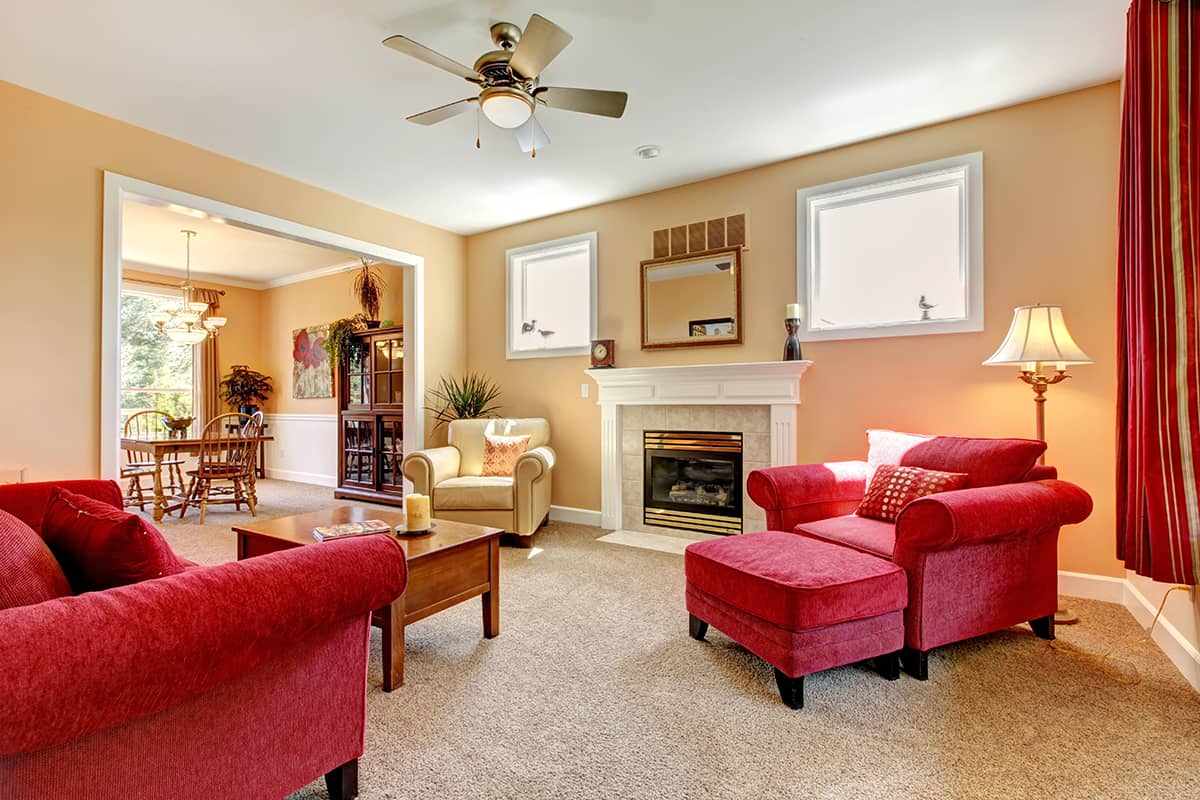 A red couch needs to match the rest of your living room decor. Otherwise, it may look a little odd or out of place. When you have formal decor, adding more than one red couch will balance the contrast and create a focal point.
In this formal living room, for example, the focal point isn't the fireplace. The two red sofas stand out as beige is a neutral color that sits in the background. Such a set-up is very inviting and eye-catching as your guests will feel right at home.
Whether you choose red leather sofas or fabric ones, your formal interior decor will come together nicely with the neutral decor alongside the red sofas.
A Gallery Wall
We've already mentioned adding a painting that matches your red couch, but if you want to take the idea one step further, why not create a gallery wall of black and white photos or a collection of your favorite pictures in a set theme.
The red couch and the gallery wall complement the living room, even if you have other couch colors included as shown here.
Black and Red Wall Art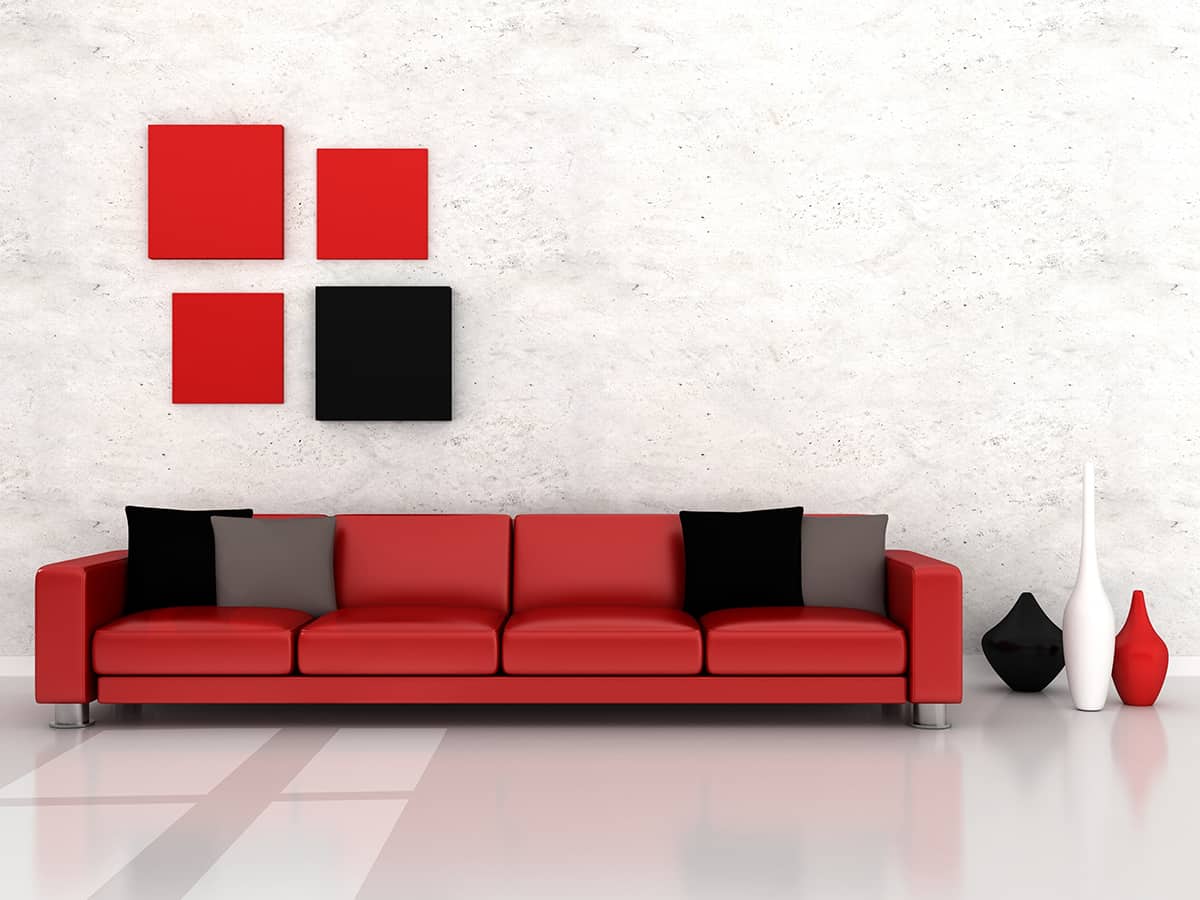 We all know how black and red go hand in hand together in a modern interior. So what better way to pair these up than choosing black and red wall art as shown here.
A red leather couch with grey and black pillows will showcase the black and red wall art nicely. Using this tactic in your living room will be eye-catching so feel free to add any artifacts (like the red black and white pieces next to this couch) to make your couch stand out.
Red Curtains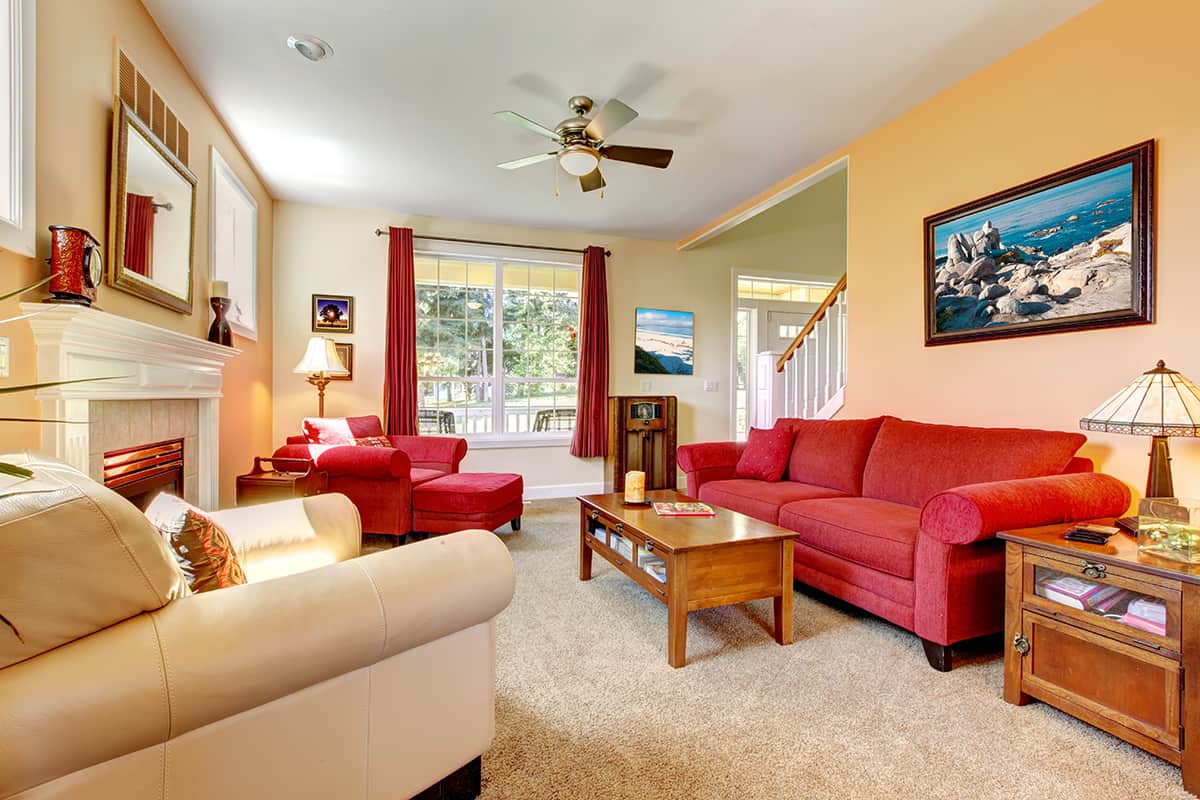 A red curtain is a sure-fire way of making sure you stick to a red-dominant decor. When you have red sofas, a red curtain in the same shade can work wonders to make the living room cohesive and balanced. Ruby or cherry red is a great shade to use in this case for a monochromatic and highly coordinated appearance.
But not all your sofas need to be in red to go with a red curtain. As you can see here, the creamy beige couch with the neutral walls goes hand in hand with the peach-red sofas and curtain. We love the balance of colors that work cohesively, thus making this living room very warm and inviting.
Is Red a Good Color For Furniture?
While brown and beige are the most common couch colors, it doesn't mean red is a bad choice. A bold red couch injects warmth into a home since it's a color associated with fire. To energize your living space and make your visitors feel welcomed, a red couch is a way to go.
If you love vibrant rooms with extra coziness, then go for a red couch.
Using our above ideas, you can easily style and decorate around your red couch to complement the furniture as the focal point of the room.
What Colors Complement a Red Couch?
Red is a primary color that works with green, blue, orange, black, and yellow. A bright shade of red like burgundy goes well with mint green, sandy beige, grey, and creamy white. Cherry red complements light colors like apricot yellow, beige, pumpkin orange, and azure.
In a contemporary style living room, you can combine your red couch with numerous striking hues like coral pink, green, turquoise, and lilac.
Another classic combination is blue, white, and red. As blue and red are both primary colors, when they are placed side by side, they create a sophisticated look.
Black is another bold and distinctive color that goes perfectly with red. This elegant color combination works especially well with sage green, mauve, or soft yellow.
In boho-inspired living rooms, you can add energy by using other bold colors alongside your red furniture to blend in the bright hues.
What Chair Colors Go with a Red Couch?
When you have a red couch, you might be wondering what chair colors would complement your couch. In a traditional living room, a pair of deep blue chairs next to your red couch will make your room appear elegant and classy.
In modern-style living rooms, black and white chairs go well with red sofas as these color combos balance the boldness of the red seating furniture.
How Can I Tone Down My Red Couch?
If you feel that your red couch stands out too much, consider painting your walls a brighter color than the red shade of your couch or dressing your windows with the mentioned curtain colors. A bright shade of purple or orange next to red will make them analogous, thus toning down the red.
Alternatively, decorate your red couch with black and white pillows and throw blankets. This will make your red couch less noticeable in the room.
See our post ' What Color Rug Goes with Red Couch? (11 Fabulous Ideas) ' for ideas to pair home accessories like rugs with your red sofa or couch.