Choosing the perfect rug color for a red couch is no easy task! In most cases, you will also have to consider the rest of the living room's furniture colors. Red sofas can be tricky to work with as the rug shouldn't outdo their bold color.
If you want to know what color rug goes with a red couch, here you'll find some great ideas to inspire you.
Best Rug Colors that Work with Red Sofa
White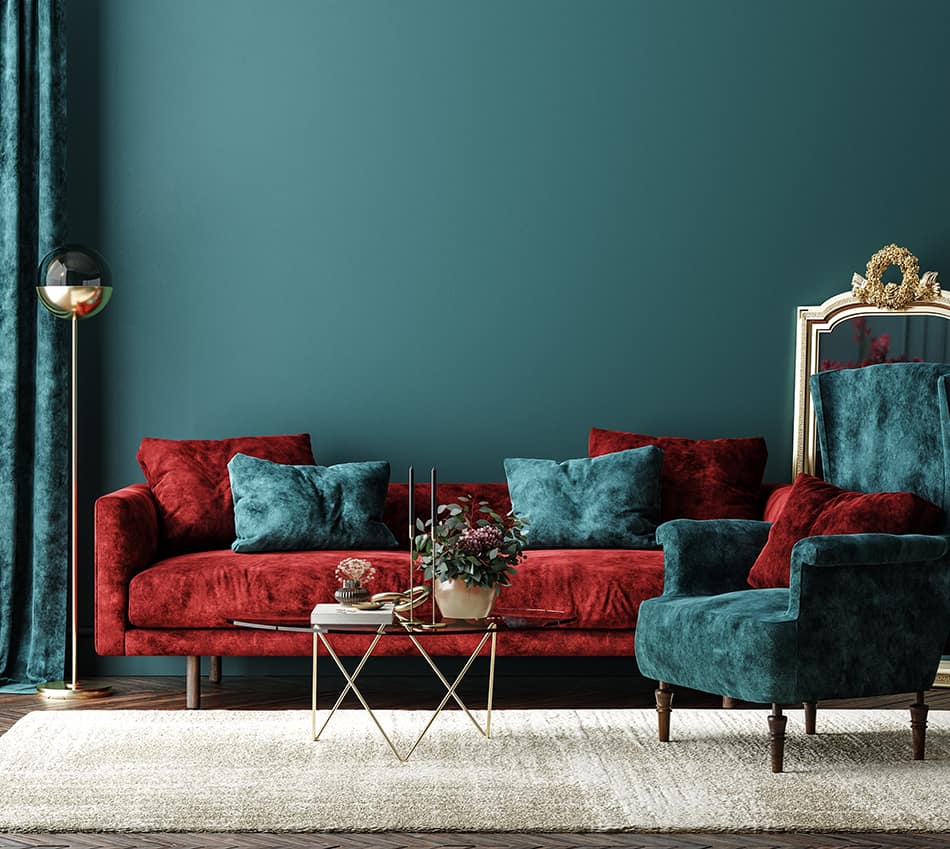 A red couch is a bold choice for a living room. When paired with neutral furniture pieces and floor covering, it can stand out as the focal point of the room.
Pairing a white rug with your red couch is one of the easiest interior design choices you can make. Since white is a bright and airy color, it can effortlessly blend with its surrounding decor. After all, white goes with everything without diverting attention from the red sofa.
The red couch in this example stands out beautifully with the white rug as its accompaniment. The dark blue wall with the matching throw pillows have created a natural appeal in this cozy living room.
Beige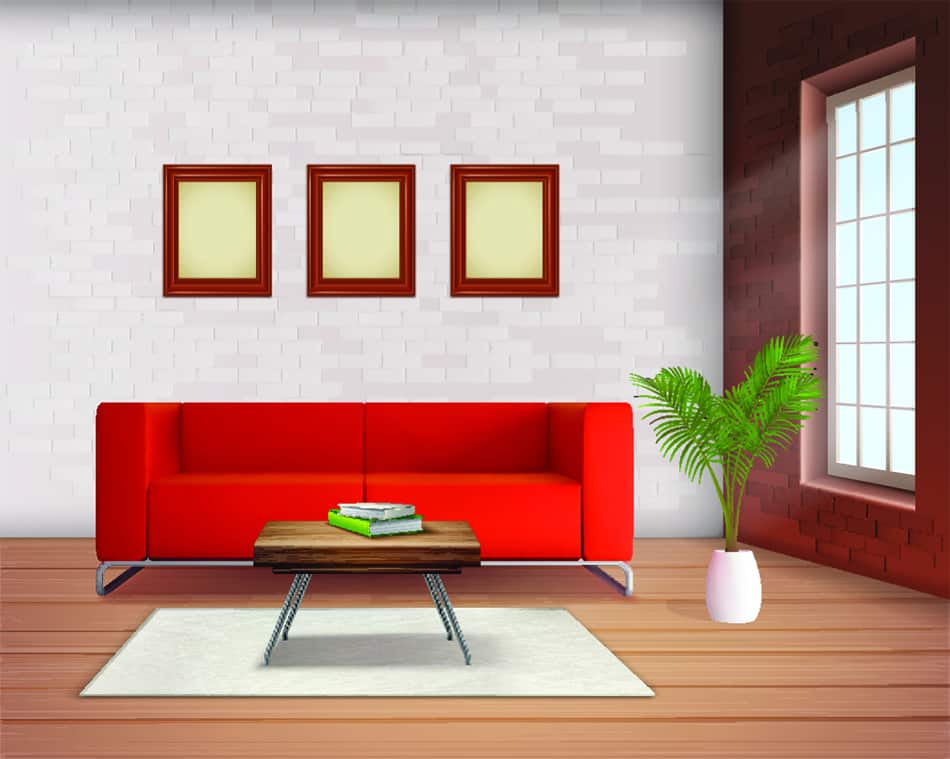 Another neutral rug color that goes with a red couch is beige. Although not everyone is a fan of this traditional color, when used correctly, it can coordinate well with vibrant tones like red.
When paired with a bright red couch, a beige rug can help the living room space feel more grounded. Just like white, a beige rug won't take the focus away from your red sofa, and on the contrary, it will even complement the surrounding furniture.
Since beige and red go well together, the neutral tone can soften the vivid red and make your living room feel more inviting.
Patterned Black and White Fluffy Rug
To achieve a monochromatic feel throughout your living room, opt for a patterned or two-toned rug. A simple shade of black and white will highlight your red sofa beautifully as it acts as a star of the show next to the red sofa.
To add more depth, you can also experiment with a mix of different shades. Here, the rug we've chosen is a beautiful patterned black and white shaggy that will suit both light and dark red sofas. This rug will also go well in brightly decorated bedrooms.
Blue Shaggy Rug
Blue is a cool tone with different hues, creating a calming and elegant feel. When paired with red, the color blue provides a cool contrast to the sofa's warm, fiery color. This color combo gives the living room space a sense of royalty.
We've picked a fur rug in blue to show you how beautiful it can look with your red couch. This smooth rug is made of the softest synthetic microfiber to keep your feet warm in cold winter.
Multi-Colored or Floral Rug
If you don't want to stick to just one color rug, go for a floral or multi-colored rug for your red couch pairing. This will ensure your rug complements the red couch and ties the room together.
A woven rug that incorporates several colors is a popular trend design. Even if the rug itself doesn't have any red hues, the multi-colored nature of the rug still works. This combination will add an organic touch while allowing your red couch to stand out.
The floral we've selected is a high-quality 100% synthetic wool fiber that's ideal for wooden and laminate surfaces. The incredibly soft-to-the-touch rug feels warm and comfortable under your bare feet. The multi-colored floral rug works well with a bright red sofa, consisting of greens, reds, blues and yellows on a light blue background. We love the red and white flowers that perfectly tie in with a red couch!
Red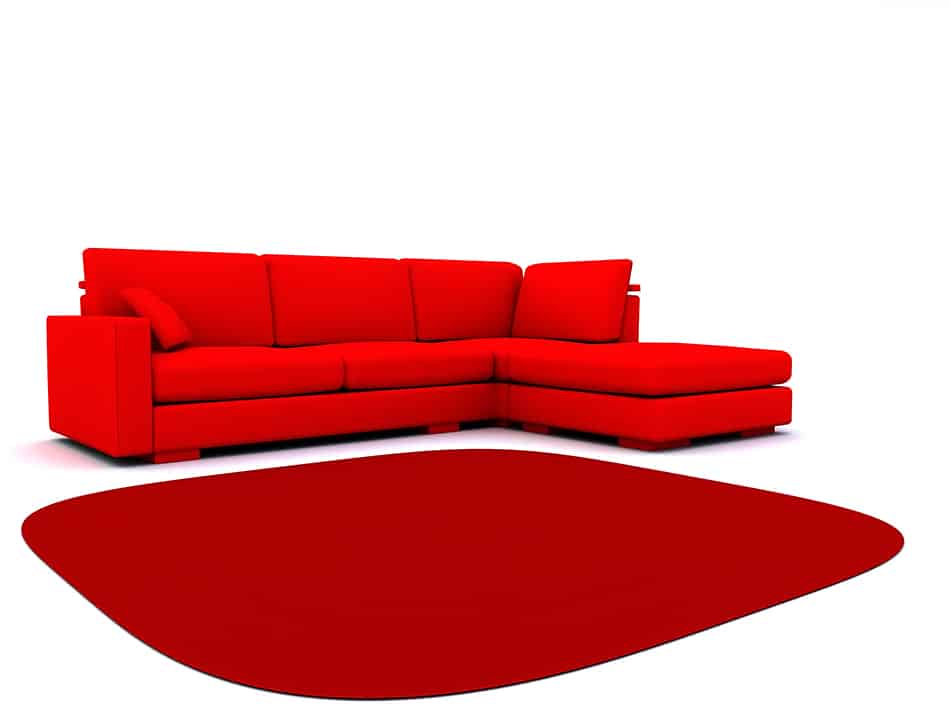 Consider carrying over the red into the rug for a more dominant color combination. A bold red rug next to a slightly lighter red couch is a great way of continuing this color scheme in your living room. The same color combo works especially well in larger spaces. Make sure you use different shades of red to add depth to your living space.
Burgundy is one such shade that will look stunning with a cherry red couch. As long as you choose varied tones of red, your sofa and rug won't clash or appear monotonous.
Grey
A dark shade of grey rug will go great with a red couch. Although some people find grey somewhat dull, this contemporary color can coordinate well with bold, vibrant tones like red. Just imagine a red velvet sofa with a dark grey rug to make the living space feel more grounded.
Grey is a neutral tone that provides a calming feel. It offers a touch of sophistication, which, unlike other neutral hues like beige or white, it never goes out of style.
Grey has the power to add a contemporary feel to any room, but to make the most impact, experiment with different rug textures first. Grey is an easy rug color to pair with any couch color, such as brown, blue, etc.
For a red couch, a rug needs to play off the energetic tone of the red; consider a low-pile grey rug to make your living room space feel more formal and polished.
Muted Orange Rug
Since red is a dominant color, you can tastefully add another bold color like orange, but this time a muted shade that doesn't stand out and take the spotlight from your red couch. The red and orange color pallette ooze summertime appeal as this fresh color combo helps bring the outdoors in. Just make sure you don't go overboard and stick to muted orange tones as we said earlier. This is the only way your rug and couch can complement each other rather than clash.
The low-pile soft orange rug we've selected here will go beautifully with a bright red couch. And you can be sure that the low intensity of the color won't clash with your sofa's color!
Green Fluffy Rug
Did you know red and green are actually complementary colors even though they sit opposite each other on the color spectrum? These two color combos work harmoniously in any room. But the trick is to choose a pastel shade of green to not divert attention from your red couch.
Adding a few accents throughout your living room will also help tone down the red and keep the focus purely on the rug and sofa.
This beautiful fluffy green rug adds a soft feel next to your red couch thanks to its welcoming and comfortable vibe.
Persian Rug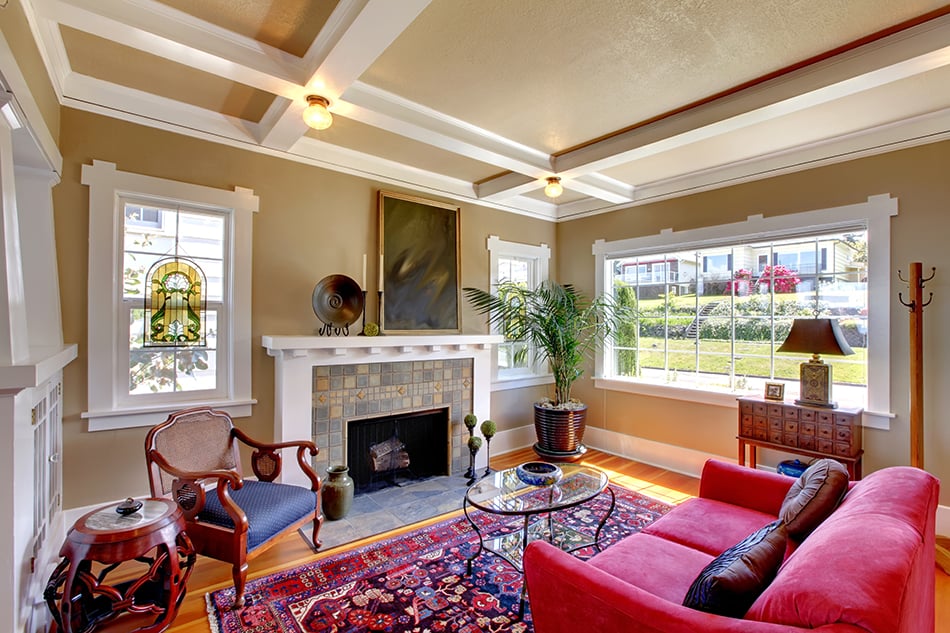 Persian rugs have always been a hot commodity in the world of interior design. These exotic rugs often feature red as their primary color, thus making them a perfect pairing with a red couch. To create a cohesive look, choose a brighter shade of red for your sofa in order to keep the focus on the furniture. The rug can act as a complementary addition or even a unique centerpiece.
In this elegant living room, the sofa is a bold shade of red, which looks stunning next to the Persian rug.
Should Rug Color Be Lighter or Darker Than Red Couch?
There is no right or wrong choice when it comes to pairing your red couch with a light or dark rug color. A light color rug will create the illusion of a bigger space. When paired with a red couch, the rug will contrast and tone down the bold red, thus providing balance to your living room space.
That said, darker rugs can make the room warm and inviting. They work just as well with a red couch as darker color rugs keep the focus on the couch.
In a well-lit room with plenty of natural light, a dark rug with a red sofa can add a comforting and cozy accent. It is, therefore, not a bad idea to mix dark colors with light tones in order to make a big impact in your living room. Multi-colored rugs paired with red couches give a fun burst of color and coordinate well with bright hues.
Summary
If you were looking for the best rug colors to pair with your red couch, our examples should have helped you get a better idea. Neutral rug colors work well with red sofas as they are not overpowering. Patterned or Oriental-style rugs add texture and depth to your living room.
On the other hand, if you want to continue the red to your rug, make sure it isn't the same shade as the sofa. No matter which rug color you pair your red couch with, it will undoubtedly tie everything together and create a cohesive look in your living room!