Black and white color schemes never go out of style. They are classic neutral colors that can be used in a variety of ways to achieve so many different looks.
Using these two colors is a really smart way to decorate a room if you want to ensure longevity because you can add a third accent color for accessories which can always be switched out at a later date when your tastes or trends change to create an entirely different look.
A black and white color scheme will go with any third color that you want to put with it, making this palette extremely versatile.
The third color you choose can help to define the style you want to achieve or simply add a pop of personality to the space.
Here we will look at some of the most stylish colors in interior design right now that can work really well in a black and white room.
Sumptuous Champagne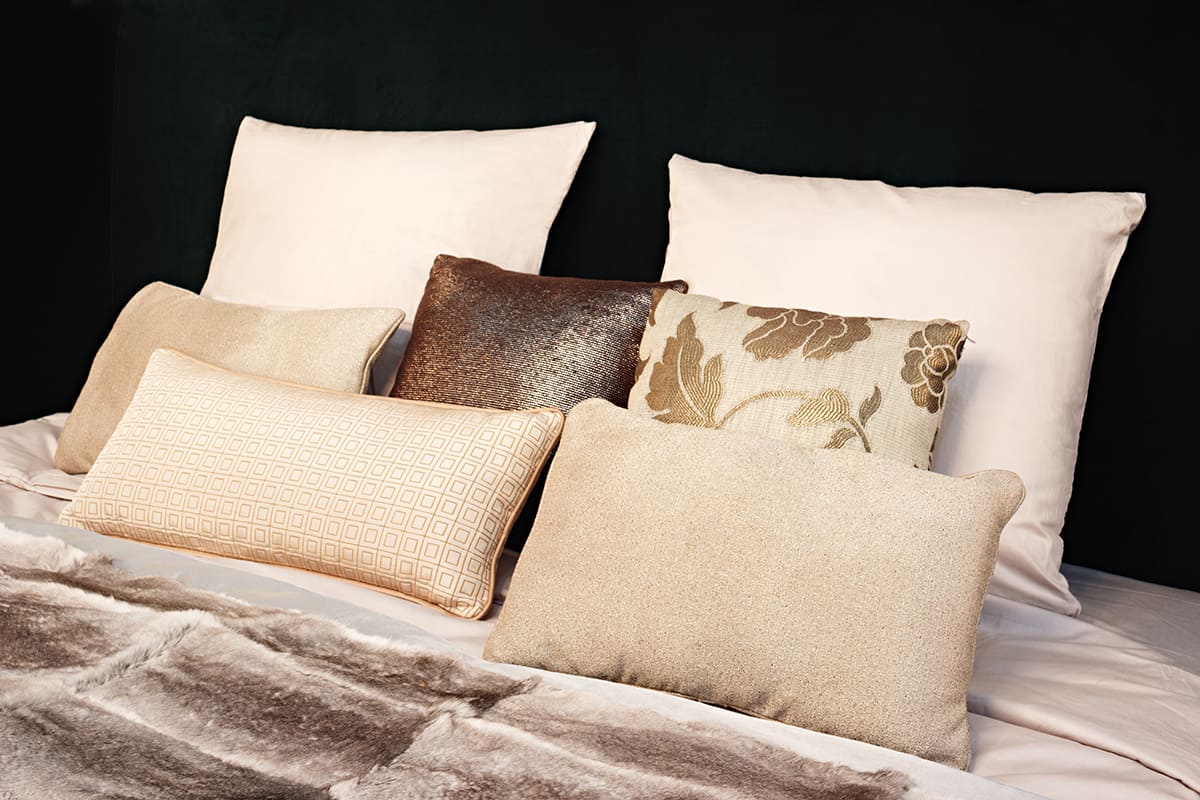 If you want to make a black and white room feel more decadent, then add champagne soft furnishings in luxury fabrics. Champagne is a paler shade of gold, named after the color of the sparkling wine from the famous region of France.
This is a color that is associated with grandeur and opulence, so it works perfectly in elegant dining rooms or luxury bedrooms.
In a room that has black walls and white trim, select silk or satin champagne bedsheets with pearl embellishments. A white-painted wooden dressing table with a matching stool in champagne silk upholstery for the seat will continue the color scheme and highlight the sumptuous feel of the space.
Hang champagne prints in white frames on the wall to contrast against the black paint, and opt for heavy champagne-colored drapes at the windows.
Funky Lime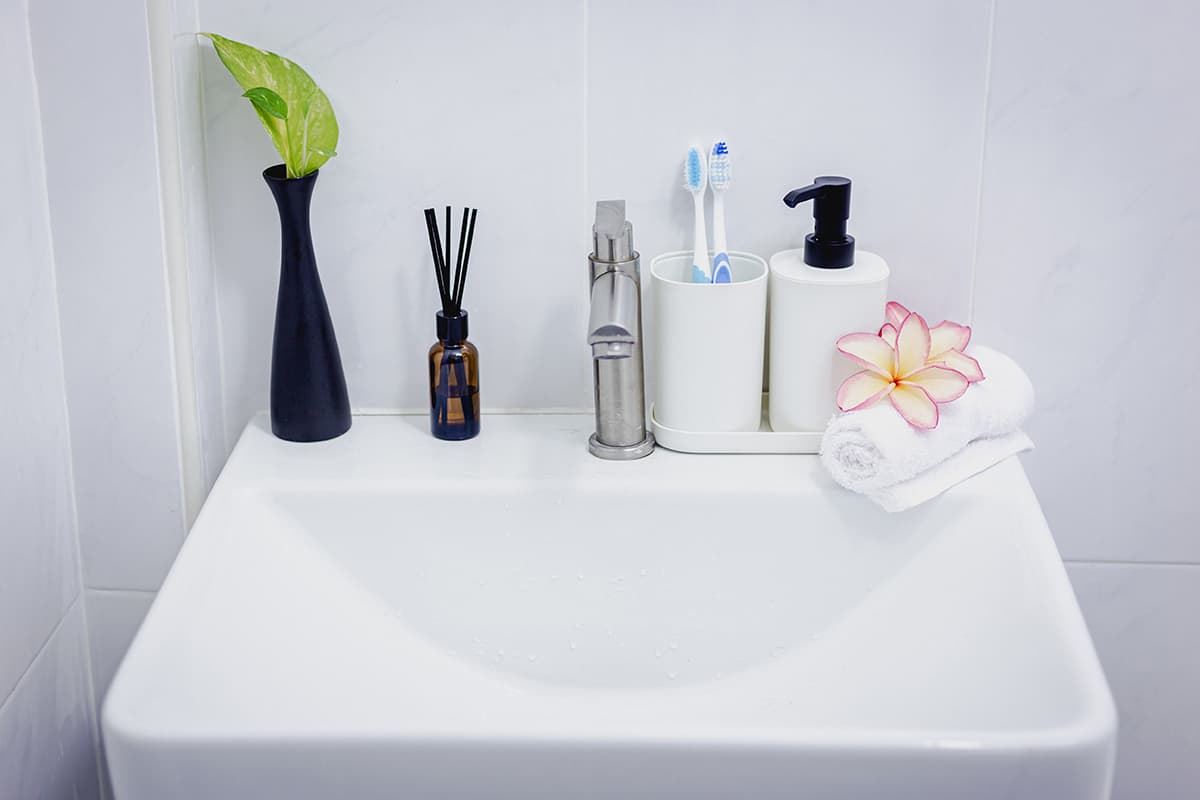 If you want to bring a bright and fun atmosphere to a black and white space, then choose a striking accent color such as lime green. This is a vivid shade of green that has a strong yellow undertone. It feels vibrant and refreshing, which makes it a really nice color choice in kitchens, living rooms, and bathrooms. Black and white bathrooms are popular because they help to create the feel of luxury hotel bathrooms.
To prevent your bathroom from feeling dull or lifeless, add shocks of lime. You don't need to go heavy with this color to make an impact; just adding lime towels to your towel rail and lime candles on the windowsill will create a fresh and modern look.
Alternatively, if you want to make a more permanent statement, paint walls lime green with black tile flooring and a white backsplash.
Retro Red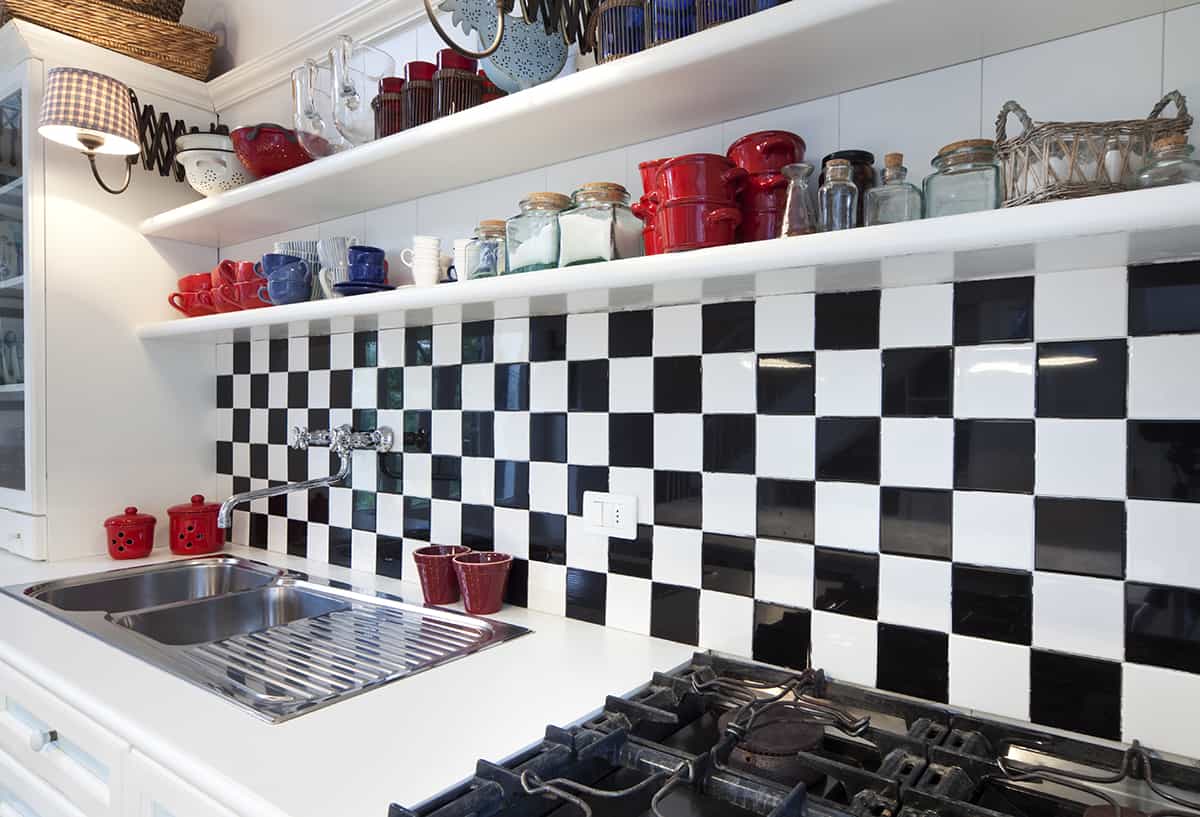 Glossy red accessories in a black and white room can really easily create a retro style reminiscent of 1950s American diners. For this reason, this is a color palette and a theme that works especially well in kitchens and dining rooms. Opt for high-shine black granite countertops with a red tile backsplash, red leather bar stools, and white painted walls.
If you are unsure how long you will want a retro-style kitchen decor for, then choose black and white for all of the more permanent aspects of the room.
For example, black or white countertops, black or white flooring, black or white tiles on the backsplash, and black or white walls. In doing this, you can add red accessories to create your retro look, for example, a red toaster, red coffee mugs, and red frames on the walls.
When you want to switch up your decor, you can easily swap out the red accessories for different color accessories to completely change the style and feel of the space without having to go to the extreme of replacing countertops or other expensive elements of the kitchen.
Dainty Blush Pink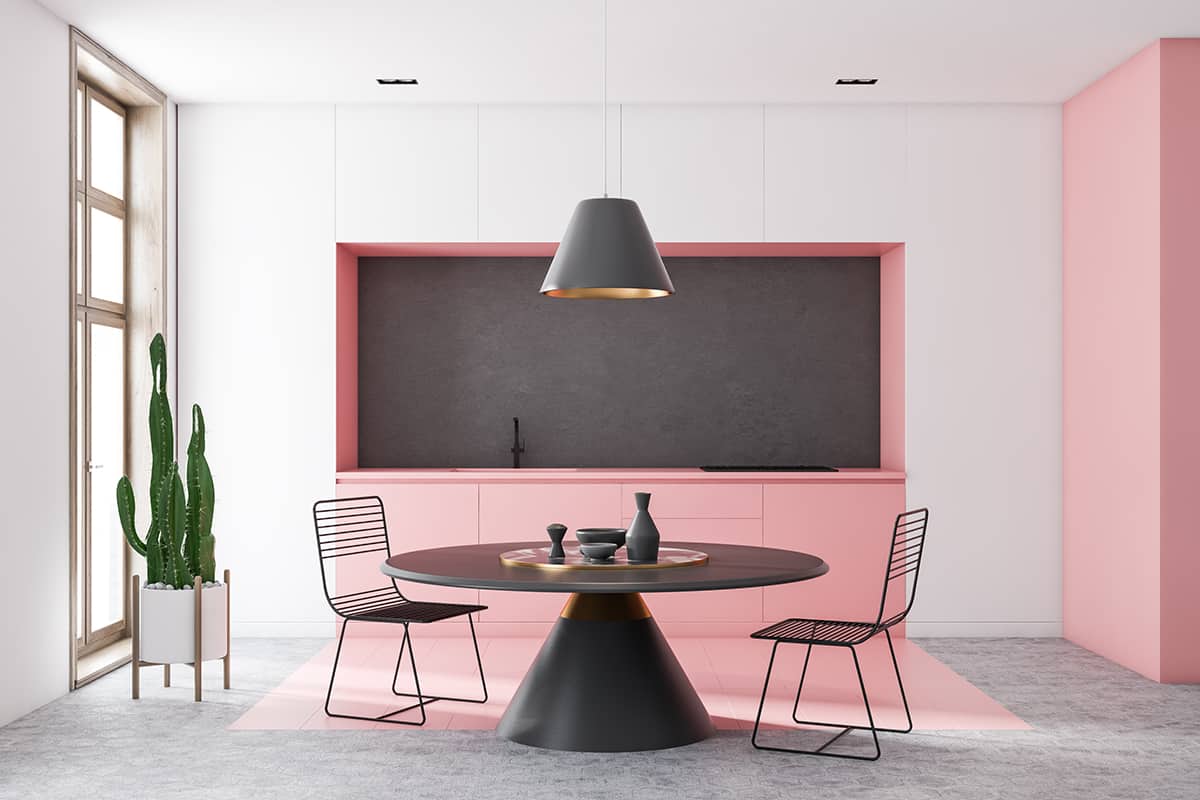 A black and white color scheme can seem harsh in some rooms, depending on the natural light and the type of style furnishings and accessories you have opted for. If you want to soften a black and white color palette, then adding blush pink as the third color is an easy and stylish way to do this.
Blush pink is very on-trend at the moment, providing a delicate and feminine touch to a room without being overly girly and frilly. The sharp contrast of black and white brings a hard edge to a blush pink decor, which helps to create a really nice balance along with the softness of the pink.
The juxtaposition of soft and pale and harsh and dark makes for a really interesting, high-style design that you might expect to see in a boutique hotel or a home interior magazine.
Quirky Magenta
Magenta is a color that hovers somewhere between hot pink and bright purple. It is a vivid and highly saturated color that can make a bold statement all on its own but looks even more striking when paired with black and white. This trio of colors works really well in rooms where you want to create a fun and quirky look.
For the most stylish decor using black, white, and magenta, use magenta in small but strong hits. For example, in a room that is predominantly black and white, add in an accent chair that has been upholstered in magenta velvet or a few bold magenta cushions.
See more magenta color inspirations in our post on colors that go with magenta.
Regal Lavender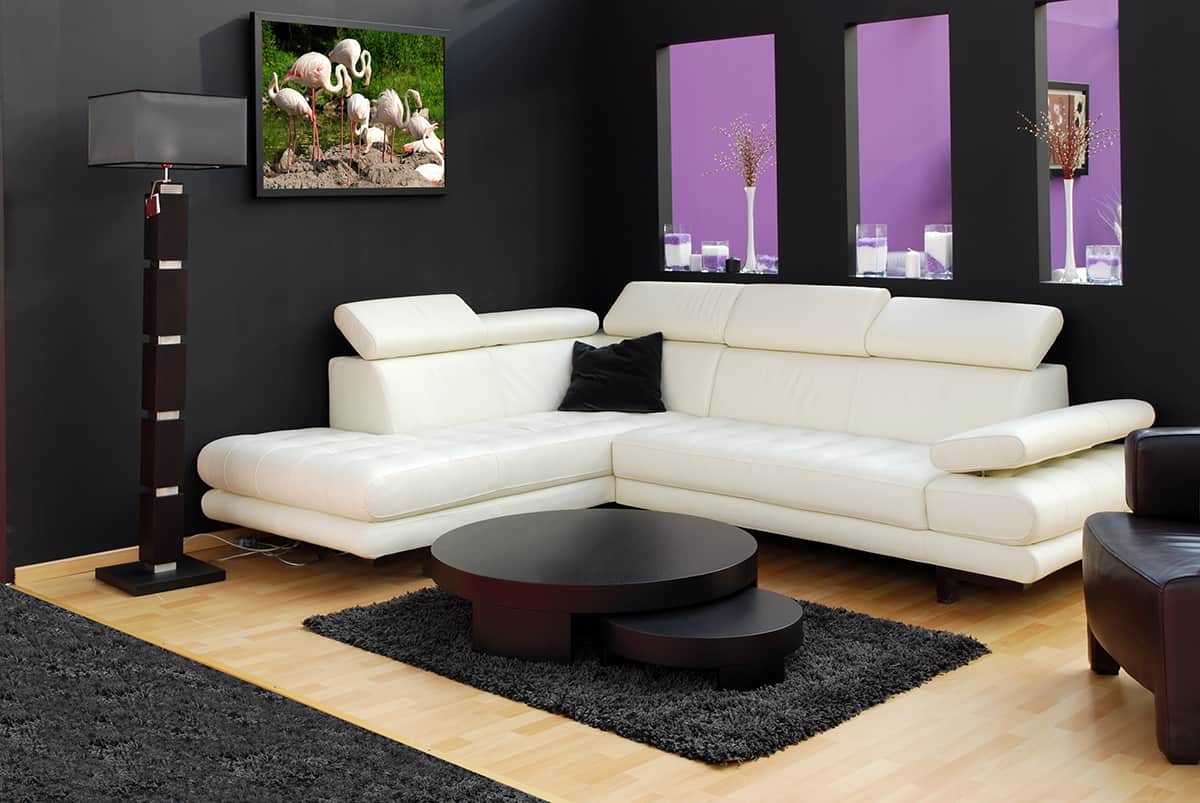 If you want to create a more formal and elegant space that is also soothing and welcoming, then lavender as a third color is a great choice.
Lavender is associated with royalty, and as such, it can help to create a really dignified and classic look in a home. Dining rooms and living rooms are ideal places to use this type of theme, with a focus on sumptuous fabrics that are soft to the touch.
Lavender can be used to lighten up a room that is predominantly black, or it can add a feeling of calm in a room that is predominantly white.
If you want to add a more casual styling to your black and white space, then consider lavender floral prints for wallpaper or curtains, or opt for chunky knits in lavender wool for sofa throws and cushions.
Sophisticated Silver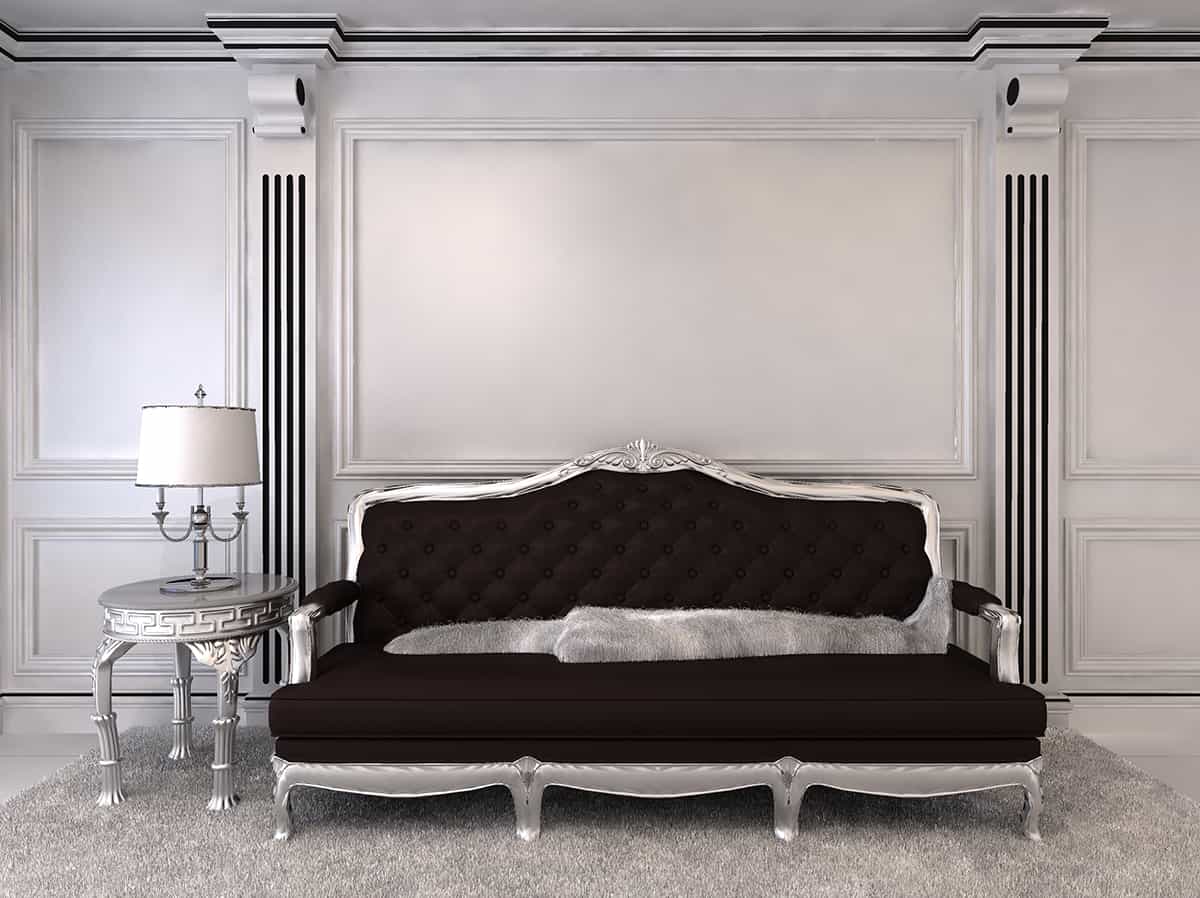 Black and white are color schemes that can be used alongside silver to achieve subtle sophistication. As a metallic version of gray, silver is a modern classic that will instantly update a black and white room, ensuring a contemporary and cool atmosphere.
This is a color palette that works well in any room in the home, but beware that it can make a space feel cold, so you may want to avoid using it in cozy areas of the home, such as casual living rooms or bedrooms.
You can add silver to a black and white themed room using metals. For example, choose silver-colored metal light fixtures and silver metal framed tables.
You could also choose silver for soft furnishings to increase the amount of this color in the room. Metallic fabrics can be commonly found now, made using metallic threads. Good options would be silver curtains or even a silver sofa.
Masculine Mustard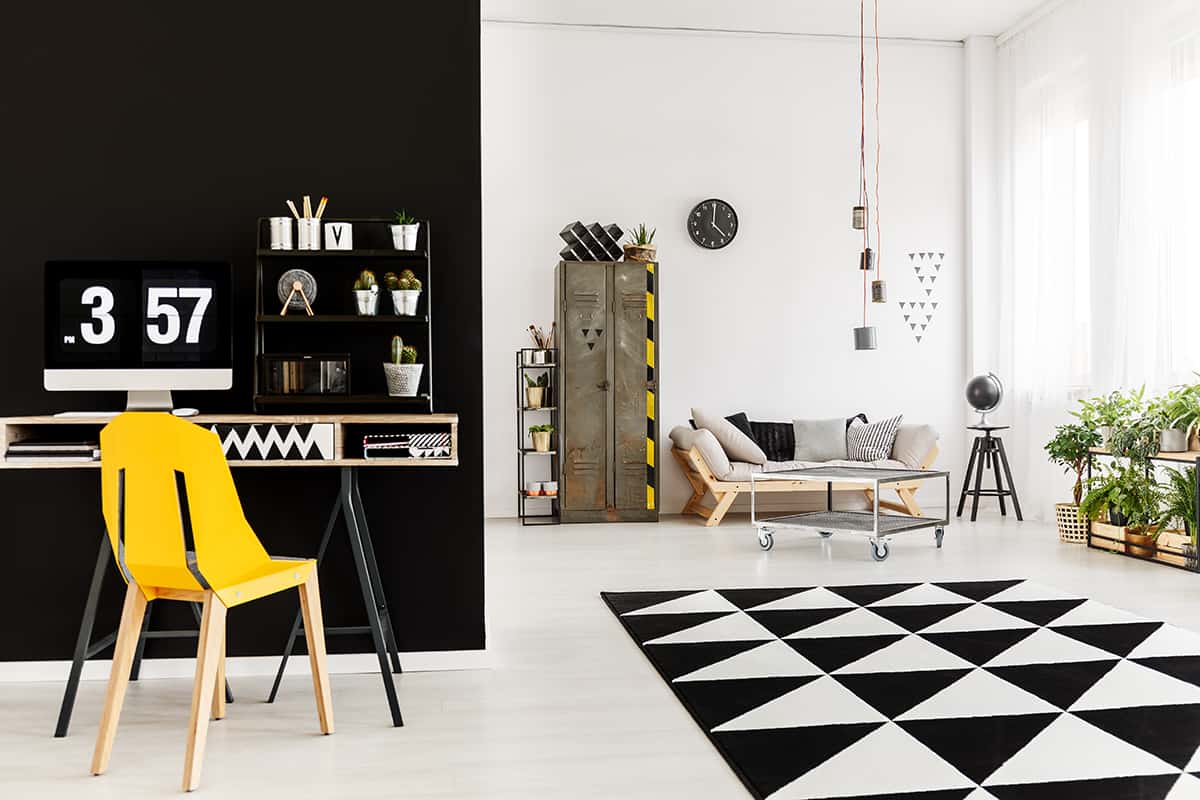 Mustard yellow is a strong color that is intense yet not overwhelming. It has a warming effect that can be retro or modern, depending on how you style it. If you want to create a retro look, the mustard should be paired with cream, brown, and burnt orange, but for a modern look, it works great with black and white.
Mustard is a color that is often used in masculine spaces as a less obvious alternative to predictably masculine colors like blue and red. As such, mustard has become something of a sign of contemporary masculinity, which can work really well in bedrooms and living rooms to provide character and softness to a black and white color scheme.
In masculine spaces such as a man's office or bedroom, choose mustard in blocks of flat color, such as solid mustard bed sheets. To soften the mustard look for a more gender-neutral style, opt for mustard prints, such as a white and mustard geometric patterned rug.
Looking for more mustard yellow color schemes? Follow our guide on colors that go with mustard yellow.
Minimalist Gray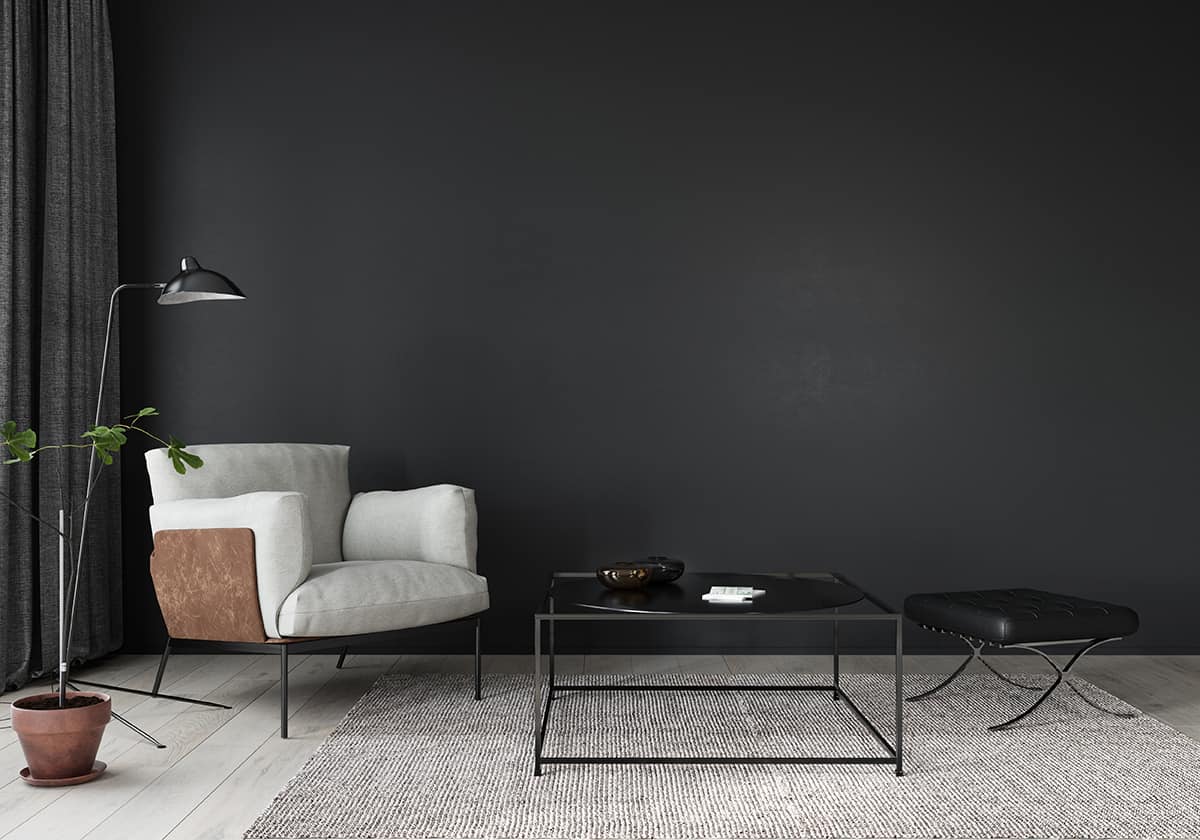 Black and white are commonly chosen as a color scheme for a minimalist style room, but this can inadvertently end up looking quite harsh. To soften the contrast between black and white without compromising on the modern minimalist styling, add in gray accessories.
Gray touches such as soft furnishings allow black and white to appear like natural transitions rather than polar opposites. This also produces a shading effect that looks modern and edgy.
Gray is a classic yet truly contemporary shade, so using it with a black and white decor theme ensures a very modern look. If you want to add warmth to a black and white room, then choose a shade of gray with brown or beige undertones, such as taupe or greige. This can help to make a black and white room look less harsh while still maintaining a modern and minimalist style.