Brown is an undoubtedly popular and versatile choice for living room furniture. Available in many different tones, an upholstered or leather sofa in brown can be a warm and welcoming addition to a sophisticated living room. But the first step is to determine what color walls go with a brown sofa.
This way, you'll create an earthy and balanced feel by pairing your seating furniture with complementing wall colors. Whether you prefer mid-toned wall paint colors or a soft and soothing hue, our examples below will help you coordinate your brown sofa with the right wall colors.
Best Wall Colors that Work with Brown Sofa
Off-White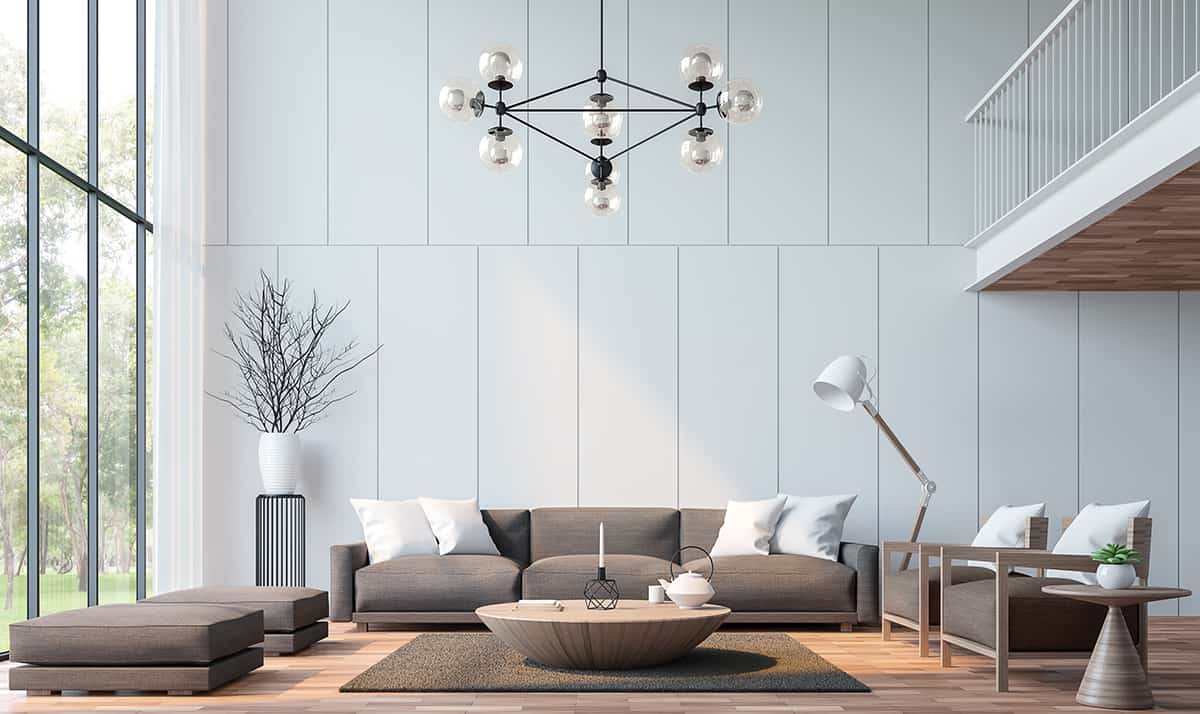 A luxury brown sofa decorated with white cushions will stand out beautifully in a room with off-white walls. The contrast between creamy-white and brown evokes a clean and fresh feel, especially if it's accompanied by a retro floor lamp and low-lying table as shown here. See how bright and airy this living room looks thanks to its tall walls and windows.
The brown sofas stand out subtly without sinking in the background.
White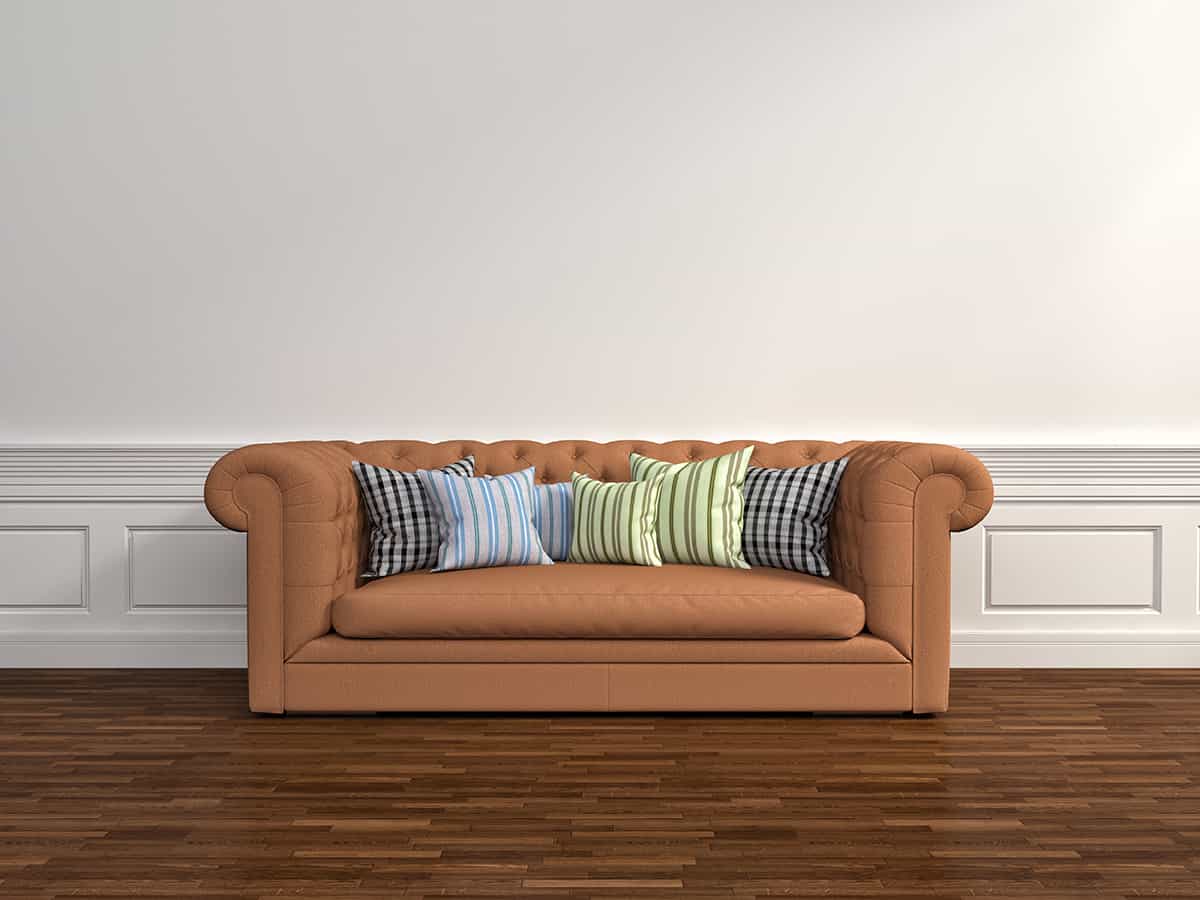 Another clean and fresh wall paint color is bright white. This minimalist idea doesn't require you to add many decorative details or fixtures to achieve the look.
All that's needed is a chocolate brown sofa, with a bright white wall as the backdrop and a white coffee table like the one shown here. Add a tall, trendy white vase next to the brown sofa to top it off nicely.
Beige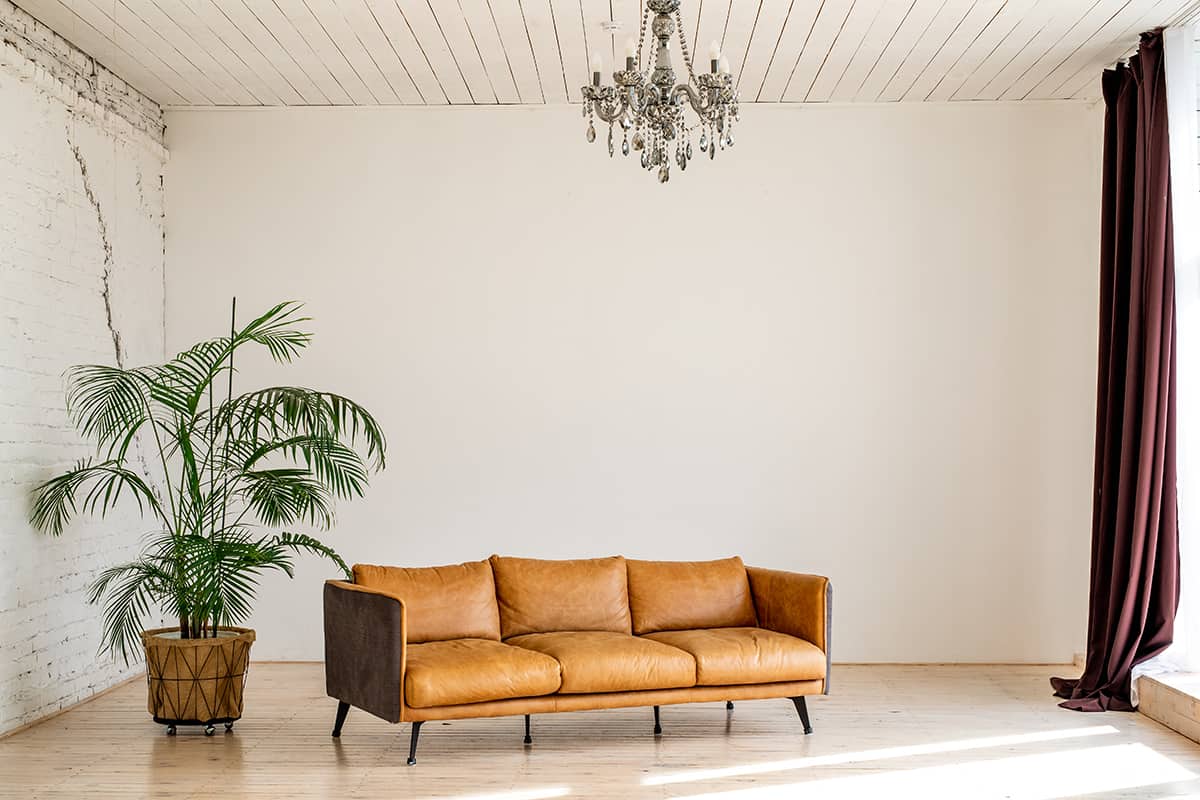 A punch of beige mixed with tan will provide a soft glow to your brown sofa. This neutral color will certainly accentuate the furniture and blend well with light wooden flooring.
For an even cozier look, throw in some colorful pillows and a brown or tan coffee table. Hint: brown leather sofas go particularly well with a beige wall.
Concrete Grey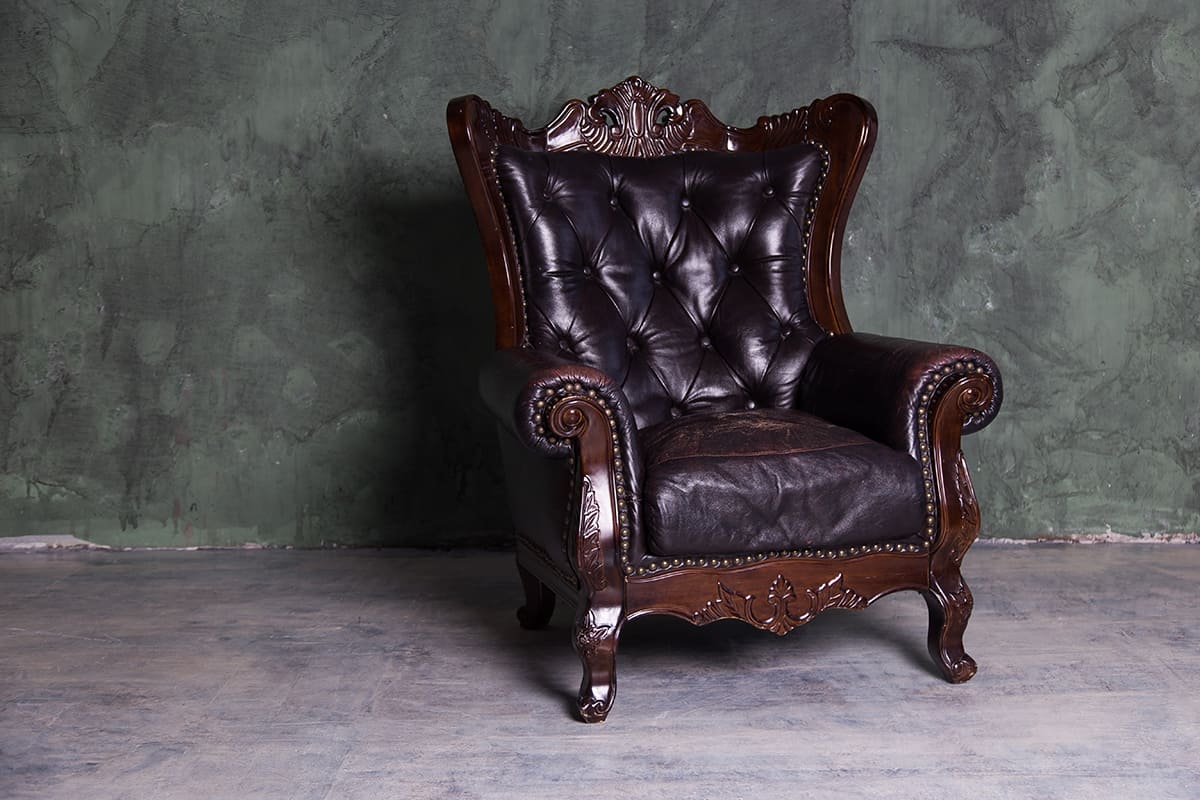 If you are a fan of industrial design and would love to pair your brown sofa with grey, then consider concrete grey for the wall color and floor.
A brown leather sofa will provide a luxurious arrangement, while the raw beauty of concrete grey walls will soften the bold color of the sofa. A chesterfield sofa, for example, in brown or cocoa color, brings in warmth next to cool grey walls. And to keep it cohesive, throw in a brown rug and warm-colored throw pillows.
Light Grey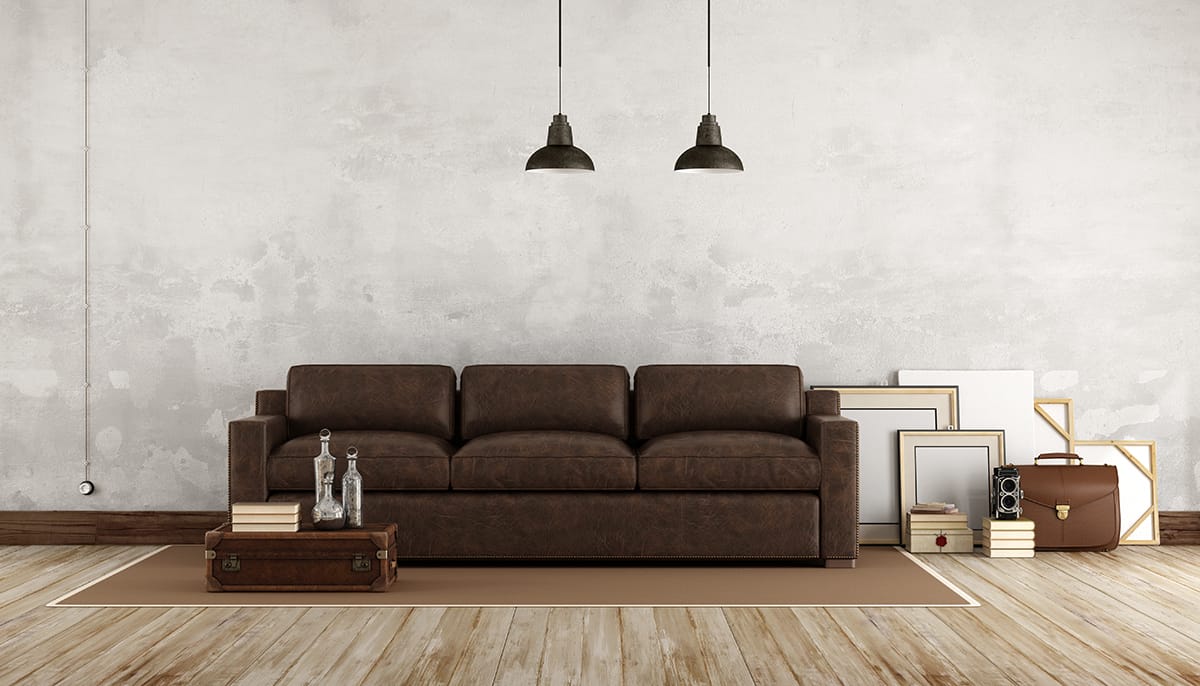 For those who prefer to stay away from an industrial-style living room, then how about going for light grey walls to accent your dark brown sofa?
This combination is easier to work with in both traditional and modern interiors. A dark brown upholstered sofa like the one shown here paired with a light brown rug and wooden flooring provide a cohesive design with the light grey wall as the backdrop. We love the hanging lights that keep the eye firmly on the brown sofa.
White Brick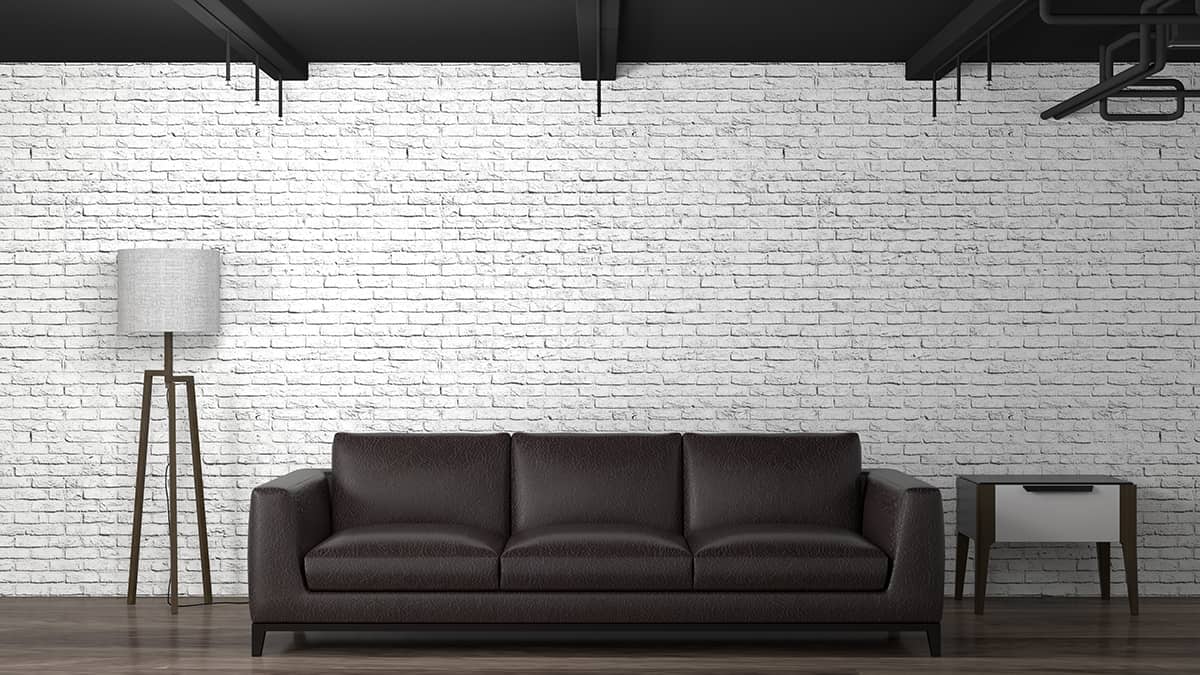 A dark brown leather sofa can be the signature piece in a living room with white brick walls. The combination of light and dark colors blends together seamlessly to provide a clean and comfortable appearance.
Here, traditional meets contemporary with the dark beamed ceiling and wooden flooring, which go hand in hand with the dark brown sofa. The reason this living room doesn't appear dark and dingy is because of the large white brick wall with the white floor lamp and side table.
Reddish-Brown Brick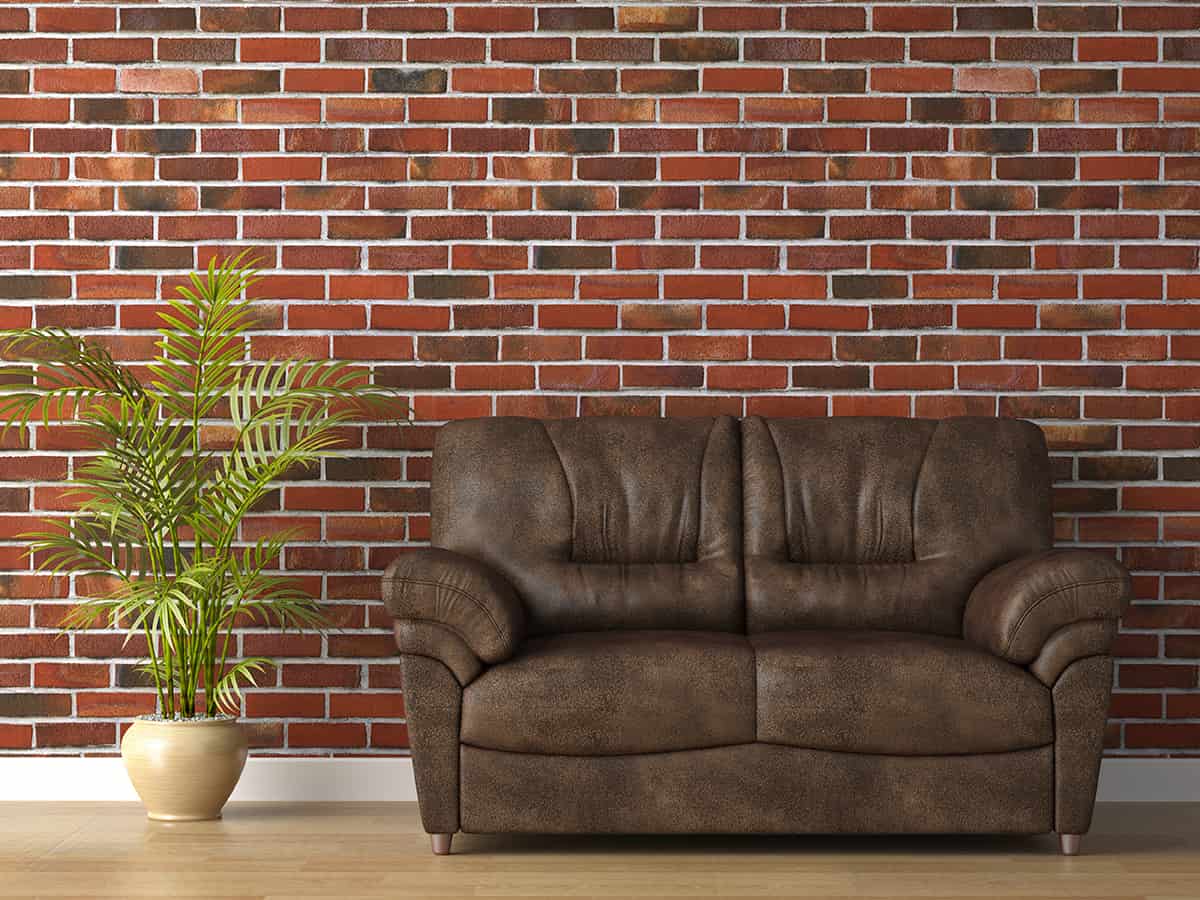 Aside from white brick, you may also go with a multi-colored brick wall that leans towards reddish-brown. This is the perfect color combo with your brown sofa.
Since a reddish-brown brick wall resembles any tone of brown, it creates a cozy balance. Use light-colored flooring to keep the room as bright as possible.
Red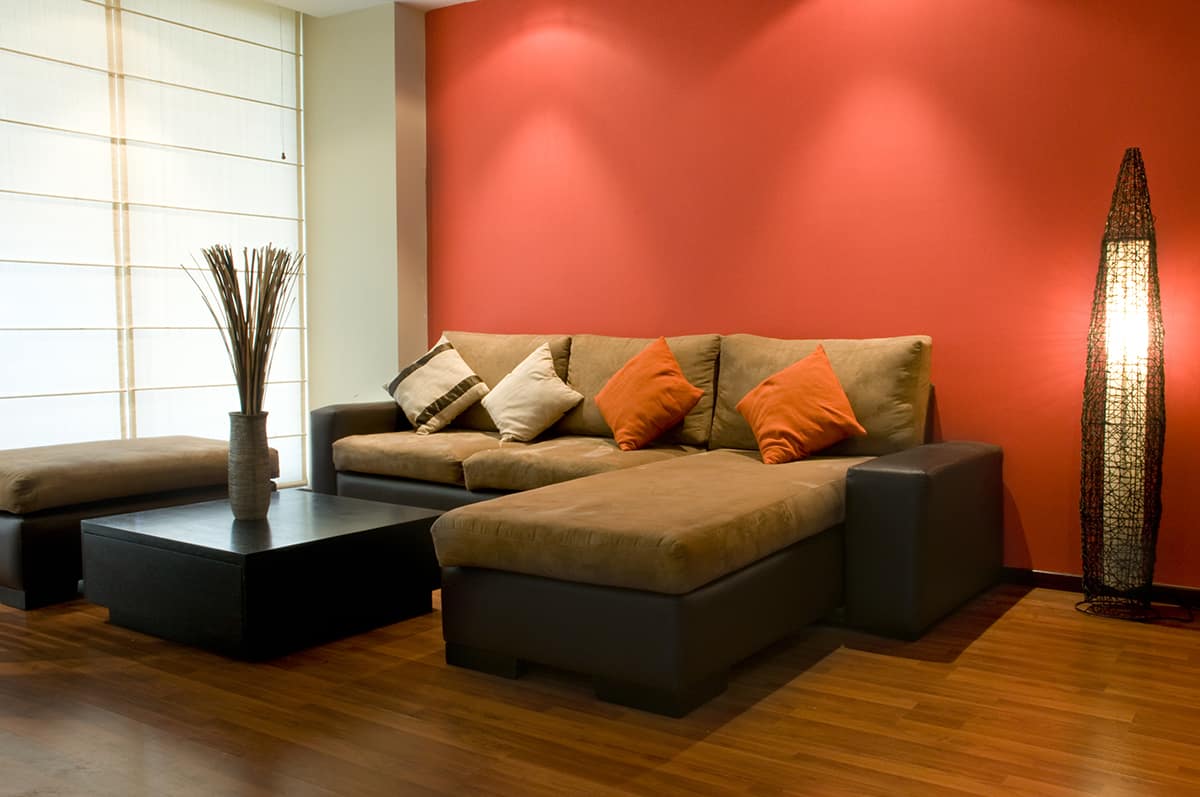 For an even warmer and richer wall color, go for pure red like burgundy or maroon. When combined with a light and dark brown sofa, it will give off a cozy vibe. Throw in some orange and white pillows plus a large dark brown coffee table to complete the living room.
Even a rich tone of terra cotta for the walls will easily complement your brown sofa. In this example, the sectional sofa is full of texture thanks to the combination of terra cotta wall and natural wicker and wood materials. The presence of the wooden table and floor light completes the look and ties in with the overall design.
Black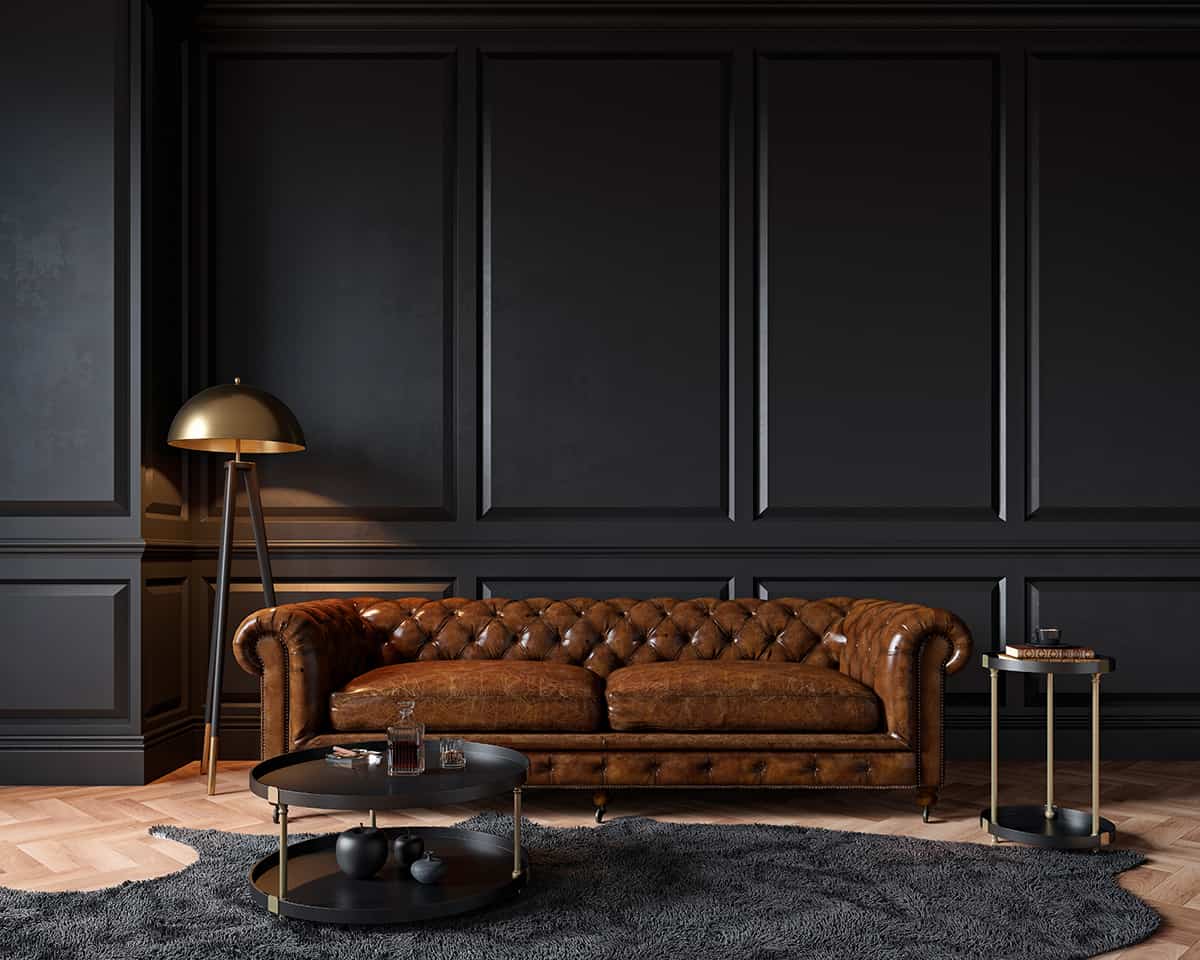 A light brown leather Chesterfield sofa deserves a bold contrast like a black wall. In a luxury living room, the classic combination of capitone brown with gold and black go hand in hand to create an ultimately elegant living space. If you're keen on painting your walls black, keep in mind to add plenty of light-colored fixtures and go with light wooden flooring.
This living room example looks anything but dark and dingy thanks to the stylish light brown leather sofa and light flooring, which keep the focus on the furniture not the black walls.
Dark Green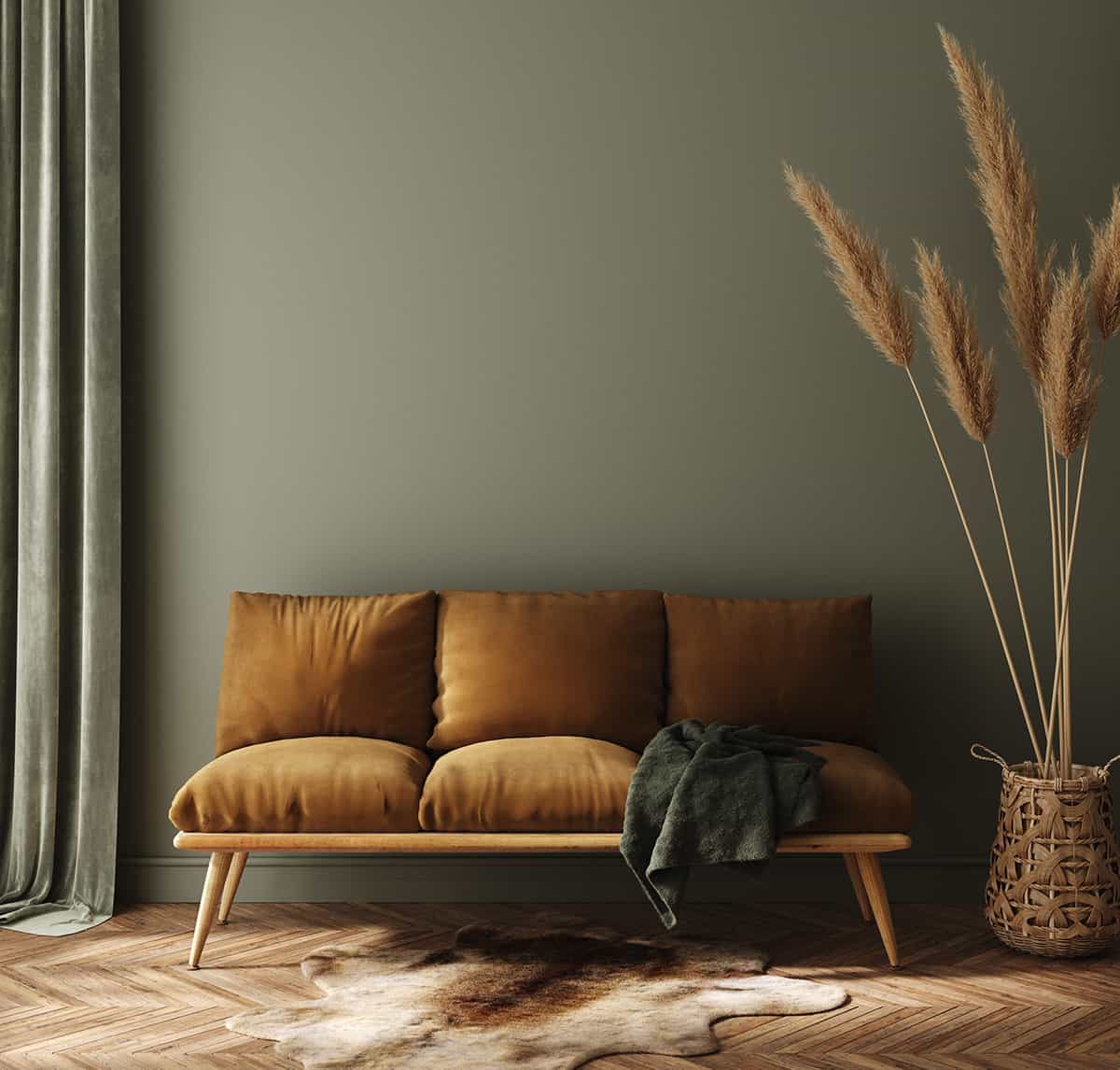 If you love tropical, earthy interiors but don't want to add any indoor plants to your living room, then go for a dark green wall paint against your brown sofa. Brown and green are earthy, natural colors that complement each other. All you need to add is light wooden flooring and a warm-colored rug.
Just about any dark shade of green goes well with a light brown sofa. Throw in some neutral or macrame colors and you won't even need any indoor plants!
Brown Paneling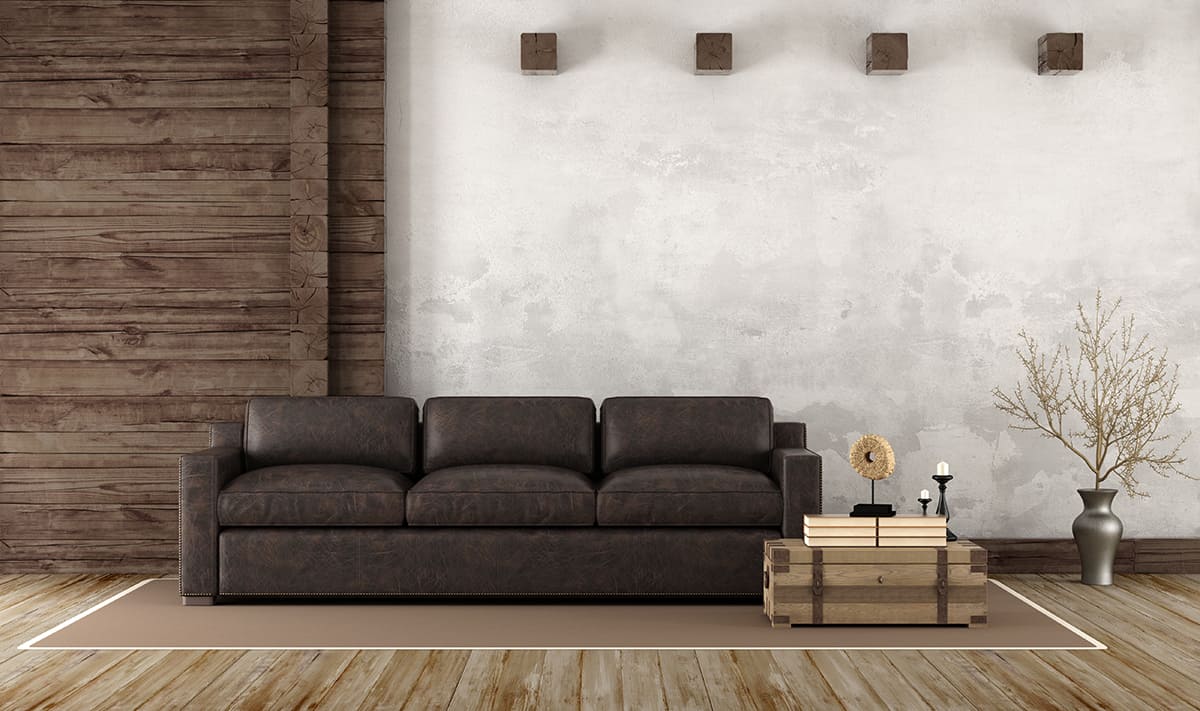 A brown wall panel paired with a brown sofa is a great way to make your living room monochromatic. Since there are so many shades of browns available, it is easy to create a captivating atmosphere in your living space. When you add accent pieces to your dominantly brown living room, all the spotlight will be focused on the brown sofa.
This is the case with the example we've picked here. The dark brown leather couch works in harmony with the rustic brown wall paneling and the light hardwood flooring.
Muted Yellow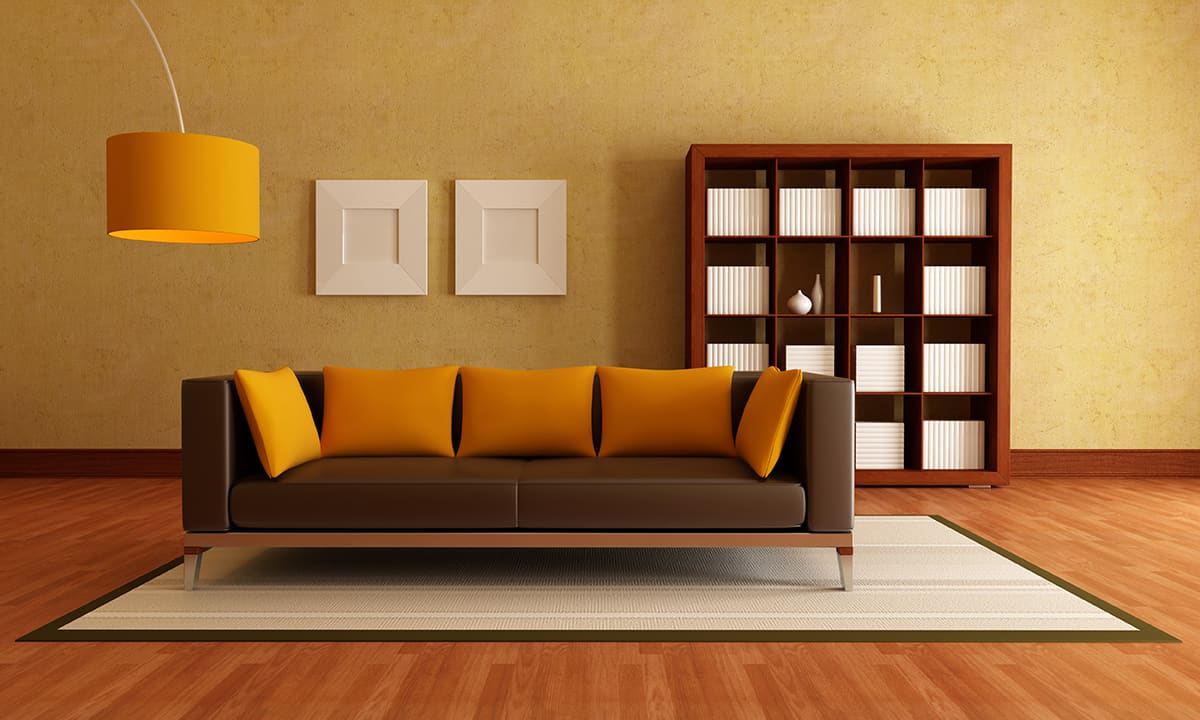 Another perfect color match is soft yellow and brown. A muted shade of yellow for the wall is the ideal backdrop for a dark brown leather sofa. Add some mustard yellow cushions and a matching lamp with a white rug to brighten up your room even more as shown in this example of a modern living room.
Blue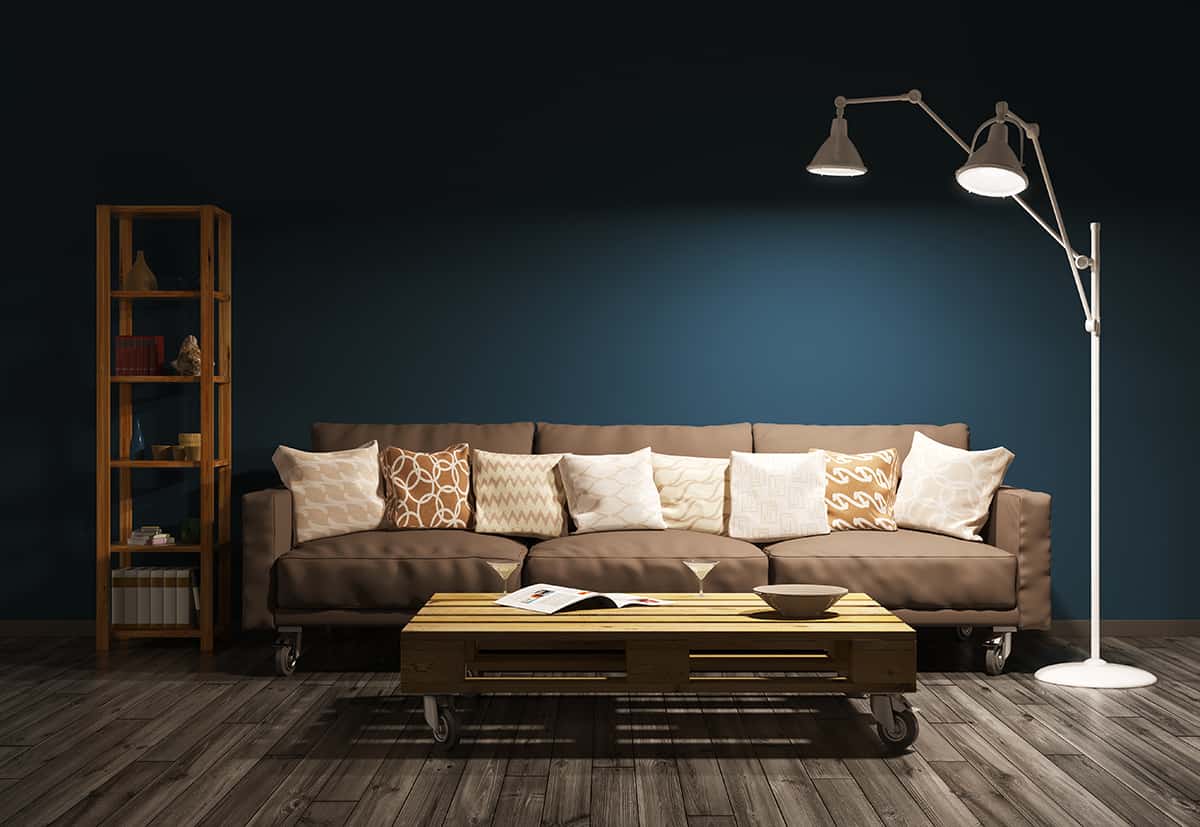 For an ultra-stylish and classy living room with brown leather furniture, paint the wall behind the furniture a dark blue shade like midnight blue. Add a light, wooden table, and freestanding shelf for an elegant finish. To enhance the arrangement, place a floor lamp immediately above the sofa to keep the focus on the furniture.
Brown and blue are both complementing colors, but make sure you go with a dark shade for the wall, especially if your sofa is light brown. The bright contrast of the sofa softens the darkest of blue shades. The combination of a warm and cool color balances the overall decor, and for accent, decorate the sofa with cream and tan throw pillows.
Peachy Pink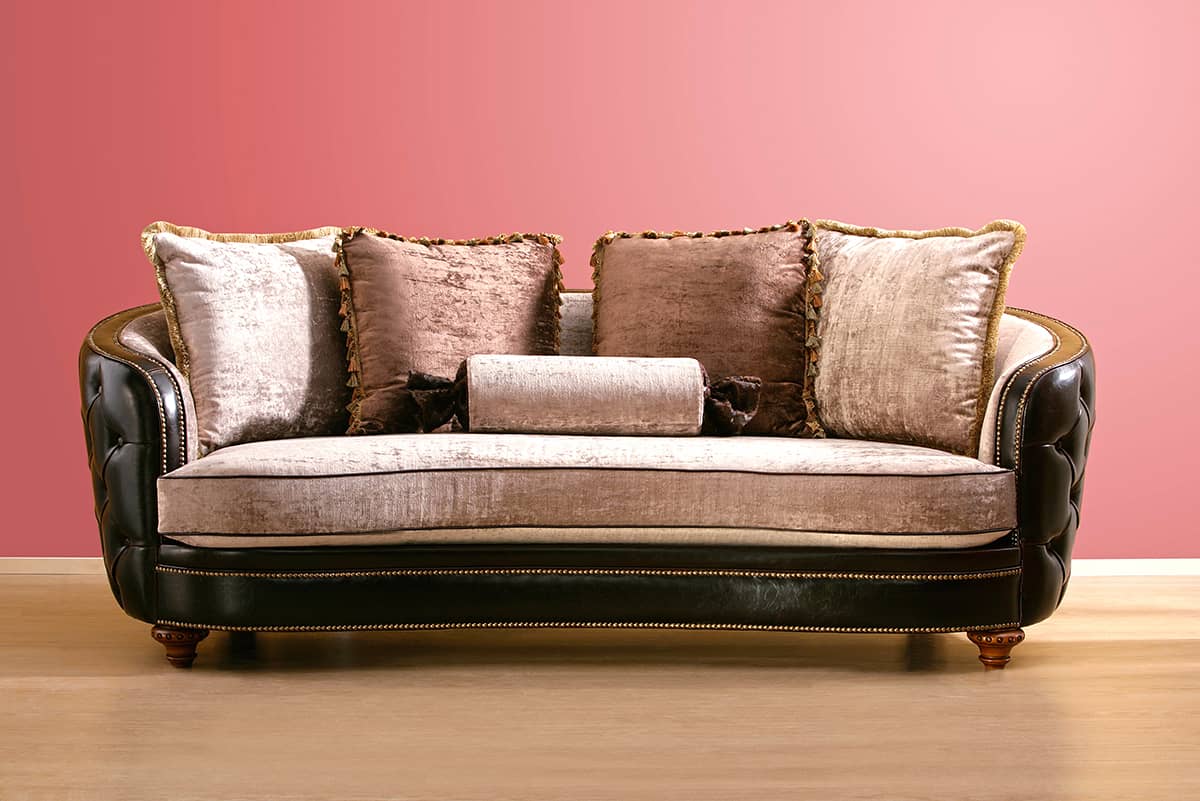 A brown leather sofa with a light pink wall evokes a cheery and sophisticated vibe. Peachy pink is a soft wall paint color that enhances the beauty of your brown leather sofa. If your living room doesn't have hardwood flooring, you can use a light brown carpet to enhance your dark brown couch.
A peach wall color with a brown sofa is the most welcoming combination in a vintage-style interior. The throw pillow colors can be beige, white, or peach to bring the whole look together.
Purple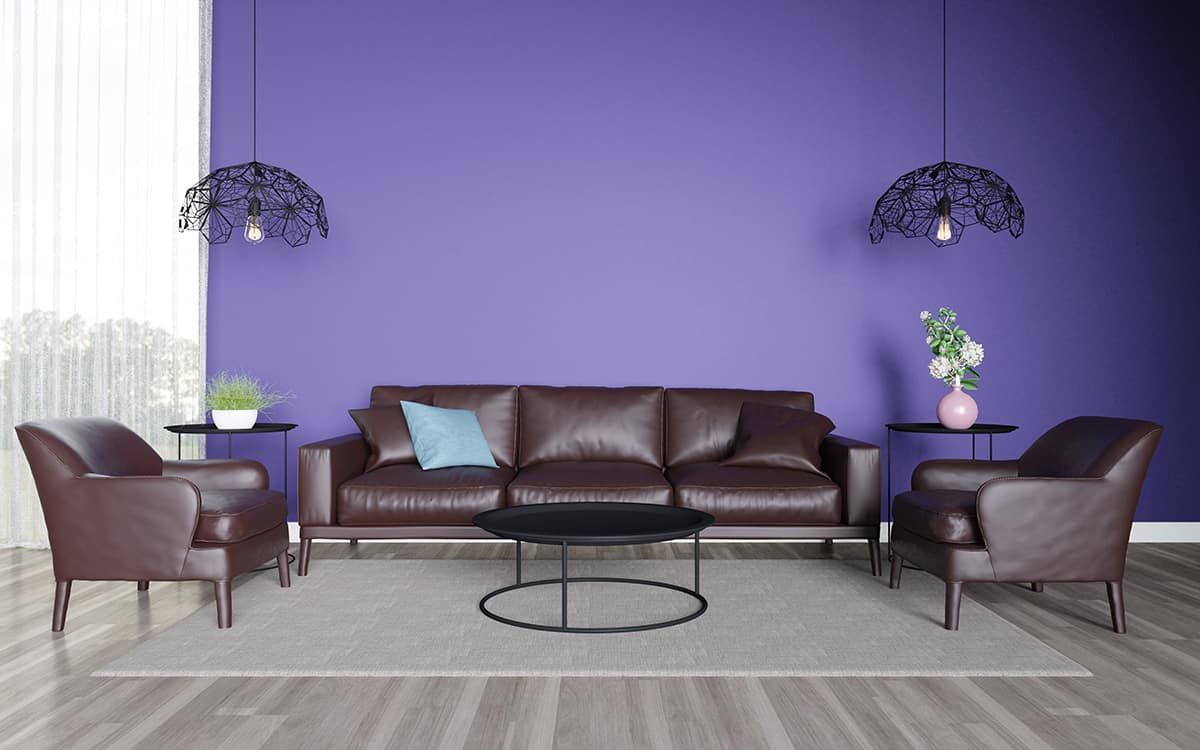 Purple isn't a common color for the wall, but if you want to create contrast with your brown sofa, then this is the color to choose. Brown and purple are bold enough to stand out while working together in a balanced way. Add some gold or black and white accents on the wall to soften the purple. And as for accessories, opt for light-colored cushions if your brown sofa is a dark shade or vice versa.
In this sophisticated living room, the bright purple wall firmly keeps the focus on the chocolate brown leather sofas. We particularly love the metal hanging lights and coffee table that complement the brown and purple.