Pillows play a large part in helping to define the color scheme and the interior decor style of a room, so you should choose them wisely.
Here we look at the types of colored pillows you should use on a black leather couch.
Black is a Neutral
It's a common misconception that black is not a neutral color, but it is actually considered a true neutral because it lacks undertones of other colors.
For this reason, black can work with absolutely any other color, so when you're choosing pillows to go on your black leather couch or deciding upon a color scheme in your room around the black couch, your options are almost endless.
Best Color Pillows for a Black Leather Couch
Essentially the best color choice for pillows on your black couch is a color that will coordinate with the rest of your room and the color that you enjoy.
Choose a color that you feel comfortable around and that makes you feel good. This might be a color that makes you feel relaxed or a color that inspires your creativity.
Warm Colors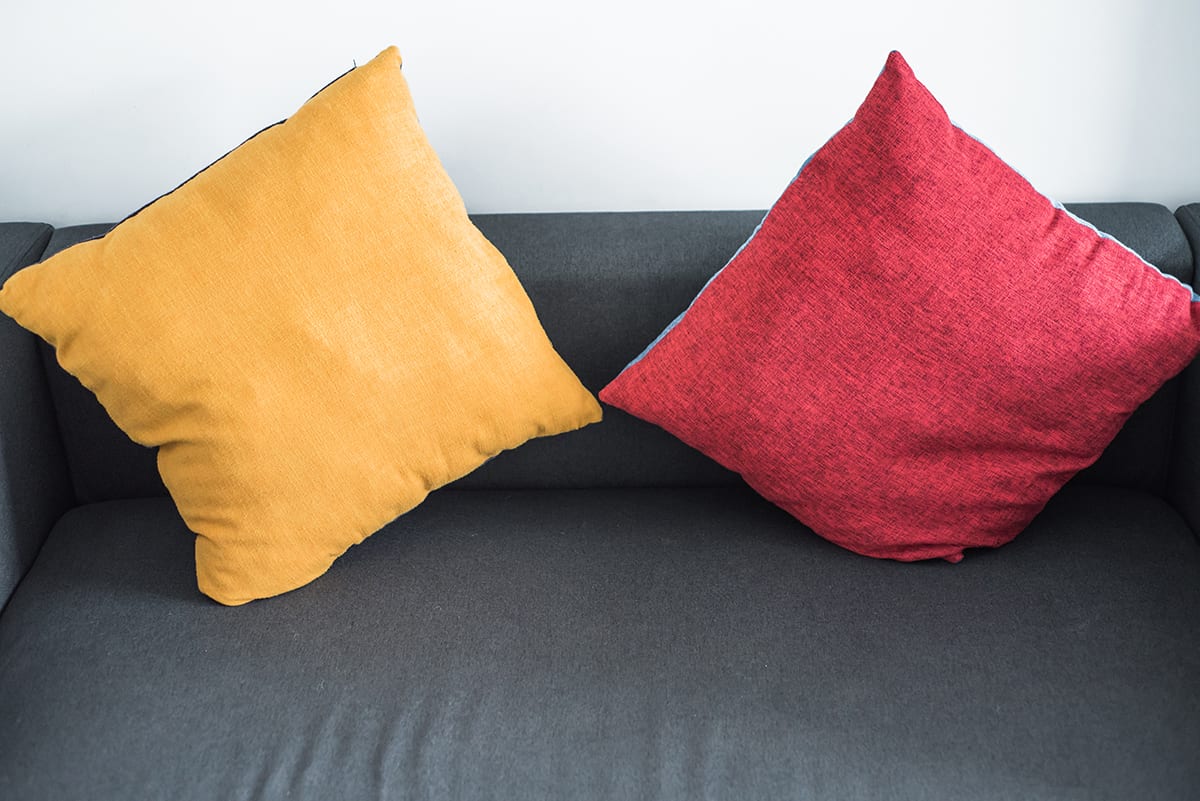 Black has a reputation of being a negative, cold color associated with evil and grief. To bring warmth to your black leather sofa, you can choose pillows in warming shades. These will help to balance out any negative energy the black couch is emitting and make the sofa feel more welcoming.
Warm colors are any colors with red, yellow, or orange undertones. Pink can also be a warm color, along with warm shades of beige.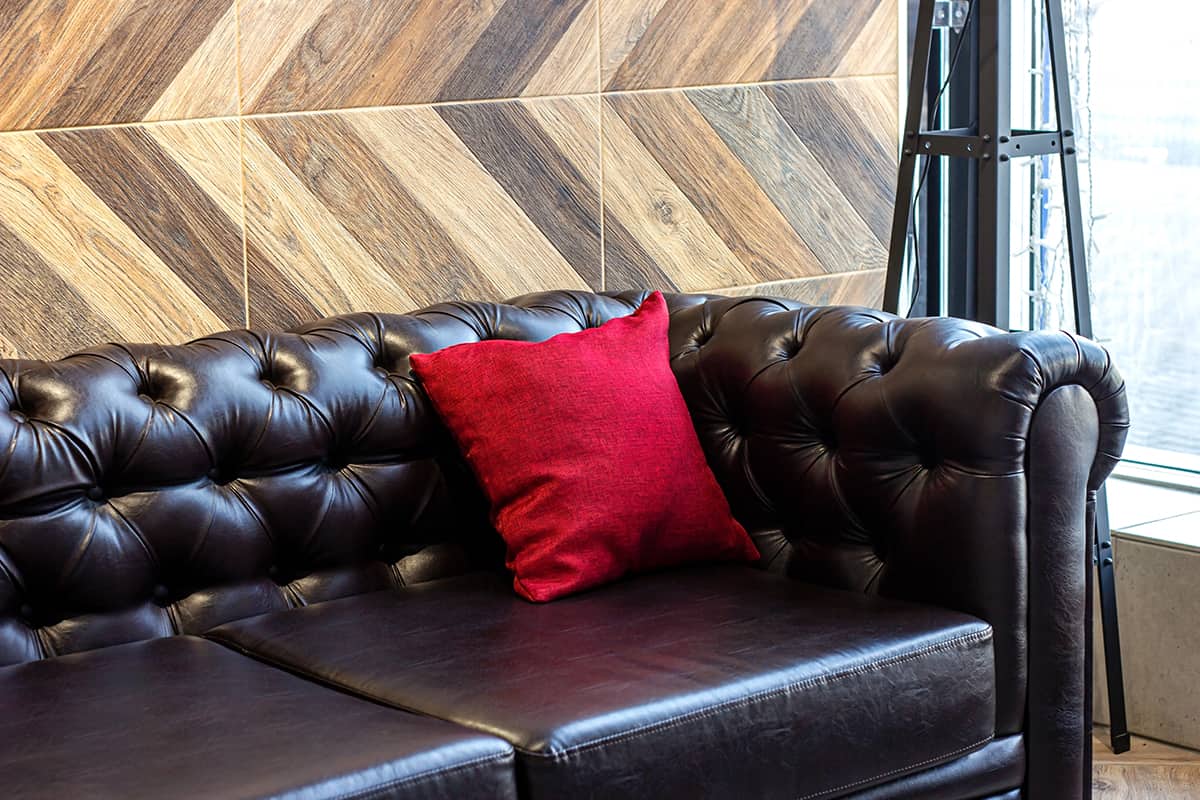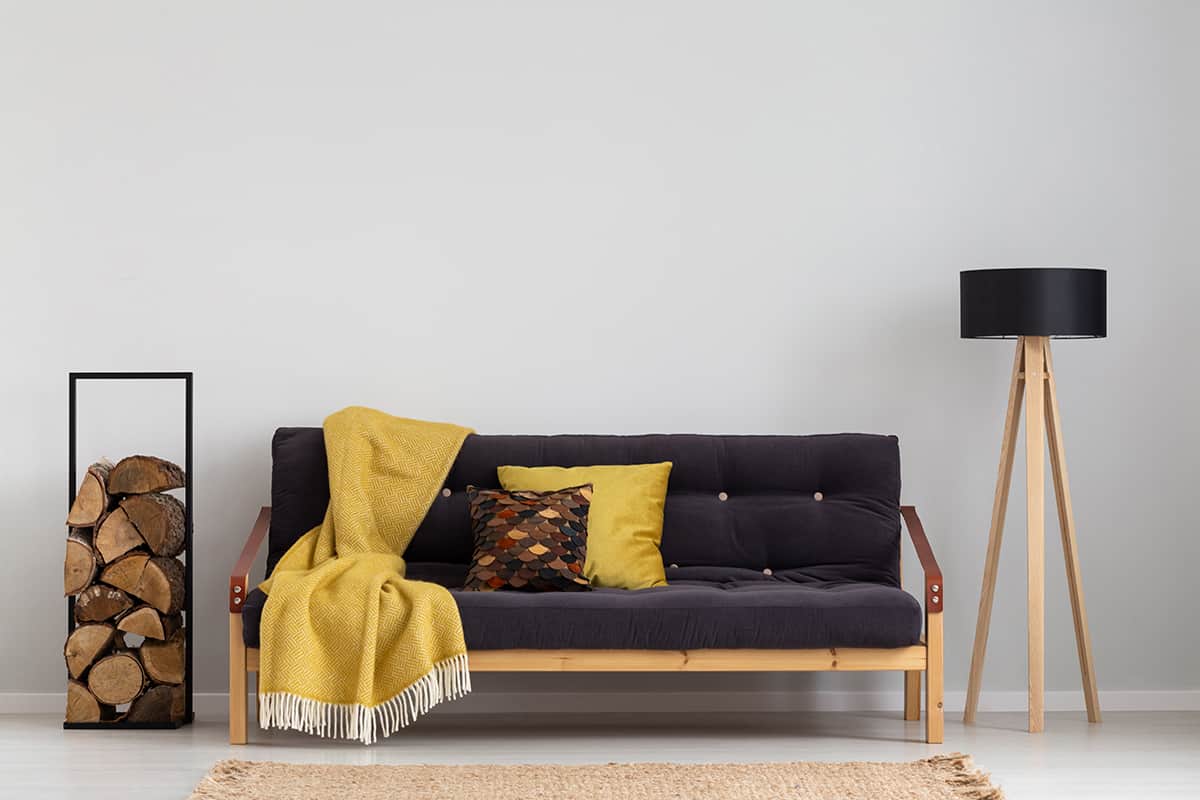 To emphasize the feeling of comfort, choose shades that are heavily saturated, such as burnt orange, mustard yellow, and paprika red. Beige shades such as tan and oatmeal will also look great on a black leather couch, creating a calming and soothing vibe.
Cool Colors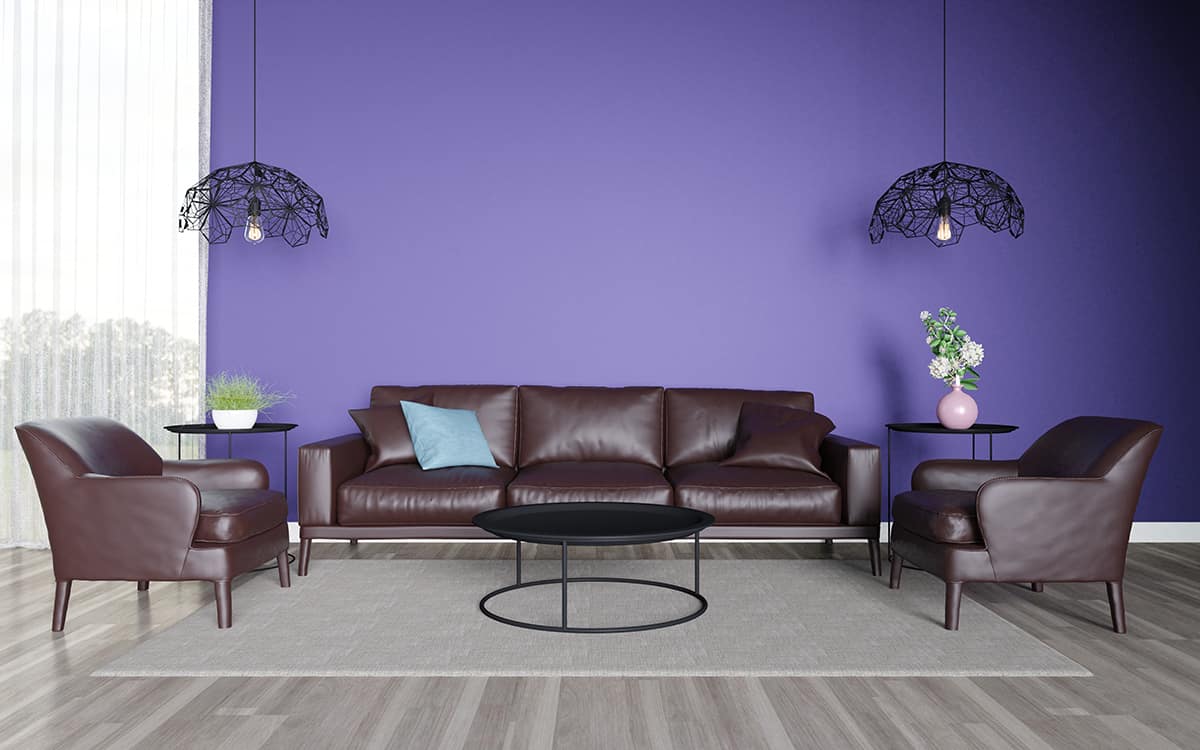 If you want to achieve a refreshing, energizing, or soothing space, then you can use cool colored pillows with your black leather couch. Cool colors include blue, green, and purple. The shade of color you choose will affect how it makes you feel. For example, more muted cool shades can evoke feelings of sadness, while more saturated cool colors can be revitalizing.
Blue and black go well together, so you could choose blue pillows for your black leather couch and also add some other blue items in the room to tie the pillows in. Green decor can promote an earthy or natural theme, which would work well with a leather sofa as this is also a natural product. Use green velvet pillows for a luxurious feel or green cotton pillows for a more relaxed vibe.
Neutral Colors
If colors aren't your thing, you can use other neutral shades alongside your black leather couch. White pillows would make a statement against the black leather, especially if you choose a contrasting texture, such as white faux fur. For a more subtle look, choose pillows in off-white or gray.
Gray and black is a color pairing that can look very chic and modern. Choose plush fabrics for your pillows, such as crushed velvet, and look out for those with added embellishments such as sequins or beads stitched onto the pillows. This will ensure the gray, and black color scheme looks glamorous rather than dull and dingy.
Brown is another neutral color that works nicely with black. Again, choose a contrasting fabric such as brown faux fur or a brown wool knitted pillow cover to create a layered texture on your black leather couch. Any shade of brown from tan right through to rich chocolate works with black.
Room Styles for a Black Couch
If you have a black couch and want to redecorate your room, you should think about the type of style you want to achieve.
This will be influenced by the style of the couch itself because a very boxy black couch with minimalist legs will lend itself to a contemporary or modern look, while an older worn black leather couch with chunky feet will look better in a room with a rustic style.
Pay attention to the style of your couch and draw on this. For black leather couches which do not have an obvious style, then you can create the style yourself for the couch to fit into. Here we look at styles that a black leather sofa would work well with.
Mid-Century Modern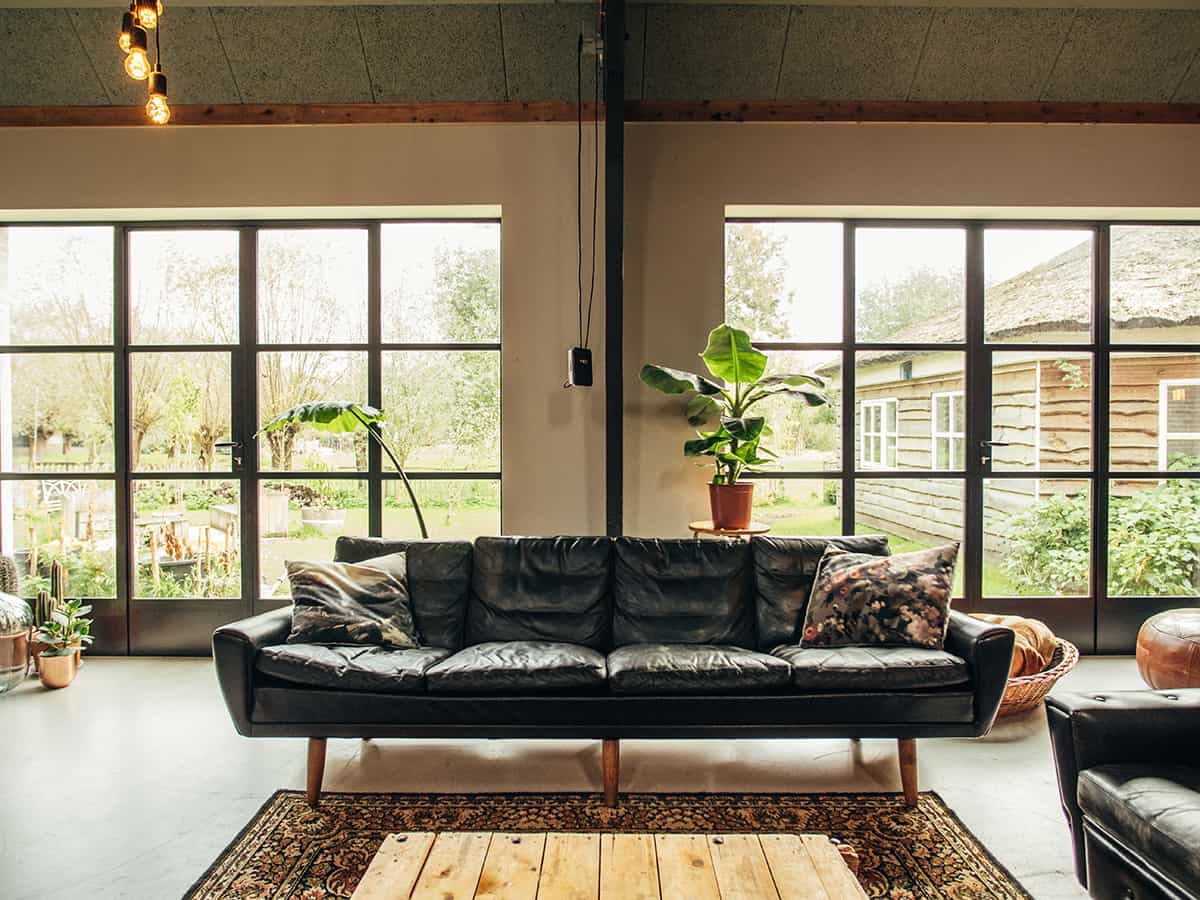 This mid-century modern style is centered around high-quality furniture and accessories which have a timeless and classic appeal. To achieve this with your black leather couch, introduce rich contrasting colors to the space, for example, mustard yellow and emerald blue. Your walls could be yellow, with velvet blue and yellow pillows on the black leather sofa.
Opt for furniture which is well made and uses natural materials. This look should be understated, with slender table legs and simple patterned fabrics. You can enhance this look with artwork consistent with the era.
Rustic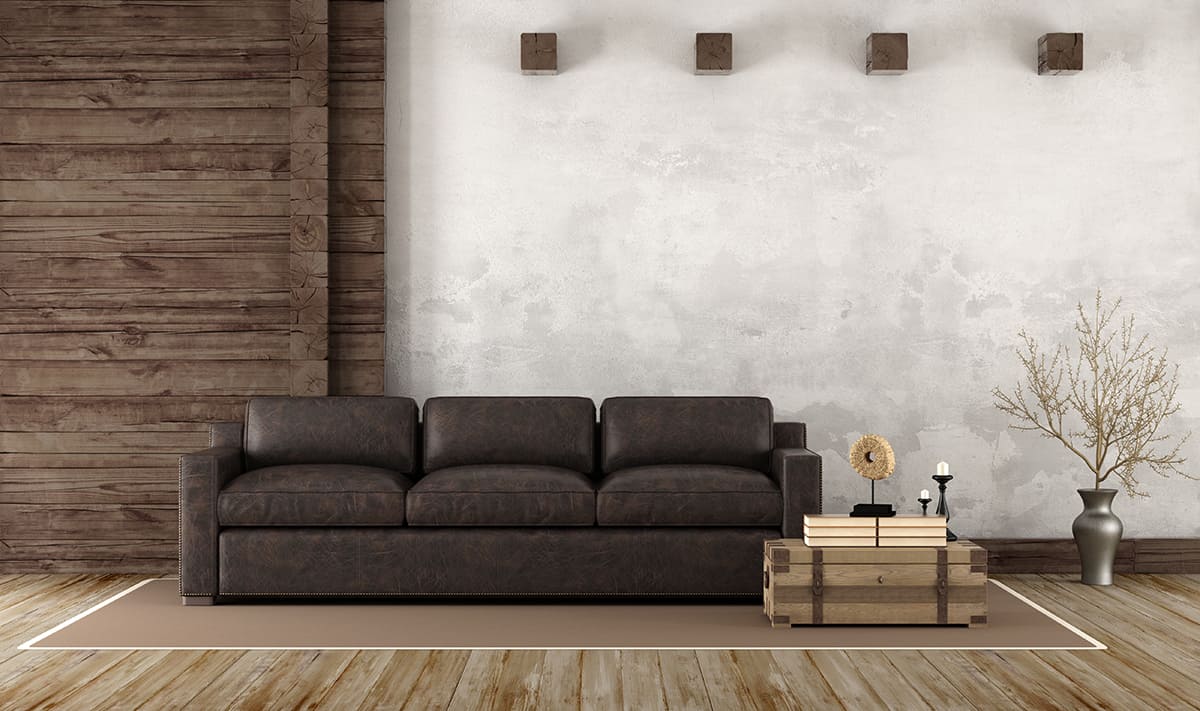 A rustic style is easy to achieve with a black leather couch. Choose dark wood furniture to go around the sofa, such as walnut side tables and a walnut coffee table. Furniture which looks raw and unfinished with obvious grain will add to the rustic feel.
Rustic styles can be achieved with neutrals or bright colors, so the shade of your couch pillows is not of utmost importance; however, the texture of the pillows is vital. Avoid plush fabrics for rustic style interiors, and instead choose canvas, linen, or more natural textures. You could use knitted or crochet pillows in a rustic interior or cushions which have been embroidered.
Monochromatic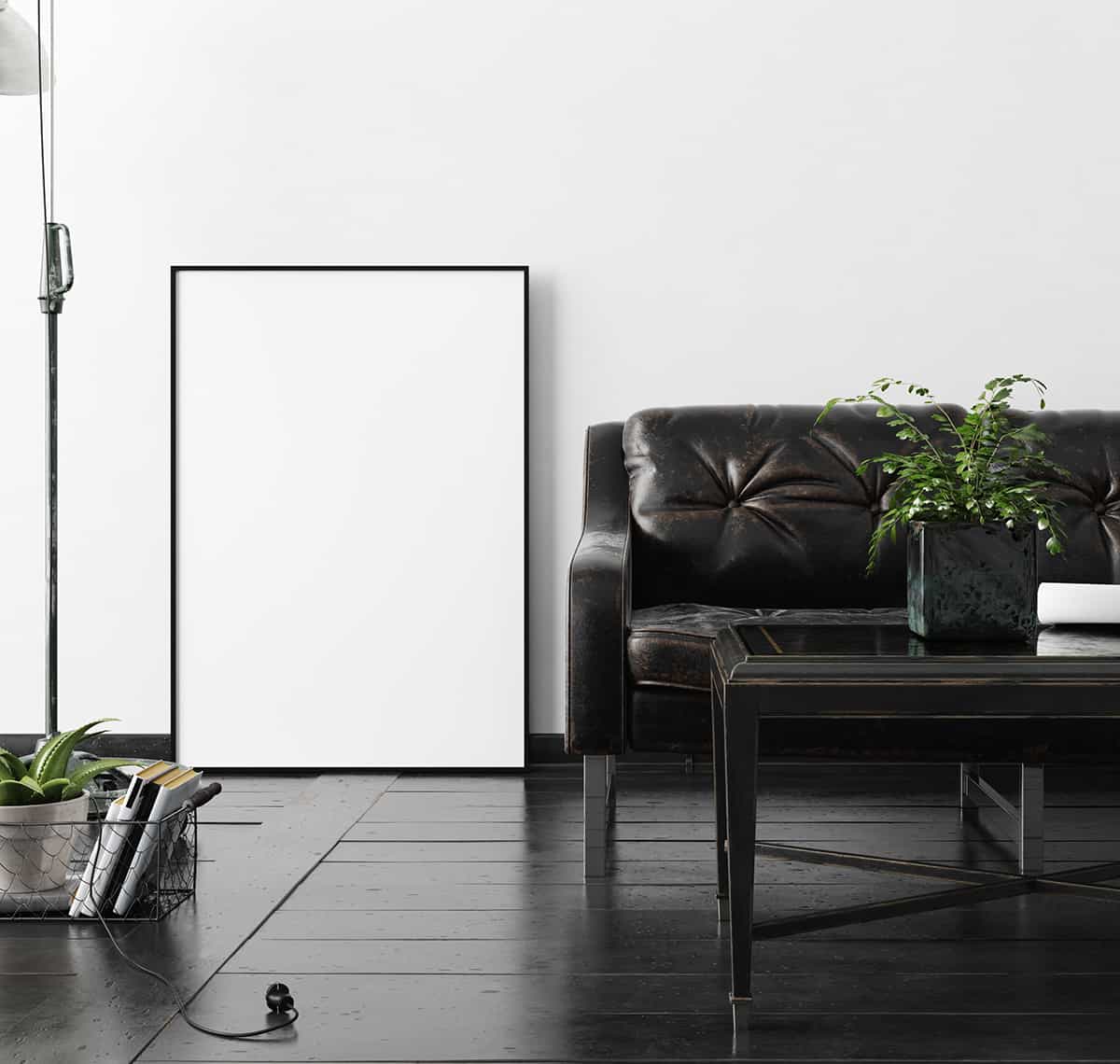 A monochrome look is simple yet effective. Paint your walls white and place the black leather couch in front of them. Avoid using color in the room, and stick to shades of white and off-white, with gray and black. The pillows on your black leather sofa should reflect the monochromatic style and should be black or white.
Patterns and prints can add depth to the monochrome look, so seek out pillow covers that are zebra print or have geometric black and white patterns on them.
Minimalist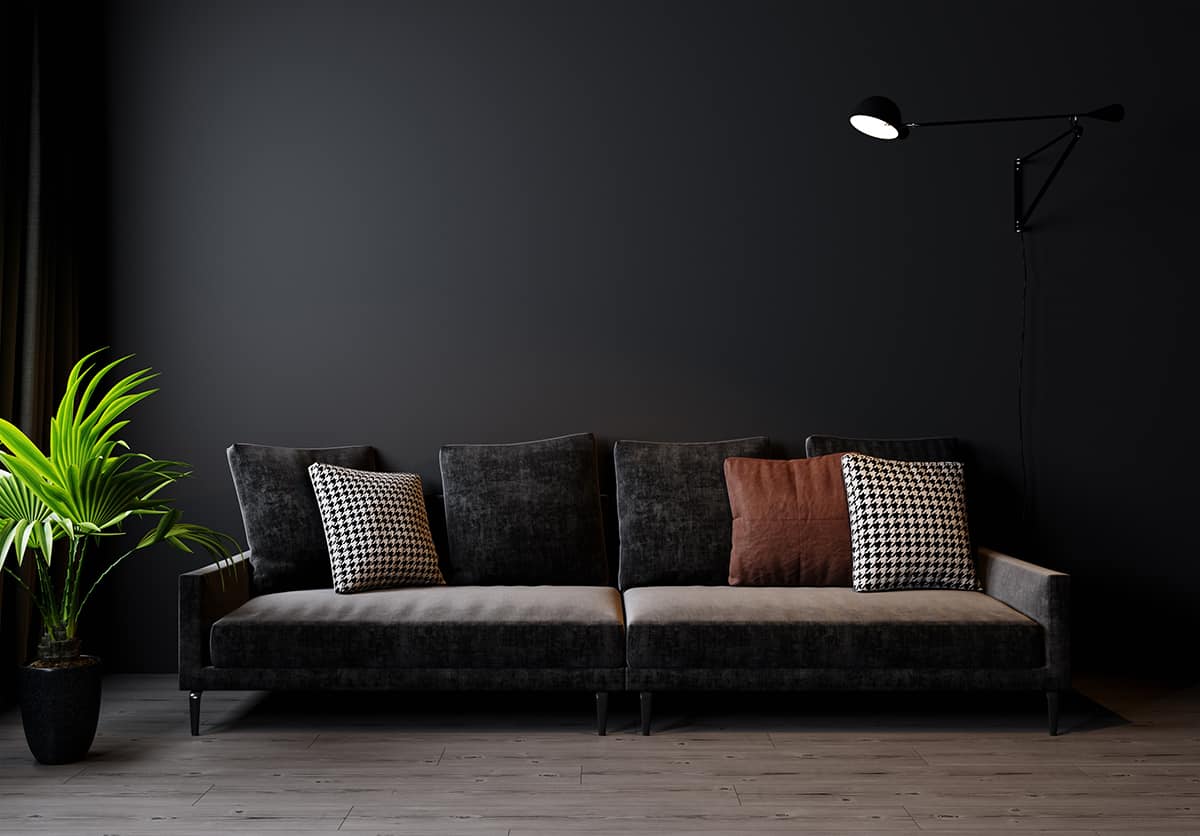 The minimalist and modern style is popular in apartments and the homes of young professionals because it is low maintenance and stylish. It is harder to achieve for families because children tend to accumulate clutter and need more stuff, which gets in the way of the minimalist look.
To achieve a minimalist look with your black leather couch, choose furniture and accessories with simple shapes and clean lines. Surfaces in a glossy finish work well or choose tables with glass tabletops. You can add color to a minimalist style; just ensure you keep it simple. Avoid fussy patterns on your pillows and instead choose plain colored covers to go on your black leather couch.
Scandinavian
The Scandinavian interior design style is based on functionality. To achieve this look in your home, keep furniture simple but practical. This style tends to use primary colors heavily alongside neutrals. You could paint your walls white or off-white and use bright yellow cushions on your black leather couch. Bold and geometric patterns are popular in the Scandinavian style, along with stripes.
Vintage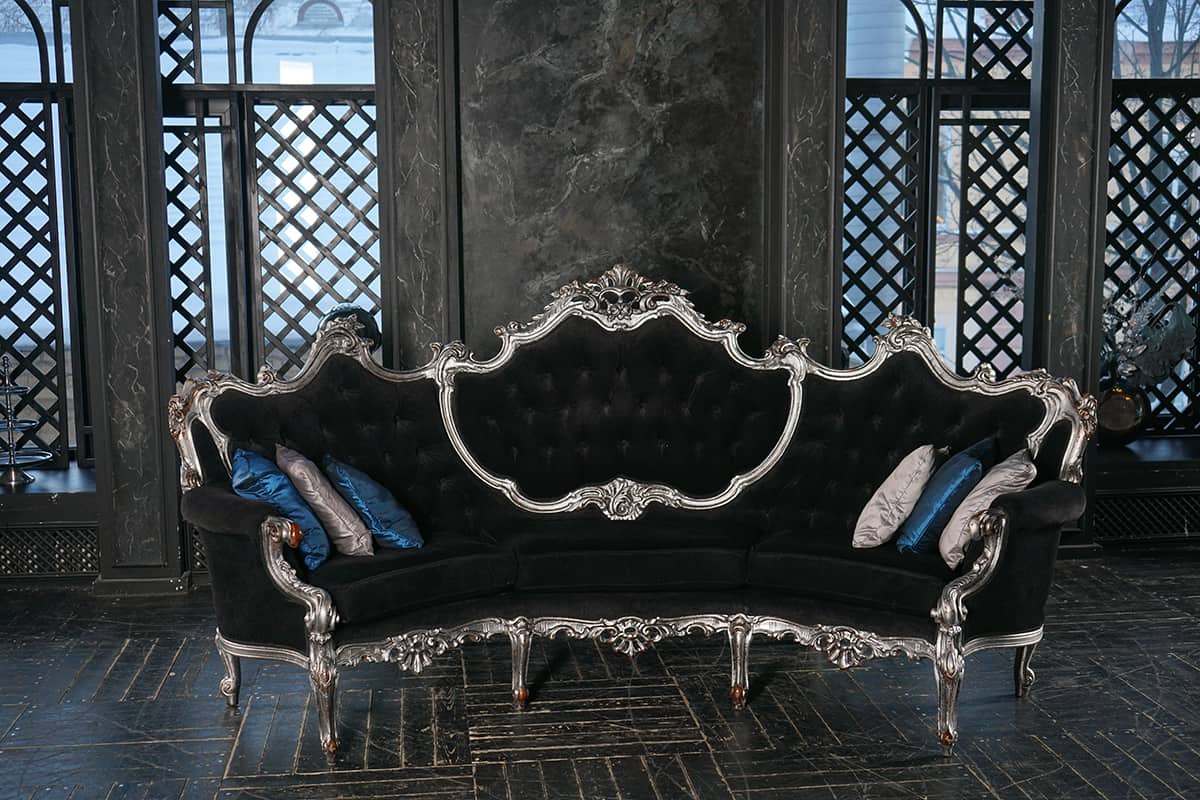 Vintage interior decor celebrates styles from the past and takes inspiration from eras gone by. To decorate in a vintage-style channel looks you would have seen in the 1920s, '30s, '40s, '50s, and '60s. These looks can be radically different as styles changed so quickly, but they are all known as 'vintage' because they are based on old trends.
To create a vintage style with your black leather couch, choose a decade to focus on and incorporate elements of it into your room. This could be using certain fabrics, colors, or prints. A black leather couch would work well with a vintage 1960's look. This decade was about psychedelic prints and bold, vibrant colors, so choose pillows for your couch that reflect this.
Consistent Color Scheme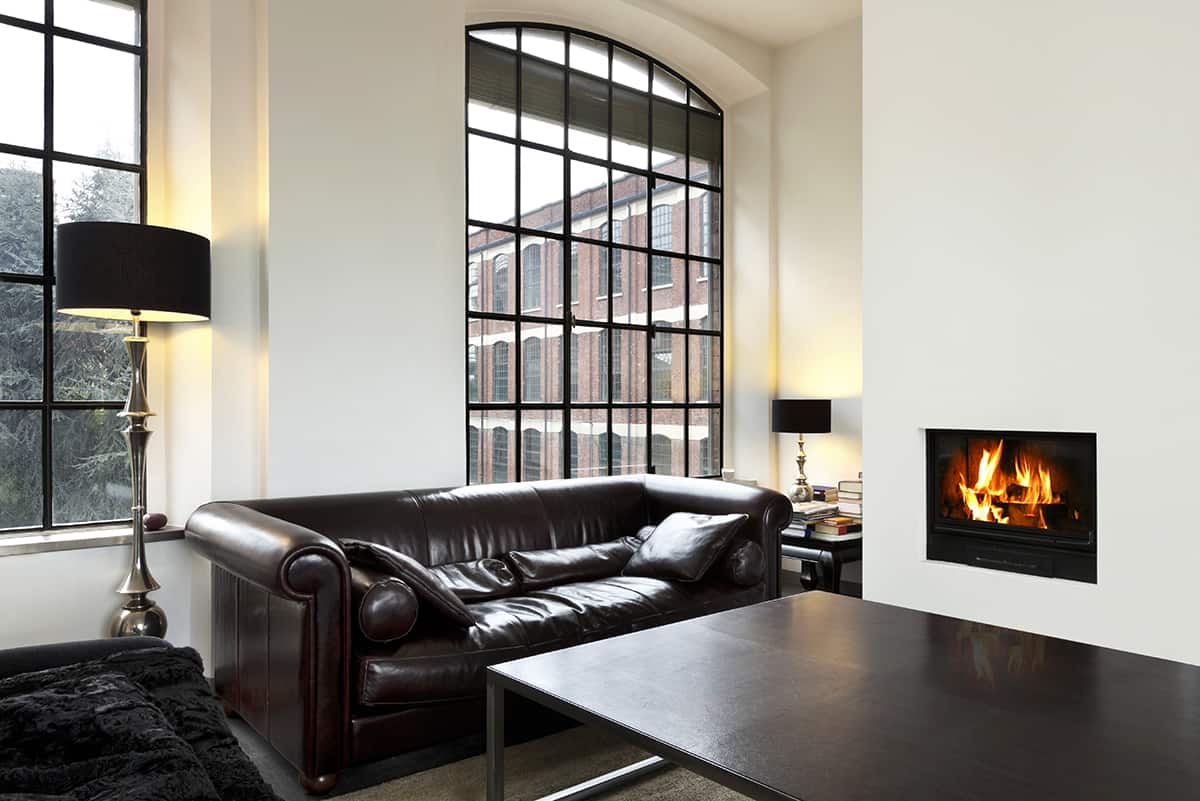 Unless you are going for a mismatched, quirky style, one of the most important things in creating a cohesive look in a room is settling on a color scheme and sticking to it. Although you may have some pillows you would like to use on your black couch, they should only be chosen if they fit with the color scheme used in the rest of the room.
As black is a neutral color, you can comfortably choose any color scheme which will work with your black leather couch. Select pillows for your couch based on this color scheme and coordinate them with other items in the room.
For example, if you have opted for a black, blue, and white color scheme, you can choose blue and white pillows for your couch, then add a blue lampshade, some white candles, a blue rug, and some black and white picture frames to the room.
The use of the same colors in different parts of the room will create balance in the space and even out the energy.