Painting your home's exterior can totally transform the look and feel of your house. But when you have a green roof, you must choose your exterior paint color carefully. While green is an unusual color for a roof, back in the mid-1900s, it was commonly seen on bungalow-style houses and cottages.
Although this roof color went out of style for a few decades, many homeowners are now turning to green metal and asphalt shingle roofs. Green roof shingles are surprisingly a characterful alternative to the conventional gray, brown or terra cotta roofs.
But since green is not a neutral roof color, you can't choose just any exterior paint color to pair with green shingles. So what color house goes with a green roof? Typically, white, brown, yellow, gray, and brick colors work best with green roofs.
However, it is ultimately your decision based on your taste and preference when it comes to finding the right color for your home's exterior. Some paint colors have a more subtle appearance, while others create a bold contrast.
If you're wondering which exterior paint colors look best with your home's green roof, take a look at our following ideas with pictures right here:
Best House Colors to Pair with a Green Roof
White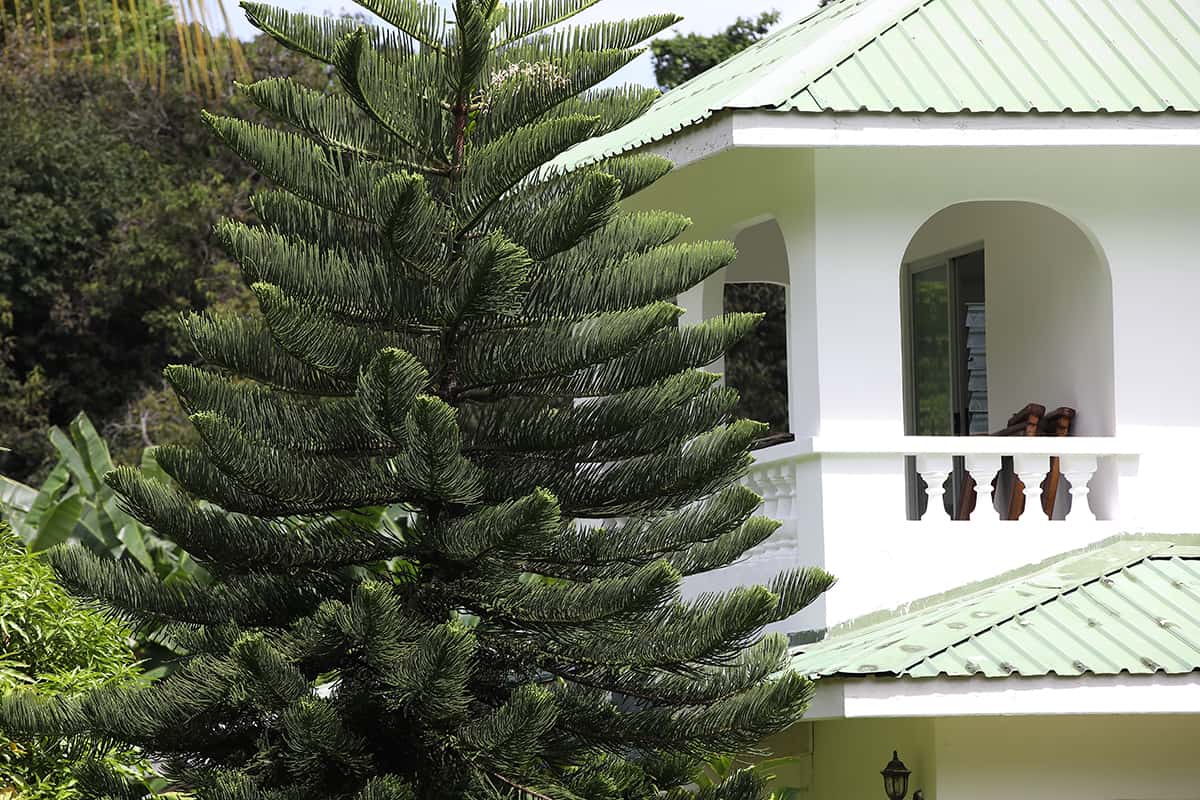 As one of the most traditional color pairings, the combination of white siding with green metal or asphalt shingles works very well together. Pure white is a crisp, neutral color that goes with any roof color, but if you prefer a toned-down look, opt for off-white instead.
On a classic cottage or villa, a green roof with white exterior is a beautiful combination. Add light gray or pale yellow trim to create a more dramatic look.
Ivory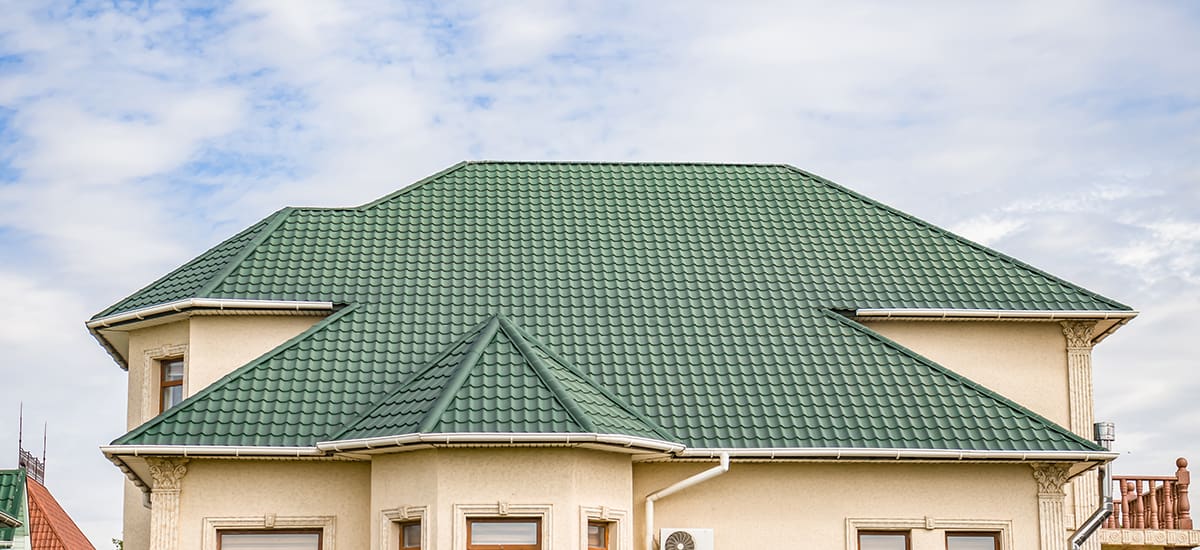 Ivory is very similar to tan and white, with a cream undertone that contrasts a green roof. When paired with a green metal roof, the ivory exterior will provide a soft look. Try adding white or beige trim to make this color combo even more appealing.
Beige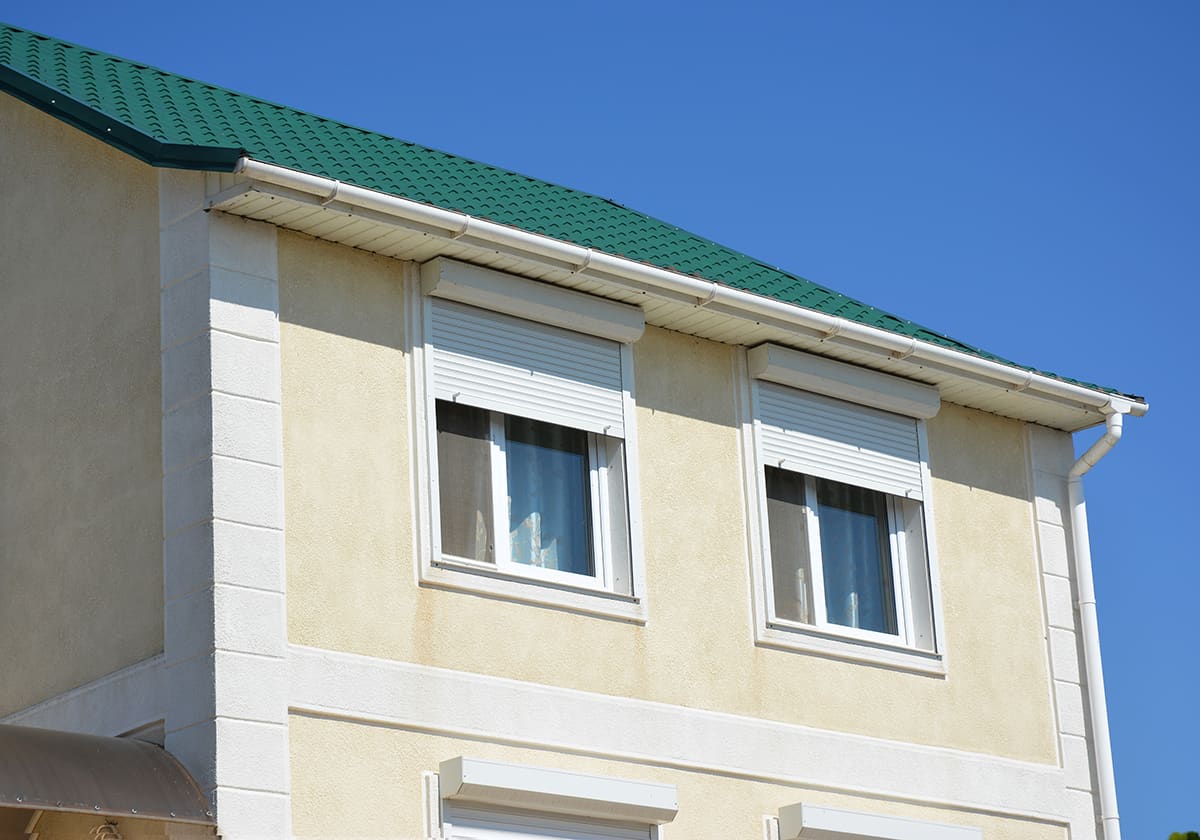 As a close cousin of brown, beige is another neutral paint color that gives a green roof a distinctive look. Many metal green roofs tend to feature beige as their exterior paint color since brown makes a house look dark or dreary.
To brighten up your beige house with a green roof, add white shutters as shown in this example. The stucco house with a metal green roof looks beautiful with white trim. For a more rustic feel, you may add stained wooden shutters with a red undertone. And for a modern look, choose cream trim with black decorative accents. This combination is sure to enhance the curb appeal of your home!
Green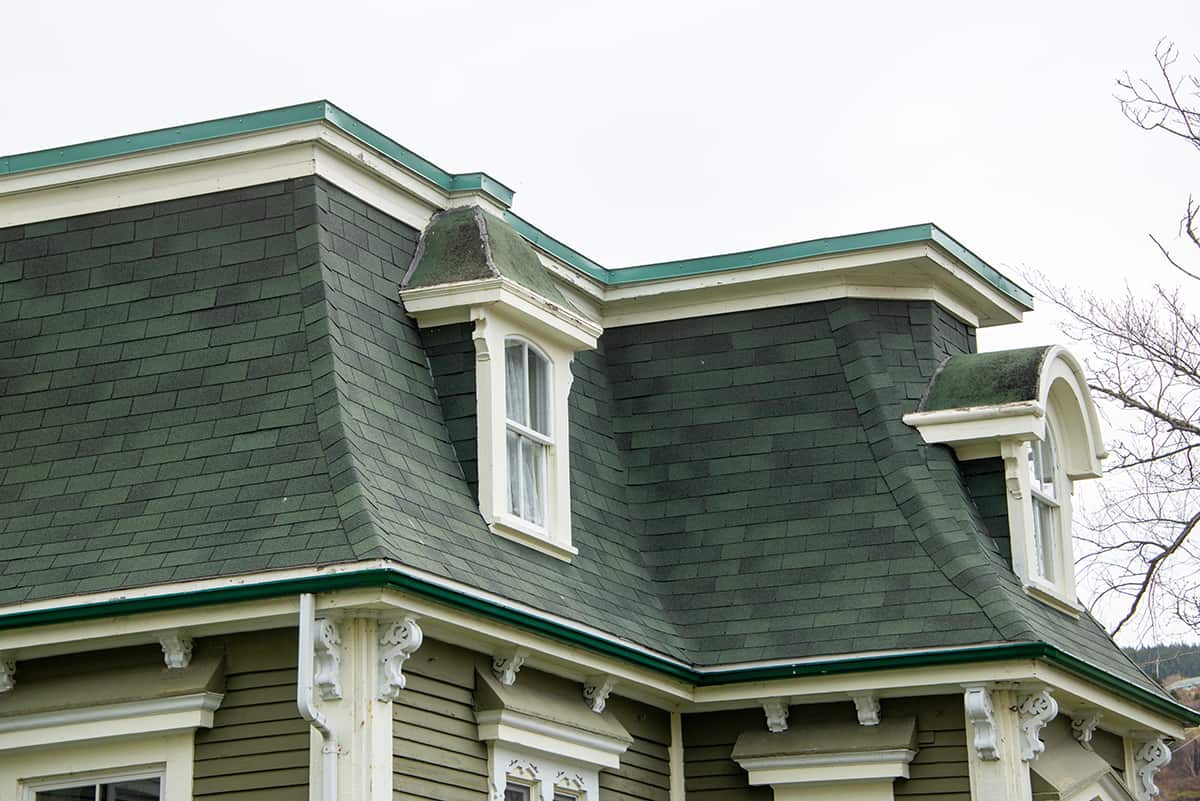 A green roof with a matching exterior paint color may not be to everyone's taste, but it is still worth considering. You don't have to use the same shade of green.
For example, if your roof is dark green, you may use a shade lighter for the exterior or siding. Green on green is a monochromatic design, but you must think about the shade you choose to avoid monotony.
Keep in mind that a monochromatic look doesn't mean the exact same shade is used. There are many different green hues and tones so you can experiment with both light and dark shades to find the most suitable one for your home.
On a vintage or traditional style house like the one shown here, the green shingle hip roof is in a darker shade than the wood siding. Visual interest has been added thanks to the white trim as a contrasting color to the green shades.
Tan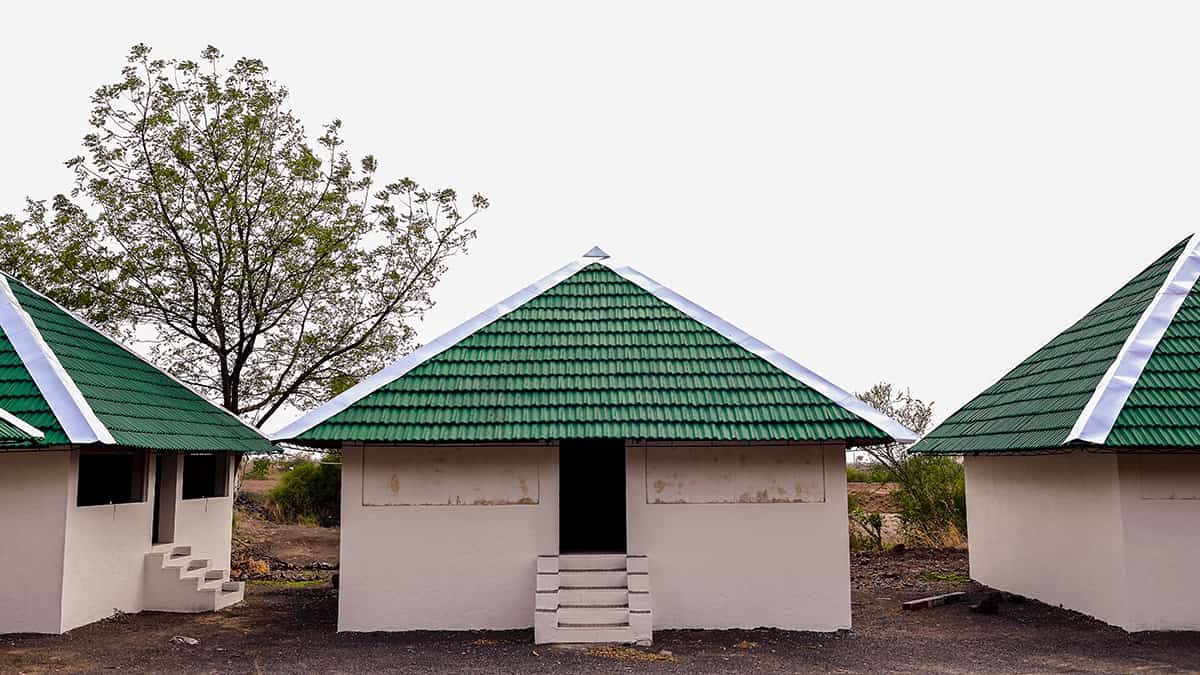 Just like other neutral colors, tan is an excellent combination with a green roof. Similar to beige, this shade has a more yellowish undertone to it with a hint of gray.
In fact, tan is more similar to white than light brown, thus making it a highly versatile color that works well with both metal and asphalt green roofs. Whether you prefer a darker or lighter tan shade for your siding, this neutral color can accentuate your green roof as shown in this example.
Brick Colors
If your home's exterior is made of brick, it can work well with a green metal or asphalt roof. Since both brick colors and green are natural, earthy colors, they complement one another nicely. Many brick colors go well with a green roof as you're about to see here…
Red Brick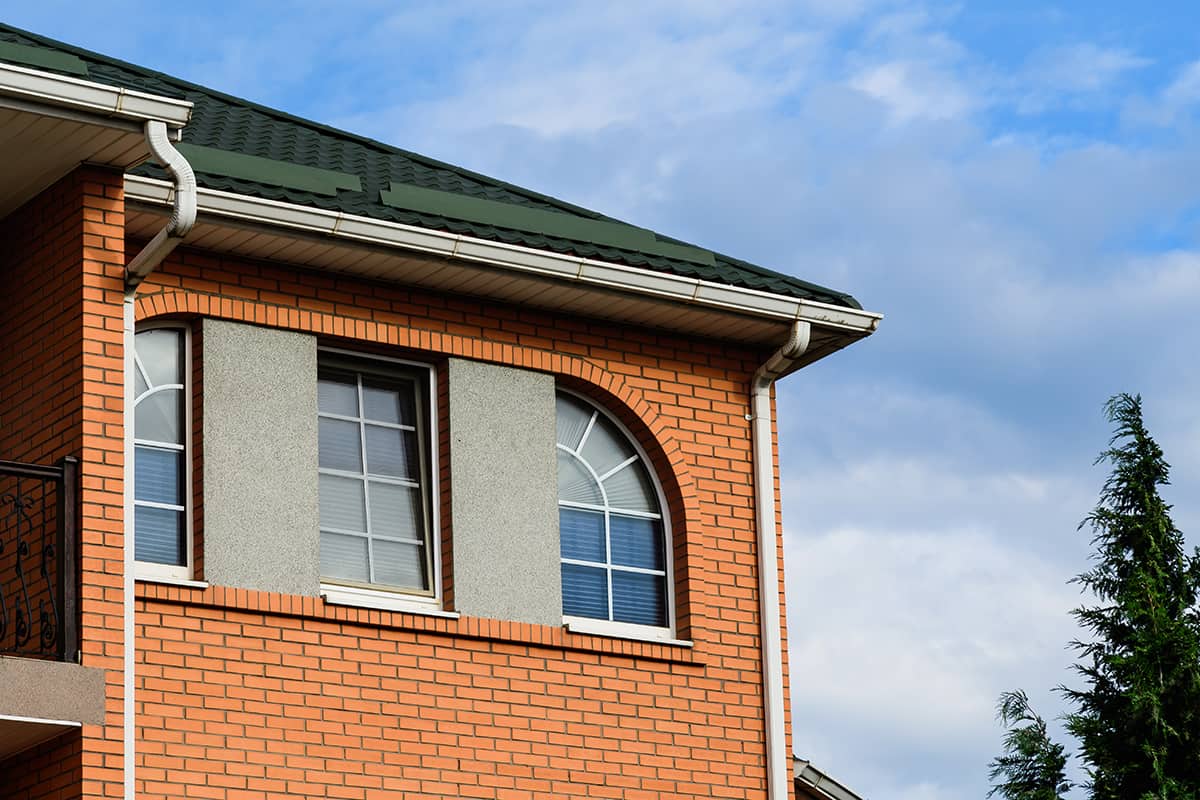 Red brick houses with a green roof are a classy, timeless design that gives a home a sophisticated look. Red brick goes with most other roof colors, especially green as they both have warm undertones.
In this photo, the red brick exterior is complemented by the green roofing. You can also pair the green roof and red brick house with shutters for texture, thus creating a welcoming vibe.
White Brick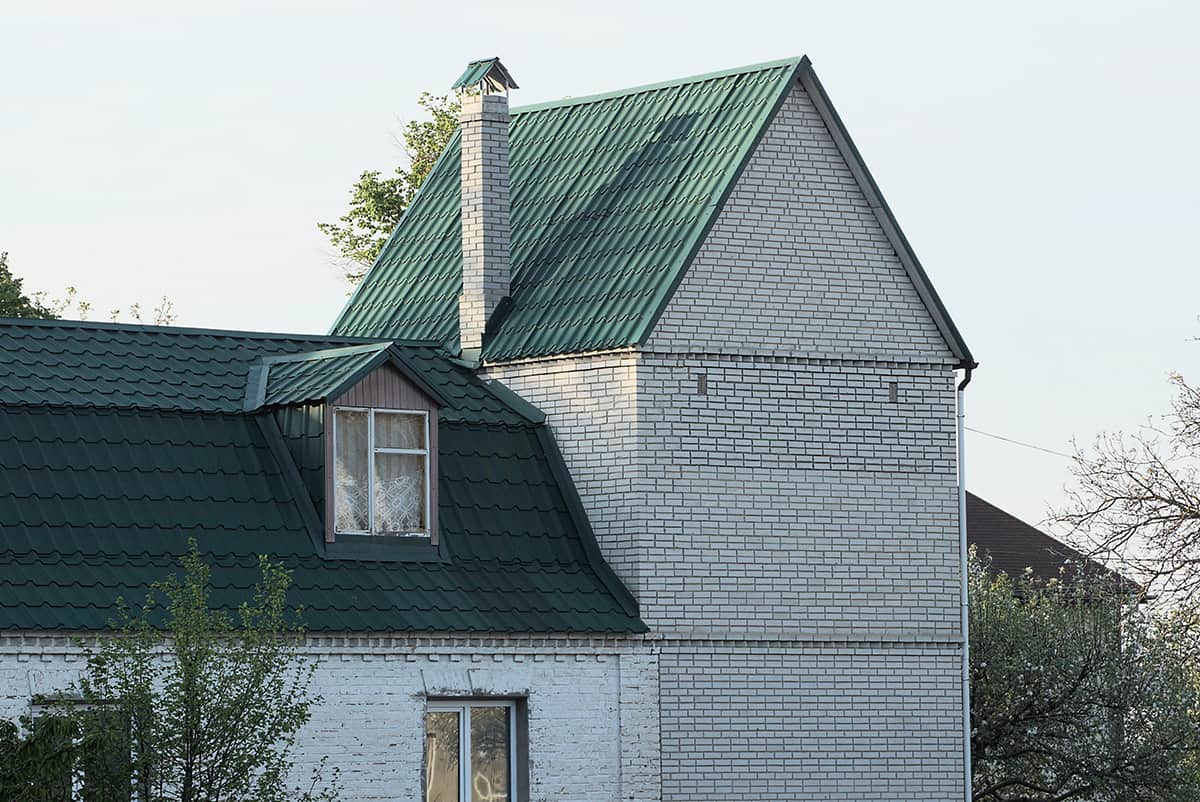 A white brick exterior is unique enough on its own, let alone when you pair it with a green roof. This color pairing won't make the white brick stick out, but rather, the green provides a warmer ambiance to the white and reduces its intensity.
The white and green combination works especially well on traditional-style homes. Add gray trim or tan shutters to create a cottage look.
Orange Brick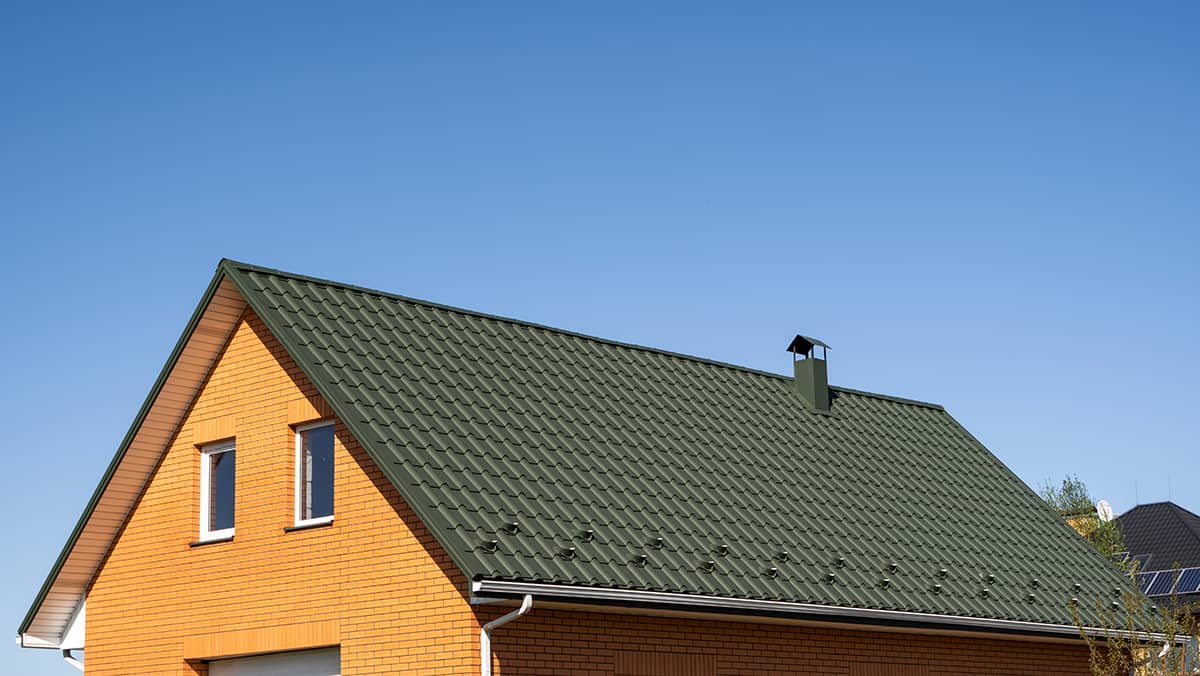 A green metal roof has texture and distinction, especially when paired with an orange brick exterior. On large, modern homes, the green roof draws the eye to the orange brick rather than upward. Orange and green are both warm colors, therefore, they make an ideal pairing. You may add yellow or brown trim to this combination for enhanced curb appeal.
Yellow
As a brighter alternative to beige, yellow is a great exterior paint color for a house with green roofing. This popular choice is ideal for cottage-style homes, although it's wiser to use a soft or pale shade of yellow to avoid the color from appearing too overwhelming.
Yellow and green are both warm hues that work well with most surroundings. Match this color combo with dark green shutters and off-white trim to increase visual interest.
A bright yellow house with a green roof looks especially stunning when it's surrounded by greenery. So if you're considering painting your home exterior a pale or bright shade of yellow, take the landscape of your home's surroundings into account.
Light Gray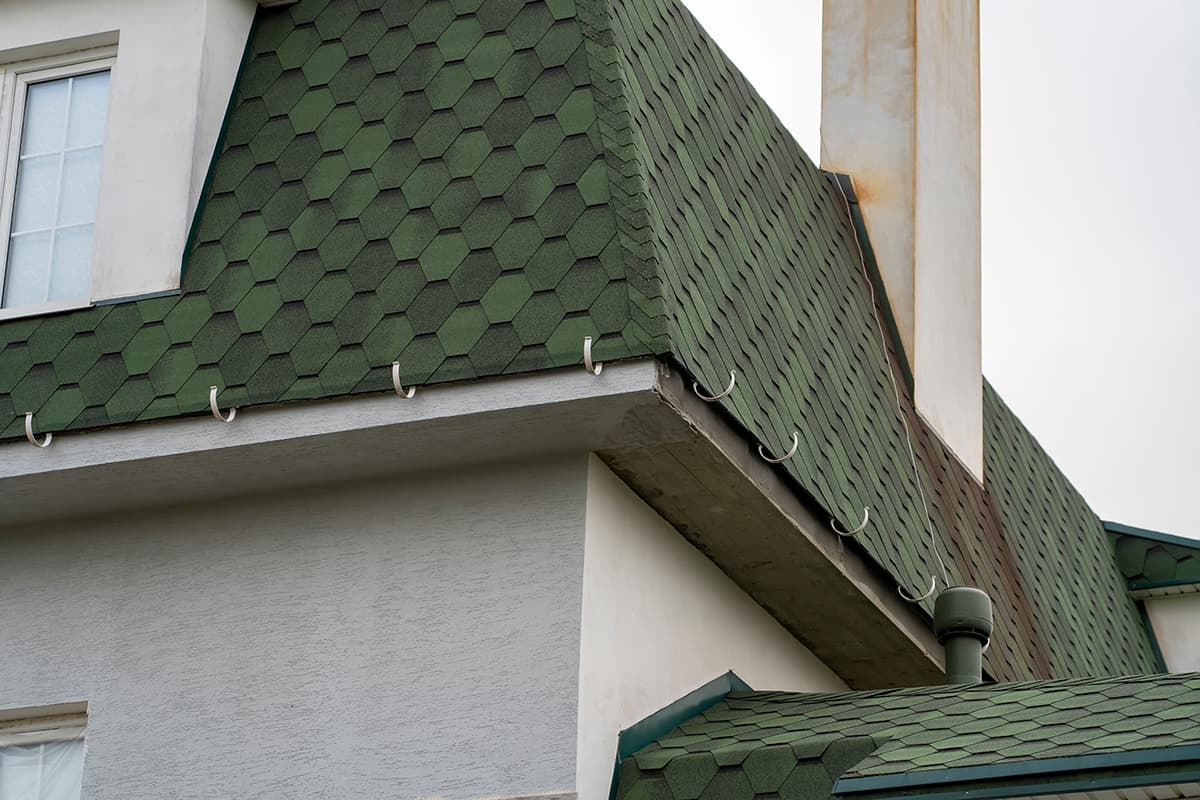 Since green is such a versatile color, it can be paired with both warm and cool tones. Gray is one of those hues that goes well with a green roof. Any shade of gray, including very light to a more dramatic dark hue will work.
With a combination of gray and green, you can achieve a beautiful contrast as you can see in this photo of a light gray exterior with green bitumen roofing. The light gray and green pairing is especially ideal for cottage or traditional style homes.
If you like the idea of light gray paint, keep it soft by adding a darker shade of gray for the trim. You may even opt for white trim to achieve a higher contrast.
Brown Wood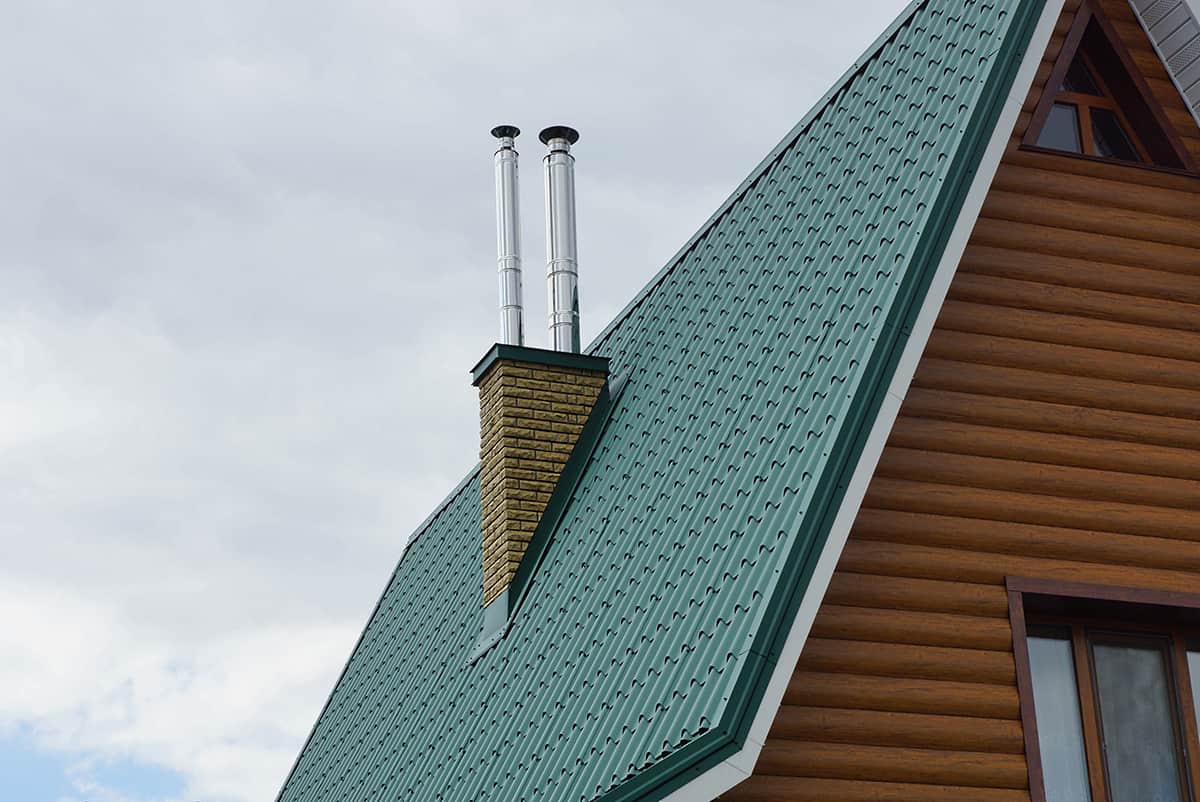 Wood is a classic, natural material that goes well with other earthy tones, including green. If your wood planks are painted brown or dark red, the combination of vintage green roofing with this natural material will work very well for country style homes.
Even if you love the rustic look of brown wood with green roof shingles, you don't have to resort to an entirely traditional color pairing. For a modern touch, consider incorporating light accent or trim colors, such as beige or gray to combine with your green roof and brown wood siding.
In this photo, the traditional horizontal planks create a distinction between the brown siding and the green metal roof. The brick chimney has given this house a more modern appearance.
Periwinkle Blue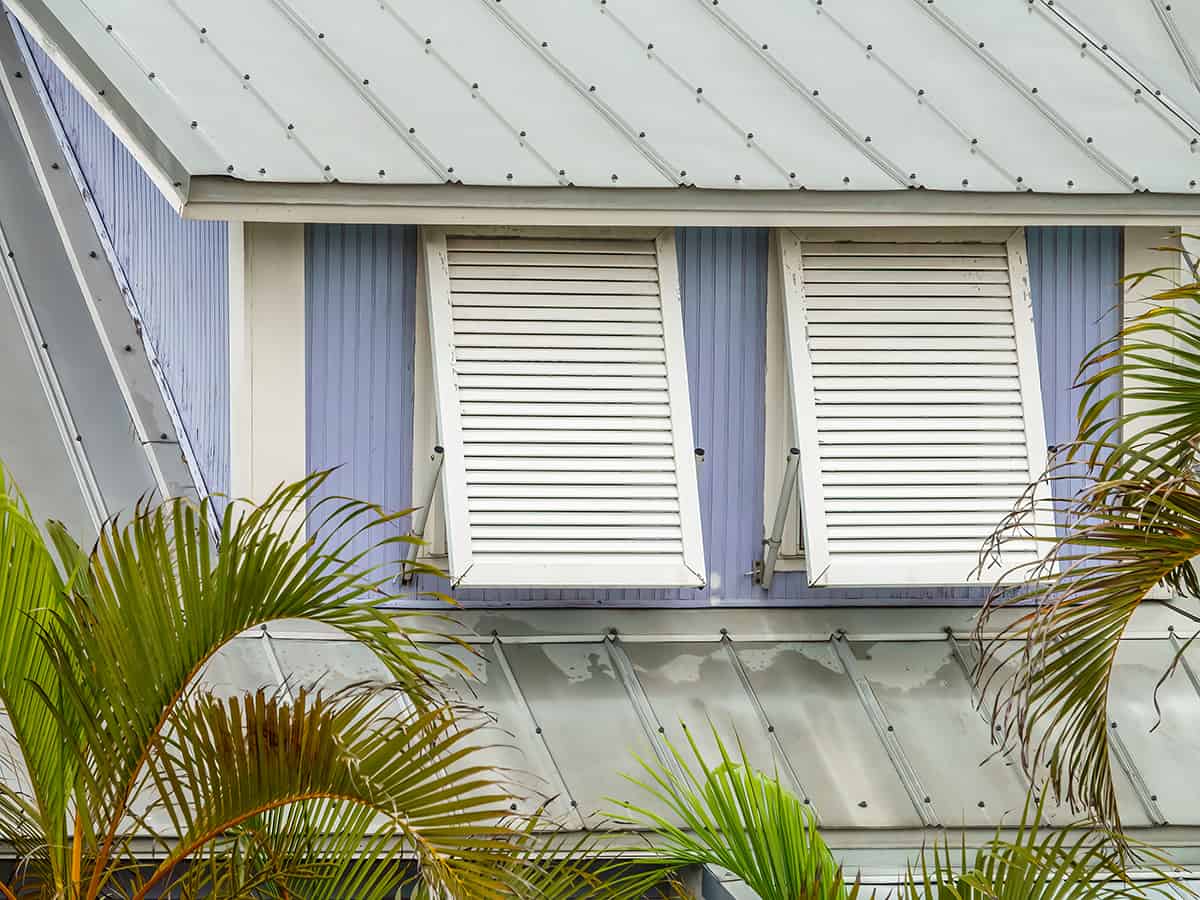 As a mid-tone cool color, periwinkle blue is the right complementary color with green roofing. This color combo creates a lively exterior thanks to the serene blue and calming green. Just as you can see in this photo, the periwinkle blue siding works well with the white shutters and grayish-green metal roof.
Summary
A house with green metal or asphalt shingles can easily be paired with both neutral and bright siding colors for a distinctive look. As you've seen from our above ideas, whether the exterior of your home is made of brick, stucco, vinyl or wood, all the mentioned exterior paint colors will go beautifully with a green roof.