A chimney is a pipe-like structure integrated into a residential or commercial building. It is used for expelling smoke from fireplaces, furnaces, or stoves.
If you are planning to build a property or remodel your existing one, a warm and cozy fireplace will be an excellent addition. After all, there is nothing quite as homely as an open fireplace to pass those cold winter nights.
To enjoy the warmth of a fireplace, you'll need a chimney. Not all chimney types are suitable for all homes. It is, therefore, important to do some research to understand how chimneys are composed of, how they work, and decide on the right one that works for your home.
The following is a list of different types of chimneys with the pros and cons of the most typical ones to give you a better understanding of their suitability.
Types of Chimneys According to Purpose
1. Masonry chimneys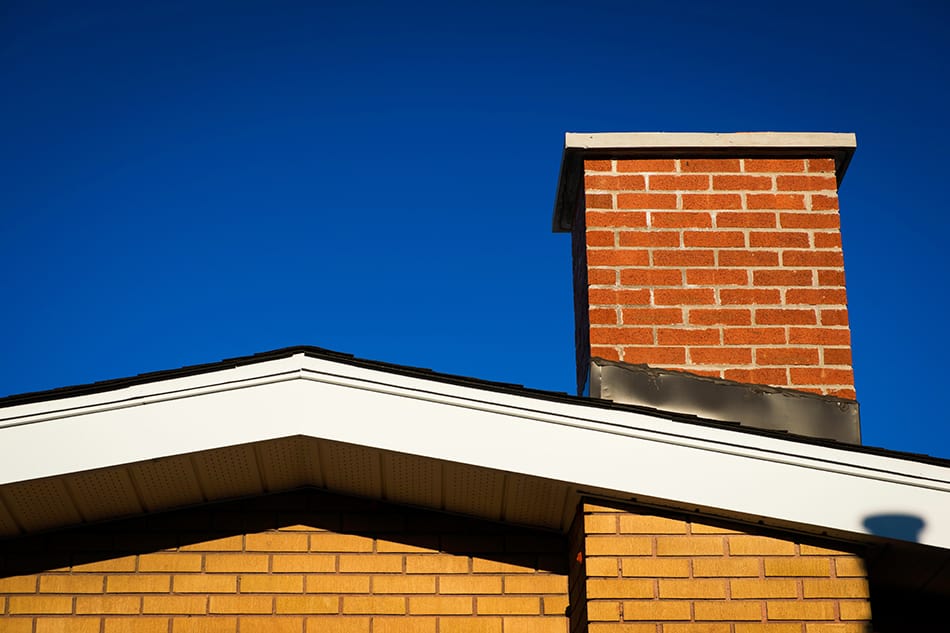 Stone fireplaces not only enhance the aesthetic appeal of a home but also provide warmth and character. Masonry chimneys are the old types that are constructed with stone, masonry blocks, concrete, or a combination of bricks and stone laid with bed mortar joints.
A fireplace that accompanies this type of chimney is usually an open log fireplace with an indented wall where all the wood is stored. Masonry chimneys are among the top preferences of prospective home buyers because of their charm and value.
A masonry chimney is built directly on the smoke chamber. It consists of a liner and wall, which must be at least 4 inches thick between the liner and the surface of the exterior. The materials used for the wall construction of the chimney are either 100% stone, block, or brick or have holes for airflow.
Pros:
Highly durable: stone chimneys last for many decades if they are properly maintained
Full of character: most potential homebuyers are attracted to the sheer beauty of stone chimneys
Increase a home's value: these chimneys aren't only preferred by potential buyers, but they also increase the resale value of a home
Cons:
Limit space: masonry chimneys require more space on the roof to be built on
Heavy foundation required: the concrete foundation required for the chimney can often weigh as much as five or six tons
Expensive to install. Stone chimneys are more difficult and expensive to install than pre-fabricated alternatives
2. Prefabricated Chimneys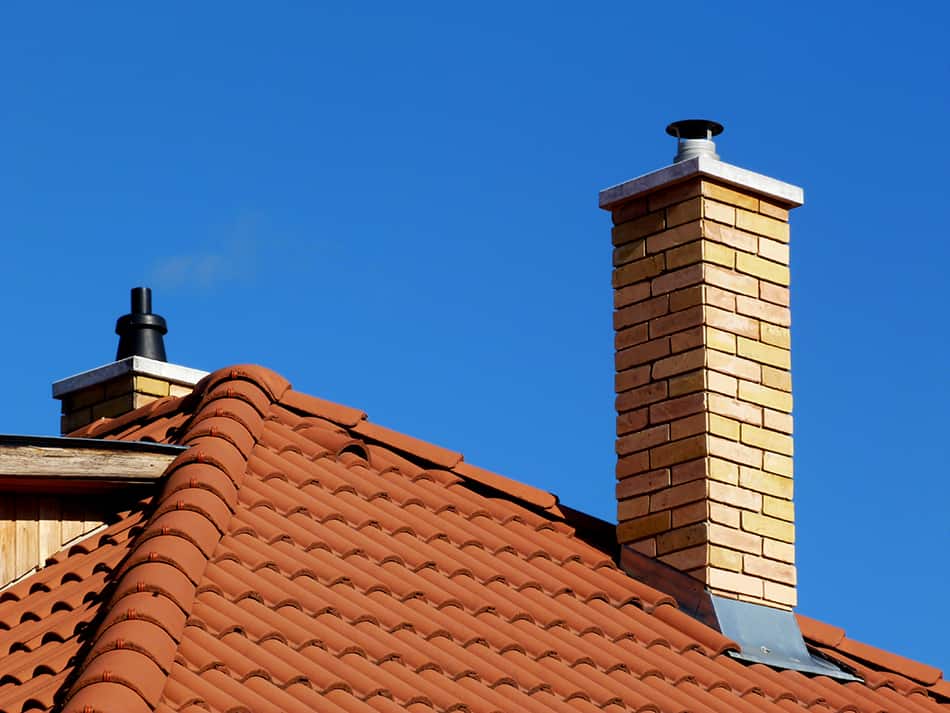 Prefabricated chimneys are contemporary designed structures that are most often found in newly-built homes. These chimneys have innovatively designed fireplaces that are fabricated using sheet metals.
A prefab chimney is manufactured in a factory and costs less than a stone chimney. You can choose from a wide variety of designs. These chimneys are installed or assembled on site.
However, not all prefabricated fireplaces use the same type of chimney. You can choose from the following:
Double-wall prefab chimneys. This type of prefab chimney consists of twin metal layers that are often stainless steel. The insulation material is then placed in between the two metal layers.
Air-insulated chimneys. These prefab chimneys work by minimizing the airflow by trapping the air held between the metal layers and providing insulation. This way, the heat from the chimney doesn't dissipate.
Air-cooled prefab chimneys. These chimneys are similar to the air-insulated types as they also consist of multiple metal layers with space in between each layer for airflow. But the major difference lies in the fact that these chimneys let the air out rather than keep it in. When heat is released through the chimney, the air in between the metal layers absorbs and dissipates the heat.
Pros:
A cost-effective alternative: cheaper to install than masonry chimneys
Easy to install on site
Minimal effort to warm up the home
Low maintenance
Better flexibility: the combustible materials and the small clearance requirements of the fireplace provide homeowners with more flexibility when designing their new homes
Cons:
According to the Chimney Safety Institute of America, over 50% of prefab chimneys are improperly installed
Not as durable as masonry chimneys as they can't withstand the high heat over time
Need regular upkeep after a few years of usage, and the aging parts require changing from time to time
3. Wood-burning Stove Chimneys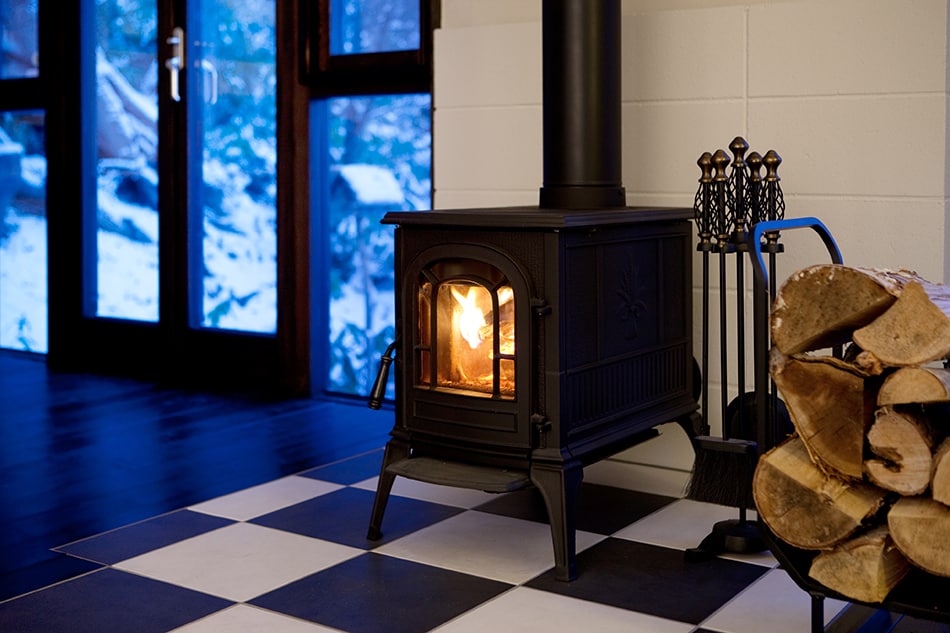 The freestanding type of wood-burning stoves can be connected to special chimneys that are made from masonry materials. Another alternative is the prefab chimney that is specifically designed and tested for wood-burning stoves.
Freestanding wood-burners can also be connected to an existing chimney, provided the position and height of the flue liner allow it. There are stoves that give you the option of burning pellets, not just wood.
The installation process of a wood-burning stove works by venting the exhaust from the stove through the connection pipe from the appliance all the way to the ceiling and the roof. It is important for the pipe of the stove to remain in a vertical position for adequate venting.
Most wood-burning stove chimneys are metal, stone, or prefabricated, depending on the type of stove chosen as the chimney must withstand the high heat generated from the stove.
Pros:
Highly efficient for heating the home
More design options are available
Suit all budgets. More affordable to install than masonry chimneys with the same enjoyment of a traditional fire
Cons:
Will require more space for placing the stove inside the home and building a chimney
Can damage the walls or warp if not properly maintained
Smoke from the pipes can seep through and blacken the walls
Need to be connected to an outside vent to enhance airflow, thus home can get drafty
Types of Chimneys According To Materials
4. Metal Chimneys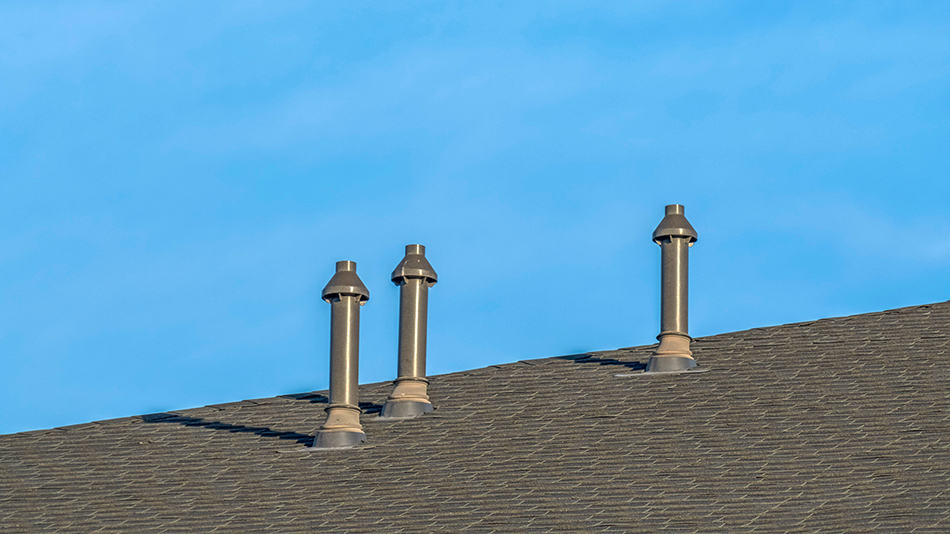 Metal is an excellent heat conductor, and as such, metal chimneys make a good option. Metal is highly durable, doesn't corrode or rust, and it's abrasion-resistant. This material is especially ideal for high humid climates, hence the reason why many stone chimneys use metal flue liners.
Stainless steel or metal chimneys complement any home design, especially a new property since they have an industrial style and modern appearance. While metal chimneys are fully insulated to withstand high heat, they may still warp in very high temperatures. That's why it's imperative to ensure that they meet fire safety guidelines. This can be done by consulting with an expert wood stove or fireplace installer.
A metal chimney can be installed in either a double or triple-walled structure. Bear in mind the wall must be fully insulated in between, especially if it's a double wall. For the construction of triple walls, there must be adequate airflow between the layers. For aesthetic purposes, the chimney can also be connected within a wooden or masonry structure frame.
Metal with chase chimneys
Another type of metal chimney that many homeowners prefer is a chase metal chimney. This chimney can have a masonry or prefabricated look and its purpose is to prevent water from getting through. If you don't like the look of metal, you can hide it by placing a decorative cover that matches your home decor.
Pros:
Better flexibility: since most chimneys need to be built straight up in order to prevent the buildup of creosote, some need to be off-set in a straight line. However, thanks to the flexibility of metal chimneys, they can be installed in any way, shape or form.
Highly efficient: stainless steel or metal chimneys have the ability to retain high heat and this is the primary reason they outshine masonry chimneys.
Aesthetically appealing: whether you choose a steel or black finish, there is a range of different designs available to suit your home. For example, a rustic property will look beautiful with a decorative metal chimney cap or custom shrouds in black or steel finish.
Cons:
Structural limits: the weight of metal chimneys should be taken into consideration for properties on the second floor or lower. These chimneys will often need to be safely built using masonry for sturdier construction. But for higher floors, masonry won't be suitable due to its weight. So if you're considering installing a metal chimney, take into account the height of your property in order to determine whether masonry, metal or a combination of both would be more suitable.
5. Brick Chimneys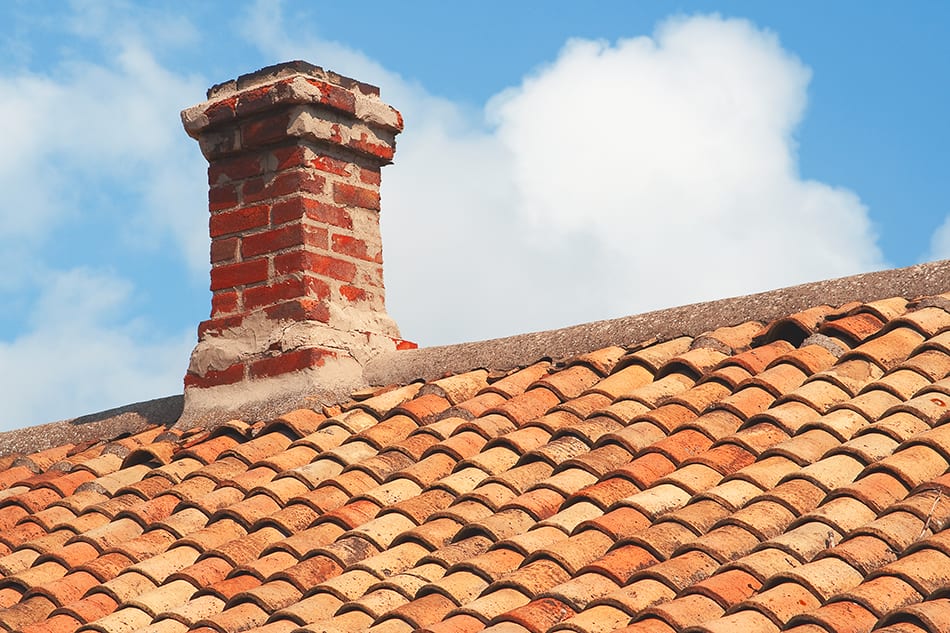 The most common type of chimney for residential construction is the brick chimney. These chimneys have long been preferred for their durability and visually appealing design.
Brick chimneys can withstand extremely high temperatures, which makes them a practical option for wood or gas-burning stoves. Having said that, they are highly porous and prone to deterioration, especially in wet climates, thus needing annual maintenance.
Pros:
Less expensive to install than other types of chimneys
Individual bricks can easily be replaced or repaired
Sturdier and more stable than metal chimneys
Cons:
More difficult to find unique designs
Require annual maintenance
Prone to stains
6. Clay Pot Chimneys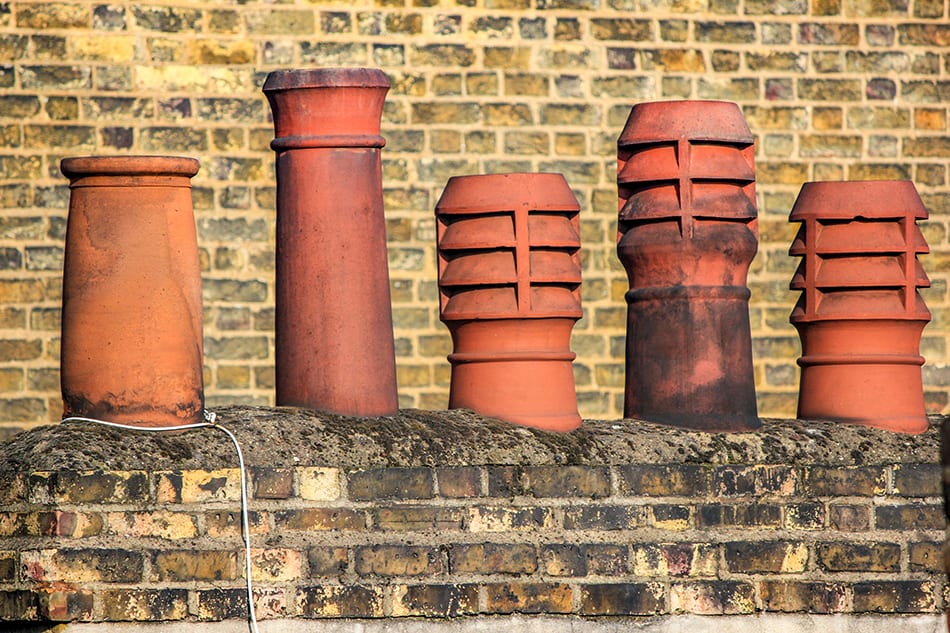 Clay pot chimneys come in decorative or plain designs in every shape imaginable. Once the clay pots are prepared, they must be left to dry for a few days before being placed in a fired kiln at temperatures of up to 2,000 degrees celsius. These types of chimneys are still handmade to this day, thus offering homeowners many interesting designs to choose from.
The clay pot chimney is capped by 3 flue pots made from clay. They can be installed on top of an old chimney that has a short or wide top. These narrow chimney tops prevent the smoke from entering the house.
The artistic look of clay pot chimneys isn't their only attractive feature. They not only enhance the architectural beauty of a house but also serve as an extension to an existing chimney to increase its height and boost airflow.
Before installing a clay pot chimney, it's critical to ensure that it is structurally stable, and special attention must be taken to prevent water leakage from around the base of the clay pot. You may need to add reinforcement to the framework for additional stability.
When choosing the right clay chimney pot for your home, make sure the base and top openings perfectly fit the liner; otherwise, you'll have draft problems later. All in all, adding a clay pot chimney is a great way of enhancing your home decor and increasing the chimney's air circulation.
Types of Chimneys According To Shape
7. Paired Chimneys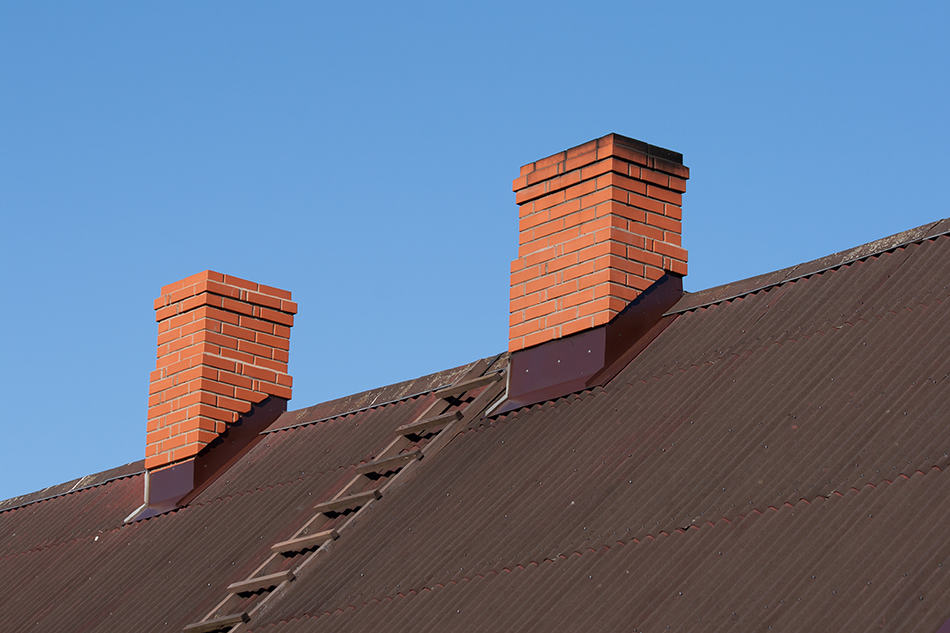 Paired chimneys are also referred to as double chimneys that have a decorative and vintage look. These chimneys are ideal for Colonial homes in Georgian style for an artistic design.
Most chimney installers tend to place the paired chimneys on the center of the roof, where the heat absorbed by the stone will radiate and keep the house cozy during winters. In warmer climates, the chimneys are mainly placed near the end walls or even outside of the walls for the dissipation of heat.
8. A Play of Angles Chimneys
If your home's roof has attractive or unusual angles, a play of angles chimney will be the perfect option. When installing an oversized play of angles chimney, it must face a 45-degree angle. And for the crown of the chimney, you can use several rows of the decorative corbel.
Keep in mind that chimneys rising from the very center of the roof and protruding from the sloping sides require flashing to prevent water from seeping through the brick and roof. These types of chimneys consist of a straight flashing instead of stepped flashing.
9. House Geometry Chimneys
This type of chimney can be fitted to match the shape of the house with interesting geometric features. For the successful installation of such chimneys, a specialist in geometric chimney structures must be hired as the width of the chimney should be adequately proportional between the pillars.
10. Curved Top Chimneys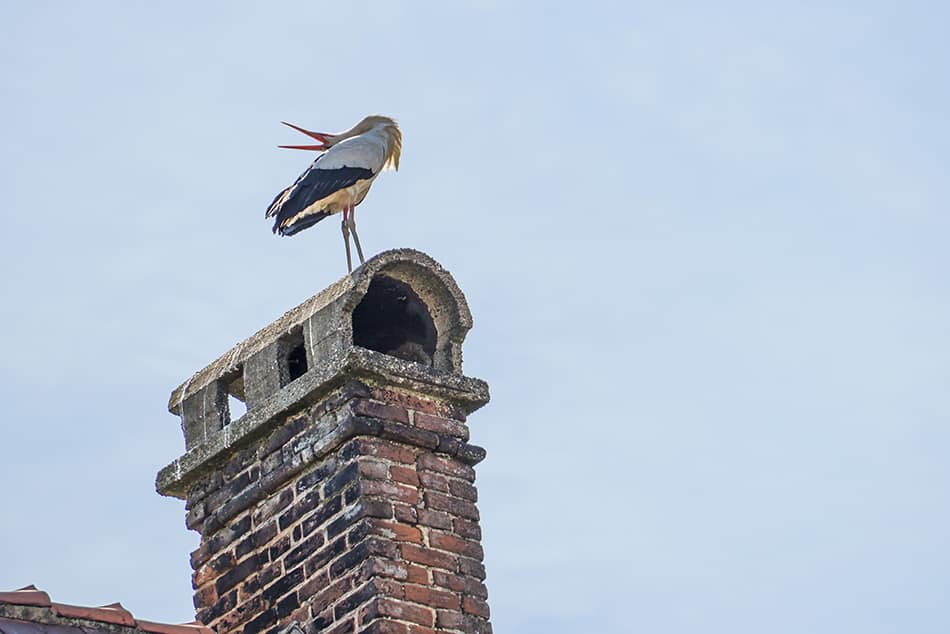 The curved-top chimneys are mainly made of stone with an arched cap to keep the rain out. But in order to keep the rodents out, metal mesh screens or rain caps need to be placed on the opening of the cap.