Bar stools are seating pieces of furniture that are taller than regular stools, enabling people to sit down at a bar to have a drink or a bite to eat.
These have long been common in restaurants and drinking establishments but are also now popularly used in homes with breakfast bars, though these may be known as counter stools. Essentially barstools and counter stools are exactly the same, aside from their height.
Bar stools tend to have seats that are a few inches taller than counter stools because, traditionally, bars are positioned at a higher level than kitchen counters.
However, many homes now feature breakfast bars and countertops that are taller than standard, and so plenty of barstools are available in different sizes to suit both commercial and residential use. For this reason, the terms' barstool' and 'counter stool' are generally considered to be interchangeable.
If you are new to owning barstools, you might be wondering about the different variations and the pros and cons of each type. Here you can discover the many different types of barstools and decide which will work best for your situation.
Folding Bar Stool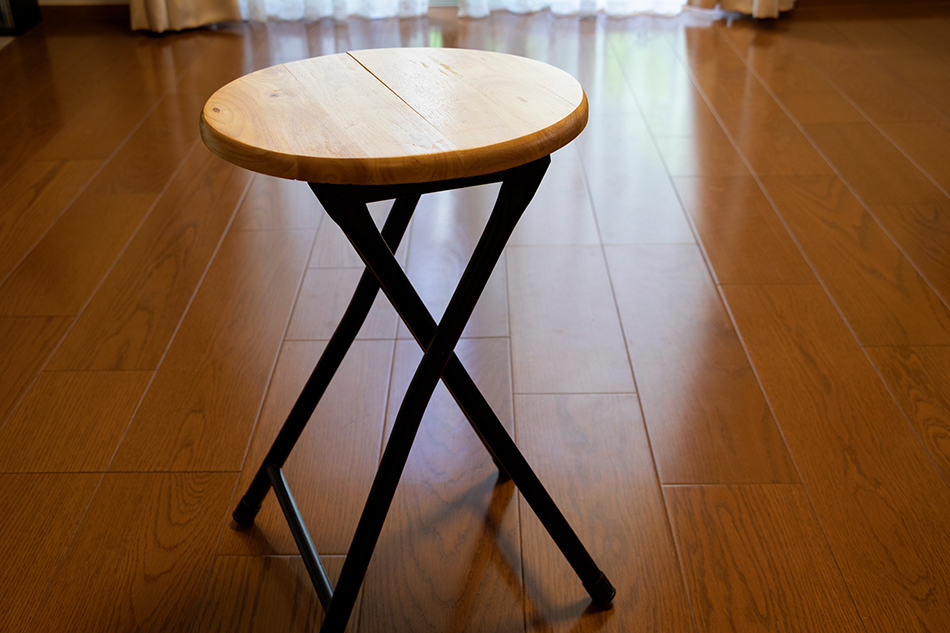 Folding barstools are great because they condense down in size easily so that they can be stored away when not in use, creating more space when you need it. Folding barstools are ideal for having on hand in instances where you have more guests visiting for dinner than you would usually have, for example, at Christmas or Thanksgiving.
You can grab your folding barstools to create additional seating around the kitchen counter or breakfast bar and put them away when you're done. These types of stools tend to be backless and made from metal. Be careful when unfolding and refolding them, as fingers can get trapped in the mechanisms. For this reason, it is best not to let children operate them.
Swivel Bar Stool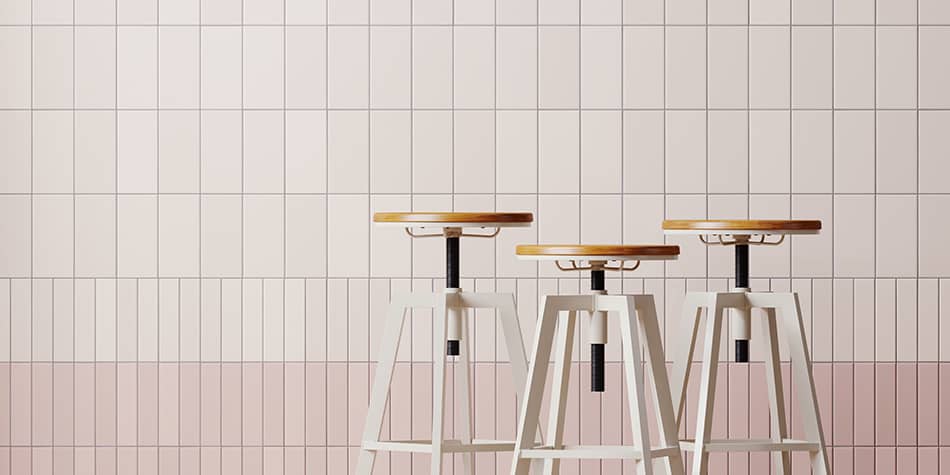 Swivel barstools have a mechanism that allows the seat to twist around. These are very useful when entertaining as you can easily swivel around to face different people or see in a different direction. The ability to swivel means you can quickly change your angle without having to get off the chair, lift it up to twist it around and sit down again.
These types of barstools can come in any style, though it is pedestal barstools that are most well known for having the swivel feature.
If you have children, you might want to avoid swivel barstools as they can interfere with their balance and cause them to accidentally fall off. They can also become annoying when children figure out how to competently swivel and won't sit still during meal times.
Adjustable Height Bar Stool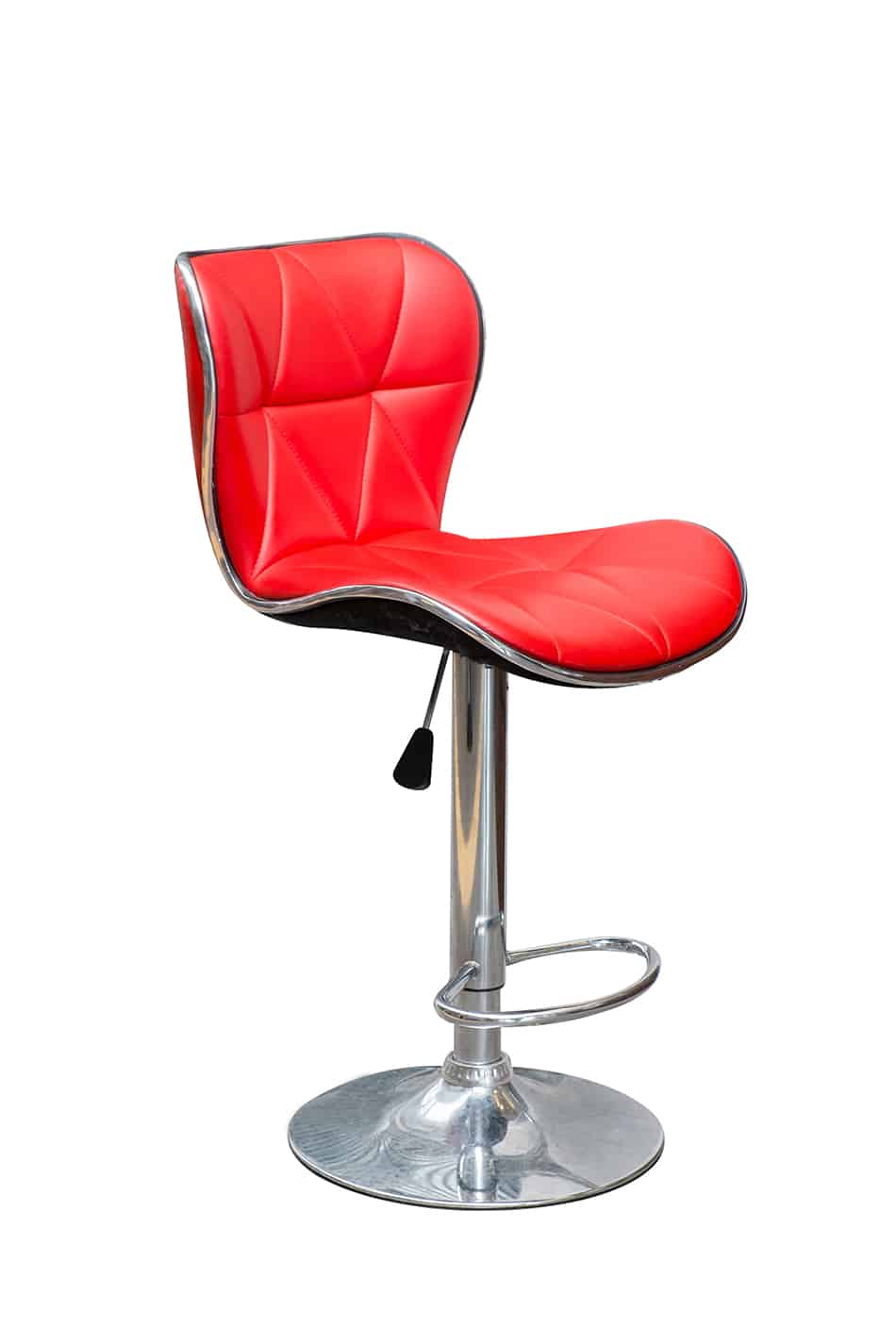 Bar stools with seats that are adjustable are a popular choice because their varying heights make them very versatile. Some adjustable height barstools can be lowered enough so that they can double up as additional seats around the dining table.
Their adjustable seat height means they will work with bars of any height, so they are a good option if you move home because you can be sure they will work with any bar you might have in the future.
They offer comfort to everyone no matter their size because each person using the stool can adjust it to a level that suits their body so that their knees are bent at a comfortable angle. These types of stools operate using a lever that allows air to flow in and out of a valve.
It is the movement of this air in the cylinder of the barstool that allows it to move up and down. These types of barstools are also known as gas lift barstools, which is a reference to the way the stools operate.
Pedestal Bar Stool
Pedestal barstools have one single supporting pole underneath the seat that is joined to a base. The base is most commonly circular but could technically take any shape. To ensure good balance, the base will be approximately the same size as the seat of the stool.
Pedestal barstools are typically the types of stools that will have a swivel feature and the ability to adjust the height of the seat.
The fact that they don't have legs means they don't get intertwined with each other under the bar, though the bases do take up more floor space compared to those with legs. These barstools can be quite heavy and difficult to move. They also cannot be stacked like some barstools with legs.
Tripod Bar Stool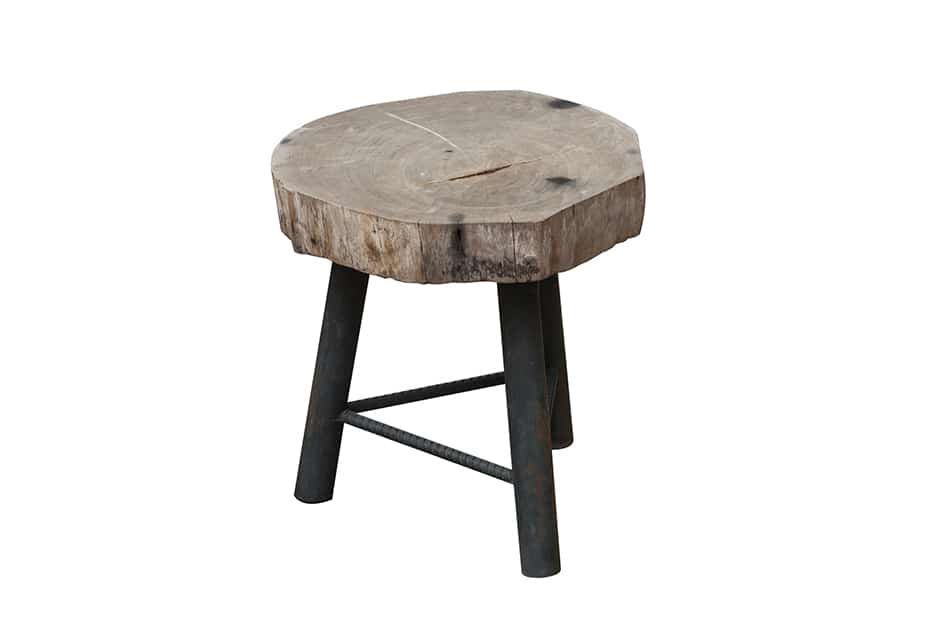 A tripod barstool is one that has three legs at equal intervals to support the seat. Traditionally tripod barstools are made from wood, and they are a common feature in pubs because they are solid and sturdy yet inexpensive. They typically, though not always, have a round seat that is backless.
The three legs will be joined by horizontal bars around two-thirds of the way down; these work to strengthen the architecture of the stool and double up as a footrest for the user.
Tripod barstools will often be stackable, which means they can be stored easily. It also makes for easy cleaning of the floor as the stools can be placed on top of each other to free up floor space so you don't have to maneuver the vacuum around all of the legs.
Four-Legged Bar Stool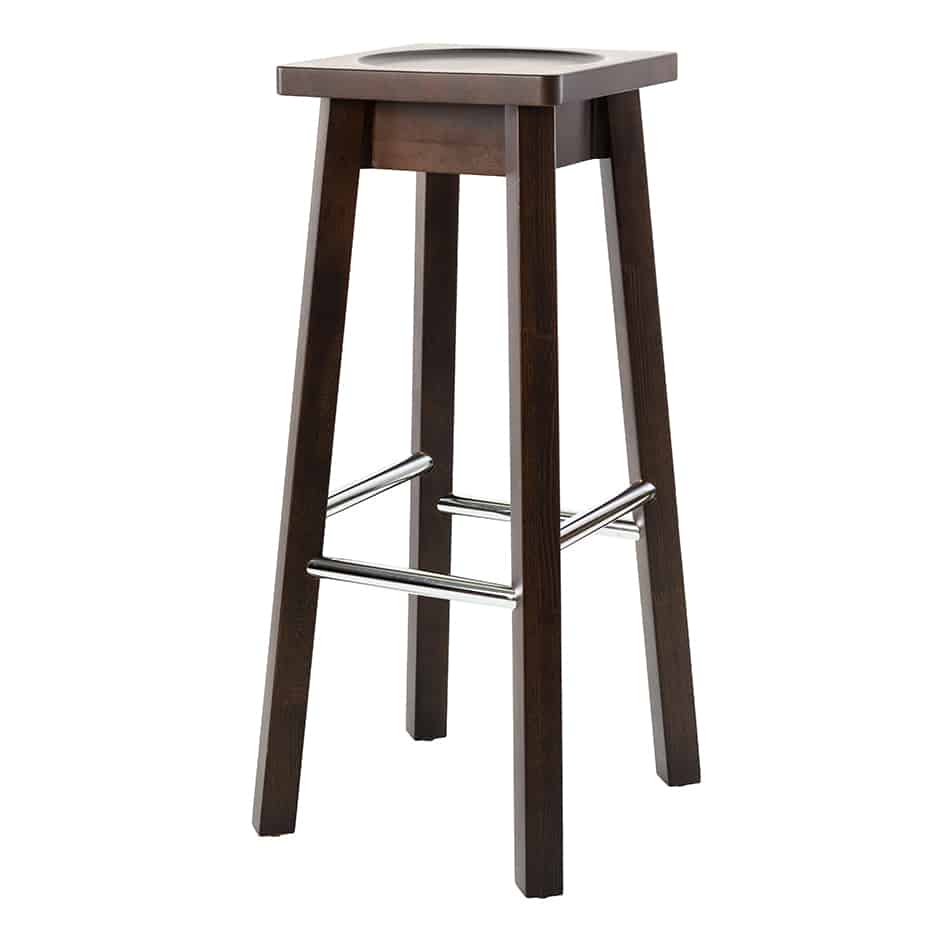 Four-legged barstools are exactly that; a type of barstool with four legs. These will have the legs set out in a square formation, with each leg attaching to the corner of the square. However, the seat can be square or round, depending on the design of the stool.
These barstools offer great support and stability, and they can be found in more traditional styles with four chunky wooden legs or minimalist styles with four legs made from slender metal pipes. In many cases, the four legs will be fixed together with a horizontal step that also doubles up as a footrest.
Backless Bar Stool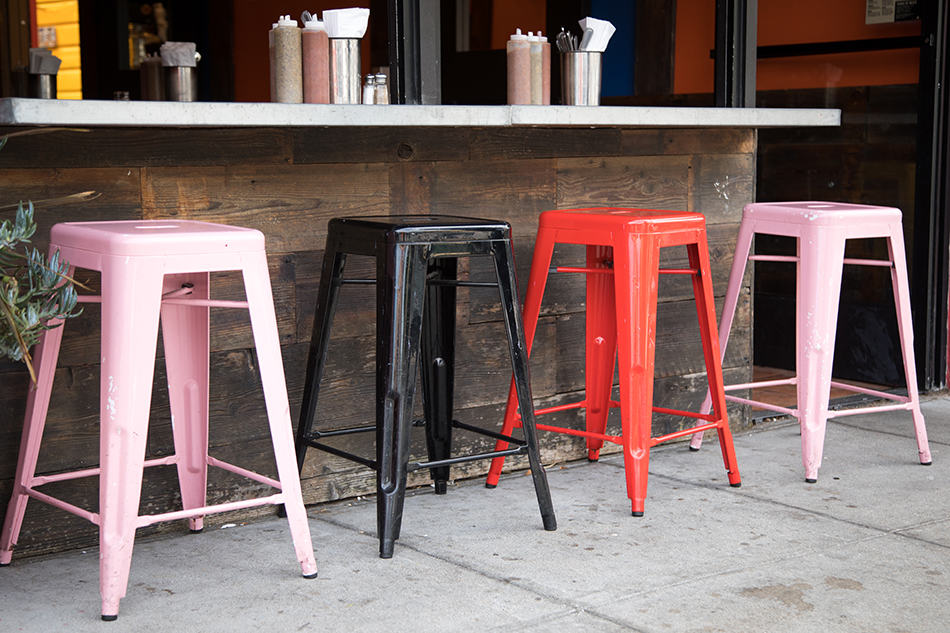 A backless barstool is simply a barstool with a level seat and no backrest. If the seat is completely flat, then this type of stool is great because you can use it from any angle as there will be no front or back. If your stool doesn't swivel, then it won't matter with a backless barstool because you can twist your body to face a different direction instead of having to twist the stool.
Backless barstools offer a very casual seating option and are popular in pubs and informal bars. Some backless barstools have molded seats, and in this case, they cannot be used from any angle.
Backless barstools tend to be a more cost-effective option than those with backrests, but they aren't great if you need back support when hanging out at your counter. They are also a poor choice for children as they may tip backward and fall off.
Low Back Bar Stool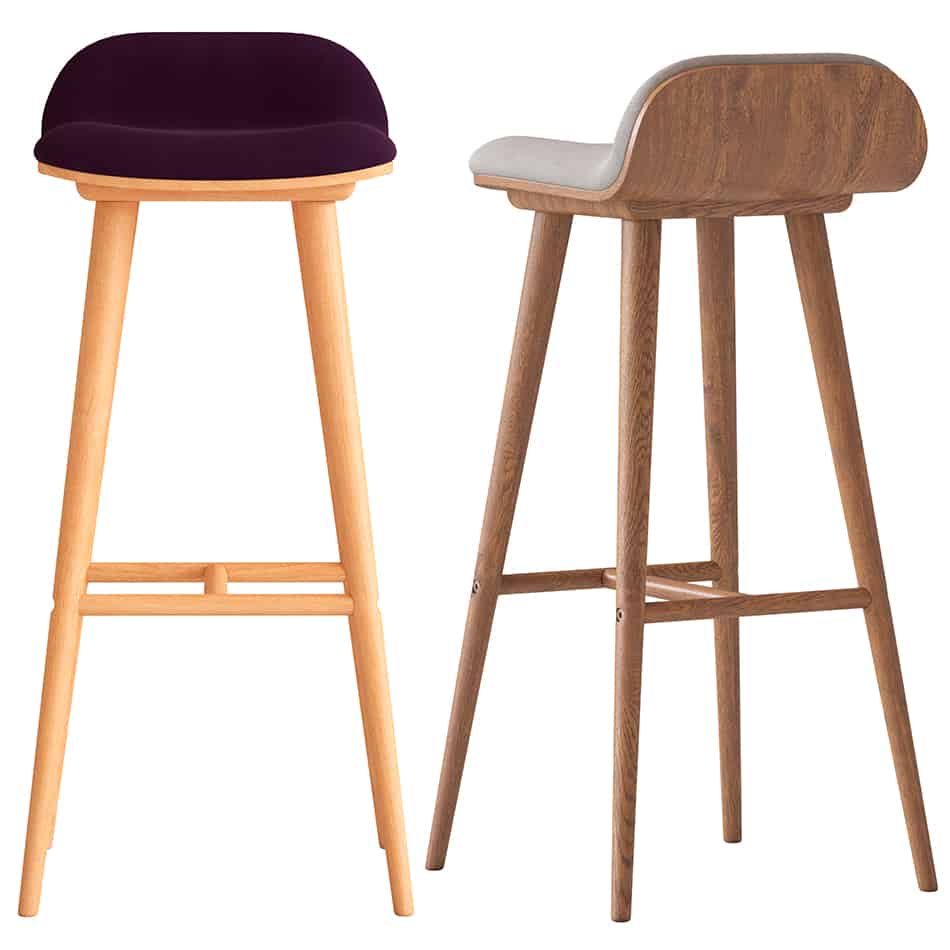 A low-back barstool will have a backrest on the back of the seat that is just a few inches high. These are a good compromise between a barstool with no back and one with a full back. While a backless barstool offers no support, a high-back barstool will protrude over the top of the counter, which is a look some people won't want.
A low-back barstool offers a little back support while still remaining low enough not to be seen from the opposite side of the bar. While you cannot fully lean back in a low-back barstool, it will prevent anyone from accidentally sliding off the back of the seat.
High Back Bar Stool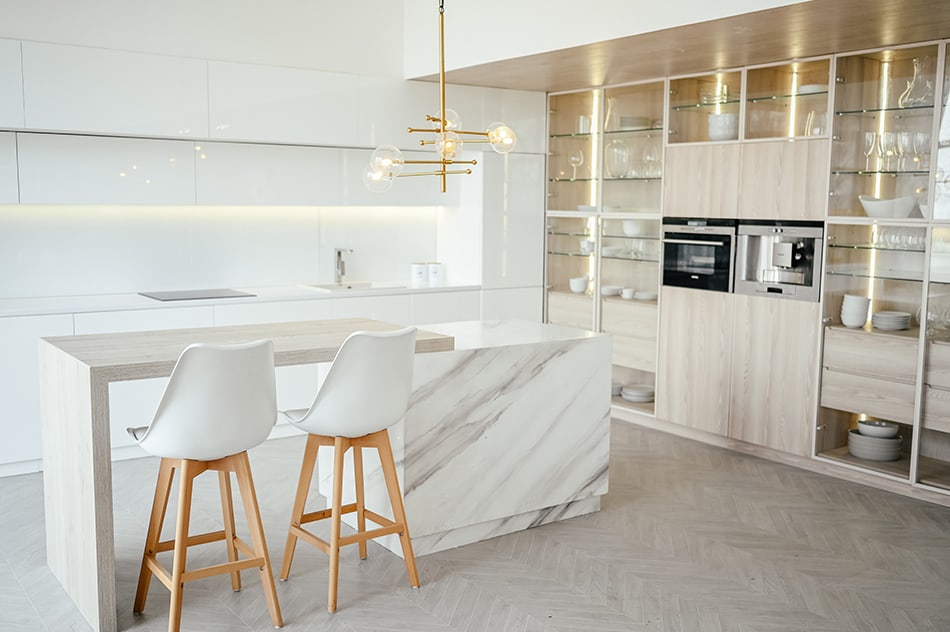 A high-back barstool is a good option if you spend a lot of time at your breakfast bar because it offers full back support. This will be best for your posture and help to prevent any back or shoulder pain. A high-back barstool will have a full-size backrest like a typical dining chair. This also gives the user the opportunity to lean back in the chair and relax.
These types of barstools are great if you have children in the family as it offers them a little more support and stability and will help to prevent them from falling off.
High-back barstools will have backrests that can be seen over the top of the bar, which can interfere with having a sleek open space, and for this reason, they aren't popular among minimalist-style interiors. High-back barstools can be made from wood, metal, or plastic, and they may also be upholstered.
Open Back Bar Stool
An open-back barstool is a stool with a backrest that is not made from solid material. Most commonly, this will be a wooden stool that has a frame for the backrest that might have bars running vertically down it or have a wooden cross shape installed.
Open-back barstools might also have carved or ornate designs in the backrest, which is more common in traditional styles of a barstool. Some open-back barstools are made from metal, with a ladder-like design on the backrest, making it open.
You can also find some upholstered open-back barstools, where the upholstered padded backrest is situated toward the top of the backrest and held in place by two vertical rods at either side, creating an open space at the lower back.
Solid Back Bar Stool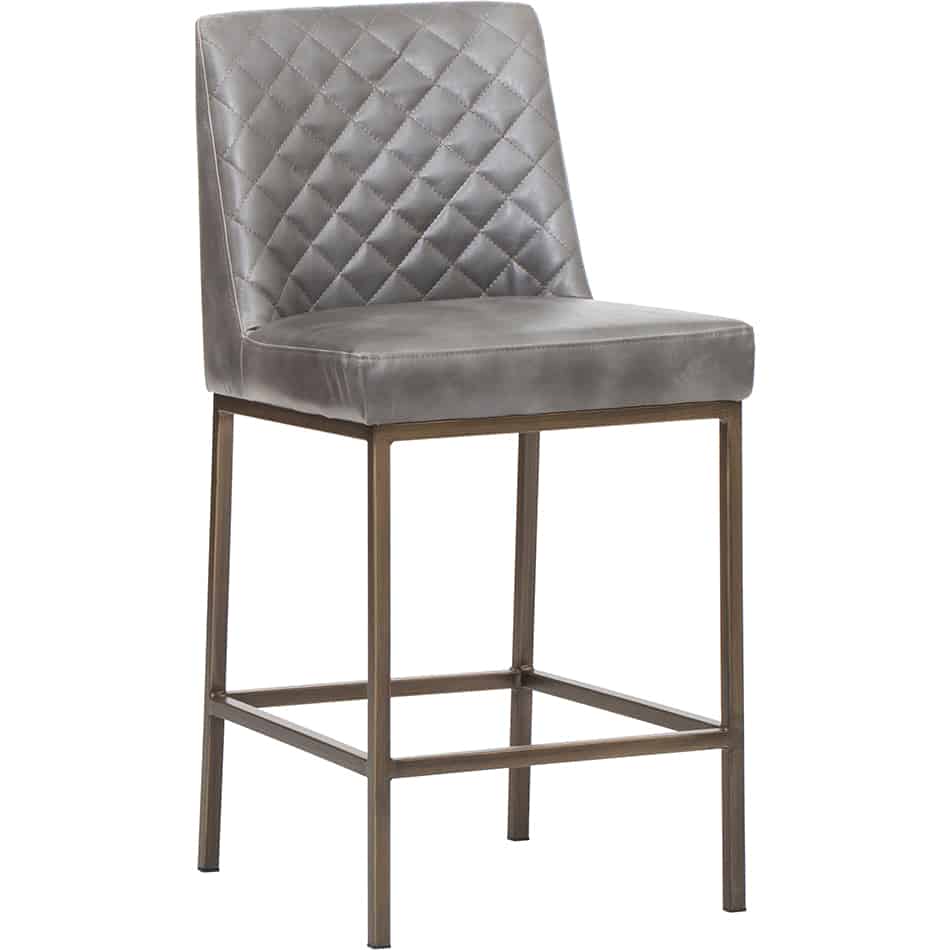 A solid back barstool will have a backrest that is completely solid with no gaps where light can pass through. Commonly a solid back barstool will be padded and upholstered, and these are among the most comfortable barstools you can get. They offer a similar level of comfort to a padded dining chair, simply with longer legs to position you at a high level.
These barstools are great for entertaining because they are comfortable enough to allow the guests to lean back and relax, and you can spend hours in them dining or making conversation without becoming uncomfortable.
Some solid back barstools might have flat wooden backrests, and these are much less comfortable; however, this can be rectified with a cushion if you plan to be seated for more than a few minutes.
Armchair Bar Stool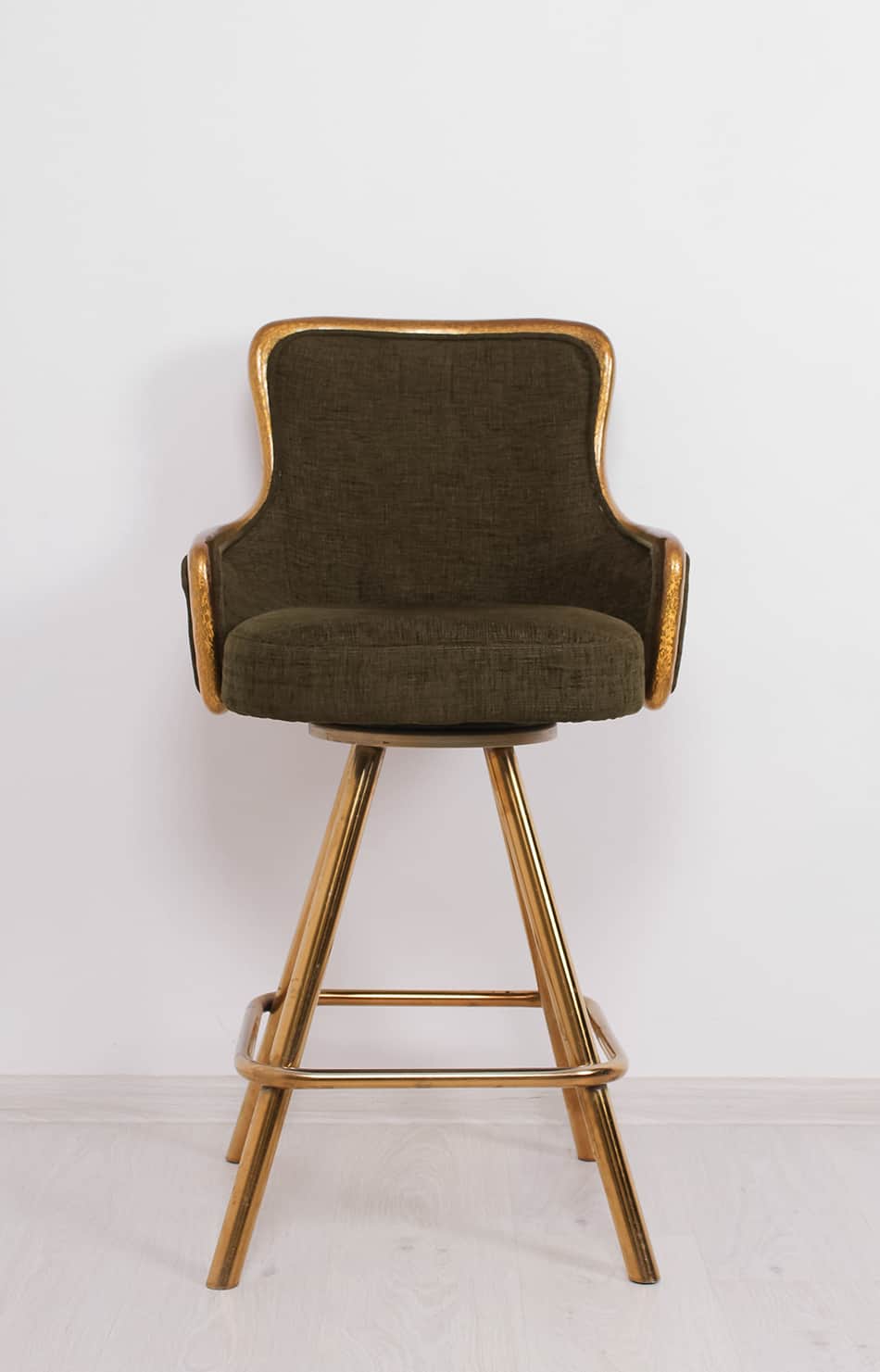 An armchair barstool is a type of barstool that features armrests. These are typically found on low-back or high-back barstools and create an enclosed space for the user of the barstool that can help them feel cozy and relaxed. Armchair barstools have a more formal feel compared to barstools without armrests and might be found in high-end bars and restaurants.
These types of barstools are also good for use with children at home because there are much fewer ways that they might slip and fall off as they will be surrounded by the barstool on three out of four sides.
Armchair barstools are ideal for comfort and enjoying spending time at the bar, giving you somewhere to rest your arms other than the bar itself. They do tend to be a little bulkier than other types of barstools, so you might have to reduce the number of stools you can fit at your bar if you opt for these.
The armrests should be low enough that the stool can be tucked under the bar when not in use; otherwise, they risk getting in the way and presenting a hazard or taking up valuable floor space.
One drawback of barstools with armchairs is that they cannot be stacked for easy storing or cleaning the floor. The armrests can be open or solid and upholstered with fabric and padding for additional comfort.