Unlike chairs, stools aren't exactly a fixture in many homes. But this peculiarity may be one reason you're considering getting one for your home.
And before you purchase one, you certainly want to know first the dimensions of a standard stool so you can determine if it would fit your space.
What is a Stool?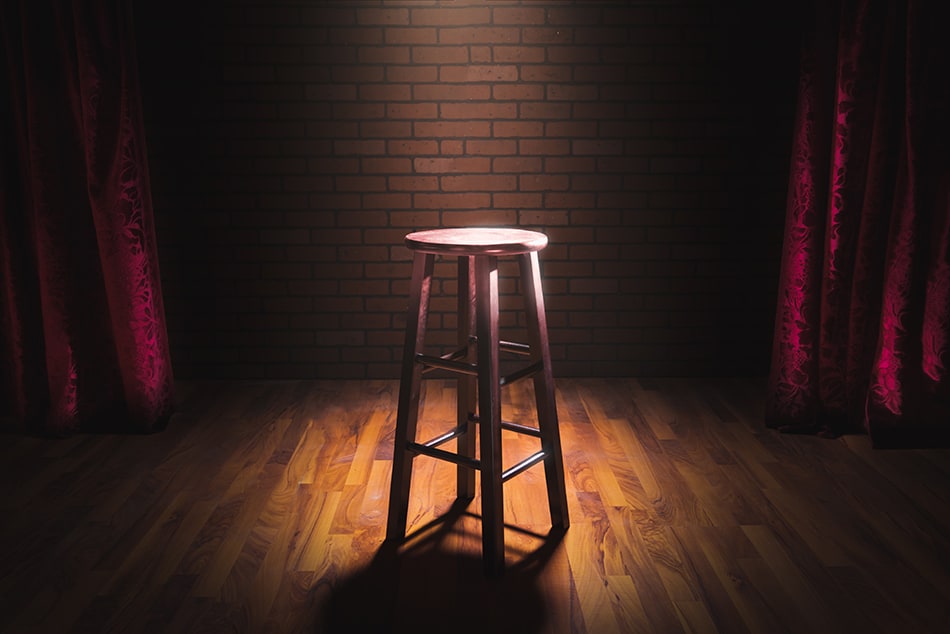 A stool is considered one of the earliest variations of seat furniture.
There's proof that the ancient Greeks used it before. It consists of a single seat and traditionally has no back or armrest. Its base may have one to four legs which are normally higher or taller than those of a chair. The seat may be round or square and may or may not have a cushion.
Because of its simplicity, a stool has become useful for many people around the world. It is a preferred outdoor seating option due to its lightweight design. The stool is also used to train young children to sit on their own. And, of course, you've likely come across a restaurant or bar with stools as their main seating options.
A stool is different from a chair due to the lack of two distinguishing qualities- arms and a back. This explains why a stool is also commonly referred to as 'backless chairs.' The lack of arms and back makes a stool lighter and easier to port than a chair. However, it is not uncommon to see or come across modern designs or variations of stools that now feature a back.
The dimensions of stools differ depending on their type. Continue reading to know more about the dimensions of the different stool types.
Bar Stool Dimensions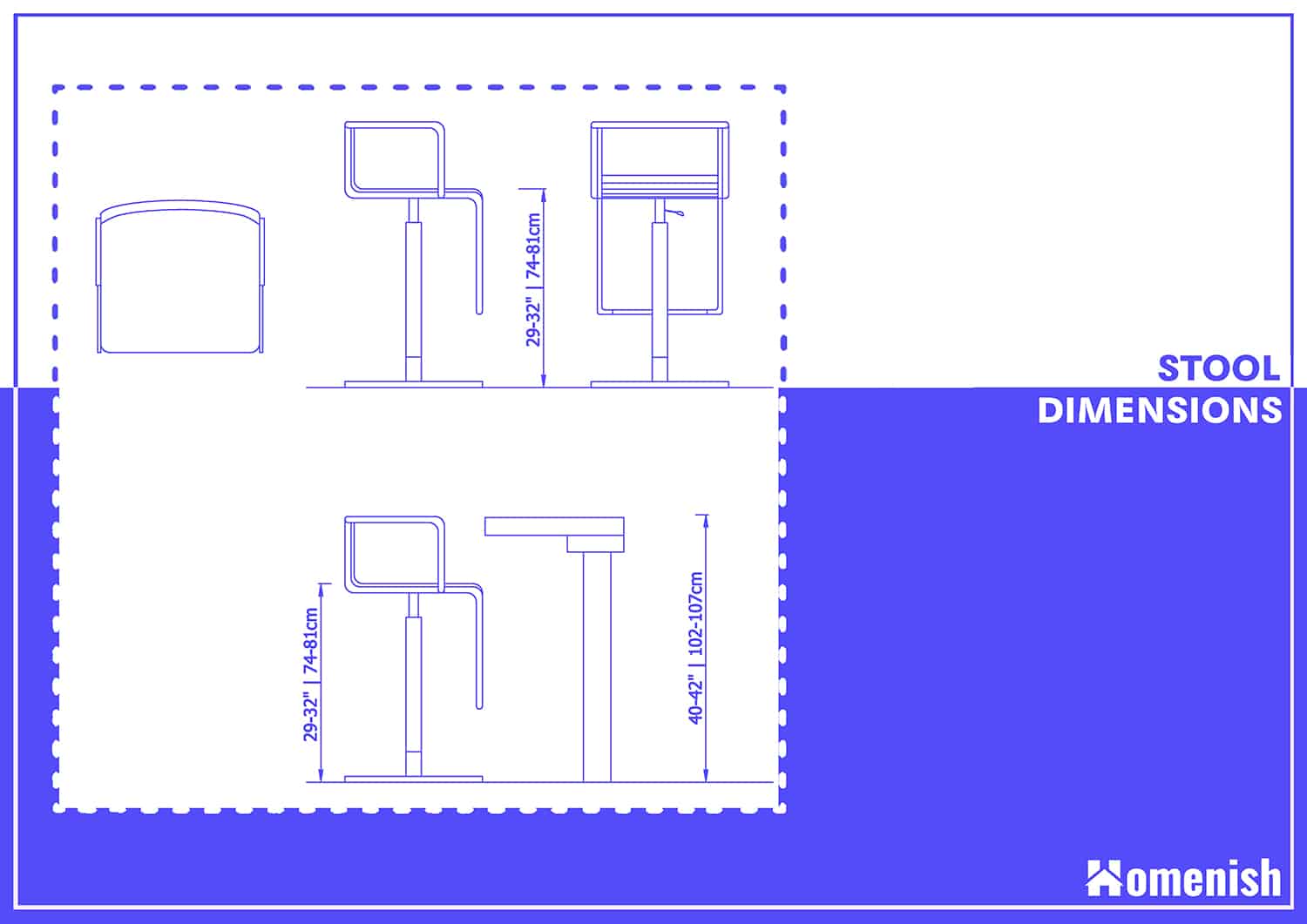 A barstool is a tall type of stool that's commonly seen and used in pubs and bars. At home, it is frequently used in the kitchen. It is tall and narrow, making it ideal for smaller spaces. A bar stool easily slides under a counter or table. It is commonly made from wood, metal, and acrylic.
The height of a bar stool can range from 29 inches to 32 inches. It is commonly used in bar counters that are between 40 and 42 inches high.
There are also bar stools that come with armrests. This type of stool is ideal if you want your guests to be comfortable. Armrests provide more support compared to backless stools. However, it is also wider, which means you may not be able to fit as many bar stools with armrests under your counter.
Bar stools may also have upholstered seats. This is a more luxurious variation of the stool and ideal for people who eat at the kitchen counter. It also creates a nice flair and thus is presented as a more formal option than stools made of wood or metal.
You may also come across swiveling bar stools. Its dimensions are similar to a standard bar stool. The major difference, however, is that it has a rotating seat which allows users to slide in and out of their seats without having to move the stool.
Counter Height Stool Dimensions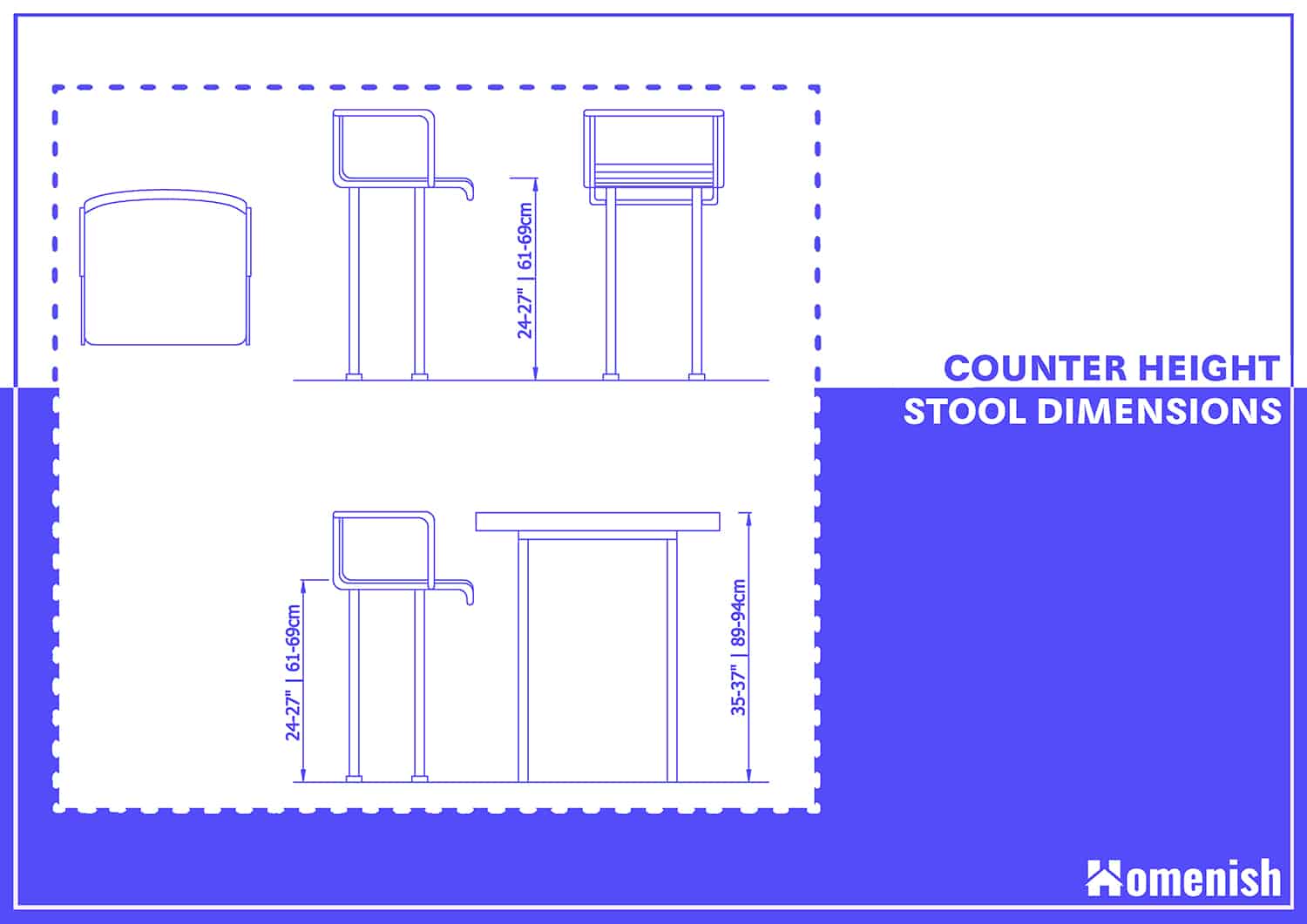 Counter height stools are the second major type of stool. This is a smaller stool that's also intended to provide seating behind a counter. But it is slightly taller than a regular restaurant table.
This kind of stool can also be used as a seating option for restaurant tables and kitchen tops.
So, how tall is a typical counter height stool? An average counter stool stands between 24 and 27 inches from the ground. It's best paired with restaurant tables that are between 35 and 37 inches tall. A counter-height stool easily tucks neatly under these tables.
Tall Bar Stools
This is a tall type of stool with its height ranging from 34 to 40 inches. The extra height makes it ideal for entertaining at home. With this stool, a standing guest can mingle and converse face to face with seated guests or hosts. It is also informally called a spectator or stadium stool. Others call it an extra tall bar stool.
There are many variations or enhancements in tall bar stools. You can find models with full-backs and padded seats for more relaxed seating, especially during TV marathon sessions. Others have wide seats and arms for added comfort, although you must also realize that these options add up to the dimensions of the bar stools and consequently would require more space for placement of the stool.
A tall bar stool presents different ways of placing it at home or in the office. You can line it up along the back of a wall, allowing seated people to view whatever's on the television. These days, it is common to find homes with a long table behind a sofa and then a row of bar stools behind the table. This way, you can accommodate more guests for a TV viewing party.
Short Bar Stools
Lastly, there are the short bar stools. This is the type of bar stool with legs that are less than two feet or 24 inches tall. Short bar stools can add decorative accents around your home and can be used in your dining room, living room, bar, and even basement. You can choose from short bar stools made of various materials like metal, rattan, and plastic. They also come in different kinds of shapes from square, round, buckle, or saddle.
Conclusion
To summarize, stool dimensions would depend on the type of stool. Short bar stools have legs that are less than 24 inches tall. Counter height stools are slightly taller, with their height from 24 to 27 inches. Then there are the bar stools which are around 29 to 32 inches tall. Lastly, the extra tall bar stools can range from 34 to 40 inches in height. Choose a stool type that you think would blend well with your table and other pieces of furniture in your home.