Armchairs are usually seen as an essential piece of furniture for lounges, living rooms, reception areas, and large bedrooms. It is a type of chair with armrests that provide additional support so that users can get in and out of the chair with ease.
Aside from that, most armchairs are cushioned and upholstered. Keep in mind that armchairs come in a variety of sizes. For this reason, it is best to know their dimensions.
That way, you'll be able to ensure that you have enough space. So, what are the different armchair dimensions?
Standard Armchair Dimensions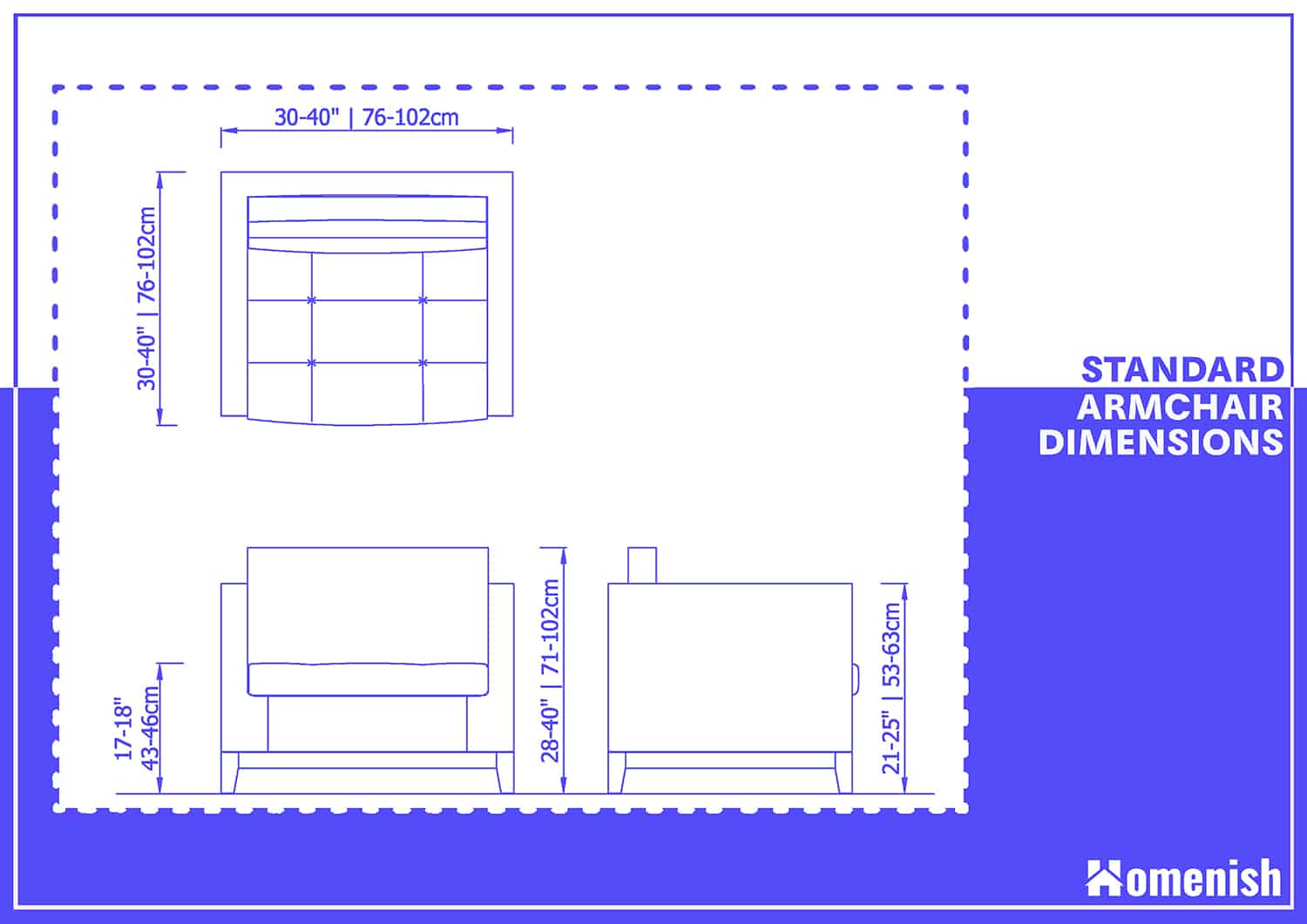 Armchairs come in a variety of styles and sizes. But they tend to be square-shaped or have their width a few inches larger than their depth. As such, you'll find an average armchair width & depth ranging from 30 inches to 40 inches.
Like a normal sofa, their standard seat height is the same as standard sofa seat height (distance from the floor to the seat cushion) at around 17 to 18 inches.
Standard arm heights are from 21 to 25 inches from the floor or 5 – 8 inches from the seats. Most armchairs don't have a high back, while some have a high back for a backrest or for reclining. So with the back, the total standard armchair height should be between 30 – 42 inches.
Here are the dimensions for some armchair models on the market.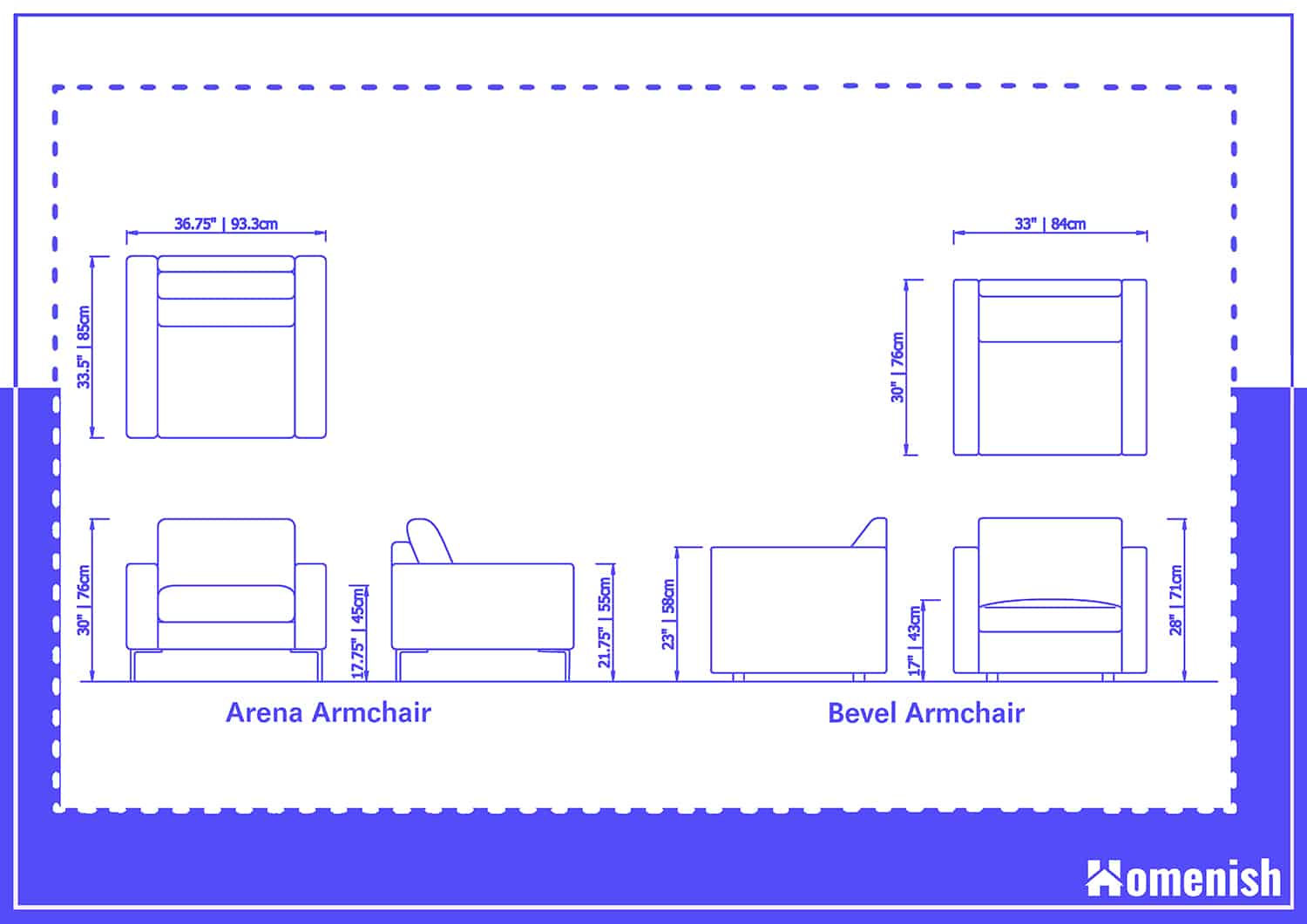 Arena armchair
This is is a low-profile chair with clean and crisp corners. This piece of furniture has a dimension of 36.75 inches in width and 33.5 inches in depth. Additionally, its back height is 30 inches, while its overall seat height is 17.75 inches.
Bevel armchair
The bevel armchair has a unique backrest that provides excellent lumbar support. For the dimension, it has a width of 33 inches, a depth of 30 inches, a seat height of 17 inches, and an armchair height of 28″.
Keep in mind that armchair dimensions will vary. Some chairs are small, while others are large. For this reason, you need to ask the seller for the specific dimension of the armchair you want to purchase.
Tips to Choose the Perfect Armchair
Size
Like most pieces of furniture, it is recommended to determine where you're going to place the armchair. From there, you can decide if you want a small, medium, or large-sized chair. For example, if you will place the armchair in a living room, you can opt for a large armchair. But, if it is meant for a bedroom, it is best to choose a small chair.
Aside from the size of the armchair or any furniture dimensions, you should also have enough space. Remember, there should be enough clearance around the chair. That way, the user can go in and out of the chair with ease. As a general rule, there should be about 30 inches of clearance around the chair. If you're going to place the armchair beside a coffee table, there should be 14 to 18 inches of space.
Style
The style of the chair is also a vital factor you need to consider. Always remember that your furniture, wall color, and other decorations must blend with each other for a cohesive look. Thus, you have to pick an armchair that will not only match your sofa. It should also blend with the overall theme of your room.
Fabric
Keep in mind that the fabric that you will choose will have an impact on the longevity of the armchair. For this reason, you need to consider your lifestyle when buying an armchair. For example, if you have pets, it is best to avoid a velvet fabric. On the other hand, you can pick a leather armchair if you want your room to look elegant and luxurious.