Sitting on a recliner chair to enjoy watching a ball game or reading a book can mentally and physically benefit you. After all, this piece of furniture promotes better circulation and has a calming effect on the mind and body. Today's recliners are more stylish and slim in design so you never have to sacrifice space over comfort. But have you ever wondered what components make up a recliner?
If you are curious about the main parts of a recliner chair, you've come to the right place. In this post, we will explore how this type of armchair works, the components that make up the structure, and a great diagram of the recliner parts.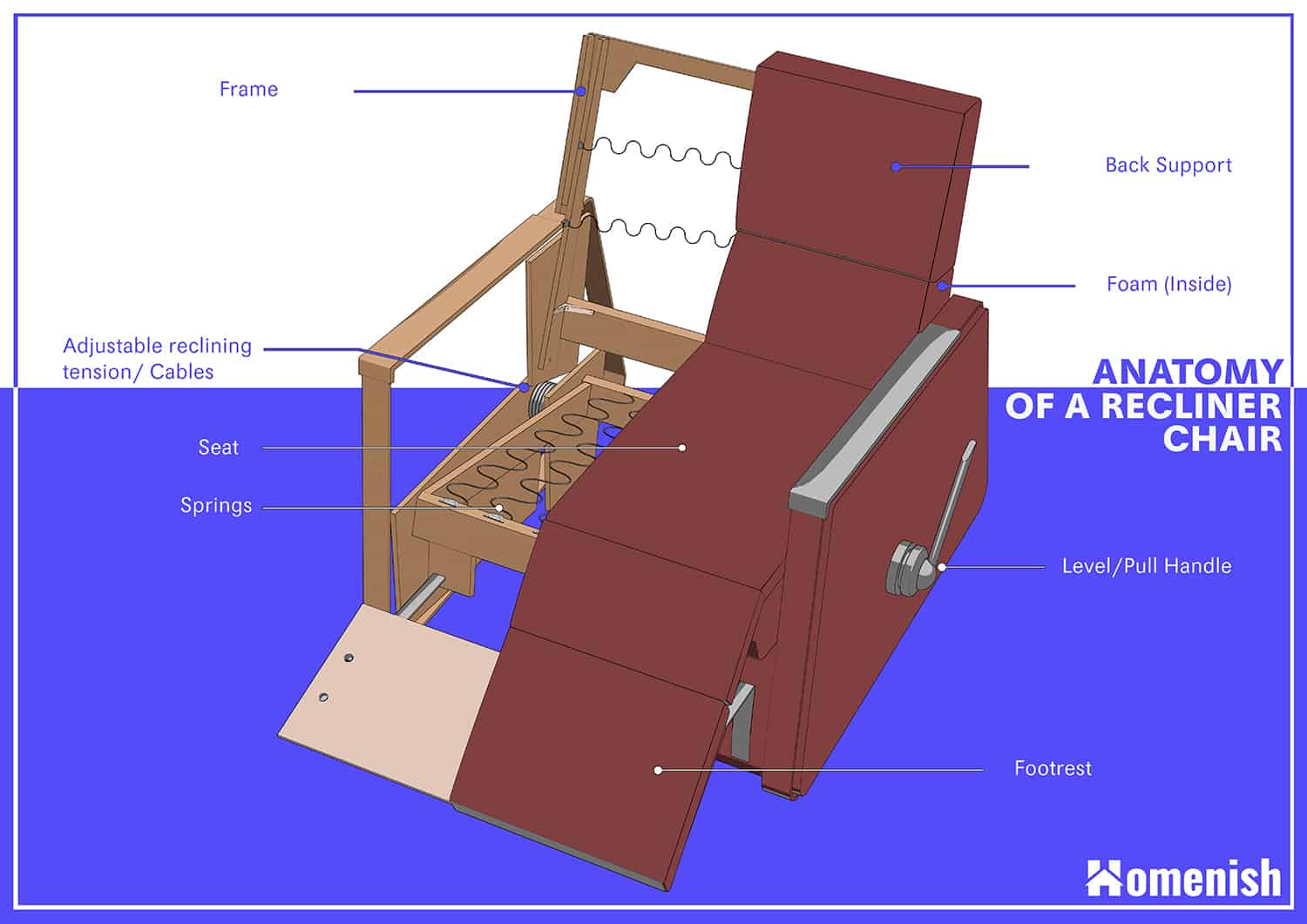 What is a Recliner, and How Does it Work?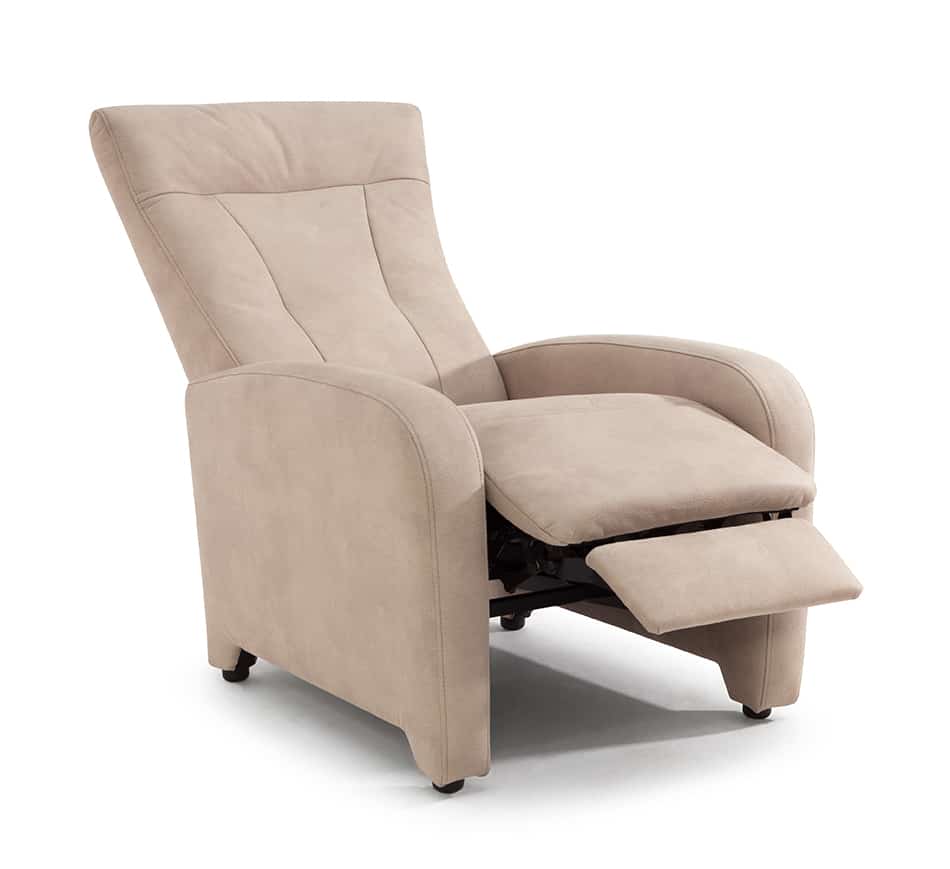 A recliner chair is a type of chair or sofa that reclines, just as its name suggests. It is an upholstered chair made from vinyl or leather with a metal mechanism that allows the user to push out and pull up their lower legs. Most recliners include arms. Thus, they are used as armchairs.
Sitting on a recliner allows you to lower the back and elevate the front to achieve maximum comfort. This is something you can't do with conventional armchairs.
Most recliner chairs feature built-in backrests so you can tilt back. Some also come with footrests that can extend automatically when you pull them outwards using a button or lever on the side of the chair.
With upholstered recliners, the back and seat make a truly comfortable experience. This type of seating furniture is the only one of its kind that lets users move or change shape whilst sitting on it. Some recliner chairs are activated with a lever, while others can simply be pushed back with some force by the user.
Although recliner chairs tend to be more expensive than your average sofa or armchair, they are made to last just as long. Provided you choose a high-quality recliner made from leather or durable upholstery as well as a solid mechanism, you should be able to enjoy this furniture for many years.
There are various dimensions of recliner chairs to choose from. So before shopping for one for your home, make sure to pick the one that fits your living space and your family's needs.
In fact, an average-quality recliner chair with lots of usage is expected to last as long as ten years. These adjustable armchairs are available in a wide variety of fabrics and colors, so you can be sure of finding one that matches your home's interior decor. That said, leather recliners tend to be a popular and elegant option.
Now that you have a better idea of what a recliner is let's dig into its components to familiarize you with the different parts of this chair:
What are the Main Parts of a Recliner Chair?
External Parts
The exterior parts of a recliner are visible to the eye and should be made of solid, high-quality materials for durability.
Seat and Back Support
The recliner chair's back is a large piece of cushion to support your back whilst you're leaning against it. Manufacturers use different types of materials for a recliner's back support, such as steel springs or rubber webbing, although the most common is steel springs.
This, in combination with steel seat springs, provides the utmost comfort for the user. The cheaper alternative is the rubber webbing, which is stapled to the recliner's frame to fill the void.
Footrest
Like the recliner's back, the footrest is also about the user's comfort. This part of the recliner is where you lay your lower legs once you've sat on the chair.
Lever or Pull Handle
The lever or pull handle is a device that allows the user to extend the footrest. This important component is usually located on the recliner's side.
Frame
All recliner chairs feature a support structure or frame to hold their mechanism in place. The frame's purpose is to attach the upholstery and support the user. Some recliner frames are made of chipboard, while others consist of solid wood.
The most common material for the frame is plywood. Some plywood frames have up to 5 layers of ply, while others are 7 ply. A ply consists of board layers glued together in order to create a board.
Some manufacturers use a combination of plywood, chipboard, and solid wood for the frame construction of a recliner. This is so the frame lasts for a long time, as the chipboard alone is due to breakage. That said, even if the recliner's frame is only constructed with plywood, it is still a stronger material than chipwood on its own.
Internal Parts
If you want to take a look at your recliner's internal parts, simply flip it over and remove the fabric cover. This cover is usually secured to the frame using either bolts or elastic. The following are the main internal components of a recliner chair:
Cables
Along the edge of the recliner's internal structure, rests the cables. These are responsible for the recliner's back movement function. The cables are connected to the pull handle so the user can lean back while lying on the chair.
Springs
As the most critical part of the recliner's operation, the springs ensure comfort in the back support and the seat of the armchair. These are visible on the recliner's underside, consisting of long pieces that run along the middle length of the chair. The springs are usually located underneath the cushion as their main purpose is to provide comfort whilst the user is settling into the seat.
Nowadays, most manufacturers add springs to cushion cores without using foam. This is due to the fact that springs tend to return to their original form quicker than memory foam.
Foam
Some recliner seats not only have springs but they are also fitted with memory foam for extra comfort. This minimizes fatigue as the user will be sitting or lying on the recliner chair in the same position for an extended period. It is always best to ensure the recliner's cushion is made of memory foam rather than standard foam, as memory foam is designed to last much longer.