Homeowners are always on the lookout for the most elegant and beautiful interior design ideas to create a luxury living space. However, a luxurious interior design doesn't have to consist of expensive lighting or furniture throughout the home.
You don't even have to be an expert in interior design in order to create a luxury living space. This can easily be achieved with a few stylish additions to your bedroom, living room, or bathroom.
What is it About Luxury that We Love so Much?
When you think of luxury, doesn't it paint the picture of beautiful mansions and designer cars in your mind? In reality, we all love a little luxury and lavishness in our lives, so where better to enjoy it than in our homes' interiors.
After all, no one said a little self-indulgence is a bad thing. While you don't need to recreate a celebrity-like home to enjoy the feeling of luxury, you can easily create luxurious surroundings within your living space using a few simple tips and tricks.
Here is a selection of 13 luxury home interior ideas that you can implement in your own home with pictures.
1. Add Wall Paneling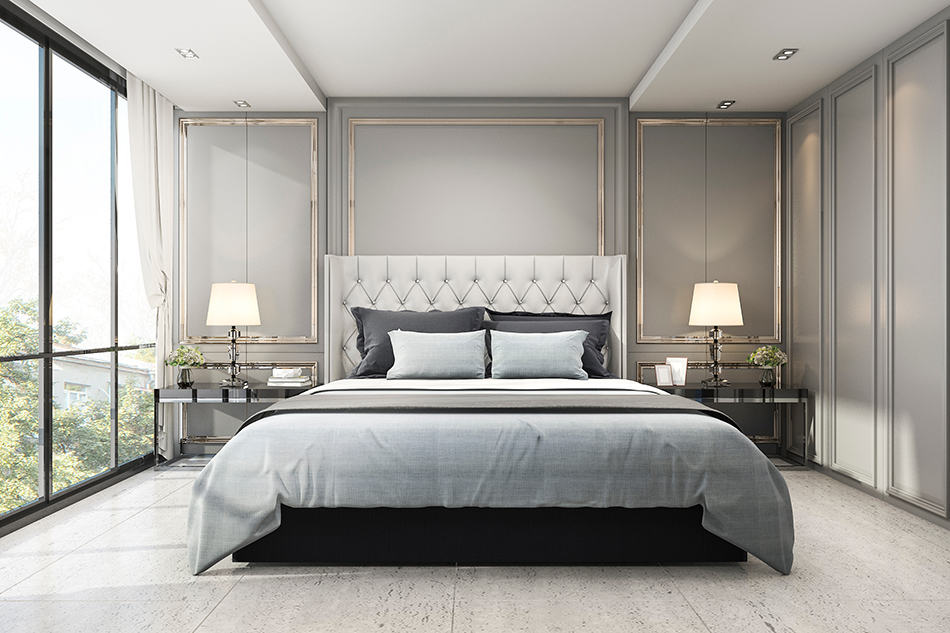 Wall panels add a sense of luxury and character to any space, especially in the bedroom. These features are a growing trend and tend to look expensive.
But rather than wood paneling, which can cost significantly more, opt for fiberboard or gypscarton. Once mounted, these panels can hide the cracks on the walls and create a refined finish. You can see how the grey wall panels in this luxury bedroom look exquisite against the marble floor and neutral bedding as they are in muted tones for added appeal.
2. Geometric Wallpaper for the Bathroom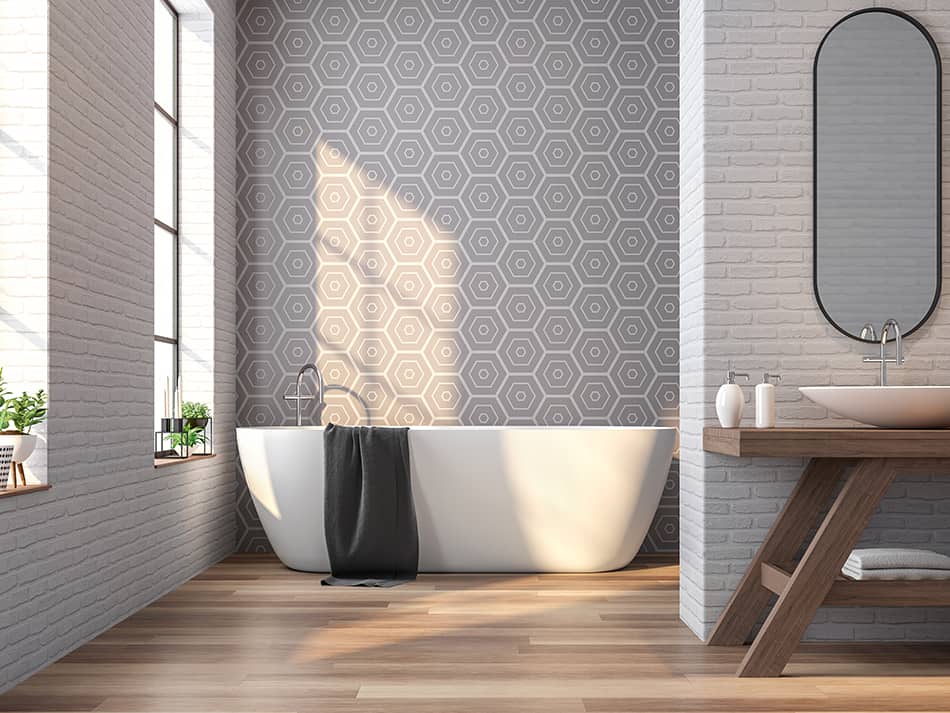 Who said bathrooms need to have tiled walls? Wallpapering one of the walls in your bathroom can make a beautiful statement, especially if it's a bold pattern.
Here you can see how the geometric patterned wallpaper looks especially striking in this bathroom, thanks to the tall brick walls next to the feature wall, the tall windows, and the brick wall opposite the bathtub.
3. Accent with a Dark Color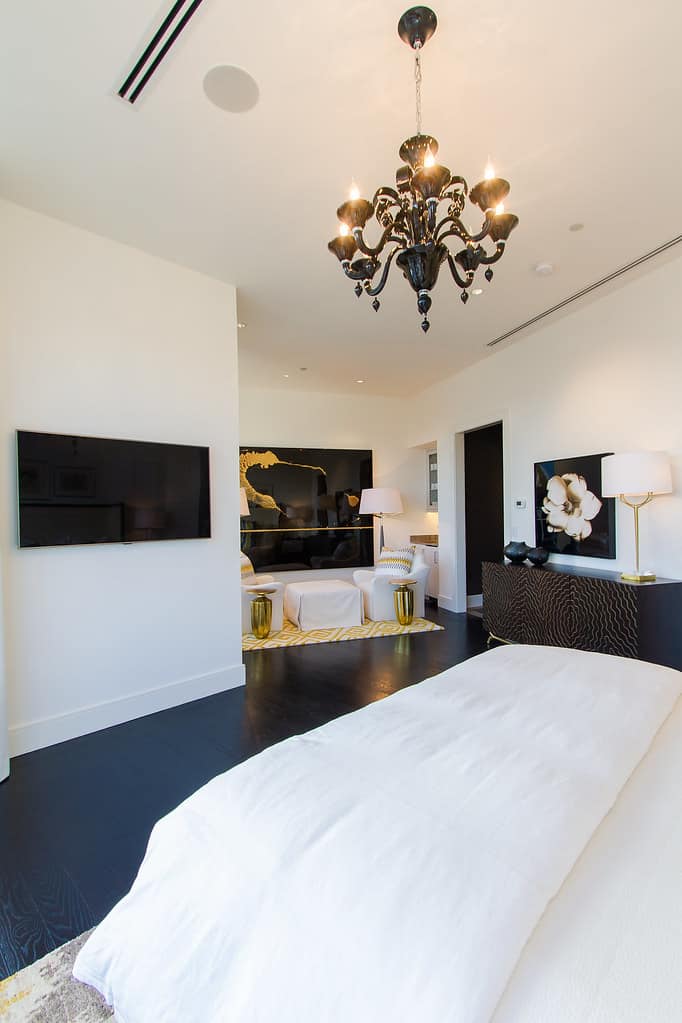 If you thought the color black makes everything look closed in, you couldn't be more wrong. Most interior designers who design luxury interiors use black as an accent in white bedrooms.
The idea is to use this color sparingly with white to tie the scheme together. Here, the black floor, wall art, TV, and chandelier have all provided a striking contrast with the white bedding, white walls, and furniture. There is no denying how chic this bedroom looks, no matter which angle it's photographed from.
4. Let the Floor and Ceiling do the Talking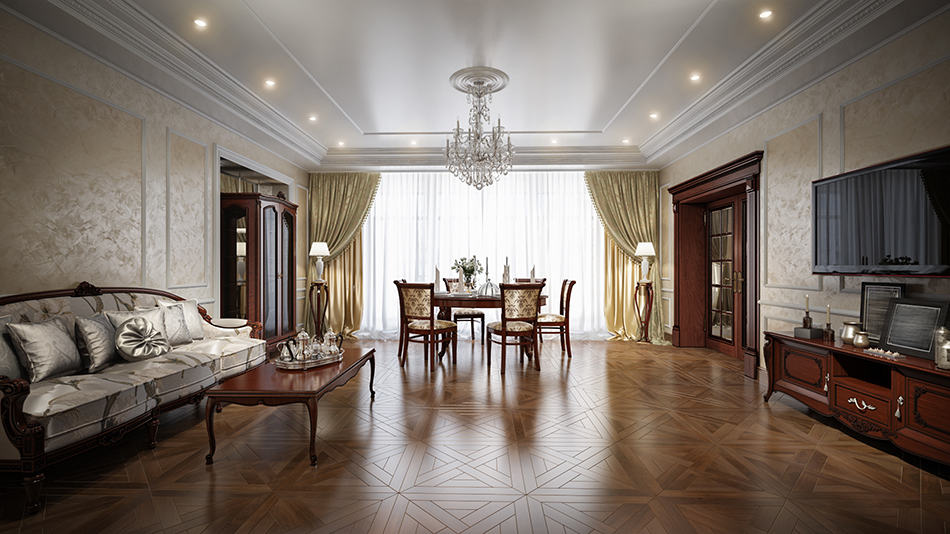 While classic and luxurious fixtures and fittings, such as a chandelier, floor-to-ceiling drapes, and vintage furniture instantly give the living room a stately look, you shouldn't leave out the floor and ceiling as part of your luxury decorating scheme.
The key is to incorporate balance by choosing a subtly patterned flooring in warm wooden color to match the furnishings. Just as shown here, the living room's flooring complements the rest of the decor, and the ceiling is enhanced with recessed lights and molding to create a luxury look.
5. Use Complementary Colors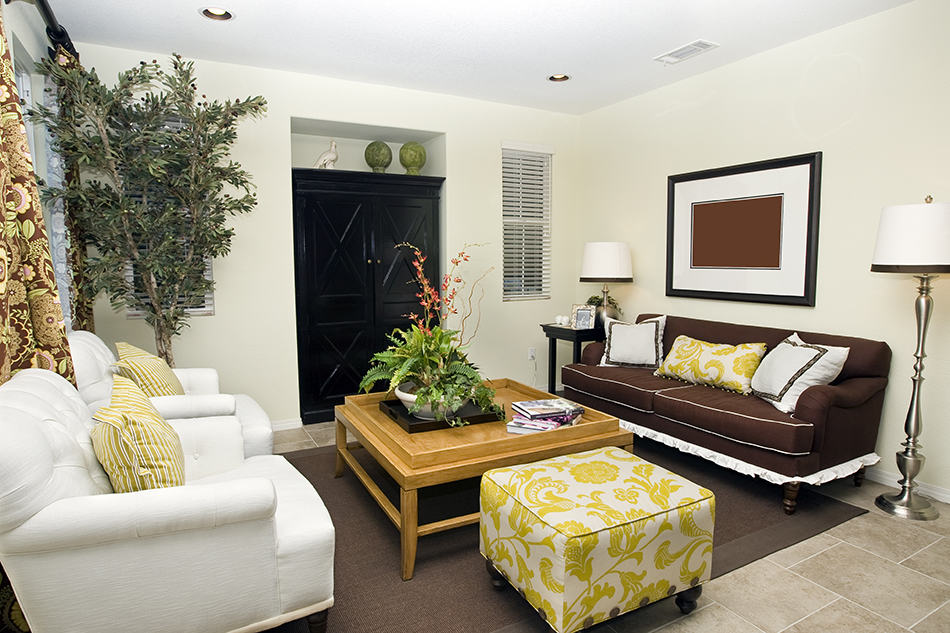 For living rooms that are decorated less lavishly, the color wheel can play an important part in bringing out the luxurious look of the space.
For inspiration, take a look at this fine example of a contemporary living room with vibrant complementary colors throughout. The patterned yellow ottoman, accent pillows on the brown sofa, the brown wall art, and the plants work in perfect harmony to give the room a modern twist.
6. Fill Up the Entire Space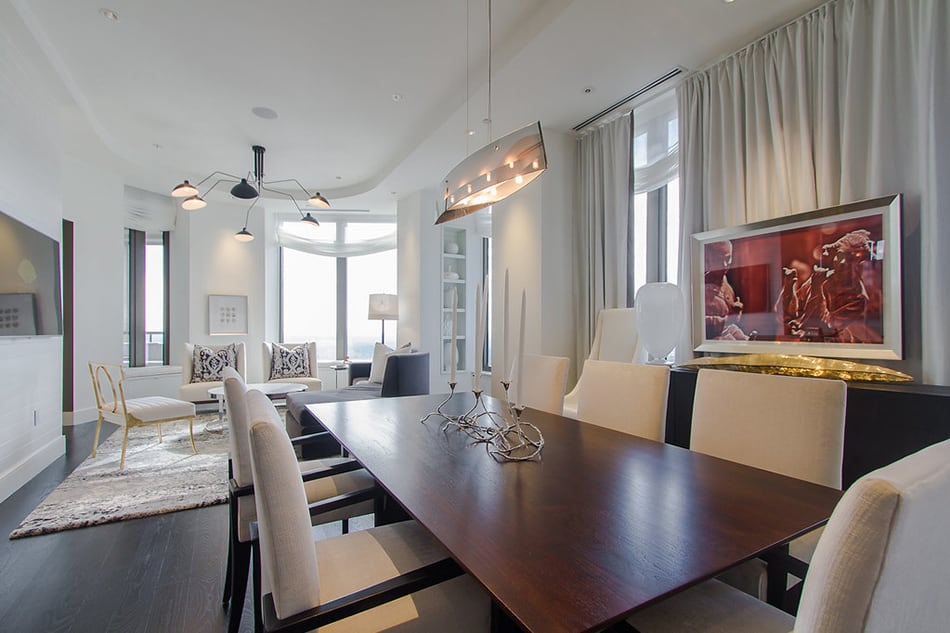 This idea is perfect for larger and bright living rooms. To fill up the entire space of your room using luxury furnishings, start with an area rug, contemporary lighting, dining table and chairs, and as many sofas as possible. Make sure the seating space is close to the window for natural lighting.
In an open-plan space like the one shown here, the furniture is arranged in such a way that you're not looking at a big expanse of seating. There is certainly enough space to incorporate the dining room with the living room in order to achieve the luxury designer or show-home look.
7. Baroque Luxury for Bathroom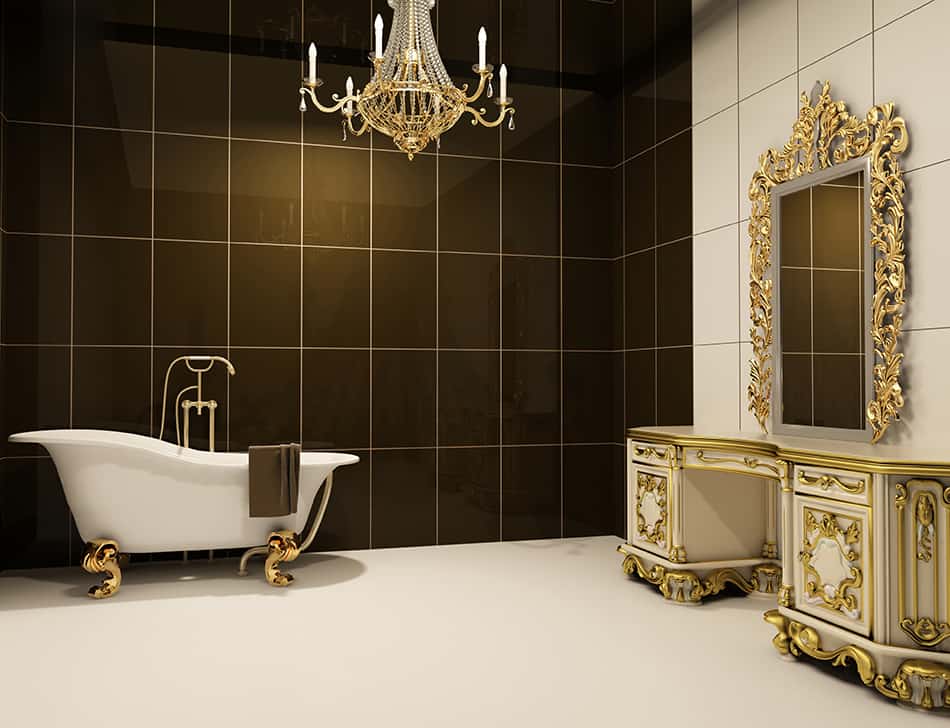 Baroque style can be described as a movement that defies simplicity. This interior style originates in Italy during the 17th century. It can be described as elaborated and grandeur decor, which means it's exactly the opposite of minimalism.
A typical Baroque style interior features bold, intense, and loud sculptures with warm colors. In fact, everything is about a visual appeal in luxury Baroque interior design. Aside from bold colors, gold accents and ornamentation are also incorporated for added extravagance.
You can easily recognize the baroque style in this luxury bathroom, thanks to the large, gold chandelier, the gold framed mirror, the freestanding bathtub with gold legs, and the gold cabinets. The gold furniture is further enhanced by the dark tiled wall.
8. Traditional Equals Luxury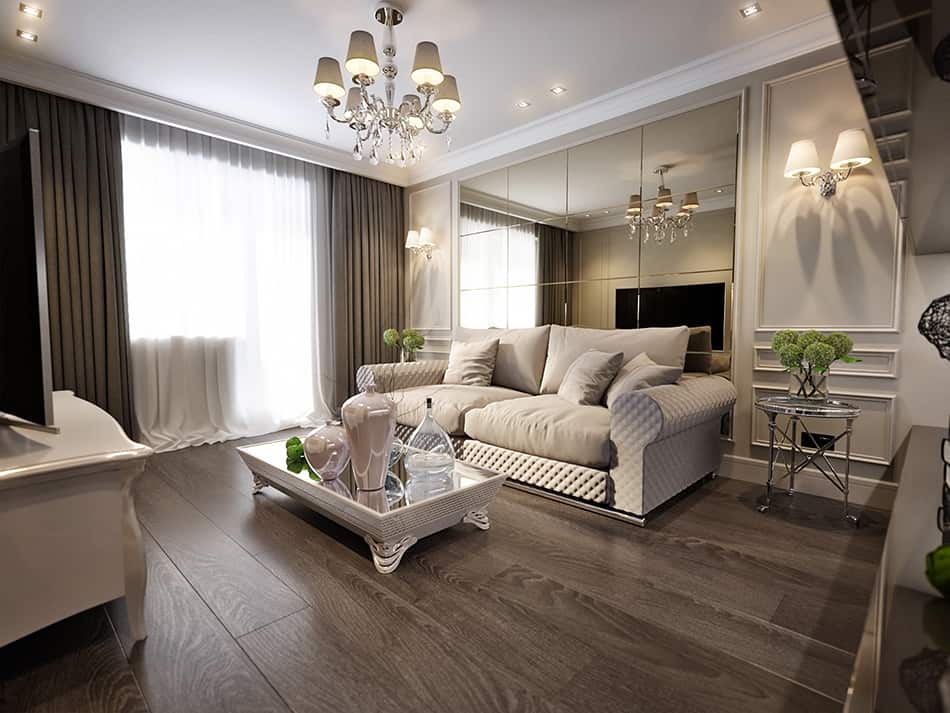 One of the best-known interior design styles is the traditional style which features dark wooden flooring and classic white furniture. The traditional design stems from the early 19th century France and England.
Lavish textiles, such as linen and silk, are often seen in these interiors. From glossy chrome furniture to moldings on the walls, this is a beautiful example of a luxury and classic living room with traditional furniture. There is a sense of glamor about this interior, thanks to the wall panels and the central lighting.
9. Embrace European Style Decor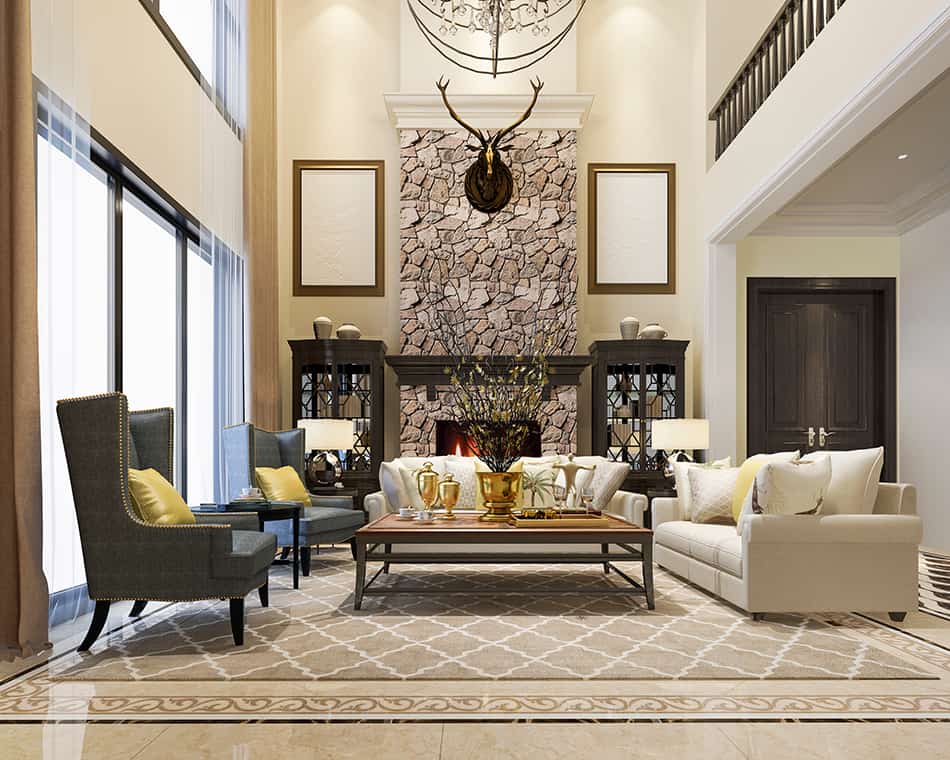 Traditional European decor is inspired by 18th-century France, Belgium, and Italy, to name but a few. This timeless interior design style is synonymous with comfort and elegance. It's perfect for those who love classic art pieces, antiques, and symmetric patterns.
Most European-style living rooms have a blend of dark and neutral palettes with the fireplace as the focal point in the room. Here, you can see how the stone fireplace and the animal head wall decor stand out in this luxury living room.
10. Keep Up with Modern Trends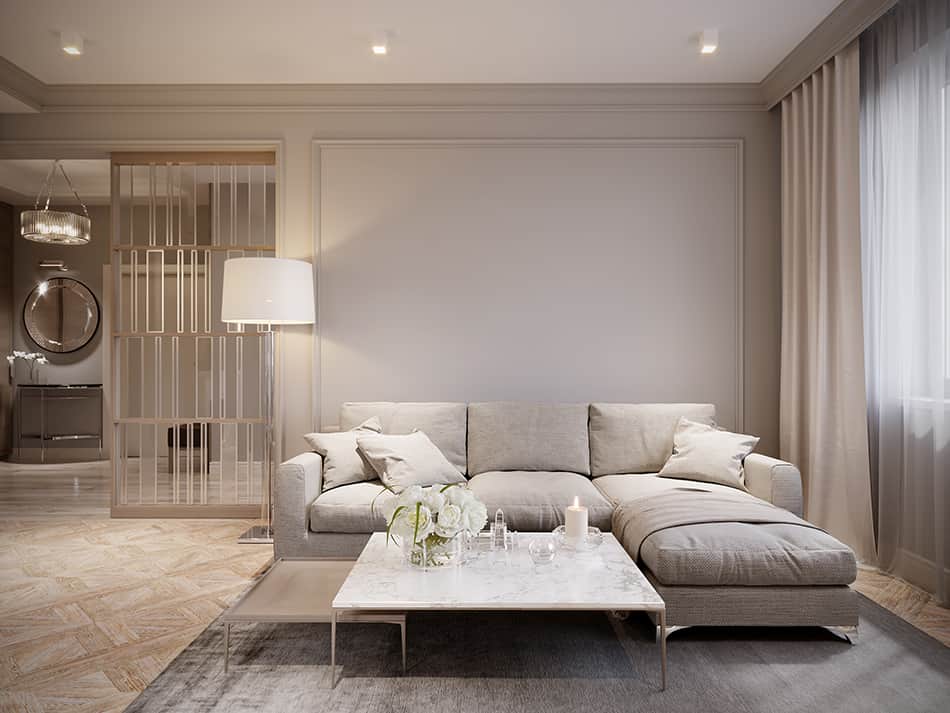 The contemporary interior design style has evolved over the years and has now become one of the most preferred styles for luxury interiors.
This unique and timeless interior design style is highly versatile and doesn't consist of just one single feature so if you want to keep up with modern interior trends, opt for contemporary decor as shown here. This modern-looking beige grey living room complements the beige grey sofa and white curtains with a luxury flooring and wall paneling.
11. Update the Bedroom's Lighting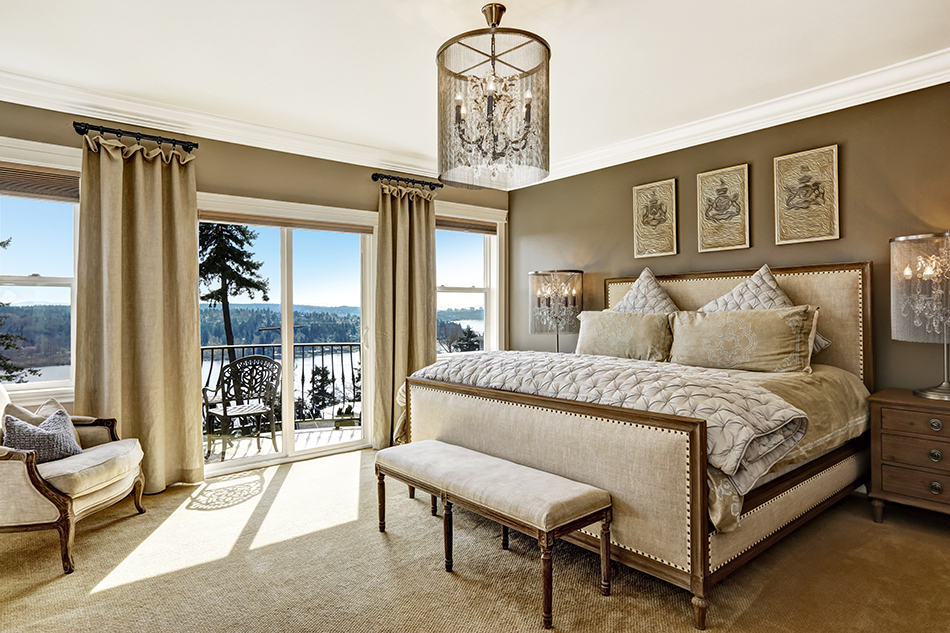 Updating your bedroom's lighting is the surest way of creating a luxury home interior. Paired with elegant furniture and textiles, the feature lighting you choose is the essential part of the decor.
Whether you opt for a statement chandelier, or a lavish bedside lamp (or both!), you can make a huge impact on drawing attention to your luxury bedroom. The proof is seen here in this lavish bedroom, with its rich furniture complementing the feature lighting on each corner of the bed and the ceiling.
12. Pay Attention to Every Element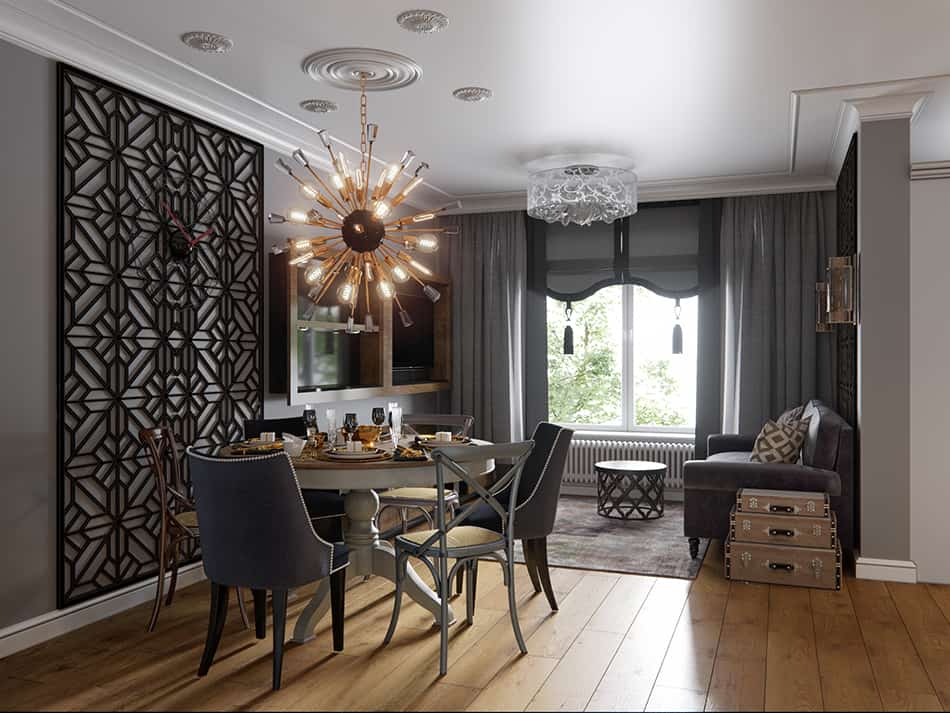 Another cohesive look of a modern and luxurious interior design style includes paying special attention to detail. This can be a feature wall, decorative moldings on the ceiling, unique lighting, or all of them in one room.
All these can be seen in this photo of a luxury and modern living room. Every single element of this room has been carefully planned and executed to make it look as unique and elegant as possible. You can almost feel the special relationship between each and every fixture here.
13. Be Consistent in Your Design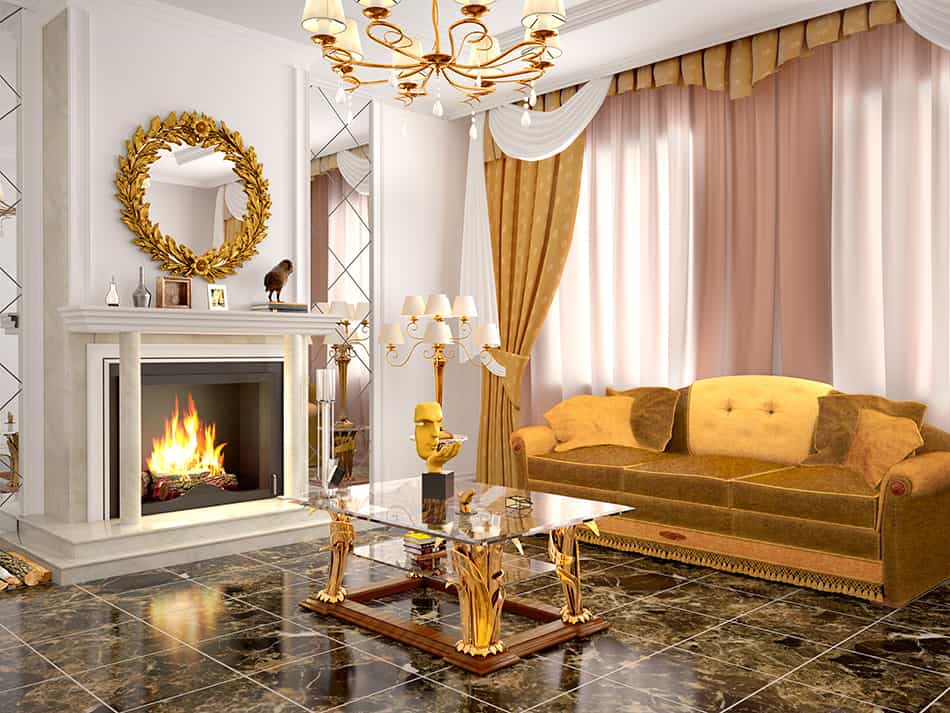 A properly executed luxury living room decor will flow effortlessly and instantly draw the eye to its sense of elegance. While you don't need to keep the color palette the same throughout the living room, a refined design plan will bring all the elements together nicely.
For example, this stunning living room's furnishings consist of brown and yellow colors that perfectly blend with the dark tiled flooring and white fireplace. To achieve the same look, you don't need to be an expert interior designer.
Simply experiment with matching colors, but be consistent throughout the living room by incorporating these colors into the furniture, lighting, mirror, curtains, and table, as shown here.