A front door is an important component of the home's exterior. The color of the door needs to coordinate with the exterior siding as well as the roof and other architectural elements. When your house is yellow, you must decide the most suitable front door color to increase your home's curb appeal.
There are tons of great front door colors for a yellow house. Since yellow is a cheerful and inviting color, it can be paired with both contrasting and complementing front door colors. However, you don't want the yellow to stick out like an eyesore. This is why you should pay attention to the color you choose for your front door.
Here we will give you some quick pointers, including our best color suggestions for a front door.
How to Choose a Front Door Color for Yellow Siding
Dark yellow siding exteriors lean toward bold shades for the front door. This gives the front door a chance to express your personal style by standing out. Adding a statement color to your front door is the simplest way to give your home's exterior an uplift while complementing the architectural elements of your home. For light yellow exteriors, muted front door colors will work best so as not to overshadow the bright yellow hue.
Blue, gray, and green front doors make the best impression for the entrance of your yellow home. These colors contrast the warm undertones of yellow. Vivid colors can make a strong design statement, but you must be careful when mixing them with other shades, especially when yellow is the primary color of your home.
Neutrals such as gray, brown, and black doors will withstand the test of time. These are classic front door colors that never go out of style. When paired with yellow-sided exteriors, these neutral hues won't alter the style of the house and even adapt to your personal taste. Instead of painting your front door, you can always stain it instead. Wood stains emphasize the door's grain pattern, and any shade of brown will go perfectly with your yellow exterior.
Now that you have a basic idea of how to choose the right colors, let's take a look at some great examples:
Best Front Door Colors for a Yellow House
Green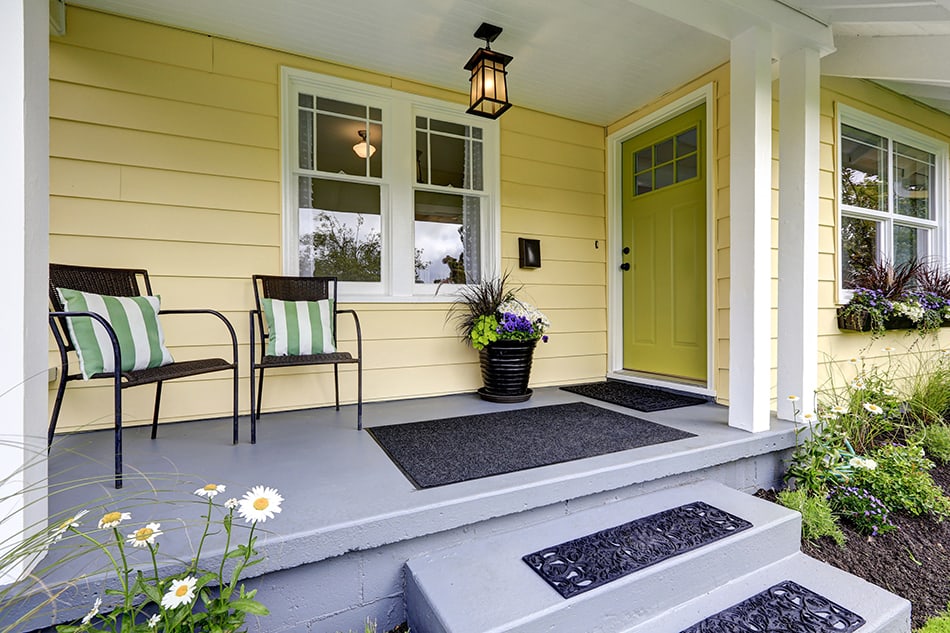 A cheerful green color for your front door will give your yellow home a fresh feel. The green next to yellow is a pair made in exterior design heaven and both will pop when viewed from the street.
If you're not keen on bright green, consider a light, muted version. This will make your entrance more traditional and classier. Bright green is for those who want to draw attention to their home's exterior. Olive green is another toned-down shade that compliments yellow.
Perhaps you like both warm and cool greens. You'll be pleased to know that whichever shade you choose for your yellow-sided home, it will create an earthy and organic feel as shown in this example. The combination of the green door with the soft yellow siding works in harmony. This front porch is very inviting indeed!
Bright Yellow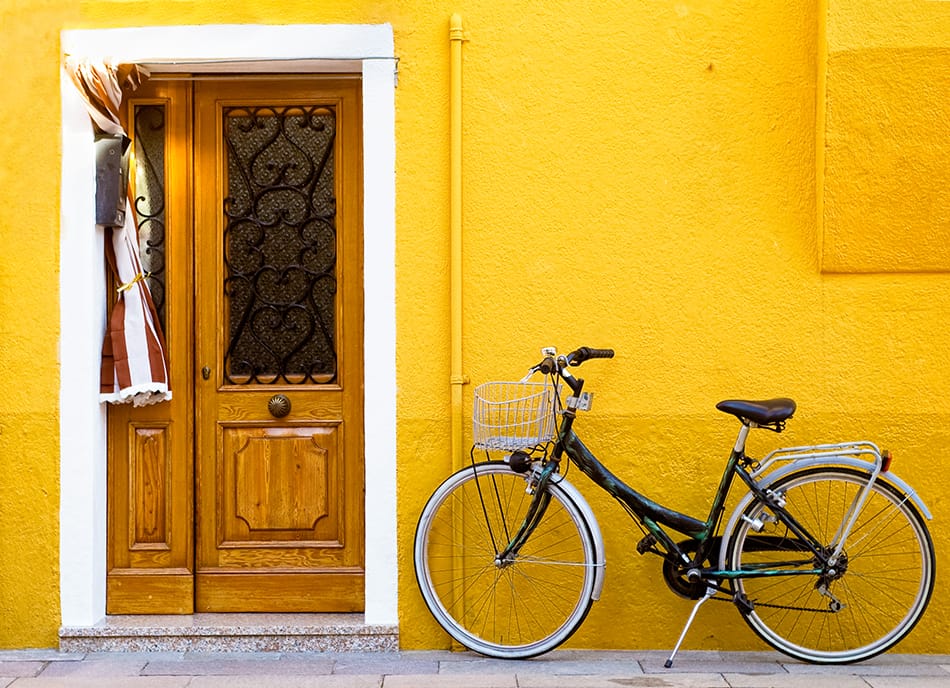 A bright yellow house can look ultra attractive with a darker shade of yellow. In Tuscan-style homes, you will often see a yellow door in the front that's one shade darker than the stucco siding.
And if you want to go one step further in the rustic theme, match the front door color with shutters and wrought iron grill bars. There is no better front door color to enhance the beauty of your yellow home than the yellow itself!
Brown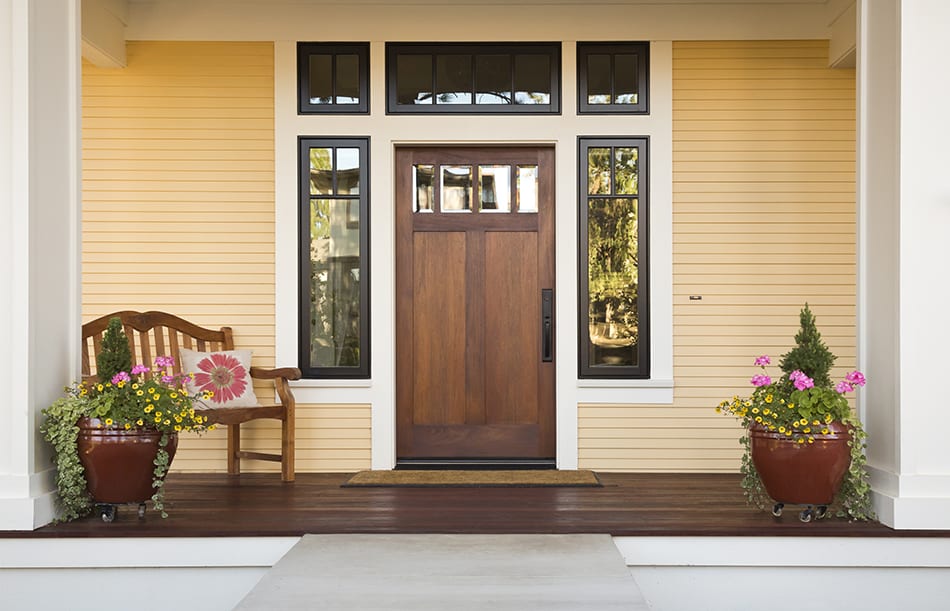 Next on our list of front door colors for a yellow house is the earthy brown hue. Choose a tone that's not too light nor too dark so it can perfectly match the yellow exterior.
You can even complete the look by adding brown furniture and planters at both sides of your brown front door. This will make your entrance look vintage as shown here.
Black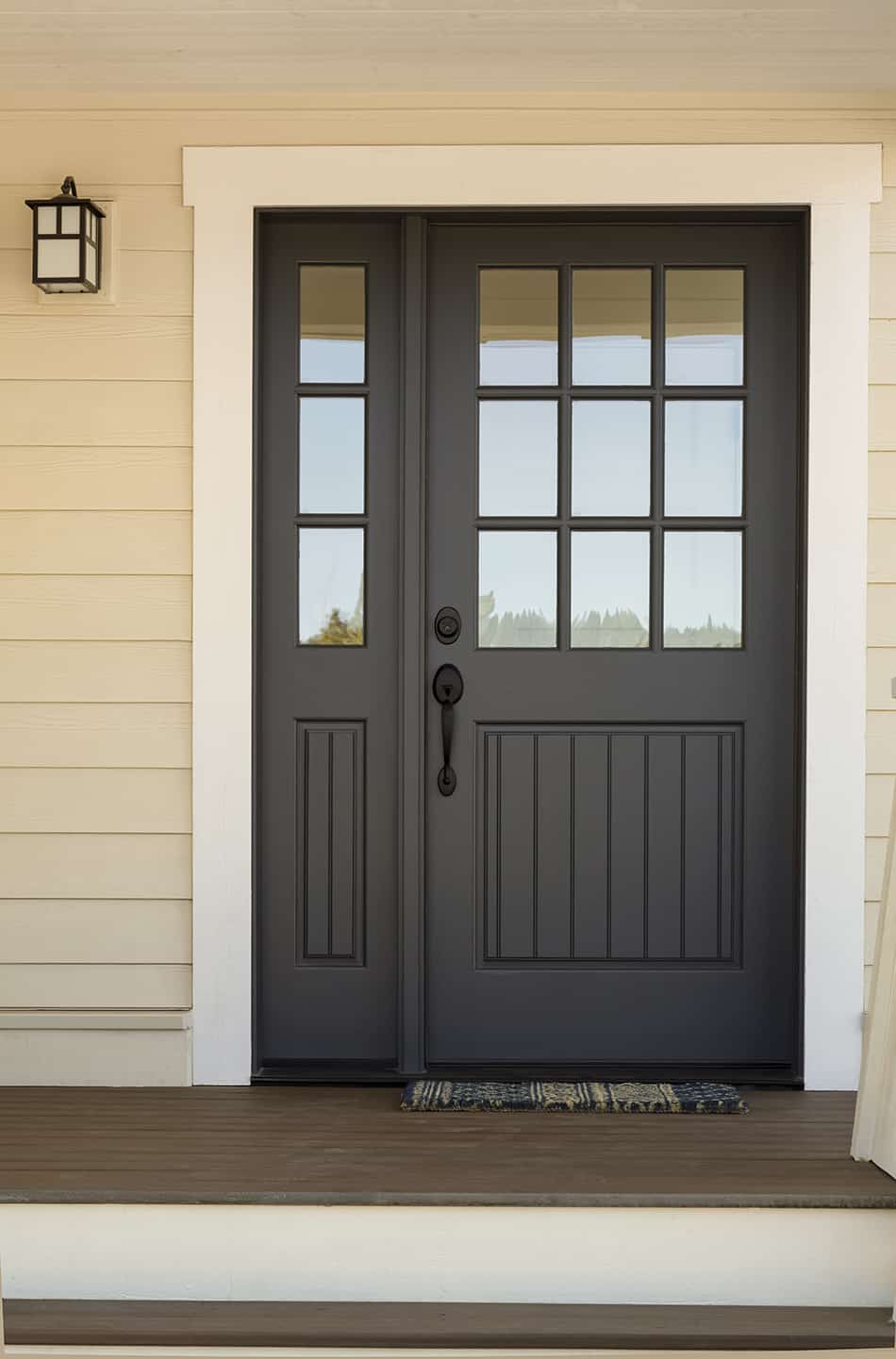 If your home's exterior is a softer shade of yellow, choosing black for your front door will most definitely make the entrance stand out. Although black isn't a common color choice, it will give your home a special edge that's bound to be noticed by the neighbors.
A black front door screams attitude against soft, warm yellow, so if you like your home to look different from everyone else's, then consider this combination. You don't have to go completely black. Even a lighter shade like charcoal will work.
Red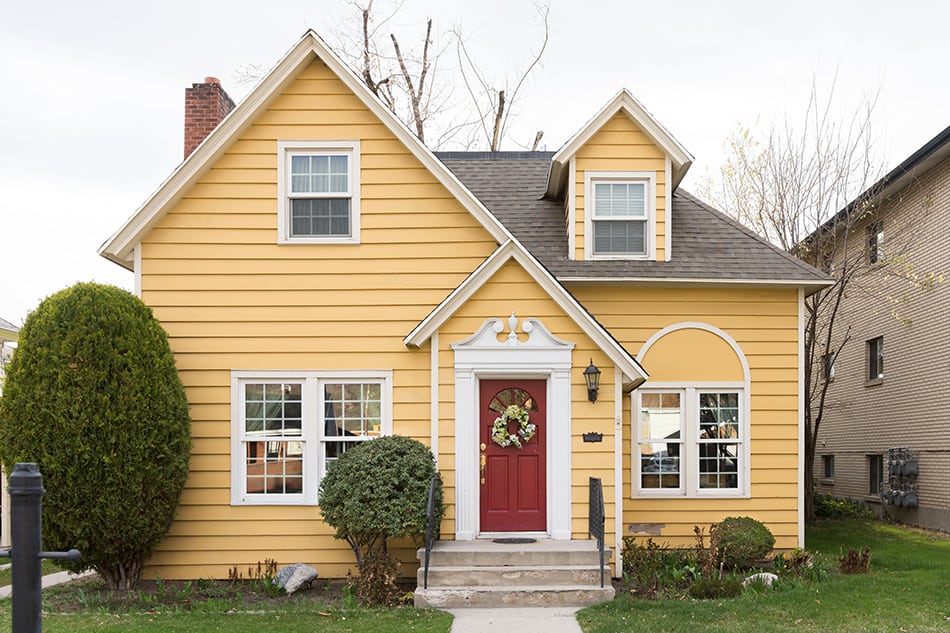 Because yellow is so visible, your front door color must influence the overall look. A red door is a perfect color for a yellow house as it gives you the opportunity to create an analogous color scheme. A slightly greenish-yellow siding accompanied by a red door helps establish a warm exterior. The bright red glows while the warm yellow hue oozes class.
Here, the yellow house is beautifully presented with white trims and a dark red front door. The combination of red and yellow may sound odd to some people, but when put into practice, they prove to be a beautiful match.
Did you know traditional homes from the Colonial and Victorian eras are often sided with yellow colors? A dark red front door is often added to these single-family homes as a welcoming touch.
Natural Wood
Natural wood brown door is the perfect addition to a yellow house. Nothing can look quite as good or charming as natural wood. A front door made from natural wood brings organic beauty to the aesthetic of any yellow-sided home.
Whether your home is painted in light or shining yellow, this type of front door will certainly make your entrance stand out. A pale yellow exterior will easily match with brown so a combination of these two colors will make your exterior look warm and comfortable.
White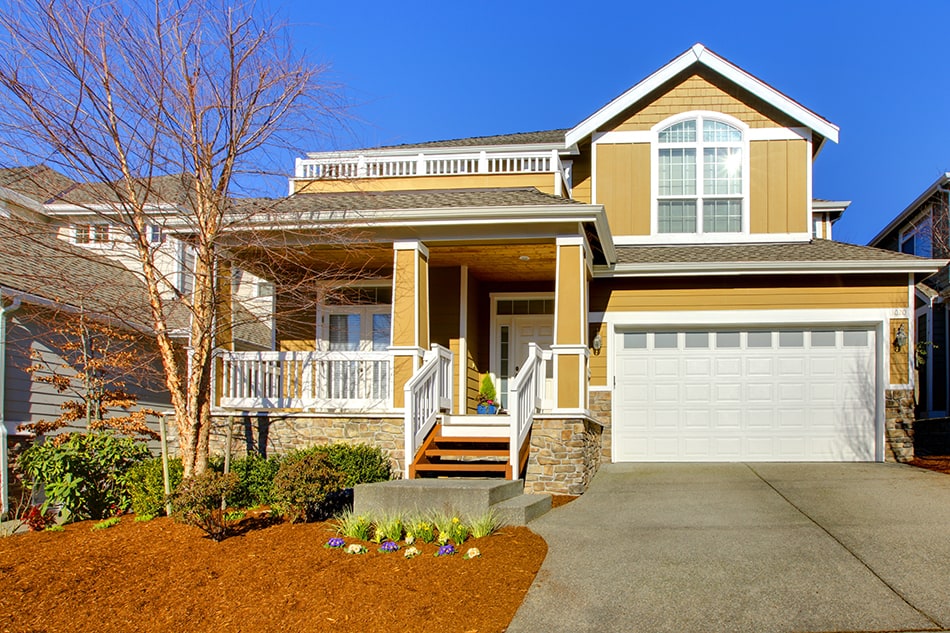 White is the most neutral option for a front door. When combined with a yellow shade like mustard, it won't look dull nor unappealing. This is especially true if you include some white trims to make your entrance even more attractive.
Another option is to paint the trims in both yellow and white to emphasize the two color combos. With these hues, your home's exterior will look modern yet vintage as shown here. The mustard yellow house is highlighted by its white elements and matching front door. This idea will definitely enhance the entire home's aesthetic thanks to its bright white exterior features.
Blue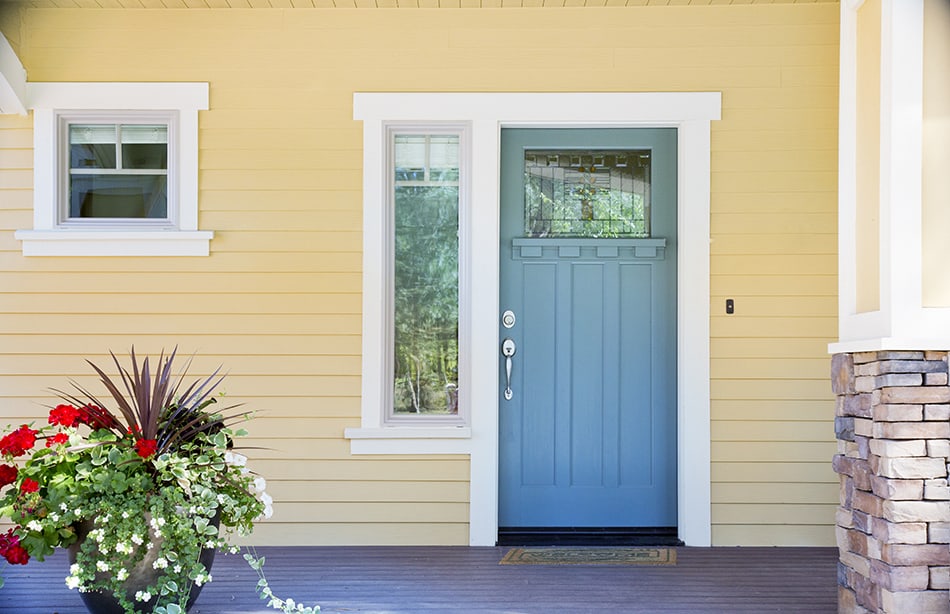 Yellow isn't often paired with blue, but if you really want your entrance to stand out from the rest, consider a light blue front door to give your home a beachy feel.
The combination of light blue and soft yellow will make your entrance very inviting and it's sure to warm the hearts of passersby on a cold day. Most dream homes by the sea have blue front doors, but even if you don't like being close to the seaside, you can always create a beachy feel with a blue door on a yellow exterior.
When picking the right shade of blue, first take a look at how intense or soft the yellow shade of your exterior is. Compare lighter and darker blue shades to see which goes with your yellow house. By doing some research, you're sure to increase the resale value of your home as rumor has it that most buyers love blue front doors!
Dark Gray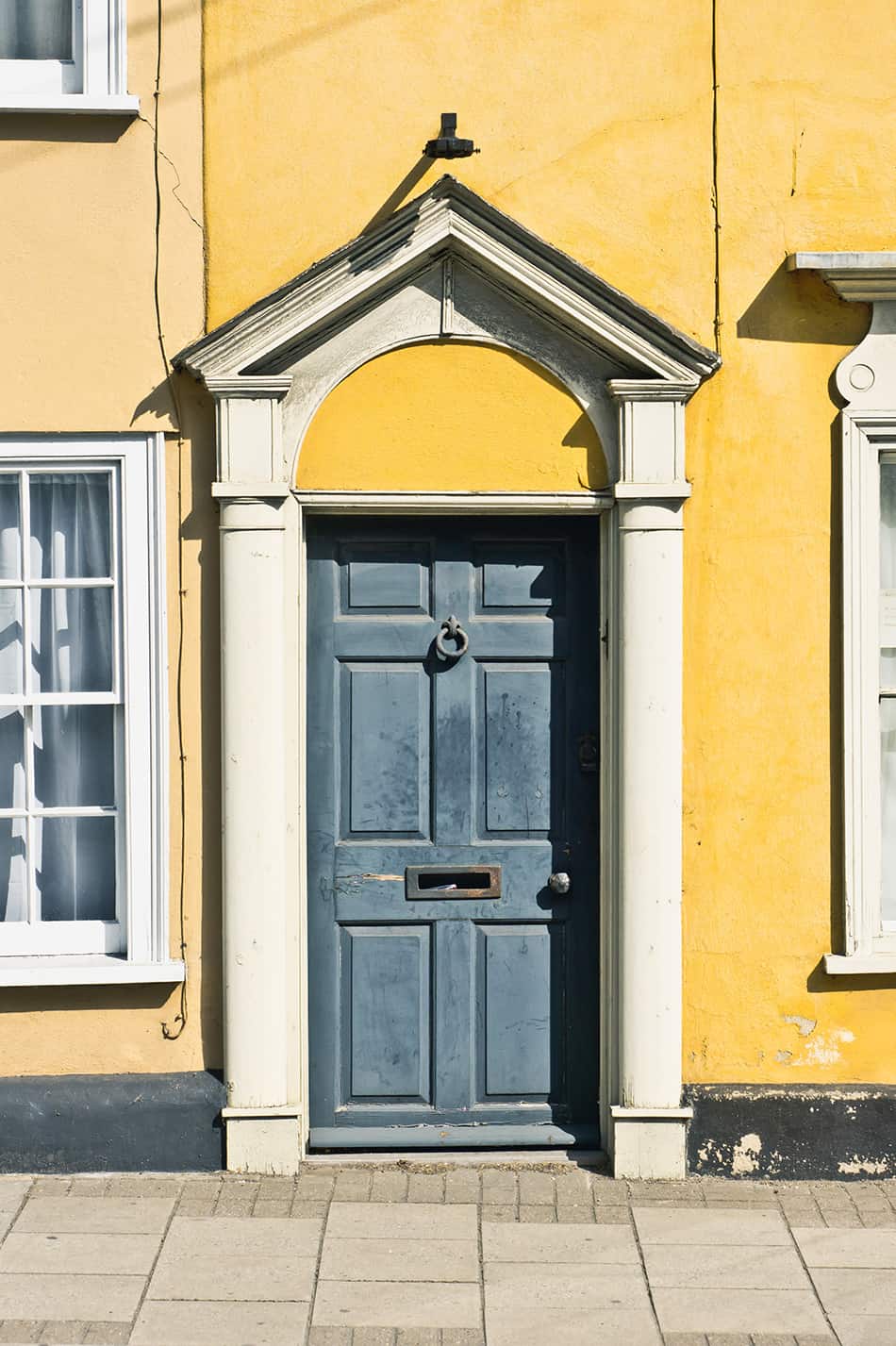 If you're not keen on a bright blue front door, then how about a warm neutral shade like gray as a chic alternative to bold colors? This hue provides a complementary contrast with a bright yellow exterior. To correspond with the yellow siding, add some greenish-yellow or gray undertones in the form of trims. These will make a connection with your gray front door.
There are also lighter grays to consider for a softer contrast. Purplish-gray front doors go perfectly with greenish-yellow exteriors, or you can opt for grayish-plum with matching shutters.
What Color Trim Goes with a Yellow House?
Gray and white and popular trim colors for yellow-painted houses. The deeper the yellow the more impact it will make next to dark reds, greens, and brown trims. Whether you go for darker or lighter shades of yellow for your home siding, always use the opposite for the trims.
A contrasting trim color will highlight the yellow exterior. Lighter trim colors will make your yellow home feel more welcoming so once you've decided on the best front door color, think about a matching trim color to coordinate with your yellow house.