Red brick is a popular exterior design choice for particularly Georgian and Colonial-style homes. A red brick exterior oozes curb appeal that's full of texture and character. With the right front door color, this appeal will instantly shoot up and no doubt turn heads.
If you are trying to decide on the best front door colors for a red brick house, there are some aspects you should consider first. A bright shade on the door can help modernize a traditional brick home while a muted hue can lend charm to a newly built house.
Shades like reds, oranges, or whites can enhance your red brick home's curb appeal, but admittedly, there are so many other colors to choose from that deciding on a single shade can be rather intimidating.
To make it easier for you, just follow these simple tips and tricks for picking a front door color that brings out the character of your red brick house.
Choosing a Door Color for Red Brick Exterior: Initial Considerations
Bricks come in a variety of styles. Red hues, in particular, include streamlined patterns and grains. Even a single type of red brick can actually vary in pattern and color. Before you pick your front door's color to coordinate with your red brick exterior, determine the most inherent colors that go with your overall home's architecture.
For example, some red bricks have a brown undertone while others lean more toward orange. To determine the red brick's base color, experiment with different paint samples to see how they compare. You can then use the tone of the red brick to help you choose the best front door paint color.
Although red brick is a type of material that goes with almost everything, it is often the dark, contrasting hues that make the best front door colors for these exteriors. Greens and grays are just some of those hues that make a perfect match with red.
Trims in creamy or classic white will be stunning as the finishing touch. Other winning front door colors for red brick exteriors include chocolate browns and deep burgundy red. A little later in this article, we will show you some examples of these colors.
If you want to make a bold statement, select rich hues from nature such as earthy greens or dark browns. Even a glossy black front door is a solid choice next to red brick. Tip: when deciding on such colors, ensure there is a contrast between the red brick, trims, and the front door to make your exterior pop.
If you're still stuck on a front door color for your red brick house, simply take a walk in your neighborhood to see what colors other people are using to increase their homes' curb appeal. Do those colors stand out or fade in the background? Are they pleasing to the eye?
Are you inspired by any of the front door colors? This strategy can help you avoid making the same mistakes as your neighbors or jeopardizing your red brick home's resale value by going for a less-than-appealing front door color.
Since there are many different shades of red bricks, we have compiled some of our favorite front door colors that perfectly go with a red brick exterior. Hopefully, you'll find the right one that suits your own home!
11 Front Door Colors That Go With a Red Brick House
Classic Red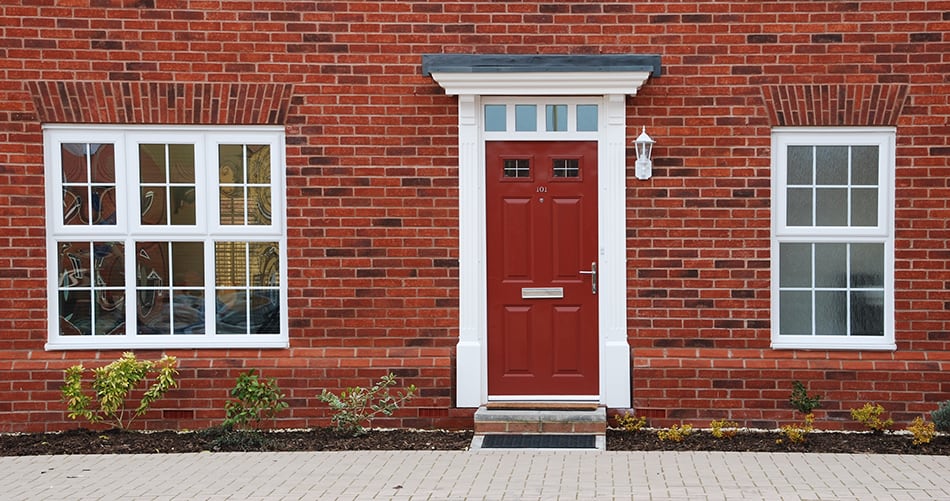 Why choose a neutral color when you can go for a daring red? If you're into bright colors because you want to show off your extrovert personality, then burgundy red is the best color for your red brick home's front door.
A red door is a sign of confidence and attracts attention to your home instantly. Red is a color that bursts with energy and is considered to be extremely inviting on a red brick exterior. This hugely lovable color shows how fun and lively the occupants are so if you want to draw attention to your entryway, go for a rich and bold red color. After all, many believe red is a lucky color that brings wealth to home.
Red front doors aren't just eye-catching and symbolic. In traditional Georgian and Colonial homes, a red door is commonly used to complement the red brick exterior.
A multi-tone brick siding is a warm partner to the darker red plus it visually breaks up the red exterior. You can even frame your entrance and add white or black trims as a focal point for admiring passersby.
See how this beautiful and traditional red brick house stands out with its dominantly white window frames and matching door trims accompanied by a red door.
Deep Burgundy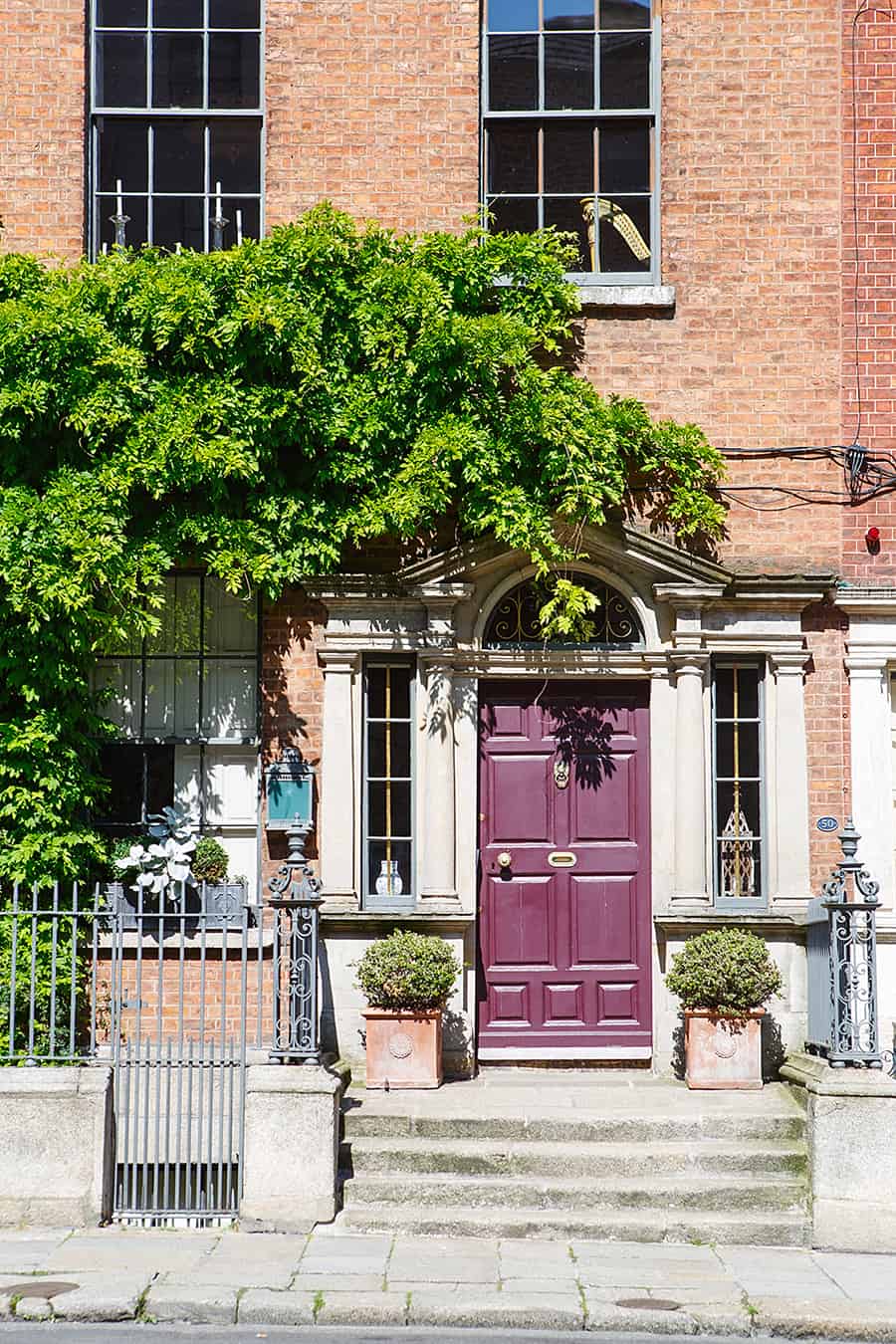 A good alternative to the red front door is burgundy. This color choice is safe to use with red brick as they are both warm rich color tones.
To keep this combination from overwhelming the space, you can add some neutral colors like white, gray in between. You can use burgundy as an accent color at 20% with the white trims at about 10%.
The burgundy front door in this example blends well with the light red brick house and white trim & sidelights.
Traditional White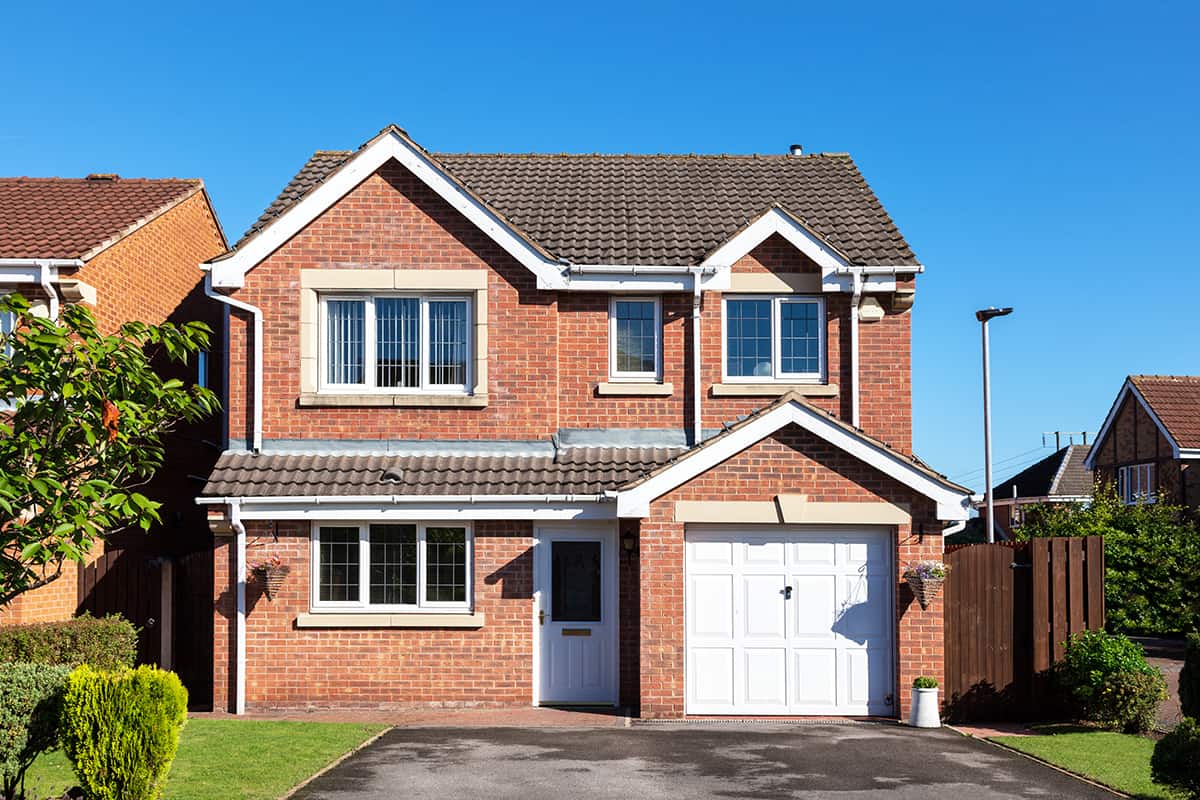 White works well with any color choice, including the red brick color. In fact, white is the common color to be seen in the red brick houses – whether as the main siding or accents, they all are fine.
If the house siding sticks out with the red brick color and a white front door and a garage, you can add some neutral colors like gray or beige, which blend very well.
White and Gray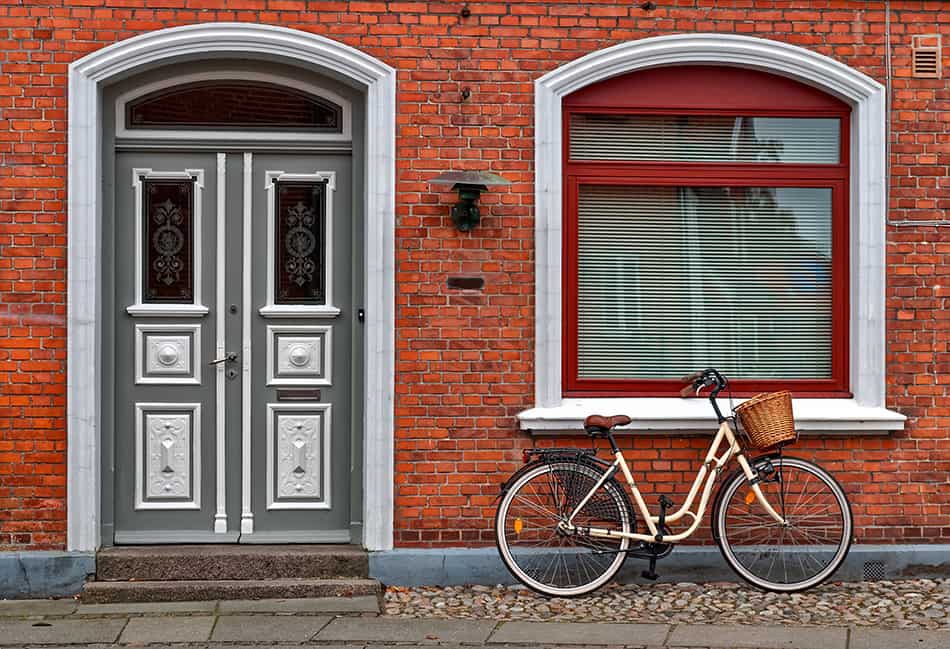 Have you ever wanted a combination of white and gray as your front door colors but weren't sure whether they make a good choice or not? Well, now you can choose these hues for your red brick exterior. Some shades of white and gray help bring out the red tones of the brick in a soft and unified manner.
If you have a reddish-orange exterior like the one shown here, consider a light gray and white front door color as it won't clash with the warm tone of the brick.
See how smart and elegant this exterior looks thanks to the matching red window with white and gray trims.
Warm Brown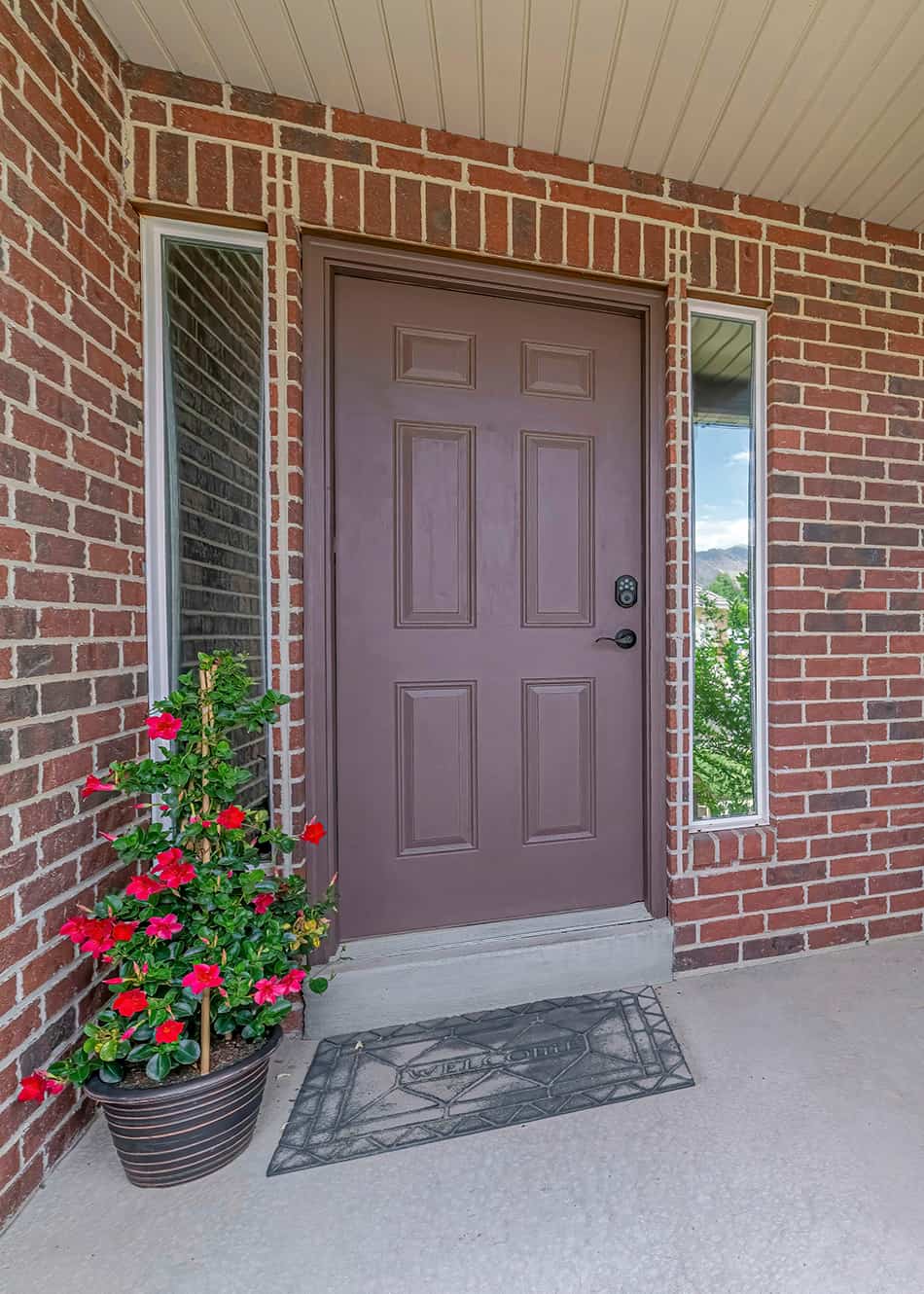 Now, how about a warm shade of brown for a warm and earthy facade? These natural color combinations are easily integrated into the trims, the front door, and other architectural elements.
The earthy tones of red and brown bring the house closer to nature, and for added dimension, install interesting glass panels on both sides of the door to draw attention, just like the example shown here.
Stately Black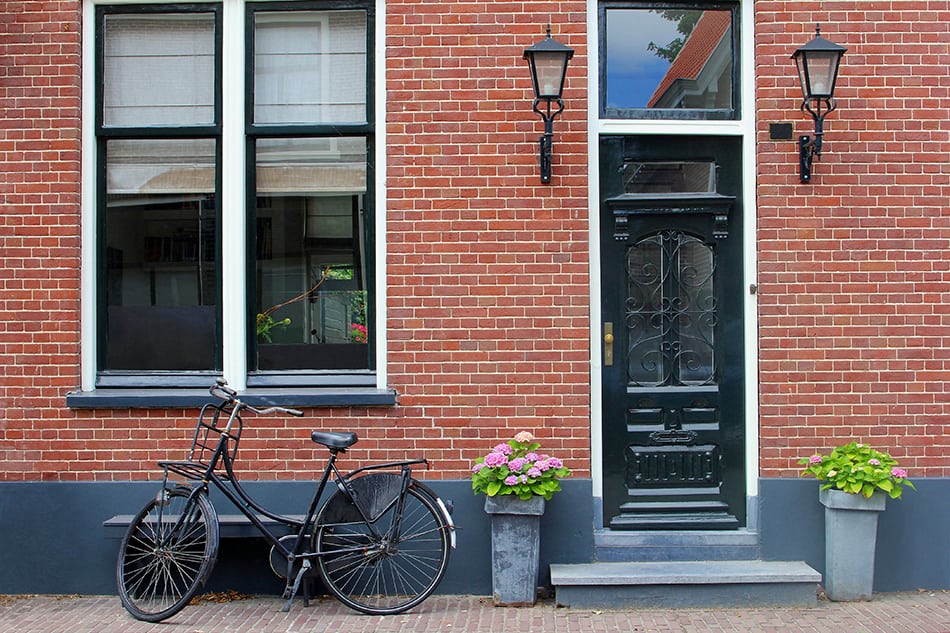 Black front doors are almost always associated with Georgian and Colonial-style houses. If you have a red brick home, it makes perfect sense to opt for a solid color like shiny black for the front door. Not only does this color pair well with deep red brick, but it also brings out the vintage look of the house.
Notice how the black front door here has transformed the exterior image of this traditional red brick house. The black windows and metal hardware have all enhanced the elegance of this typical Dutch-style house.
Sunny Yellow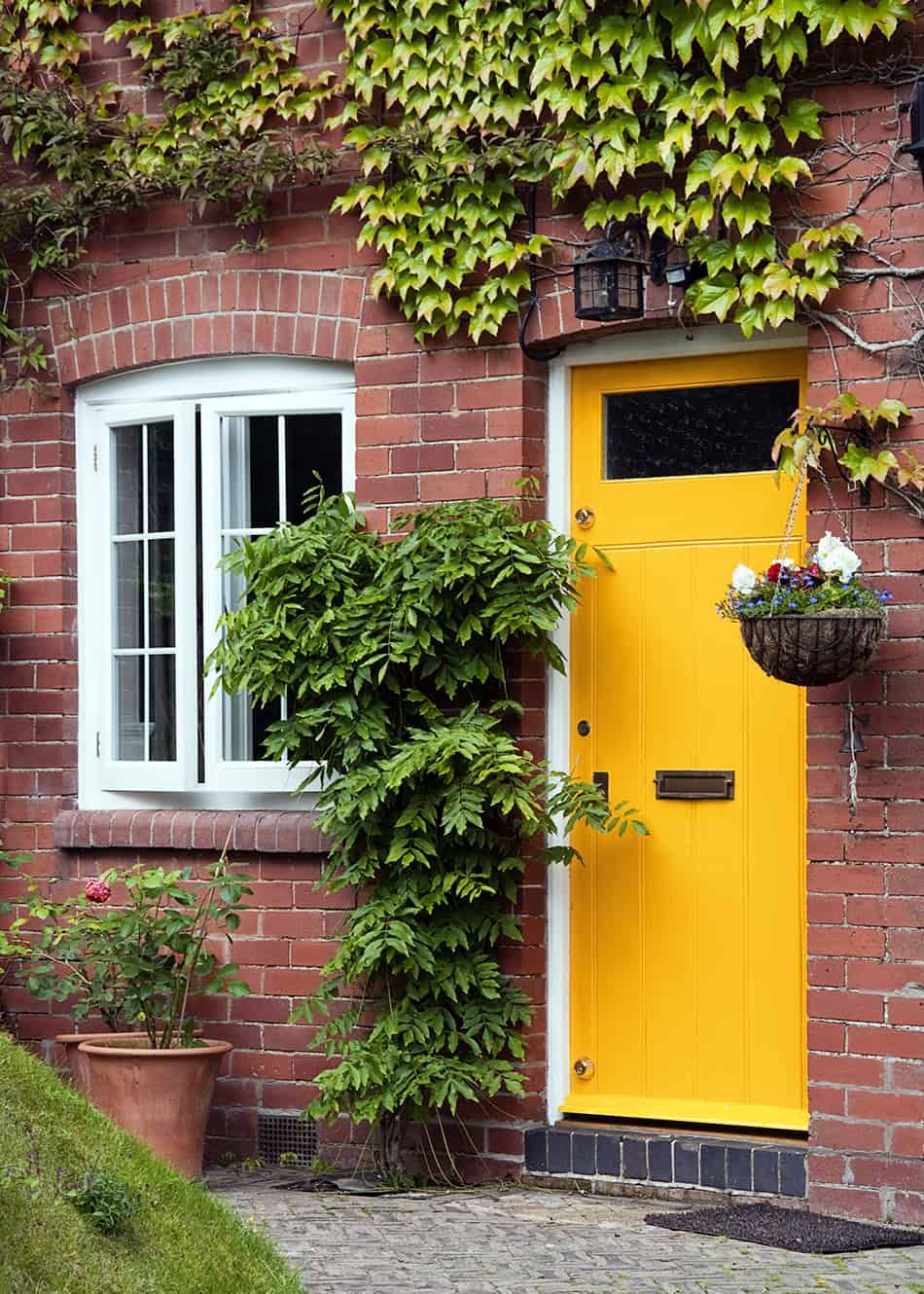 Few colors stand out quite as much as sunny yellow. This is the one color that evokes happiness next to a red brick exterior.
Not only does this cheery hue welcome guests in a lively way, but it also pairs well with the warmth of the red brick as well as the landscaping around the house. Yellow and red are especially stunning combos on rustic homes.
Cobalt Blue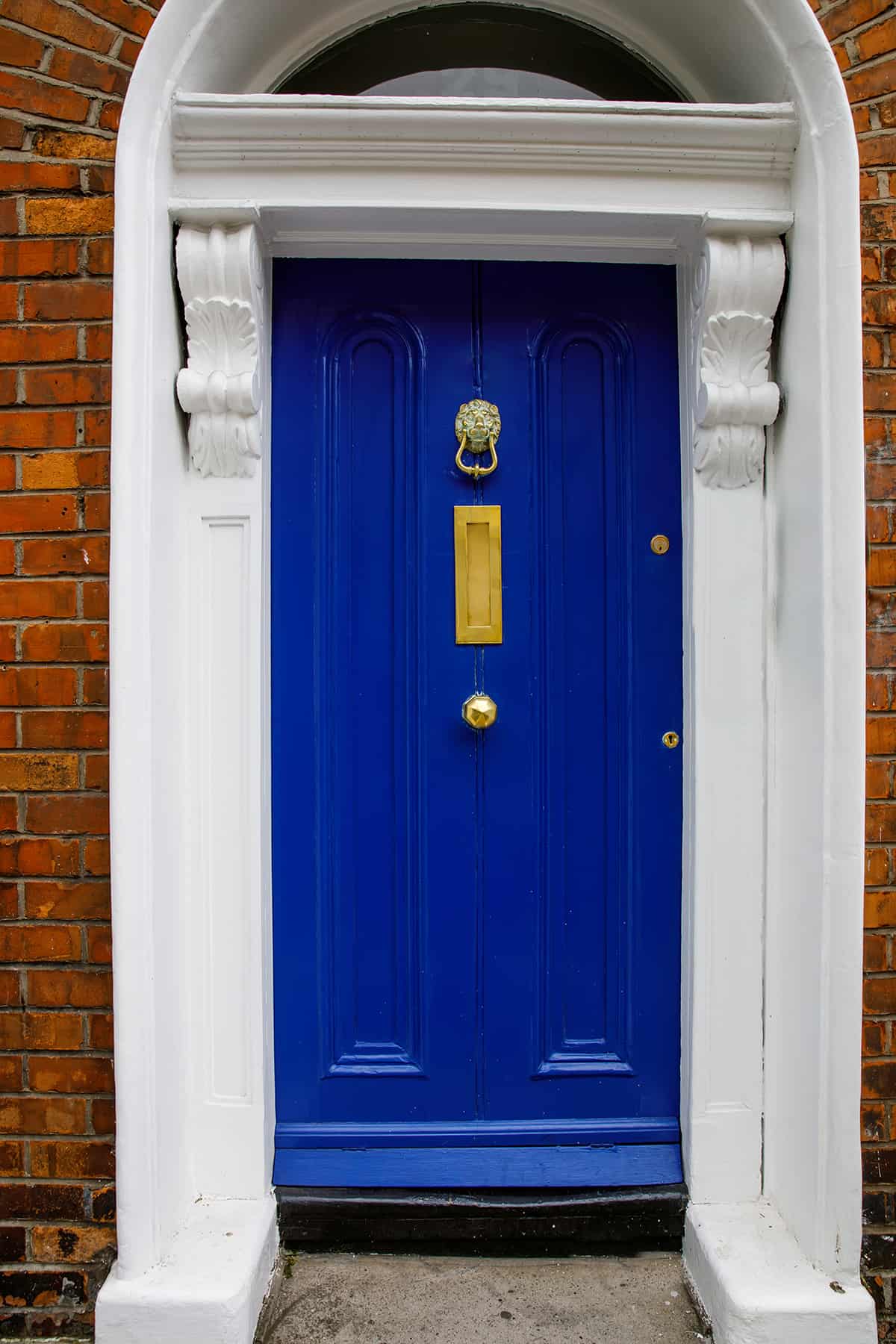 Cobalt blue and red are both strong rich colors; so they may evoke a strong vibe from the house exterior. If you like the bold style, they can work well.
Another way to keep them from swamping the spaces is to add some cool and neutral colors. White and beige, yellow are some of the great choices.
You can see in this example, white is used for the trims and sidelight while yellow is for the doorknob at 20% and 10%, which makes the house stand out but doesn't swamp the space.
Celeste Blue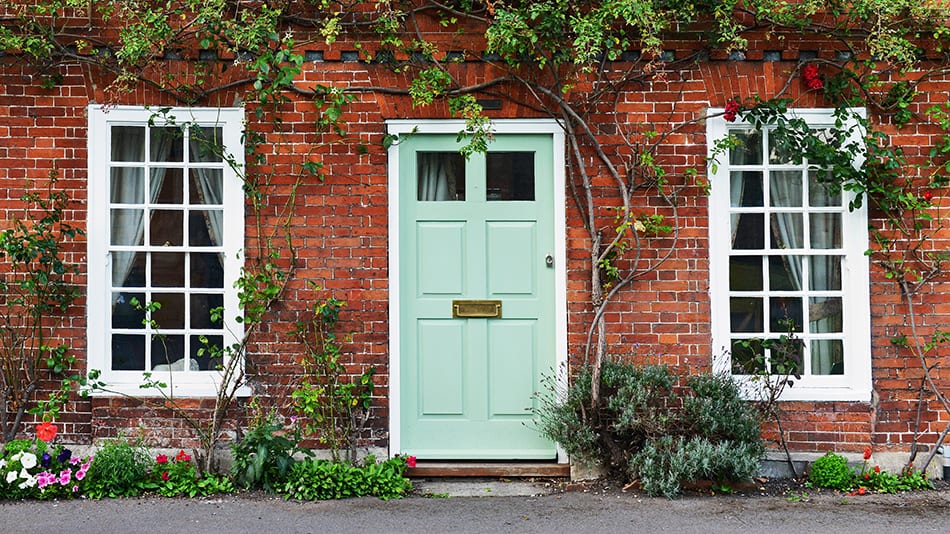 Since blue-green and red are complementary colors, why not go for a light, celeste blue color, or turquoise blue color for your front door? Muted shades of green work just as well for red brick without overwhelming it. Green-blue is a lovely color that blends with the home's surroundings by giving it an earthy vibe.
See how incredibly welcoming this red brick home looks thanks to its celeste blue front door and large pane windows.
Teal Green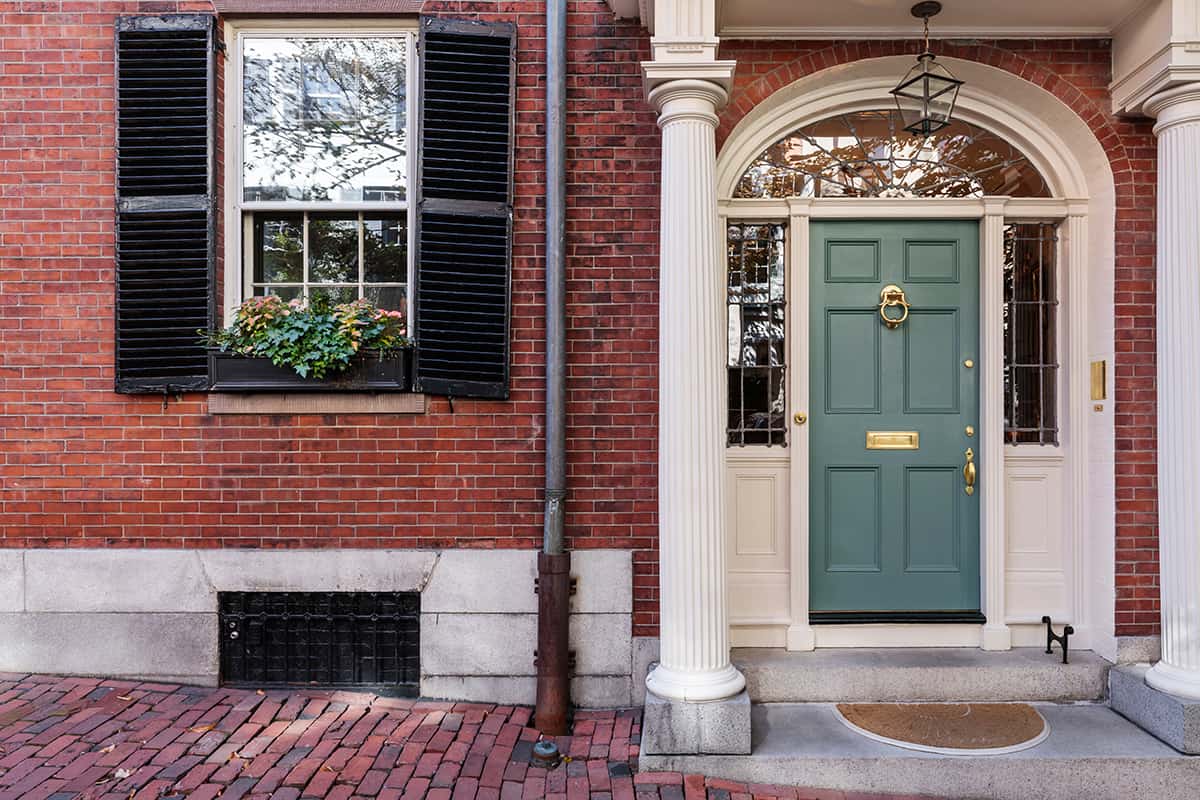 If you like a darker shade of green blue, teal is a perfect choice. Teal creates a calming effect for the front and brings down the strong tone of red.
Add some neutral colors in-between like this example to boost this color combination without affecting the overall space atmosphere.
Pumpkin Orange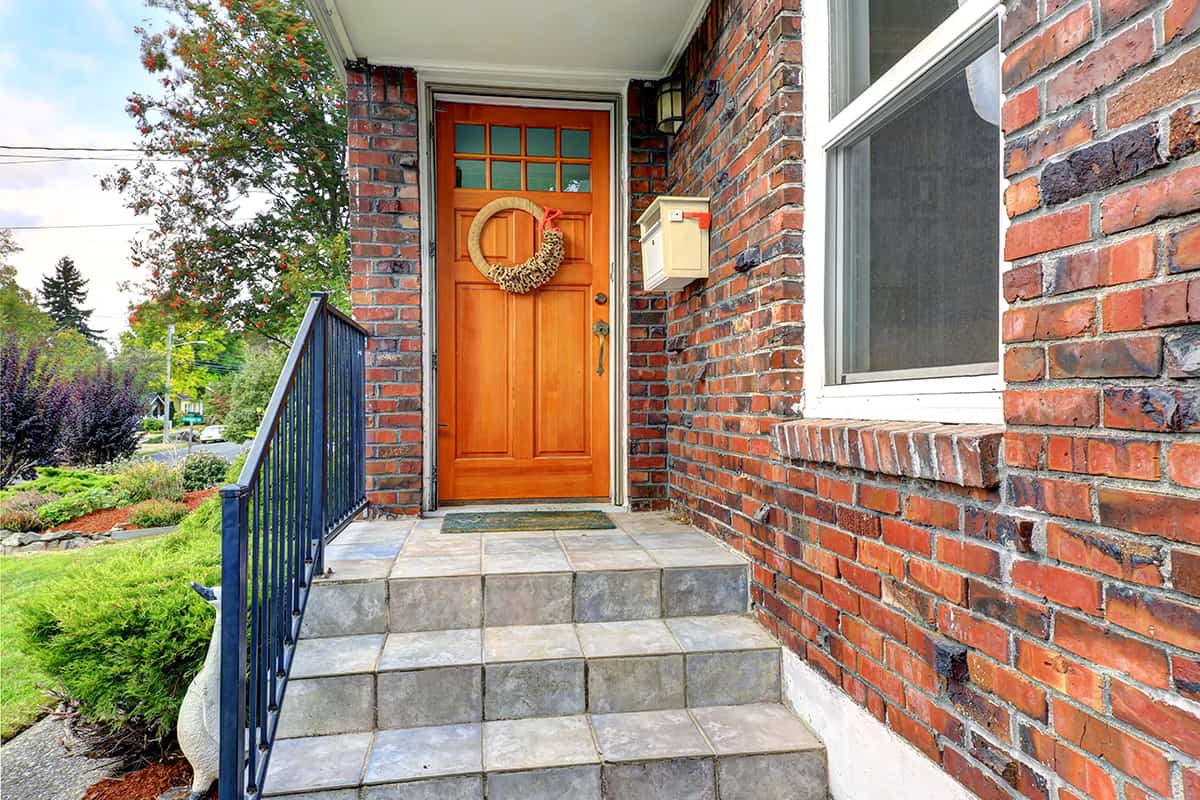 Red naturally pairs well with the bright warm orange color. From there, there are some style choices you may go into.
To have a bright modern space, you can add other bright neutral colors like white, and beige, and light cool tones of green and blue.
To have a rustic or traditional style, add some warm and darker tones of blue, gray, and black.
Complete the Look by Adding Other Elements
Most red brick homes have other architectural or facade elements including trims and arches that hold less color dominance. There is also landscaping that can help determine your red brick exterior's color scheme.
A front lawn or yard featuring lots of colorful flowers will look best with a neutral color palette. On the flip side, a yard with lots of greenery will benefit from bright pops of colors so take these into account when completing the overall exterior design of your red brick home.
Once you've finally found the perfect front door color, complete the vision by adding other elements to the entryway. Onlookers will no doubt be impressed with a well-maintained driveway and attractive landscaping.
If your red brick exterior leans more toward orange or brown, add rose bushes or succulents to enhance the look of your entryway.
Meanwhile, a reddish-white exterior will pair well with blooming white and yellow flowers. At the entry, add metal detailing or hardware to the door.
A nice trim with a little glass will create a great first impression. Even a wreath on the front door will showcase the red brick home beautifully and make it stand out in the neighborhood!
We hope you found our above tips and examples of front door colors for red brick homes inspiring enough to incorporate them into your own home. No doubt the end result will turn many heads in your street!