Are you looking for a new front door to stand out in your street? With a bold yellow front door, you can give your visitors or anyone passing by something special to look at. Yellow is associated with happiness and warmth, but it may be just too much for some people's taste. However, did you know there are hundreds of soft yellow hues that can give your home an elegant look? From banana, mustard, and pineapple yellow to lemon and golden shades, your options are endless! If used appropriately, a yellow front door can give your home that wow factor you've always been seeking. 
If you're not yet convinced, read the rest of my article to learn more about the meaning behind the color yellow, some reasons why you should choose this color, and 15 yellow front door ideas with pictures. 
What Does the Color Yellow Represent?
Light yellow represents the harmonizing element of earth while dark yellow is the symbol of fire. Yellow-green hues represent nature and spring. They are also the color of the leaves in fall. Golden yellow is the color of the riches and associated with wealth. In Feng Shui, yellow front doors are best for Southwest and Northeast facing homes.
Why Paint Your Front Door Yellow?
The moment you set eyes on your yellow front door, you'll instantly feel happy. This is because yellow brings on a sense of richness and satisfaction. This color is known to lift the mood and makes a beautiful touch to a front entry. As long as you don't overdo it by using too much yellow, you'll be able to create a vibrant contrast with completely different colors like blue, black, green, and brown. For example, a yellow front door with a grey exterior can look very welcoming and feel serene. To give you more examples of yellow front doors, take a look at my 15 ideas right here: 
1. Accentuated Mellow Yellow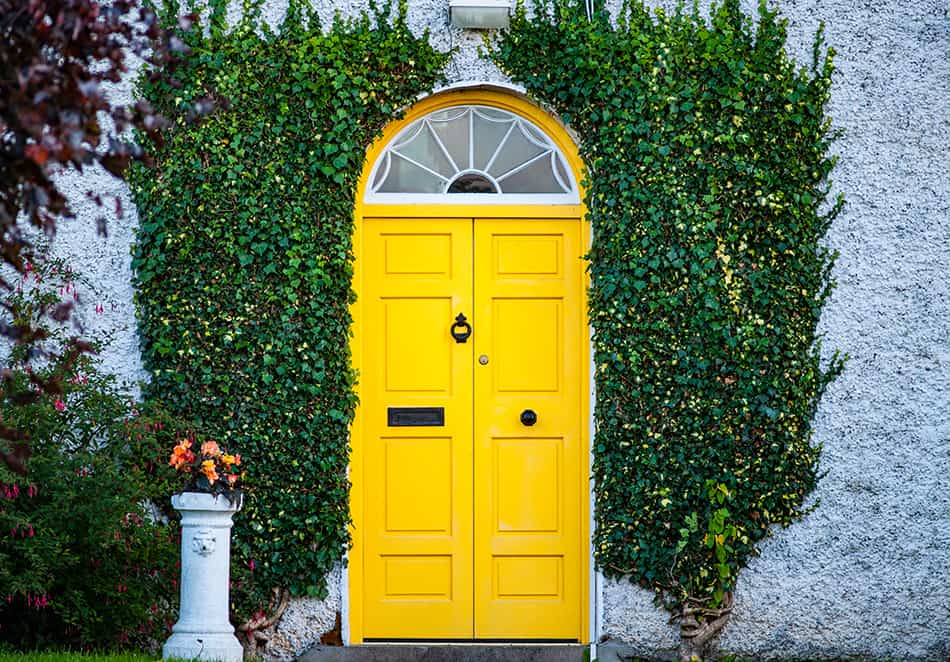 This mellow yellow or soft yellow door welcomes visitors in a cheery fashion. It is further enhanced by the beautiful ivy that's covered the entire wall of the house. The door is accentuated with a decorative metal knocker and a white ornament. This image is a classic way of letting the guests know that the owners have a lively sense of decorating style.   
2. Bold Yellow for Vibrancy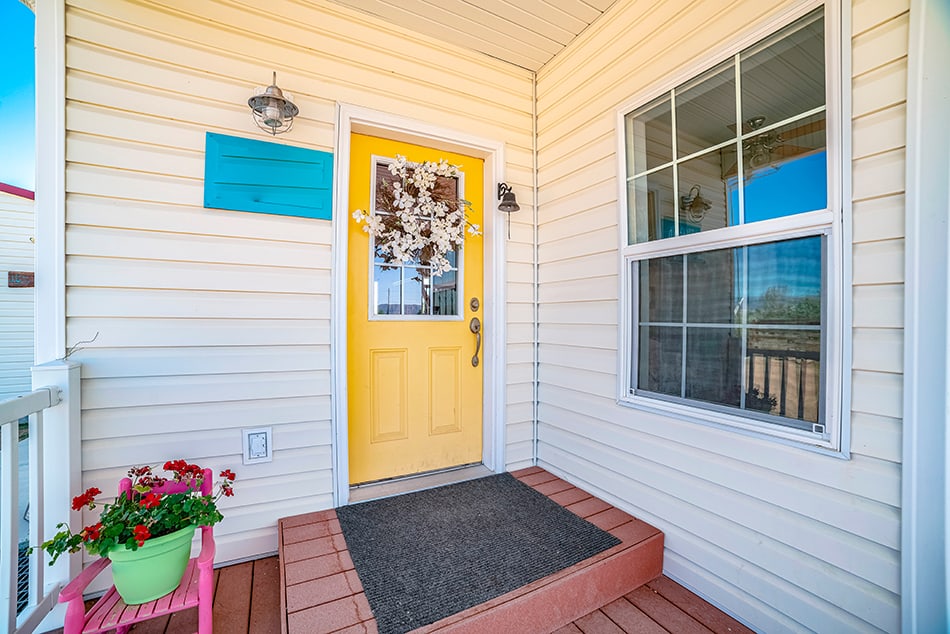 A bold and bright yellow front door brings the sunshine to your doorstep. When it's mixed with hints of blue and grey on a white exterior, it makes any home a vibrant and lively place. This yellow front door with touches of blue on the wall and the pot also looks great on a nautical home.
3. Muted Yellow for Simplicity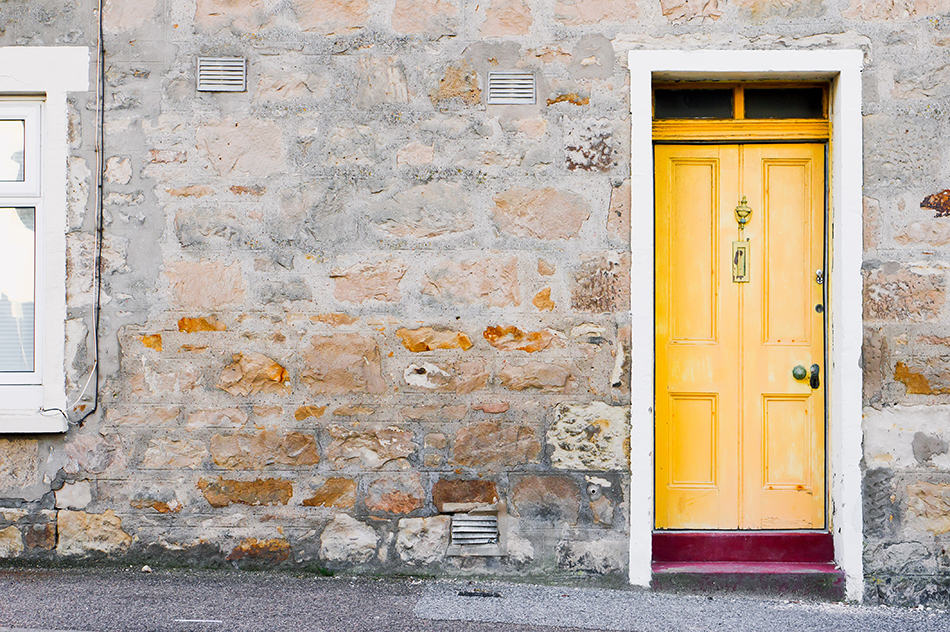 Not keen on attracting attention to your front door but still want yellow as the color of your choice? No problem! You can use a muted yellow color on grey stone siding for a classy and distinguished look without making your home an eyesore. Bright yellow isn't for everyone and it certainly doesn't match with every exterior. A soft yellow is a toned down way of enjoying a cheery entrance and it's perfect for a grey siding just like you can see in this image.
4. Yellow Door on a Brick House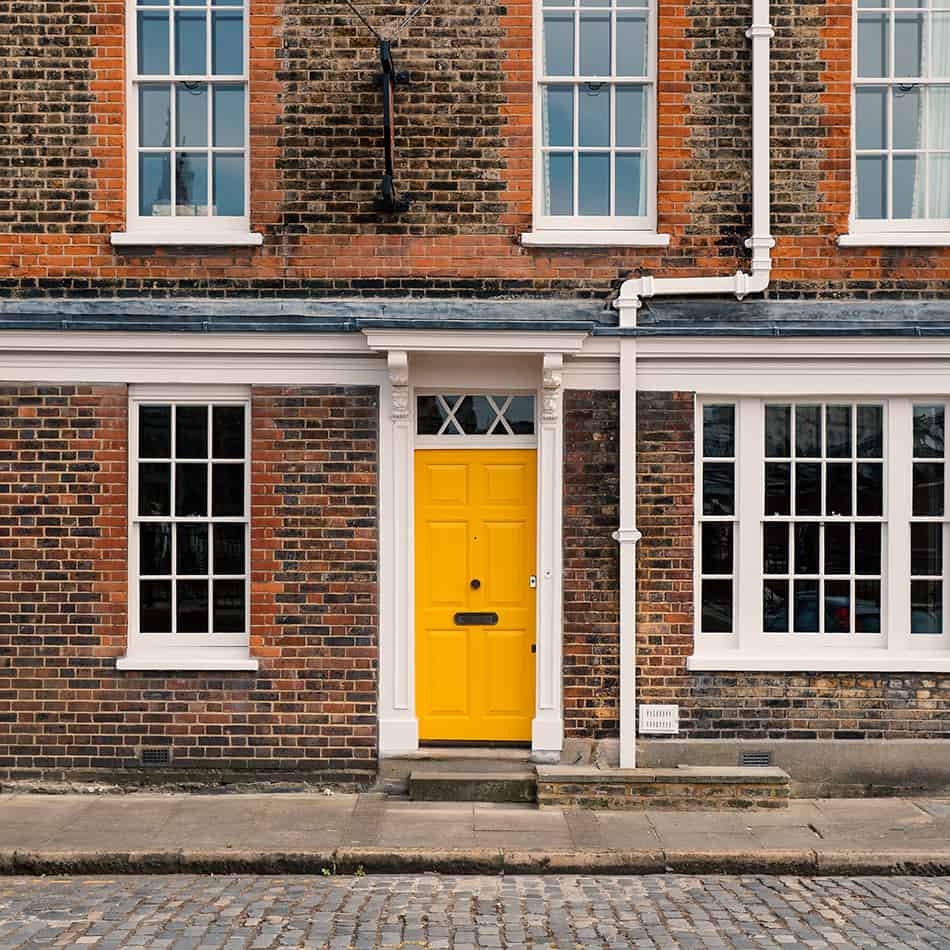 If you're looking to add a touch of color to your traditional style brick home, consider a yellow front door to match the vibrancy of the sash windows. The yellow door in this image works well with white trims and colored brick without compromising the classic look of the house. This warm yellow hue brings an element of light and creates a joyous feeling that complements the dark-colored brick.
5. Yellow Door with White Siding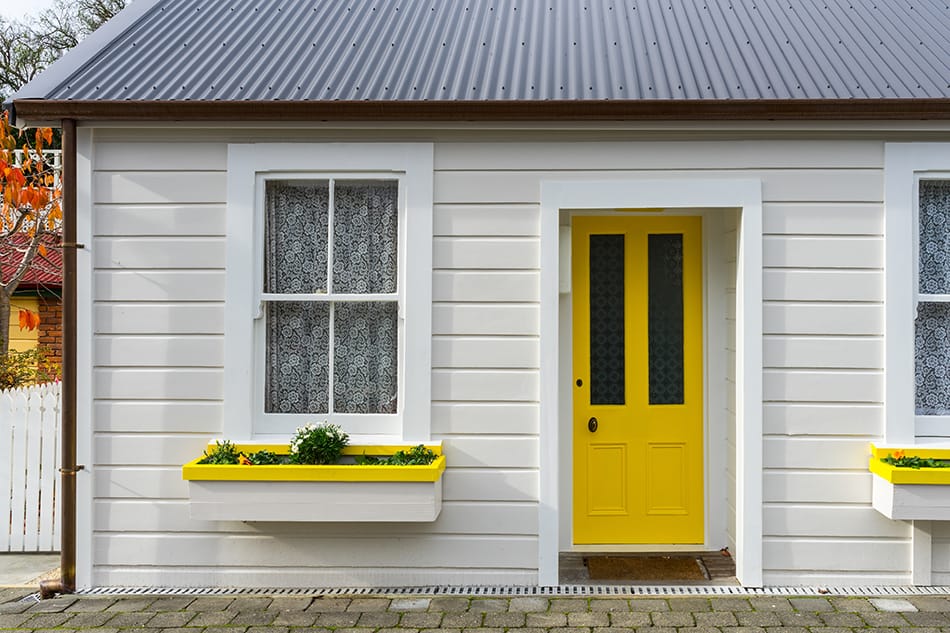 A home with white siding and grey roof will benefit from a yellow door to give it a pop of color. If you don't want to go to the extreme, keep your window in a neutral color, such as white, with the yellow door to serve as a contrast.
6. Yellow Double Doors with Bright Red Siding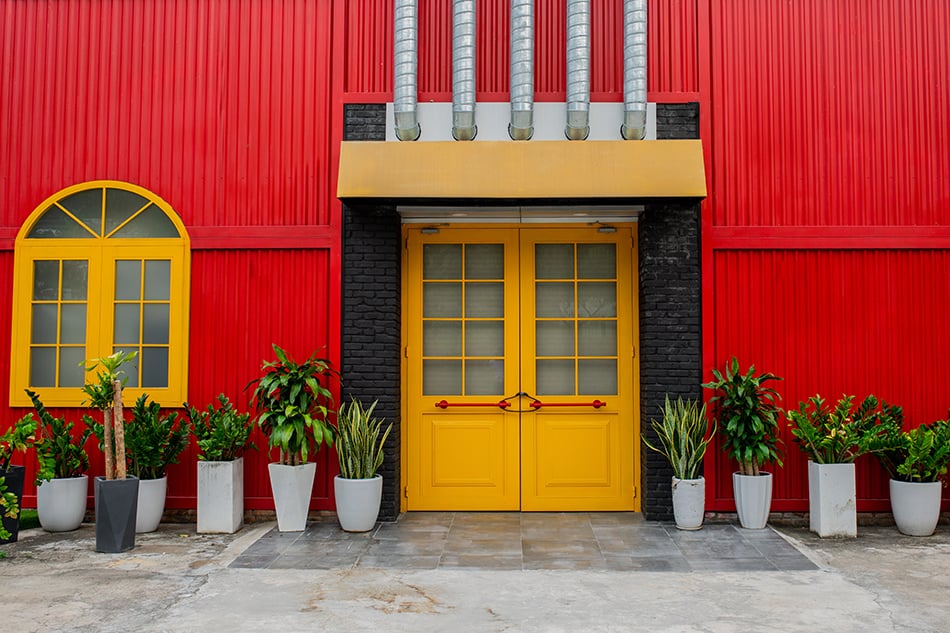 Yellow double doors against bright red siding can create an inviting and rustic look. When used with green accents like plants, it can make the house stand out in a positive way. While the bold red exterior won't draw attention to the yellow front door, having plants surrounding the double doors will help enhance the inviting feel of the entrance. 
7. Yellow Door with a Colorful Exterior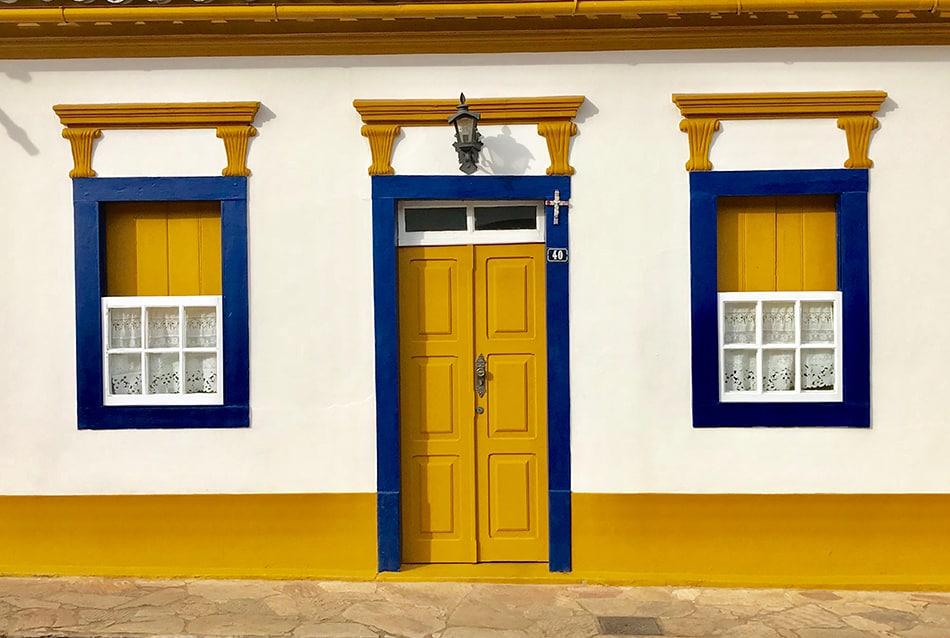 Looking for a front door color that goes with colorful sidings? Yellow does exactly that. It can be used with blue, brown, and white for a burst of color that will brighten up your darkest days. This image shows how the yellow door is beautifully complemented by the blue and yellow decorative frame in a simple design that matches the windows. Simply stunning!
8. Yellow Door with Taupe Exterior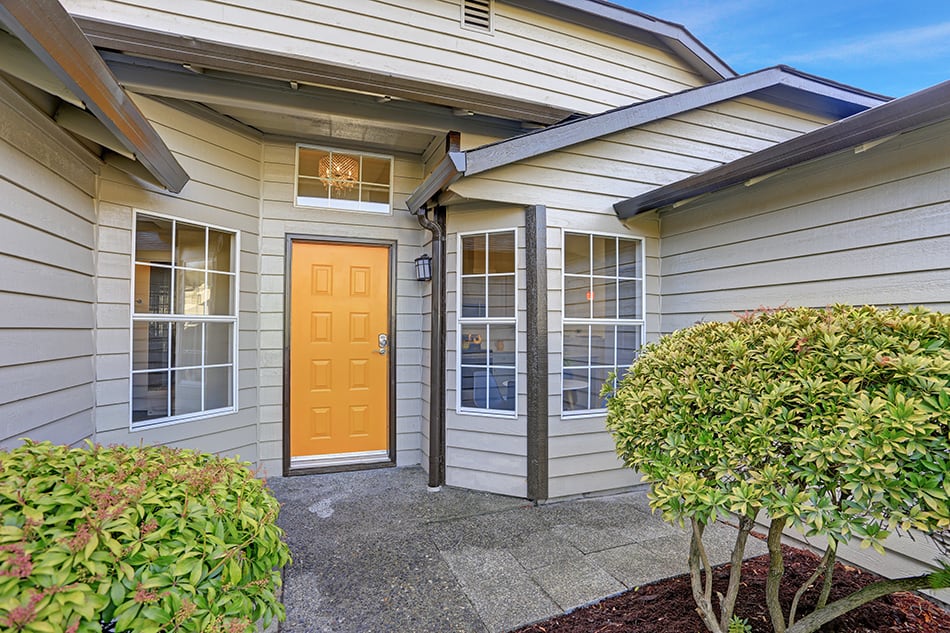 A taupe exterior with a bold yellow door in the center creates an inviting feeling. The contrasting color of this exterior makes the front door stand out in a vibrant way, thus making it a head-turner.  
9. Yellow Door for a Contemporary Home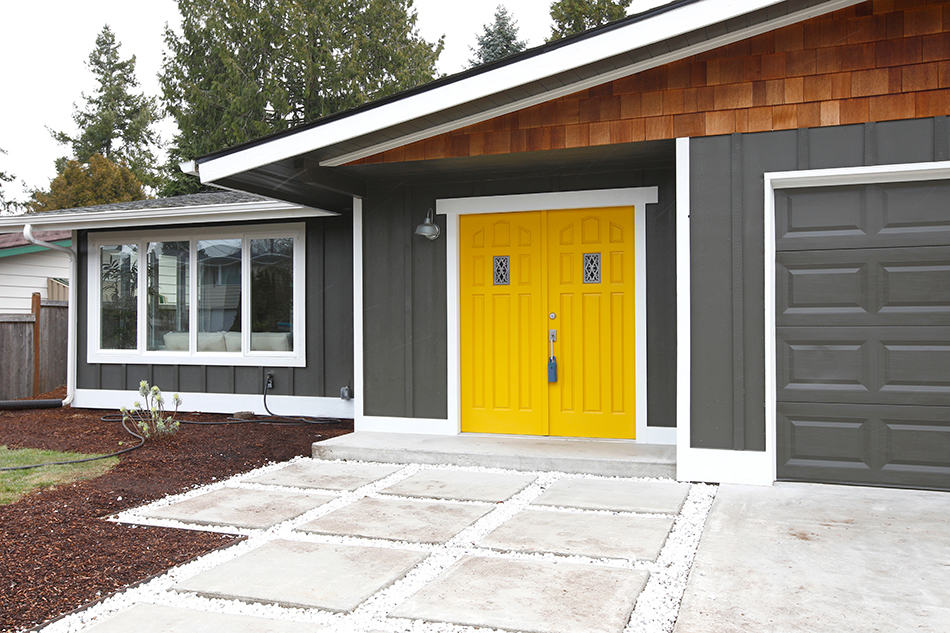 Using a wide yellow door can help accentuate the modernity of your home, especially if it's a small house with a large front door. To prove my point, see how this yellow front door catches attention with its unique style. It will no doubt be the topic of your guests' or neighbors' conversation.   
10. Classic Yellow Double Doors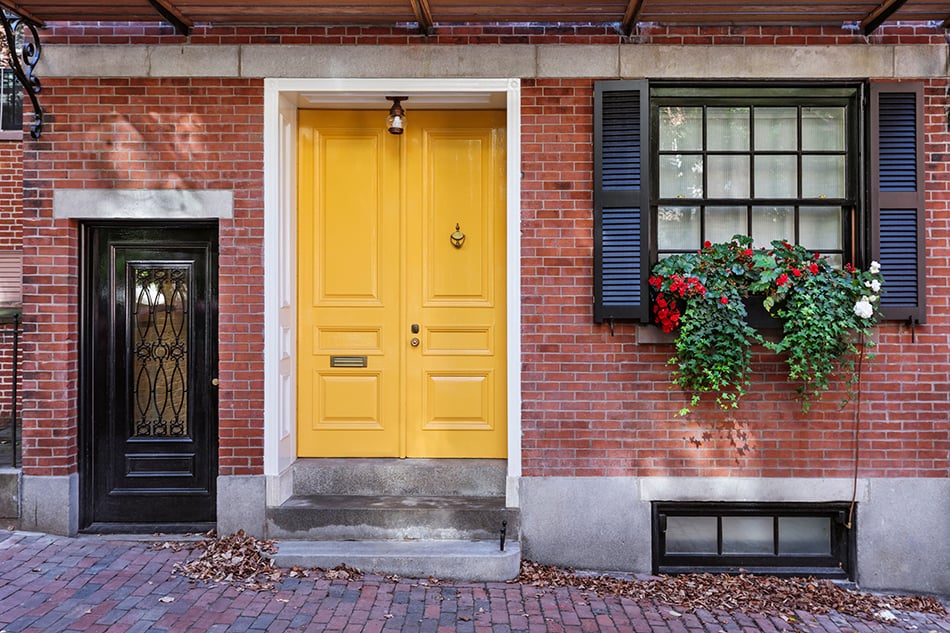 A mid-tone yellow like mustard is a good shade for the front door, especially when it's combined with other interesting features like a shutter or red bricks. This classic yellow double door on the brick exterior works beautifully on its own, but it's further enhanced by the small shutters on the window to make it stand out even more. The result is an elegant and simple entrance that feels welcoming.  
11. Georgian Style Yellow Door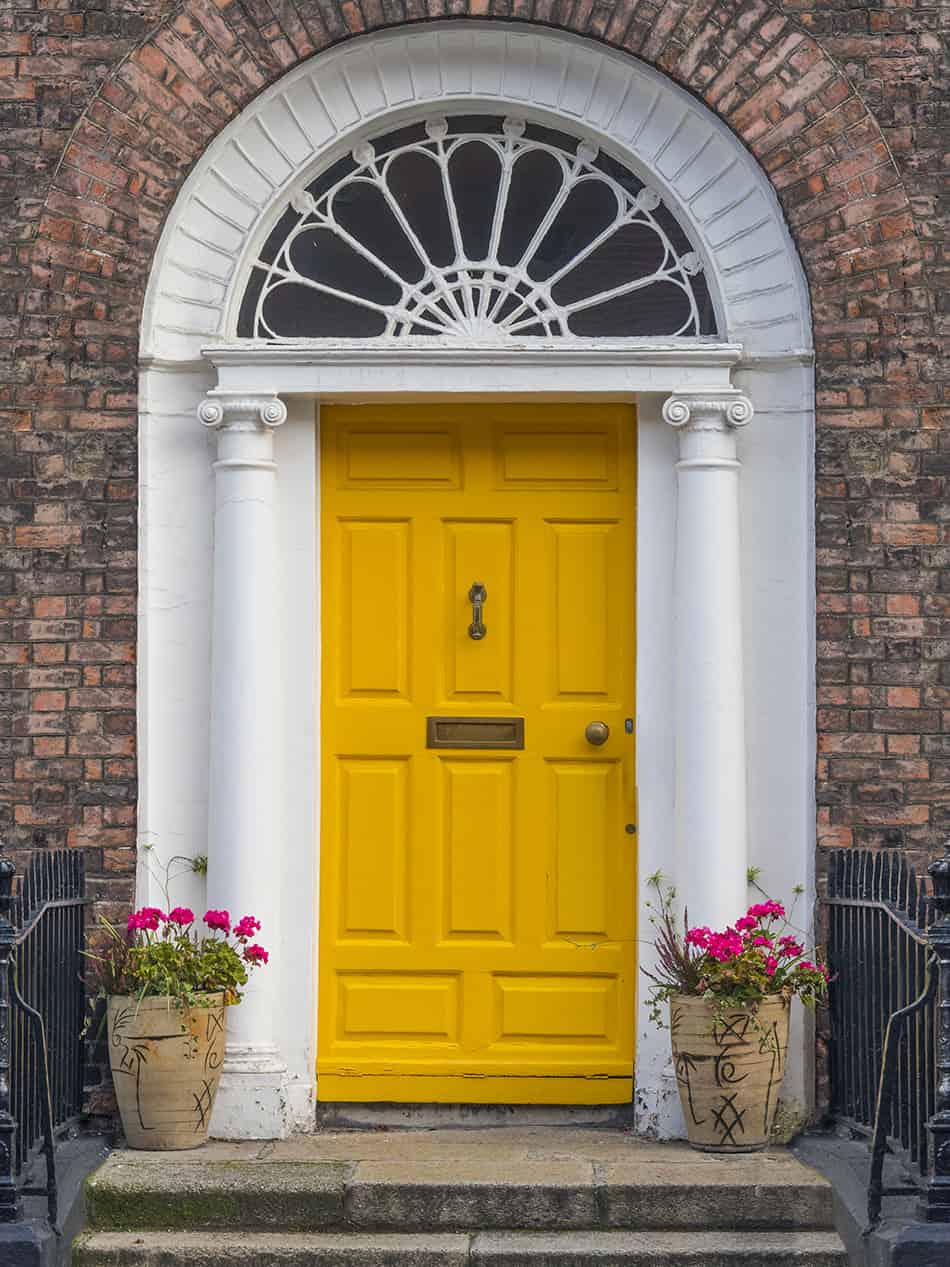 Georgian style homes look stunning with almost any door color. But when you add a dark pop of yellow within the white arched framing, the charm of the house skyrockets. So if you are lucky enough to live in a Geogian home, consider a yellow front door to highlight the character of your house.  
12. Golden Yellow with a Neutral Exterior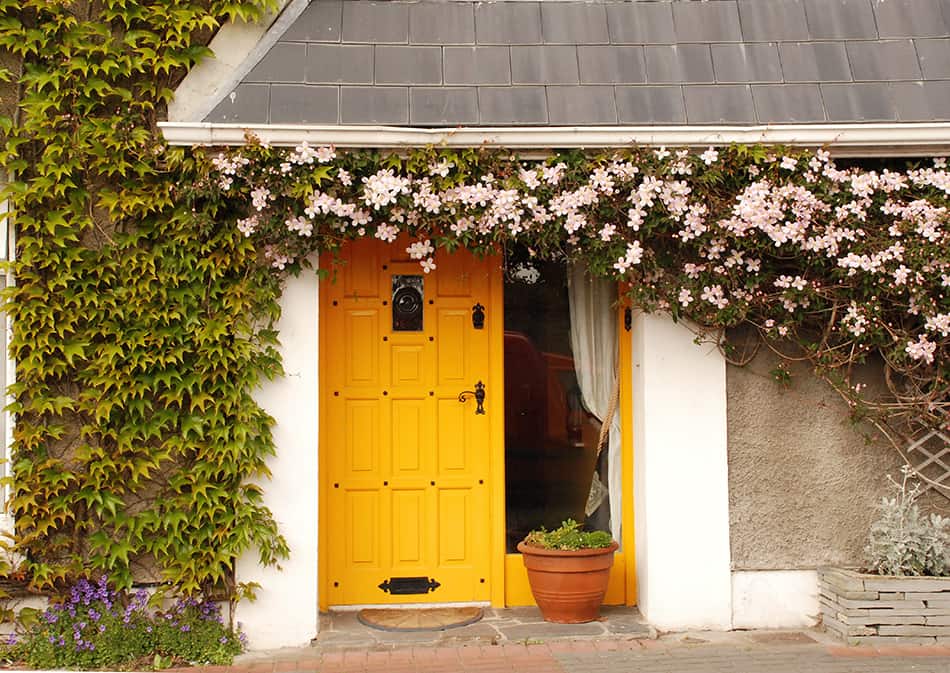 To add a rich element to your front door, choose golden yellow. This hue is an excellent choice for both modern and traditional homes that have neutral exteriors like white, grey, or both. You can further enhance the look by decorating the exterior with brightly colored flowers and gold accents. The warmth of golden yellow and flowers on a neutral exterior gives a soft and natural touch to your entrance. 
13. Vintage Yellow Door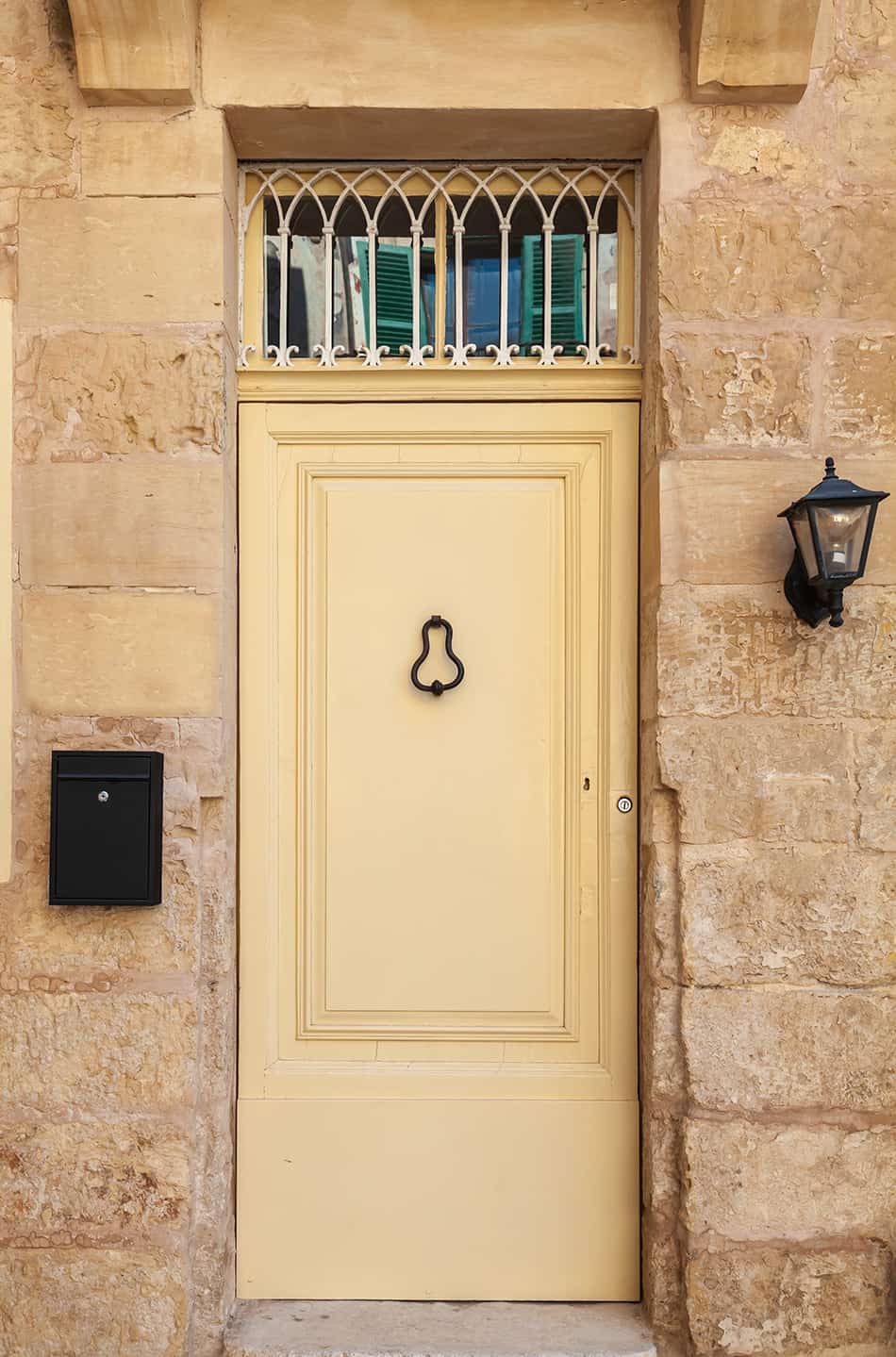 A vintage front door in pale yellow helps make a home inviting and friendly. This old-fashioned yellow door with its unique metal knocker, black mailbox and side light makes this traditional house even more charming. Tip: add colorful flowers to the walls to inject even more character into your entrance. 
14. Green-Yellow Door on a Neutral Exterior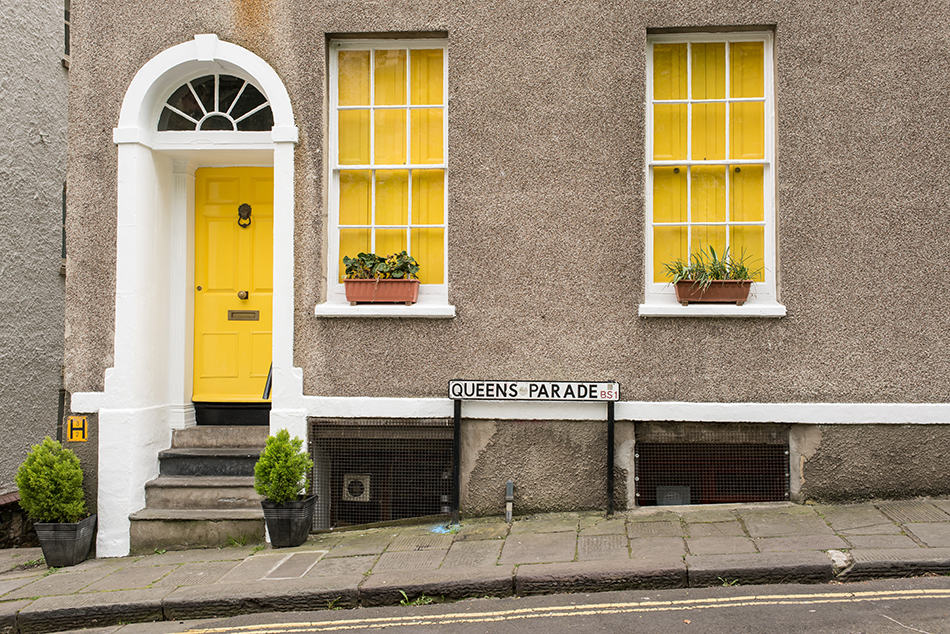 A traditional home needs a traditional color for its front door. And what better color to pick than a green-yellow shade. When paired with neutral elements, such as white sash windows and white framing and trims, the green-yellow door will emit a welcoming sense of warmth. This shade of yellow also works with many variations of grey exteriors.
15. Yellow Door on a Dark Exterior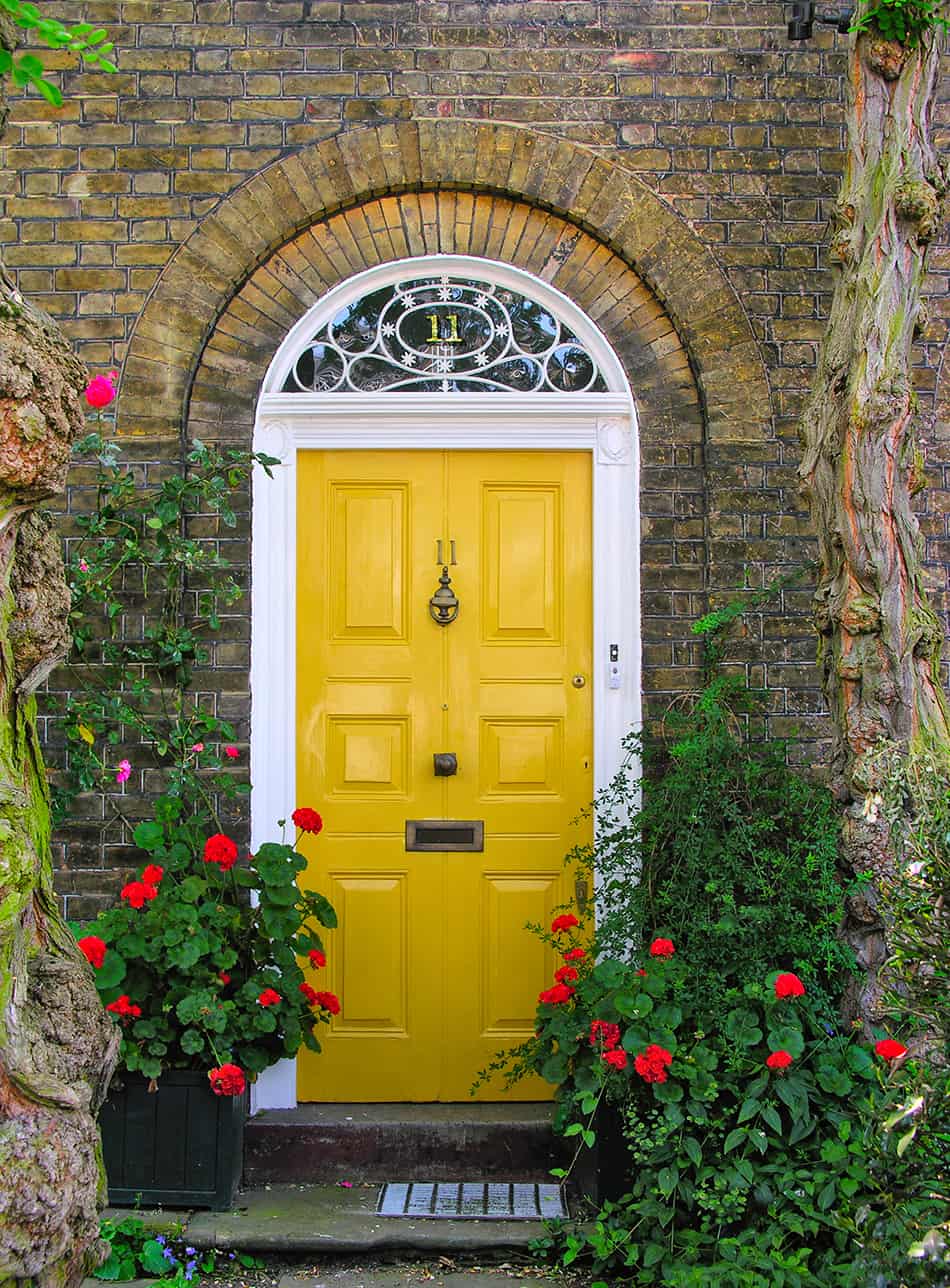 When you look at a dark stone exterior, you may think that a yellow door wouldn't be a suitable color. However, you need to use the right shade of yellow to make your home look brighter. Yellow shades, such as green-yellow, marigold, and golden yellow aren't exactly the best option as you'll need to go even darker by using mustard yellow. Remember, the darker shade of yellow you choose, the more distinguished and welcoming your entrance will look. In this image, the dark yellow door with its decorative white frame takes the focus away from the drab-looking stone wall. The beautiful flowers on the wall also do a good job of hiding the wall's imperfections while the white arched frame around the door makes the yellow color stand out. 
Good to know 
If you want to paint your existing door yellow, use a semi-gloss or satin paint for the trim and glossy paint for the actual door. Before applying the paint, smooth the surface by sanding it down otherwise the end result will be rather uneven. And don't forget to apply a primer first.
When matching other decorative features with your yellow door, make sure you use white, muted blue, taupe, grey, or dark brown as accent or exterior elements. The combination of these colors with your yellow front door is sure to impress the visitors, regardless of whether you opt for bold yellow or subtle yellow.