Rhubarb red, mahogany red, raspberry red, red wine…there are hundreds of red shades with dramatic variations. Red is a striking color that complements most other hues.
It is also a widely popular shade for a front door that makes even the plainest looking exteriors to stand out. Whether you live in a traditional or modern property, by painting your existing door red or adding a new red front door to your home, you can enhance its curb appeal.
In this article, I will give you some great examples of red front doors with pictures, as well as some quick tips on how to paint your door red to convince you to choose this shade.
What Does a Red Front Door Represent?
A red front door in Feng Shui means Welcome. Red relates to energy flow and is referred to as the Mouth of Chi by this Chinese philosophy. This means painting your front door red will create positive and welcoming energy. And the best thing about this color is that you can add stunning accents and elements to support your home's exterior design.
25 Red Front Door Examples with Pictures
1. Lots of Florals for an Organic Look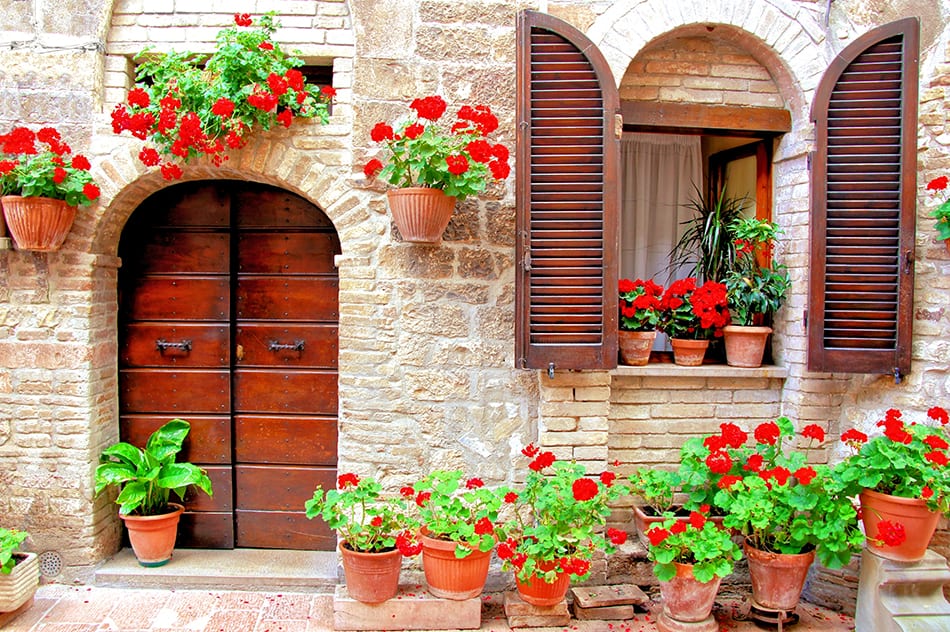 A traditional home needs a vibrant color like red to make its exteriors stand out. A rustic red wooden door with matching shutters is always a good choice, especially when it's accompanied by red flowers, such as geraniums, all around its windows and front door.
But you don't have to just use red geraniums to decorate your home's exterior. A rustic red door will go wonderfully with green and yellow roses.
2. Red Door on Grey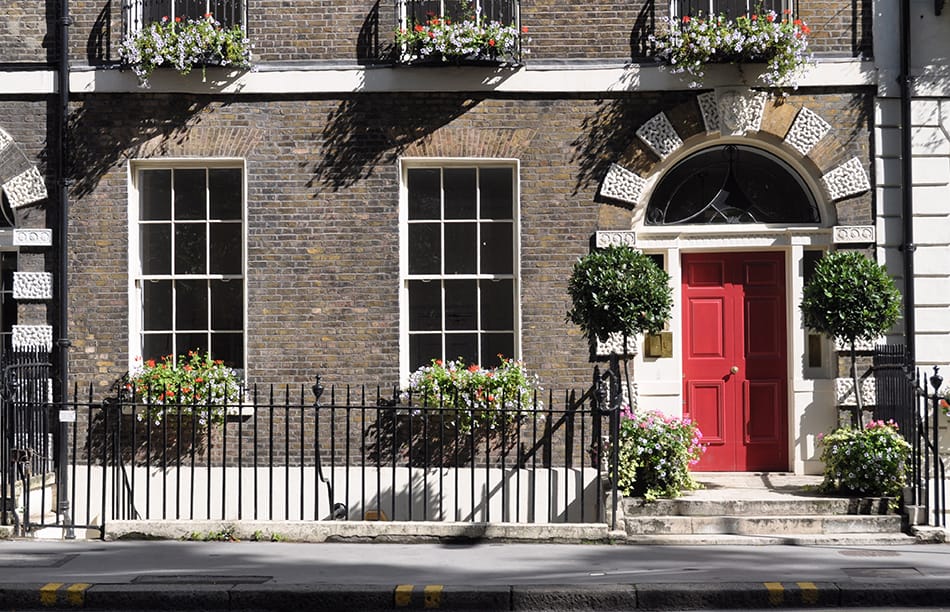 Red doors with grey exteriors and white framing give a stately look to a property. This is why they make a popular choice for traditional homes. Grey is a neutral color of choice that makes a red front door look inviting and natural, as shown here.
I will give you further examples of other red door designs that look great with light and dark grey exteriors in this article, so be sure to read until the end.
3. Matching Red Door with Window Shutters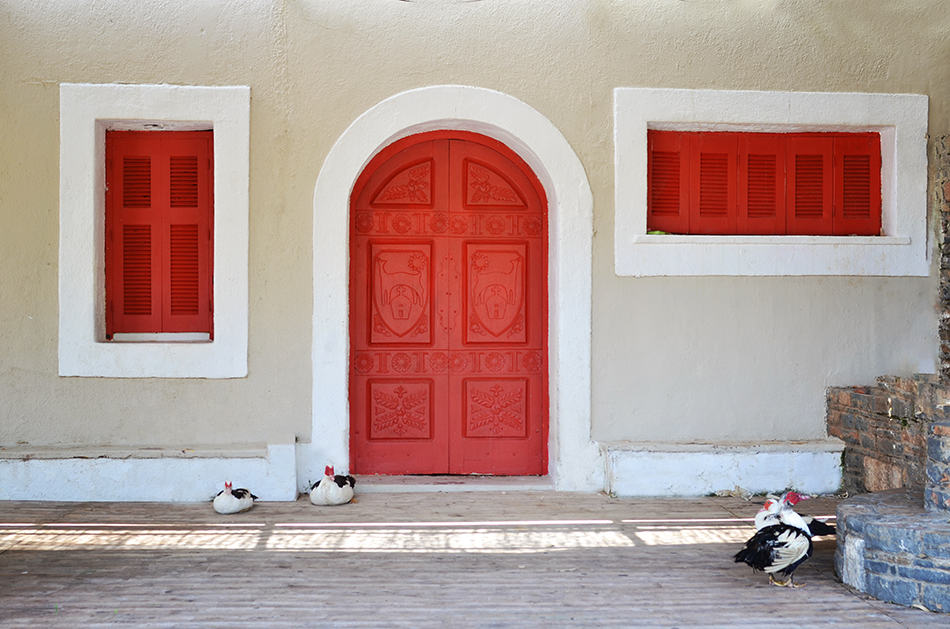 Make an impact with your red front door by matching the color with your window shutters.
This image shows how the bold front door with matching red shutters on a muted neutral exterior instantly draws the eye to this vibrant color.
4. Decorative Elements for a Unique Look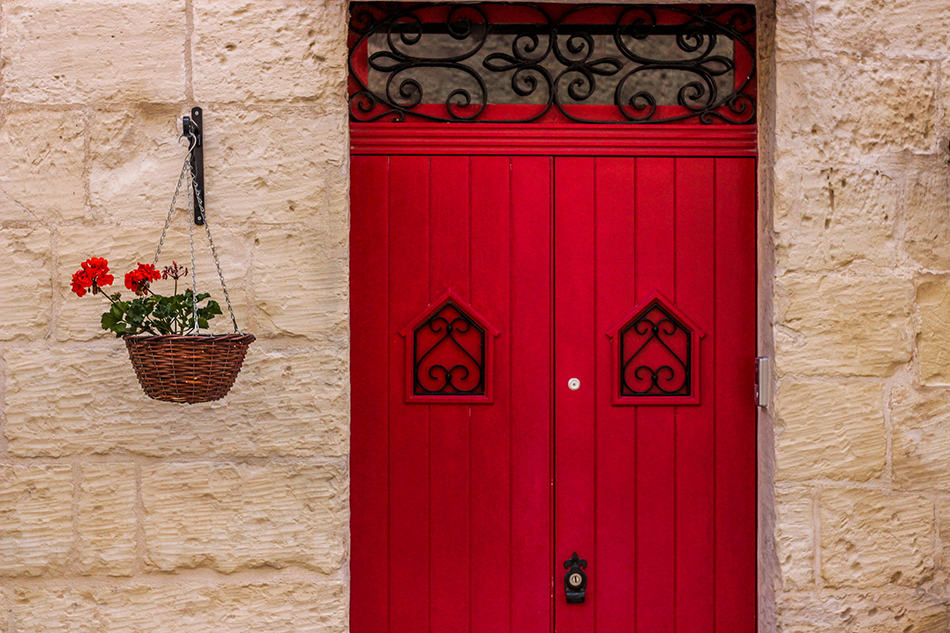 This uniquely designed red door has made a strong statement with its captivating metallic elements. The vibrant red front door has given the exterior a retro look and is suitable for any style of home.
I think you'll agree that it's almost impossible to look away from this stunning red door and its black metal decorations.
5. Wide Red Door with Glass Panel to Inspire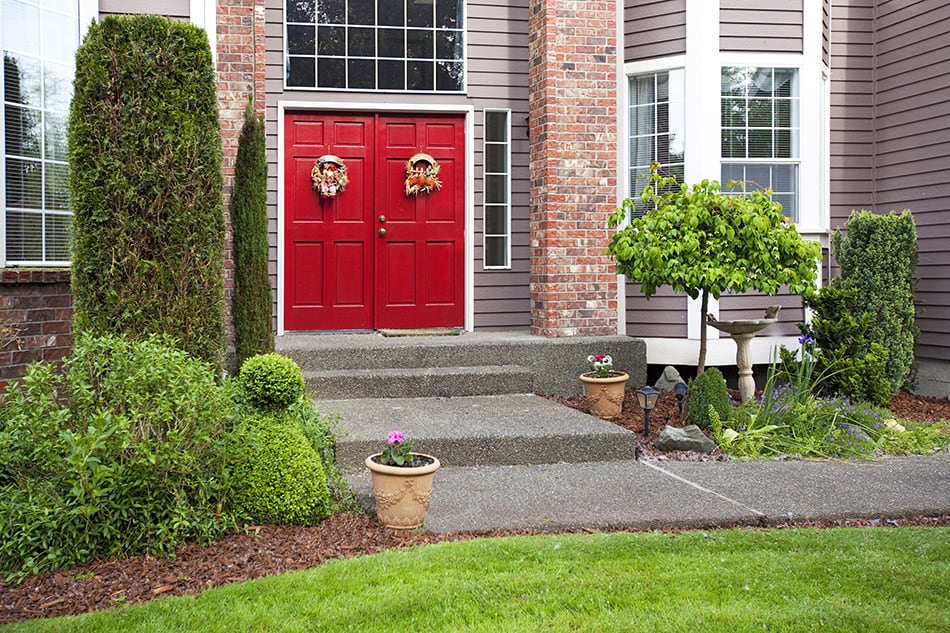 A wide red door with a white frame and glass gives your front entrance an inspiring appeal as the centerpiece of the exterior. See how this wide red door stands out with its wreaths and upper glass and side panels.
6. Dark Red with Arched Black Glass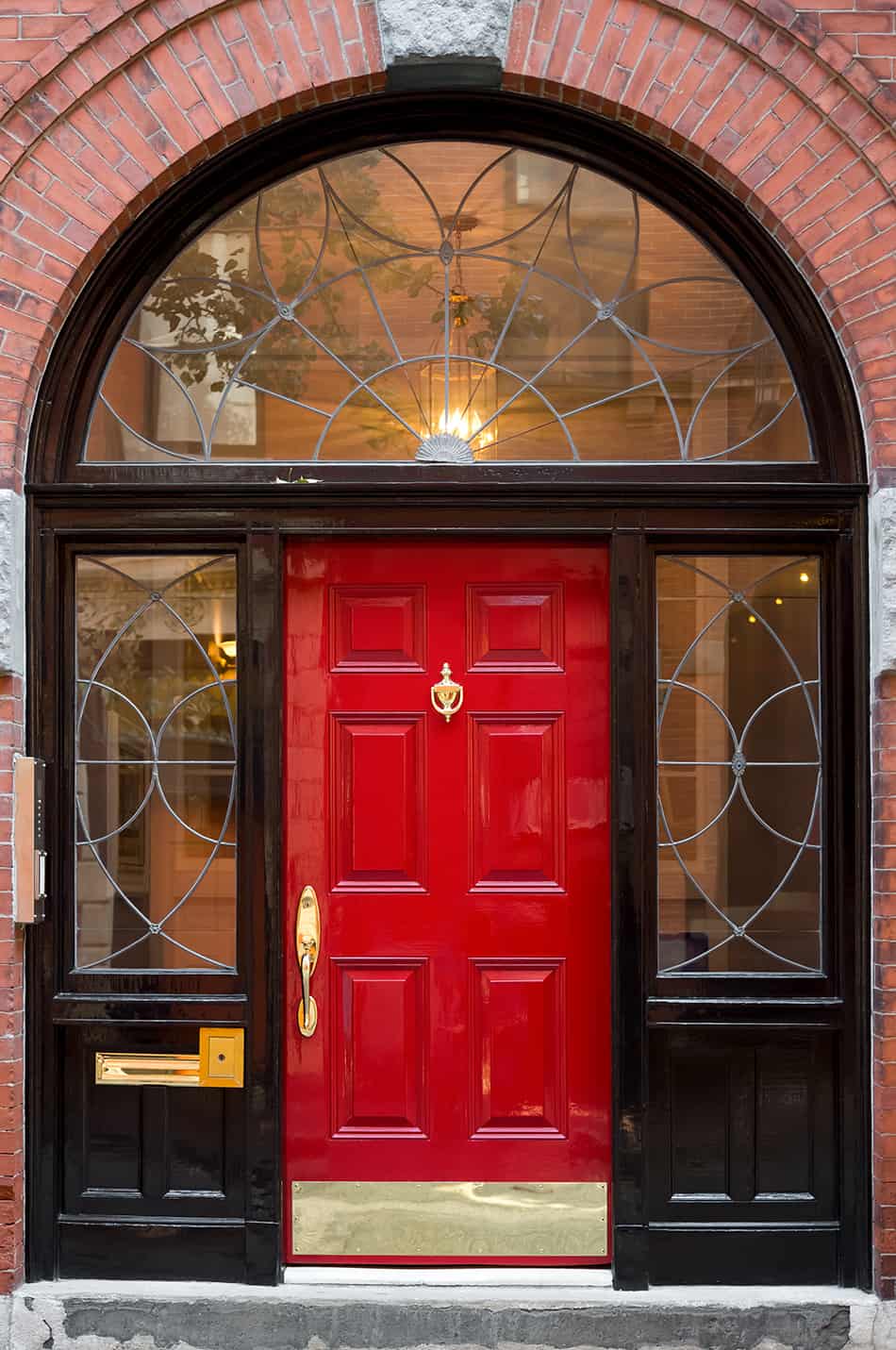 A darker shade of red is a serious choice for a front door, but it can be further enhanced using glass framing to create a more welcoming feel. This arched black glass has beautifully framed the red door that lets plenty of natural light enter the property.
7. A Combination of Complementing Features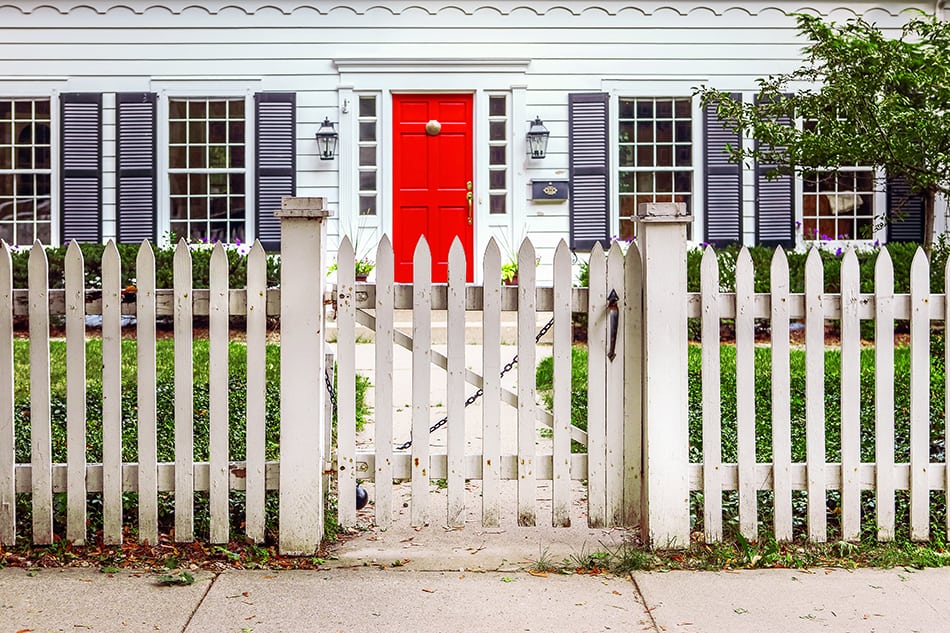 A red door with a white picket fence and matching shutters completes the whole picture of this front entry as these elements perfectly complement each other. The choice of red color for the door makes perfect sense here, thanks to the neutral exterior.
8. A Contemporary French Style Entrance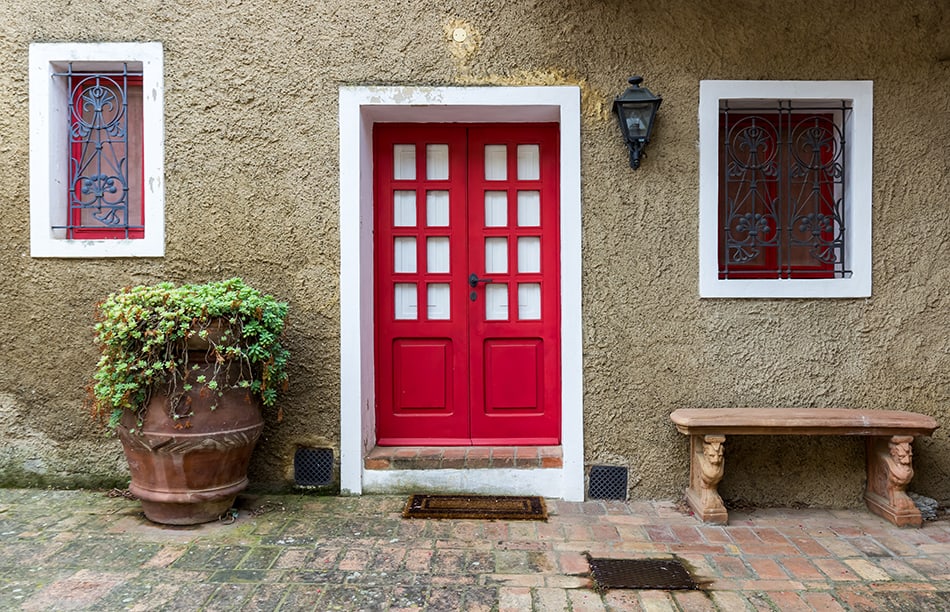 A red French door can easily outshine the grey neutral exterior and draw the eye towards the entryway. This red door with its beautiful French glass, boasts the most crucial element of this home.
9. Red Double Doors to Add Spark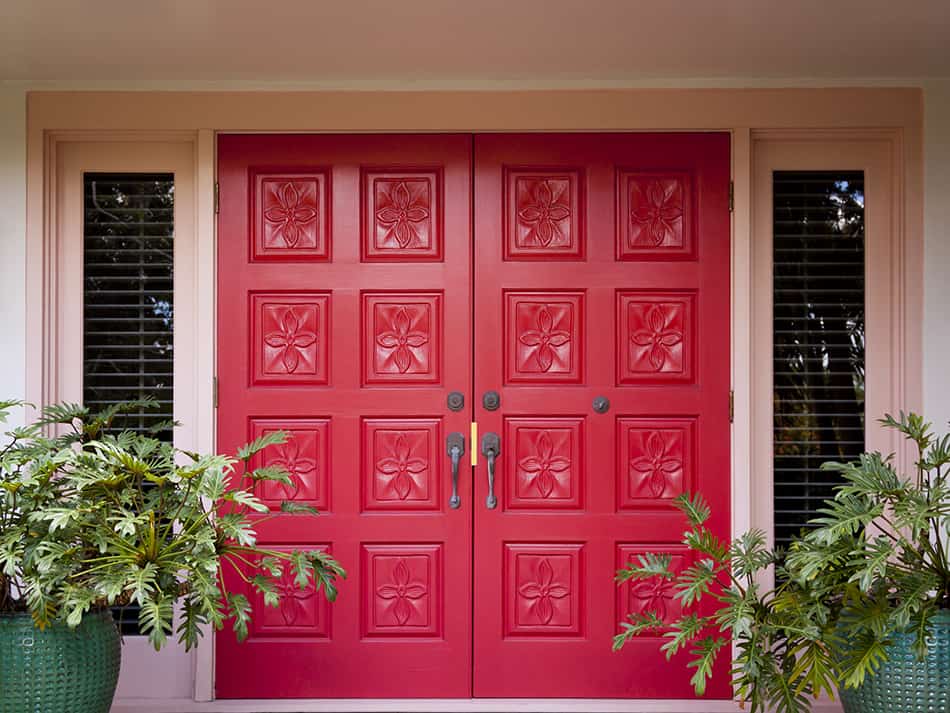 Red double doors stand for spark and luxury. Doesn't this beautiful door make you curious about the decor behind it? This contemporary-looking red double door does a great job of attracting attention with its elegant hardware and paneling.
10. Red Wooden Door with Grey and White exteriors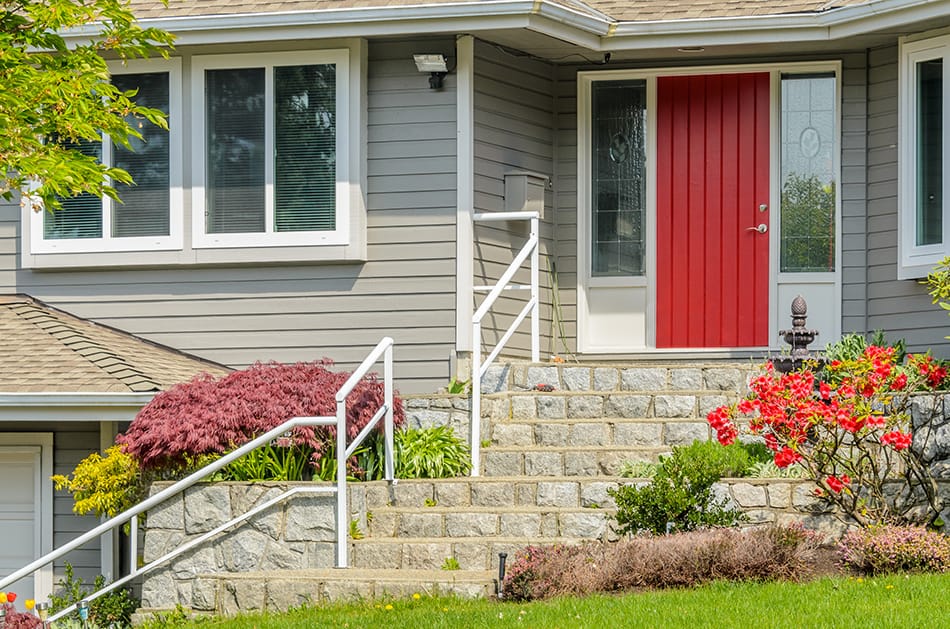 The grey stone steps lead up to this elegant red wooden door, where the beautiful flowers next to the grey and white exteriors heighten the vibrant red color of the entrance. This is a fine example of how an ordinary-looking house can be transformed using a bold red door.
11. A Mix of Red with Brick and Vinyl Siding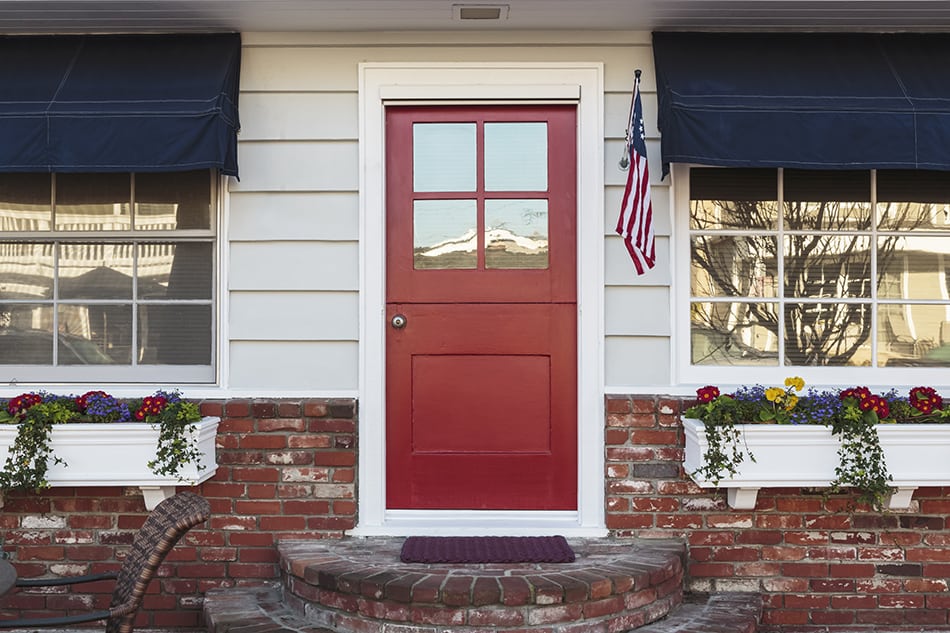 Red is the color that can be paired with just about any other exterior. Whether you have a brick or vinyl exterior, or both, you will find that a red door can be easily mixed with everything – from glass panels and shutters to brick and vinyl paneling exteriors.
12. Enhance the Shade of Red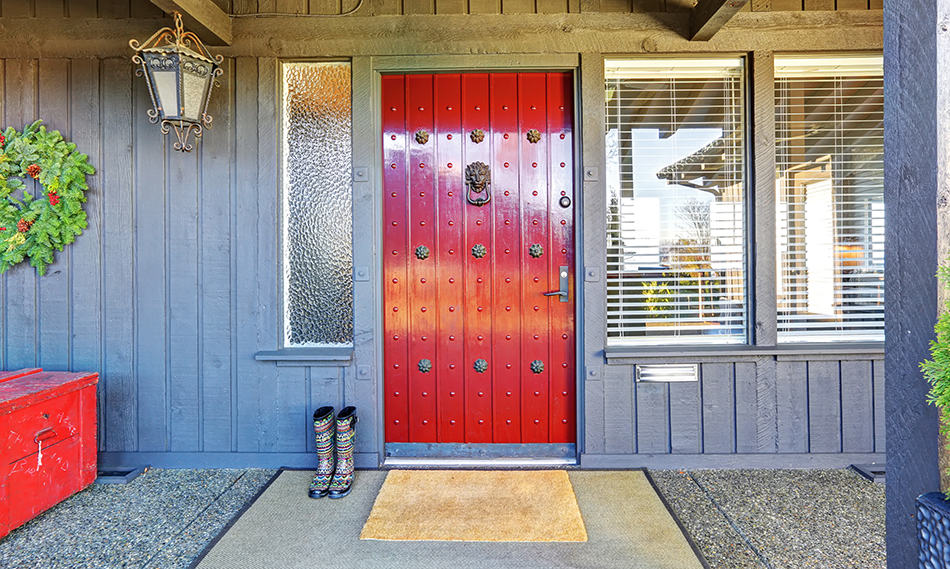 This vibrant and glistening red front door with its metal knocker truly stands out on its own. In fact, you don't even need to pair it with any other decorative features as the small elements on the door do all the work in attracting attention.
The grey floor and the light blue exterior further enhance the appeal of this entrance.
13. Red Door on Brick Exterior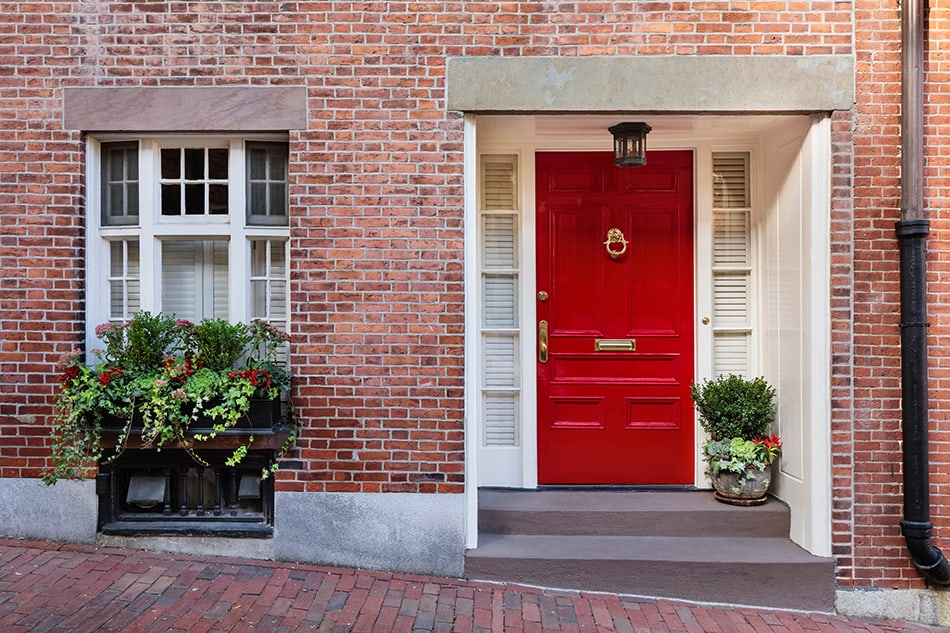 The white frame and red brick go with the classic architecture of this home without stealing the spotlight from the red door. This medium-to-dark red front door is an elegant and smart solution for a brick home.
It softens the look of the brick and serves as a focal point. The entrance has a welcoming vibe thanks to the potted plants on the window and next to the front door.
14. A Multi-paneled Red Door for a Smart Look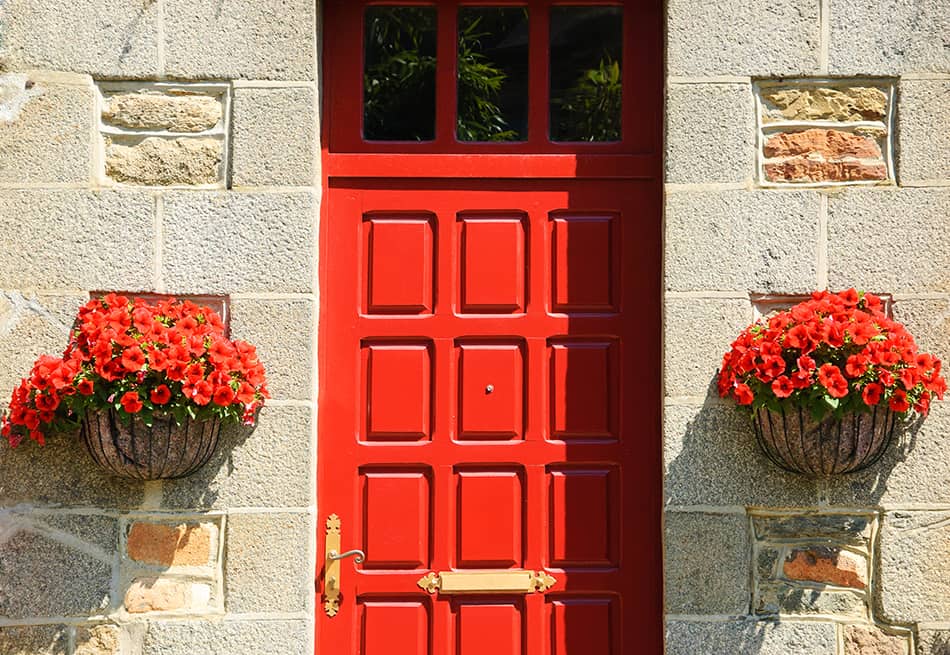 This tall red door with multiple panels has truly transformed the grey exterior. The door is complemented by upper glass panels and red flowers on the wall.
There is perhaps no other color that can stand out quite the same way as red so if you want to give your home a smart look, consider a bold shade of red.
15. Red Door with Deep Color Palettes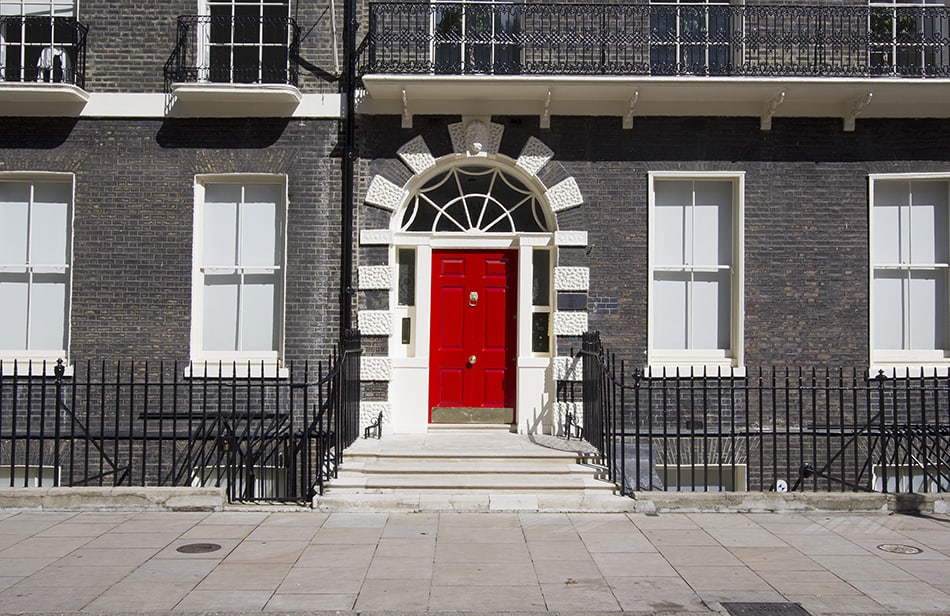 As I mentioned before, red front doors look stunning against grey exteriors. When combined with white trimmings and black railings, a red door can truly stand out against deep color palettes.
And the best thing about red is that it goes with just about any other hue so you can add decorative features and pastel color tones to compliment your house's architectural design.
16. Red Door to Get Noticed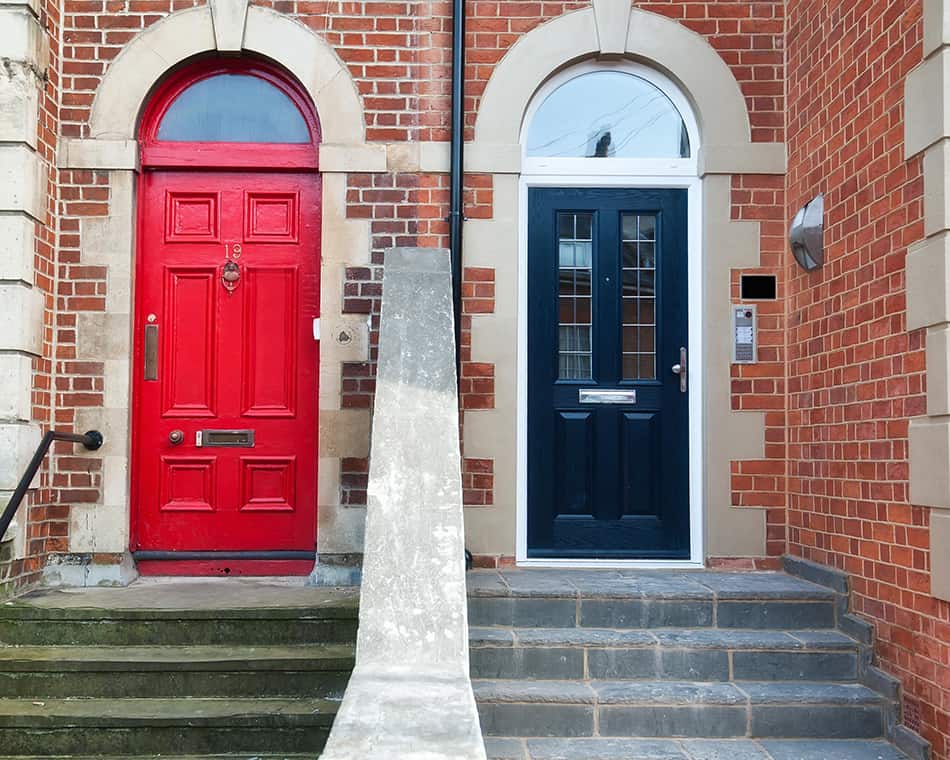 Red has the power to turn any home into a focal feature in a street. See how this red door stands out from the next door's front door, thanks to its vibrant and bold hue.
If you live in a townhouse, for example, make your home more noticeable by painting your door red. It'll be the topic of many conversations in your street!
17. A Simple Red Door for Simplicity
This simple and unassuming red front door against the red brick exterior is ideal for those who don't want to draw attention to their homes. To tone down the red hue, the front lawn does a perfect job of bringing green into the red.
18. A Pop of Red for Class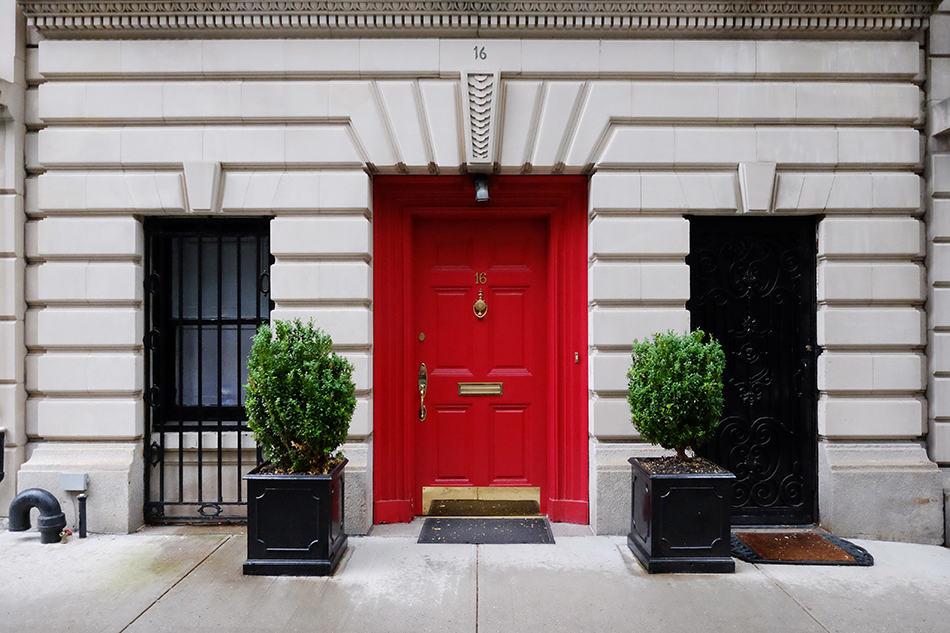 This classy home is further enhanced by its front door and emboldened by the pop of red shade and green plants at either end of the door. Truly elegant!
19. A Red Door to Capture Attention
Suburban houses can look rather repetitive – unless you use a red door to make them visibly stand out in the neighborhood. A red door can easily get lost among a red brick house, however, in the case of this home, the red door with its white glass paneling and white pediments speaks for itself and captures the attention right away. No wonder red is such a fiery color!
20. Muted Red against Red Brick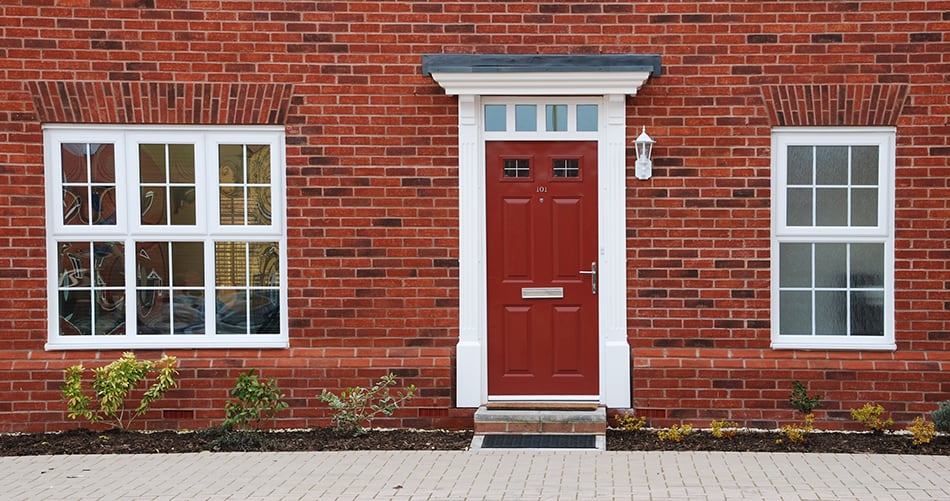 This door's muted red shade isn't lost against the red brick, thanks to its pure white framing around the door. No matter which shade of red you choose for your front door, make it stand out with white framing and white windows.
21. Red Door on Stone Exterior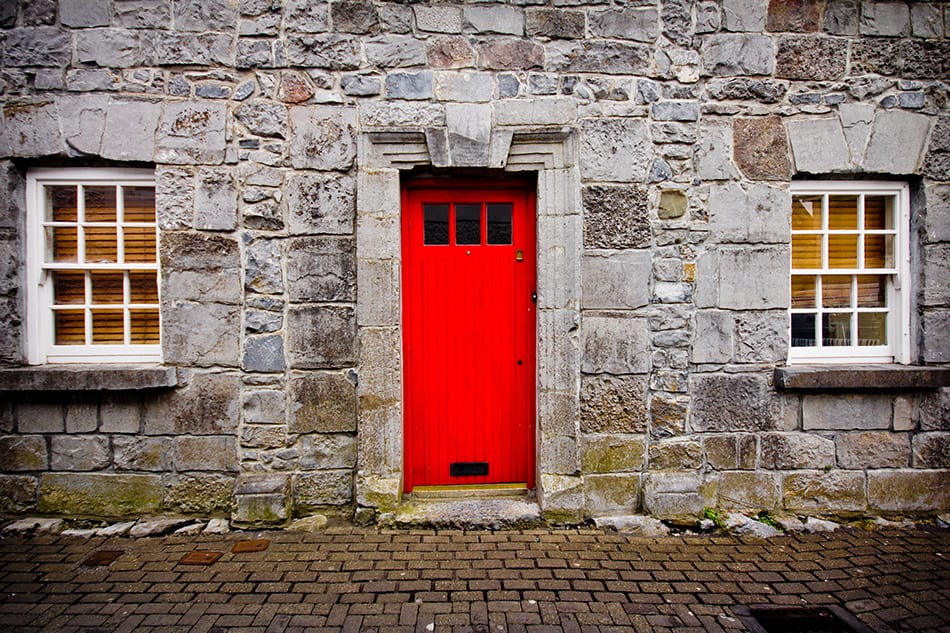 Can you think of a better color choice for a grey stone exterior than a red front door? This bright red front door brings the exterior to life while reflecting the traditional interior that awaits us inside. With a rustic stone exterior, a fiery red color makes the best choice as a stunning contrast against the grey color palette.
22. Follow the Japanese Culture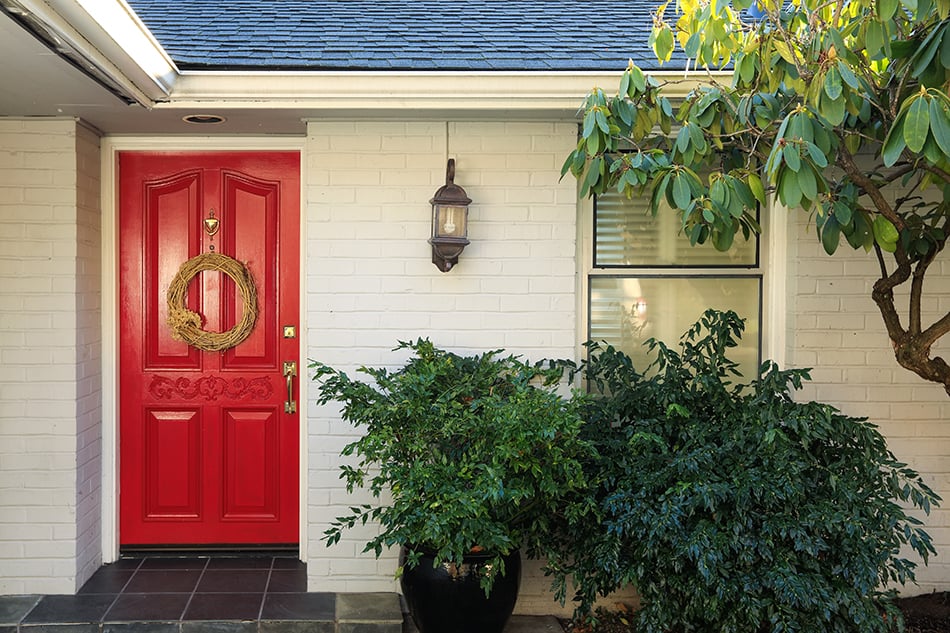 In Japanese culture, the color red is associated with the sun. To take inspiration, combine the red front door with white exterior and use plenty of plants to convey the message of nature and happy moments. In this image, the wreath on the bold red door and the domination of green plants soften the look and create a welcoming feeling.
23. Red Door on Dark-color Siding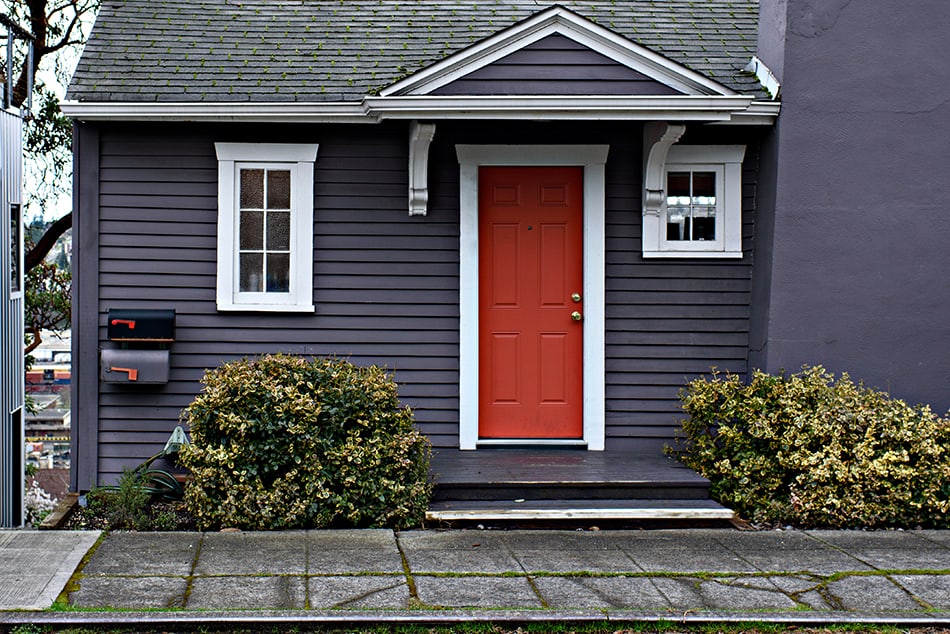 A red front door against a dark grey exterior can complement or contrast the house while providing accent to the style of the property. This dark-colored exterior instantly draws the eye to the red front door and offers an interesting contrast – without making the red door look out of place.
24. Dash of Red on Double Glass Doors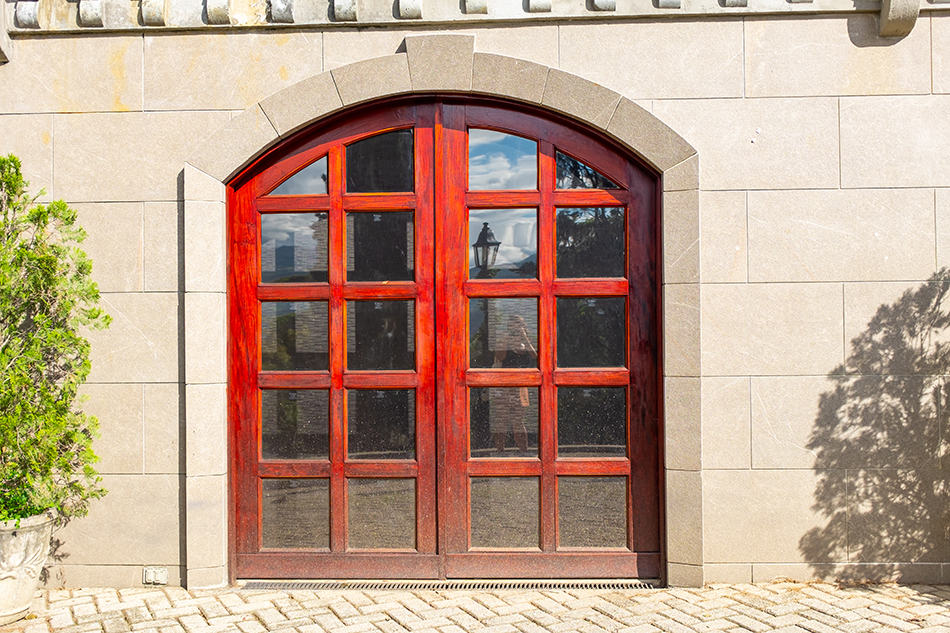 Double glass doors aren't just for patios. They are now commonly seen as entry doors too. Although security can be an issue, these doors are nevertheless a beautiful addition to greet a visitor, plus they allow plenty of natural light to enter the home. As an alternative option, you can go for red split doors that can be locked more securely than double glass doors.
25. Georgian Style Red Door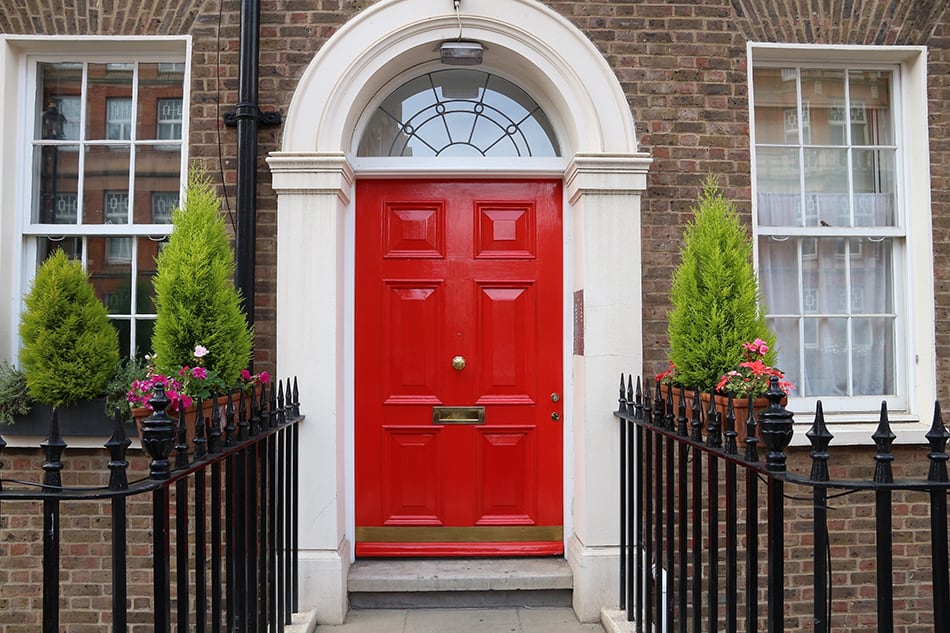 This vintage red door looks stunning against a white framed exterior. The Georgian style homes became popular in the 18th century in the US. The typical features of these homes include symmetrical doors with white framing and arched top, tall chimneys, and paned windows. The red door with the arched white framing on this classic house stands out beautifully and is without a doubt a head turner.
How to Paint Your Front Door Red
By now you should have a better idea of how a red front door can be incorporated into different exteriors. If you want to give your front door a new lease of life, consider painting it red. One of the easiest ways is to paint it using an exterior paint that's specifically designed for your door's material. For example, there are exterior paints for fiberglass, wood, aluminum, and metal surfaces. You'll only need one tin of paint plus a primer to complete this task. Here are some quick tips on painting your front door red:
Semi-gloss or gloss paints are most durable and withstand scratches better than matte paints.
It's best to remove your door and all its hardware before painting it for a better finish.
If your door is made of wood, sand it lightly to remove the old dents and paint drips. For all other materials, simply wipe the surface clean using a damp cloth.
Apply a primer and wait for up to 4 hours for it to dry. Make sure the primer has thoroughly dried before applying paint.
Now you're ready to apply one coat of paint to the door. Wait for 24 hours for the paint to dry before applying a second coat. Make sure you protect the door from particles and dust by keeping it in the garage or indoors.