From Siena and Pisa to Tuscany and Florence, these regions are filled with charming villas built on the hills of scenic countryside. If you are fascinated with Tuscan-style architecture, you don't have to live in Tuscany to enjoy these magical homes.
Tuscan-style home design has gone through updates over time and today, it is still the preferred choice for homes in California and Florida, not to mention other sunny regions of the US.
In this article, learn more about Tuscan-style home design, its characteristics, history, and similar types with famous examples as well as some drawbacks to these homes.
What is Tuscan Style Architecture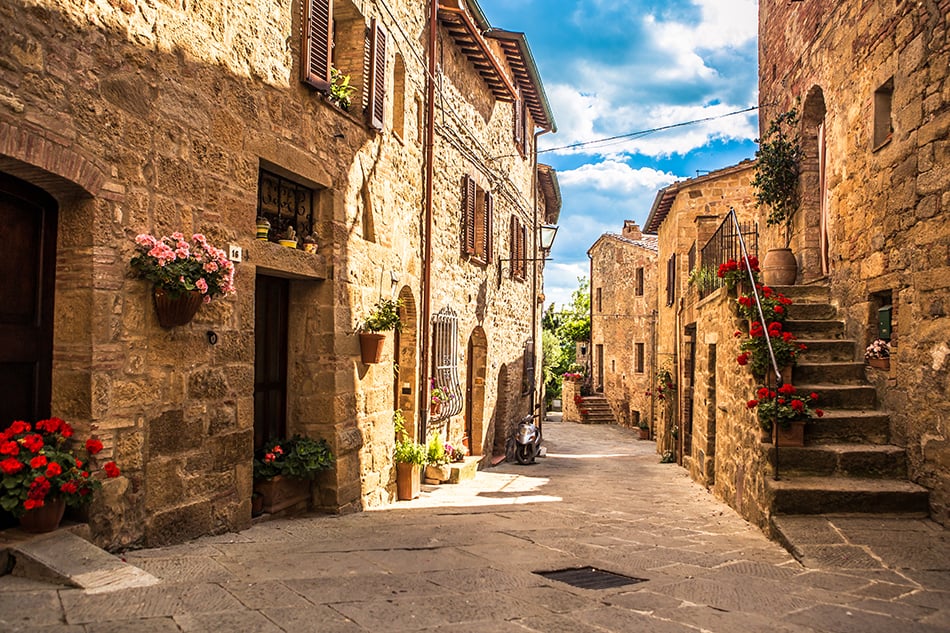 As a traditional architecture of Tuscany in Italy, Tuscan architecture is all about stone, wood, tile, and wrought iron, which are commonly used in this building style. With simple, clean lines that are inspired by the Roman era, Tuscan architecture is a sophisticated and rustic style closely linked to the Mediterranean settings of Southern Italian regions.
Homes decorated in this authentic style are inspired by natural elements. The crumbling stone walls of farmhouses, terracotta flooring, and wrought iron accessories are just some of the many fanciful features of Tuscan-style homes.
Where did Tuscan Style Home Design Originate?
Tuscan architecture originates from Southern Italy. The style is based on traditional Tuscan villas that date as far back as the early 1600s. Visitors to this region of Italy were so inspired by the Tuscan architecture that they decided to take the concept home with them. However, the style eventually lost its popularity in 1855.
But interestingly enough, the US saw the beauty of these homes and started designing houses in the same style in sunny regions like California, Los Angeles, Cincinnati, and Florida. These US cities were the birthplace of Tuscan-style homes where the new meets the old.
The Defining Characteristics of Tuscan-Style Homes
Exterior Features
The Tuscan architecture features exteriors that are unique and instantly noticeable. The simple yet elegant decorative style can be seen throughout the exterior of these homes. Most Tuscan-style homes have a Mediterranean flair about them that calls for outside living areas and enclosed gardens. Some feature crumbling stone walls with vines or flowers growing on them and wrought iron gates. The other distinctive characteristics are the tile roof colors, which are usually browns, reds, or yellows.
Thick, stone, or stucco exterior walls: sandstone, stucco, limestone, or marble are commonly used on the exterior of a Tuscan-style home. The purpose is to blend the home with its natural surroundings. Thick, stone exterior walls are often accompanied by caved marble over archways or windows.
Terracotta roof tiles: this material is extremely prevalent in warm climates. Terracotta is easy to create using natural terracotta clay and you will often see this material as the roof tile in Tuscan-style homes. Terracotta is another design element that connects the house with its surroundings.
Outside living spaces: Tuscany boasts an all-year-round Mediterranean climate, and because of its warmer temperatures, most Tuscan-style homes feature patios, loggias or porticos.
Inside and outside colors: earthy tones of brick red and splashes of blue are often seen on Tuscan-style homes. Browns, yellows, and green color schemes are used for both the exteriors and interiors of these homes.
Interior Features
Plaster or stucco walls: stucco isn't just used for the exterior walls. This is another building material that's readily available to use for the interior walls of a Tuscan home. Stucco is made from sand, lime, and water. It's ideal for warmer climates as it retains cool air while releasing warmth at night.
Textured ceilings: paneled or vaulted ceilings with exposed wooden beams are the typical features of Tuscan-style homes. These ceilings add warmth alongside the natural wooden beams. Traditionally, wooden beams only appeared in rustic farmhouses, but they started gaining popularity in Tuscan cottages, especially those with high ceilings. The beams are either richly textured or stained in dark brown while the ceilings are textured using stucco.
Terracotta or mosaic flooring: tiles are typically the main type of flooring in Tuscan-style homes. Whether it's stone, glass, or granite tiles, most modernized Tuscan homes feature tiles instead of hardwood flooring. Mosaic or terracotta tiles keep the floor cool, which is especially welcome in the warm summer months.
Bare flooring: most Tuscan homes in Italy have bare flooring to keep the house cool during hot summers. Bare flooring also lends to the old-style simplicity that saves the homeowner the hassle of cleaning the carpet or rug or keeping it stain-free. Oftentimes, the bare flooring features large tiles or poured cement as the backdrop to the wall decorations.
That said, if you aren't keen on walking on bare floors, you can always cover them with area rugs in interesting patterns. Runners are common for high-traffic areas on the stairs and entryways, while large thin rugs are mostly used to cover the living room and bedroom floors.
Decorative accents: the key accent featured in almost all Tuscan design homes is wrought iron. But since this material is outdated, contemporary metal accents have replaced it to provide warmer tones in this rustic style interior. To bring brightness to a rustic Tuscan-style home, add colorful artwork or furnishings.
When decorated appropriately, Tuscan-style architecture can be both modern and classic. Combine cool and warm elements to create a relaxed and luxurious interior space. Stone, stucco, and terracotta are the primary materials in Tuscan homes. Mix them up by adding light paint colors and fixtures to enhance your rustic interior decor.
Similar Types of Tuscan Architecture with Examples
Italian Renaissance
This style takes after the original Italian architecture during the Renaissance times. In the early 1900s, American architects traveled to Italy to learn more about this fascinating 16th-century architecture. The result was a more authentic look to Mediterranean homes with round arches, stately wrought iron balconies, and columns.
A typical Italian Renaissance-style home features elaborate first-floor windows and decorative brackets that support the overhanging eaves. These homes tend to be more symmetrical than Tuscan styles.
A famous example of the Italian Renaissance style is the San Pietro Chapel, built in 1502 in Rome, Italy. It was designed by Donato Bramante.
Italianate
A popular 19th-century building style, Italianate architecture was inspired by the Italian Renaissance style that combined picturesque influences from rustic Tuscan countryside farmhouses. This style is easily distinguished by its sloping roofs and deep eaves, which are supported by decorative corbels or brackets. Natural materials, such as brick, stucco, or stone, are used to construct the exterior. Most Italianate houses feature tall, rounded windows.
Ryerss Mansion is a famous Italianate building in Philadelphia. It was built in 1859 and is also known as Burholme Mansion.
Spanish Colonial Revival
The Spanish Colonial Revival architecture takes its influences from the Tuscan style. This type of Mediterranean architecture is mostly seen in Southern California and Florida. Unlike the elaborate details you see in the Italian Renaissance style, the Spanish Revival homes have simple, clean lines with unblemished arches above entry doors and low-pitched roofs.
A good example of Spanish Colonial Revival architecture is the well-known Manila Hotel, which was designed by W. E. Parsons and built-in 1909.
Mediterranean Revival
The Mediterranean Revival home draws its inspiration from the Spanish Colonial and Italian Renaissance but in a more modern way. These homes are, in fact, the 21st-century version of Tuscan-style architecture, where the old meets with the new.
A perfect example is the Hearst Castle located in California. It was designed by Julia Morgan and represents the magnificence of Tuscan/Mediterranean architecture.
Drawbacks to Tuscan Style Homes
Not suitable for cold climates: Tuscan-style homes aren't suited for colder climates. This is because they have larger windows and high ceilings, which make them harder to warm during the winter months. Furthermore, the stucco exterior of these homes doesn't provide any insulation. Traditional building materials like tiles, wrought iron, brick, and stone are designed for dry and warm climates so these homes aren't suitable for cold, snowy climates.
High maintenance costs: Since the stucco exterior of Tuscan-style homes is exposed to the sun throughout the year, it requires a lot of cleaning. Sealing the exterior walls every few years is necessary in order to prevent moisture from seeping through. The movement in the foundation can also cause cracks in stucco walls.
Pest problems: just because a Tuscan home doesn't have wood shingles, it doesn't mean it's free of pest issues. Termites can still infest these homes through cracked walls. Moisture can easily attract insects to the stucco so you will need to get a professional pest company to inspect your home.
If you're able to overcome the above challenges, a rustic Tuscan-style home will fit your lifestyle and may just be the style you've been looking for. These homes are ideal for warm climates, with little to no rain or snowfall.