The color black is an elegant and smart option for a front door. It is such a versatile shade that goes with every other color. If you're thinking of repainting your front door, or installing a new one, a black front door can be an excellent choice and will be in style for many years to come.
In this blog post, we explore the popularity of black front doors, the best reasons to choose this particular color, and 11 black front door ideas for your home. And if you want to take on the task of repainting your front door yourself, read on for some quick tips and instructions.
The Popularity of Black Front Doors
A black front door offers a timeless appeal to any home. Black doors are most often seen on Colonial and Georgian style houses as they give a traditional look to the property. Another reason for their popularity on listed properties is the fact that the color black doesn't visually detract the aesthetic appeal of the property and take away its character, unlike brightly colored front doors.
Perhaps one of the most famous black doors in the world is the UK prime minister's residence at 10 Downing Street, London. This front door is coated in high-gloss black paint to keep it shiny all year round.
The other famous property in London with a prominent black door is at 221B Baker Street. The fictional home of Sherlock Holmes is now a museum, with an elegant black front door that enhances the property's character.
Why Choose Black For Your Front Door
The color black symbolizes control and order. In Feng Shui, color choices are based on the five elements: Wood, Earth, Metal, Fire, and Water. The color black is an element of Water and makes an excellent choice for north-facing and southeast facing front doors. According to Feng Shui, painting your door black can strengthen your home's protective energy.
Since black brings calmness and elegance, it acts as a protective shield. This color can also complement your home's other features, such as the brickwork or windows. For example, if you have white windows, a black front door can enhance their aesthetic appeal, while grey windows against black front doors will make the property look more stylish and modern. Glass windows that let in natural light will also look beautiful with black front doors.
A black door is not just easy to maintain, but it also doesn't show marks or stains as much as white or other brightly colored doors do. This is especially true of UPVC front doors that require almost no maintenance and are designed to last for years.
To give you a better idea of the best black front doors in different materials and exteriors, take a look at the following list:
11 Black Front Door Ideas
1. Double-front door in black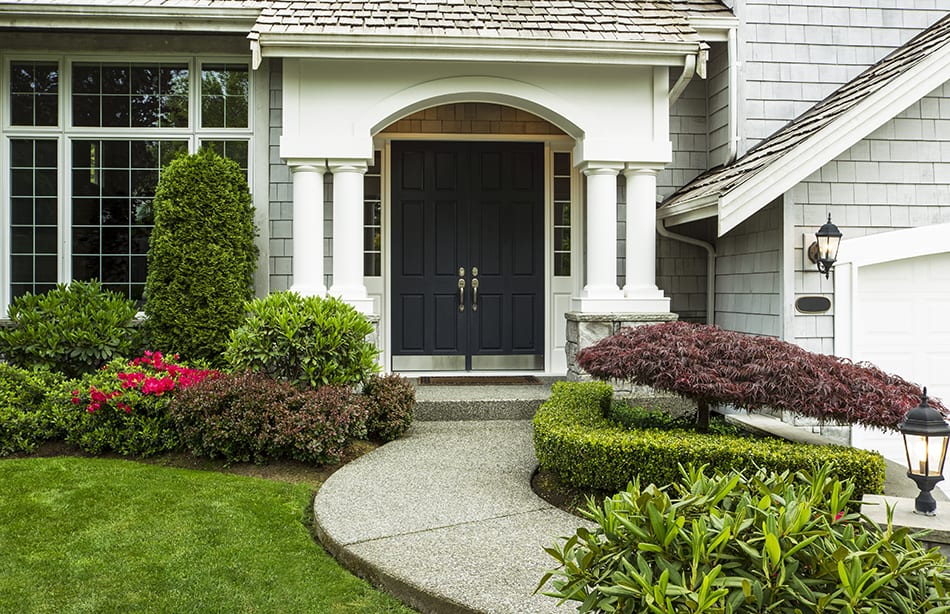 Wider-front entrances are increasingly becoming popular in new-build homes. The concept of double-front doors originated from Victorian homes. These types of doors enhance the visual appeal of a home by creating a focal point. Most traditional homes have multiple panels with moldings and decorative carvings around the windows that further bring out the sleek design of a black double-front door.
2. Black door with a neutral exterior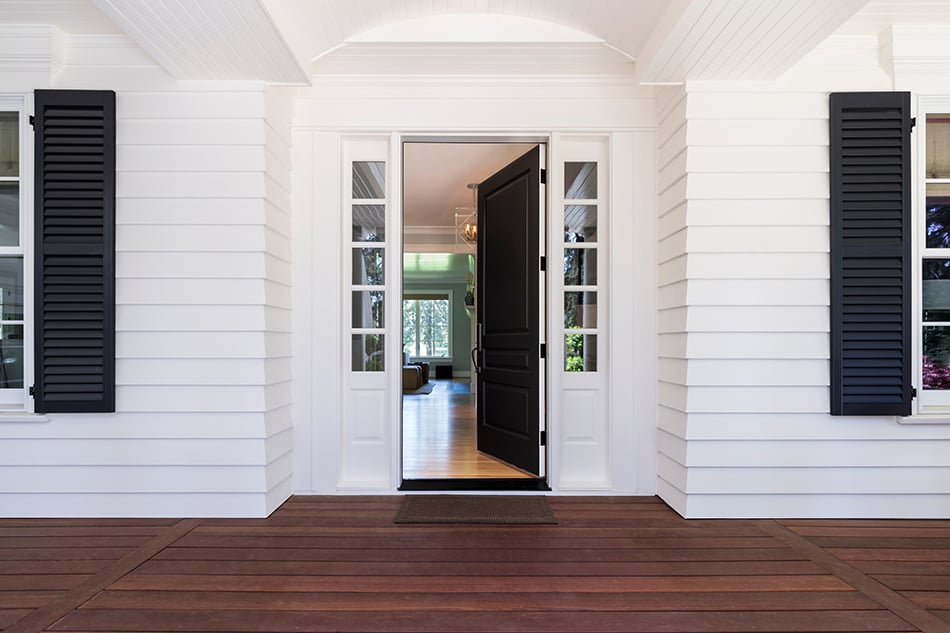 The above image is a great example of how you can incorporate a black door with a more traditional style home. The bold splash of black against soft, light shades certainly brings out the light exterior by allowing the stunning architecture to take center stage.
Other black features, such as black shutters on windows, the porch columns, and the roof add character to the property while creating a timeless statement.
3. Black door with a grey exterior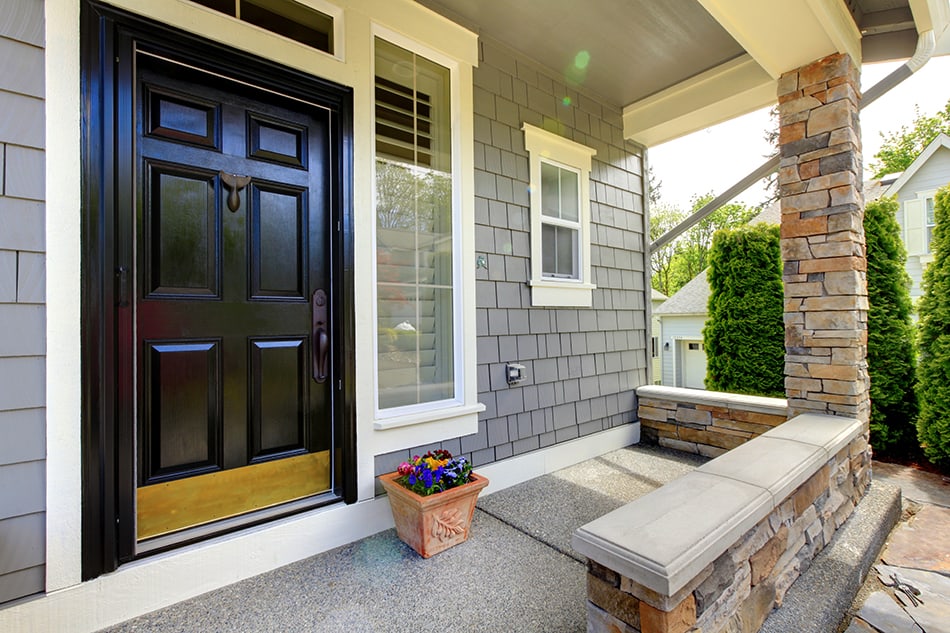 If your home has a grey exterior, a black front door will work a treat. This color helps the door stand out from the background color of the exterior, thus making the entry more welcoming.
4. Black door with red brick exterior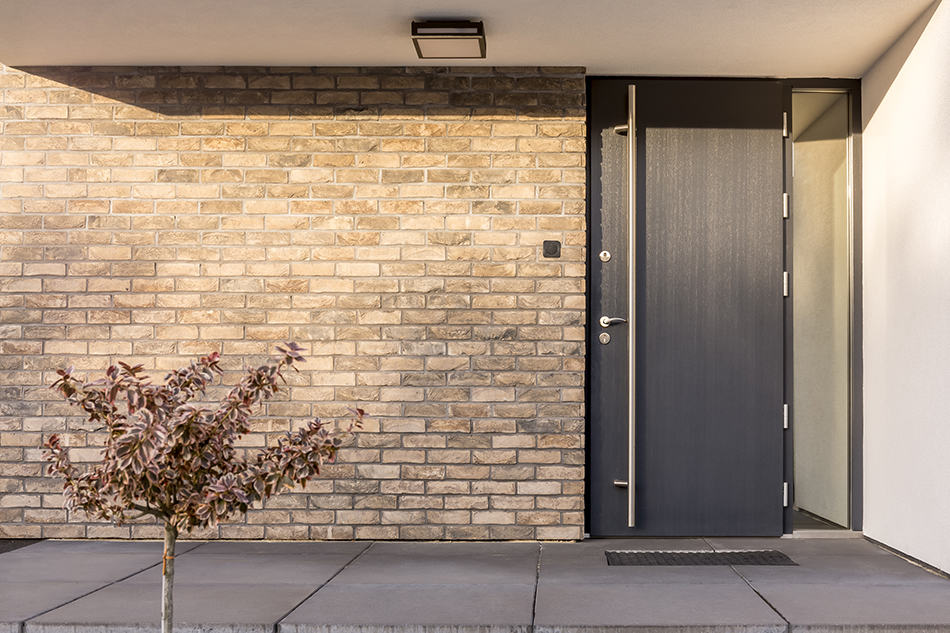 Just because a house has a red brick exterior, it doesn't mean the choice of front door colors has to be limited. A black front door will go hand in hand with red brick. In fact, this color will complement red stone or brick buildings much more than any other hue.
5. Black reclaimed door for authenticity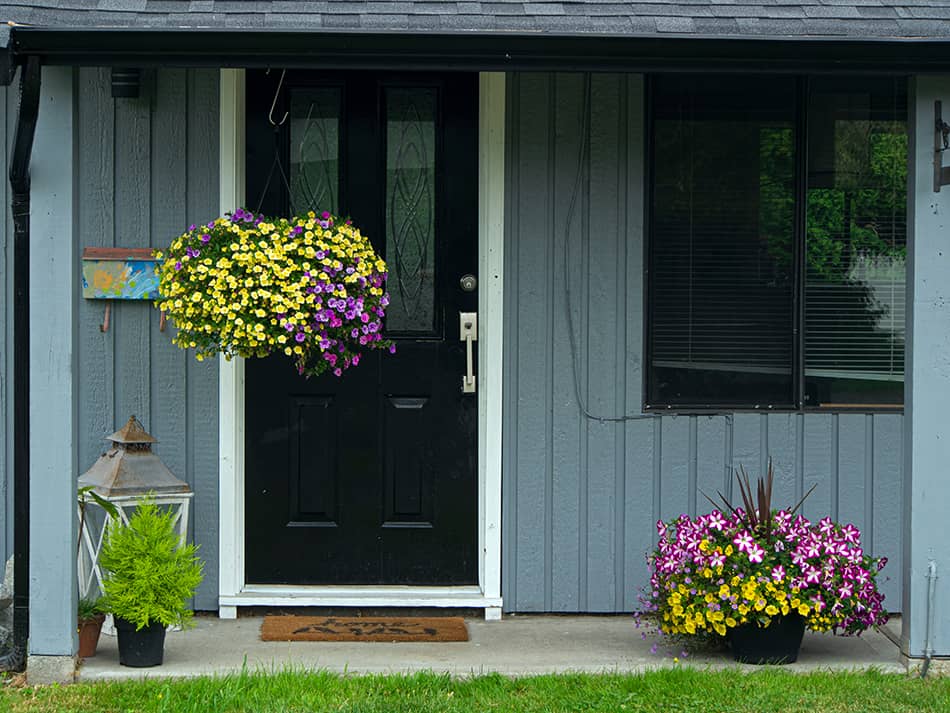 If you live in a traditional home and want to keep its character intact, look for reclaimed doors for authenticity. After all, a modern door design wouldn't work with a rustic property. By opting for a reclaimed front door, you can maintain the traditional look of your home. Tip: when looking for a reclaimed wooden door, make sure you inspect it closely for signs of rot. If you do notice any warped or cracked sections in the door, it can be trimmed by up to 20mm without damaging it.
Once you've found the right door, give it a coat of black glossy paint. (Scroll down to the bottom of the page for tips on repainting your door).
6. Durable hardwood front door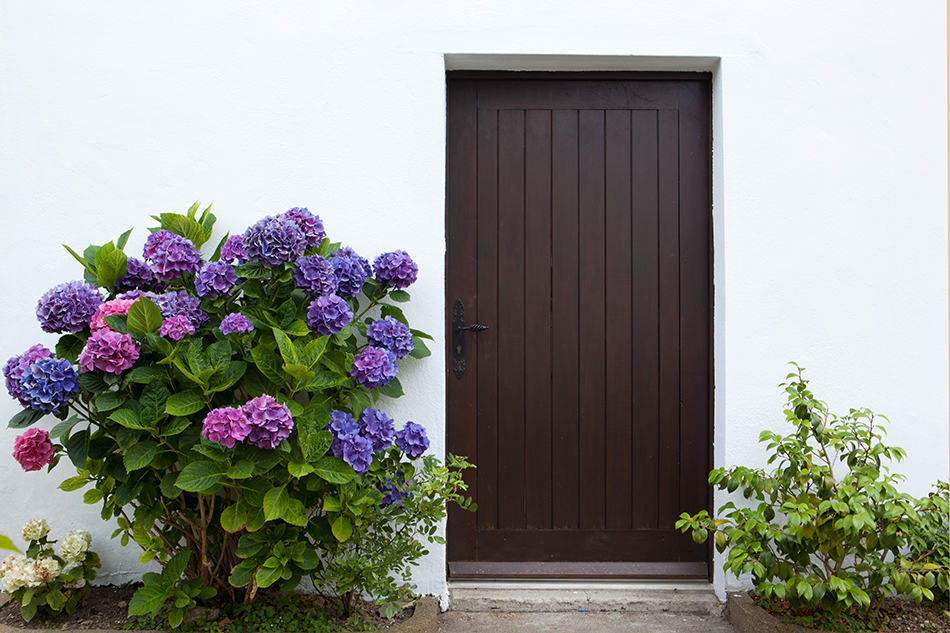 Wood is one of the most favored materials for exterior doors. It is strong and authentic, and it can be stained in many colors including black. Pine has always been the wood of choice for front doors. But there are other high-quality exterior doors that are even more durable than pine. These include oak and accoya, which is a chemically modified hardwood that offers additional stability and strength.
If you want your exterior wooden door to look authentic, you must maintain it by applying quality wax or oil on its surface. This will make the door weatherproof and increase its lifespan.
Tip: to increase your exterior door's security, consider choosing a wooden design that's covered with black steel sheet.
7. Black metal front door for the contemporary look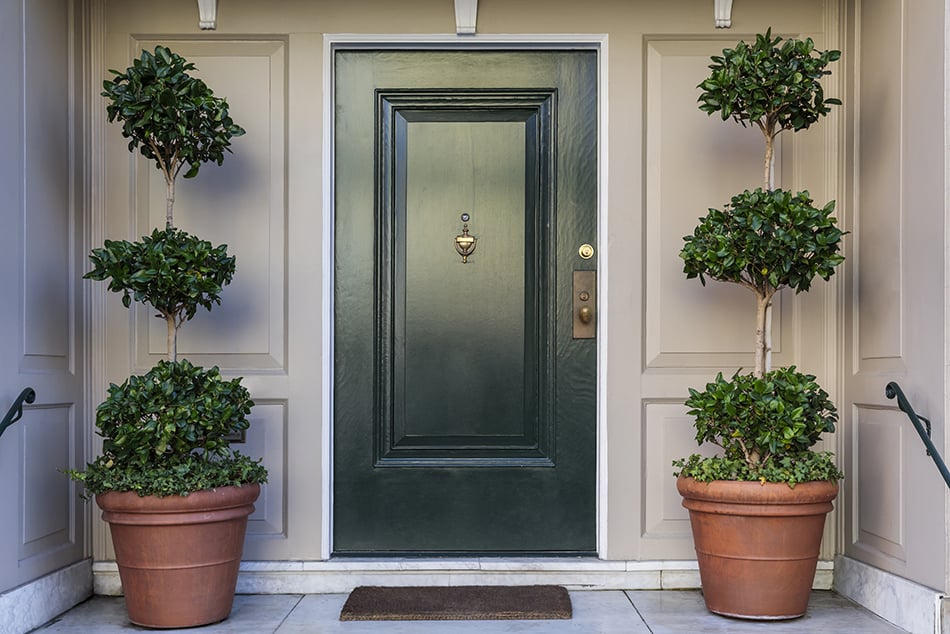 For a modern look that's both welcoming and warm, opt for a metal front door. Since the popularity of the industrial design, black metal (as well as stainless steel and copper) doors have become extremely trendy not only in commercial buildings but also in residential homes.
8. Glass front door with glass upper panels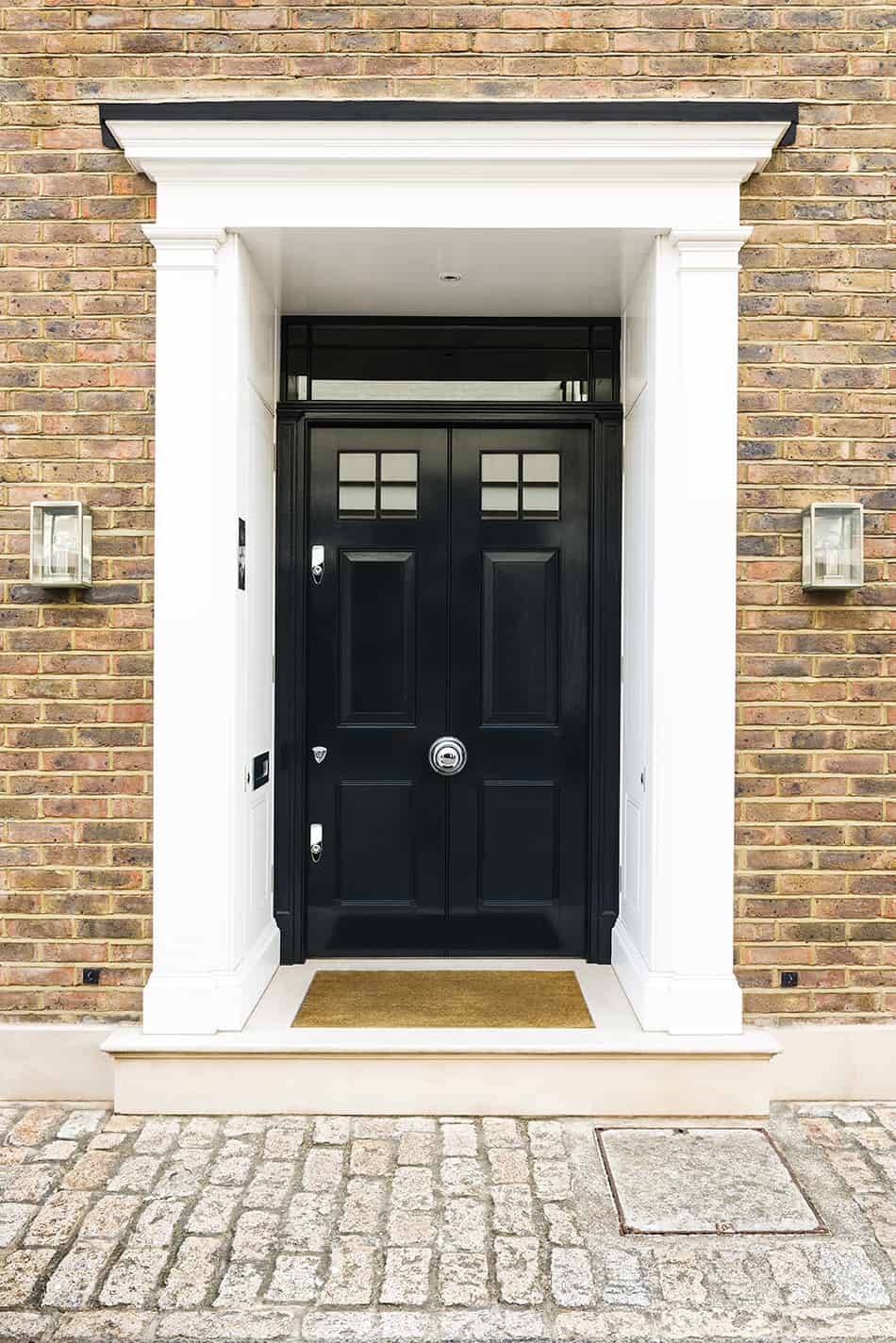 A glass front door with upper glass panels is one of the freshest exterior door trends that allows more light into the hallway of the property. This type of door is energy efficient and its glass panels aren't not large enough to jeopardize your privacy.
9. Why not combine wood with glass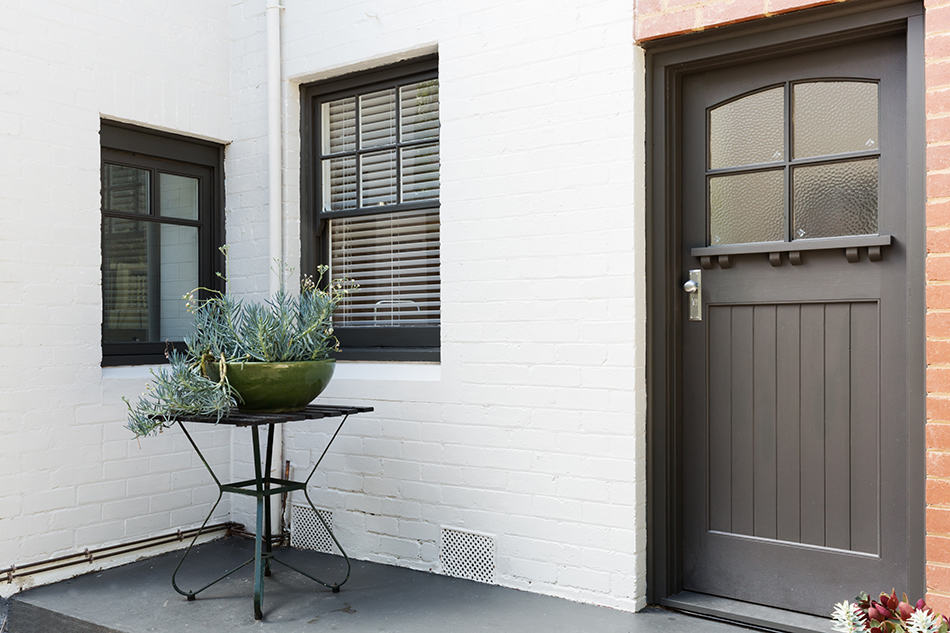 A combination of wood and glass front door enhances your property's architecture and allows plenty of light to enter the interior. There are many modern wood and glass panels on the market that are durable and secure. Worried about privacy? Opt for a frosted, stained, or etched glass panel to obscure what's going on inside your home.
10. Fiberglass front door in black for aesthetic appeal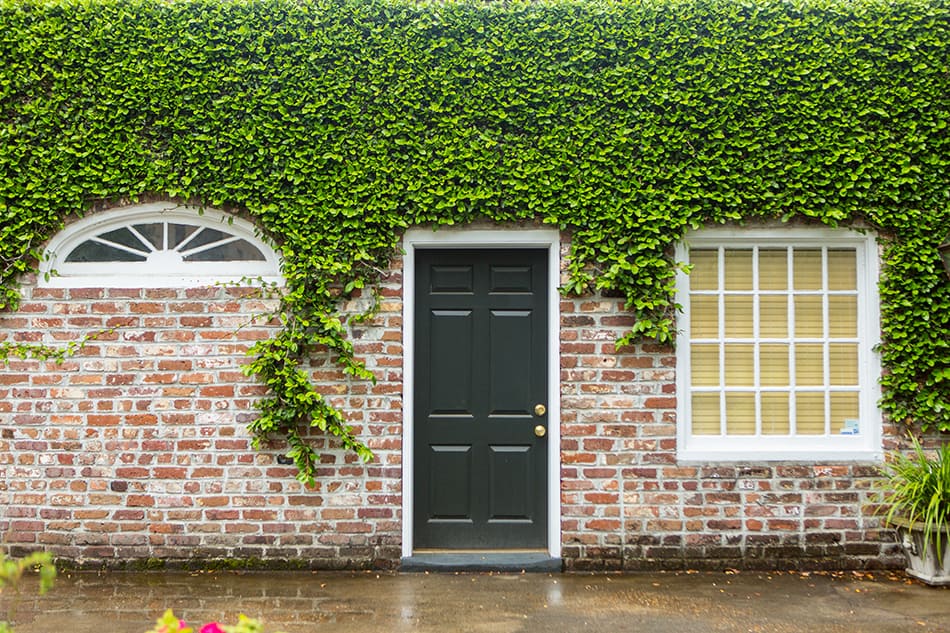 Insulated fiberglass exterior doors are more secure and energy efficient than most other materials. These doors are made up of composite materials that aren't only durable and strong, but they also don't require any maintenance.
Fiberglass doors mimic the look of wood but without the disadvantages of a wooden door. The modern designs don't warp and come with many paint options including black.
Perhaps the only downside to fiberglass doors is their susceptibility to fading. But other than that, they make a great choice as an exterior door.
11. A black door to accentuate a traditional feature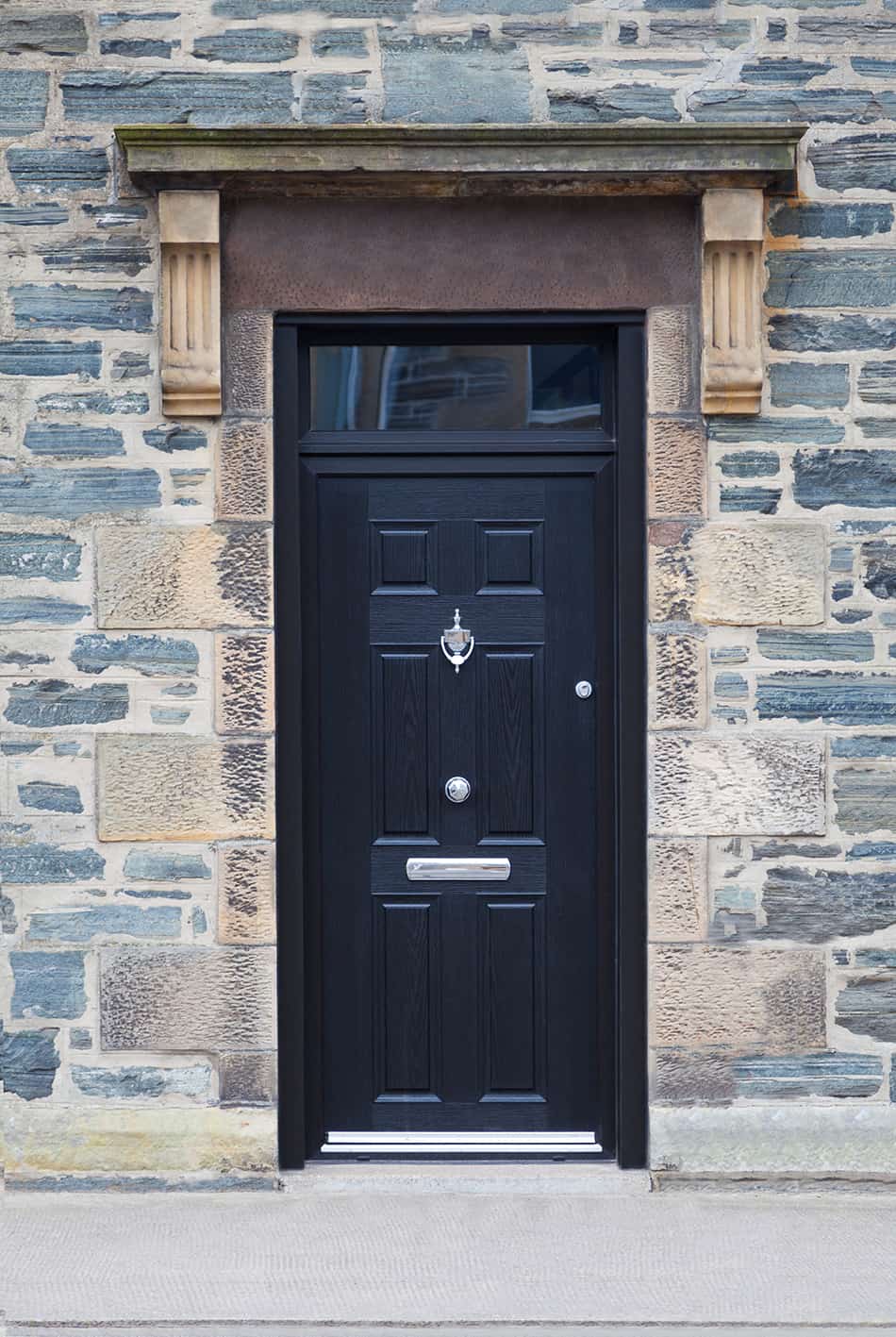 Choosing a traditional-looking door, especially when it's in black, will accentuate the exterior of your house. For example, a rustic country house will look more beautiful if it's combined with a black exterior door that has small upper glass panels. When it comes to altering or modernizing the exterior parts of your home, it's a good idea to think carefully about the visual implications. Keep in mind that mixing the old with the new doesn't always work, especially on older or traditional homes.
Quick Tips on How to Paint your Front Door
Start by cleaning the door surface with a quick wipe down to remove any marks or stains.
Now remove the door's handles, hinges, and any other hardware.
Next, lightly sand over the door's surface and apply a primer. This is especially important if you're going to use oil-based paint.
Make sure you cover all the areas that you don't want paint to get on with masking tape.
Use a good quality smooth foam roller and angled paint brushes to make the task easier.
Now you're ready for painting. Roll the area in horizontal movements between the bottom and top panels and then vertically on the door's corners from the left to the right. Make sure you use your roller lightly for an even finish. Leave to dry for 6 hours, depending on humidity. For optimal results, allow 24 hours for the paint to completely dry.