When we think of the color green, we can't help but get reminded of spring freshness, green apples, grass, soft sage… and so much more. So what better way to introduce this versatile hue to your home than to its entry door. With numerous shades of green to choose from, you can go for a bold, elegant, or zesty look regardless of whether your home is modern or rustic. Choosing the color green for your front door is a great way of making a first impression, but you need to use the right shade of green to make it work with your home's exterior.
If you're not yet convinced, take a look at the reasons why you should consider this color for your front door and 17 green front door ideas that will surely suit your home.
Why Choose Green for Your Front Door Color?
Green is associated with peace and harmony. This calm and organic hue is more appreciated by nature lovers than those who want to make a statement. While the color green, especially the darker tones, is mostly seen on older homes, the softer shades work perfectly on modern properties.
According to Feng Shui, an ancient Chinese philosophy, green is an excellent option for Southeast and East facing front doors. This vibrant color is the Feng Shui wood element that represents fresh spring and joyfulness.  With a simple touch of gloss finish, you can bring this color to life.
Since we associate the color green with spring, it makes sense to opt for this hue for your front door, especially if the door is facing either the Southeast or East direction. After all, what better color to choose to show your bright and happy side than the color green? And you never know, your neighbors may follow suit!
Here are the best examples of green front doors that I've put together to prove why and how this color works for your front door.
17 Green Front Door Ideas
1. Classic Green for a Classy Home
A classic shade of green on this narrow front door is always going to set a tone for sophistication. The small shaped windows on top of the door have enhanced the inviting look. For added elegance, the white siding exterior has given the front door a stately feel.
2. Highlight Your Home's Period Features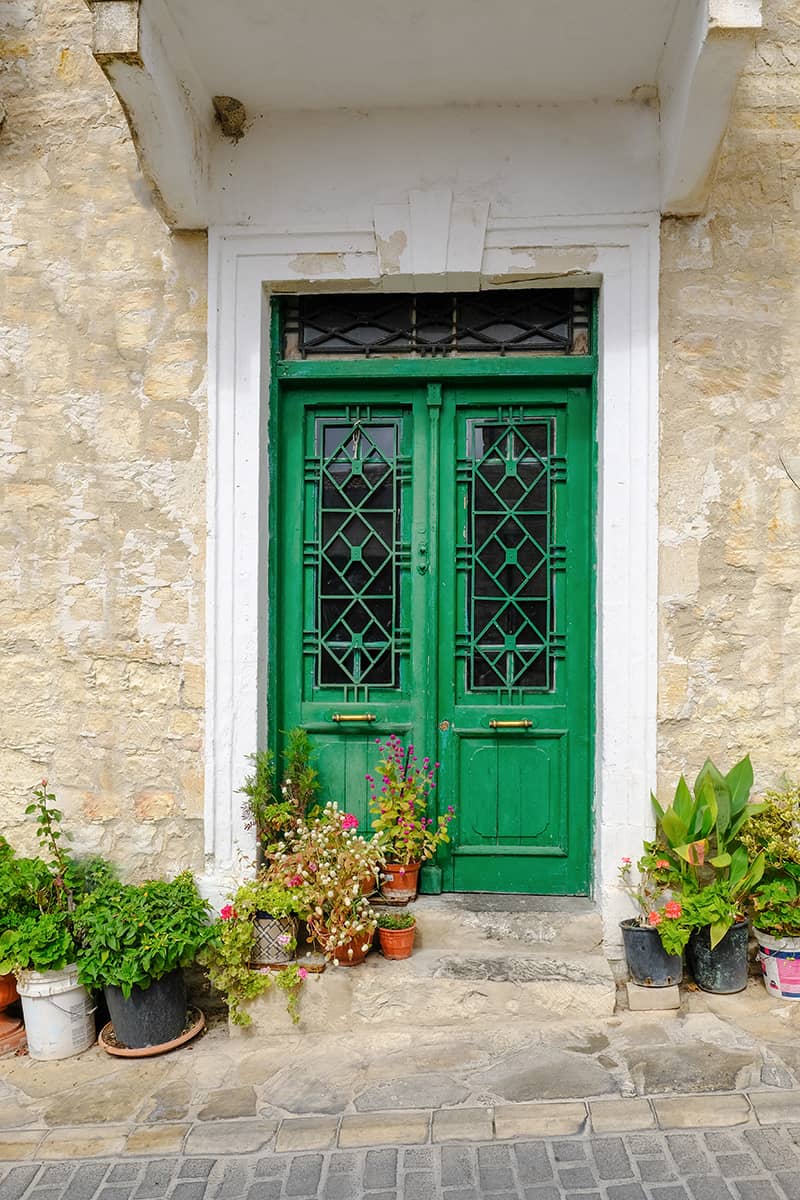 If you're lucky enough to live in a period property, and you still have the original tall double doors, then why not give them a fresh coat of green paint to show off your home's character. Here, the green front door with its decorative window patterns and metal grills boast a charming quality that stand out.
3. Soft Sage for Character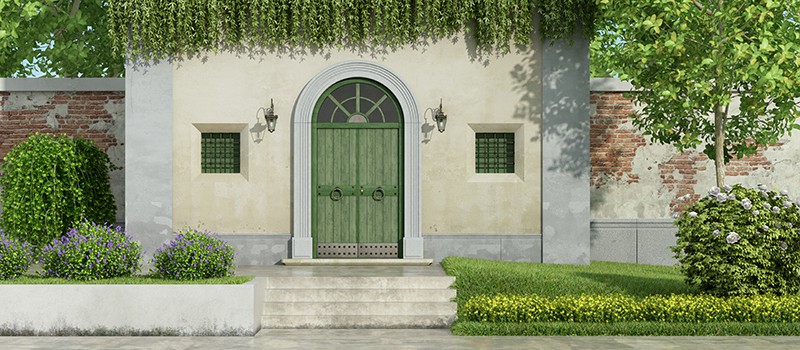 Soft sage is the color to choose for boosting a rustic home's credentials. And what better way to use this hue than on windows and the front door as shown here. The soft green on this arched door matches the small windows perfectly by creating a natural farmhouse look.
4. Dark Green for Harmony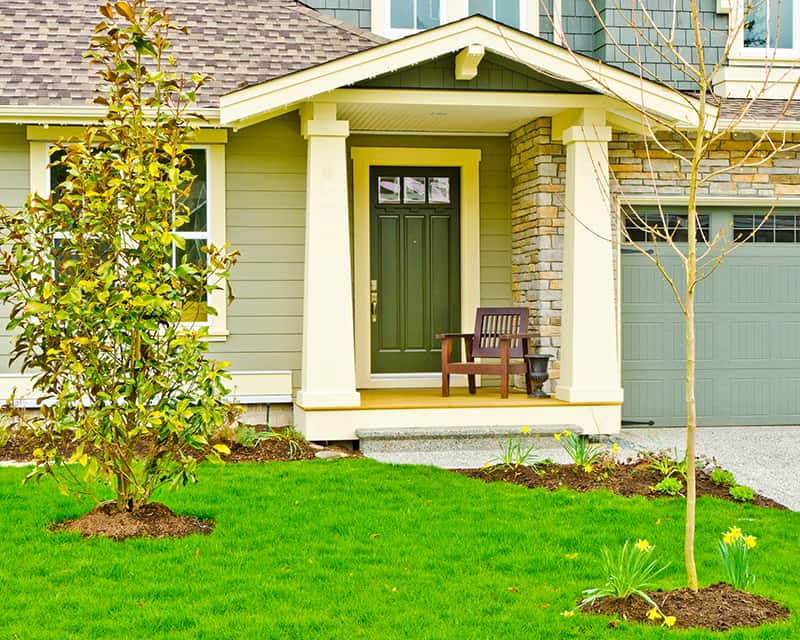 Dark green works on both modern and traditional homes. This hue is associated with iris leaves and pre-flowering heather plants so when incorporated with natural materials, such as stone and wood, it creates harmony. In this image, see how the dark green front door in the middle of the traditional stonework and clapboard has added a layer of grandeur to this house.
5. Cool Green Doesn't Mean Cold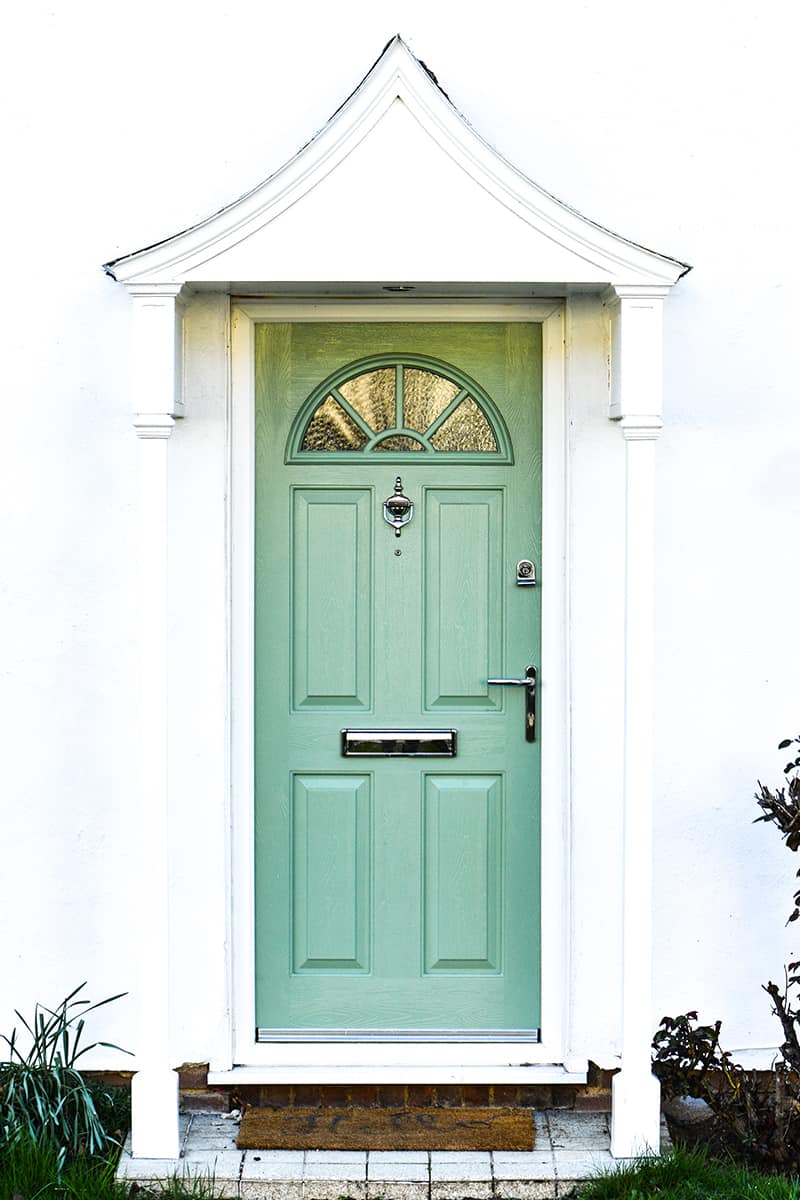 If you love the cool shades of green and you want to express your personal style, you should lean towards neutral exteriors, especially those with architectural features. In this image, the cool shade of green on the front door complements the white exterior and the canopy without making the home feel uninviting or cold.
6. Classic Cottage with Green Door and Window Shutters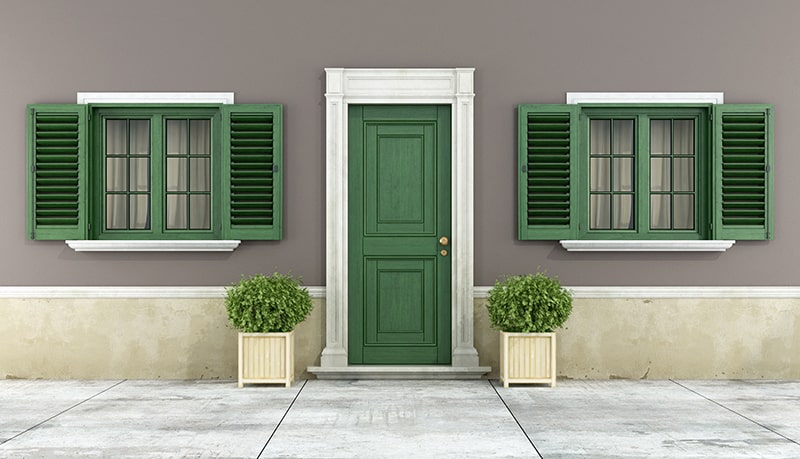 A green front door combined with matching shutters on both sides can turn an ordinary house into a classic cottage. Window shutters and frames painted in the same green color as the front door will highlight your home's traditional elements, especially when the door and the windows are framed in white.
7. Pair Green with Greenery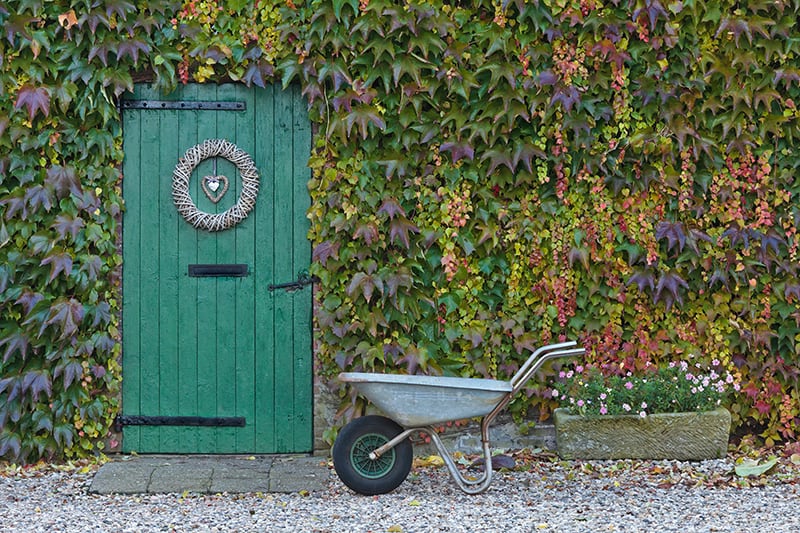 Thanks to the abundance of colored ivy on the entire wall of this old barn conversion, the earthy green front door feels lush and modestly stands out. Another nice touch that's added real depth to the entire look of this house is the wreath displayed on the front door.
8. Lime Green is Hard to Resist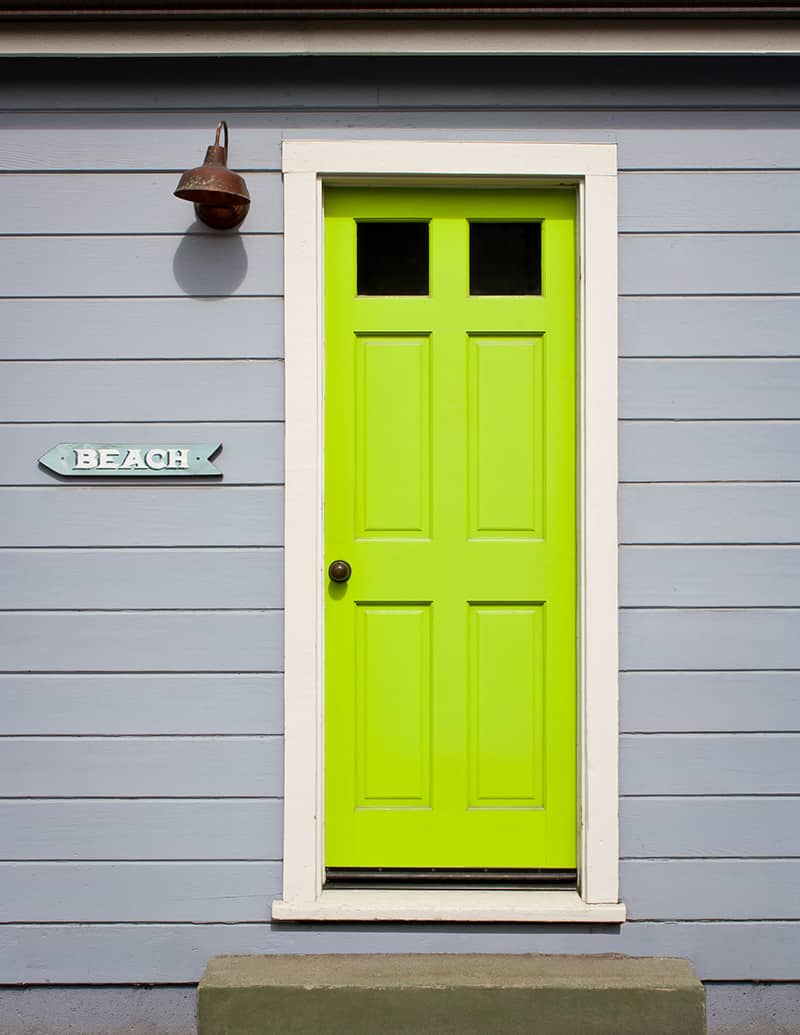 Modern beach house owners have already discovered lime green as the ultimate front door color. This hue is a popular exterior paint choice that portrays the homeowner's love for nature and the sea. In this image, see how beautifully the bright lime green front door works against the light grey wood exterior and white wood trim. Doesn't it make you want to go to the beach?
9. Apple Green for a Touch of Modernity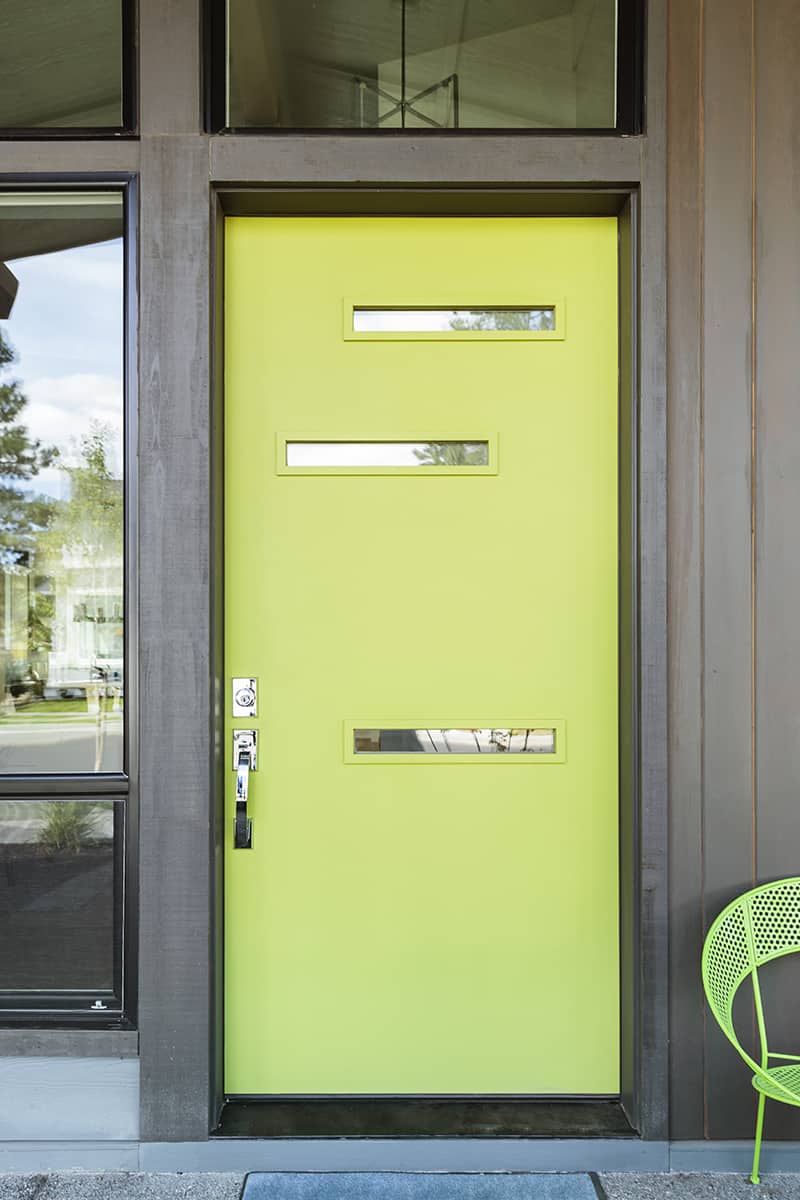 Apple green is a popular shade for modern front doors. The secret to this green look is the dark siding that serves as a backdrop. You can see in this image how the dark brown exterior and framing subtly work against the bright green front door.
10. Bring Out the Sunny Side of Your Home's Front Entry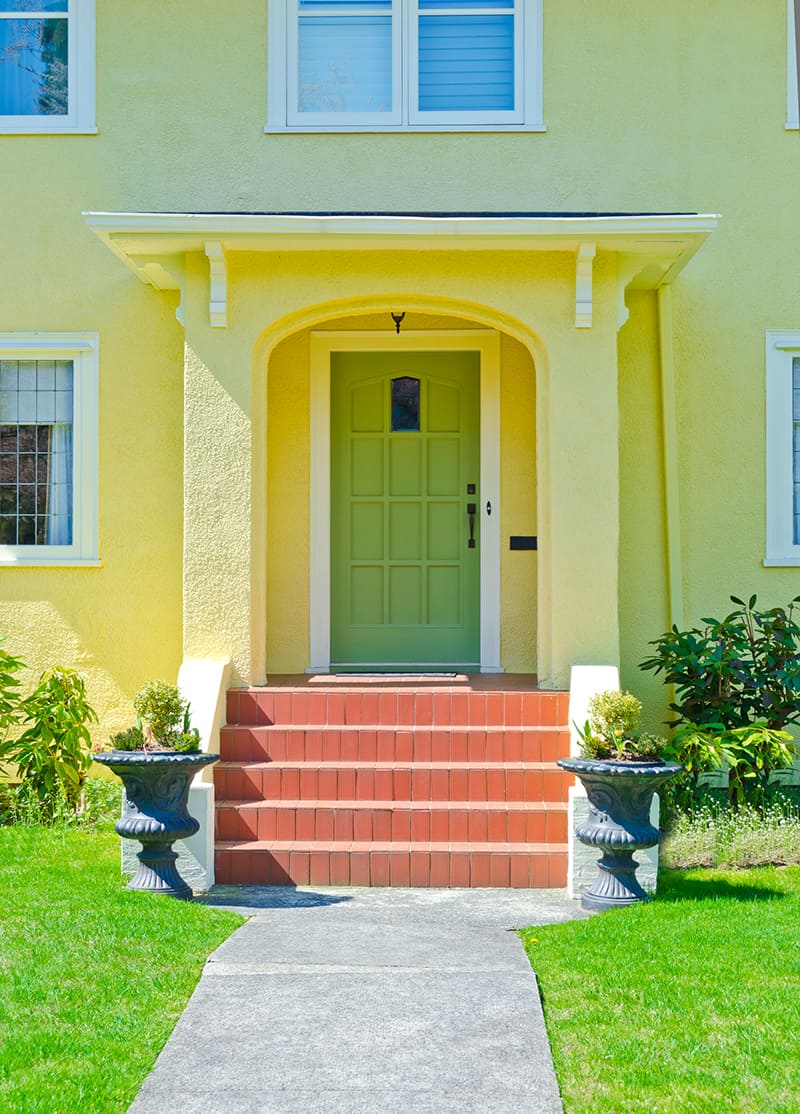 If you thought the color green clashed with other bright colors, you couldn't be more wrong. Here is the proof of how the yellow porch and terracotta stairs have helped create a retro and warm look. You can achieve this look with the smallest patios and other exterior accessories as long as they are brightly colored. Experiment with flower pots or hanging plants on both sides of the patio columns as they will all work beautifully with this green shade.
11. Show Your Cool Side with Cool Green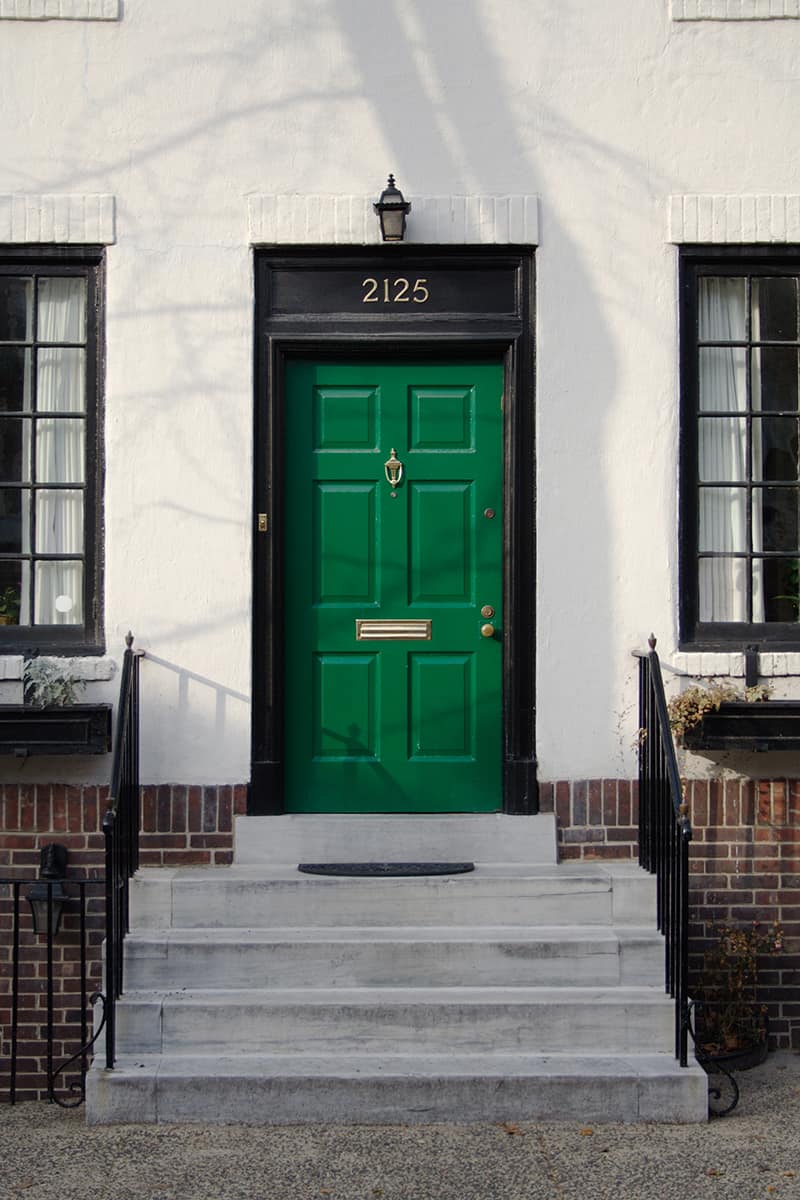 There is no denying the natural charm of green front doors, but when paired with black windows and door frames, they can truly contrast with your home's warm undertones. To take this look to the next level, match your exterior with the same color as the windows and frames so that the elegant green front door stands out as seen here.
12. Create a Rugged Look with Yellow and Green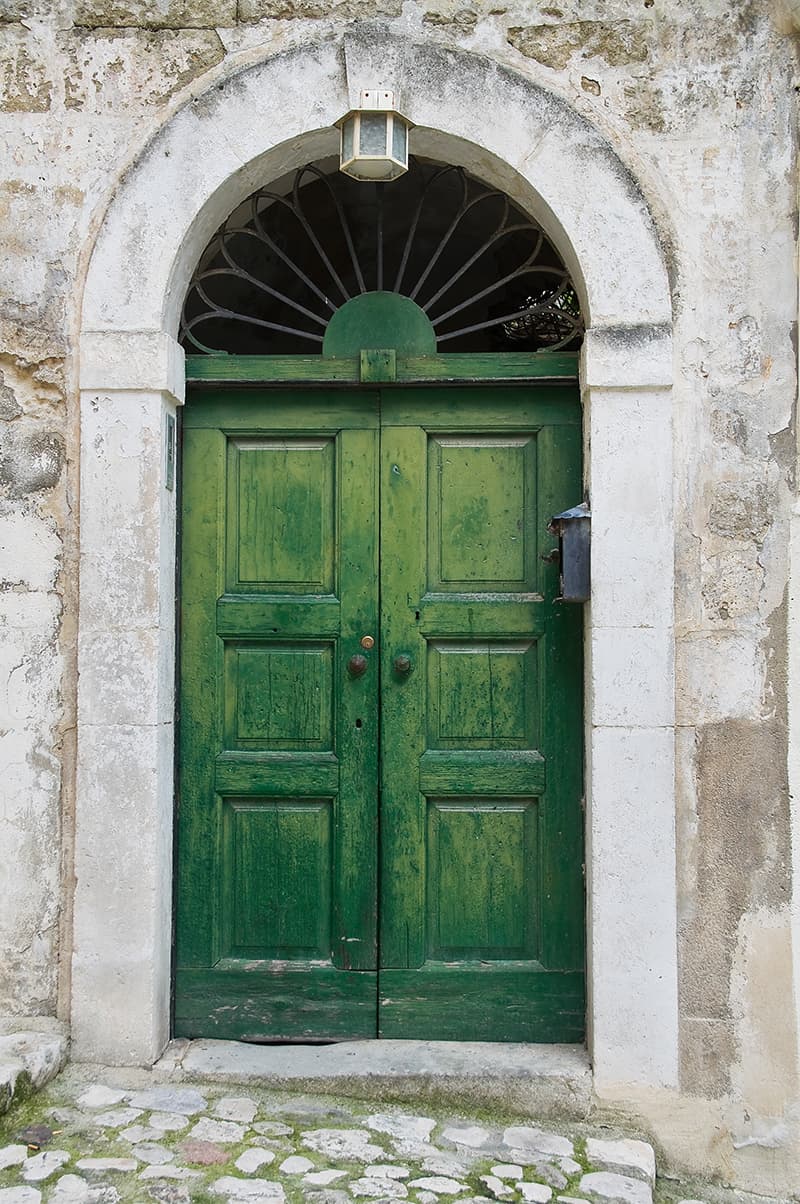 Homes with neutral-colored stone exteriors can enjoy just about any color on their front door. However, if you want your entry door to take center stage, paint your door yellow and then go over it with green for a rugged look. In this example, the double front door looks warm and the charming metal arch-top makes the door stand out within the stone frame.
13. Bright Green Against Bright White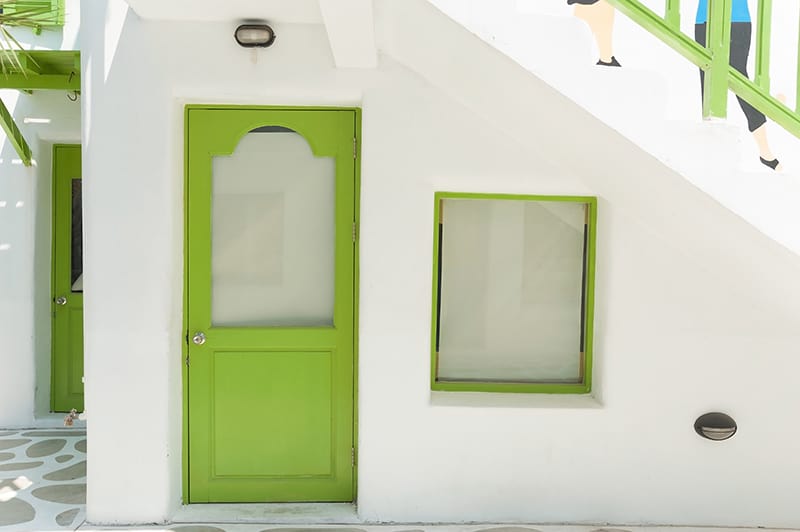 When selecting a paint palette for your home's exterior, consider bright white against bright green windows, patio door, and front door for a Mediterranean look as shown here. You can either paint your doors and windows bright green, or if they are already green, you can paint the exterior of your home pure brilliant white to achieve this look.
14. Light Green with a Grey Exterior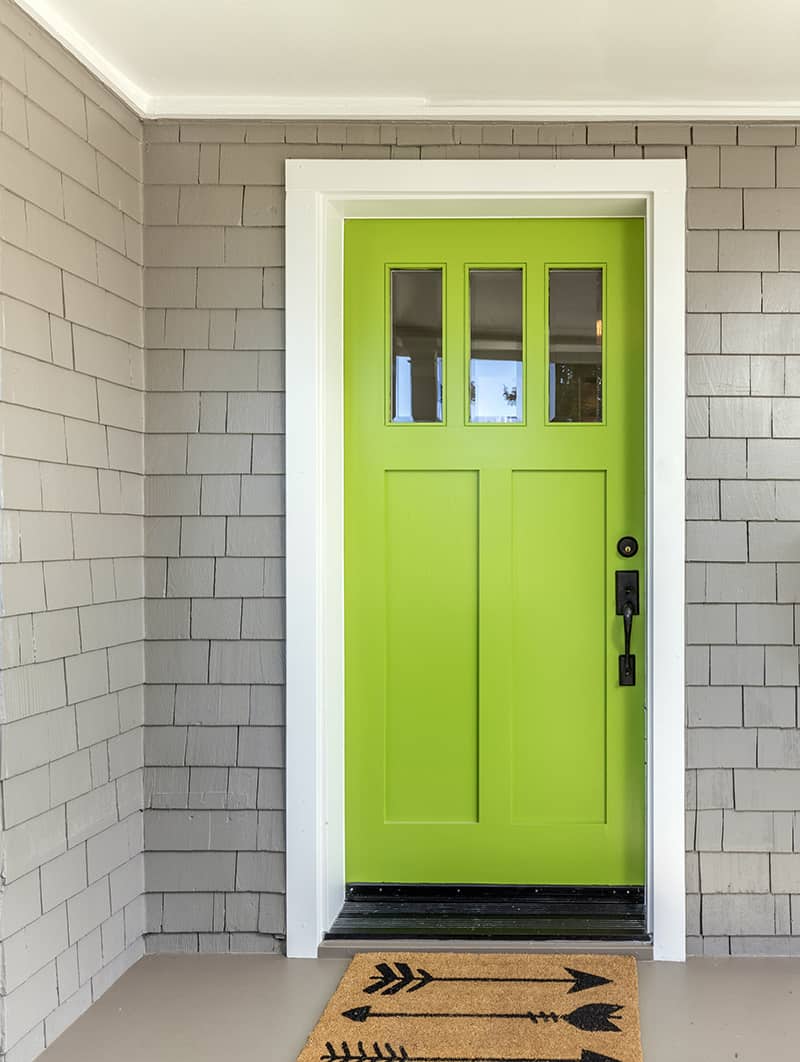 Light grey is a neutral color that works best with a dramatic hue, such as green. If you want your front door to be the center of attention, then opt for a bright lime green color like the one shown here against a light grey exterior.
15. A Row of Bright Colors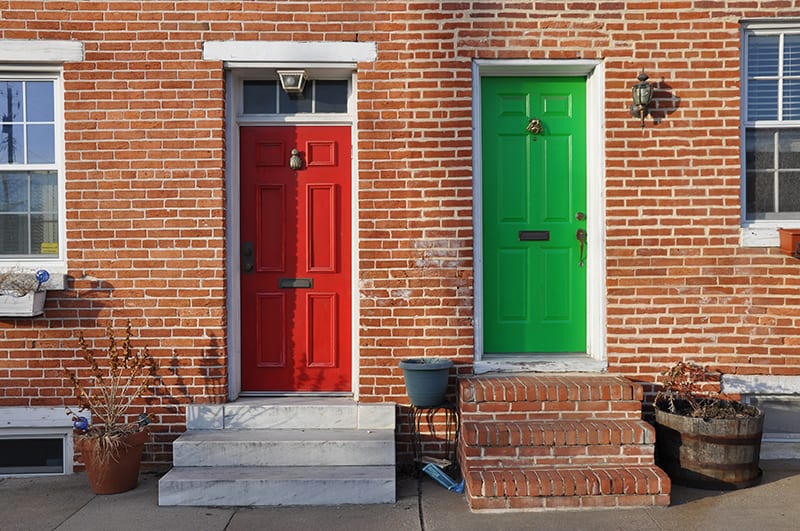 If you're not keen on bright lime green as your front door's color, try this softer and gentler shade of green instead. It works especially well against a red brick exterior as the two are contrasting colors. When paired with a matching mailbox, it offers a softer contrast with the neighbor's brightly colored front door.
16. Green Door as the Focal Point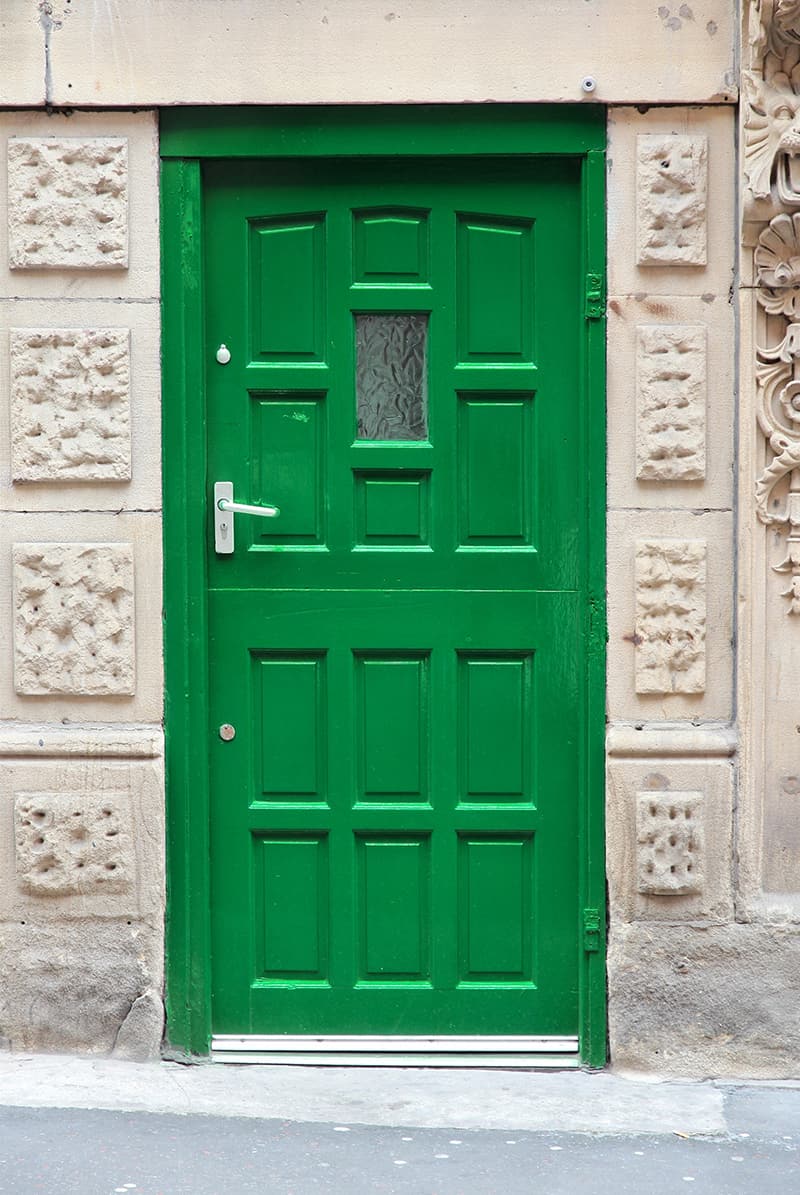 If your home has architectural molding on the exterior part of the building, why not enhance this beautiful feature by painting your front door green. See how this green front door with its small glass window looks so unique against the rustic exterior of the building. It is certainly a stunning focal point and bound to grab the attention of passersby.
17. Green Door with Blue and Gray Siding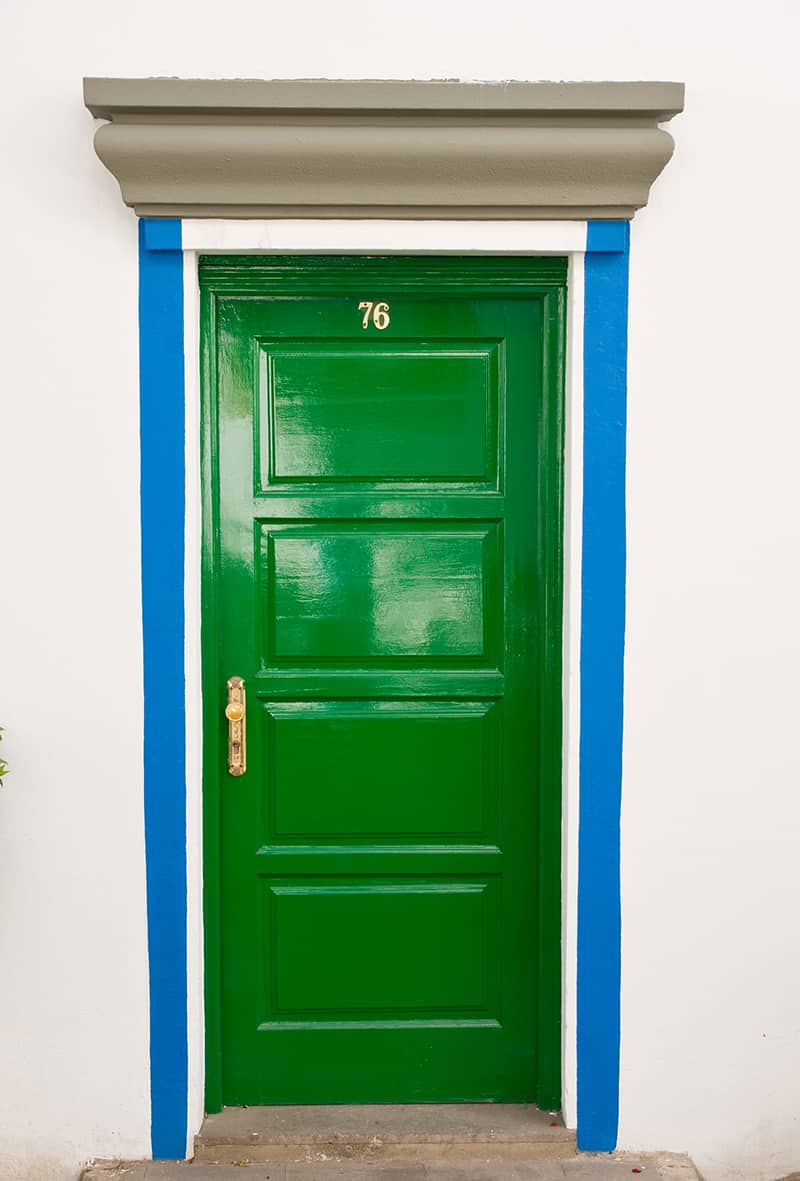 With a bright and bold green door against cool-blue and gray framing, you can create a contemporary and original palette. The neutral backdrop makes the entry door stand out even more as proven in this image. The contrasting colors around and above this door are a great way of welcoming visitors and provoking interest.