From cobalt and classic blue to admiral and indigo, when it comes to choosing a shade of blue for your front door, you're certainly spoiled for choice. This understated color is reminiscent of the sea and sky, but it represents so much more. If blue is your favorite color (like it is mine!) and you wish to increase your curb appeal, take a look at my 22 examples of different shades of blue front doors on modern and traditional homes.
What Does Blue Front Door Mean in Color Psychology?
A blue front door symbolizes wealth and prosperity. The darker shade of blue you choose, the more peace and tranquility you bring into your life.
Whether you live in a modern house or a rustic cottage, it makes perfect sense to choose a blue front door for elegance, peace, and tranquility. Here are some great examples with pictures:  
1. Navy on Traditional Style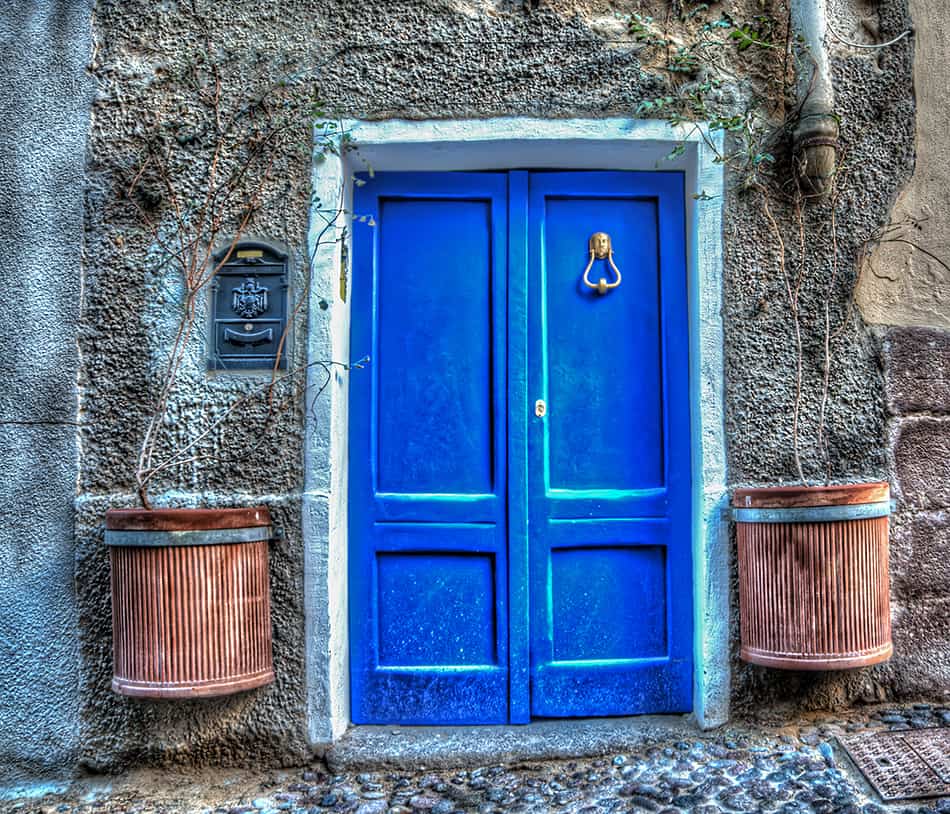 Navy is a safer alternative to red for anyone who wants to try this shade on their door for the first time. When paired with a blue frame and hanging plants, a navy front door achieves a classic facade. This traditional navy entry door has created a rich contrast against the plant-covered exterior of this Italian-style home. But it's not the color that stands out here; it's the rustic wooden design of the actual door itself that is doing all the talking.
2. Teal for a Cottage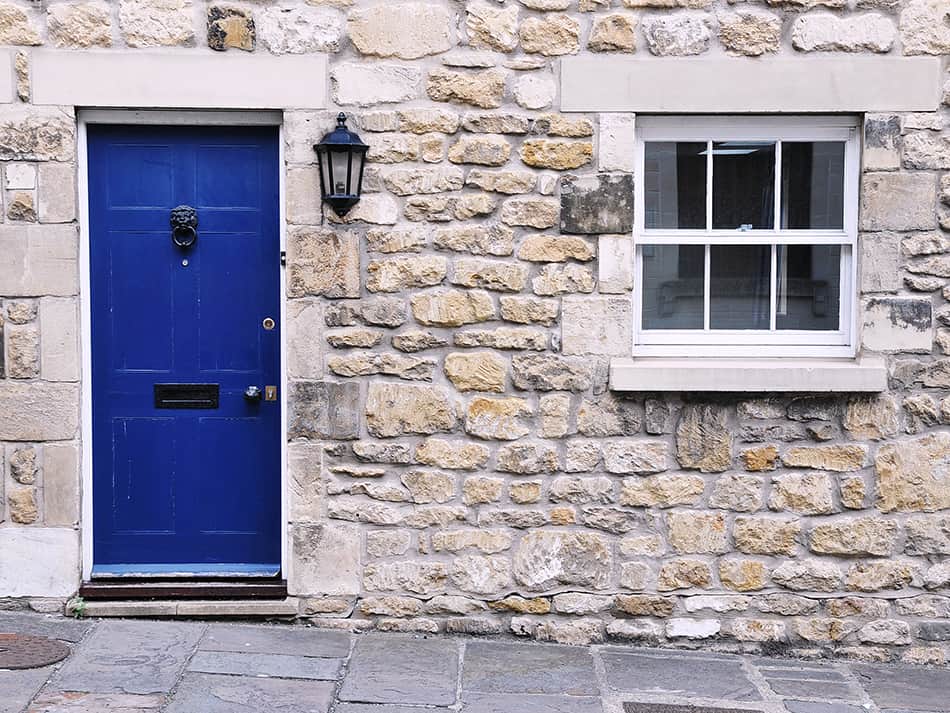 Teal is the perfect choice for stone cottages as it's a muted tone that blends beautifully with the rustic surroundings. This shade of blue is vibrant enough to make this cottage door stand out without competing for attention. Although the black metal knocker and the black side light  complement the white window, they don't steal the show like the teal front door.
3. Muted Grey-blue for the Color-shy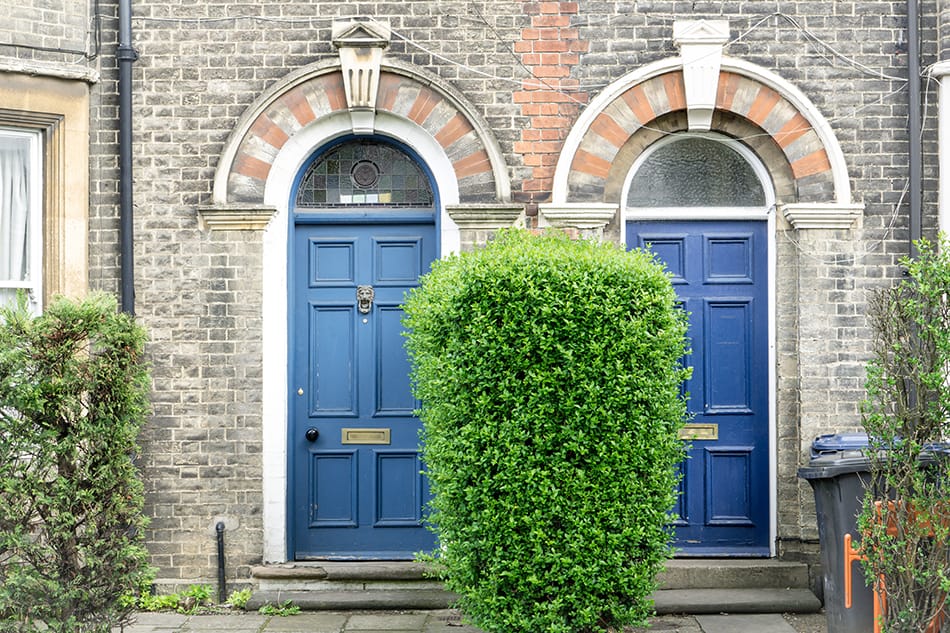 If you love the idea of a blue door, but you're color-shy and don't want it to stand out from your next door neighbor's, consider a muted grey-blue shade that hits just the right note. Here, the entryway gives a soothing feel with the two soft blue front doors with a huge hedge to take away the attention.
4. Lighten Up with Sky Blue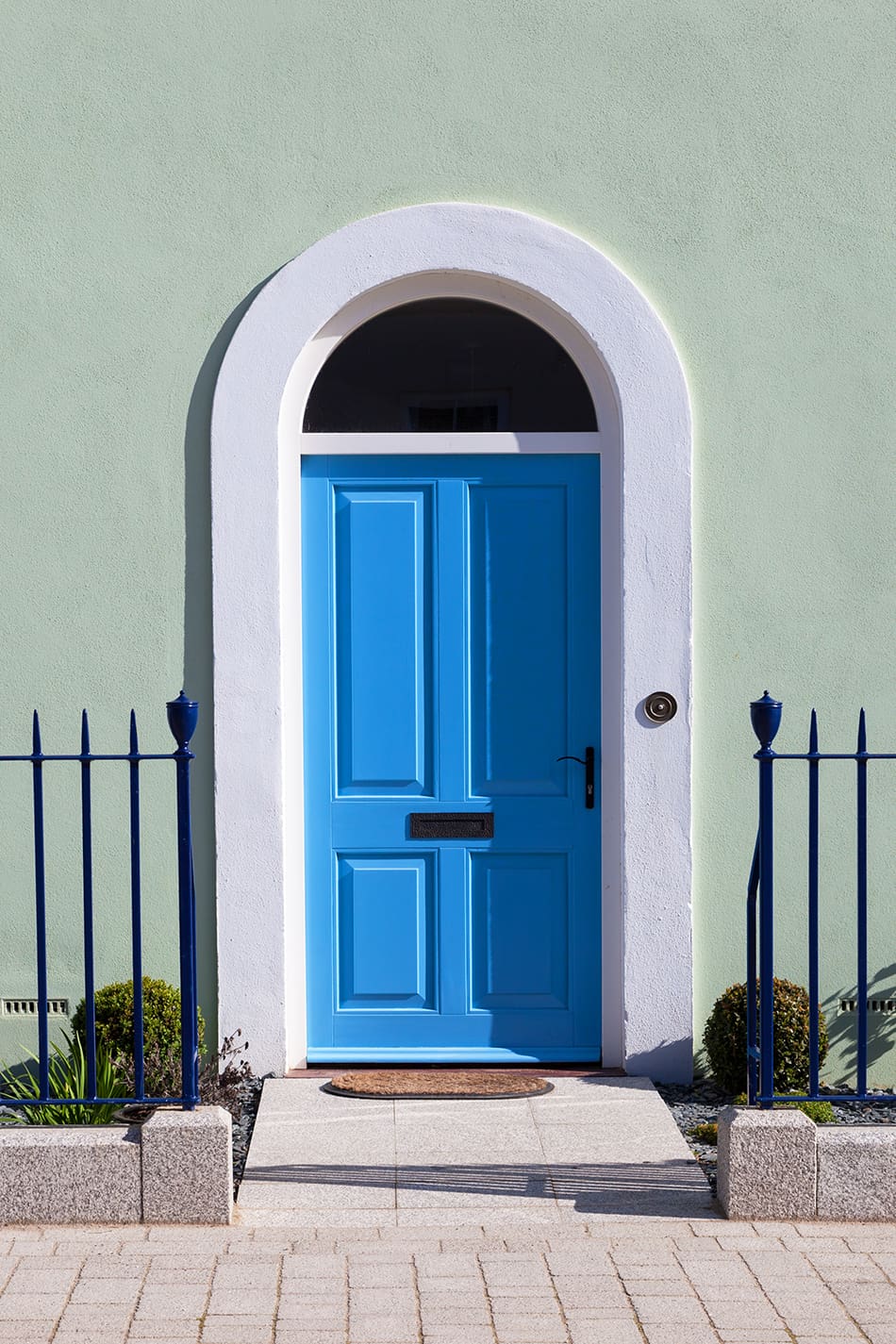 Sky blue is an inviting and friendly hue that makes a great choice for a front door. It goes perfectly with any type of exterior as seen here. This tone is earthy and calming, but it's not commonly seen on entryways. If you want to incorporate this shade of blue into your front door, you can be sure of transforming it into a welcoming entrance.  
5. Blue Paired with Red Brick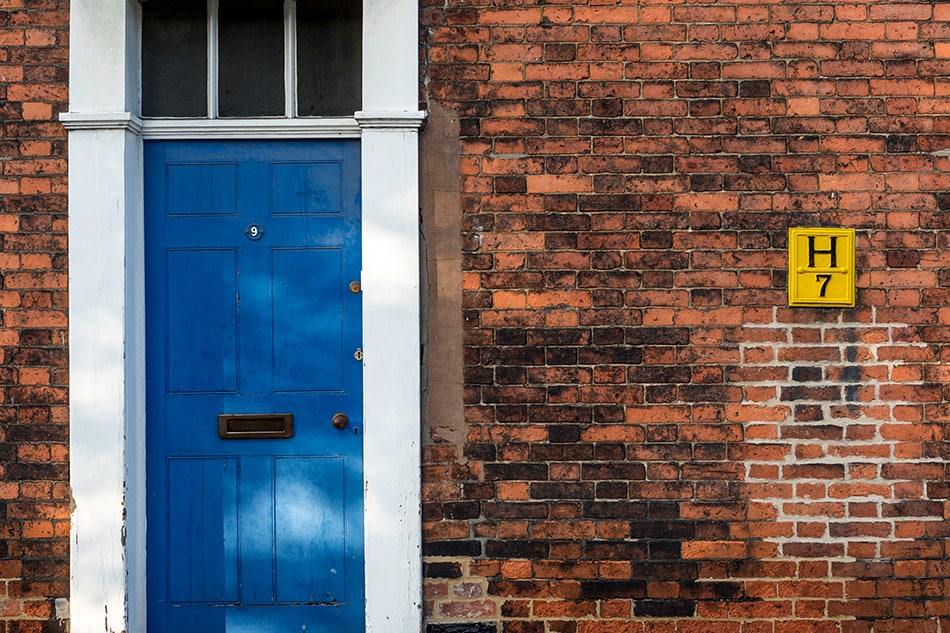 Red brick against a blue door is a deep contrast that works very well as demonstrated in this picture. A blue door is an elegant choice for such exteriors as it reinforces the period feel of the property.
6. Dark Blue for a Quiet Statement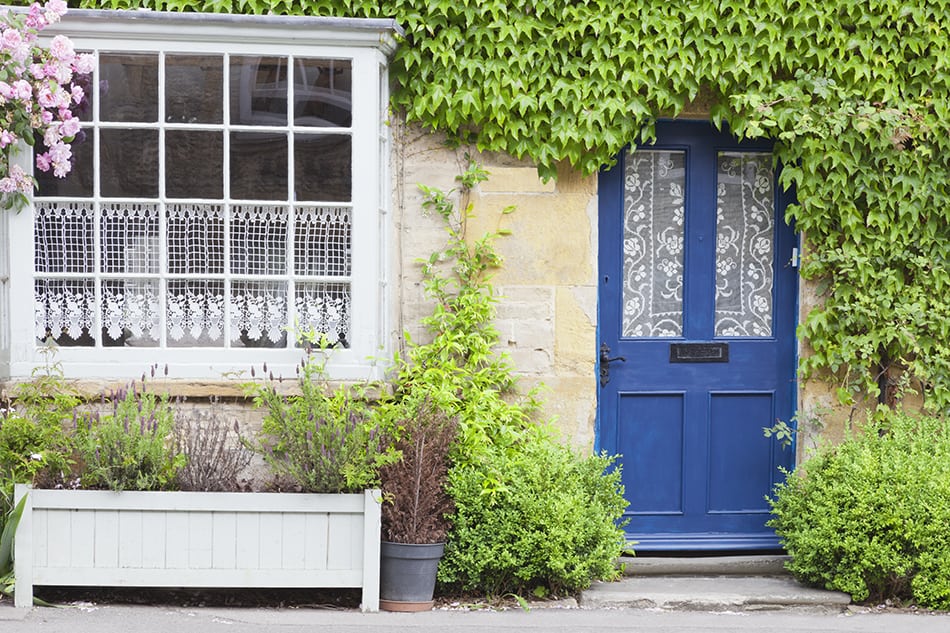 For an even more traditional look, go for dark blue like indigo. This dark shade of blue is best suited to older style homes. To make an understated impact, pair the front door with green plants and white window for a sophisticated, yet subtle appearance.  
7. Classic Blue with Decorative Elements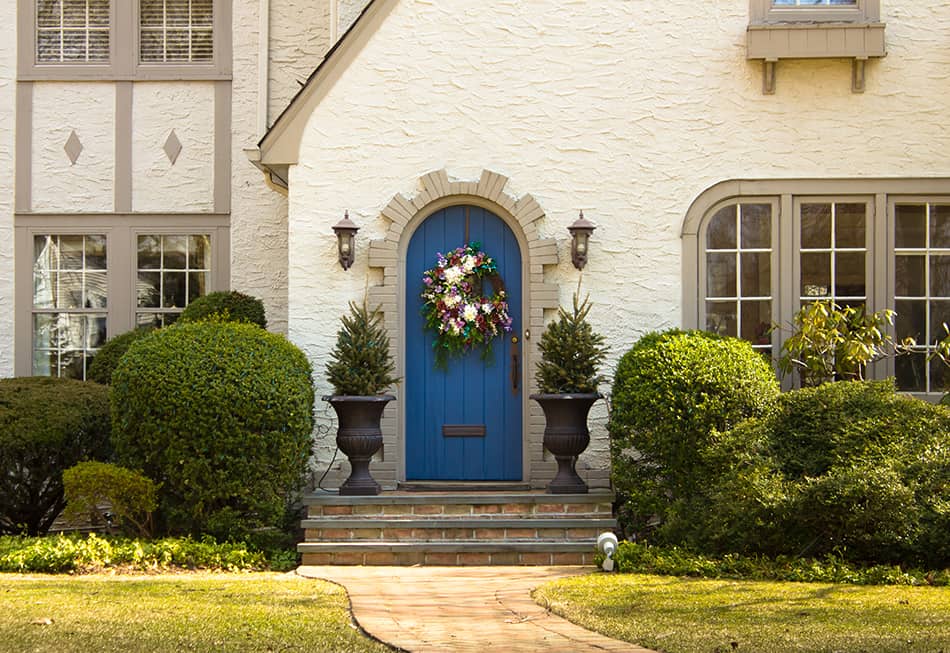 Painting your front door classic blue can make a great first impression. To enhance the impact, consider hanging a large floral wreath on the door and placing two large plants in decorative pots at both sides of the entry. The decorative elements of this front door have softened the blue tone and look stunning against the white and grey exterior.  
8. Turquoise on White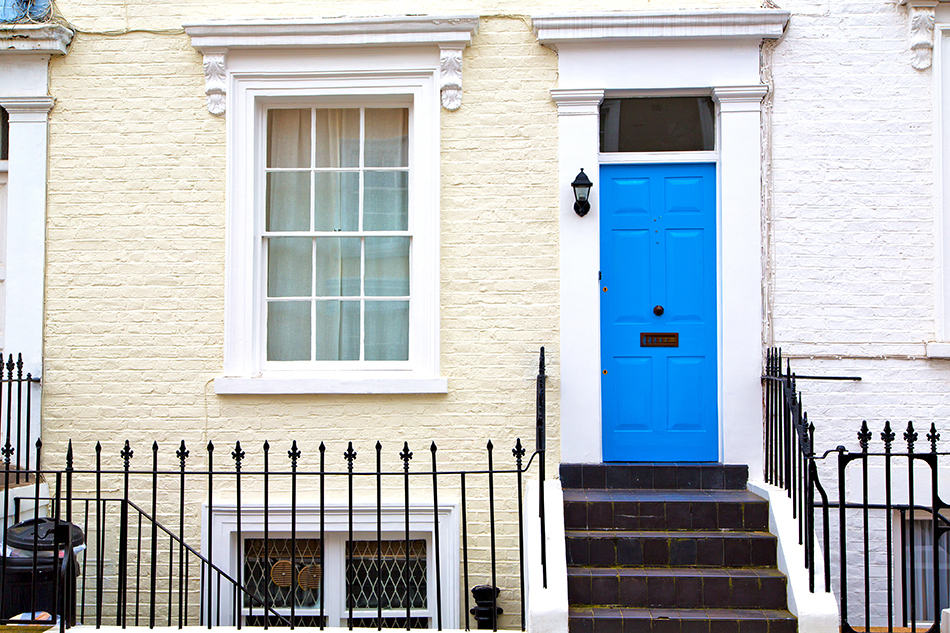 To add a striking appeal to your entryway, opt for a turquoise blue door. See how this bright blue door stands out next to the ornately decorated white window. The black railings, steps, and side light emphasize the blue color of the door even more. The reason this door stands out so much is because of the vibrant turquoise hue that offers a modern contrast to the classic facade.
9. Blue and Green as the Winning Combination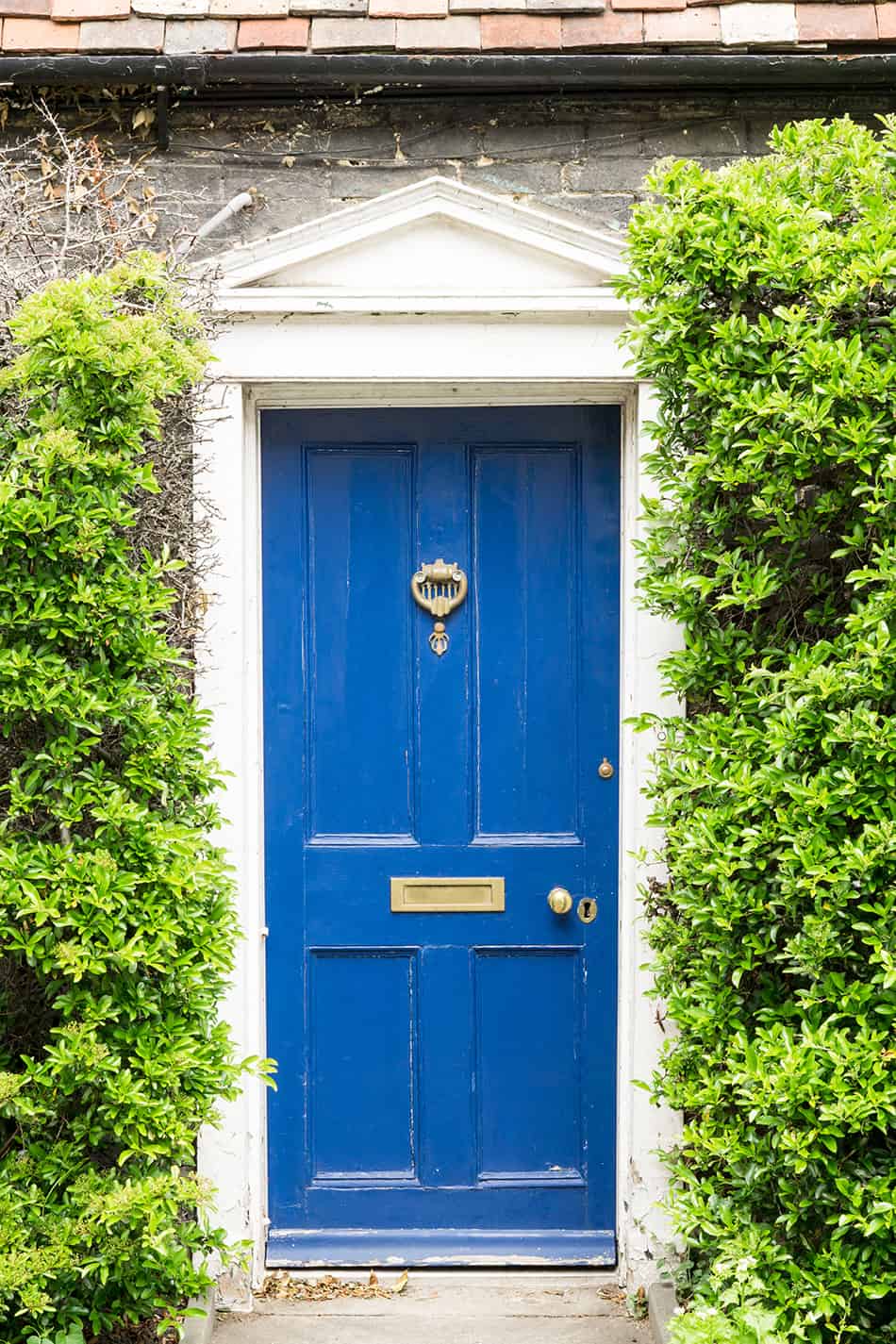 A fine example of how blue and green make a perfect pair is demonstrated in this picture of a vivid blue door with lots of greenery on the walls. The energetic vibe of blue and green together ties the knot as a match made in heaven.
10. Make a Punchy Statement with Cerulean Blue
If you want your townhouse to stand out from your neighbors', paint your front door a cerulean blue. This cheery and unexpected shade of blue makes a special look-at-me statement that's ideal for those who want their entryways to stand out.
11. Go for the Coastal Look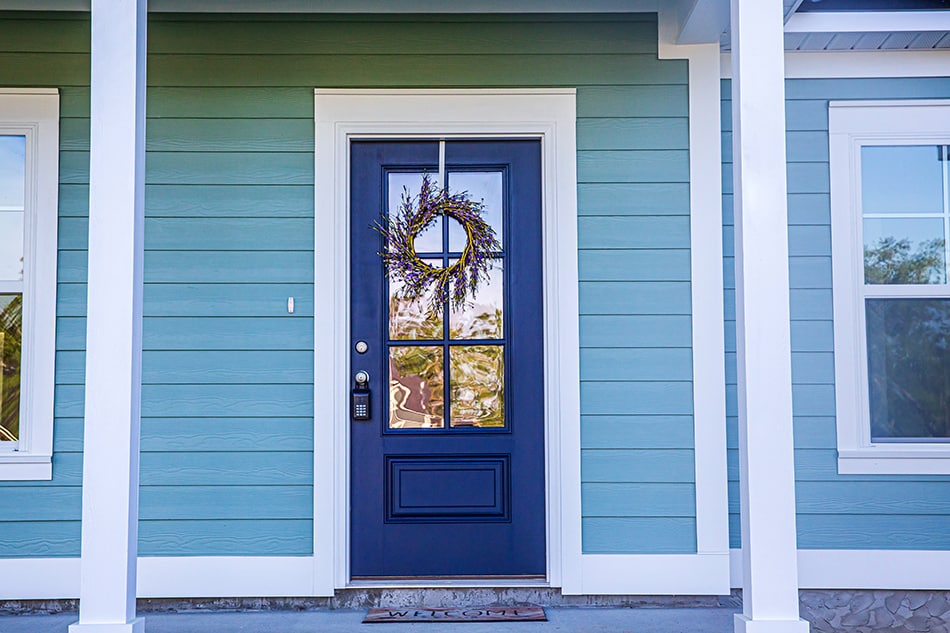 What better way to follow a nautical theme than matching your blue siding with a dark blue door. This image shows how the blue front door has made a great impact next to the white framing and blue exterior. The defining element here is the wreath on the glass panel door, which conveys an inviting message.
12. A Single Burst of Blue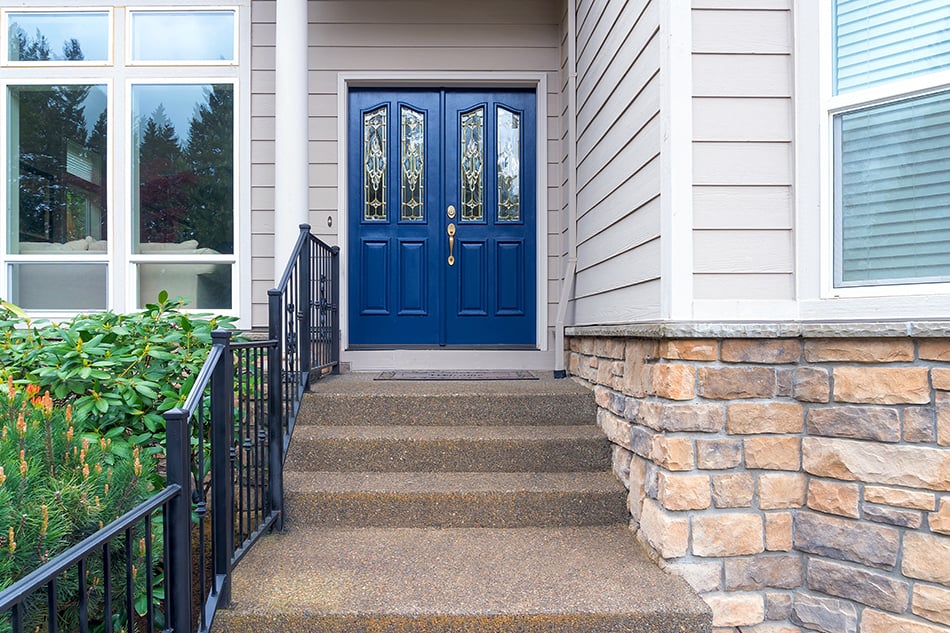 A pop of blue on grey exterior is a daring choice to make a statement. This vibrant doorway pulls out all the stops with its double blue door. The contrasting blue hue hasn't stopped this door from blending in with the rest of the house.
13. Royal Blue on White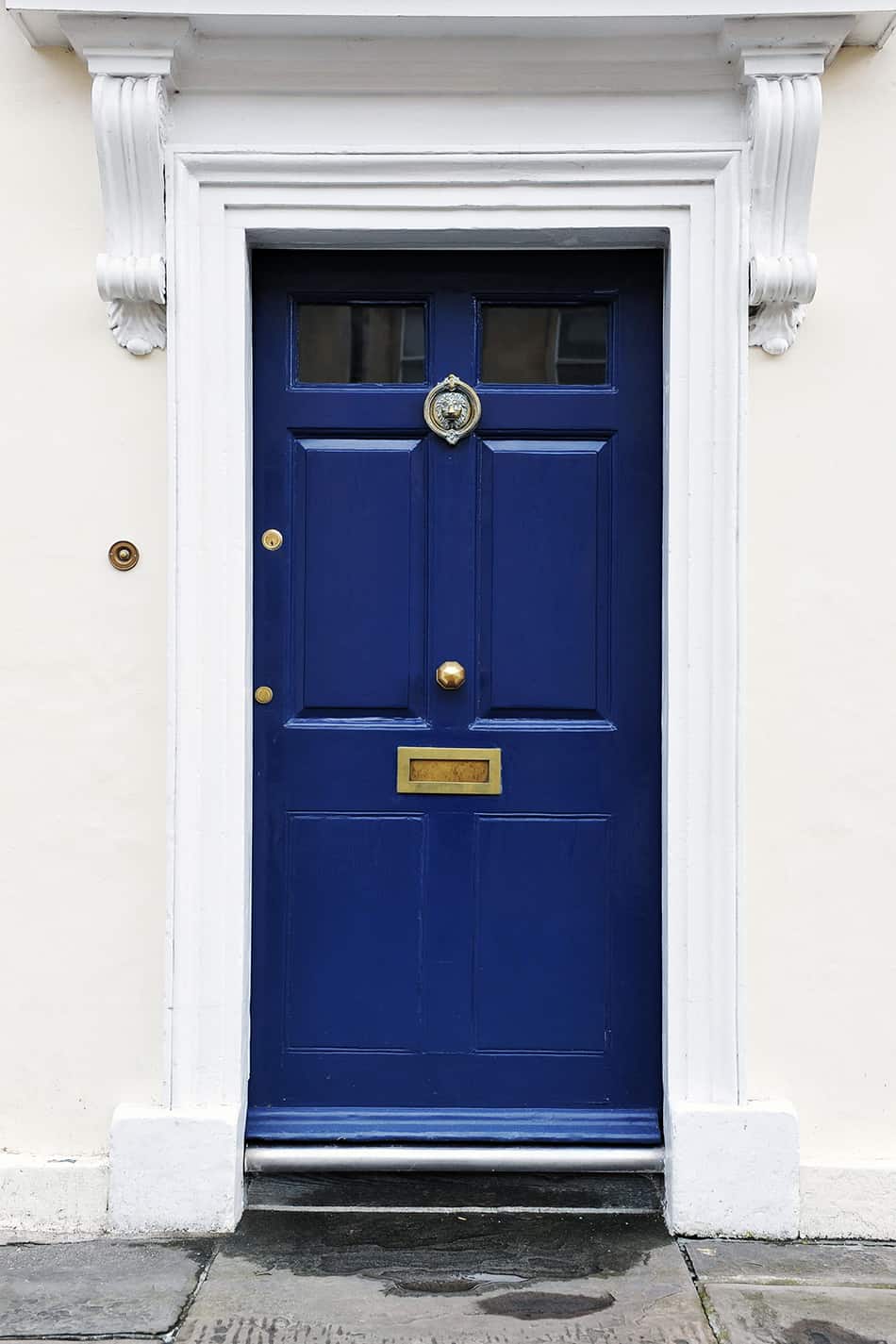 As a classic combination, royal blue and white never go out of style. This versatile color looks beautiful next to white siding and truly stands out against the home's exterior.
14. Aqua Blue on a Greek Style Home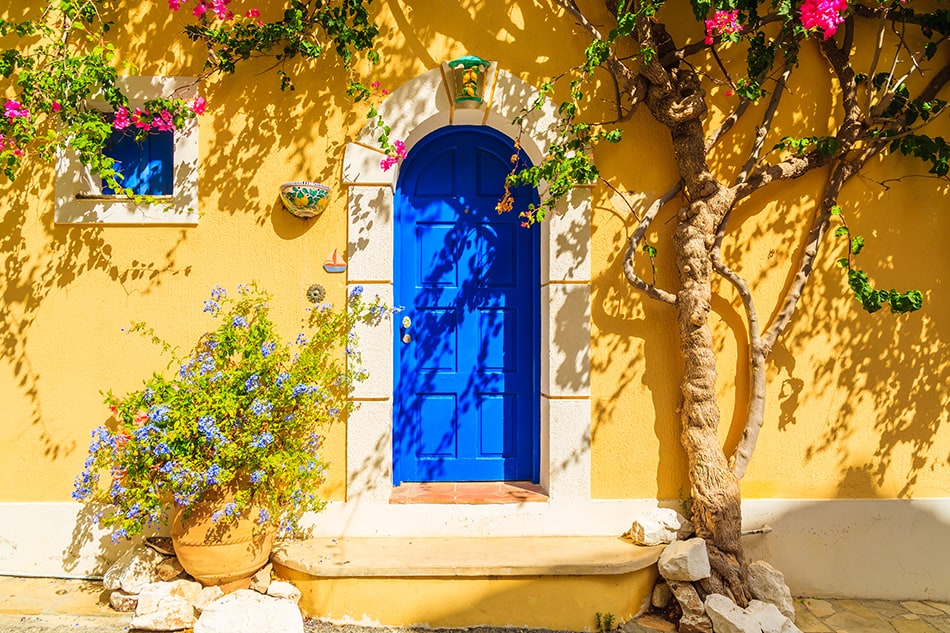 An aqua front door isn't just perfect for a coastal-themed home. It is now increasingly becoming common on traditional cottage style houses. If you want to mimic the same style as Greek homes, i.e. bright blue doors and lots of flowers around the entryway, opt for aqua blue to get your entrance noticed. Tucked into a white framing with beautiful trees and flowers, this vivid blue front door doesn't fail to get noticed. 
15. Lilac Blue on Grey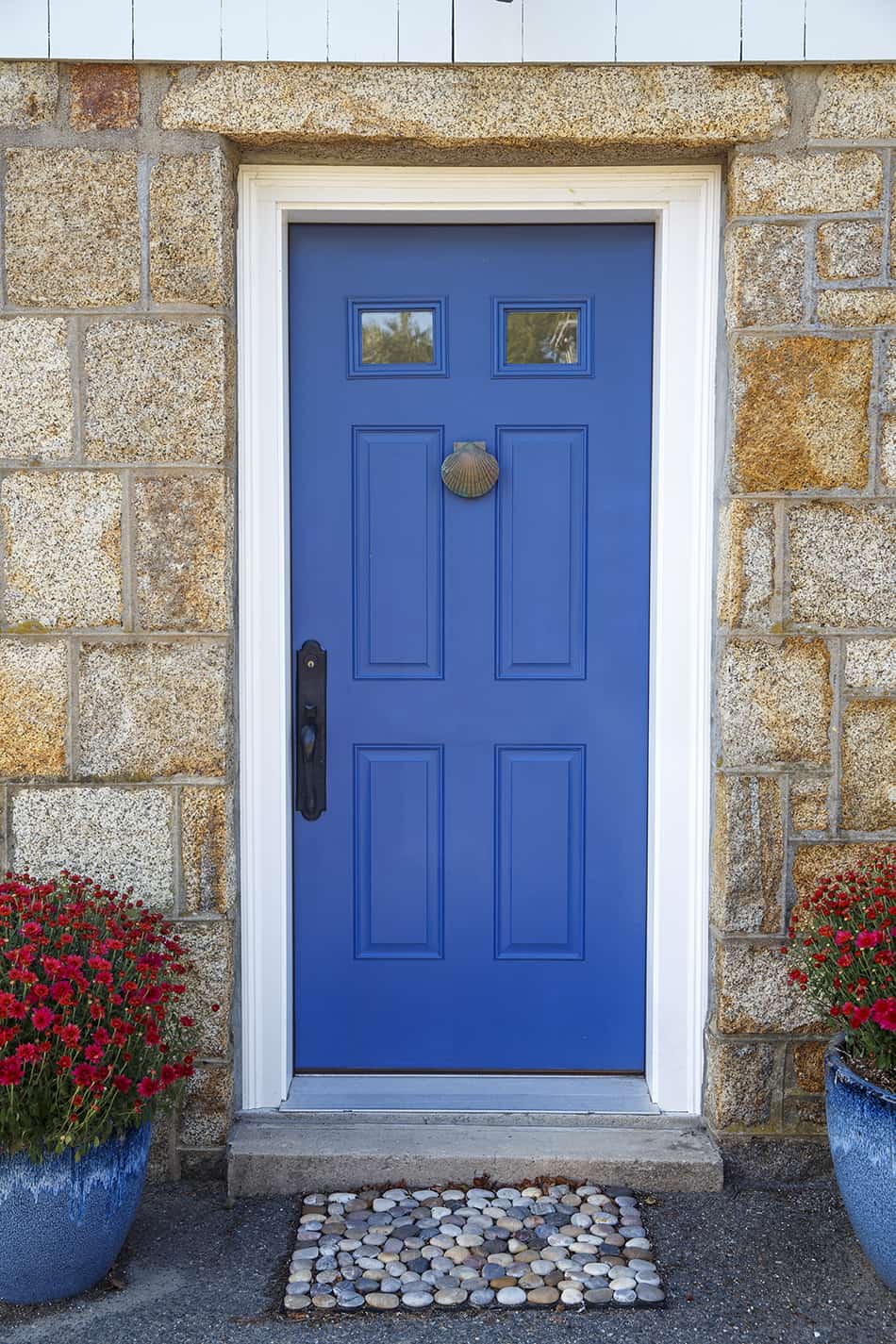 Lilac is a stunning color for a front door. It makes a bold choice, especially when paired with white framing against a grey background. This front door is a classic demonstration of the homeowners individuality.
16. Pastel Blue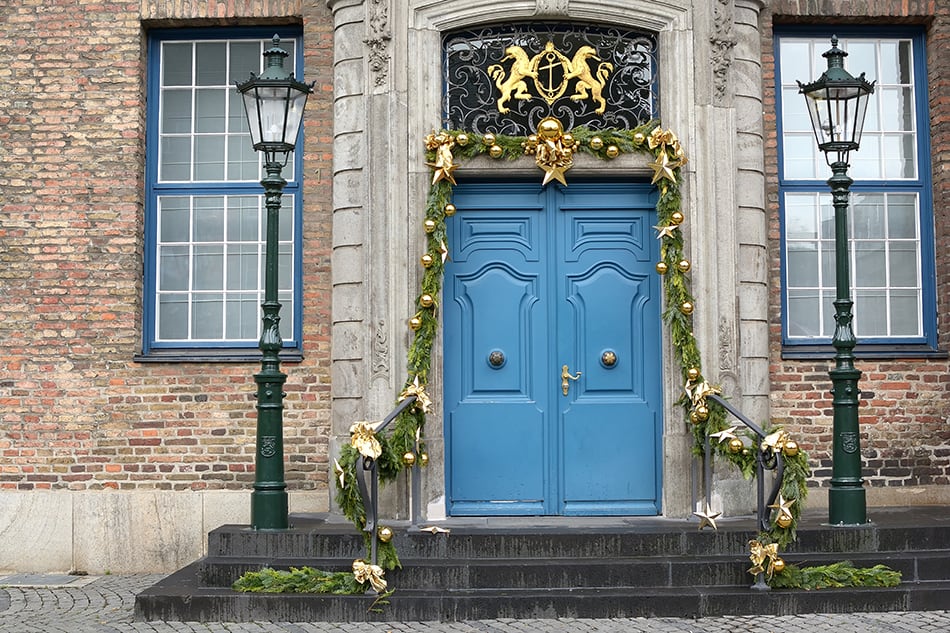 Pastel blue is a sister hue of lilac. When used on a front door, it will instantly make you fall in love with its appeal. Aren't you smitten with this adorable pastel blue double door that's accented by festive decorations? No doubt it's the envy of all the neighbors! 
17. Modern Blue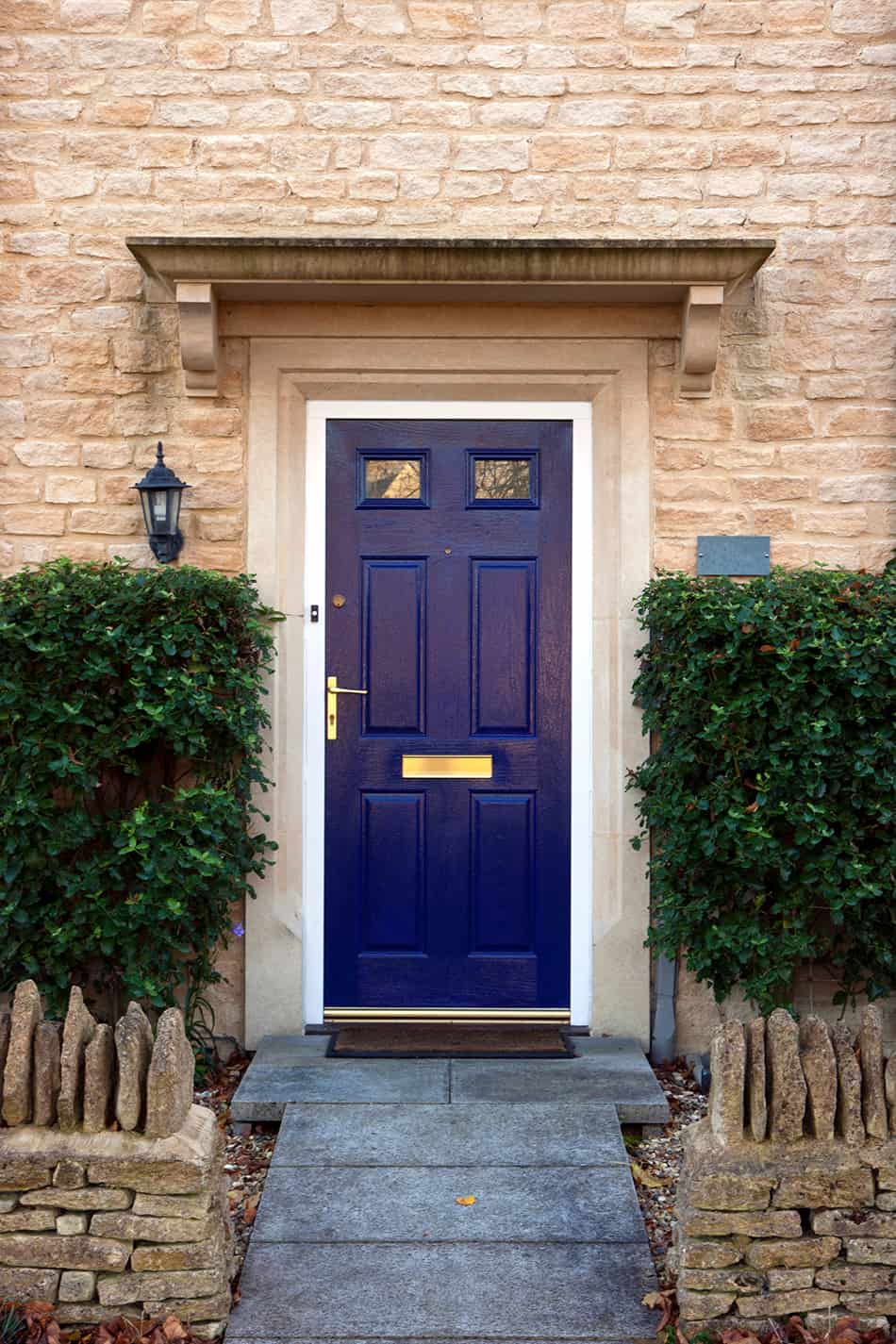 A modern blue hue like cobalt or navy works with almost any house style. Whether you live in a cape-cod style home, or a Victorian one, a modern blue front door is a natural fit that can easily accommodate any exterior. 
18. Brilliant Blue for Townhouses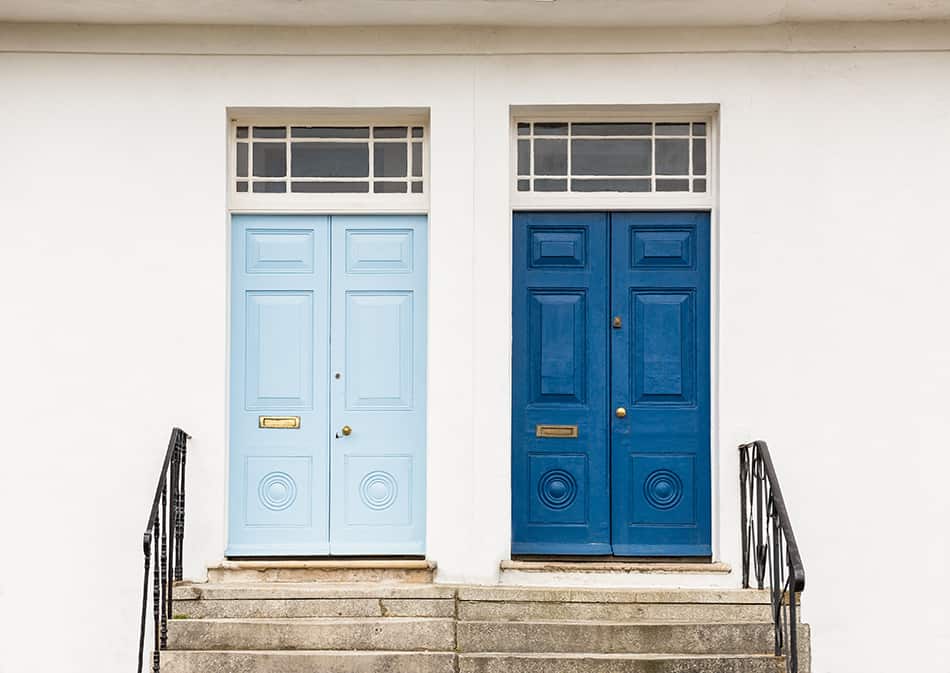 Townhouses or rows of houses with light and dark shades of blue front doors look stunning as seen here. To brighten your entry, consider a new approach by adding a muted or bold blue front door that stands out on a white exterior. 
19. Blue with Glass Panels on Georgian Style Home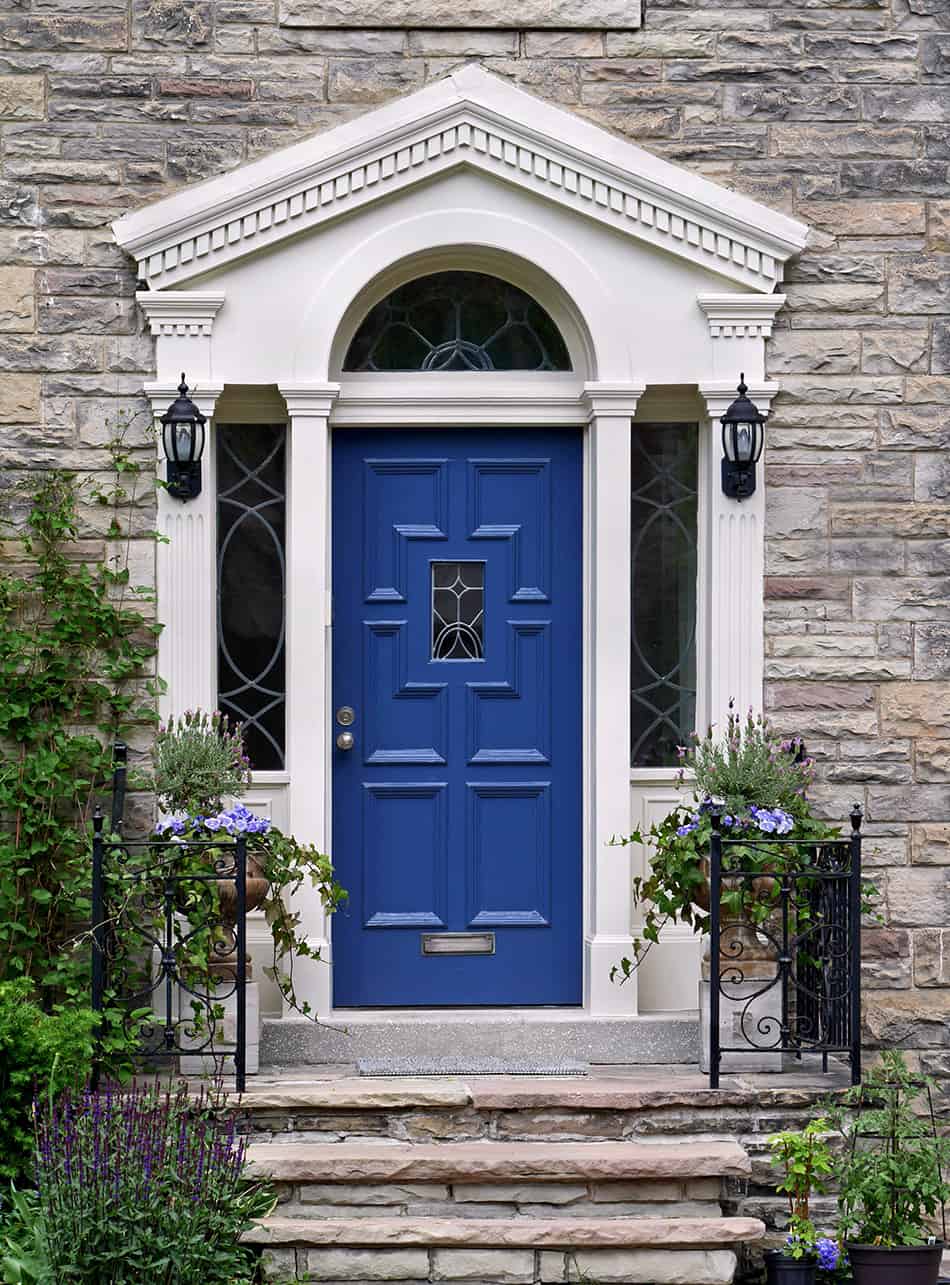 A Georgian style home can be even more elegant and inviting with a blue front door. Most Georgian houses have decorative white pediments and siding against stone or brick exteriors. With a subtle shade of blue and reflective glass panels, the house can be even brighter and more welcoming just like the example here. 
20. Blue and Beige as Complementing Colors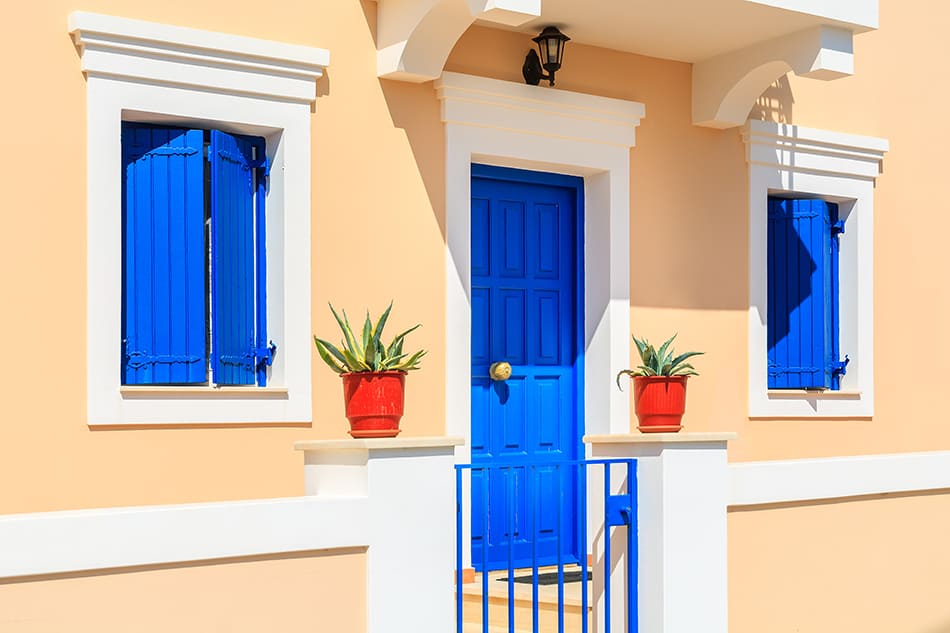 Thinking of accessorizing your new blue front door? Paint your walls beige and match the window shutters with the color of the door. And don't forget the aloe vera plants for good luck! This Greek-style house is a beautiful example of how beige and blue complement each other and make the entryway look bright and cheerful. 
21. Light Blue with Matching Shutters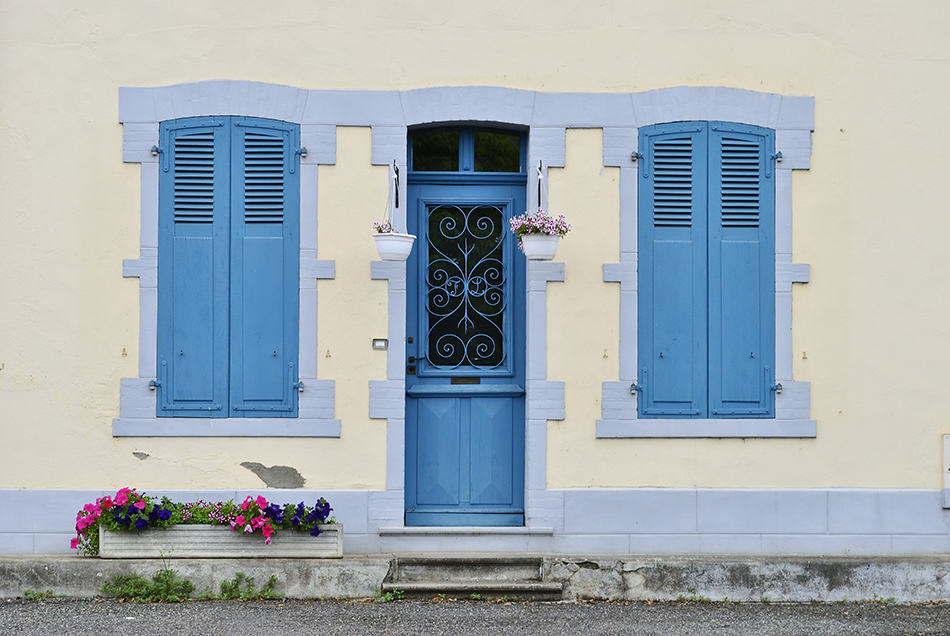 If you are lucky enough to have a uniquely designed front door, paint it light blue and match the shutters with the door's design. This will surely add curb appeal that's bound to turn heads. This uniquely designed blue front door with matching shutters oozes character against the white and beige exterior. Notice the elaborate siding on the windows and door as an additional visual appeal. 
22. Blue Door as a Focal Point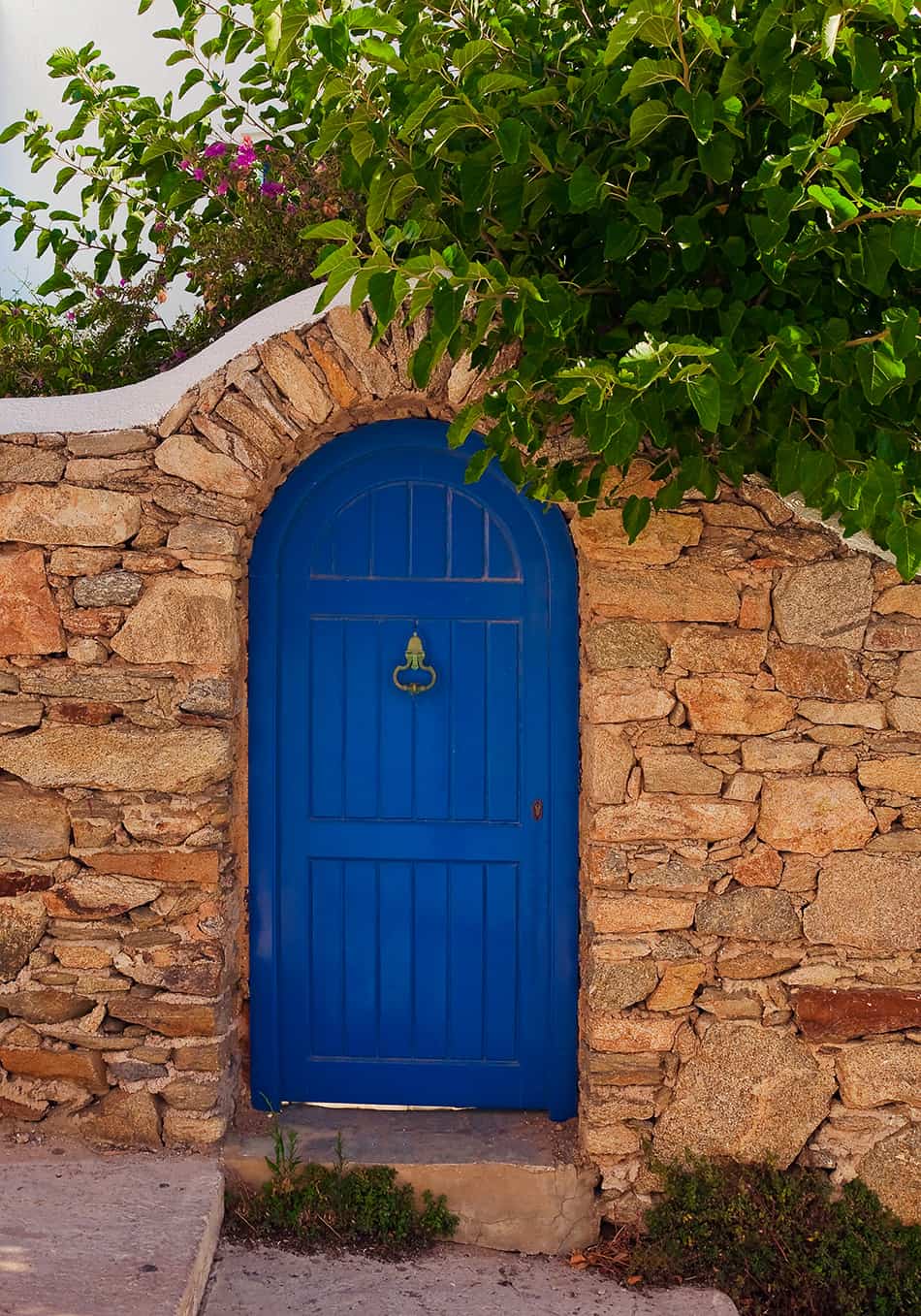 An arched blue wooden door is an authentic addition to a rustic stone exterior. See how this door shines like a star with its striking blue color. The unique stone wall hasn't taken the spotlight from this lively blue front door. It has actually enhanced the color of the door and turned it into a focal point.