Mauve is a dusky shade of pale purple, which is great for spaces where you want to achieve a soft and feminine look without being overly frilly and girlish.
Mauve provides a nice balance between vintage and modern, which means it can be used in a variety of different decor styles.
If you want to bring elements of mauve into your home, there are certain other colors that work beautifully with mauve, which will enable you to create a highly stylized look.
Here we will look at some of the best colors that go with mauve.
Mauve Color Meaning & History
Mauve is a pale shade of purple that also has hints of pink. There is a greige undertone to mauve, which gives it a dusky appearance, making it less feminine than other pale purple shades like lilac and lavender.
Mauve has an interesting history. It is named after the mallow flower, which is translated as 'mauve' in French. Through the 18th century, this color was known by both terms 'mallow' and 'mauve,' but mauve is the name that became more popular, and hence it is the name we know this color by now.
Mauve is known to be the first-ever color of a synthetic dye. It was created by accident in 1856 when a young chemist named Perkin was attempting to find a cure for malaria. While he did not succeed in curing malaria, he did stumble upon a residue in a mauve shade which became the world's first type of synthetic dye.
The dye was enormously successful in the clothing industry and led to a vast rise in mauve-colored garments being worn throughout the 1890s. This is now a decade that is referred to by historians as 'the mauve decade' due to the huge success of this color among the masses.
The color was subsequently known as 'Perkin's mauve' after the inventor of the synthetic dye and is thought of among many as the color that transformed the world. Today mauve is not the dominant color it once was, but it is still a popular shade, especially in women's fashion and cosmetics.
Mauve has seen a recent rise in use as a color of hair dye, and it is also seeping its way into more mainstream home decor.
Colors that Go with Mauve
Cranberry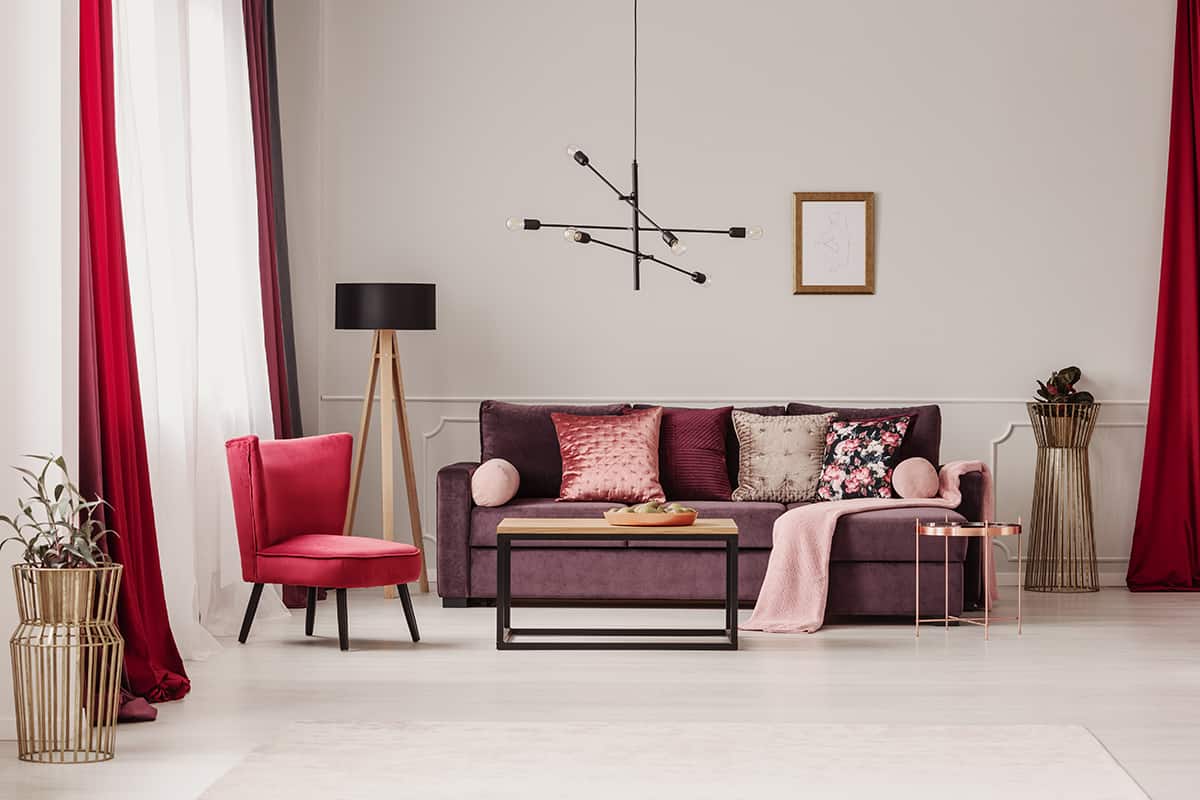 Cranberry is a rich shade of red that has purple undertones. It provides a sense of passion and romance alongside mauve, which makes this color pairing an ideal choice in a bedroom.
Choose mauve bed sheets and layer these with dark purple and cranberry pillows and throw blankets for a sumptuous and inviting look.
Mauve walls will also look great with cranberry accents, for example, a mauve hallway with a cranberry rug and some cranberry-colored dried flowers.
Dove Gray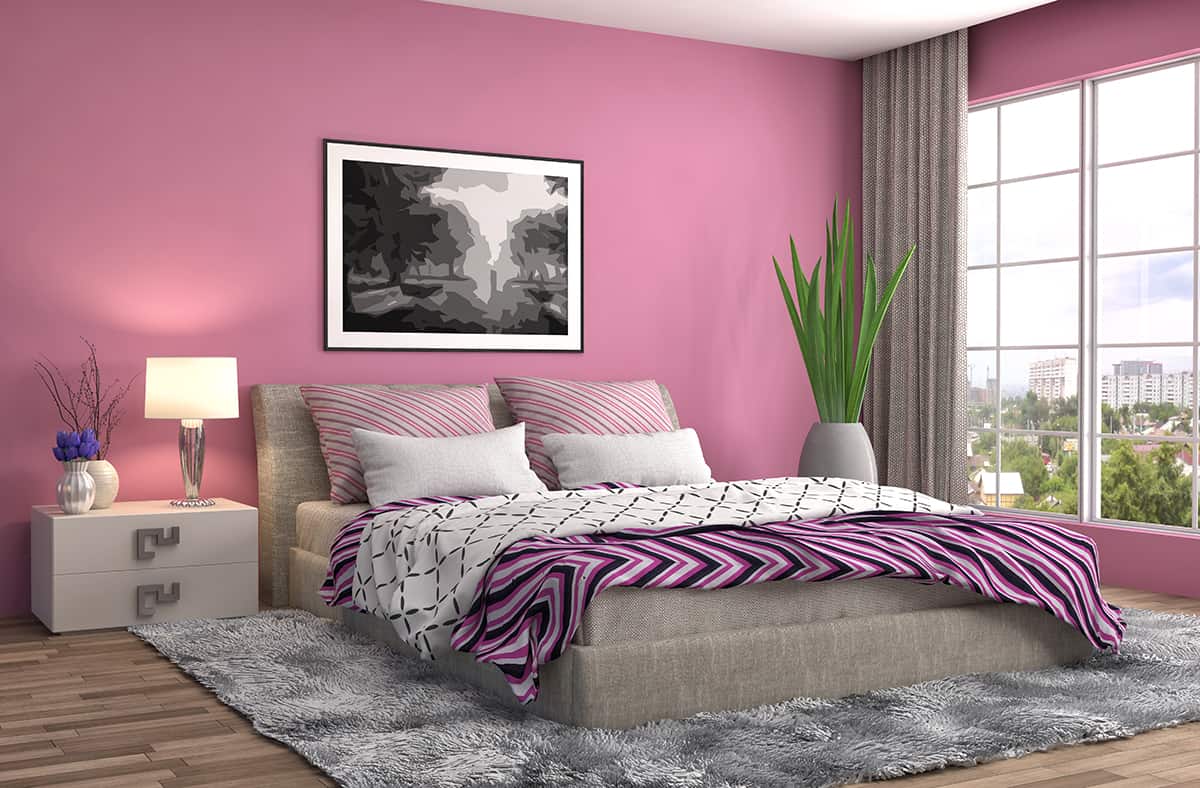 For a modern twist on mauve, use it alongside dove gray. These two colors are at odds with each other in the type of atmosphere they create, so they're a really nice choice for balancing out the mood. Dove gray can feel cold and boring by itself, but the addition of mauve adds a delicate and romantic touch.
Equally, if you find that a mauve color scheme is looking too feminine, then you can level this out by inserting elements of dove gray. These colors work well to create an elegant theme in a room. Consider using them with French-style furniture for an updated shabby chic style.
Mauve can also be a nice color pairing with dove gray to create a modern country cottage look. Pair dove gray walls with floral mauve bed sheets for a contemporary twist on a traditional style.
Olive Green

Purple and green are colors that clash when they are used too heavily, but a muted shade of mauve and olive green create a dusky and earthy vibe that will look elegant and understated.
Olive green is a trendy color in interior design right now, and mauve will make a nice complementary color by providing a pretty balance that is stylish yet unusual. Pair an olive green velvet sofa with cream cushions with mauve embellishments.
Mauve is also a very popular shade that is chosen as a color scheme for weddings. There has been an increase in mauve bridesmaid dresses and table centerpieces, which are contrasted with olive green foliage, showing how well these two shades work well together in classy and romantic settings.
Use these shades in a bedroom or in a formal living room with sumptuous fabrics such as silk and velvet for a grown-up, chic look.
Lemon Yellow
Purple and yellow are contrasting and complementary colors as they are opposite each other on the color wheel. This is a pairing that can look very bold and intense, so for a color scheme that is easier on the eye, choose a muted shade of mauve and a soft lemon yellow.
This will make for an appealing, subtle contrast. These colors work especially well in country cottage-style bedrooms, for instance, a guest bedroom with a quilted comforter featuring patchwork mauve and lemon fabrics. These colors will look fresh and enlivened with pure white, such as a white painted wooden bed frame or white walls.
Avoid bright shades of yellow with mauve as it will overpower the pale purple color and can look sickly.
Mauve can be paired with deeper shades of yellow, such as golden honey yellow or mustard yellow. These will work to bring a more sophisticated edge to a mauve space, as opposed to lemon yellow, which has a more innocent, joyful feel.
Royal Blue
Royal blue is a vibrant shade of blue that looks especially regal when used with mauve. Both of these colors are synonymous with royalty, so if you want to inspire a look of grandeur in a contemporary home, then these are a great choice.
To ensure a classy and elegant look is achieved, put a focus on plush fabrics and metallic accents. Velvet cushions or satin curtains will work well, while gold, copper, or bronze metals will add luxury and warmth to the design.
Use royal blue and mauve heavily for an all-encompassing luxe feel, for example, mauve walls with royal blue bedsheets and a variety of mauve, blue and gray cushions.
You can also use these colors to create a more casual style, and this will be reliant on using more natural fabrics such as cotton and choosing a neutral base color such as white. To achieve this, paint walls white and opt for a royal blue linen sofa with mauve cushions. The resulting look will be refined yet airy.
Eggplant Purple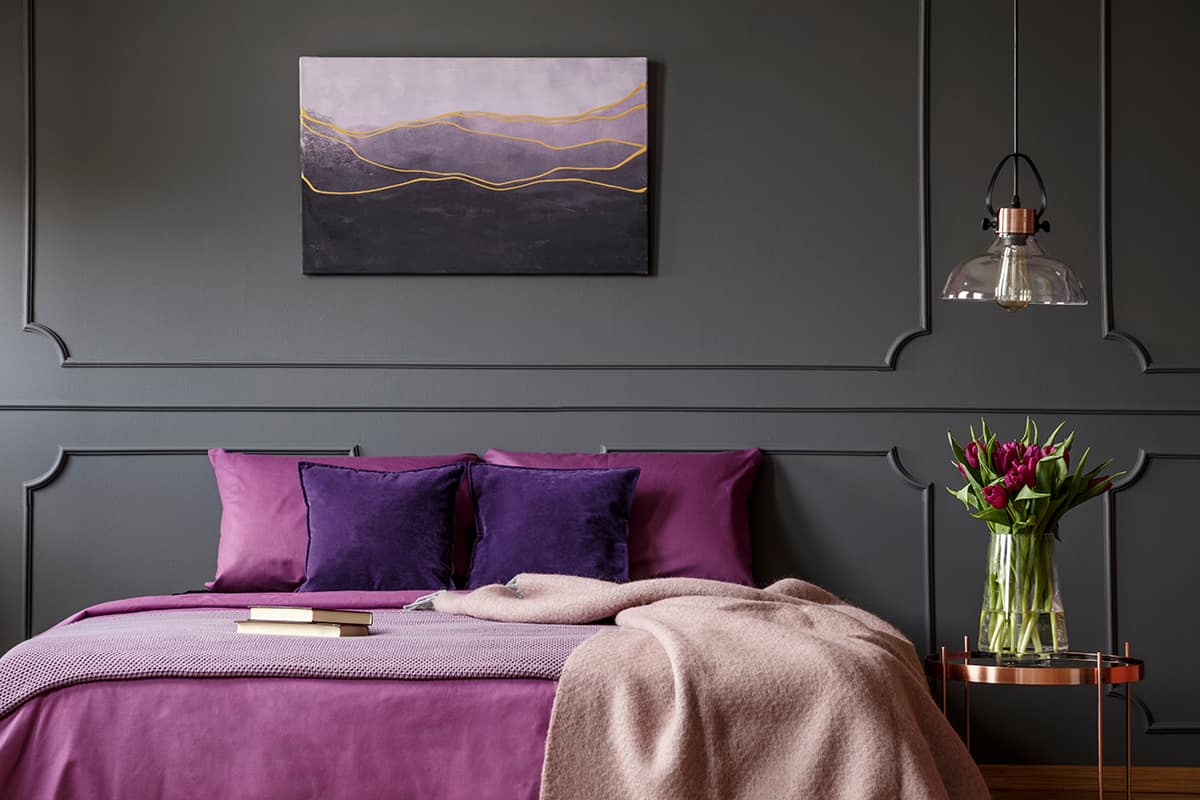 Different shades of the same color can work really well in interior design for layered looks. Eggplant is a much darker shade of mauve, but it has very similar tones.
These are both colors that fall under the heading of purple, and they both have dusky tones, which make them feel more earthy as opposed to bright and vibrant. So mauve is such a color that matches well with eggplant.
For a strong purple look, use these colors layered on top of each other to create depth in a room. This might involve layering mauve and eggplant purple cushions on a bed or painting kitchen cabinets in mauve with eggplant purple walls.
Cream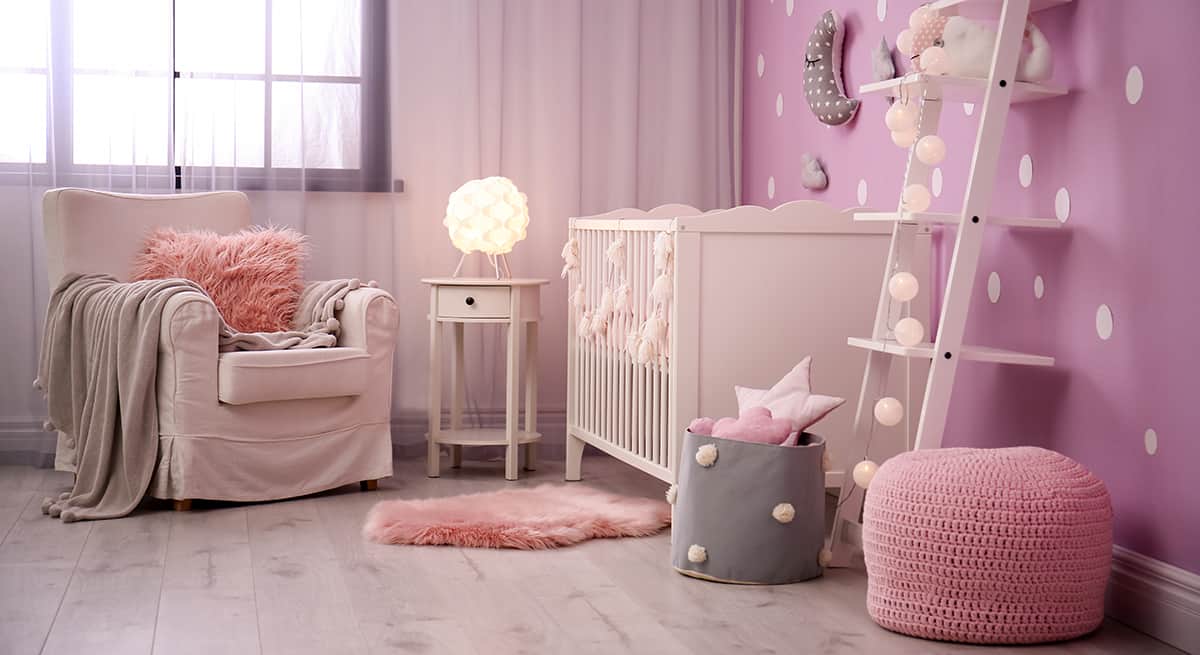 If you want your mauve interior to be cute and charming, choose cream-colored walls with mauve accents. Mauve fresh bouquets or dried flowers in a stone-colored vase will look both elegant and dainty.
The mauve and cream color palette looks decidedly feminine but in a more mature and refined way, as opposed to being frilly and overtly girlish.
This color combination works well with floral prints and could be used to create a modern style or a traditional style, depending on the type of furniture and accessories you choose to use.
Blush Pink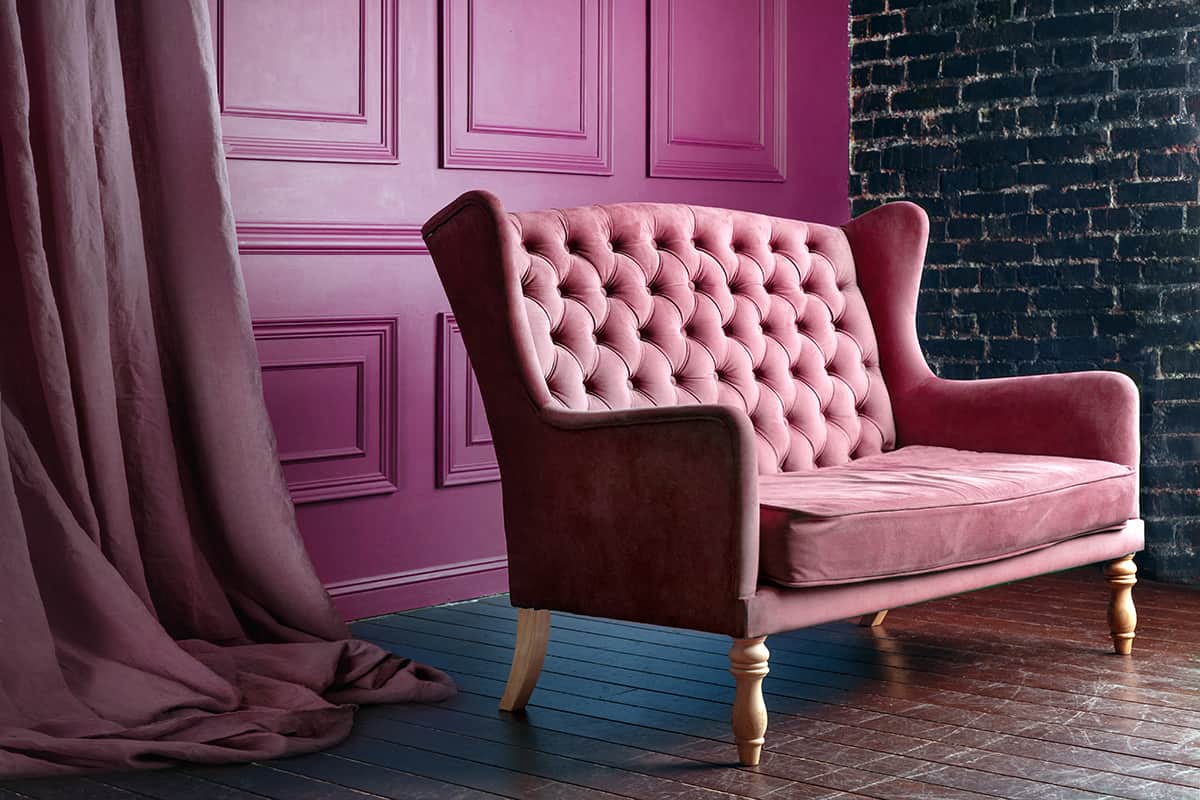 Mauve is a beautiful set of colors that work beautifully together with blush pink to create an elegant, feminine space. They are a wonderful choice for a nursery if you want to create a pretty space that is not too sickly sweet.
The dusky tones of both of these shades result in them being subtly feminine. Use blush pink and mauve with white as the background color for an understated style, or use them heavily with olive green accents for an enchanting secret garden theme. Blush pink walls could feature an olive green mural, with mauve curtains and mauve bed sheets.
Gold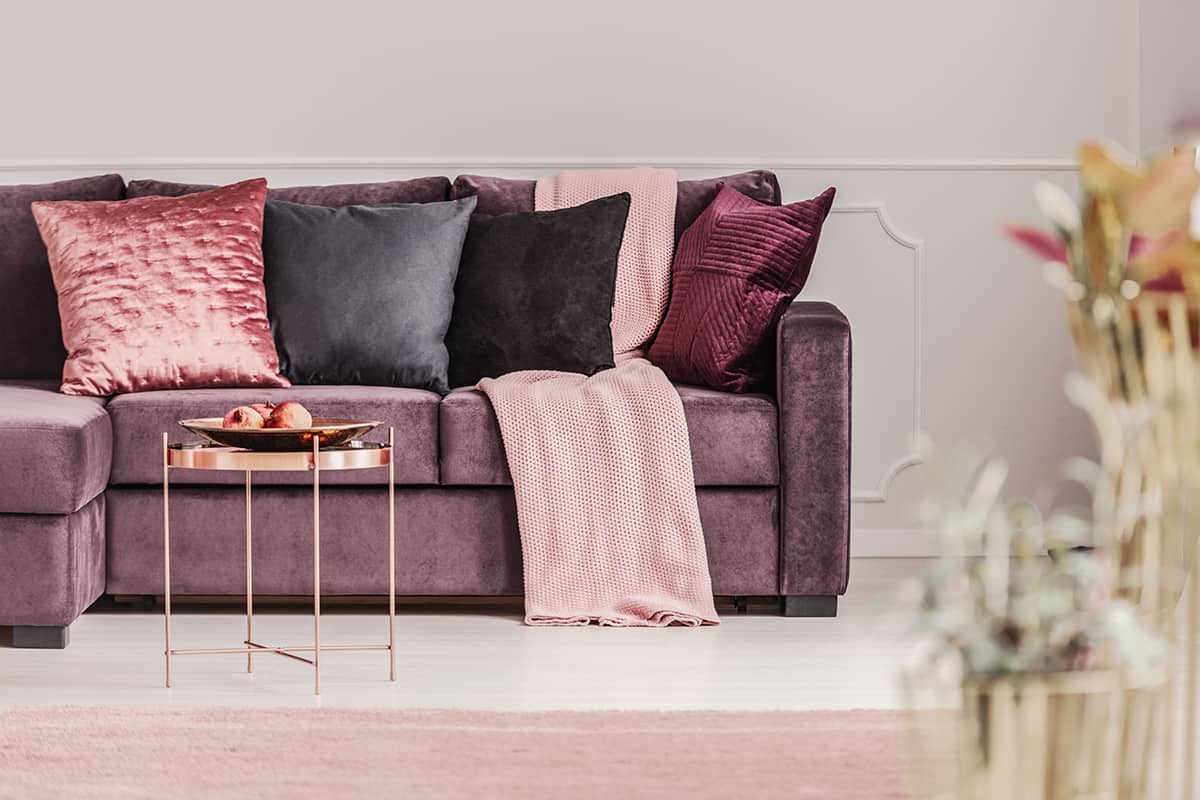 As gold is a metallic version of yellow, it makes sense that this would be the metal finish of choice with mauve, as purple and yellow are contrasting colors. Mauve has a cool temperature that can be balanced out by the warmth of the gold color, and the regal associations of mauve are further highlighted by the use of this metal which is a synonym with luxury.
Opt for matte gold finishes for a subtle and understated style, or go glam with glossy gold fixtures and fittings. Gold legs make for a sleek and stylish addition to a mauve velvet armchair, or fix a gold leaf framed mirror to a painted mauve wall.